USAA Auto Insurance Review for 2023
Our USAA auto insurance review reveals that active or retired, and honorably separated military members and their families are eligible for USAA automobile insurance. USAA is known for having some of the cheapest auto insurance rates, with a median premium of $207 a month.
Free Auto Insurance Comparison
Enter your ZIP code below to compare auto insurance rates.
Secured with SHA-256 Encryption
If you are military personnel, you've probably heard of USAA at some point in your career. Because USAA's founders created the company specifically for military personnel, USAA may seem like a logical choice.
However, we want to ensure that USAA lives up to its hype as a great automobile insurance provider with discounted rates. It's why we're digging deep and giving you everything you need to know about the insurer in this in-depth USAA auto insurance review.
Here's the deal: not fully researching a provider can cost you hidden fees and poor coverage. It's why this review will go through everything from USAA's rates, ratings, and mobile app.
Keep reading to discover if USAA auto insurance is the right provider for your needs. You can also begin comparing auto insurance rates at multiple providers by entering your ZIP code into our FREE auto insurance comparison tool.
How are the USAA Auto insurance ratings?
Since picking an insurance provider is an important decision that protects both your car and your wallet, it can help look at providers' ratings. After all, the very question you're probably asking yourself is this: "Is USAA good insurance?"
To see what consumers and businesses think of USAA auto insurance, we will take a look at multiple ratings for USAA, from financial stability ratings to customer satisfaction ratings.
Let's jump right in.
A.M. Best
The first rating we want to take a look at is A.M. Best. What is A.M. Best? Basically, an A.M. Best rating looks at an insurer's creditworthiness and financial strength.
A.M. Best's ratings are on a letter grade scale, so a higher grade means a company is great at fulfilling its financial responsibilities.
USAA has an A++ rating from A.M. Best, which is the highest rating possible.
A.M. Best only assigns A++ ratings to companies that it believes "have an exceptional ability to meet their ongoing senior financial obligations."
So A.M. Best believes USAA is financially stable enough to meet customers' and investors' financial obligations, which is great news.
Better Business Bureau
The Better Business Bureau (also known as the BBB) bases its ratings partly on complaint data (in addition to other factors like business practices), so a low rating company doesn't provide the best service.
Better Business Bureau gave USAA a B-, which isn't the best rating USAA could have earned.
USAA's lower rating from the BBB could be because the U.S. government took action against USAA in 2019 for the following infractions.
Bureau of Consumer Financial Protection versus USAA for violating the Electronic Fund Transfer Act, Regulation E., and the Consumer Financial Protection Act of 2010.  Essentially, USAA failed to stop payment requests properly and opened deposit accounts without proper notification.
Office of the Comptroller of the Currency versus USAA for USAA's failure to use a proper risk-management system.
USAA has settled with the Bureau of Consumer Financial Protection and paid out restitution to customers and a penalty for violating acts.
As for the Office of the Comptroller of the Currency, there is now a compliance committee appointed to USAA to correct the risk-management plan.
The good news is that USAA has worked to correct its issues and paid customers in restitution. Hopefully, it will improve its USAA insurance reviews from the BBB in the future.
Moody's Rating
While USAA didn't receive a great rating from the BBB, Moody's gave USAA a high rating.
Moody's rated USAA as Aa1, which means that USAA has a low credit risk and a strong ability to pay back its debts.
Based on Moody's and A.M. Best's ratings, USAA is financially strong and isn't in danger of going under anytime soon.
S&P Rating
S&P also looks at companies' financial strength and rates the companies accordingly.
USAA has an AA rating from S&P, meaning USAA has a strong ability to meet its obligatory financial commitments.
USAA earned the second-highest rating possible from S&P, showing yet again that USAA is financially strong.
J.D. Power
We've covered quite a few financial ratings, and now we want to dive into customer ratings with J.D. Power.
J.D. Power based the following ratings on thousands of customer surveys, so let's look at what USAA auto insurance earned.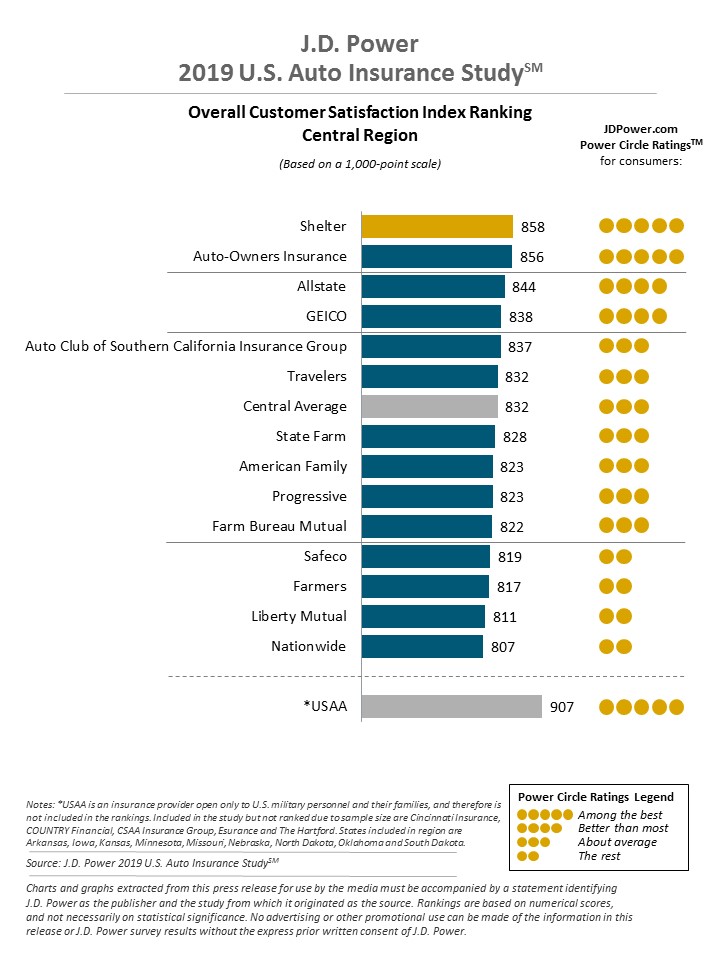 While we've only included the graphic for the central region, USAA has earned five stars in all areas of the U.S.
USAA is not included at the top of the list with the other providers, though, as USAA is only for military personnel and their families. However, USAA's "better than the rest" rating shows that it's a top contender.
Enter your ZIP code below to compare auto insurance rates.
Secured with SHA-256 Encryption
What do Consumer Reports say?
Consumer Reports is another rating agency that looks at customer satisfaction levels. USAA earned 95 out of 100 from Consumer Reports, a great USAA insurance review from Consumer Reports.
USAA's score of 95 is based on factors ranging from ease of reaching an agent to timely payments and being kept informed of claim status.
USAA earned an excellent in every category, which shows how USAA earned its 95 out of 100.
What does Consumer Affairs have to say about USAA?
The last rating dealing with customer satisfaction that we want to look at in this USAA auto insurance review is from Consumer Affairs.
The bad news is that USAA Auto Insurance only received 1.5 stars out of five from Consumer Affairs.
However, this poor rating is only based on 260 reviews. This is only a small percentage of USAA consumers.
Since disgruntled consumers are more likely to post on rating sites like Consumer Affairs, don't take this rating as a warning to stop looking into USAA.
Since USAA received decent ratings from other customer satisfaction surveys and review sites, Consumer Affairs' poor rating could be due to fewer reviews.
What is the history of the USAA insurance company?
USAA was founded in the 1920s when a small group of army officers insured each other's vehicles. The company grew enough to outlast the Great Depression and WWII and begin providing auto insurance to multiple military branches.
USAA also grew enough to branch into services other than auto insurance, such as in 1970, when USAA opened its first USAA Federal Savings Bank.
USAA now provides auto, home, business, life, and health insurance in addition to auto insurance, making it a possible one-stop for all of its customers' insurance and banking needs.
You may be wondering why we care about USAA's history and growth.
The bottom line is that a company's history tells us if a company is set up to succeed in the future.
To give you an idea of how USAA is set up for the future, we will go through everything from USAA's market shares to employee experiences.
Let's begin.
Enter your ZIP code below to compare auto insurance rates.
Secured with SHA-256 Encryption
What is USAA's market share?
A company's market share is important, as it tells us if a company is growing. Let's look at the National Association of Insurance Commissioner's (NAIC) data on USAA's market share.
USAA's market share has slowly increased over the years, which is good news. It means USAA is staying competitive as a major insurer in the market.
What is USAA's position for the future?
Taking a closer look at USAA's positioning for the future is just one way our USAA auto insurance review can help you determine whether USAA is good insurance for you and your needs. Our take? USAA is positioned solidly for the future. While not all of USAA's customer ratings were fantastic, the company has great financial ratings.
Financial standing is important, as the last thing you want to do is sign up with an insurer who shortly afterward goes bankrupt or charges customers more to make up losses.
But since USAA has good creditworthiness and strong financial ratings, this isn't something you'll have to worry about.
As well, while USAA's customer ratings weren't all perfect, the glowing ratings helped balance out the negative ones.
So rest assured that USAA is positioned well for the future.
How is USAA's online presence?
How a company chooses to reach its consumers is important. In today's world, you want an insurer who is easily accessible through multiple communication channels.
Let's take a look at how USAA communicates its online presence.
Online — USAA has an easily accessible website that allows customers to find information, get quotes, and sign in to see their policy information.
Agents — USAA also provides agents you can meet in person (though agents are not available in every area).
App — USAA also has an app that allows customers to check policy information, pay bills, and much more.
USAA has a strong online and physical presence, as you can get quotes online or in-person from an agent.
Enter your ZIP code below to compare auto insurance rates.
Secured with SHA-256 Encryption
Are there USAA commercials?
It may seem strange that we have a section in our USAA auto insurance review dedicated solely to USAA's commercials. But a company's marketing campaigns are important.
If you've ever been convinced to buy something after a commercial, then you understand the power of advertising.
USAA has a strong focus on service in its commercials.
The main message that USAA seems to send with its advertisements is that USAA is here to serve military members since they have served our country.
USAA also markets itself by posting videos that range from honoring military members on Memorial Day to service members receiving meaningful tattoos.
USAA in the Community
It's one thing to say you care about your community, and it's another thing to actually serve your community.
Let's take a look at USAA serves the communities around it through donating and volunteering.
Poverty — USAA focuses on helping families and individuals that struggle with poverty, homelessness, or hunger.
Education — USAA supports teaching programs that help students learn critical skills.
Safety and Natural Disaster Response — USAA also supports programs that teach people skills to prepare for and recover from natural disasters.
USAA also has links on its community page where nonprofit organizations can request volunteers or grants.
Based on USAA's charity page, USAA helps the communities around it grow and thrive.
How do USAA's employees feel about the company?
How happy employees are with their jobs says a lot about a company, which is why we include this insight in our USAA auto insurance review. A good company environment also means more contented customers — no one wants to deal with employees who clearly hate their job.
With this in mind, let's take a look at A Great Place to Work's data on USAA employees.
Below you can see general data on USAA employees' age, tenure, and more.
USAA has an equal amount of Millennial and Generation X employees working for the company.
Let's see how long these employees stay at USAA.
The majority of USAA employees (33 percent) stay for two to five years, but 11 percent of USAA employees have been at the company for over 20 years, which is a good sign.
Since 89 percent of USAA's employees say they are satisfied with USAA, let's take a look at how USAA employees rate their experience working at USAA.
Since employees seem to enjoy working for USAA, let's take a look at what awards USAA has won for its workplace environment in the past three years.
USAA has an impressive list of awards to its name. The company has also won the following awards from Glassdoor.
2017 Best Places to Interview (#72)
2014 Top CEOs (#22)
2009 Best Places to Work (#36)
One of the final things we want to look at is Payscale's assessment of USAA's workplace.
USAA has an overall 3.9 out of five stars for employee satisfaction from Payscale.
This 3.9 out of five-star rating is based on the following factors.
USAA seems to struggle the most with pay transparency and fair pay, although it earned high ratings for manager relationship, learning and development, and company outlook.
Overall, USAA seems to have a great work environment based on multiple employee review sites and awards.
Enter your ZIP code below to compare auto insurance rates.
Secured with SHA-256 Encryption
Cheap USAA Auto Insurance Rates
Budgeting for automobile insurance is a necessary expense, but it can cut back on your funds for other needs.
If you'd rather put money towards other household necessities or a beach vacation, checking companies' rates will help you save money on auto insurance. And in the case of USAA auto insurance rates, doing this kind of legwork is important.
Is USAA good for auto insurance? We should note that just because a company has low rates doesn't necessarily mean it's the best insurer for you.
Sometimes, companies with cheap rates will have equally cheap coverage. Luckily, this doesn't always apply to auto insurance companies.
To see if USAA is worth the cost, our USAA auto insurance review will first look at USAA's rates before jumping into what coverages and services you'll get for your money.
So stick with us because we've partnered with Quadrant to bring you extensive data about USAA's rates.
USAA Availability and Auto Insurance Rates by State
Since the last thing you want is to have to switch providers when you move, let's look at USAA's availability.
USAA is available in all U.S. states, which means that no matter where the military takes you, USAA will have you covered.
However, even though you can keep USAA as a provider no matter where you move to, the bad news is that your rates will change by state.
While this could mean a decrease in your rates, it could also mean an increase. So let's see how much USAA's rates vary based on state averages.
Is USAA auto insurance expensive? USAA is cheaper than the state average in every state. In some states, USAA is over 60 percent cheaper, which means you could save a significant amount by choosing USAA.
Comparing the Top 10 Companies by Rates
While what you pay for auto insurance varies depending on multiple factors, below, you can see the basic average of USAA's rates by state compared to the other top providers.
So, the big question is this: Is USAA the cheapest auto insurance? According to our findings, it certainly appears to be the case in most circumstances.
The only company that seems to match USAA in rates consistently is Geico, which you can read more about in our Geico insurance review. But for the most part, USAA has the cheapest rates out of all of the top companies.
Enter your ZIP code below to compare auto insurance rates.
Secured with SHA-256 Encryption
Average USAA Male vs. Female Auto Insurance Rates
An automobile insurance fact that often surprises people is that their gender is used to determine rates.
Why?
Well, insurers collect accident data to determine demographic rates. For example, if you are a young driver, you'll have high rates because younger drivers are proven to get in more accidents because of inexperience.
Many insurers also apply accident data about genders, as males seem to get more car accidents than females, and insurers charge accordingly.
This doesn't mean that all insurers will use your gender to form rates.
California, Hawaii, Massachusetts, Montana, Pennsylvania, North Carolina, and parts of Michigan have all banned insurers from determining rates based on gender.
While insurers can't use your gender to determine rates in the above states, we want to look at how much USAA's rates change in states where basing rates on gender are allowed.
At USAA, males pay more in auto insurance rates than females until age 35. After age 35, females start to pay slightly more than males.
You can also see how age has a huge impact on rates, as a 17-year-old male driver has the highest rates, paying about $4,000 more for auto insurance than a 60-year-old driver.
Average USAA Rates by Make and Model
Make and model may seem like an odd thing to influence your auto insurance rates, but the simple fact is that some cars are safer than others.
If you've ever looked for a car for your teen driver, then you've probably spent hours researching which one is safest in a crash. Insurers are also aware of which cars are the safest.
For example, consider a sports car versus a model sedan. The sports car owner is much more likely to hit dangerous speeds on roads, making the car a more dangerous car to insure.
Let's take a moment to look at USAA's rates for popular makes and car models.
A Ford F-150 SuperCab will cost you the most at USAA, though it is still under $3,000 to insure. The cheapest car to insure is a Honda Civic, costing $446 less to insure than a Ford F-150 SuperCab.
Less than a $500 difference between the most and least expensive cars to insure isn't terrible.
Still, the safer your car and the better a driver you are, the less you'll pay for automobile insurance.
Average USAA Commute Rates
Commute distance is of concern to insurers because the longer you are on the road, the more you are at potential risk for a crash.
Let's take a look at how much USAA increases its rates for its drivers' commute distances.
If you drive 6,000 miles or less a year, then you'll pay $109 less than those with longer commutes.
$109 isn't bad, but remember that this is just one more added cost to your bill. You'll also be paying for more wear and tear on your car if you have a long commute.
So make sure to calculate that extra $100 into your budget if you have a long commute.
Enter your ZIP code below to compare auto insurance rates.
Secured with SHA-256 Encryption
What are the average USAA coverage level rates?
In the case of auto insurance coverages, you get what you pay for. If you have low coverage, you may find that what you pay out of pocket far surpasses what you would have paid for high coverage in an accident.
Some companies' rate changes for coverages, though, are simply too expensive. That's why we want to take a look at what USAA charges for different coverages.
USAA has some of the cheapest rate increases. The jump from low to medium coverage is only $135, while the jump from low to high coverage is only $263.
At other companies, upgrading to high coverage from low coverage can be around $1,000.
Bear in mind, though, that these amounts are for drivers with good records. If you have a poor driving record or other issues, the cost to upgrade could be more.
A bad credit score can ruin more things than just causing high-interest rates and loan refusal. It can also increase your auto insurance rates by a significant amount.
The average credit score in America is 675, which most bankers consider a good credit score.
Not all companies will gouge you for a bad credit score, although all companies will increase or decrease prices based on credit score.
Going from good to fair credit will cost customers an extra $398. This isn't terrible, but the increase from good to poor credit is much higher — $1,869.
Why is USAA so cheap for poor credit? While USAA has a higher increase than most insurers, since USAA has cheaper rates, the cost for poor credit is still less than at most companies.
So if you have poor credit, USAA's rates may still be a better option for you compared to other companies' rates.
What are the average USAA driving record rates?
Sometimes, the panic that arises from an accident is the surety that your automobile insurance rates will increase.
Below, you can see what USAA auto insurance charges for first driving offenses.
At USAA, DUIs are the worst offense you can commit. If you had a clean record before, a DUI would cost you approximately $1,573.
This is similar to other companies' rate increases, as DUIs are a serious driving offense.
On the other hand, a speeding ticket will only cost you about $360 (although you also have to pay off that speeding ticket), while an accident increases costs by about $583.
Remember that our data only shows the average price increase for first offenses. The second and third offenses will cost you significantly more.
What USAA auto insurance coverages are offered?
Since USAA has some of the cheapest rates in the U.S., we want to take an in-depth look at USAA's auto insurance coverages to make sure USAA's low rates aren't because it skimps on coverages.
To properly gauge what USAA offers, we will take a look at everything from available coverages to discounts.
So keep reading to see if USAA's coverages will adequately meet your needs.
Types of Coverages Offered
Before we get into the types of automobile insurance that USAA offers, we want to note that USAA offers more than just auto insurance.
This means that you can bundle options like USAA home and auto insurance, saving you money.
Below are the types of insurances and services that USAA offers.
Banking and investment services
Health insurance
Homeowners, renters, and condo insurance
Life insurance
Small business insurance
Valuable personal property insurance
Vehicle insurance (includes motorcycle, RV, and boat insurance)
USAA offers a wide range of insurance and service options, but what we really want to look in-depth at is USAA's auto insurance coverages.
Bodily Injury Liability — This coverage helps cover the costs of the other driver's medical bills if you caused the accident.
Classic Car — If you have a classic car, USAA's classic auto insurance will save you money because the coverage is based on mileage driven. You will have to make sure that your car is actually considered a classic car, though, as insurers have different qualifications.
Collision — If you are in an accident with another vehicle or an object (such as a fence post), collision coverage will help you.
Commercial — Commercial auto insurance coverage ensures vehicles are used for business.
Comprehensive — If you run into a deer, have a tree fall on your car, or have graffiti spraypainted on your windshield, then comprehensive coverage will step in. Comprehensive coverage covers drivers if their vehicle is stolen or damaged from something other than a collision with another vehicle.
Extended Benefits Coverage — This coverage will help provide death benefits, disability service benefits, and wage-earner benefits, but you'll also have to carry medical payments coverage.
Personal Injury Protection — If you have medical bills after an accident, this coverage will help pay them.
Property Damage Liability — If you cause an accident, property damage liability will help cover the costs of the other driver's property damage bills.
Ridesharing Gap Coverage — If you drive for a rideshare company, this coverage will cover you between driving on your personal insurance and driving on your ridesharing insurance.
Roadside Assistance — This coverage will help in the following situations: locked out of the car, out of gas, dead battery, flat tire, or towing.
Umbrella — Umbrella insurance provides extra liability coverage, which is useful in the unfortunate case that the other driver sues you.
Uninsured and Underinsured Motorist Coverage — These coverages are useful for run-ins with drivers with little or no insurance and can't pay their accident bills. Uninsured motorist coverage is also useful for hit-and-run accidents.
Even though USAA has lower prices, it still offers all the basic coverages and more. This makes it easy to make sure your car and you are completely covered for all potential risks.
Enter your ZIP code below to compare auto insurance rates.
Secured with SHA-256 Encryption
How to get the best rate with USAA?
The best way to get a good rate and save on automobile insurance? Discounts. An auto insurance company that has multiple discounts will make it easier to bring costs down.
USAA's discounts can be grouped into the following categories.
Driver discounts — Rewards for safe driving, good grades, and more.
Vehicle discounts —Rewards for vehicle safety features.
Membership discounts —Rewards for loyalty and bundling.
So let's break down these categories and see what discounts USAA has to offer customers.
USAA auto insurance offers a total of 28 discounts, which is a decent amount. While other companies offer a total of 38 discounts, USAA already has such cheap rates that multiple discounts aren't really needed to bring costs down.
Some of the discounts are also incredibly easy to get, such as signing up for paperless billing or auto-pay.
Make sure to note which discounts you could potentially qualify for. If you chose USAA, make sure USAA gives you the proper discounts.
What are USAA's auto insurance programs?
USAA also has multiple programs that could save you money.
Accident Forgiveness — USAA customers who remain accident-free for five years will be forgiven for their first accident. This means that after an at-fault accident, their rates won't go up. USAA also offers this option for purchase in some states.
Car Buying Service — Nobody wants to pay more than they have to for a new car. TruCar has partnered with USAA so drivers can make sure they are paying a good price for their car.
Usage-Based Insurance — SafePilot™ is USAA's safe-driving program, helping drivers save money with their safe driving habits.
These programs and services can help you save money over time, especially accident forgiveness. You've seen how much rates can go up after an accident, which means that over the years, accident forgiveness can save you thousands.
USAA Auto Insurance: What Stands Out and What's Missing
We've gone through quite a bit by now about USAA's rates and services. So let's take a quick moment to recap before we move on.
What Stands Out — USAA is known for its low rates, and our analysis shows that USAA has cheap rates and full coverage options. The company also offers a decent amount of discounts for customers to bring costs down even more.
What's Missing — USAA does have fewer automobile insurance options than other insurance providers. While USAA has rideshare gap insurance, it doesn't offer ridesharing insurance. There also isn't a program that recommends auto insurance shops for USAA customers.
While USAA auto insurance doesn't offer a few additional amenities that other insurers do, it still has a great range of coverage options. Not to mention that it has lower prices than most insurers, making it an affordable option for customers.
Enter your ZIP code below to compare auto insurance rates.
Secured with SHA-256 Encryption
How do I cancel my USAA insurance policy?
If you've left the military or simply want to switch providers, then the last thing you want is a long, drawn-out process that feels more like you're getting a divorce than canceling a policy.
The process can be so frustrating that some people may simply choose to stay with their current provider.
We want to see what USAA's cancellation process is like, from fees to when the cancellation goes into effect.
So keep reading to see if USAA's break-up process is easy or if USAA will keep calling you back to try to change your mind.
Is there a cancellation fee?
The good news is that USAA doesn't charge cancellation fees. However, if you let your policy lapse, you'll still have to pay premiums and late fees as you didn't officially cancel your policy.
Make sure to call USAA to cancel and keep an eye on your account to make sure charges don't appear after canceling.
If I cancel, is there a refund?
If you cancel before the next billing cycle, USAA should refund you for any unused insurance.
For example, if you've paid ahead for three months of coverage but cancel in the first month, USAA should refund you for the unused two months of premiums.
Enter your ZIP code below to compare auto insurance rates.
Secured with SHA-256 Encryption
How to Cancel USAA Auto Insurance
Now that we've covered fees and refunds let's dive into the portion of our USAA auto insurance review that reveals how you actually cancel a USAA policy.
You'll need the following information to cancel, so make sure you're prepared ahead of time.
Personal information, such as your name, date of birth, and Social Security Number
The number of your current USAA policy
Your reason for canceling the policy
The name of your new insurer and your new policy number (if switching companies)
Once you have this information collected, there are three methods you can use to cancel: online, mail, or phone.
Cancelling Online
One of the first ways you can cancel your policy is by going online to your account and logging in.
Once logged into your account, you can contact an online agent with a request to cancel your USAA insurance policy.
Canceling by Mail
This is one of the slowest options, so the mail is not the best option if you need to cancel quickly.
If you want to cancel by mail, you'll need the following information in your letter.
Your USAA policy number
Your USAA policy end date
Your dated signature
You'll have to send your cancellation letter to USAA's headquarters and wait for the cancellation to be processed, which is why this option takes so long.
USAA Headquarters
9800 Fredericksburg Rd
San Antonio, TX 78288
Canceling by Phone
One of the simplest ways to cancel your USAA policy is to call customer service at 800-531-USAA (8722) or 210-531-USAA (8722).
As with any customer service line, though, you may have to stay on the phone for a bit.
Canceling In-Person
If you have a USAA agent near you, there is also the option to visit in person to cancel your policy.
This option is more limited, as you'll have to go during business hours, and there may not be a USAA representative near you.
When can I cancel my automobile insurance?
You can cancel your policy at any time with USAA. This is great, as some companies will charge customers for canceling before the end of an insurance cycle.
However, you must have your next insurer ready to go before canceling.
The last thing you want is a lapse in your auto insurance policy — companies will penalize drivers with increased fees for automobile insurance lapses.
Your cancellation should go into effect immediately (as long as you didn't choose the mail option).
To make sure your policy is actually canceled, you can log into your USAA account or call USAA. You should also receive a cancellation confirmation notice from USAA.
How do I make a claim?
There's a high likelihood that you'll have to make a claim at some point in your driving career.
The last thing you want is to be with a company whose claim process is complicated or whose claim record is poor (meaning it doesn't pay out many claims), so it's important to read USAA insurance claim settlement reviews.
So keep reading to learn what USAA's claim process is like, from ways to make a claim to how many claims USAA pays out.
Enter your ZIP code below to compare auto insurance rates.
Secured with SHA-256 Encryption
Ease of Making a Claim
USAA auto insurance makes it easy to claim, as there are multiple methods to pick from.
Online — You can file a claim online by signing into your account on USAA's website.
App — Another online option is using USAA's mobile app to file an auto insurance claim.
In-Person — Once again, this option is limited. But you can file a claim in person if you are near a USAA agent.
Phone — USAA also allows customers to call customer service at 800-531-8722 to file a claim.
These options make it easy to file a claim.
Just make sure you have relevant claim information, such as the time of the accident, the vehicles/drivers involved, and the damages incurred.
How many premiums have been written by USAA?
The number of premiums written shows if a company is growing or not. The more customers a company has, the less of a chance there is that customers will be overcharged.
This is because a company with many claims but few customers will have to charge customers more to pay out approved claims.
So let's look at the NAIC's data on USAA's written premiums.
USAA's written premiums have increased significantly since 2015, which shows that USAA has continued to grow and attract more customers.
An increase in written premiums also means USAA can continue to keep rates low.
What is USAA's loss ratio?
What is a loss ratio?
Basically, a company's loss ratio is the amount the claims paid in relation to the premiums earned.
Why do loss ratios matter in claims? The importance of loss ratios to claims can be broken down into the following.
High Loss Ratio (over 100 percent) — A company with a high loss ratio is paying out too many claims. These companies run the risk of going bankrupt and will likely increase prices for customers.
Low Loss Ratio — A company with a low loss ratio isn't paying out many claims. This means customers have a high chance of their claim being rejected.
Below, you can see USAA's loss ratios over a four-year period.
USAA's loss ratios seem good, though the loss ratio was a little high in 2016 at almost 90 percent.
Remember, even though multiple claim payouts may seem good, they add costs to customers' rates.
Since USAA's loss ratio dipped back down to 77 in 2018, USAA isn't at risk of going bankrupt and is still paying out a decent amount of claims.
Enter your ZIP code below to compare auto insurance rates.
Secured with SHA-256 Encryption
How to Get a USAA Insurance Quote Online
Getting a quote online is one of the best ways to see what an insurer will charge you. It's also the best way to see whether insurance companies like USAA offer the best and cheapest rates.
While we've already covered USAA's rates and discounts, getting a quote can give you a second price estimate before committing to a USAA policy.
So keep reading to learn about the different steps that you'll have to complete to get a USAA quote.
Step 1 – Visit USAA's Website
The first thing you'll need to do to get an online quote is to visit USAA's website.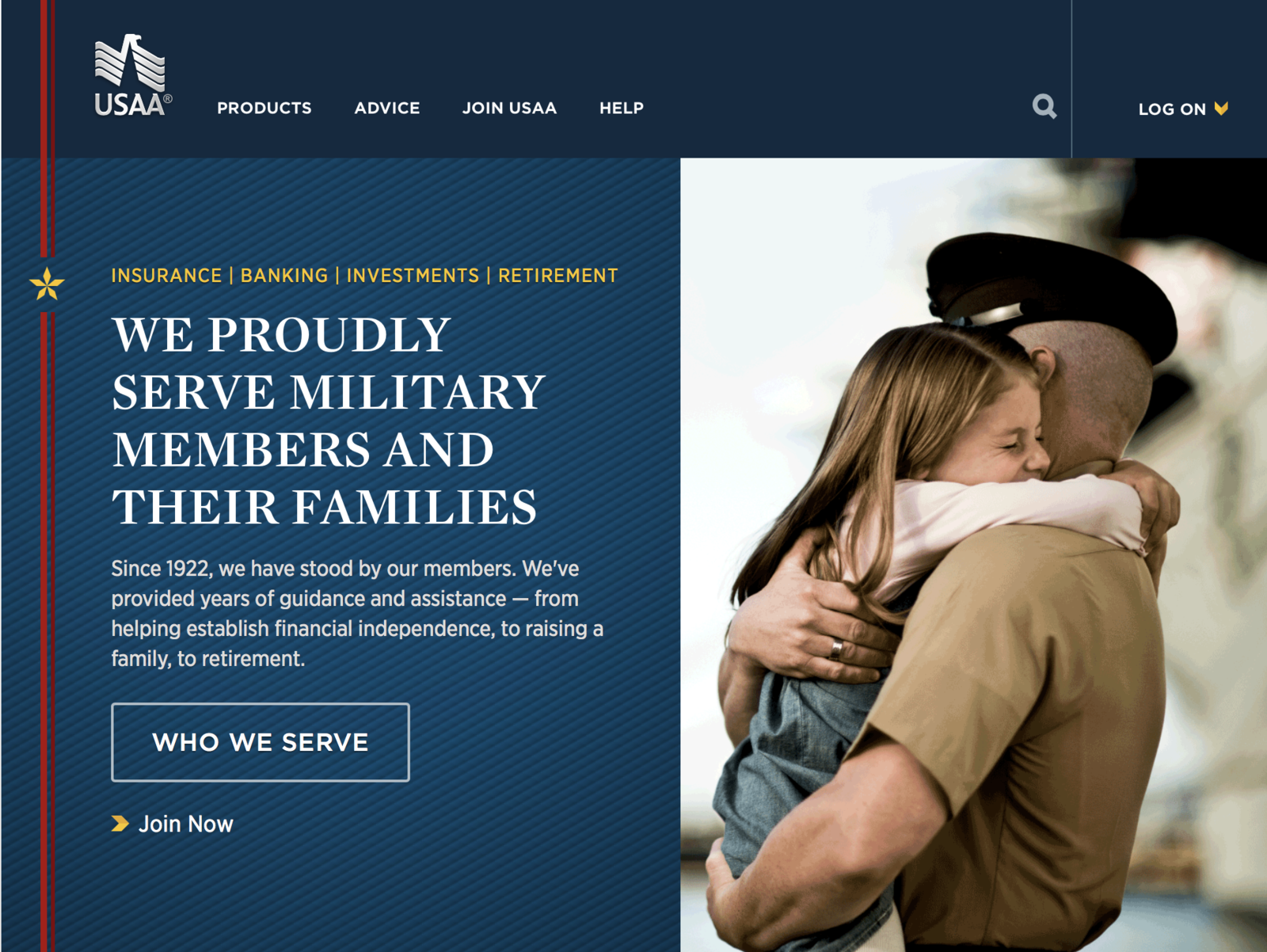 Unlike other insurers' web pages, you won't see a huge banner advertising free quotes right away. However, if you scroll down the home page, you will see an option to get a free insurance quote.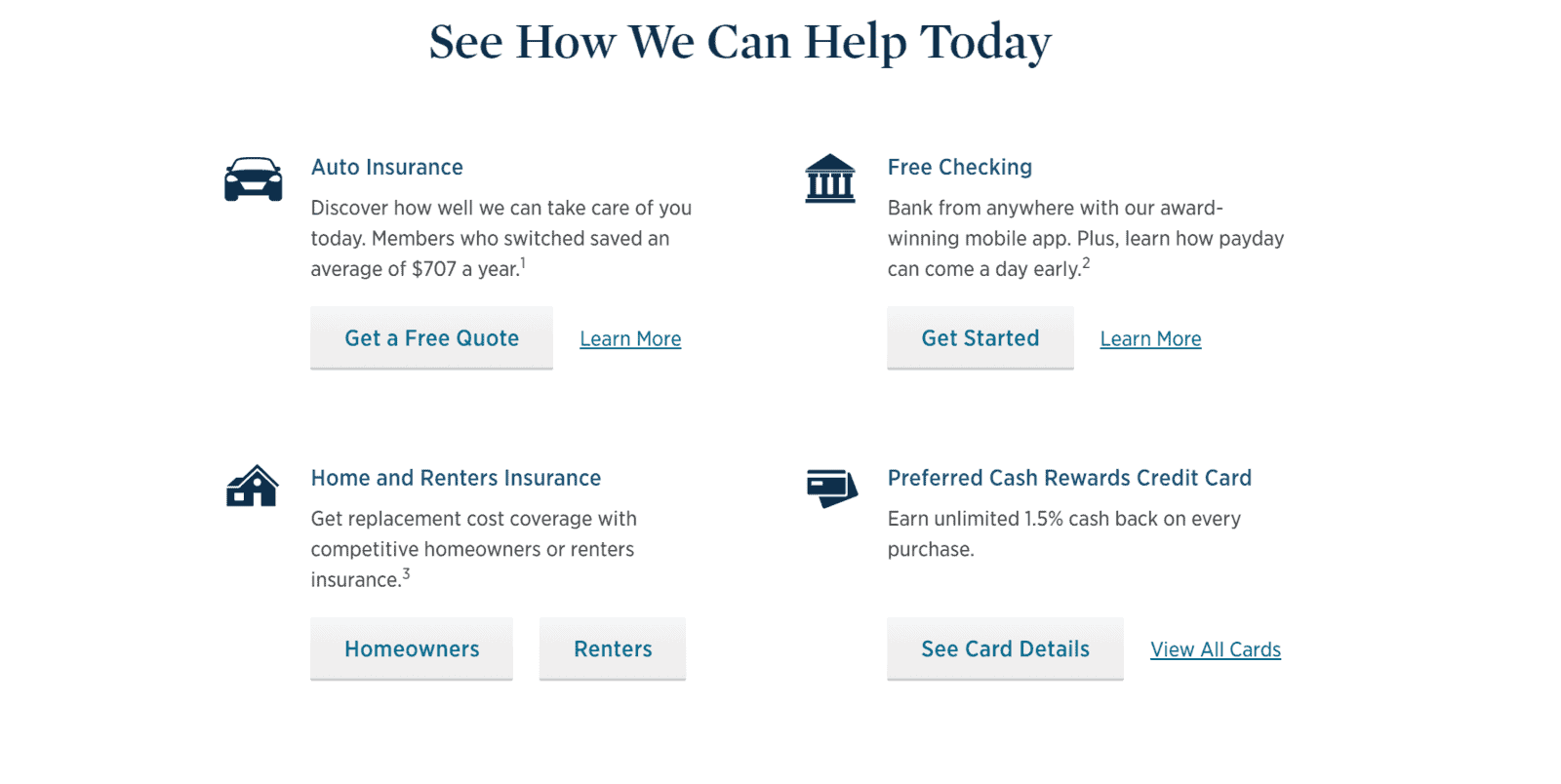 Step 2 – "Get a Free Quote" Link
If you click on the "get a free quote" button under auto insurance, you will be redirected to this page.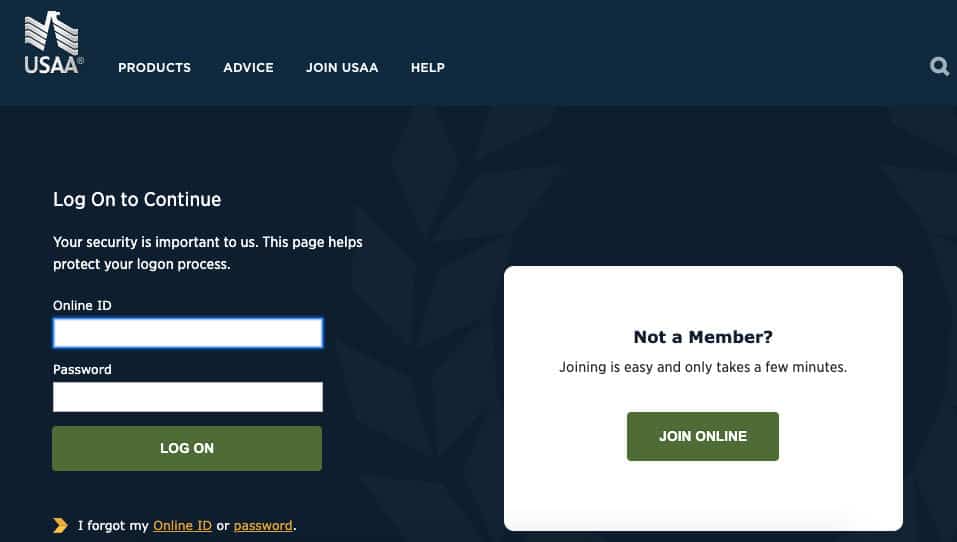 If you aren't a member, you'll have to click "join online" on the right side of the screen.
Step 3 – Joining USAA For Non-Members
If you aren't a USAA member and click "join online," you'll see the following screen.
Once you click continue, you'll be taken to fill out the auto insurance form (you'll set up an account while filling out the auto insurance form).
Step 4 – Filling out the Auto Insurance Form
The first thing you'll need to do is fill out personal information.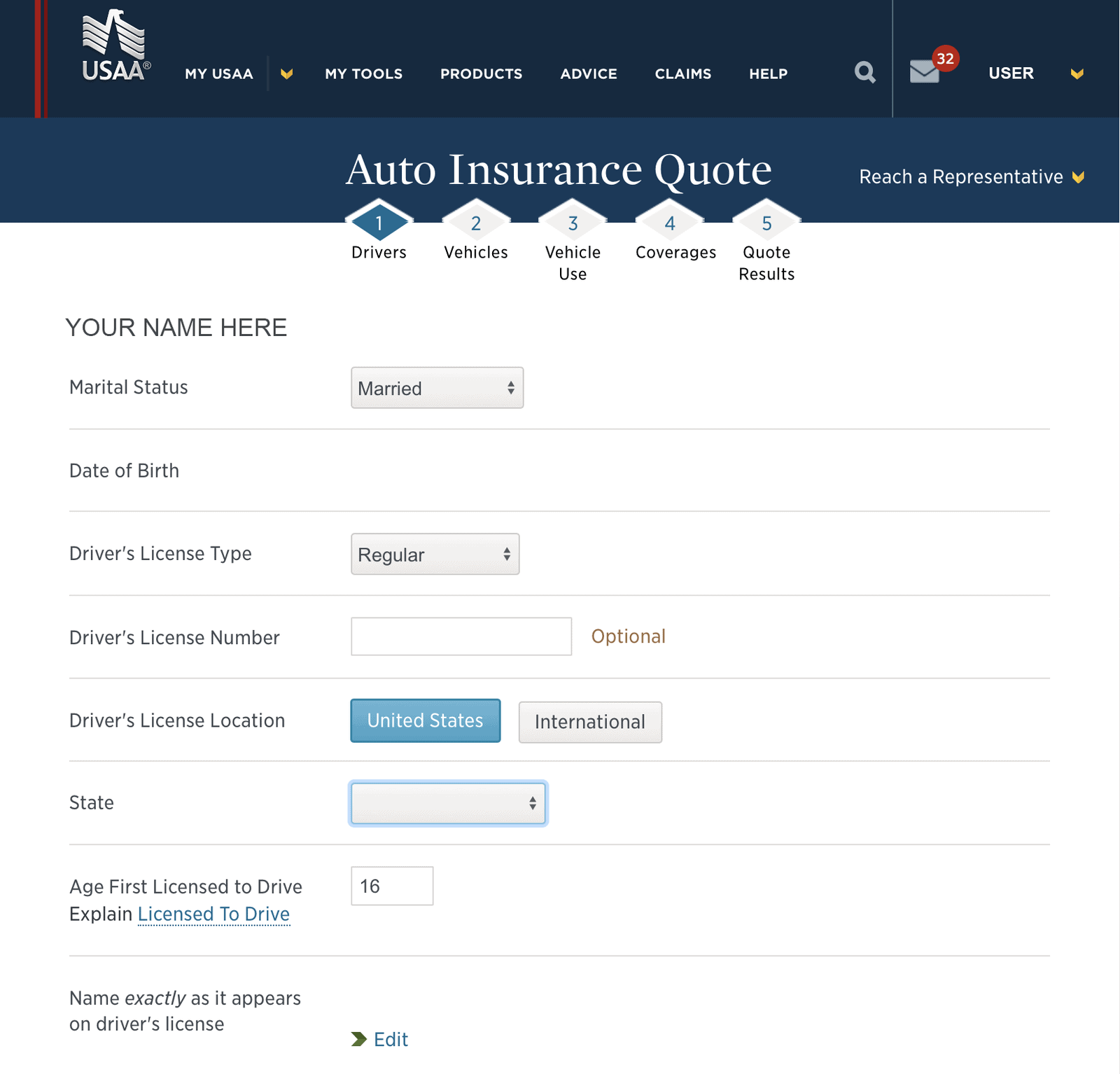 Once you've filled out your personal information, you'll need to enter information about your vehicles (if known).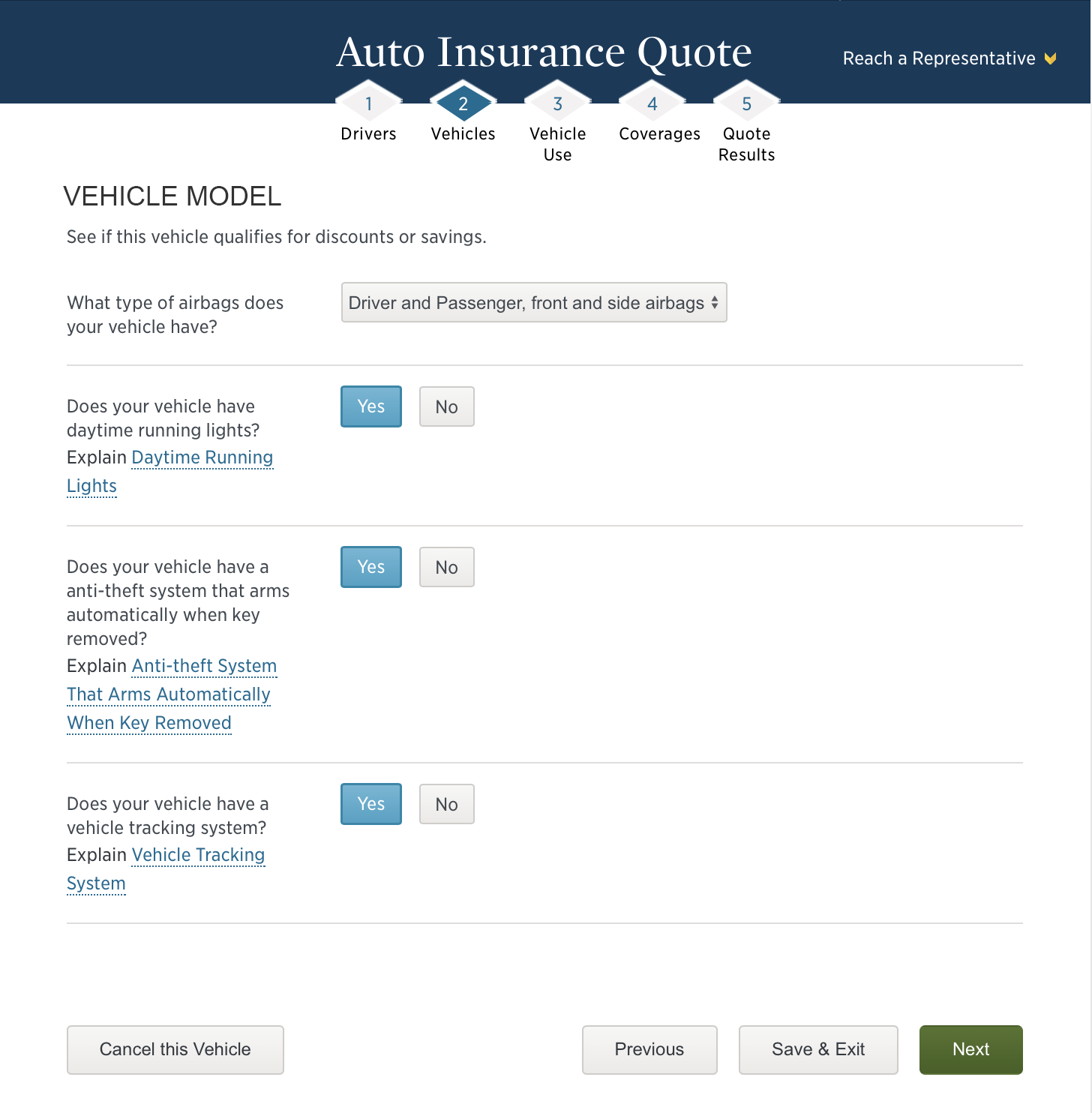 After you enter any known vehicle information about the make, model, safety features, and use, you will be asked questions to determine what types of coverages you need or want.
Once you've filled out all the required information, you can see a suggested quote for your auto insurance needs.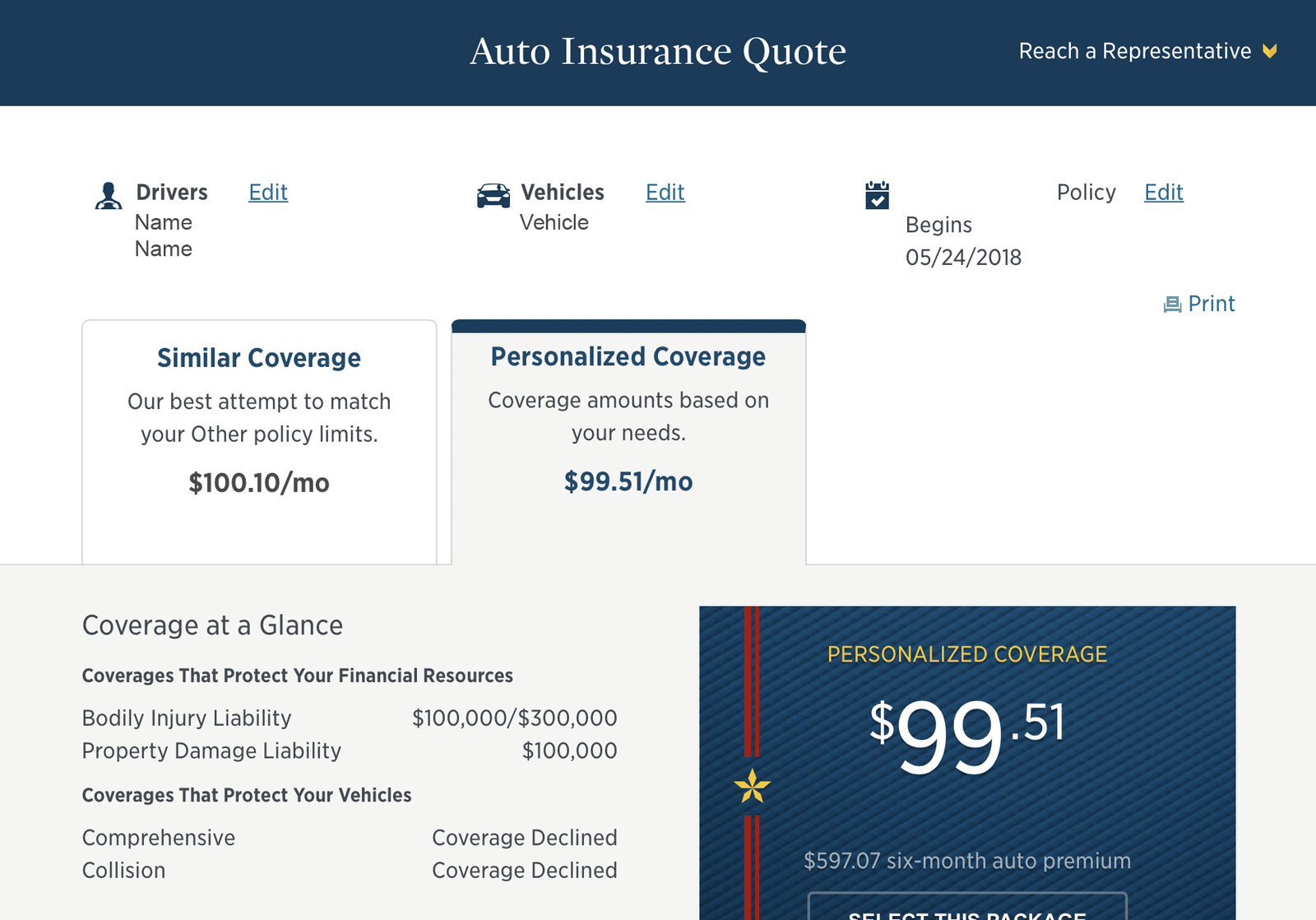 That's it. USAA's quote process is fairly simple, and you can get multiple quotes if you want to add drivers or a new car.
As a reminder, here is all the relevant information you'll need to have to get a quote from USAA.
We should note that you will need your Social Security Number if you decide to purchase a policy later.
Design of USAA's Website and App
Website and app design may seem like an unusual thing to cover in a USAA auto insurance review, but companies with fast-loading and clearly organized web pages are preferable.
After all, whenever you file a claim or check your payment status, you want the process to be easy and fast.
So let's take a look at USAA's technology.
USAA's Website: How easy is it to find information?
USAA's website has a simple design, making it easy to find information.
On the left side of the screen, there are two dropdown menus (products and advice). There are also options on the screen's left side to join USAA or access a help button.
Each drop-down menu gives you various options, making it easy to find your topic of choice. USAA offers a comprehensive list of information for its customers. If you want to learn more about auto insurance, the auto insurance option will take you to a page about coverages, discounts, and more.
Overall, USAA's website is easy to navigate. If you find the drop-down menus overwhelming, you can also use the search bar on the screen's top right.
When using the search bar, it helps to enter specific terms to narrow down search results. For example, enter auto insurance discounts rather than discounts.
Because of USAA's website organization, though, it should be fairly easy to access what you need.
Enter your ZIP code below to compare auto insurance rates.
Secured with SHA-256 Encryption
How is USAA's mobile app?
USAA's mobile app has earned great ratings. Based on a total of 626,800 ratings, the app received 4.8 stars.
USAA's mobile app has had a few complaints, mostly dealing with technical bugs (such as Touch ID not working).
For the most part, though, positive things have been said about the app. So what can you accomplish from your phone with the app?
Pay your bills
Get an auto insurance ID card
Ask for roadside assistance
Report a claim after an accident
Ask questions (there's a digital assistant)
You can accomplish other tasks with USAA's app, such as checking your banking account or investments, but we've only included the tasks that relate to auto insurance.
Since we are on mobile apps, USAA's driving app is fairly new and is dealing with common bugs and issues like the driving apps before it.
Thus, the app currently only has a small number of reviews and only two out of five stars.
The most common complaint is that the driving app is currently only available in Arizona, Ohio, Texas, and Virginia, which most drivers didn't realize until they'd downloaded the app.
What are the pros and cons of USAA auto insurance?
Now that we are nearing the end of our USAA auto insurance review, we want to recap and go through the pros and cons of USAA to answer the question is USAA still good for you.
The pros to USAA auto insurance? It's cheaper than most providers, offers plenty of discounts, and has strong financial ratings.
The cons? Fewer add-ons are available, limited availability in its driving app, and the potential to see significantly higher rates following an accident (yet, still lower than most providers).
Overall, USAA seems to have more substantial pros than cons.
We can safely say that USAA is a solid option for an auto insurer. While only you can decide if a provider is right for you, USAA offers incredibly low rates.
USAA also has decent financial and customer ratings, as well as increased growth in the marketplace. So if you go with USAA, there is little chance of USAA crashing and leaving you stranded without insurance.
However, USAA does lack a few programs that other companies have, such as ridesharing insurance. USAA still has all the basic coverages and more, though, so you won't find that USAA skimped out on your coverages.
Overall, USAA is a great choice if you are military personnel, as USAA provides great coverages at economical prices.
The Bottom Line of USAA
Since auto insurance can be a confusing subject, we want to give you a rundown of USAA.
You have to be active military personnel or an eligible family member. Eligible family members include spouses, widows, and un-remarried former spouses of USAA members. Children and stepchildren of military members are also eligible.
In the case of rental car coverage, which can be confusing, it's best to check directly with USAA to see if your current coverage extends to a rental car. Sometimes, it's best to purchase insurance from the rental company, as an accident won't raise your rates at USAA.
Does USAA cover rodent damage? If mice have made a nest in your car seats, USAA will help you have comprehensive coverage (covering damages from animals, not just rodents).
So if you live in an area heavily populated with wildlife, comprehensive coverage may be a smart investment.
Is USAA auto insurance cheaper than Geico? This is a question people frequently ask, as Geico and USAA are frequently in competition for the insurer's title with the cheapest rates.
Ultimately, which company is cheaper depends on your record and the area you live in. For the most part, though, the average rates show that USAA is the cheaper company.
USAA will cover towing if you have roadside assistance coverage. Roadside assistance will also help with flat tires, empty gas tanks, and locked cars.
We hope we've answered all your questions now that you've made it through our comprehensive USAA auto insurance review. Hopefully, you now feel prepared to decide if USAA is right for you.
Now that you have more knowledge about USAA, you're in a better position to shop rates and companies. Begin now by entering your ZIP code into our FREE auto insurance comparison tool below.