Cheap Auto Insurance from $40 per Month. A+ Rated Coverage
Looking to save on cheap auto insurance? Compare quotes from the top auto insurance companies and save up to $610.
Free Auto Insurance Comparison
Enter your ZIP code below to compare auto insurance rates.
Secured with SHA-256 Encryption
Check auto insurance quotes and requirements by state:
For detailed information on auto insurance quotes, requirements and various discounts in your state, we've got you covered. Find quick answers to these state specific topics on AutoInsuranceEZ.com.
Driving without insurance or other proof of financial responsibility is illegal in almost all states. Penalties for driving without insurance will include a large fine, license and/or registration suspension, and even possibly jail time.
Liability automobile insurance coverage is required in almost all states, each with its own minimum requirements. Some states also require PIP and/or Uninsured motorist coverage. Select a state above to see more about its vehicle insurance requirements.
It's not the best idea to get just the minimum coverage required. In the recent years the car replacement and repair costs along with medical costs have increased dramatically.
How much does auto insurance cost where you live?
5 minutes
To get a quote


Compare car insurance quotes - get more than one rate quote before you commit
Did you know that car insurance quotes and premiums vary quite a bit from company to company? Your rates depend on the vehicle, your marital status, credit score, gender, and driving history. Your zip code counts too. Providers use your postal code to break down their assessments of trends like motor vehicle accidents, the cost of repairs, and the number of car thefts in your area. A change in your situation could put money in our pocket. You may not realize it, but a change in your situation could qualify you for more discounts. For example a change in jobs, marital status, or driving a different vehicle could put more money in your pocket. If you're a high risk driver, you might think it's too expensive to get insurance. The good news is that you can still find high risk auto insurance for less online. In minutes you can have all the information you need to make an informed decision. If you haven't comparison shopped on auto insurance in a while, now is the perfect time to find out how much you could save. Enter your zip code to start saving!
How to find the best auto insurance quotes
Many drivers stick with the same insurance company for years without ever looking for a better rate. Some drivers are paying twice as much for a policy than they would have with another carrier. Comparing premiums online is easier than ever. While you can also use the Yellow Pages to call local insurance agents for quotes, AutoInsuranceEZ.com lets you compare multiple price quotes in minutes. We work hard to get you the best vehicle insurance quotes.
Times are tough, and many drivers are taking money-saving measures wherever they can. Make sure you compare insurance quotes at least once a year and get every discount you qualify for. Get a discount if you are a good student, home owner, or safe driver. There are many car insurance discounts that can further lower your insurance premium. Find discount auto insurance today! It takes about 5-7 minutes to fill out one lead form. An average consumer requests a quote from at least three companies. So the entire shopping process shouldn't take more than half an hour. Don't wait until your current insurance is due to renew. A change in your situation could help you save more now! Get free auto insurance quotes to find out. Right now you could SAVE HUNDREDS of dollars every year.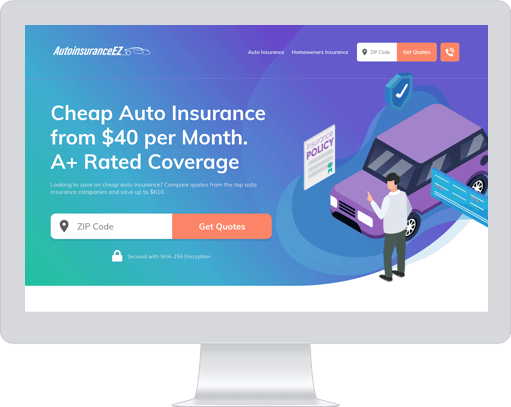 Saving the most of your time
How to find cheap auto insurance companies
Finding a cheap auto insurance company doesn't have to be hard. You might be surprised when you compare auto insurance to find that the cheapest auto insurance companies are often also some of the biggest and best-known insurance companies out there. What are the cheapest auto insurance companies? While rates will vary depending on factors like your driving record, averages can give you a good idea of what to expect.
So what do the rates look like from the best auto insurance companies out there? Let's take a look at the average cost of car insurance from the top 10 insurance companies.
Insurance Company
Average Annual Rates
Average Monthly Rates
Difference Compared to
National Average
Annual Rates
Allstate
$4,532.96
$377.75
+23.82%

American Family
$3,698.77
$308.23
+1.03%

Farmers
$3,907.99
$325.67
+6.75%

Geico
$3,073.66
$256.14
-16.04%

Liberty Mutual
$5,295.55
$441.30
+44.65%

Nationwide
$3,187.20
$265.60
-12.94%

Progressive
$3,935.36
$327.95
+7.5%

State Farm
$2,731.48
$227.62
-25.39%

Travelers
$3,729.32
$310.78
+1.87%

USAA
(Military & Family Members)
$2,489.49
$207.46
-32%

USAA has the lowest average rates but is only available to military members and their families. Fortunately, there are other cheap options among the biggest auto insurance companies, including Geico and State Farm. Surprised to see State Farm listed? They're the biggest car insurance company in the country, and they often also have some of the lowest rates. That's partly because being so big means they can spread the risk around and afford to charge less.
The company that's cheapest for one person may not be the cheapest for another. It's important to remember that just because one company has high rates on average doesn't mean it might not have cheap insurance rates for you.
There are a lot of factors that insurance companies use to determine what each person pays for their auto insurance. These include where you live, what car you drive, and your driving record. The important thing to remember is that while auto insurance companies may all look at the same factors to determine rates, they don't all weigh those factors the same way. That means that while a speeding ticket may mean high rates at one company, that same speeding ticket may not have as much impact at another company. Some companies may ding drivers for having a long commute while others don't. And young drivers may get a better rate from one company than another.
Finding a cheap insurance company is about looking for a company where all of your specific factors add up to the best price. The best way to find out which company has the cheapest rates for you is to shop around and compare.
What about budget auto insurance companies? You've probably seen ads for companies promising rock bottom pricing, no down payments, and low monthly payments. There's nothing wrong with choosing a budget insurance company for cheap auto insurance, but there are a few things to keep in mind.
Cheap insurance rates may mean bare-bones coverage. If that's what you want, that's ok – just make sure you know what you're getting.
A cheap rate doesn't always mean a good company. Read company reviews and check on any insurance company's reputation before you buy.
Some companies have low auto insurance quotes that aren't the rate you will actually get. Make sure the quote is based on enough information about you, your cars, and your driving record to be accurate and prevent any surprises.
There are plenty of ways to get a cheaper insurance rate without cutting coverage, increasing deductibles, or choosing a company with a questionable reputation. Most insurance companies offer a long list of discounts, and you'd be surprised how much you can save with simple steps like bundling your coverage or asking about other available discounts. Don't assume that your insurance company has applied every discount you qualify for automatically, it always pays to ask.
Any company can be a cheap car insurance company if they're right for you. Comparing car insurance rates online lets you see multiple quotes from companies with cheap rates and a name you can trust, too. There's no easier way to save.