The Ultimate New Mexico Car Insurance Guide (Costs + Coverage)
Free Auto Insurance Comparison
Enter your ZIP code below to compare auto insurance rates.
Secured with SHA-256 Encryption
True to its nickname – the Land of Enchantment – New Mexico welcomes everyone with breathtaking landscapes, art, balloon festival, and a culture that's a mix of its early inhabitants from different parts of the globe.
With such an expansive topography to explore, driving can be a truly pleasurable experience in New Mexico.
But, what about the insurance coverage on your car?
New Mexico has one of the highest number of uninsured motorists in America which makes it dangerous to drive here without sufficient coverage.
If the thought of getting hit by a motorist who doesn't have coverage makes you sweaty, you need to buy coverage that would protect you from such events.
Because if the at-fault driver doesn't have the means to settle your damages, you would have to use your personal resources to pay for personal medical injuries and property damage.
Don't worry, there are options in the insurance market to offer coverage for situations that you can't envisage. But, how would you know what other unknown events can make you vulnerable?
We are here for you.
In this car insurance guide, we would cover all the basics about getting the right auto insurance coverage in New Mexico. If you are living in Albuquerque, Las Cruces, Rio Rancho, Santa Fe, or Roswell, you can easily find up to ten rate quotes from top insurers in your community from AutoInsuranceEZ.com.
You can also start comparison shopping today using our FREE online tool. Enter your zip code above to get started.

New Mexico Car Insurance Coverage and Rates
As consumers, it's difficult to know everything about car insurance coverage and rates. In our busy lives, we rarely care to understand the factors that determine rates and what could help us in getting discounts.
Also, how many motorists really know the difference between full coverage and comprehensive coverage?
Since we are experts in the auto insurance industry, we would explain everything in detail – starting with minimum coverage laws and average rates in New Mexico.
Firstly, you should be aware of the laws that require you to carry minimum insurance coverage on your car.
Secondly, when you are speaking to your insurance agent, you should have information about premium rates handy, so that you're able to ask for discounts and compare.
New Mexico's Car Culture
When you drive through New Mexico, you will come across mountains and deserts, but hardly any humans. Especially, on the highways.
Because of massive income disparities, different kinds of vehicles can be spotted in the cities – from vehicles with broken windows to luxurious automobiles.
In the touristy areas, road conditions are good for driving, however, it doesn't last when you move down south.
The state does offer a lot of contrasts in general.
Minimum Insurance Coverage Law in New Mexico
Every state mandates car owners to buy minimum car insurance coverage for the safety of other motorists and pedestrians on the road.
In New Mexico, it's illegal to drive without auto insurance or proof of financial responsibility.
How much should you carry to meet the state requirements?
Bodily injury liability coverage of $25,000 per person and $50,000 per accident
Property damage liability coverage of $10,000 per accident
In the event of an accident, if you're the at-fault party, your insurance would cover the medical and property damage expenses of the injured party to the extent of the liability limits.
Why are you responsible to pay the third-party damages?
In at-fault states or states that follow the tort law, insurance companies determine the fault in an accident. Whoever is responsible for the accident is liable to settle the damages of the other party.
State laws always require motorists to carry a minimum liability coverage so that the victims of a car accident are compensated for the loss.
What about the medical and property damage expenses sustained by you in an accident?
If you're the at-fault party in an accident and you have only bought the state minimum coverage, then you will have to exploit your personal resources to pay for the expenses.
We understand that it's not a pretty situation. And, it will take you a lot of effort to get back on your feet if you're involved in a major accident.
To cover your damages, you can consider either a Medical Pay or Personal Injury Protection coverage option that can cover your medical expenses as well as lost wages depending on the type of coverage you choose.
We would explain these options in detail later. First, let's talk about how much coverage should you have.
The state laws of New Mexico mandate motorists to buy minimum coverage, however, the limits might not be sufficient to settle damages in the event of an accident.
If your policy limits are inadequate to settle expenses in an accident, your personal assets might be at risk. Those who have substantial assets should consider increasing their coverage limits.
Forms of Financial Responsibility
The Mandatory Financial Responsibility Act (MFRA) requires motorists to either have the ability to settle damages that may arise in accidents or purchase motor vehicle insurance.
As per the regulations of the Act, motor vehicles should be insured or carry proof of financial responsibility unless the motor vehicle is exempt from the provisions of the MFRA Act.
What would comprise as proof of financial responsibility?
Insurance coverage that meets the minimum liability requirements of the state
Self-insurance certificate issued by the Superintendent of Insurance when a motorist has met the criteria under the same
Premiums as a Percentage of Income
How much you spend on premiums every month is a matter of concern in every household.
Let's look at the table below to see how much New Mexicans are spending on premiums.
In 2014, motorists in New Mexico spent around 2.76 percent of their income on full coverage auto premiums. In its adjacent state of Arizona, the rate of premiums to income was 2.8 percent while in Texas it was 2.59 percent in 2014.
Core Car Insurance Premiums in New Mexico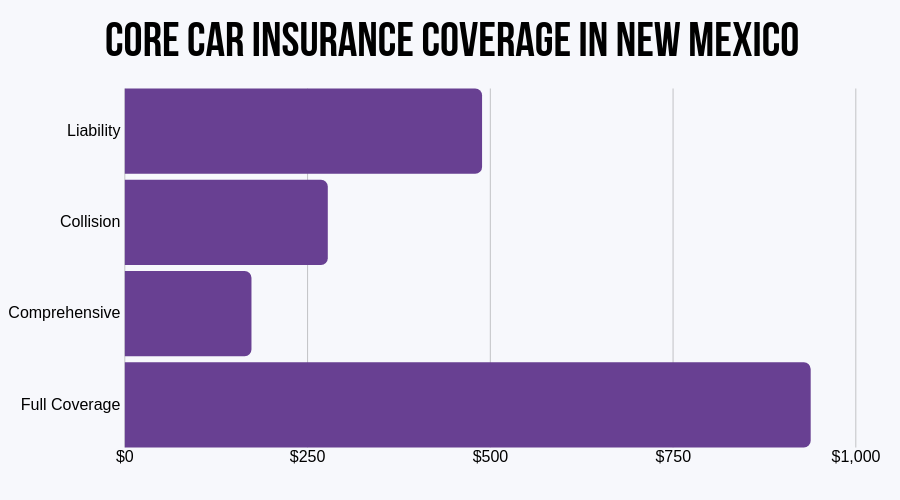 Although the state of New Mexico mandates automobile owners to buy only liability coverage, it's important to include collision and comprehensive coverage in your policy.
As you can see in the chart, collision and comprehensive insurance cost much lower than liability insurance in which the risks involved with third-party damages are much higher – and might include lawsuits.
What is covered under collision and comprehensive insurance?
Collision covers damages when your car collides with an object such as poles, mailbox, pavements, another car, etc. It also covers damages from potholes.
For damages outside your control, such as fire, vandalism, theft, hurricanes, falling objects, etc., you would be compensated for damages through comprehensive insurance.
The average premiums for a full coverage in New Mexico was $938 in 2015 which was lower than the national average of $1,009.
Liability coverage, which is the basic minimum that everyone must buy, costs $488 in New Mexico. The national average liability coverage premium is $539.
Additional Coverage in New Mexico
Have you thought about how would you cover your personal injury costs if you cause an accident?
Insurance companies offer Medical Payments and Personal Injury Protection (PIP) coverage that pays for your personal injury expenses in an accident, irrespective of the fault.
Whether you opt for Medical Payments coverage or PIP, depends on your needs and preferences.
One salient difference between Medical Pay and PIP is that Medical Pay only covers medical expenses while PIP covers your medical expenses, funeral costs, childcare expenses, and lost wages.
Do note that if you opt for Medical Pay insurance, you would be covered even when you're a passenger in another car, traveling by public transport, or simply walking somewhere.
As illustrated in the table above, the loss ratio for Medical Pay was around 68 percent in 2015 which is basically the percentage of money that insurers settled in claims out of the premiums.
So with that, you're covered for personal injury expenses. Can you relax now?
After Florida and Mississippi, New Mexico has the highest number of uninsured motorists in America. As per data from the reputed firm, Insurance Research Council, around 20.8 percent of the population drives without an insurance in New Mexico.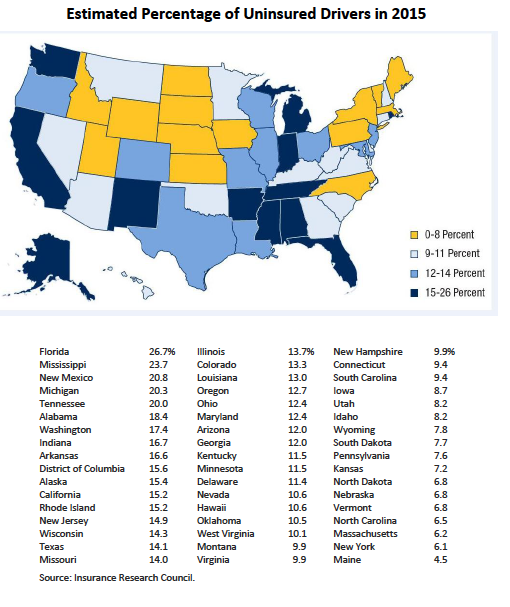 When you live in a state which is ranked the third highest for uninsured motorists, you have to plan for the appropriate coverage in advance.
As per estimates, the average cost of a claim in an accident involving an uninsured driver is $20,000.
What can you do if you're hit by a motorist who's uninsured/underinsured?
Auto insurers provide Uninsured/Underinsured Motorist Coverage with your insurance policy which can be bought to protect yourself from out-of-pocket expenses.
– Add-ons, Endorsements, and Riders in New Mexico
Apart from those basic insurance coverage options, there are some optional endorsements and riders that you can buy with your policy.
For instance, if you own a classic car, your car would be valued using a different calculation model. Hence, you can look at the classic car insurance option.
Here's a list of options that you can read through to assess if you might need one:
Guaranteed Auto Protection (GAP)
Personal Umbrella Policy (PUP)
Rental Reimbursement
Emergency Roadside Assistance
Mechanical Breakdown Insurance
Non-Owner Car Insurance
Modified Car Insurance Coverage
Classic Car Insurance
Since we are on the topic of getting the best coverage options for you, let's touch upon usage-based insurance or pay-as-you-drive insurance that rewards motorists for good driving behavior.
We understand that insurance costs money and you feel bad that because of a few rotten apples on the road your insurance rates go up.
That's why pay-as-you-drive insurance was introduced to help those who consistently demonstrate safe driving habits.
How is your driving pattern tracked?
Though every insurer has their own way of tracking the driving behavior of motorists, usually you're required to download an app or install a telematics device in your car.
Most insurers track your – braking habits, speed limits, daily mileage, and time of driving – to assess whether you're eligible for a discount.
Once you spend some time enrolled in the usage-based program (six months to one year), your discounts are calculated and applied to your premium rates.
Please be aware that risky driving behavior can raise your rates.
Premium Rates by Demographics in New Mexico
When you look at the table above, you will notice a significant difference in rates for 17-year-olds and those who are above 25.
As you get more mature in life, insurance companies consider you less risky, hence the slump in rates. If you have a teenager at home, buying a policy from either State Farm or USAA would be a reasonable option.
Do remember that USAA is only available to military personnel and their family members.
Other than the rate differences because of age, insurers also charge more from 17-year-old males compared to their female counterparts, because men are involved in more accidents than women. Once motorists turn 25, the difference in rates for men and women almost disappears.
Premium Rates by Zip Code and Insurance Carrier in New Mexico
Premium rates vary by zip code, so you can search the rates in your zip code charged by the major insurance carriers in the table above.
Most Expensive/Least Expensive Zip Codes in New Mexico
The average annual premium in New Mexico is $3,463. In the table above, you can check the rates by zip code & city and how much the rates deviate from the average premiums.
Enter your ZIP code below to compare auto insurance rates.
Secured with SHA-256 Encryption
– Best Car Insurance Companies in New Mexico
How much do you know about the insurance company from which you're buying coverage?
Comparison of rates and add-on features are a pre-requisite for everyone, but knowing about the financial strength and customer reviews of insurers is also important.
We are sure that you don't want to be insured with a company that doesn't have the ability to settle your claims. Or fails to respond in time when you're involved in an accident.
In this section, we will look at the financial strength ratings, customer reviews, and complaint number of leading insurers in New Mexico so that you are able to make a decision based on facts.
Financial Ratings of Leading Insurance Companies in New Mexico
There are multiple credit rating agencies that assign ratings for financial strength and long-term credibility. We will look at the AM Best ratings for the auto insurers as it focuses on the insurance industry mainly.
AM Best is an independent opinion on the financial strength of an insurance company after a thorough analysis of its business profile, balance sheet, operating performance, and other factors.
What's the rating scale followed by AM Best?
AM Best assigns ratings in the range of A+ to D wherein A+ is the highest rating.
Any insurance company with a rating in the range of A++ to B++ has a superior to good ability to meet its insurance obligations. Anything below that needs to be looked at with some level of caution.
Customer Reviews of Leading Insurance Companies in New Mexico
After financial ratings, you should check the customer reviews of the auto insurers in your state. There are multiple online sources where you can check for reviews, though it would be more helpful to also check customer satisfaction studies by different companies.
For your convenience, we have searched customer studies on the web and found one by J.D. Power, a renowned marketing information services company, which conducts satisfaction studies every year.
As per the J.D. Power study, customers are generally happy with car insurers as customer engagement has improved with the introduction of digital interactions.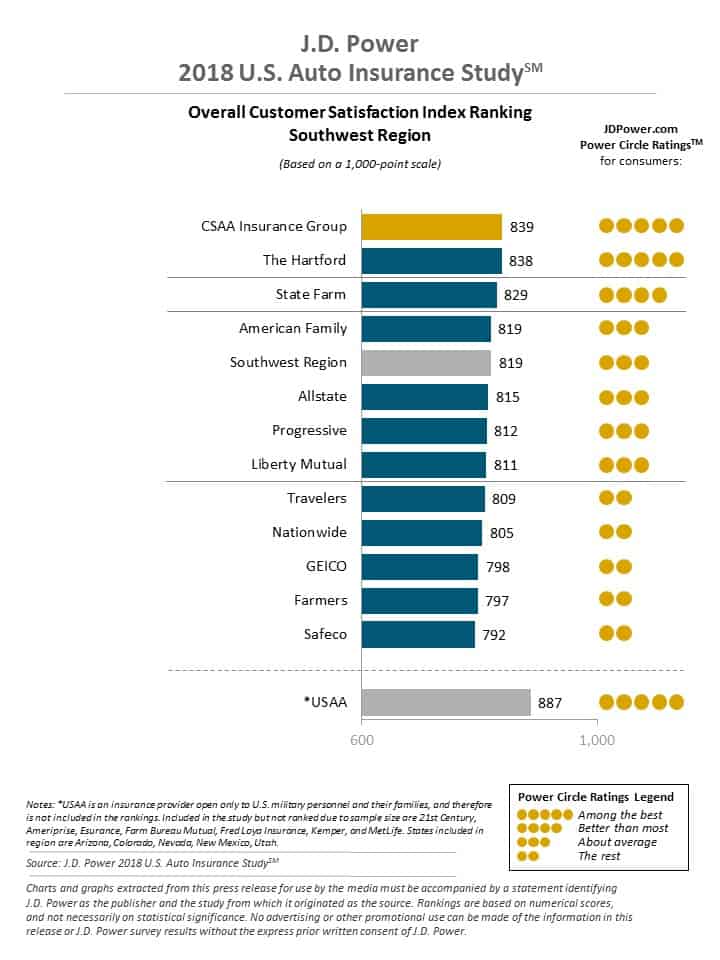 In the Southwest region, CSAA Insurance Group and the Hartford are among the best-rated insurers by customers. All insurers were ranked on a number of factors which included satisfaction with auto claims, the response time on first notice of loss, ease of interactions, etc.
Complaint Numbers of Leading Insurance Companies in New Mexico
Although you should check the complaint number of insurance companies and the issue that consumers are complaining about, you should look at the data from a relative standpoint.
Higher the market share, higher would be the complaints number. This doesn't hold true in every scenario, but generally, companies who write a large share of premiums would get more complaints.
Cheapest Car Insurance Companies in New Mexico
Here's a table illustrating the rates from the cheapest to the most expensive in New Mexico.
The average premium in the state is $3,463 and the rate offered by State Farm is much lower so it can be a reasonable option for everyone. Those who are eligible for insurance from USAA can avail the cheapest rate.
Premium Rates by Annual Commute in New Mexico
Remember the part where we talked about pay-as-you-drive insurance?
When you clock a low mileage on your car, you might get a discounted rate from some insurers.
Let's look at the rates for different annual commutes.
Geico, State Farm, and USAA offer a discount if you drive less on a daily basis. Motorists who work from home or don't have any daily commute needs can benefit out of this, so you must ask your insurer about low mileage discounts.
Premium Rates by Coverage Level in New Mexico
Premium Rates by Credit History in New Mexico
Generally, those who have a poor credit history pay higher premiums than those with a good credit history. Because of the apparent risk of non-payment in the future, insurance companies charge higher rates to account for any contingent losses.
The table illustrates the difference in rates which are significantly higher for motorists with a poor credit record.
As per Experian's State of Credit 2017 survey, the average vantage score in New Mexico was 659 while the national average was 675.
Vantage score is a credit scoring model for consumers, jointly developed by Equifax, Experian, and TransUnion, which assigns scores in the range of 300-850.
As per the scale of Experian, New Mexicans have a fair credit score on an average.
Premium Rates by Driving Record in New Mexico
Driving record is the major factor that influences your premium rates because that's where all the risk is involved. If you're a risky driver, you will cause more accidents leading to a higher number of claims.
Almost all insurers raise their premiums for drivers who have a record of accident, violation, or DUI.
Geico, particularly, charges a significantly higher premium from those with a DUI record. State Farm, on the other hand, keeps the premiums same for those with any kind of violations on their record, though raises it slightly over the clean record rate.
Largest Auto Insurance Companies in New Mexico
Number of Insurers in New Mexico
State Laws in New Mexico
Since we told you that we would provide an in-depth guide, we don't want to miss an important aspect of car insurance i.e. the state laws.
How do these state laws matter?
Being aware of the laws helps you to have an informative discussion with your insurance agent about your options and also educates you about things you might not know, such as the availability of auto insurance through a separate association that offers coverage to high-risk drivers.
Car Insurance Laws in New Mexico
We would first talk about some of the car insurance laws that are good to know and can come handy at some point of time in your life.
Windshield Coverage Laws
The laws in New Mexico require motorists to have a clear view from the windshield and other windows. There's nothing specific about the cracks and chips in windshields. However, it states that you aren't allowed to drive in an unsafe vehicle.
High-Risk Insurance in New Mexico
If a motorist has multiple records of accidents or violations, do you think any insurer would be willing to provide coverage?
The simple answer is no. Because insurance companies want to make a profit at the end of the day.
When the probability of frequent accidents and violations rise, auto insurers usually charge a much higher rate or outrightly refuse coverage.
What can one do in such a situation?
All doors aren't closed for high-risk drivers and they can get coverage from the New Mexico Motor Vehicle Insurance Plan (NM AIP).
Introduced in 1948, NM AIP was initiated by the state to help high-risk drivers get coverage. In this program, high-risk drivers are equally assigned to all the insurers, who are allowed to conduct operations in New Mexico, as per their overall market share.
Equitable distribution ensures that everyone assumes the risk equally rather than a handful of insurers.
Who are eligible under the plan?
Hold a driver's license in New Mexico and a registered car in the state
Inability to obtain insurance in the voluntary market within the last two months
Though you can obtain coverage through this state plan, premium rates tend to be high due to the obvious risks attached.
Automobile Insurance Fraud in New Mexico
Auto insurance fraud is a rampant problem in America which includes intentionally concealing information or blatantly providing incorrect information to take advantage of insurance benefits.
Between 2013 and 2017, fraudlent activities in the property and casualty market led to losses of $30 billion each year as per estimates of the insurance industry.
Where do you think these losses are transferred?
When insurance companies incur losses due to auto insurance fraud, they raise your rates. If premiums are particularly high in your zip code compared to nearby locations, chances are that the auto fraud rate is high in your area.
Filing a false claim, providing incorrect information, preparing a false supporting document, or misrepresentation in New Mexico can lead to penalties and prison time.
Statute of Limitations in New Mexico
The law in New Mexico allows motorists to file a lawsuit in a civil court within three years of the accident for a personal injury.
For any damage to your car or other personal property, you are allowed a window of four years to bring a lawsuit.
Vehicle Licensing Laws in New Mexico
Knowing about the licensing laws of your state would help you in keeping your details updated and avoid any unnecessary fines due to an outdated license.
Whether you know the latest laws or not, we are here to help you with everything.
We would start by talking about Real ID first. Do you know why you need to get a Real ID in New Mexico?
Under the Real ID Act, new security measures of identification were introduced which restricts the acceptance of existing driver's license for entry into several Federal facilities and travel by commercial flights.
This initiative was started to improve the authenticity of identification documents issued by state governments and the state of New Mexico is compliant with the Act.
Here's a quick 2-minute video on how to get a Real ID in New Mexico.
Penalties for Driving without Insurance in New Mexico
As we discussed earlier, New Mexico has quite a large number of uninsured motorists in the country, about 20.8 percent.
But, that doesn't mean that you're allowed to drive without insurance and the ones who are caught get penalized heavily.
New Mexico contracts with an independent organization to match auto insurance information with registered cars. Once you buy insurance, your provide should ideally furnish the details to the motor vehicle department' central database.
Drivers who are sent a notice for not buying the minimum coverage can face suspension of their vehicle registration.
Teen Driver Laws in New Mexico
Going through several stages in driving helps teens get better at driving. To get a license as a teenager, you have to pass through three stages.
Instruction Permit
To get an instruction permit, teens must attain the age of 15, get parental consent, and pass a knowledge & vision test.
Since this is the first driving experience for a teen, there are some restrictions that they need to follow:
Successfully complete the permit period of six months without getting into accidents
Enroll in a state-approved drivers education program
Always be accompanied by a licensed driver while driving who's older than 21 and has held the license for more than three years
Record supervised driving of 50 hours, including nighttime driving of 10 hours
Provisional License
To get to the second stage, a motorist must be 15 years & 6 months old and complete the on-road driving test.
After a provisional license, a teen must observe a few restrictions:
Teens need to hold the license for at least a year
Teens aren't allowed to drive with more than one non-family member under the age of 21 unless accompanied by a licensed driver who's 21 or older
Though there are few exceptions, teens are not allowed to drive between the hours of 12-5 a.m by themselves
Unrestricted License
After driving on a provisional license for a year, teens can obtain an unrestricted license which allows them to drive without any supervision.
Drivers' License Renewal Procedure
The license that you obtain after those three stages isn't valid for your whole life and you must renew it regularly as per the requirements in your state.
Rules of the Road
Despite all the tips and tricks that can help lower your rates, the best suggestion is to follow the rules of the road.
If you follow the law, you would rarely have to deal with law enforcement for any violations that can lead to an increase in premiums.
Fault vs No-Fault
New Mexico follows the fault system where the at-fault driver is liable to pay the damages sustained by the third-party during an accident.
In at-fault states, liability insurance is mandatory because if you're at fault, you would be required to settle damages of the injured party.
Seat Belt and Car Seat Laws
In New Mexico, all passengers are required to wear a seat belt while the car is in motion irrespective of their position.
When it comes to car seats for children, every state has strict laws with respect to the dimensions and weight restrictions.
The laws in New Mexico require all children upto the age of seven weighing less than 60 pounds to be restricted in a child safety seat.
Other seat requirements for children are as follows:
Rear-facing seats: Children should be put in a car seat facing the rear side until they are a year old and weigh 20 pounds. It's also advised to keep children rear-faced for as long as possible or until they weigh around 35 pounds.
Forward-facing seats: Parents should follow the height and weight limits stated in the car seats for forward-facing seats which usually caps the weight to 40 pounds.
Booster Seats: Children should be put in booster seats, usually from the age of 7-10, till the car seat belts fit them.
Keep Right and Move Over Laws
New Mexico is amongst the states which requires motorists to move to the right lane and use the left lane for passing only.
As per the New Mexico law, motorists approaching a stationary emergency vehicle on a highway should take caution and move over to another lane, away from the emergency vehicle.
While doing so, motorists need to slow down and move over when it's safe to do so.
Speed Limits in New Mexico
You can get a ticket in New Mexico if you violate the basic speeding rules or drive above the absolute speeding limit.
Unless a speed limit is posted, the absolute limits in New Mexico are as follows:
Highways: 75 miles
Business and residential districts: 35 miles
School zones: 15 miles
If you exceed these speed limits, you can be penalized with fines which vary as per your speed in comparison to the posted limit.
Ridesharing Laws in New Mexico
In 2015, after a tumultuous ride laden with protests from local taxi companies, ridesharing providers – Lyft and Uber, were allowed to operate under new rules in New Mexico.
Under the Transportation Network Company Services Act, New Mexico designed a new regulatory framework for ridesharing services.
Although these providers are exempt from the taxi regulations, they need to comply with the safety regulations of the state:
Drivers need to be 21 or older to drive for a ridesharing company
Drivers need to pass a background check before being approved
Zero tolerance policy for driving under the influence of alcohol or drugs
The Act also states a two-tier insurance coverage requirement during these rides.
When the driver is logged-in the app (but not riding), the vehicle must have minimum liability coverage of $100,000. After the driver picks a rider, the liability coverage increases to $1 million.
Automation on the Road
According to research, about 94 percent of accidents occur due to an error in human judgment.
Taking cues from these stats, many states are willing to explore the possibility of autonomous vehicles on their roads.
Although New Mexico saw many discussions around autonomous vehicles, there are no specific laws related to these vehicles as of now.
Last year, the New Mexico Department of Transportation organized a summit to make everyone aware of the long-term benefits that driverless vehicles can bring to the state.
Safety Laws in New Mexico
Other than following the rules of the road, motorists must engage in safe driving behavior in order to avoid violations and accidents.
DUI Laws
In 2017, New Mexico witnessed 120 fatalities due to alcohol-impaired driving accidents. The rate of fatality per 100,000 people was 5.8 which was much higher than the national average of 3.4.
These stats are alarming because no amount of alcohol is worth anyone's life.
If you're caught with a Blood Alcohol Concentration (BAC) of 0.08 percent or more, you are deemed to be in violation of the DWI law in New Mexico which attracts fines and prison time.
Distracted Driving Laws
New Mexico bans all drivers from texting while driving, however, talking on the phone is allowed.
Commercial drivers, on the other hand, aren't allowed to use their phone for talking or texting while driving and a violation can lead to fines up to $50.
Driving in New Mexico
Till now, we focused our guide on keeping you safe on the road and helping you to get the best rates for your auto insurance.
Now, we will present stats about driving in New Mexico – fatalities, theft, road conditions, causes of accidents, etc.
– Vehicle Theft in New Mexico
Let's look at which car makes and models are the most stolen in your state.
We also have data for the motor vehicle theft numbers by cities for you so that you can search your city, courtesy the database of FBI.
Road Fatalities in New Mexico
What are the reasons behind most of the crashes in New Mexico?
Which cities or counties register the maximum deaths due to accidents?
How much time does it take EMS to reach in rural areas?
This data may come handy when you're looking to move within New Mexico or planning to buy coverage.
Fatal Crashes by Weather Condition
Fatalities (All Crashes) by County
Traffic Fatalities by Road Type
Fatalities by Person Type
Fatalities by Crash Type
– Fatalities Trend for the Top 10 Counties
Fatalities Involving Speeding by County
Fatalities in Crashes Involving an Alcohol-Impaired Driver (BAC = .08+) by County
Teen Drinking and Driving
Teenage drunk driving is worrisome not only for parents but for law enforcement as well since inexperienced teenagers can cause fatal accidents.
In New Mexico, 62 arrests were reported for underage drunk driving and the state ranks 15th for the total number of arrests in 2016.
The driving fatality rate of 2.6 per 100,000 thousand people in New Mexico is alarming since the national average is 1.2 as per data from the National Highway Traffic Safety Administration.
EMS Response Time
Transportation in New Mexico
In the end, we would like to present some information about the condition of transportation in your state.
What's the reason behind traffic jams in your city, if any?
Car Ownership
In the chart above, you can see the percentage of people under different car ownership buckets compared to the national average (in grey).
Most of the households in New Mexico own two cars.
Commute Time
Everyone wants a short commute to their office which doesn't happen often because of peak hour traffic.
New Mexicans can rejoice as their average commute time to work is 21.1 minutes which is lower than the national average of 25.5 minutes.
Commuter Transportation
New Mexicans prefer to drive alone to work much like the average worker in America. Merely 10.6 percent of the population carpools while around 5 percent work at home.
Traffic Congestion in New Mexico
As per traffic analytics firm Inrix, drivers in Albuquerque lost 57 hours in traffic jams last year. Albuquerque is the 44th most congested city in America.
Apart from the lost hours in traffic, jams also cost in monetary terms due to the loss of fuel and productive hours.
The cost of congestion was $792 per driver in New Mexico.
With this section, we come to the end of our car insurance guide.
Start comparison shopping today using our FREE online tool. Enter your zip code below to get started.