Cheap Auto Insurance in Colorado
Colorado auto insurance rates average $82/month for full coverage and $43/month for liability only. It's illegal to drive without insurance in Colorado, and the minimum required liability coverage is 25/50/15. Find cheap auto insurance in Colorado by shopping around.
Free Auto Insurance Comparison
Enter your ZIP code below to compare auto insurance rates.
Secured with SHA-256 Encryption
The very name of Colorado conjures up images of snow-covered peaks, perfect powder on the slopes, and apres-ski nightlife. If you're one of the state's more than 5 million residents, though, you know there's a whole lot more to the Centennial State than the skiing. When you're off the slopes and on 4 wheels, you also need auto insurance in Colorado.
Colorado is the place to enjoy the outdoors year-round, not just when the snow falls, with majestic state parks full of trails welcoming explorers. It's also a great place to enjoy craft beers, great food, and live music in one of the nation's most astonishingly beautiful amphitheaters, Red Rocks. Most of the state's population lives to the east of the Rockies, but life is still often lived at high elevations; Denver's "Mile High City" moniker is entirely truthful.
Driving Colorado's mountain roads, especially in the winter when blizzards are frequent and dangerous – can be a little nerve-wracking even for seasoned pros. That's why you'll want to have good Colorado auto insurance on your side.
With so much to do outdoors in Colorado, no one wants to spend time inside looking for low cost auto insurance in Colorado. It can take time to compare auto insurance rates, but with rates on the rise, comparison shopping is a necessity. Wouldn't it be great to have the legwork done for you?
We've made it easy to handle your car insurance needs stress-free. You'll find everything you need to know right here, including insurance company ratings and average premiums, car insurance laws, and how to get low income car insurance in Colorado.
Compare Colorado auto insurance quotes right away by entering your ZIP code above.
What are Colorado auto insurance Coverage and Rates?
There's no question that you need car insurance, but how much coverage do you need?  What's required and what's optional?  And how much is it going to cost?
We've got all the answers right here.
Enter your ZIP code below to compare auto insurance rates.
Secured with SHA-256 Encryption
What is minimum coverage of auto insurance in Colorado?
Colorado requires every driver to carry a minimum amount of liability insurance, which provides financial responsibility in the event of an at-fault accident.
Because Colorado is a fault state, your liability will pay for damages if you're found to be responsible.  That makes this coverage vitally important.
Both uninsured/underinsured motorist and medical payments coverage are required unless you choose to waive them in writing.
What are forms of financial responsibility for auto insurance in Colorado?
Car insurance is the required form of financial responsibility in Colorado.
Unless you own a fleet of 25-plus cars, in which case you can be self-insured, you will have to carry a policy that meets the state's minimums listed above.
You're also required to present proof of financial responsibility upon request of a police officer. That will generally occur during a traffic stop or at the scene of an accident. If you aren't able to prove you have insurance, you can be ticketed.
You can show this proof of insurance either on paper or electronically on your phone or tablet.
Colorado also keeps an insurance database. Insurance companies report coverage information – including cancellations – on a regular basis, and the system matches the policy with the registered vehicle it covers.
How much are premiums as a percentage of income?
On average, Americans spend 2.35 percent of their per capita disposable income – that's how much money you have to spend after paying taxes – on their car insurance
How does Colorado compare?
On average, Coloradans spend 2.15 percent of their disposable income on car insurance.
That brings the state in under the national average.
The average per capita income in Colorado is $43,609.00, or $3,634.08 a month.
The average annual car insurance premium is $939.52, with a monthly premium of  $78.29.
Enter your ZIP code below to compare auto insurance rates.
Secured with SHA-256 Encryption
What is core coverage for auto insurance in Colorado?
Core coverage includes the three main parts of a full coverage policy: liability, collision, and comprehensive.  Take a look at the average rates for each in Colorado.
Comprehensive is the only coverage where Coloradans pay more than the national average, and the overall full coverage state average still comes in below the national average.
Unfortunately, while still under the national average, Colorado has seen rates jump over the past several years.
What is additional liability auto insurance in Colorado?
Part of the reason for increasing rates is loss ratios.  A loss ratio compares how much is being paid out in claims compared to how much is paid in premiums.
A loss ratio over 100 percent indicates more is paid out in claims than was paid in premiums.
You want to see loss ratios that are neither too high nor too low; too low means the company isn't paying out as much as it should be.
Check out the loss ratios in Colorado for additional liability coverage, which is optional for Colorado drivers.
Take a look at the uninsured motorist loss ratio in Colorado –  it's over 100 percent, and well above the national average.
Med Pay loss ratios aren't nearly as high, with Colorado around the national average.
13.30 percent of Colorado drivers are uninsured, ranking the state 19th in the country.
As you can see from the loss ratios above, uninsured drivers are hurting insurance company loss ratios, and in turn hurting your premiums.
What are add-ons, endorsements, and riders for car insurance in Colorado?
Both uninsured/underinsured motorist and Med Pay coverage are technically optional in Colorado since you can decline with a signature.
There are a number of other optional coverage choices you might be offered when buying a policy.  These can be selected or declined based on your needs.
Guaranteed Auto Protection (GAP)

Personal Umbrella Policy (PUP)

Rental Reimbursement

Emergency Roadside Assistance

Non-Owner Car Insurance

Modified Car Insurance Coverage

Pay-As-You-Drive or Usage-Based Insurance 
Several companies offer a usage-based insurance program in Colorado and most of them can earn you a discount on your car insurance.  Check with your current insurer to see what options they have, or shop around!
Which of these options are available depends on the insurance company.  You might find that some offer all of these options and others just a few.
Enter your ZIP code below to compare auto insurance rates.
Secured with SHA-256 Encryption
Can you tell me the insurance rates by age and gender in Colorado?
Your age and gender can both have an impact on what you pay for car insurance.  Take a look at how these differences play out across several insurance companies.
Nobody will be surprised to see that young drivers pay the highest rates.  In Colorado, there really isn't a huge difference between male and female drivers, even at age 17, and that actually is surprising.  Young male drivers typically pay quite a bit more than their female counterparts.
By the time drivers reach their mid-thirties, the gap has closed quite a bit, and in some cases, male drivers see lower rates than female.
As a general rule, married people also pay lower rates than single people, but that's not always true.
What are the Colorado auto insurance rates by zip code?
Where you live also affects what you pay for car insurance.  Different areas represent different risks, including theft rates and car crash frequency.
Search below to find out how your ZIP code stacks up, and see which ZIP codes have the highest and lowest rates.
When you move from one ZIP code to another, you will likely notice a change in your premiums.  In some cases, it's negligible, while in others it might give you sticker shock.
Denver has the most expensive ZIP code in Colorado.
What are the Colorado auto insurance rates by city?
Although one ZIP code might be pricey, the entire city might not be so bad on average.  Search by city to check average rates across the state.
Few people think to check on car insurance rates before they move, and it may not be a big factor in the decision.  But it's worth knowing which areas pay the most, and keeping that in mind when you're house-hunting.
Even though Denver had the most expensive ZIP code, Aurora has the most expensive rate overall.
Enter your ZIP code below to compare auto insurance rates.
Secured with SHA-256 Encryption
What companies offer auto insurance in Colorado?
Car insurance companies love to tell us how great they are.  Their ads are full of promises!
How much you could save by switching, how they're always there when you need them, how happy their customers are — those commercials have a lot to say.
So how do you know which companies really are great and which just have a great advertising team?
Choosing a car insurance company is hard, and there are a lot to choose from.  But we have the hard statistics and facts that will help you see who is keeping their promises to policyholders.
Get ready to find out just how the big names in car insurance stack up!  We've got financial ratings, complaint volume, consumer reports, and more all right here.
The Largest Companies' Financial Ratings
Here's a look at the financial ratings of the top ten . car insurance companies in Colorado.
Looks like a report card, right?  It is.
These grades are given by AM Best, the trusted source for insurance company financial information.  They tell us how solid the company's finances are.
An insurance company with a good financial rating is able to pay its claims.
As you can see, all of the companies on the list earned an A or higher.  Some have the best possible rating, an A++, but all of these companies are in good shape.
You want to choose a company with a good financial rating because it means they're on solid ground when it comes to the ability to pay their claims even in the event of a catastrophe.
When a major weather event, for example, hits a specific area, it can mean a major outlay of cash for insurance companies.  Companies with poor financial ratings may struggle to pay those claims.
Companies With The Best Customer Satisfaction Ratings in Colorado
JD Power is the most trusted source for consumer ratings, and their auto insurance company surveys give each company a score.  These scores compare them on several factors, including claims, pricing, and policy offerings.
It's worth noting that smaller companies don't rank with JD Power, just the big names, so you won't see local companies listed here.  That doesn't mean they aren't good companies.
Only three companies in the region earned top marks with JD Power, and only four ranked as above average.
Most of the big name companies are within a few points of each other.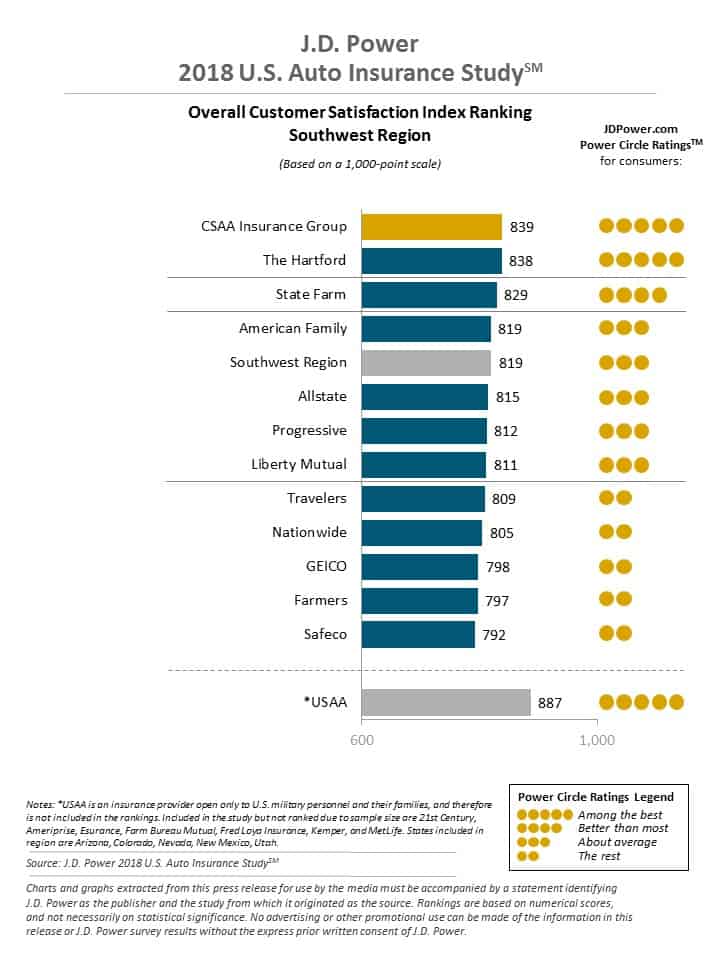 Companies With The Most Complaints in Colorado
Complaints data allows us to see which companies are receiving the most complaints, and then compare it to how many policies they have in force.
The complaints ratio is the number that tells us how many complaints a company has compared to its market share.
It's not surprising that a huge company like State Farm has more complaints than a much smaller company because they have more customers.  It's the ratio that matters most.
You'll notice that Farmers and USAA have different complaint numbers, but the same ratio.  That's where how much business the company has in Colorado comes into play.
Low Cost Auto Insurance in Colorado By Company
In a "you get what you pay for" world, it seems logical that the companies with the best records can charge more for their excellent service.  Thankfully, that's not always the case with insurance.
| Company | Average | Compared to State Average | Percent Compared to State Average |
| --- | --- | --- | --- |
| Allstate F&C | $5,537.17 | $1,644.85 | 29.71% |
| American Family Mutual | $3,733.02 | -$159.30 | -4.27% |
| Farmers Ins Exchange 2.0 | $5,290.24 | $1,397.92 | 26.42% |
| Geico Cas | $3,091.69 | -$800.63 | -25.90% |
| Safeco Ins Co of America | $2,797.74 | -$1,094.58 | -39.12% |
| AMCO Insurance | $3,739.47 | -$152.85 | -4.09% |
| Progressive Direct | $4,231.92 | $339.60 | 8.02% |
| State Farm Mutual Auto | $3,270.76 | -$621.56 | -19.00% |
| USAA CIC | $3,338.87 | -$553.45 | -16.58% |
Some of the highest rated companies in Colorado actually have premiums that come in below average, so low cost auto insurance in Colorado is not hard to find.
These averages, of course, don't represent what every driver can expect to pay.  Most Coloradans will see rates somewhere above or below these numbers, and a lot of other factors affect premiums.
Let's take a look at some of those factors and how they impact rates on average.
Average Colorado Auto Insurance Rates By Commute Length
Although it's one of the things most people believe to be a big factor, commute length doesn't make as much of a difference in rates as you might think.  Take a look at these numbers.
Many companies don't change their rates at all based on longer commutes, and for those that do, the difference isn't all that big.
Average Colorado Auto Insurance Rates By Coverage Level
Most people would feel more comfortable with a higher level of coverage, but worry they can't afford it.
Let's look at the difference from several major companies for three levels of coverage.
It may surprise you to see how little rates really do increase when you add extra coverage.  It's more affordable than most people think to get better coverage!
On average, the difference between high and low coverage is $480.53 a year, or about $40 every month.
Average Colorado Auto Insurance Rates By Credit History
Credit is one of the factors car insurance companies in Colorado can use in order to calculate rates.
Improving your credit score can really make a huge difference in what you pay for car insurance.  After you've paid off some debt or cleared up credit issues, it's a good time to start shopping around.
Just bear in mind that it can take a while for changes to show on your credit score.
Driving Record Rates By Company
If you've been in a fender bender or just received a ticket, you're probably worried about how it's going to affect your rates.
Driving record is just one of the factors involved in rate calculation, but it's definitely a big one.  Tickets and accidents represent a higher risk to an insurance company.
Here's a look at average rates for several common situations.
You can see that every company weighs things differently; Progressive charges more for an accident than for a DUI, while at Allstate it's the DUI that has the highest rate.
Just one more argument for shopping around, no matter what is on your record!
What are the largest companies for auto insurance in Colorado?
Here are the biggest players in the Colorado car insurance market.
State Farm has the largest market share in the state, not surprising since they are the biggest car insurance company in the nation.
USAA is the second largest, possibly due to the fact that Colorado has the tenth-largest population of active duty and reserve military members in the nation.
Number of Insurers in Colorado
Colorado isn't unusual in having more foreign than domestic insurance companies in operation, but they do have a larger disparity than other states.
There are 10 total domestic insurance companies licensed in the state compared to 848 foreign insurers.
To be clear, that doesn't mean the insurance company is from another country!
A foreign insurance company is incorporated in another state.
Certain states have a lot of insurance companies incorporated domestically, such as Texas, Illinois, and New York.  They are licensed to operate in other states and are considered "foreign" there.
What are the laws regarding auto insurance in Colorado?
Colorado law governs drivers, vehicles, and their activities on the road.  That includes insurance, licensing, and registration.
Most of us aren't lawyers, and we don't know every law that's on the books.  It's not always easy to understand the legal wording or how each law applies to you in particular.
We've simplified things to bring you a list of the laws you really need to know, and the specifics of each.
We have broken down the laws in straightforward categories and without all the legalese, so you'll know what you need to do to get licensed, get insured, and stay on the right side of the law when you're on the road.
Enter your ZIP code below to compare auto insurance rates.
Secured with SHA-256 Encryption
Colorado Auto Insurance Laws
The Colorado General Assembly is in charge of creating, reviewing, and changing laws regarding vehicles and drivers.
Laws about car insurance are found in the Colorado Statutes Title 10, Article 4, Part 6.  We've pulled the necessary details out and simplified them for you.
High-Risk Insurance in Colorado
When a driver has a particularly problematic driving record they are classified as high-risk drivers.
Many insurance companies turn down these drivers due to the likelihood of a claim, making it hard for such drivers to get the coverage they need to be on the road legally.
Colorado's Motor Vehicle Insurance Plan is part of the Western Association of Automobile Insurance Plans, which assists high-risk drivers with finding coverage.
This plan spreads the risk among insurers by assigning high-risk drivers to them.  It's really a last resort but will get you covered while you work to clean up your record.
Low-Cost Insurance
Colorado doesn't have a plan to assist low-income drivers in getting affordable coverage.
The best way to find a low rate is to shop and compare; rates can vary a lot from company to company!
Windshield Coverage
Colorado law doesn't have anything specific to say about coverage for windshields.
Some insurance companies do offer specific coverage for repair and replacement of a windshield, while others simply include it as part of the comprehensive coverage.
Automobile Insurance Fraud in Colorado
Insurance fraud is illegal in Colorado and punishable by law under Title 18 of the Criminal Code.
There are two levels of fraud in terms of the type of crime they represent.
If you misrepresent information on an application or renewal, it's considered a Class 1 misdemeanor and can carry a sentence of up to 18 months in jail and up to $5,000 in fines.
More serious fraud, such as false claims or causing an accident to make a claim are classified as Class 5 felonies.  These carry a sentence of up to 3 years in prison and up to $100,000 in fines.
The Colorado Attorney General's office operates a fraud bureau dedicated to investigating insurance fraud, with a fraud reporting form available online.
Statute of Limitations
Colorado has a three-year statute of limitations on both bodily injury and property damage claims.
After that time runs out, you won't be able to file a claim or sue for damages.
Colorado State-Specific Laws
Winter travel in Colorado can be dangerous, so it's important to know and obey the traction laws.
There are two levels of traction laws in the state:
Code 15 requires all vehicles to have either snow or mud/snow tires with at least 1/8-inch tread depth, four-wheel drive, a traction device, or tire chains in order to be on the road.
Code 16 requires all vehicles on the road to have either chains or a traction device.
Colorado also has a Three Foot Law that governs passing bicyclists on the road.
What are Colorado's vehicle licensing laws?
Everyone on the road in Colorado has to be licensed and insured, and there are rules and processes to be followed.  We'll cover the basics.
Penalties For Driving Without Insurance in Colorado
Colorado has serious penalties for those that are caught on the road uninsured.
In addition to these penalties, there is a $40 reinstatement fee for your license, and you'll have to file an SR-22.  You'll also have points applied to your license; we'll talk about that down the page.
Colorado Teen Driver Laws
Teen drivers in Colorado go through a graduated licensing system.  Each step is designed to allow teens to gain experience and learn the rules of the road while including restrictions that reduce some of the dangers of being inexperienced.
Colorado Older Driver License Renewal Procedures
Colorado requires older drivers to renew their license every five years and to provide proof of adequate vision at every renewal.  That doesn't always mean coming in for an eye exam; you can see your own eye doctor to satisfy the requirement if renewing online or by mail.
The only difference between the general population and senior drivers is that those over the age of 66 can only renew by mail every second renewal.
New Residents in Colorado
When moving to Colorado, new residents have 90 days to obtain a Colorado driver's license.
There's no test, written or otherwise, required if you hold a license from another state that is either valid or has been expired for less than one year.
You will need to bring the following:
Driver's License and other ID if your license doesn't show your full name
Proof of residence
Proof of lawful presence in the U.S.
A signed affidavit from parent or guardian if under 18
Fee
For new drivers holding a license from another country, testing is required with the exception of these countries:
Canada
France
Germany
South Korea
Taiwan
License Renewal Procedures
Licensed drivers need to renew every five years in Colorado.
Drivers between the ages of 21-65 can renew online if they meet all the requirements, including having an eye exam by a doctor in the past three years.  Renewal online can only be done two consecutive times.
Renewal by mail has similar rules, but can only be done every second renewal.  You can't renew by mail if you have already renewed online two times in a row.
When an in-office renewal is required, there will be a vision screening and you will have a new photo taken.
Negligent Driver System in Colorado
Colorado uses a points system to track violations on your driver's license.  The number of points required to suspend a license depends on the driver's age.
| Age of Driver | Number of points for suspension during any time period | Number of points for suspension within 12 months | Number of points for suspension within 24 months |
| --- | --- | --- | --- |
| 17 & Under | 7 or more | 6 or more | N/A |
| 18-21 | 14 or more | 9 or more | 12 or more |
| 21 and over | N/A | 12 or more | 18 or more |
Here are the points applied to a driver's license for each of these common violations:
Speeding (5 – 9 MPH over the limit): 1 point
Failure to yield right-of-way: 3 points
Improper passing: 4 points
Failure to show proof of insurance: 4 points
Speeding (10 – 19 MPH over the limit): 4 points
Careless driving: 4 points
Speeding (20 – 39 MPH over the limit): 6 points
Reckless driving: 8 points
Driving under the influence of drugs or alcohol: 12 points
Speed contests: 12 points
Evading an officer: 12 points
Speeding (40+ MPH over the limit): 12 points
Leaving an accident scene: 12 points
As you can see, each of the last five on the list will earn any driver a suspension.
Enter your ZIP code below to compare auto insurance rates.
Secured with SHA-256 Encryption
What are the rules of the road?
These are the basic rules you need to know on Colorado roads.
Fault Vs. No-Fault
Colorado is a fault state.  As we covered earlier, that means that the insurance policy provided by the at-fault driver will pay out for injuries and damage up to the policy limits.
Comparative fault is used to determine who pays what, which means that if you're under 50 percent at fault, you can seek damages, but only up to the percentage of fault that you've been determined to carry.
Let's break that down a bit.  Imagine you're in an accident with a total cost for injuries and property damage of $100,000.
You're found to be 20 percent at fault because your actions had some impact on causing the accident.  You can collect, because you're less than 50 percent at fault, but only up to 80 percent of the total, or $80,000.
If you're more than 50 percent fault, you aren't entitled to collect for injuries or damages from the other driver.
Keep Right and Move Over Laws
Colorado law requires drivers to travel in the right lane on highways with a speed limit of 65 or higher except when passing.
The exception to this rule is if the volume of traffic doesn't permit the driver to move into the right lane.
Speed Limits
Seat Belt and Car Seat Laws
In Colorado, all drivers over the age of 16 riding in the front seat must wear a seat belt.  The state restricts how much you can collect for injuries in an accident if you aren't buckled up.
All children 15 and under must be restrained the proper car seat or safety belt.
Colorado allows riding in the cargo area of a truck if it's fully or partially enclosed on all four sides.
Ridesharing
Driving for a service like Uber or Lyft is a good way to make some extra money, but it's important to know that you need the right insurance.
Your personal auto policy may not cover you if you're driving for a ridesharing service when an accident happens.
Currently, there are eight companies that offer ridesharing-specific insurance and endorsements in Colorado.
Insurance requirements for rideshare drivers in Colorado are a bit complex.  When you're not driving for a service and not logged into their app (meaning not open to taking a rider for pay), you're only required to carry the usual minimum coverage.
During any time period when you're logged into the app, your liability coverage must be increased to $50,000 per person and $100,000 per incident for bodily injury, and $30,000 for property damage.
As soon as you accept a rider, the coverage requirement increases to $1,000,000 in primary liability.
So how does that all work?  Well, according to the statute, the driver isn't required to personally provide the extended coverage.  The company is expected to provide it.
That said, as we noted above, your personal insurance could choose to refuse coverage or even non-renew your policy if you haven't notified them you're driving for Uber or Lyft.
The best course of action is to increase your limits and make sure you have a rideshare policy endorsement in place.
Automation On The Road
Colorado allows the use of automated vehicles on the roadways, including those that do not have a driver, as long as they meet all applicable state laws.
Essentially, companies can test their driverless vehicles on the roads as long as the vehicle is able to comply with all existing rules of the road.  Issues of insurance and liability have yet to be fully addressed.
What are Colorado's safety laws?
Many laws are created to keep people safe on the road.  Still, plenty of drivers engage in unsafe behaviors that can cause accidents.
Penalties in Colorado can be stiff.
Colorado DUI Laws
In Colorado, there are two levels of infraction for driving while impaired by alcohol.
A 0.05 percent blood alcohol content (BAC) is classified as Driving While Ability Impaired (DWAI).
At 0.08 BAC, the violation becomes a DUI.
Below are the penalties in Colorado for each.
Colorado Marijuana-Impaired Driving Laws
Marijuana is legal in Colorado for recreational use, which increases the risk of driving after using it.  Legal or not, you can't drive when you're high.
The legal limit for marijuana in the blood is five nanograms, however, officers can use their judgment to determine whether a driver appears visibly impaired.
Drivers convicted of driving while impaired by marijuana will face the same penalties as a DUI.
Distracted Driving Laws
Colorado doesn't currently ban the use of a cell phone for anyone over the age of 18.  Under 18, all cell phone use is banned, even hands-free.
Texting while driving, on the other hand, is illegal for all drivers.
What are some must-know facts about Colorado?
That's not all there is to know about driving in Colorado!
We've covered the law, but what does it really look like out there?  You've probably seen a lot of scary statistics, and you might be wondering what's accurate and what's exaggerated.
We'll clear up the real risks to your vehicle and to your safety in Colorado.
Next, you will find easy-to-understand stats on vehicle theft and dangerous behavior on the road.  And we'll cap it off with what a typical day on the road looks like in Colorado.
Vehicle Theft in Colorado
Here's a look at the most commonly stolen vehicles in Colorado.
You can check out how many vehicles were stolen in your city in 2017, according to the FBI, by searching below.
Risky and Harmful Behavior
Sadly, drivers who don't take their responsibility on the road seriously can sometimes cause fatal accidents.
In 2017, there were 648 traffic fatalities in Colorado.
Read on to see a breakdown of the numbers.
Enter your ZIP code below to compare auto insurance rates.
Secured with SHA-256 Encryption
What are traffic fatalities?
Traffic Fatalities By City
Denver tops the list of the cities with the most traffic fatalities, which isn't surprising given its size.
Traffic Fatalities in Rural Vs. Urban Areas
More fatalities happen in urban areas than in rural areas in Colorado.
In 2017, the total number of fatal accidents in rural areas was 277 compared to 369 in urban areas.
Fatalities By Person Type
The majority of fatal crashes involved vehicle occupants.
Fatalities By Crash Type
While some counties saw a drop in traffic fatalities, there are several with increases over the years and a few with an alarming jump from 2016 to 2017.
Five-Year Trend For The 10 Top Counties
Fatalities Involving Speeding By County
Again, we see some counties with a decrease in speeding fatalities, while others saw marked increases from 2016 to 2017.
Fatalities Involving an Alcohol-Impaired Driver By County (BAC 0.08 percent or Higher)
Most counties were relatively steady or saw slight increases in DUI fatalities.
Teen Drinking and Driving
In 2016, Colorado had 1.2 under 21 alcohol-impaired fatalities per 100,000 people.  That puts the state right at the national average.
Colorado ranks 7th nationwide for underage DUI arrests.  Check out the numbers.
EMS Response Time
Colorado's mountain roads may account for some of the difference between urban and rural response times.  The nature of single-lane roads in mountainous areas makes it harder for EMS vehicles to get through to an accident scene.
How is Colorado's transportation?
Coloradans love their bikes, but they still use cars to get to and from work.  Let's take a look at cars and commutes by the numbers.
Car Ownership
More than 43 percent of households in the state own two cars, while only two percent are without a vehicle.
Commute Time
Commuters in Colorado spend fewer minutes on their daily commute than the national average. The most common commute in Colorado is between 15 and 19 minutes.
Commuter Transportation
The vast majority of Colorado commuters get to work in their own vehicle, making the drive alone. More than 70 percent commute to work alone.
Top Cities for Traffic Congestion
Denver ranks as the 19th most congested city in the United States and 112th in the world, according to traffic data site INRIX.
Drivers spent an average of 83 minutes in congested traffic each day in 2018.
While we can't help with your commute we can help you get Colorado car insurance quotes.  Enter your ZIP code below right now to buy Colorado auto insurance at a great rate today.