Farmers Auto Insurance Review for 2023
Free Auto Insurance Comparison
Enter your ZIP code below to compare auto insurance rates.
Secured with SHA-256 Encryption
When you're searching for auto insurance to safeguard all the drivers in your family, having a trusted industry name providing the policy options you require isn't always a guarantee that you'll secure the coverage best suited to your driving needs.
With so many companies vying for your business, it can be tough to decide which carriers provide the best coverage at the most affordable price while continuing to meet the needs of consumers just like you.
A company's financial ratings, market share, loss ratio, and other key factors can all help you form a complete picture of whether any given insurer is the right one for you.
Farmers Insurance was founded shortly before the Great Depression in 1928 by John C. Tyler and Thomas E. Leavey in a one-room office in downtown Los Angeles.
During the Depression, the insurer was one of a a very few that continued to meet consumer claims with cash rather than forking over IOUs.
Farmers continued to expand and grow as the years progressed, and by the 1950s, the company acquired New World Life Company of Seattle and became the first company west of the Mississippi to utilize IBM 705 computers for the storage and retrieval of data.
In the 1960s, Farmers was the first big player in the insurance industry to offer consumers a monthly payment plan that wasn't a finance plan to fulfill their insurance premiums, free of interest no less.
Fast forward nearly 50 years to the present day, and Farmers serves consumers in all 50 states with almost 21,000 employees and more than 48,000 independent agents spread across the nation.
Now, the group of companies that make up Farmers Insurance Group of Companies constitutes one of the largest auto, small business, and home insurers in the country, offering customers an extensive variety of additional financial and insurance services.
Whether you're a faithful customer of Farmers or on the fence as to whether this insurer is the right pick, you won't want to miss this Farmers auto insurance review with all the essential information you need to know about financial ratings, policy premiums, claims process, long-term outlook, and more.
Start searching for auto insurance today the fast and easy way with our FREE online rate tool. Enter your zip code now to start your quote!
Are you ready? Let's get this show on the road.
Farmers Rating Agency
Any time you're on the hunt for auto insurance, one of the first factors you need to evaluate is the financial strength rating awarded to the carrier you're considering.
Top industry names like A.M. Best and Moody's are widely respected by insurers and consumers, as a negative financial outlook by one of these rating entities could make all the difference in an individual's decision of what company to select.
Why do financial strength ratings matter? These ratings tell you, the consumer, how likely a company is to have the ability to fulfill its financial obligations to consumers. Company credit ratings are another invaluable component, indicating the strength of its position to pay the claims of policyholders.
One point to bear in mind before we delve into the following financial ratings next in our Farmers auto insurance review: an insurance company's rating is based on numerous elements and is considered an opinion, rather than a hard fact, which is why a carrier's insurance ratings often vary widely by the rating agency.
Let's take a closer look at the ratings awarded to Farmers by the agency.
A.M. Best
A.M. Best awards companies financial strength ratings, issuer credit ratings, issue credit ratings, and national scale ratings based on an individualized process that considers the company's ability to meet its ongoing insurance and financial obligations.
For this Farmers auto insurance review, we'll examine the company's financial strength rating and issuer credit rating.
A.M. Best has awarded Farmers an Excellent "A" financial strength rating and a long-term issuer credit rating of "a."
An "A" financial strength rating indicates the company has an excellent ability to continue to meet its financial obligations.
An "a" long-term issuer credit rating is only awarded by A.M. Best to companies which, in their opinion, possess an excellent ability to fulfill their senior financial obligations.
Based on the data provided by A.M. Best, Farmers's current financial position appears to be secure and projects continued solvency in the long-term.
Better Business Bureau
The Better Business Bureau, or BBB, is a non-profit organization that issues rankings for various businesses per its in-house Accredited Business System. The BBB's ratings differ from A.M. Best's in that they are issued on a state-by-state basis, rather than to the company as a whole.
In the state of California where Farmers is headquartered, the BBB has awarded Farmers the highest rating awarded to companies — an A+.
If you're curious about the criterion the BBB uses to grade companies, check out the rating elements it incorporates into each rating listed below:
The type of business
The complaint history of the company
How long the company has been in business
Any failure on the company's part to honor its commitments made to the BBB
How transparent the company is in terms of its business practices
Any advertising issues
Any licensing and government actions against the company (i.e. failure to acquire a specific license)
Moody's Rating
Moody's rating scale grades companies from Aaa down to C, appending number modifiers to ratings ranging from Aaa through Caa.
At the time of this Farmers auto insurance review, one of the company's chief reciprocal insurers that comprises the Farmers Insurance Group of Companies — Farmers Insurance Exchange — has been awarded a Negative outlook and A2 long-tern insurance financial strength rating by Moody's.
An "A" rating indicates that the company's financial obligations are upper-medium grade and subject to low credit risk. The "2" modifier reveals the company ranks at the mid-range of its generic rating category.
A negative outlook indicates the company's credit rating could be lowered in the future, whereas in contrast, a stable outlook would indicate the rating would likely remain at the same level.
As it stands now, Farmers is still judged to be in a strong position to meet its financial obligations while presenting low credit risk. Farmers Insurance Exchange's most recent ratings were issued in 2018.
However, it's possible that Moody's ratings could change in the near future, and they certainly bear watching over the next several years.
S&P Rating
Standard and Poor's (S&P) also has a specific set of criteria it uses to assess the ratings for various companies, including the credit and risk factors presented. S&P ranks companies by a letter-grade system.
Farmers Insurance has an A Issuer Credit Rating and Financial Strength Rating with S&P, indicating that its current capacity to repay its financial obligations are strong.
As of its most recent CreditWatch released in May 2019, the company has been projected to have a stable outlook.
It is worth noting, however, that "A" long-term ratings reveal the company is somewhat more vulnerable to the adverse impact of economic and circumstantial shifts than obligations awarded a higher rating. Learn more about S&P Global's rating definitions here.
NAIC Complaint Index
Now that we've looked at the financial strength and creditworthiness of Farmers as assessed by numerous independent rating agencies, we're going to examine another important factor to consider when picking an insurer — consumer complaints.
Check out the table below, indicating the Farmers Insurance Exchange consumer complaint index released by the NAIC (National Association of Insurance Commissioners), which is the chief regulatory entity for insurers in the United States.
If you examine the NAIC's complaint data in the table above, you'll notice that Farmers's complaint amount elevated slightly in 2017 from 2016, then dropped to its lowest point in 2018.
The carrier's complaint index ranked better than the national median in two of the three years in which data was collected, while its market share grew by 0.05 percent between 2016 – 2018.
Farmers Insurance Exchange's written premiums grew by $412.6 million between 2016 – 2018. Considering the carrier's decline in consumer complaints and steady growth of consumer premiums written, it would appear Farmers has worked hard to overcome any customer service deficiencies — and those changes are paying off.
J.D. Power
J.D. Power's annual insurance study is another invaluable resource to measure how well the top carriers in the nation are meeting the needs of their consumers. The infographic above focuses on the Central Region of the U.S. only, including the following states:
Arkansas
Iowa
Kansas
Minnesota
Missouri
Nebraska
North Dakota
Oklahoma
South Dakota
According to J.D. Power's study, Farmers ranks below the industry average in terms of customer satisfaction, along with carriers like Liberty Mutual and Nationwide. Farmers has been awarded a total of 817 out of a 1,000-point scale.
Consumer Reports
The table below reveals the most up-to-date customer ratings released by Consumer Reports for Farmers, featuring responses from over 23,000 customer surveys. Based on the feedback from respondents, Farmers Insurance Group was awarded an 89 out of 100 reader score.
Respondents rated Farmer's claims process as "Very Good" in all respects, except for Ease of Reaching an Agent, which was rated as "Excellent."
Consumer Affairs
According to ConsumerAffairs.com, Farmers has a 2.4 out of five stars for overall satisfaction rating. However, ConsumerAffairs' ratings are based on just 75 consumer ratings submitted in the year leading up to this Farmers auto insurance review, and therefore, do not reflect the full measure of ratings provided on the site.
Some of the top advantages noted by respondents include:
More coverage options offered than the competition
Roadside assistance available
Local agents and personalized service
Add-on options available such as Accident Forgiveness and New Car Replacement coverage
Discounts available for defensive driving, safe driving, and more
A few disadvantages recorded were an increase in rates from year to year and fees charged to customers in addition to their policy premiums.
Enter your ZIP code below to compare auto insurance rates.
Secured with SHA-256 Encryption
Farmers History
Next in our Farmers auto insurance review, we're going to take a deep dive into the company's market share in recent years, its position for the future, marketing approach, community outreach, and so much more.
You know what to do — just keep on scrolling.
Farmers Market Share
An insurance carrier's market share comprises the percentage of its membership or total sales during a specific period of time. A company's market share is calculated by dividing its total sales over the period being measured by the total sales of the industry (in this case, the insurance industry) during the same period.
Naturally, the more significant a carrier's share of the insurance market is, the stronger its position in comparison to the competition. Check out the table below, containing Farmers's market share of the U.S. insurance market between 2015 – 2018.
Farmers's share of the U.S. insurance market declined during the three years for which data was taken, diminishing a total of 0.83 percent between 2015 – 2018.
While this decline isn't in and of itself all that significant, when you note the relatively small percentage of the U.S. market that Farmers comprises, these figures become more noteworthy.
A company's market share can easily shift upwards again.
However, if Farmers' share of the insurance market continues to decline in 2019 and onward, that could be cause for concern.
Farmers's Position for the Future
Farmers's excellent overall financial and credit ratings spell good news for current and future customers of this insurer.
While the company has received some mixed reviews in terms of customer service, overall, the data reveals Farmer's dedication to meeting the needs of its consumers.
Plus, the NAIC showed a consistent decline in consumer complaints to Farmers in recent years, revealing the company's concerted efforts to continue to meet the needs of its insureds.
Farmers's recent decline in market share isn't necessarily a cause for alarm but does beg close watching over the next few years.
With an extensive array of coverage options (which we'll delve into shortly), efficient claims reporting process, and a secure financial position, Farmers's position for the future would appear to be one of considerable strength.
Farmers's Online Presence
Consumers can take care of a range of insurance needs and tasks with total ease through the Farmers website. It's easy to contact customer service by submitting a message online, or you can give them a call at 1-888-327-6335 between the hours of 7:00 a.m. – 11:00 p.m. CST Monday – Friday and 8:00 a.m. – 8:00 p.m. CST Saturday – Sunday.
You can also report a claim, locate your claims representative, or simply learn more about the claims services offered by Farmers through the website. If you need to find an agent, it's easy to search through Farmers online directly to locate a representative nearest to you.
You can also manage your online account, register for a new one, recover an old one, and handle billing and payments through the website.
Farmers's Commercials
Farmers's approach to marketing and branding is sharp and effective, weaving in elements of comedy in the company's various campaigns without overlooking its clear message to consumers. As their slogan goes "At Farmers®, we've seen almost everything, so we know how to cover almost anything®."
Check out the video below, featuring some of Farmers's funniest insurance commercials to date.
Some familiar fan favorites from Sesame Street make a visit to Farmers's infamous hall of claims in the commercial below for a chat with Professor Burke, the company's infamous spokescharacter played by Oscar-winning actor JK Simmons.
https://www.youtube.com/watch?v=TVGJgVhrLAA
When this guy gets so involved in the Farmers jingle that he collides with an AC unit, consumers are reminded yet again that the company's seen it all — and has got you covered.
https://www.youtube.com/watch?v=fZiIuYDK8Pc
And if you ever get into an auto accident with a car full of clowns — Farmers has still got you covered.
In the event a man trying to land a hot-air balloon (and doing a terrible job of it) ever hits your car, Farmers has your back.
https://www.youtube.com/watch?v=puRsXhQmtgo
We all know how tough it can be to pick a parking spot. This unlucky fellow gets his car crushed by cement, but luckily, Farmers is there.
https://www.youtube.com/watch?v=4YGLk_ou3jo
In honor of the 115th birthday of the illustrious Dr. Seuss, Farmers celebrated with a special commercial and animated reading by none other than our beloved Professor Burke.
Farmers in the Community
Since its founding over 90 years ago, Farmers has maintained its commitment to corporate giving and serving in its local communities.
"The measure of our worth is not what we have done for ourselves, but what we have done for others." ~ John C. Tyler, Co-Founder
Farmers's work in its local communities focuses on education by investing in local youth, improving education access, and job readiness. The company's involvement in disaster resilience also promotes response, preparedness, and recovery to help rebuild communities after a disaster.
Farmers also focuses on civic engagement to help those less fortunate in its communities by meeting essential needs, like providing shelter and food.
Farmers partners with SBP, the American Red Cross, Operation BBQ Relief, and Team Rubicon Disaster Response.
Farmers's Employees
According to Great Place to Work, 81 percent of Farmers employees say the company is a great place to work. Of the Farmers employee populace, 42 percent are millennials, 40 percent are Gen Xers, and 18 percent are baby boomers.
The average tenure of employees at Farmers is as follows:
18 percent of employees have worked for the company for less than two years
22 percent of employees have worked for the company between two and five years
16 percent of employees have worked for the company between six and 10 years
19 percent of employees have worked for the company between 11 and 15 years
10 percent of employees have worked for the company between 16 and 20 years
14 percent of employees have worked for the company for over 20 years
As part of Great Place to Work's study, they recorded these responses from Farmers employees:
91 percent say that when you join the company you are made to feel welcome
88 percent say that people at the company are given a lot of responsibility
88 percent say that they feel good about the ways the company contributes to the community
87 percent say that they are given the resources and equipment needed to do their job
86 percent say that management is honest and ethical in its business practices
In 2019, Farmers ranked number 26 in Best Workplaces in Financial Services & Insurance™ and number 91 in Fortune 100 Best Companies to Work For®. The company was also named number 55 in Best Workplaces for Diversity™ 2018.
According to Glassdoor, Farmers has a 3.4-star rating out of five possible stars, based on 3.2k respondent reviews at the time of our Farmer auto insurance review.
Of respondents, 54 percent said that they would recommend the company to a friend and 72 percent said that they approve of the CEO.
PayScale reported the average salary at Farmers Insurance Group is $57,000 per year. Check out the average salaries for some of the most common job roles at Farmers:
Insurance Producer — $27,894
Customer Service Representative —$33,216
Insurance Sales Agent —$32,185
Insurance Claims Adjuster — $55,423
Senior Claims Adjuster — $69,328
Claims Adjuster —$51,314
Insurance Agent — $36,439
Office Manager — $40,237
Claims Supervisor — $74,308
Insurance Claims Representative — $64,529
Business Consultant — $55,235
If you're curious to learn more about job opportunities with Farmers, check out the company's careers page here.
Cheap Car Insurance Rates
Next, we're going to take an in-depth look at Farmers's rates compared to the competition by various factors such as gender, vehicle make and model, commute rates, coverage level rates, and more.
Let's get right down to business.
Farmers Availability & Rates by State
You may have already noticed from the data shown here that the rates you pay for coverage with Farmers could vary widely depending on the state that you live in. Farmers coverages consumers in all 50 states.
In Colorado, coverage with Farmers costs 36.47 percent more than the median cost of insurance in the state while residents in Minnesota could expect to pay roughly 28.75 percent less for insurance than the state average if they purchase coverage through Farmers.
Next, we're going to take a look at the top 10 insurers in the U.S. insurance market (including Farmers) to see how these rates compare.
Comparing the Top 10 Companies by Market Share
In several states, Farmers is on the higher end of the spectrum in terms of rates when compared to the competition.
In California, Farmers charges the highest rates of all the carriers for whom data was measured, while charging the second-highest rates of the top 10 insurers in the state of Colorado.
In both states, Farmers's rates are anywhere from approximately $1,300 – $1,400 higher than the state median cost of coverage.
If you scroll to the bottom of the table, you'll see the average cost of insurance in all 50 states as compared to the median cost of coverage from the top 10 insurers in the U.S. insurance market.
Not only is Farmers's median annual rates about $250 more than the national median, but Farmers charges the second-highest average annual rates of all when compared to the average annual premiums charged by the other nine carriers.
Average Farmers Male vs. Female Car Insurance Rates
A growing number of states have made it illegal for insurers to utilize gender as a factor when setting rates. These states include Massachusetts, North Carolina, Montana, Hawaii, Pennsylvania, and parts of Michigan.
Many states still allow the practice of setting rates by gender, so be aware of the fact that depending on where you live, your gender could still impact how much you pay for auto insurance.
Check out the table below, indicating the various rates charged by the top 10 insurers in the U.S. insurance market based on age and gender alone.
If you compare the rates Farmers assess to insureds in each age and gender category against the competition, you'll see their rates are on the mid to higher range of the rates charged by the top 10 carriers.
As an example, Farmers charges the third-highest rates to 35-year old male motorists of the carriers listed. For teen male drivers, Farmers assess the fifth-most-expensive premiums of the top 10 insurers.
Similar to the other top insurers listed, Farmers charges its highest rates to teen drivers, and its lowest to 60-year-old motorists.
Average Farmers Rates by Make & Model
The car you drive could also affect how much you pay for insurance, as evidenced by the data our researchers collected here. Let's look at a few different car make and models to see how Farmers's rates stack up against the competition.
For insureds with a 2015 Ford F-150 Lariat SuperCab, Farmers charges the third-most-expensive rates of the top 10 carriers. Take a look at what these carriers charge consumers who own a 2018 Honda Civic Sedan LX. Yet again, Farmers charges the third-highest rates of all.
In both cases, Farmers's rates are anywhere from about $300 – $600 higher than the average rate charged by all insurers for each vehicle type, as shown under the column titled "Grand Total."
Average Farmers Commute Rates
How far is your commute to work each day? Depending on the insurer you pick, you could end up paying notably higher rates if you have a longer commute to the office.
Farmers insureds will only see about a $30 difference in their annual rates if they have a 25-mile commute versus a 10-mile commute.
Compare that to companies like Liberty Mutual that show a roughly $160 rate difference and State Farm who charges about a $170 difference in rates to insureds with longer commutes.
Average Farmers Coverage Level Rates
The coverage levels you select for your policy can and will impact whether you notice lower or higher auto insurance rates. The higher the coverage level you select, the higher the level of risk the insurer is taking on in the event you file a covered claim.
As such, you can expect to see a notable difference in rates in most cases with any insurer you pick if you opt for high over low coverage levels.
Farmers charges insureds with high coverage levels roughly $600 more than individuals who opt for low levels of coverage. Let's compare those rates again to the examples mentioned before of Liberty Mutual and State Farm.
Liberty Mutual charges insureds with high coverage levels about $550 more than individuals with low coverage levels. State Farm shows an approximate $400-rate difference for higher coverage.
If you look at the rates charged by each insurer in the far left column for "High" coverage, you'll note that Farmers assesses the fourth-highest rates of all the carriers listed.
In the far right column indicating the rates charged by the top 10 insurers for "Low" coverage, Farmers ranks number four again for the highest rates.
To sum it up, Farmers comes in mid-range when compared to the competition for rates charged based on the chosen coverage level alone.
Average Farmers Credit History Rates
The state of your credit will impact how much you pay for coverage in most states, as insurers look at your credit history as a direct indicator of your likelihood to fulfill your policy premiums consistently and on time.
Apart from a few states like Hawaii, Massachusetts, and California that ban credit scoring as a factor when determining consumer rates, having healthy credit could make the difference between manageable rates and skyrocketing insurance premiums.
According to a 2017 study by Experian, the average national credit score was 675, which constituted the highest credit score measured since 2012.
In addition, this study noted that more Americans have high credit scores than individuals with low credit scores, revealing that 22.3 percent of Americans have a super-prime credit score and 21.2 percent have a deep subprime credit score.
If you take a look at the data shown in the table above, you'll see the significant disparity in rates that can occur if you have good versus poor credit.
In the case of Farmers, insureds with poor credit can expect to pay roughly $1,200 more each year for coverage than consumers with good credit.
If you think that rate difference is steep, compare it to the change in rates assessed by Liberty Mutual, who charges roughly $4,400 more per year to individuals with poor credit than they do to consumers with good credit. With State Farm, the rate difference still comes to about $2,800.
If you compare Farmers's rate gap for insureds with poor versus good credit to the other nine insurers listed, the company comes in again at the mid-range.
Average Farmers Driving Record Rates
It's probably not shocking to you that your driving record will affect how much you pay for coverage, as an accident or violation on your record could indicate to a carrier that you present a higher risk to insure.
Let's see how Farmers, and the other top insurers in the U.S. market, adjust consumer rates based on their driving record alone.
Farmers charges its highest rates (based on driving record) to drivers with one DUI in their driving history. Insureds with one DUI compared to a clean driving record could expect to see a roughly $1,300 rate difference with Farmers.
With some insurers, the rate difference is even more significant. For instance, Liberty Mutual charges insureds with one DUI compared to a clean record about $2,800 higher rates per year.
In the case of USAA, a company known for offering some of the most cost-effective rates of the top insurers in the industry, the rate difference for insureds with one DUI versus a clean record is still approximately $1,600.
Long story short — driving responsibly isn't just about keeping you and other motorists safe. Safe driving habits could save you thousands of dollars per year in insurance premiums.
Coverages Offered
If you're considering coverage through Farmers, it's important to understand the types of options you can include in your policy, including coverages that could be mandatory in your state, plus all those policy extras.
Types of Coverages Offered
Let's take a closer look at the coverages available to you if you decide to purchase your auto insurance through Farmers.
Liability Coverage: Pays for any bodily injury and property damage incurred by others caused by a covered loss that you are responsible for.
Collision Coverage: Pays to help cover the costs of repairs to your vehicle if it incurs damage or to compensate you for the value of your vehicle in the event of a total loss.
Comprehensive Coverage: Pays to help cover the costs of damage to your vehicle caused by something other than a crash.
Uninsured/Underinsured Motorist Coverage: Pays for the costs of bodily injuries you incur when they stem from an at-fault driver who is uninsured. Uninsured motorist coverage would pay for your damages up to and until your policy limits are exhausted.
Underinsured motorist coverage helps to pay for the costs associated with your injuries caused by an at-fault driver who has some insurance, but not sufficient to pay for the full extent of your damages.
Medical Payments (MedPay) Coverage: Pays for medical expenses stemming from a covered accident, no matter who was at fault.
Personal Injury Protection (PIP) Coverage: When available, this type of coverage could help pay for rehabilitation and medical expenses, in addition to lost wages.
Personal Liability Umbrella Coverage: Provides additional liability coverage beyond the liability limits on your personal policy. You can purchase coverage in increments of $1 million all the way up to $10 million.
New Car Replacement Coverage®: If your car is ruled a total loss within the initial two years of model ownership and has less than 24,000 miles on it, this coverage would reimburse you for the costs of replacing your vehicle, minus any deductible. The replacement would be a new vehicle of the same make and model.
Customized Equipment Coverage: If you install aftermarket features in your vehicle, customized equipment coverage would help to pay if this add-on equipment gets damaged. Customized equipment coverage through Farmers is available for any car covered by collision and comprehensive coverage.
Towing and Roadside Service Coverage: If you get locked out of your vehicle or it breaks down, roadside assistance coverage would give you 24/7 access to services including flat tire change, locksmith services, dead or weak battery jump-starts, towing services to a nearby (qualified) repair shop, roadside winching, and emergency roadside connect to law enforcement, medical, or fire assistance.
Accident Forgiveness Coverage: For every three years you drive accident-free, Farmers would forgive one at-fault accident, which means the crash wouldn't impact your premium.
Loss of Use Coverage: Under this add-on coverage, Farmers would offer a flat sum if your car has a qualified disablement for public transit, cabs, or a rental. The disablement must be covered by your collision or comprehensive coverage.
Glass Buy-Back Coverage: If your windshield gets cracked, Farmers would put you in touch with a vehicle glass company near you so you can get back on the open road.
Car Rental Reimbursement Coverage: If you get into an accident and require the use of a rental car, Farmers would help you locate a rental quickly. This coverage also includes an automatic deposit waiver, free pickup and delivery, and billing direct to Farmers. Car rental reimbursement would be available for up to 30 days for a covered loss under your comprehensive or collision insurance.
Original Equipment Manufacturer Coverage: When you sustain vehicle damage in a covered accident, this coverage would pay for the cost of repairs with original factory replacement parts (when available). You must have comprehensive and collision coverage to add original equipment manufacturer coverage to your policy, and your vehicle must be no more than 10 years older than the present calendar year.
Factors That Affect Your Rate
If you have more than one policy with Farmers, such as home insurance and auto insurance, bundling them together could earn you a discount on coverage. Check with your agent when purchasing coverage to see what insurance coverages make the most sense for your needs.
Getting the Best Rate with Farmers
If you want to save on auto insurance, you won't want to miss these discounts. Bear in mind, discount availability varies by state. Savings also could vary.
Be sure to inquire with your agent when structuring your policy to ensure you take full advantage of the range of discounts at your disposal.
Farmers's Programs
You could save big on coverage with Farmers — just by being a safe driver. With the Signal® app, you could receive a 5 percent discount just for using it, and earn as much as 15 percent off your policy at your next renewal.
It's possible to increase your discount if the drivers on your policy using Signal® are under 25. Upon enrolling in Signal®, if you complete 10 qualifying trips with the app, the initial 5 percent discount would be applied to your policy.
Signal® is only available in a limited number of states. Learn more about the Signal® app here.
Enter your ZIP code below to compare auto insurance rates.
Secured with SHA-256 Encryption
Canceling Your Policy
If you purchase coverage with Farmers and need to cancel your policy for any reason, here's what you need to know to navigate the process smoothly and without stress.
Cancellation Fee
Farmers doesn't indicate online whether there is a cancellation fee, so it's vital to speak with your agent directly to confirm.
Is there a refund?
Most insurers will refund the unused amount of your policy premiums if you've paid it in full, so be sure to ask your agent when you call regarding your cancellation.
How to Cancel (Step-by-Step Guide)
Here's how to cancel your policy with Farmers. Just remember — unless you don't plan on driving, make sure you have a new policy lined up so you don't experience a gap in coverage time.
Step #1 – Contact Farmers
You can either contact a local agent directly or get in touch with the customer service department to cancel your policy. Click through the Farmers Find an Agent page to locate an agent near you or if you're unsure of your agent's information.
You can also contact customer service directly at 1-888-327-6335. The customer service department is available Monday – Friday from 7:00 a.m. – 11:00 p.m. CST and Saturday – Sunday from 8:00 a.m. – 8:00 p.m. CST.
Step #2 – Be Ready to Provide a Reason For Cancellation
Your agent will almost certainly request a reason for the cancellation. Perhaps you're switching to a different carrier with more affordable rates, you'll be selling your car and don't intend to drive, or you're unhappy with Farmers.
If you're looking for ways to reduce the cost of coverage, the agent could help you evaluate various discounts and other options that could decrease your premiums and keep your business as a valued customer.
Step #3 – Submit Any Required Documentation
You should never just stop making payments or let your coverage lapse in lieu of calling Farmers directly to cancel. If you have a lapse or gap in coverage, you could easily be subject to additional fines and fees.
Depending on the laws in your state, your agent could request you provide written notice of cancellation and other documentation, like a vehicle bill of sale, proof of license forfeiture, or a copy of your new policy.
Step #4 – Fulfill Any Requirements Under State Law
Be sure to get in touch with your state's DMV to find out about any legal obligations regarding your auto policy cancellation. Some states require you to carry insurance for your vehicle to be plated or registered.
A number of states require you provide proof of coverage to your insurer when canceling the policy.
Step #5 – Confirm Cancellation and Request Available Refunds
Request written confirmation of the cancellation of your policy, and if you are receiving a refund, ensure this is included in the confirmation. If, for some reason, you're behind on your policy payments or added a new car to the policy, you'll be required to pay the amount owed before Farmers could process your cancellation.
After you receive the confirmation notice, log into your online account to confirm the policy is officially canceled.
Upon receiving the final cancellation confirmation, be sure to contact the lienholder (if you're making payments on your vehicle), as they might require you to carry specific coverages such as collision or comprehensive coverage.
Also, get in touch with your bank to cancel any automatic payments you had previously scheduled.
When can I cancel?
You can cancel your policy at any time, but typically, the best time to switch insurers is prior to the renewal date of your policy and before the next monthly payment.
How to Make a Claim
If you need to make a claim after an accident, Farmers makes the process efficient and straightforward.
Keep reading our Farmers auto insurance review to learn more about the claims reporting process, as well as the company's written premiums and loss ratio in recent years.
Ease of Making a Claim
You have multiple options to report a claim, depending on which is most convenient for you.
Report a claim online through your account; text REPORTCLAIM to 29141, where you'll receive a link to initiate the claims process; use the mobile app; or contact the Claim Contact Center directly at 1-800-435-7764. You could also contact your agent to file a claim.
Here's a quick overview of the claims process with Farmers:
Report your claim to Farmers, either online, to your agent, through the app, via text, or by contacting Claims Services
A claims representative will get in touch to explain how your claim will proceed and to:

Get initial information about the loss
Suggest options to prevent additional damage
Go over your policy coverages and relevant endorsements
Set up an in-person appointment, if needed, to adjust the claim

The claims representative would determine whether your loss is covered and collect information about your injuries and/or damages
The representative would investigate by:

Interviewing witnesses and other individuals who were involved
Studying documentation
Taking pictures and samples
Conducting a physical vehicle inspection, if required

The representative would examine your policy coverages, determine the damage amount, and make any necessary payouts
Farmers could also re-inspect your car if required and provide supplemental payment if additional damages are found by the repair facility or vendor
Your representative would often issue payment in accordance with the repair estimate, but this could take longer depending on the nature of your claim
Depending on your state's laws and your coverages, payment for medical bills associated with your claim could be issued
In the event your damages are not covered under your policy, Farmers would provide a letter explaining the denial
Once the claim is resolved under the terms of your auto policy, Farmers would close the claim
Premiums Written & Loss Ratio
| Year | Premiums Written | Loss Ratio |
| --- | --- | --- |
| 2015 | $9,701,153,000 | 5.09% |
| 2016 | $10,304,622,000 | 4.8% |
| 2017 | $10,364,451,000 | 4.48% |
| 2018 | $10,496,476,000 | 4.26% |
The table above shows the premiums written year-to-year and the loss ratio experienced by Farmers between 2015 – 2018. Not only did Farmers's premiums written increase each year, but its loss ratio steadily declined.
The smaller a company's loss ratio, the fewer claims they are paying out in proportion to what they are earning back in earned premiums — which is great news for Farmers. Not only that, but Farmers' steady increase in written premiums means increased revenue and a larger consumer base.
How to Get a Quote Online
Here's your quick and easy guide to accessing your personalized quote from Farmers.
Step #1 – Go to the Farmers Website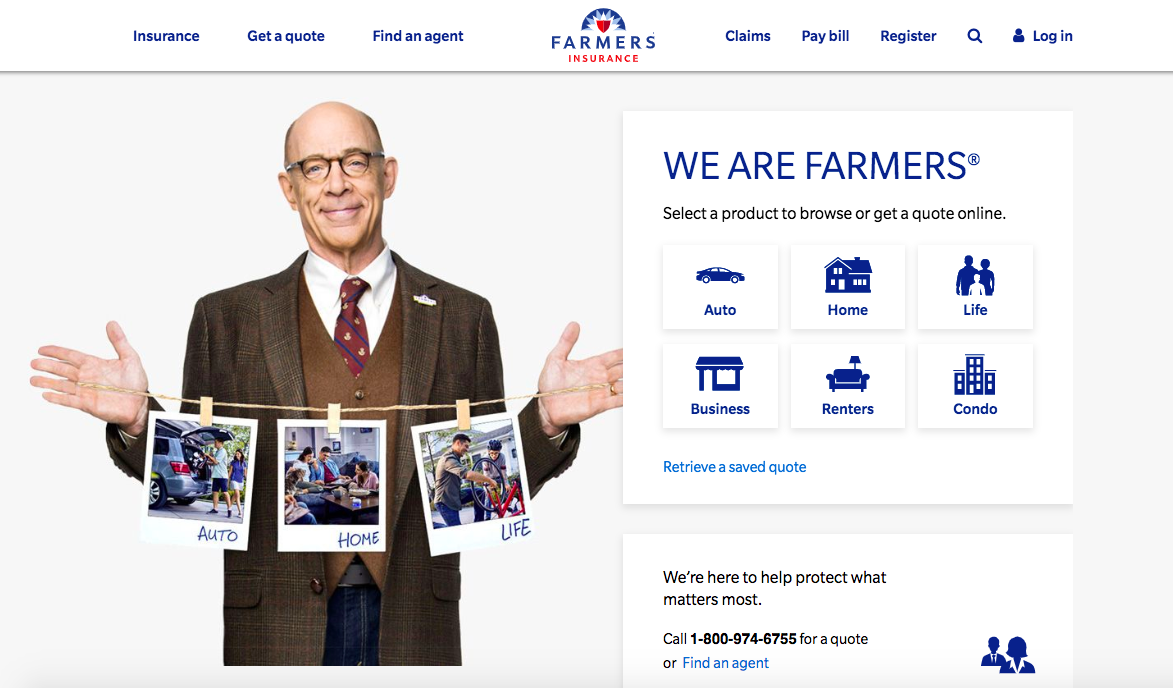 Open a new tab or window on your computer and navigate to the Farmers website. Click the auto product icon.
Step #2 – Enter Your Zip Code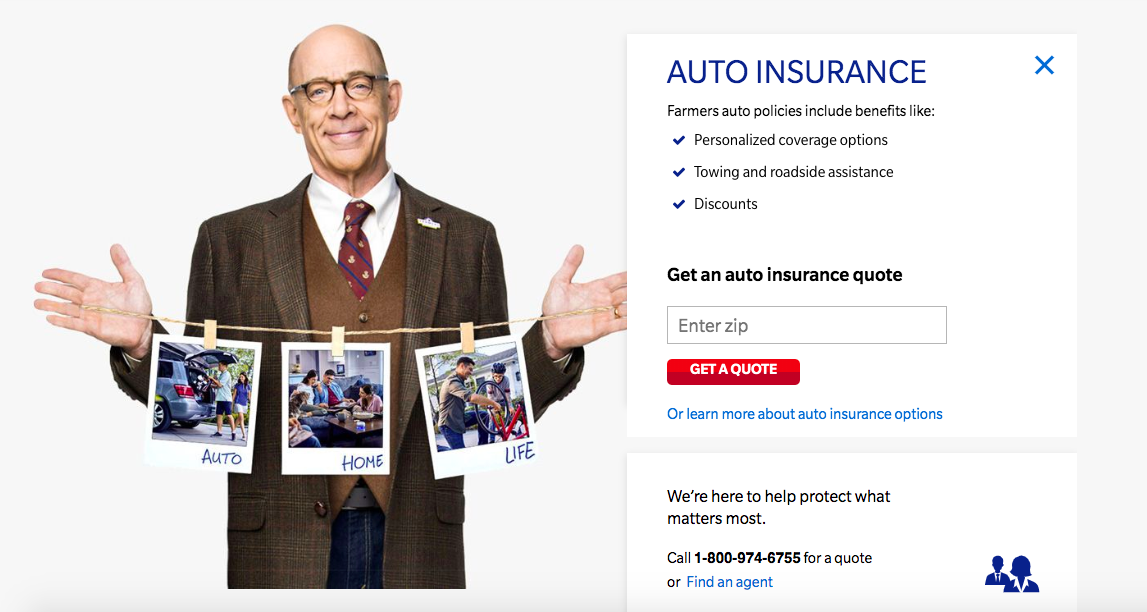 Enter your zip code and select "Get a Quote."
Step #3 – Enter Your Name, Address, and Date of Birth
On the next page, you'll be prompted to enter personal information including your name, address, DOB. Complete the boxes and select "Start Quote" to proceed.
Step #4 – Complete Vehicle and Driver Information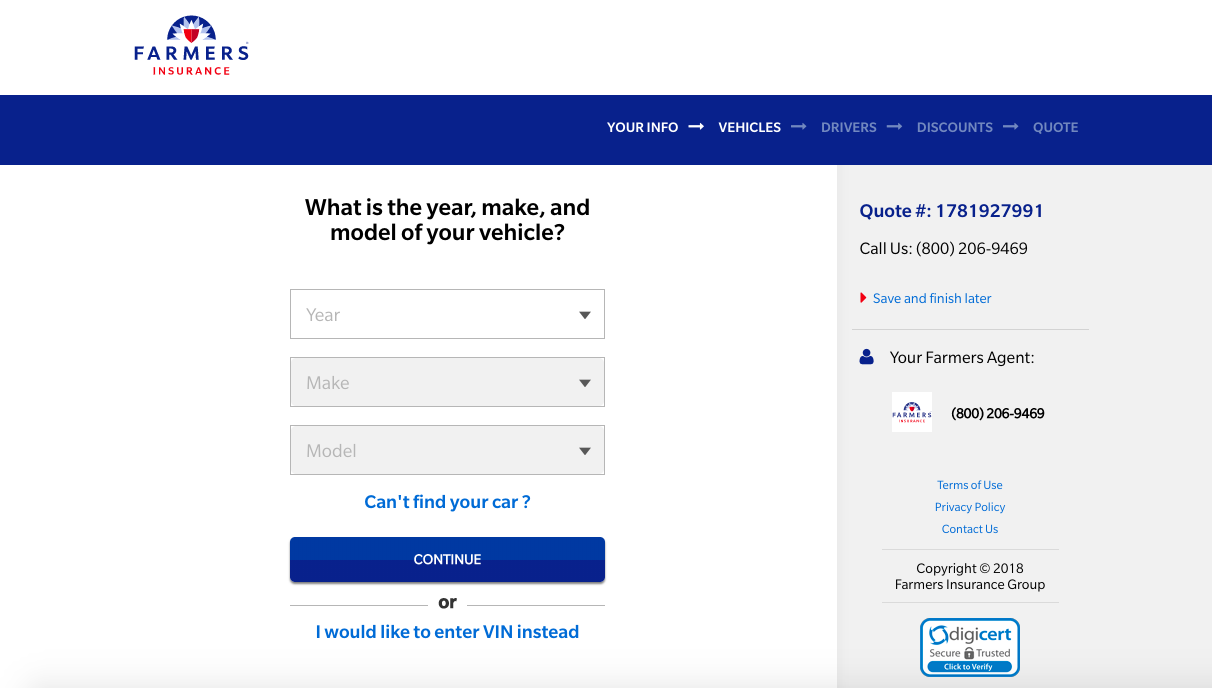 Now you'll need to enter your vehicle information to proceed with your quote. Enter the year, make, and model of the vehicle, then select "Continue."
You will also be prompted be submit additional information about your vehicle based on the initial details you provide, such as whether it is financed, leased, or owned, and your usage (i.e. commuting, business, pleasure).
You can add more than one vehicle as you need to.

After you complete the vehicle details for the cars you want to include in your quote, you'll be prompted to fill in driver details, including:
Marital status
Occupation
Current insurance information (i.e. length of continuous coverage, policy limits, policy expiration date, etc.)
The age at which you were first licensed
Whether you require proof of financial responsibility (such as an SR-22)
Email
Phone number
Social security number (optional)
If you completed a driver safety course in the past three years
Accident history
Once finished, select "Add this Driver." You can add more drivers if you like, or proceed to the next section, where you'll be required to select "Yes" or "No" regarding whether your vehicle will be used for rideshare purposes like Uber or Lyft.
Step #5 – See If You Qualify For Discounts, Bundle, and Access Your Quote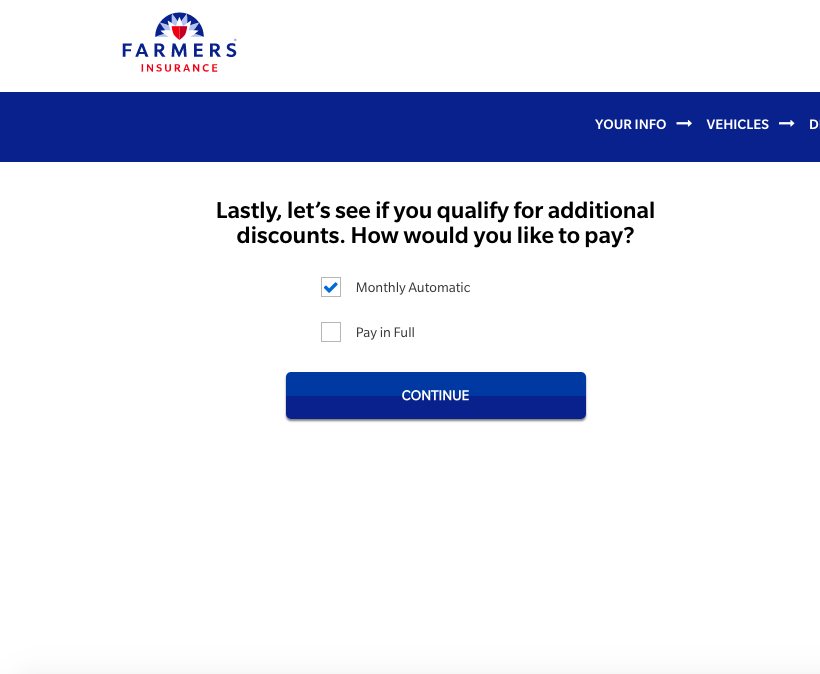 Find out if you qualify for discounts depending on factors such as your payment preference and homeownership status.
Finally, you can decide if you would like to see your options to bundle and save or proceed straight to your Auto quote.
Enter your ZIP code below to compare auto insurance rates.
Secured with SHA-256 Encryption
Design of Website & App
We know that Farmers's claims and quote retrieval process is fast and efficient — but how does the company's online and tech presence measure up?
Keep reading our Farmers auto insurance review and you'll find out!
Website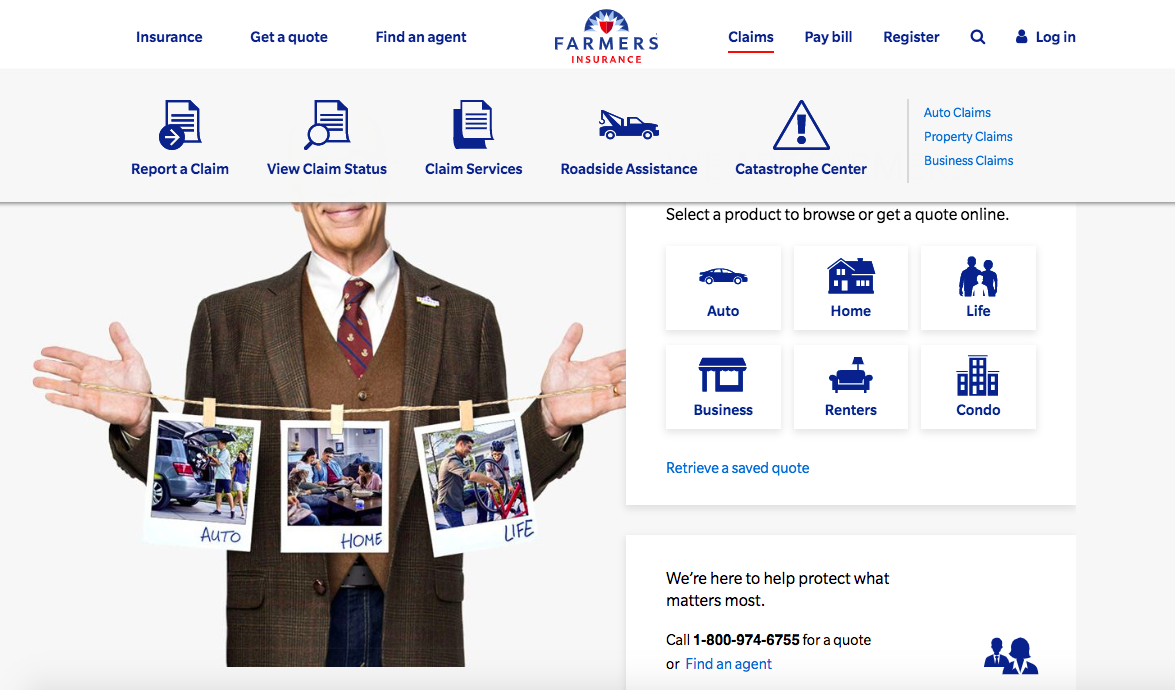 The Farmers website is well-laid-out and highly functional. You can easily find whatever answer or page you're looking for in a few clicks. Report a claim, view claims status, get your rate quote, and more.

If you scroll slightly down the homepage, you'll see where you can enter your zip code to locate an agent near you.
How easily can you find answers?
If you don't find the answers you need via the dropdown menu at the top of the homepage, keep scrolling to locate a plethora of helpful articles for consumers. Scroll to the very bottom of the home page for quick service links, resources, and company information.

Is the design a plus or minus?
The site's design is just as sleek as it is navigable. Plus, you won't have to waste minutes sifting through various pages to find the answers you need, and customer service or an agent are only just a few clicks or a phone call away.
Mobile App
The Farmers mobile app is available on Google Play and in the App Store, giving you quick and easy access to take care of your account needs on the go.
How easily can you manage your account using just the app?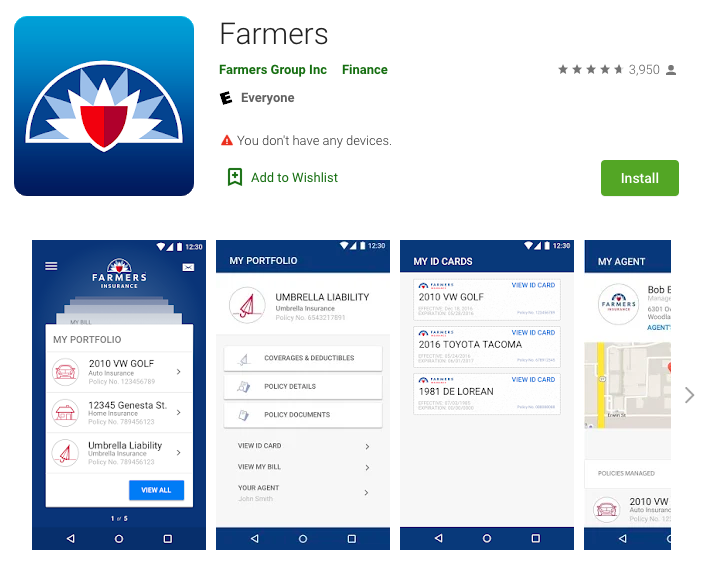 Through the app, you can view your insurance ID cards, policy documents, start and track a claim, view and pay bills, or request roadside assistance. You can also get a personalized quote and locate contact information for your agent.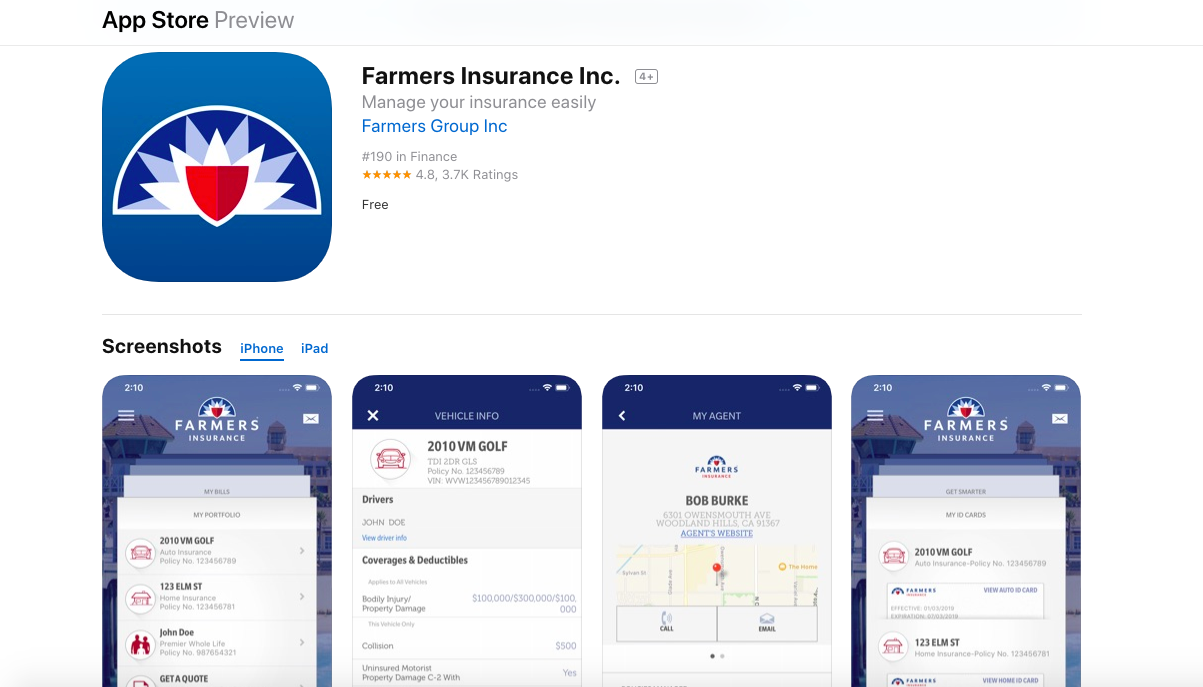 The Farmers App has a 4.7-star rating in the Google Play Store and a 4.8-star rating in the App Store.
Is the design a plus or minus?
Consumers have reported the app to be fast, efficient, and seamless, with an intuitive and convenient design.
Pros & Cons
The Bottom Line
Farmers serves insureds in all 50 states, with a quality selection of coverage options and discounts, efficient claim reporting, and very good customer service. While certain rating factors could mean that consumers pay higher rates with Farmers, overall, its policy pricing is competitive.
The company's excellent financial strength and creditworthiness, along with its lengthy history of corporate giving and community service, makes Farmers a worthwhile consideration if you're in the market to purchase a new policy.
Enter your ZIP code below to compare auto insurance rates.
Secured with SHA-256 Encryption
Company Car Insurance FAQs
Get the answers to your Farmers insurance questions right here.
What is full coverage?
Full coverage is a bit of a misnomer, in that it is often misconstrued as a type of all-encompassing policy coverage. Actually, it refers to a policy that has both coverages for property damage to your property and liability coverage.
Will Farmers cover me if I rent a car?
When you rent a car, the rental company would charge a daily fee for their insurance to cover damages. Your auto policy could include rental coverage, but it varies by state, so be sure to confirm with your agent directly.
Does Farmers have accident forgiveness?
Yes, you could include accident forgiveness as an optional add-on to your policy. With accident forgiveness included in your coverages, Farmers would forgive one at-fault accident for every three accident-free years.
How do I pay my Farmers bill?
You can pay your bill through your online account, My Farmers. You can also contact your agent or Customer Service to pay your bill at 1-888-327-6335 Monday – Friday 7:00 a.m. – 11:00 p.m. CST and Saturday – Sunday 8:00 a.m. – 8:00 p.m. CST.
What is personal liability umbrella coverage?
Umbrella coverage protects you beyond your liability coverage, so if you are ever sued after an at-fault accident and the verdict exceeds your policy limits, the umbrella policy would cover the additional costs. That way, you can keep your savings, home, business, and other assets protected.
If you're tired of losing precious time collecting quotes from numerous providers' websites — there's a much easier way.
Simplify your insurance search by accessing your quote for multiple carriers in minutes with our FREE online tool. Enter your zip code now to get started!