Liberty Mutual Auto Insurance Review for 2023
Free Auto Insurance Comparison
Enter your ZIP code below to compare auto insurance rates.
Secured with SHA-256 Encryption
The third-largest property and casualty insurance company in the nation, Liberty Mutual has been making waves in the insurance industry ever since its inception in 2012.
With over 50,000 employees working out of more than 900 locations scattered across the globe, this billion-dollar company supplies an extensive offering of insurance products and services, ranging from personal automobile insurance, worker's compensation, general liability and so much more.
The company was founded over a century ago in 1912 when it was known as the Massachusetts Employees Insurance Association. In 1914, Liberty Mutual opened its first branch office and wrote its introductory automobile insurance policy later that year.
The insurer changed its name to Liberty Mutual Insurance Company in 1917 and began offering full coverage auto insurance policies through its various partnerships.
Over the past 100 years, Liberty Mutual has grown by leaps and bounds both through company acquisitions and via organic growth.
From its acquisition of Safeco Corporation in 2008 to its $3 billion acquisition of specialty insurer Ironshore Incorporated in 2017, Liberty Mutual has established itself as a notable leader in the insurance industry.
Whether you're a longtime, faithful customer of Liberty Mutual or are considering purchasing a policy from this insurer for the very first time, understanding what your options are, the factors that affect your rates, and the coverages available, are just a few key pieces of the puzzle to ensure you're getting the best deal on coverage.
We've got you covered with all this information and more in our one-stop-shop Liberty Mutual auto insurance review.
Sounds like something you need to know, right?
Search for car insurance in an easy, stress-free way when you use our online rate tool. Enter your zip code in the box above to start your FREE quote.
Ready to dive right in? Let's get started with our definitive Liberty Mutual auto insurance review.
Liberty Mutual's

Agency Rating

One of the primary factors to consider when assessing if any given carrier is best-suited to meet your insurance needs is the company's ratings. But, how do you go about finding these ratings?

We're so glad you asked.
Independent rating agencies like S&P and J.D. Power regularly release ratings for insurers across the nation. The ratings published by these agencies are highly regarded and considered a strong measuring stick for the financial strength and creditworthiness of insurers.
Ratings are also an important tool to identify how satisfied consumers just like you really are with the services and product offerings the company provides.
So, without further ado, let's dive right into Liberty Mutual's ratings — and what they mean for you.
Enter your ZIP code below to compare auto insurance rates.
Secured with SHA-256 Encryption
What is Liberty Mutual's AM Best rating?
AM Best awards ratings to companies based on a unique system ranging from an A+ for companies that are deemed to have a superior ability to meet their ongoing insurance obligations all the way down to D.
These indicate that the insurer in question has an extremely vulnerable financial strength.
AM Best has awarded Liberty Mutual an overall A rating, indicating that the company is in an excellent position to continue to meet its financial obligations to insureds. The entity also projected a stable outlook for the company as of its most recent ratings released May 2019.
AM best further awarded a long-term issuer credit rating of A, which translates to more good news for current and future Liberty Mutual customers.
What is Liberty Mutual's Better Business Bureau rating?
The Better Business Bureau bases its ratings on a wide range of components, such as the number of complaints the carrier has received in a given year, its loss ratio, and length of time in operation.
It is important to note, that the BBB issues ratings based on individual states, rather than an overarching rating for the company as a whole.
For example, in Massachusetts, the BBB has awarded Liberty Mutual a rating of A, which indicates an overall score between 94 and 96.99. The point to take away here is that you should base your decision of an insurer on multiple ratings from numerous agencies, rather than one or two.
This enables you to gain a clear picture of the quality of the product and services an insurer offers.
In the next part of our Liberty Mutual auto insurance review, let's take a look at the ratings Moody's has awarded to the company to see how they measure up to AM Best's and the BBB's.
What is Liberty Mutual's Moody's rating?
The rating scale that Moody's uses to rank companies are somewhat different than what AM Best or the BBB uses, instead, setting ratings by a letter grade scale from Aaa to C. Aaa is the highest designator awarded by the rating agency, with C being the lowest.
According to Moody's most up-to-date ratings for Liberty Mutual, the insurer has a long-term issuer rating of Baa1 and an insurance financial strength of A2.
To break down the data bit, a long term issuer rating of Baa indicates that a company presents a moderate credit risk and may possess speculative characteristics. The "1" modifier at the end indicates that the insurer's obligations are in the higher end of its generic rating category.
Moody's long-term issuer credit rating for Liberty Mutual bears watching in the years to come. The data could suggest that this carrier presents a marginal credit risk that could mean losses for investors in the future.
The good news is, Moody's A2 financial strength rating reveals that the insurer has superior intrinsic financial strength. In the next section of our Liberty Mutual auto insurance review, see what S&P's ratings reveal about this insurer.
Enter your ZIP code below to compare auto insurance rates.
Secured with SHA-256 Encryption
What is Liberty Mutual's S&P rating?
S&P looks at numerous aspects when awarding global ratings to companies, looking at components like credit and potential risk factors. Similar to the previous agencies discussed, S&P awards its ratings according to a letter grade system.
S&P has awarded Liberty Mutual an issuer credit rating and financial strength rating of A. Both modifiers indicate that the company is in a strong position to continue to meet its financial committements.

However, an issuer credit rating of A, specifically, does reveal that the carrier could be more vulnerable to adverse consquences of economic changes than companies in higher-rated categories.
Overall though, Liberty Mutual comes in again with more than satisfactory ratings and a pretty bright outlook for its financial future.
Now that you have an understanding of the financial position of this insurer, it's time to examine another vital component that should factor into your decision-making process when selecting a carrier — consumer satisfaction.
It's only natural to want to know just how satisfied insureds just like yourself are with Liberty Mutual. We've got you covered.
Let's get down to business.
NAIC
Complaint

Index for Liberty Mutual?

The National Association of Insurance Commissioners (NAIC) is the chief regulatory entity for insurers nationwide. The table below reveals the most recent consumer complaint index for Liberty Mutual as provided by the NAIC.

If you review the data provided in the table here, you'll see that Liberty Mutual received the most customer complaints in 2016, with the number dropping to its lowest point in the years studied in 2017, then back up again slightly in 2018.
The company's complaint index was actually higher than the national median in 2017 and 2018, while its share of the U.S. market and premiums written dipped slightly each year during that three-year period.
At present, these numbers aren't cause for alarm.
However, given the steady decline in the company's market share during the period studied, which could correlate directly with the number of complaints received, only time will tell if Liberty Mutual's share of the U.S. market will continue to decline or right itself.
It bears mentioning that consumer complaints are just one piece of the puzzle to consider when selecting a carrier, as the data reveals overall customer satisfaction with the various products and services offered as a whole.
What does JD Power say about Liberty Mutual?
J.D. Power's yearly insurance study releases consumer satisfaction data for top carriers across the country, broken down by region.
The infographic below illustrates customer satisfaction for the premier insurers in the country in the Northwest region of the country, including the states of Idaho, Montana, Oregon, Washington, and Wyoming.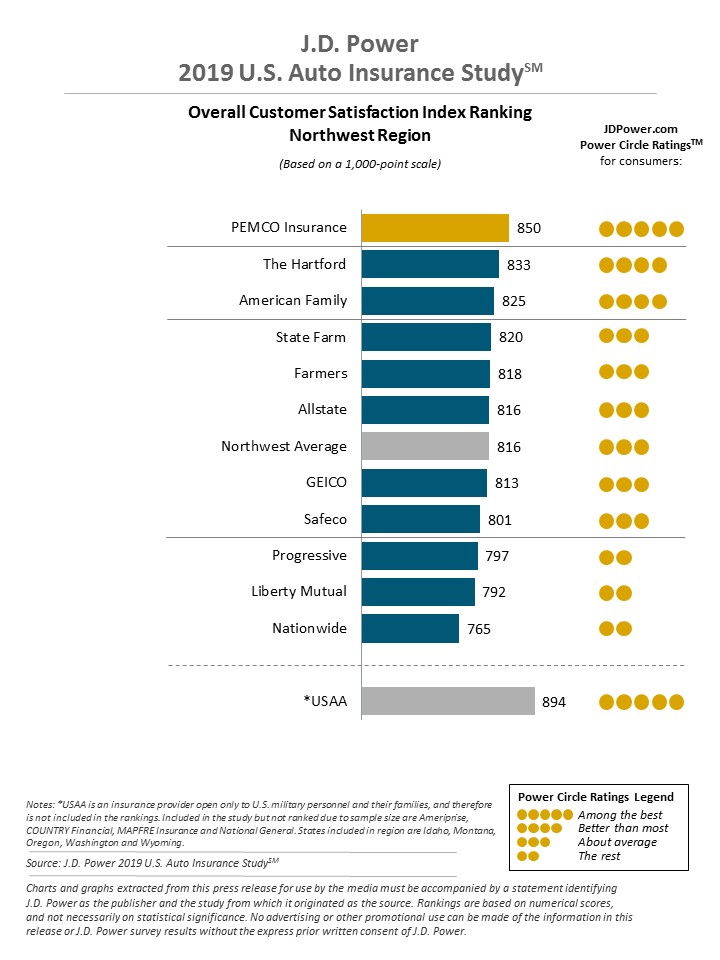 Liberty Mutual was rated on the lower end of the spectrum, receiving 792 points based on a 1,000-point scale, along with other top carriers Nationwide and Progressive.
This data could reveal that Liberty Mutual has some room for improvement in the area of customer service.
Enter your ZIP code below to compare auto insurance rates.
Secured with SHA-256 Encryption
What does Consumer Reports say about Liberty Mutual?
Let's see what Consumer Reports' most recent study had to say about Liberty Mutual in terms of customer satisfaction.
Despite the somewhat marginal ratings awarded to Liberty Mutual by the NAIC and J.D. Power, Consumer Reports' study revealed overwhelmingly positive results with consistent satisfaction on all counts from the ease of reaching an agent to agent courtesy and more.
It just goes to show yet again that it's essential to always look at more than one source of data when assessing an insurer for your driving needs.
How does Consumer Affairs rate Liberty Mutual?
In spite of Consumer Reports' highly positive indicators, Consumer Affairs' recent report based on over 100 ratings submitted in the past year (as of 2019), revealed an overall satisfaction rating of just 1.5 stars.
Some of the top pros the report mentioned included:
The company's RightTrack program promotes good driving behavior
Offers new car replacement and accident forgiveness
Easily navigable website
Established company
The insurer has the Liberty Mutual Deductible Fund to help insureds save up for their deductible
With regards to the top cons, customers noted an increase in their rates for coverage. Consumers were also dissatisfied with the fact that discounts were not available in all states
With that said, it is important to reiterate that the star ratings mentioned here don't factor in ratings outside the previous one-year period, which means that the results were based on 176 out of a total of 1,353 reviews.
Furthermore, Liberty Mutual doesn't currently participate in the Consumer Affairs' accreditation program, which could also provide an explanation for the disparity in ratings.
What is the history of Liberty Mutual?
With a thorough grasp of Liberty Mutual's financial ratings and customer satisfaction stats, you're now ready to dig deep into other key statistics all consumers need to know.
From the carrier's market share to its position for the future to community involvement, everything you need to know is right here in our Liberty Mutual auto insurance review.
Let's jump right in.
Enter your ZIP code below to compare auto insurance rates.
Secured with SHA-256 Encryption
What is Liberty Mutual's

market share?

A company's market share is a strong indicator of how secure its position is in the industry as compared to other insurers. The table below reveals data collected by the NAIC, illustrating Liberty Mutual's share of the insurance market in 2015, 2016, 2017, and 2018.

As you can see, Liberty Mutual's share of the U.S. insurance market went up in 2016 from 2015, remained the same in 2017, and dipped just slightly in 2018.
What is Liberty Mutual's

position for the future?

From the different ratings and consumer data released by the various agencies discussed, it's possible to gain a clearer picture regarding the current position of Liberty Mutual, and how it could look in the years to come.
In terms of financial strength, both AM Best and Moody's awarded Liberty Mutual high ratings across the board for its ability to continue to fulfill its financial obligations to insureds. While Moody's long term issuer credit rating indicated that the company could present some marginal risk in the future to creditors, its superior intrinstic financial strength rating for the company lifted the overall outlook for this carrier.
Likewise, S&P designated high ratings of A to Liberty Mutual for both its issuer credit rating and financial strength rating of the company, indicating the strong ability of the company to continue to meet its financial commitments.
Interestingly enough, just as Moody's indicated that the company could be vulnerable to risk in the future, S&P's ratings show that the company could be more vulnerable to economic shifts than its competitors.
When you consider these financial strength rating factors as a whole though, the future looks good for Liberty Mutual. The one area where the company could have some room to grow is in the area of customer service. 
In both 2017 and 2018, the NAIC reported that Liberty Mutual's customer complaints were higher than the national median, while consumer complaints were below the national median in 2016. According to the NAIC, Liberty Mutual's share of the U.S. market and its total premiums written declined slightly but steadily during the three years studied.
J.D. Power's score for the company in terms of customer satisfaction was on the lower end of their rating spectrum but didn't necessarily present a cause for alarm.
Rather, these numbers indicated that the carrier's competitors are simply doing a more effective job in the customer service department.
Consumer Reports' ratings were overwhelmingly positive with high customer satisfaction scores on all the factors studied. While Consumer Affairs' ratings for Liberty Mutual were just 1.5 stars, the study only included a small fraction of the total customer reviews of the company on its site and didn't necessarily offer a complete picture of customer satisfaction as a whole.
In short, to maintain its secure position and continue moving forward from a position of strength in the future, Liberty Mutual will need to continue fulfilling its financial obligations.
By offering affordable rates to consumers and making concerted efforts to be more cutting edge in terms of customer service, Liberty Mutual could move towards regaining a larger share of the U.S. insurance market and increase its premiums written in the years to come.
How is Liberty Mutual's online presence?
Liberty Mutual offers a quality range of services online to consumers, allowing you to do everything from reporting a vehicle claim to paying your bill online.
24/7 roadside assistance is available and representatives are just a phone call away for customer service, claims, and sales needs.
This means you can get all your questions answered and essential insurance needs to be taken care of with just a few clicks or by dialing the appropriate department.
To access an agent, simply dial customer service at 1-800-290-8206 and stay on the line (generally anywhere from three to five minutes) to speak with a live representative. You can also follow the prompts to be directed to departments like claims or billing.
Enter your ZIP code below to compare auto insurance rates.
Secured with SHA-256 Encryption
Does Liberty Mutual have

commercials?

Liberty Mutual's insurance commercials are well known for featuring the Statue of Liberty in the background.

The company's long-running campaign known as the "Truth Tellers" has balanced humor and creativity in its character choices with a healthy dose of information to engage consumers.

The following commercial portrays the character of a budding actor trying to explain customized insurance — the struggle is real.

https://www.youtube.com/watch?v=QRREDL59u_o

Here, the beloved Doug and LiMu are on a stakeout looking for new customers to inform about Liberty Mutual's customized insurance options.

https://www.youtube.com/watch?v=ogtiufGylIQ

And another fan favorite from LiMu Emu and Doug —

https://www.youtube.com/watch?v=SFu0Pmv-_KU

This commercial takes a slightly unusual turn, showing that even customers in the witness protection program can customize and save when buying insurance.

One of Liberty Mutual's recent commercial character rollouts, Zoltar the animatronic fortune teller is just full of helpful insurance tips.

https://www.youtube.com/watch?v=8VDrIOtyno8

In the following commercial, LiMu Emu and Doug are recognized for their impeccable work and commitment to customized car insurance.

https://www.youtube.com/watch?v=5ugLWL3G9iQ

The following ad shows just how quick and easy the Liberty Mutual claims process can be for busy families.

To close it all out, here's a final gem with everyone's favorite LiMu Emu and Doug.

https://www.youtube.com/watch?v=QcOTtwXjXaU
Liberty Mutual's Involvement in the Community
Liberty Mutual has a long-standing history of community involvement and service. Its initiative the Liberty Torchbearers is a series of programs designed to:
"…empower employees to offer their time, talents, and resources to the causes they care most about, and stand behind them as they do."
The carrier sponsors Serve With Liberty, an annual day of community service that takes place during the first half of May each year. In 2019, 24,143 Liberty Mutual employees participated. Nonprofit organizations are also welcome to participate.
The company's national charitable program Give with Liberty enables employees to donate to the eligible social service charities they choose via online pledging to be deducted from their payroll.
Liberty Mutual matches every 50 cents on the dollar that an employee donates with no limit in place.
Volunteer with Liberty celebrates and supports company employees who do crucial community work to serve nonprofit organizations they are passionate about. The Volunteer with Liberty program offers mini-grants, providing employees volunteering on their personal time the opporunity to win $250 to be donated to their nonprofit of choice.
Liberty Mutual's Employees
An interesting aspect to consider when learning more about a company to decide whether it's the right fit for you is what its employees have to say. After all, employee morale and satisfaction is another strong indicator of how the company is doing as a whole.
According to Great Place to Work, 83 percent of employees say that Liberty Mutual is a great place to work. An impressive 91 percent of employees reported both that they felt good about the ways the company was contributing to the community and that new hires are made to feel welcome.
Another 89 percent of the employees polled stated that they were able to take time off of work when necessary, and 88 percent reported that employees are given a lot of responsibility.
Eighty-six percent of Liberty Mutual employees feel that management is ethical and honest in its business practices.
Considering the Liberty Mutual family is over 50,000 strong, these numbers speak volumes about just how this carrier is doing not only in serving its customers but in how well it treats its employees. 
What about the average age and tenure of employees? Well, the same study by Great Place to Work found that the employee population of Liberty Mutual is comprised of 45 percent Millennials, 36 percent Gen Xers, and 18 percent Baby Boomers.
In terms of tenure, the study reported the following:
20 percent of employees have worked at the company for less than two years
27 percent of employees have worked at the company for two to five years
18 percent of employees have worked at the company for six to 10 years
12 percent of employees have worked at the company for 11 to 15 years
Nine percent of employees have worked at the company for 16 to 20 years
14 percent of employees have worked at the company for over 20 years
Liberty Mutual was ranked #37 in PEOPLE 2019 Companies that Care® and #80 in Best Workplaces for Diversity 2017.
Liberty Mutual has a 3.3-star rating on Glassdoor, based on over four thousand reviews.
As for other top awards and accolades, in 2018 alone, Liberty Mutual ranked among the top companies mentioned on each of the following recipient lists:
Forbes 2018 Americas Best Employers for Women
2018 Forbes The Best Employers for New Grads
Fortune 100
Great Place to Work Certified
Digital Workplace of the Year
Gartner Eye on Innovation for Financial Services
Over 8,300 company employees have shared their salaries on Glassdoor at the time of this Liberty Mutual auto insurance review. Claims Adjusters make an average of $55,492 per year, while Sales Representatives bring home approximately $33,908 annually.
Interested to learn more about joining the ranks of Liberty Mutual employees spread across the nation? Check out the company's careers page here to learn more.
Cheap Car Insurance Rates
Naturally, car insurance rates could the most significant factor you take into account when deciding whether or not to take the plunge with a carrier.
In the following section of our Liberty Mutual auto insurance review, we're going to dig deep into the company's rates, comparing them to the competition, and examining the factors like gender, car type, and coverage level that could impact your annual policy premiums.
Ready to see how Liberty Mutual holds up against the competition?
Let's dive right in.
Liberty Mutual Availability and Rates by State
Liberty Mutual is available in all 50 states. Check out the table below, revealing the average rates offered by Liberty Mutual in comparison with the overarching average in each state.
As you may have already noticed, the state you live in can have a significant impact on the affordability of the premiums Liberty Mutual charges consumers.
Case in point, while Colorado insureds pay 27.83 percent less for coverage through Liberty Mutual than the state average, consumers in Connecticut pay 57.67 percent higher rates than the state average when opting for coverage through Liberty Mutual.
Comparing the Top 10 Companies by Market Share
The table above compares the average annual rates for the top 10 insurance carriers in the country. These companies have made it to the top-10 list based on their current share of the U.S. insurance market.
So, how do Liberty Mutual's rates hold up against the competition? Let's look at a few examples by state.
For instance, in the state of Alabama, Liberty Mutual charges the fourth most expensive rates of the carriers listed, with carriers State Farm, Progressive, and Farmers holding the top three positions for the highest premiums.
If you look a bit further down the table to the rates in the state of California, you'll note that Liberty Mutual assesses the fourth cheapest rates of the companies listed.
For example, California insureds of competitors State Farm and Nationwide pay anywhere from roughly $1,200 to $1,600 more per year for coverage than Liberty Mutual customers do.
Average Liberty Mutual Male vs. Female Car Insurance Rates
Check out the table below, revealing the average annual rates Liberty Mutual charges as compared to its competitors, based on consumer age and gender factors.
It is important to note, that a number of states have banned the use of gender as a factor when determining rates, including California, Hawaii, Massachusetts, Montana, Pennsylvania, North Carolina, and certain parts of Michigan.
You might have already noticed that for each age and gender demographics listed, Liberty Mutual charges the highest rates of any of the carriers! For example, while a company such as Nationwide charges 17-year old male drivers approximately $7,175.31 per year for coverage, Liberty Mutual charges $13,718.69 to the exact same driver demographic.
That's roughly a $6,500 difference in rates. While the rate difference isn't so vast with other driver demographics, the data clearly shows that young drivers could pay considerably higher rates if they opt for coverage with Liberty Mutual.
Average Liberty Mutual Rates by Make and Model
The make and model of your vehicle can also have a noticeable impact on the rates you'll pay for coverage. Let's see what the data shows.
Have a look at the table below to see just how much different companies, including Liberty Mutual, could charge you based on the kind of car you own.
The table here shows that for rates by make and model, Liberty Mutual comes in again with the highest rates on all counts. The disparity in rates is larger with certain vehicle types than others, but the company continues to charge the highest rates to consumers across the board.
For example, if you look at what State Farm charges insureds with a 2018 Honda Civic Sedan vs. what Liberty Mutual charges, you'll notice that there's an approximate $3,500 rate difference between these two companies.
Average Liberty Mutual Commute Rates
It is also interesting to note just how much the length of your daily commute could impact your rates for coverage.
With some companies, the difference in rates if you have a 10 vs. 25-mile commute is negligible, while the rate gap is much more noticeable with certain carriers.
By this point in our Liberty Mutual auto insurance review, you've likely already noticed a distinct trend in that the company's rates are consistently among the highest (if not the highest) when compared to other market competitors. Once again, if you look at the companies and rates listed here, you can see that Liberty Mutual charges the most expensive annual rates based on commute time compared to the other premiums listed in each column.
In terms of the actual rate difference for a 10 vs. 25-mile commute, Liberty Mutual charges drivers with a longer commute about $156 more per year.
Average Liberty Mutual Coverage Level Rates
It's only natural that if you pick higher levels of coverage, you'll probably pay more for coverage. After all, the higher your coverage limits, the more your insurance carrier could be liable to pay in the event you get into a crash or incur another covered loss.
According to the data our researchers gathered, Liberty Mutual charges roughly $550 more per year in premiums to consumers who opt for high vs. low levels of coverage. In addition, Liberty Mutual charges the highest rates of all the carriers listed for each coverage level.
In comparison, a company like Nationwide only charges about $110 more per year if you opt for high over low coverage for your policy.
Average Liberty Mutual Credit History Rates
Other than a small number of states where the practice is banned completely by law, most states permit car insurance companies to use your credit history as a deciding factor when assessing your rates for coverage.
Take a look at the table here to see just how much your rates could go up or down based on your credit history.
In the case of Liberty Mutual, specifically, consumers with poor credit can expect to pay roughly $4,400 more annually for coverage than insureds with a good credit history.
The trend in rates evidenced by the data previously discussed continues here, as Liberty Mutual charges the highest rates of all the carriers listed based on poor, fair, and good credit histories.
For comparison purposes, look at how much State Farm charges consumers with good vs. poor credit. Insureds of State Farm with poor credit can expect to pay about $2,800 a year more than consumers with good credit.
That's hardly small change, but still about $1,600 less than the difference in rates that Liberty Mutual charges. 
In 2017, Experian reported that the average VantageScore was 675, making for the highest average credit score since 2012.
If you're discouraged by the prospect of just how much more you might have to pay for coverage if your credit history is less than perfect, the good news is, it's never too late to start forming better credit habits and work on chipping away at your debt.
By paying down existing debt and trying to never spend more than you can reasonably pay off in a billing cycle, better credit (and more affordable rates) could be in your insurance future.
Average Liberty Mutual Driving Record Rates
While you probably already knew that your driving record can and will affect how much you pay for car insurance, having a clean driving record vs. one accident or DUI could literally cost you thousands of dollars more in premiums per year.
Liberty Mutual charges consumers with one DUI on their record roughly $3,000 more annually than insureds with a clean driving history. Compare this to a carrier like American Family, that charges drivers with one DUI on their record about $1,600 more than insureds with a clean record.
It's likely not surprising by now that Liberty Mutual not only shows among the highest rate gaps based on driving history but charges the most expensive rates of all the companies listed in each driving record category.
The fact remains, however, that no matter which company you select, just one violation on your record could make your annual insurance bill skyrocket. 
Coverages Offered
Next, in our Liberty Mutual auto insurance review, we're going to take a comprehensive look at the full range of coverage options available to consumers from this carrier.
From the primary coverages to valuable add-ons to important discounts you won't want to miss — we've got you covered.
Let's dig deeper!
Types of Coverages Offered
Check out the primary types of auto insurance coverage Liberty Mutual offers consumers, along with optional coverage options you can include when structuring your policy.
Bear in mind, some policy options are not available in all 50 states. Call Customer Service at 1-800-290-8206 to confirm which options are available in the state you live in.
Bodily Injury Liability Coverage: This insurance covers lost wages, medical expenses, legal costs, pain and suffering, and funeral costs incurred by another party when you cause a vehicle accident.
Liability coverage also includes legal defense costs should you be sued for damages by the injured party.
Property Damage Coverage: When you cause a collision, this type of coverage pays for the costs associated with repairing or replacing the property you damaged with your car.
Collision Coverage: This covers any repairs required due to an accident involving a collision with another car or object (such as a fence).
Comprehensive Coverage: Covers damages incurred due to something other than a collision or rollover, such as fire or theft.
Medical Payments Coverage: Regardless of fault, medical payments coverage (MedPay) serves as initial medical coverage for you and any passengers stemming from an accident.
This coverage includes injuries sustained by cohabiting family members in someone else's car or as pedestrians.
Personal Injury Protection (PIP) Coverage: Also covers medical costs stemming from an accident, regardless of fault. PIP is required in some states and details vary based on the state you live in.
PIP could cover hospital bills, medication, rehab expenses, and other costs associated with a collision.
Uninsured Motorist Coverage: If you are injured in an accident by an uninsured at-fault driver, this type of coverage will pay for your damages up to your chosen limits.
Accident Forgiveness: If you have been accident and violation-free for five years, your insurance premiums won't go up after one at-fault accident.
Liberty Mutual Deductible Fund®: This program allows you to save money on your deductible as long as you include the add-on on your policy. Upon enrolling, you can save up to $100 per year on your collision deductible.
Insureds contribute $30 annually and Liberty Mutual contributes $70. There is no cap on how much you can save and the money saved in your Deductible Fund doesn't expire, provided you remain a Liberty Mutual customer.
Lifetime Repair Guarantee: With this add-on, provided you use an approved facility, Liberty Mutual will guarantee repairs as long as you own your vehicle.
New Car Replacement™: This coverage helps cover the costs of getting a new vehicle if your car is totaled. If your totaled vehicle is less than one year old and had less than 15,000 miles on it, New Car Replacement coverage would provide you the money for a brand new vehicle, rather than just the depreciated value of the prior car.
Better Car Replacement™: With Better Car Replacement, if your vehicle is ruled a total loss, Liberty Mutual will provide the money for a replacement vehicle that is one model year newer and has 15,000 fewer miles than the totaled car.
Rental Car Reimbursement: If your car sustains damage in a covered accident, you can take it to one of the company's approved repair locations and Liberty Mutual will pay the costs of a rental vehicle up to a daily cap.
Liberty Mutual currently partners with Enterprise Rent-A-Car, offering discounts on rates and direct billing, but you can select a different rental car provider based on your preference.
Towing and Labor (Roadside Assistance): If something unexpected occurs with your car while you're on the road, accident-related or otherwise, roadside assistance coverage could prove invaluable.
This type of coverage includes covered events like a dead battery, flat tire, getting locked out of your vehicle, getting your vehicle towed, and even if you run out of gas.
Gap Coverage: If you recently took out a loan, then totaled your vehicle, GAP coverage could reimburse you for the difference between the amount still unpaid on your loan and the cash value of your car.
Original Parts Replacement: With Original Parts Replacement Coverage, this allows you to replace damaged car parts with parts that are of the highest quality and standards.
If original manufacturer parts are not available, reconditioned or comparable parts would be included in your estimate.
Teachers Car Insurance: This coverage provides extra protection for teachers' vehicles and teaching materials, including damages at school due to a collision, vandalism, stolen school property in your car, or stolen supplies in your car.
Mexico Car Insurance: All vehicles crossing the border to Mexico require insurance, and Liberty Mutual makes purchasing this type of coverage a total breeze.
You can decide on the particulars of your policy, such as the duration of the policy, your coverage limits, and the vehicle you'll be driving on your trip.
Factors That Affect Your Rate
One of the best ways to save on coverage when purchasing insurance is to bundle your policies. If you purchase more than one policy with Liberty Mutual, you could save big with the company's Multi-Policy Discount.
No matter if you are renting an apartment, own your own home, or live in a condo, you can pair the coverage you need with your auto insurance to save on all of your policies.
With excellent account management tools and unfettered access to a huge network of agents, it's faster and easier than ever to save on car insurance.
Getting the Best Rates with the Liberty Mutual
Everyone wants to save on car insurance — and there's so much more than multi-policy discounts to get you off to a successful start with your Liberty Mutual policy. The company offers an extensive range of discounts to consumers.
Check out the table below to see how much you could potentially save on your policy by taking advantage of these discount options.
You could save anywhere from four to 35 percent on coverage with some of these discounts. If you noticed that some discounts don't have the precise savings listed, this is partly due to the fact that the amount saved is based on the specific insured. Also, not all discounts are available in all states.
Speak with your agent when structuring your Liberty Mutual auto insurance policy to ensure you make use of all the discounts available to you and find out exactly how much you could save with each.
Now, let's take a closer took at some of the top discounts this carrier offers and what they could mean for the drivers in your household.
Discounts for You
Besides the fact that being a homeowner could qualify you for savings (not to mention the multi-policy discount for bundling your insurance policies), Liberty Mutual also offers a military discount for Active, Retired, or Reserved military members to say thank you for their service.
With the Early Shopper Discount, if you get your insurance quote before your current policy's expiration date, Liberty Mutual could help you save up to 45 percent on coverage if you sign up.
The Good Student Discount is a great incentive to get good grades and save on coverage for students with a GPA of B or better.
If your child is away at school and only gets behind the wheel of one of your vehicles occasionally, you could be eligible for the Student-Away-at-School Discount.
Discounts for Your Car
You could also save on coverage if your car has specific features. For example, the Advanced Safety Features Discount could apply if you have advanced safety components in your vehicle, such as electronic stability control, adaptive headlights, and anti-lock brakes.
For motorists with an electric or hybrid vehicle, the Alternative Energy Discount is another attractive option to not only cut back on pollution but reduce your insurance costs to boot.
In addition, if your vehicle features anti-theft technology, you could also be eligible Liberty Mutual's Anti-Theft Discount.
Discounts Based on Your Driving
Remember how we looked at Liberty Mutual's rates by driving record?
You already know that Liberty Mutual charges the steepest premiums of the top carriers in the insurance market, and insureds with certain violations on their record could literally pay thousands of dollars more per year for coverage.
The good news is, safe driving habits could translate to big savings for Liberty Mutual customers. Options like the Accident Free and Violation Free Discounts could make a noticeable difference in how much you have to cough up to pay for car insurance annually.
The company's RightTrack® Discount could help insureds save up to 30 percent on coverage for the duration of their auto policy.
The program requires insureds to use a small device that tracks driving habits and alerts Liberty Mutual of the driving choices they're making.
The technology tracks actions like nighttime driving, braking, acceleration, and distance traveled. Safe driving equals bigger rewards. The carrier's proprietary RightTrack® app provides driving tips, tracks savings, triggers shipment of the tracking device, and more.
Discounts Designed for Your Policy
You already know about the Multi-Policy Discount that helps you save if you take out more than one insurance policy with Liberty Mutual. You could also save through the carrier's Multi-Car Discount if you insure all your vehicles through Liberty Mutual.
Options like the Preferred Payment Discount mean you can save both time and money if you enroll in an automatic payment plan linked to your bank account. Likewise, the Paperless Policy Discount is a helpful way to save on paper and insurance costs. You could also qualify for the Pay-in-Full Discount if you pay for your entire policy in just one or two payments.
Ready to take the plunge with Liberty Mutual? Well, if you buy your policy online, the Online Purchase Discount would apply to your purchase. The discount applies roughly 12 percent off auto insurance coverages include:
Bodily Injury Liability
Physical Damage
Underinsured Motorist
Uninsured Motorist
Personal Injury Protection
Medical Payments
Comprehensive Coverage
Collision Coverage
Liberty Mutual's Programs
Of Liberty Mutual's various discounts and programs offered, a few stand out that warrant further discussion. The company's Better Car Replacement™ program is a policy add-on that makes replacing your vehicle after a loss easier and more stress-free than ever.
With Better Car Replacement™, if your car is a total loss, you'll receive money for a new replacement car one model year newer than your curren car — and with 15,000 less miles on it!
This program could be an ideal choice for motorists who own their vehicle, as Better Car Replacement™ isn't available for motorcycles and leased vehicles. It's also a good option if you know you want to upgrade if your car is ever deemed a total loss.
RightTrack® by Liberty Mutual is the company's safe driving initiative that also serves as an excellent discount option for insureds. You could save anywhere from 5-30 percent on coverage, and the company will guarantee a discount just for participating and signing up.
The program follows a simple process. To participate, you have to first enroll when you join the Liberty Mutual family. Upon downloading the Liberty Mutual RightTrack App®  (available on the App store and Google Play), your tracking device will be shipped.
Once you receive the tag in the mail, you simply affix it to your windshield and link the tag with your car when you use the app.
After driving for 90 days with the device monitoring your driving habits, Liberty Mutual confirms your discount and applies that amount to your policy premiums. You'll also receive a box in the mail to return the tracking device in.
Enter your ZIP code below to compare auto insurance rates.
Secured with SHA-256 Encryption
Canceling Your Policy
In the event you ever need to cancel your car insurance policy with Liberty Mutual, you'll likely have a myriad of questions running through your mind about how the process works.
We've got you covered.
Here's what you need to know about canceling your policy with Liberty Mutual.
Cancellation Fee
The carrier's 12-month policy duration means you could pay a fee for early cancellation if you terminate your policy prior to the end of that period.
The refunds, policies, and cancellation fees that could apply vary based on the state you live in, which is why it's vital to call and speak directly with an agent before cancelling.
Some insureds have reported no fees for canceling, while others had to pay a cancellation fee up to $100.
If you find that you'll be obligated to pay a fee for canceling before the end of your policy period, it could be best to just wait out your policy term and cancel at that point.
Remember, while Liberty Mutual doesn't mandate that you have another policy lined up before you cancel coverage, you must ensure you comply with at least the minimum auto insurance requirements in your state. 
Is there a refund?
Canceling your policy with Liberty Mutual is fairly straightforward, but you might not get the prorated refund on the remainder of your policy premiums right off the bat. Again, the amount of any refund you receive could depend on your state.
How to Cancel (Step-by-Step Guide)
Here's the quick and dirty guide to canceling your coverage with Liberty Mutual.
Step#1: Get Your Policy Number
You'll want to start by getting your policy information together so you can tell the agent your policy number once you get a hold of a live person. At this time, you can only cancel your policy over the phone.
Step #2: Call Customer Service
Call Liberty Mutual's customer service department directly 1-800-658-9857 to talk to a licensed agent regarding the cancellation.
Step #3: Submit Your Cancellation Request
Once you get a hold of a live agent, be sure to inquire regarding any cancellation fees, policy details, and refunds you could receive.
If you decide you want to proceed with the cancellation, request that your policy be canceled and tell the agent the date you wish it to terminate.
The agent will explain the cancelation process in full and help you through each step.
Step #4: Request a Final Confirmation
Finally, ask that confirmation of cancellation be sent either by email or mail.
When can I cancel?
You have the right to cancel your Liberty Mutual policy any time you wish. Just be aware that certain fees could apply depending on your policy details and where you live.
However, you must call Liberty Mutual to notify them of the cancelation, rather than simply ceasing to pay your insurance premium. 
How to Make a Claim
If you get into an accident, you'll want to know the exact process involved in making a claim. Luckily, Liberty Mutual's claims reporting process is swift and efficient for customers.
Here's what you need to know.
Ease of Making a Claim
Liberty Mutual gives you multiple options to file a claim after an accident. The claims department is available 24/7, which is a huge plus! You can file your claim online, via the mobile app (which we'll take a closer look at in a bit), or over the phone.
Before filing your claim, you'll want to have the following information handy:
Name and address of the driver
Make and model of the car(s) involved
A description of the damage
Names and contact details for any witnesses
Time and location of the accident
Names, phone numbers, and policy information for any other insurance company
Photos of the scene of the accident and cars involved
Police report number and the name of the responding officer, if applicable
It takes just five to 10 minutes to file your claim online. You can upload photos through the online portal, check for status updates, and find a repair shop near you.
You can also file your claim through the mobile app and upload photos of your vehicle damage through the Express Estimate feature.
Finally, you can call the claims department at 1-844-825-2467 to file your claim over the phone with a live representative.
The claims process itself is also pretty straightforward. Once you file your claim, you'll be designated a claim number that will allow you to track your claim progress.
You'll need to schedule a professional assessment of your vehicle damage before repairs can be made.
If you utilize the mobile app's Accident and Roadside Support component at the accident, the information will automatically population when you submit the claim form online.
After the assessment, the Liberty Mutual agent may get in touch with other drivers, witnesses, and passengers to record their account of what happened and request any policy reports.
Provided Liberty Mutual approves your vehicle estimate and your claim is covered, the claims rep would work with directly with your repair shop. Usually, carriers submit payment straight to the repair shop, but you could receive a bank payment or check.
Premiums Written
At this point in our Liberty Mutual auto insurance review, you already know that the carrier has been highly rated by multiple rating entities for its strong position to fulfill its ongoing financial obligations.
The premiums a company writes is another excellent measuring strick to assess the financial stability of a company. After all, if a carrier is seeing a decline in premiums written, this could spell trouble for investors in the future.
Take a look at the table below to see the number of premiums written by Liberty Mutual between 2015 and 2018.
The data our research team gathered spells a continued bright future for Liberty Mutual. The company's written premiums increased steadily during this three-year period, with a total increase of $2.3 billion between 2015 and 2018.
Loss Ratio
Likewise, a carrier's loss ratio is another strong indicator of its financial position and creditworthiness. If a company continues to pay more in claims than what it's earning back in written premiums, this is bad news for any insurer.
Let's see what the data shows in the table below.
Loss ratios consistenly exceeding 100 percent mean a company steadily losing money — but no such worries for Liberty Mutual.
The company's loss ratio between 2015 and 2018 was well within the normal range, despite the fact that it elevated slightly in 2016 and 2017 before dropping to its lowest point in 2018.
Long story short, the data shows that Liberty Mutual is paying a healthy proportion of claims compared to what it is earning back in written premiums.
How to Get a Quote Online
If you're ready to take the next step after reading this Liberty Mutual auto insurance review, you won't want to miss this step-by-step guide to accessing your online quote.
Before you start your quote, you'll want to have the following handy:
Your date of birth
Contact information (phone number, address, etc.)
Social security number
Vehicle information for any cars you want to obtain a quote for
Step #1: Open the Liberty Mutual Website in a New Browser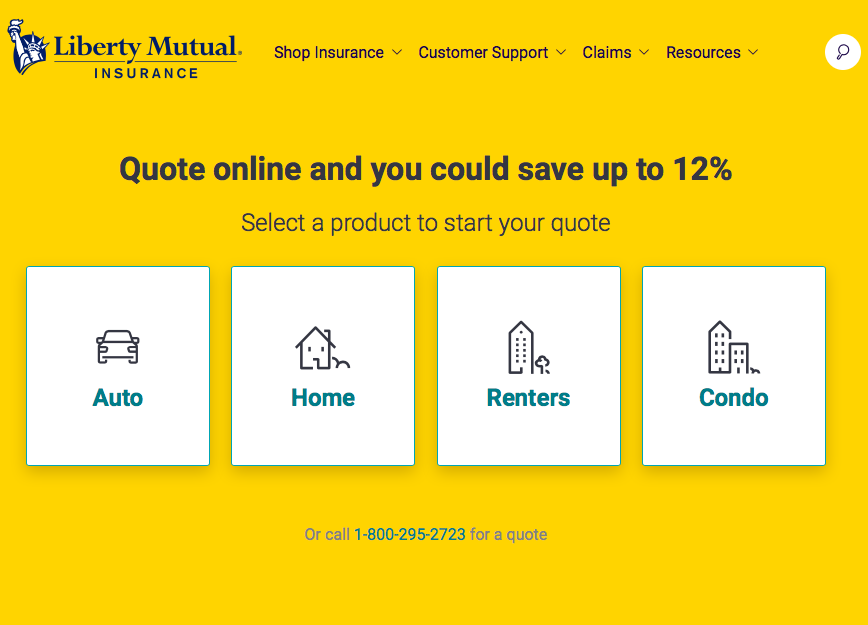 Start by opening up the Liberty Mutual website in a new browser. Click on the "Auto" icon to start your quote.
Step #2: Enter Your Zip Code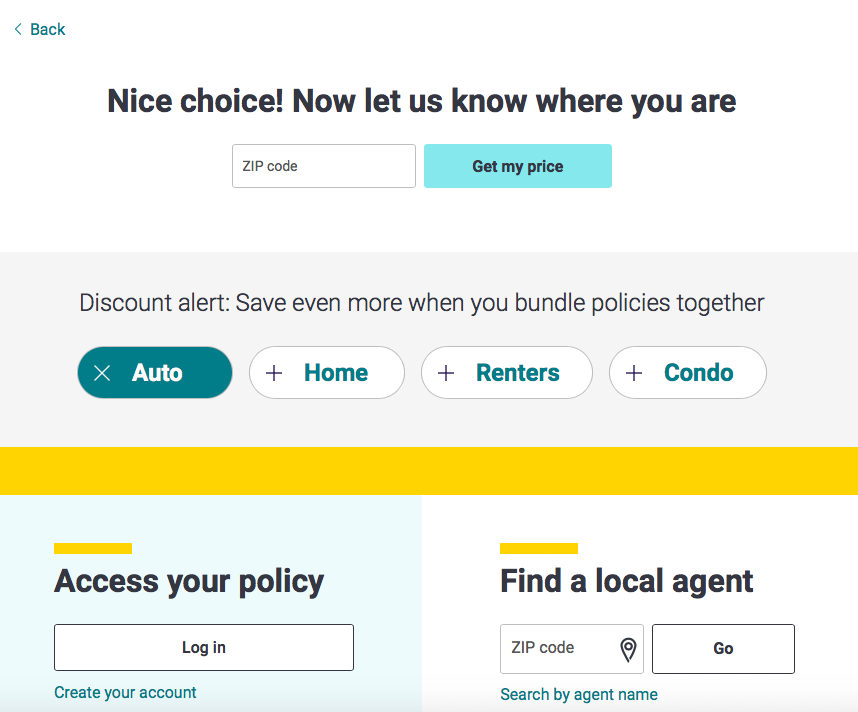 Next, you'll be directed to a page where you'll be prompted to enter your zip code. You can also select other policy options to bundle for enhanced savings. Enter your zip code in the box and click the "Get my price" button to continue.
Step #3: Fill in Your Address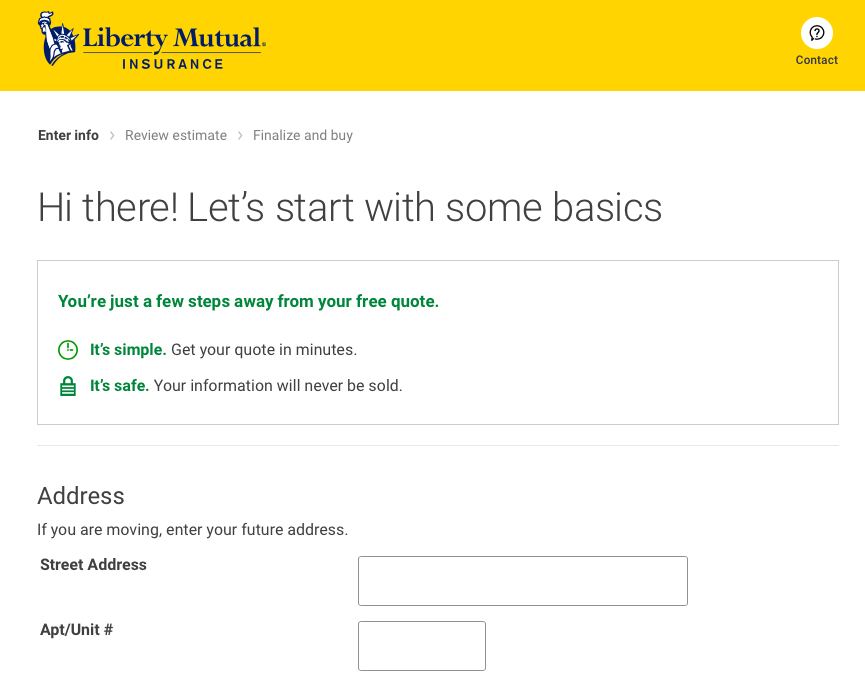 Now, you'll need to enter some personal details. Plugin your street address, double-check that you've entered the information correctly, then hit "Save & Continue" to proceed.
Step #4: Complete Your Personal Details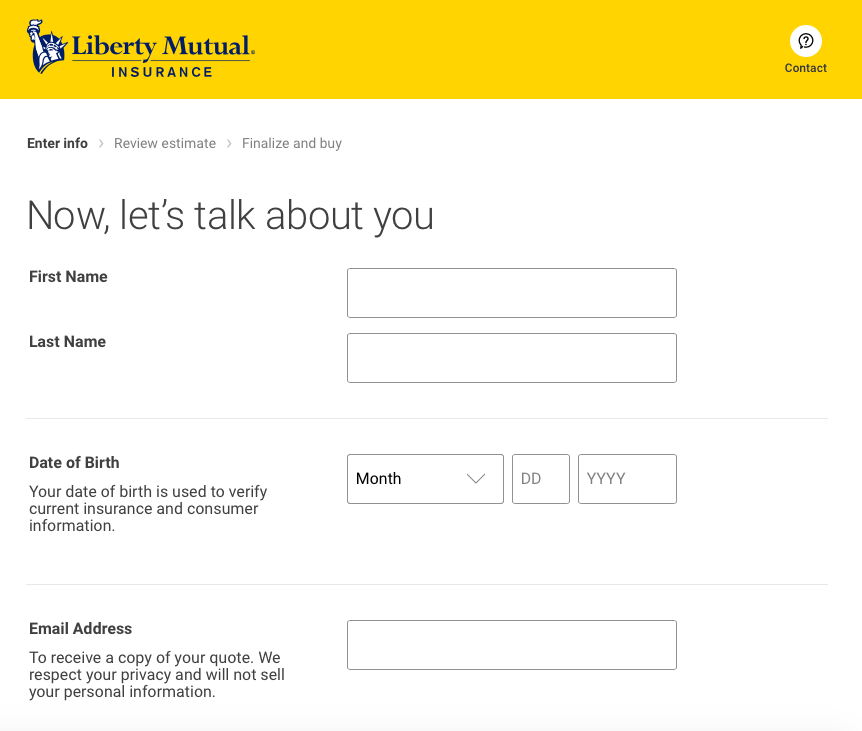 You'll be directed to next page to fill in your full name, date of birth, and email address where a copy of your quote will be sent. Fill in your details then hit "Save & Continue" to proceed.
Step #5: Confirm Vehicle Information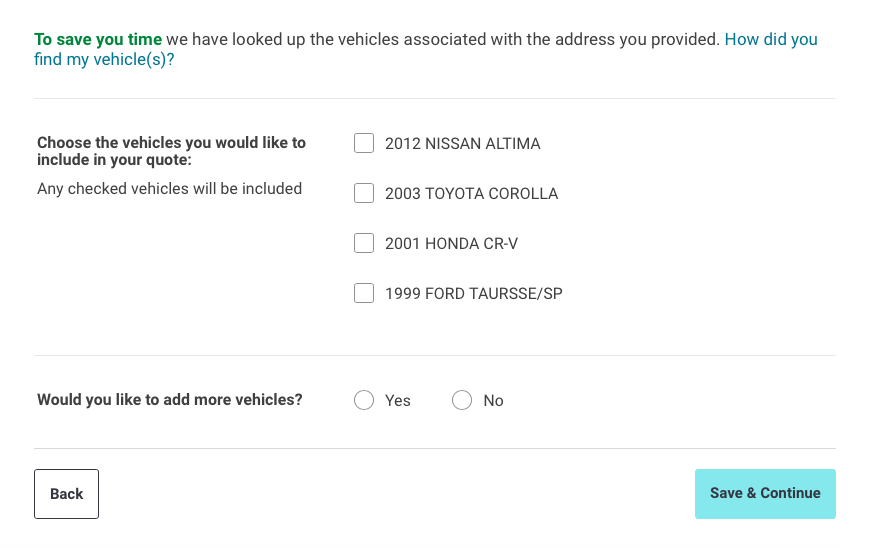 At this point, you'll be directed to a page populated with potential vehicles you'd like to obtain a quote for, based on the address you submitted earlier. You also have the option to add more vehicles if desired.
Select one or more boxes from the list of any vehicles generated and/or add more vehicles. Select "No" if you don't want to add any additional vehicles. Then, hit "Save & Continue".
Step #6: More About Your Vehicle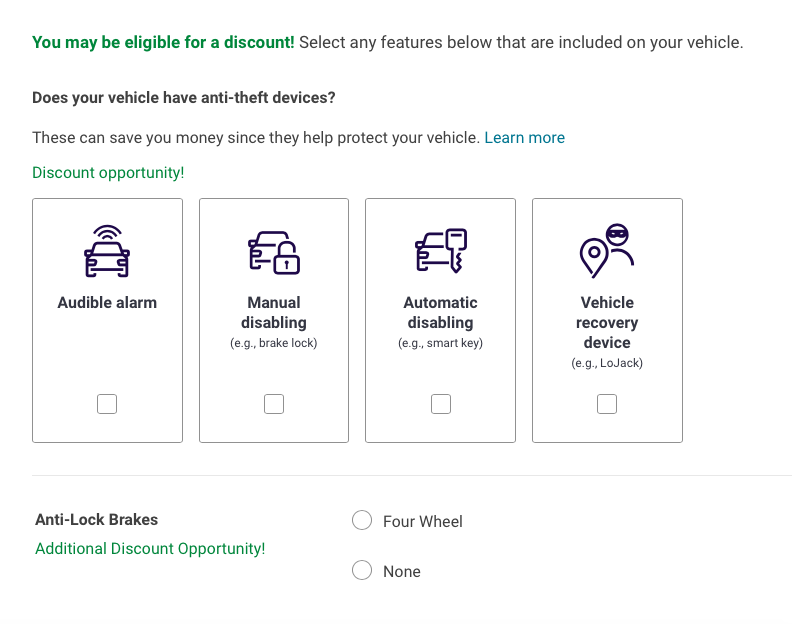 Depending on the vehicle(s) you selected, the next page should look something like this. Any discounts you might be eligible for would be generated and you can select features that would enhance your discount opportunities.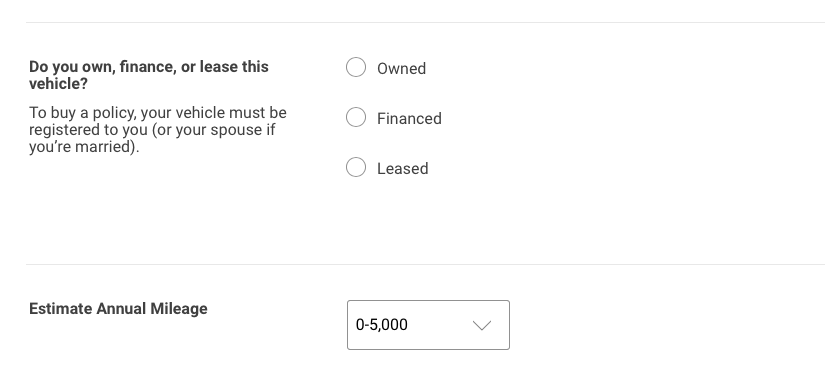 You'll also need to confirm whether the car is owned, financed, or leased, the annual mileage, and the address the vehicle is kept at before hitting "Save & Continue".
Step #7: Save with RightTrack® Option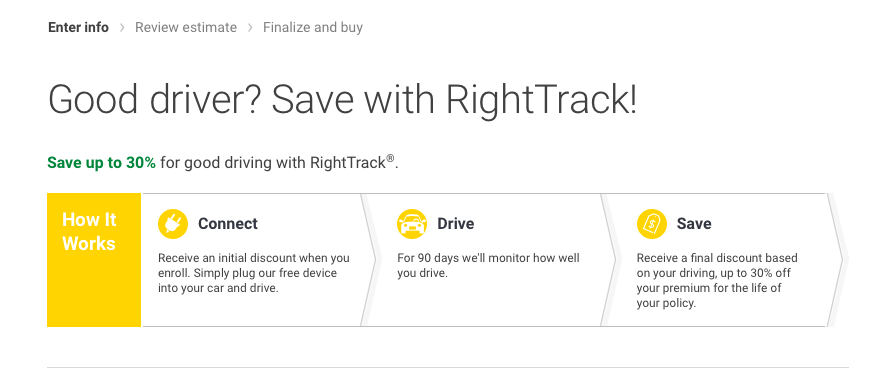 You'll be prompted to enroll in the RightTrack® program, to which you can select "Yes, sign up & save!" or "No thanks". Select your preference, then hit "Save & Continue."
Step #8: Add the Drivers in Your Household
Based on the information generated by the address you enter, you'll be prompted to add other drivers in your household to the quote. Select the appropriate information or remove people from the quote as needed. You can also add another driver.
Once finished, hit "Save & Continue".
Step #9: Add a Few More Driver Details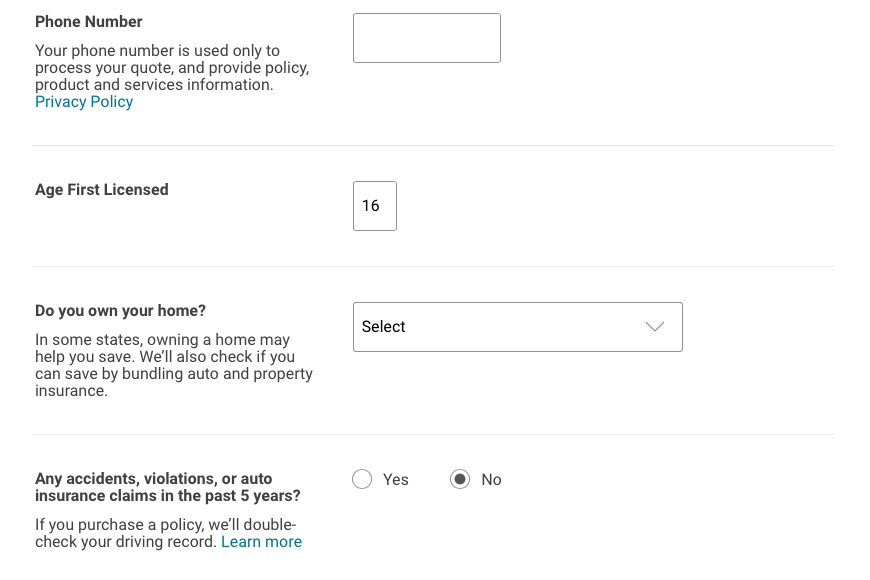 Based on the selections you made, you'll need to fill in additional driver details for each person, including their phone number, age first licensed, accident history, and more.
Fill in all relevant details, then select "Save & Continue".
Step #10: See What Discounts You Qualify For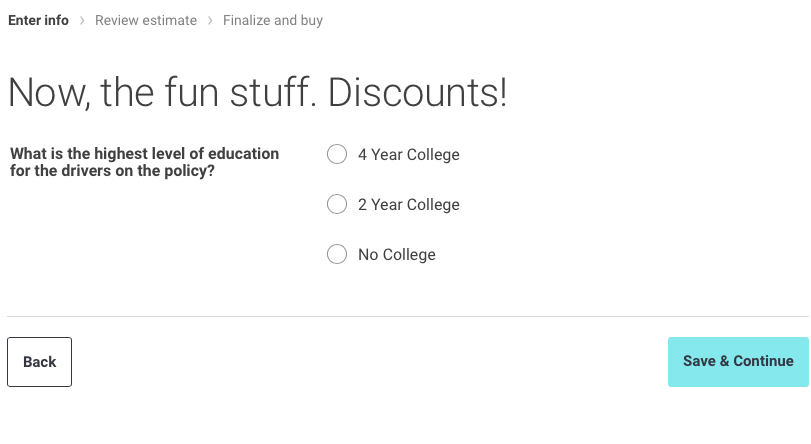 This is where you'll find out what discounts you could qualify for. Answer the prompts provided then hit Save & Continue to navigate through to the next page.
Step #11: Your Current Insurance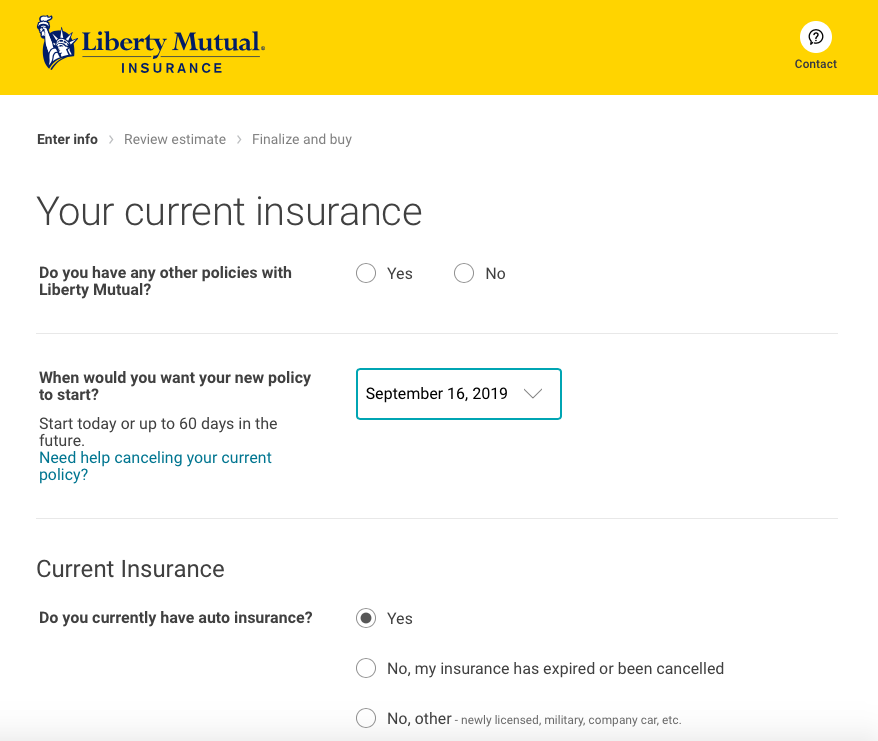 Fill in details regarding your current insurance, including whether you already have a policy with Liberty Mutual, when you want your new policy to start, and so forth.
Once finished, hit "Save & Continue".
At this point, the website will generate your estimated quote, with potential discounts and features. You can find out what's included and finalize your price or keep shopping around.
Enter your ZIP code below to compare auto insurance rates.
Secured with SHA-256 Encryption
Design of Website and App
Whether you want to get a quote, file a claim, or simply get answers to a burning question, it's important to be able to easily navigate an insurance carrier's website and mobile app to find the information you need with ease.
How does Liberty Mutual fare in terms of its website and mobile app? Keep reading and you'll find out.
Website
If you go to www.libertymutual.com, you'll be directed to the company's homepage as shown above. The website is very straightforward and easy to navigate. At the top of the page, you can select a product if you're interested in getting a quote.
You can also click on the drop-down menus above to shop for insurance, access customer support information, claims, and resource pages.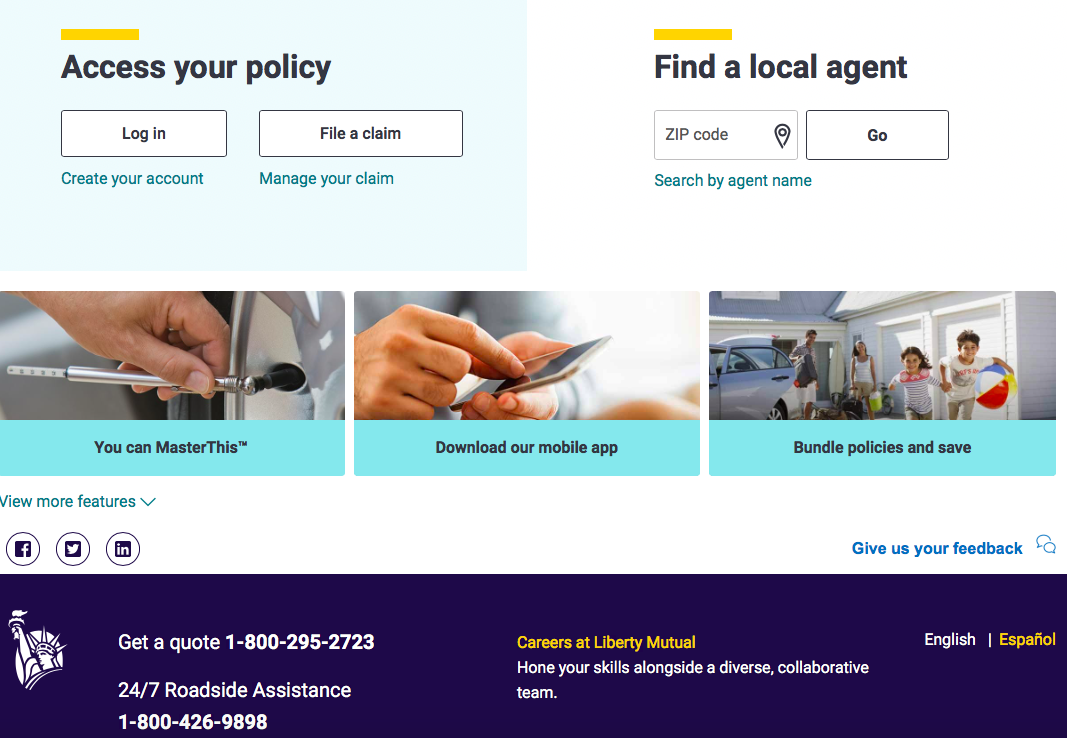 If you scroll down slightly, you'll see options to access your policy or file a claim, find a local agent, download the mobile app, and more.
At the very bottom of the page, you can click to various pages including Terms & Conditions and different insurance product pages.
How easy is it to find answers?
It's easy to click through to various pages and find the answers you need. If you do have a question in particular but aren't sure where to look, hover your mouse over the "Customer Support" dropdown menu as shown in the image below.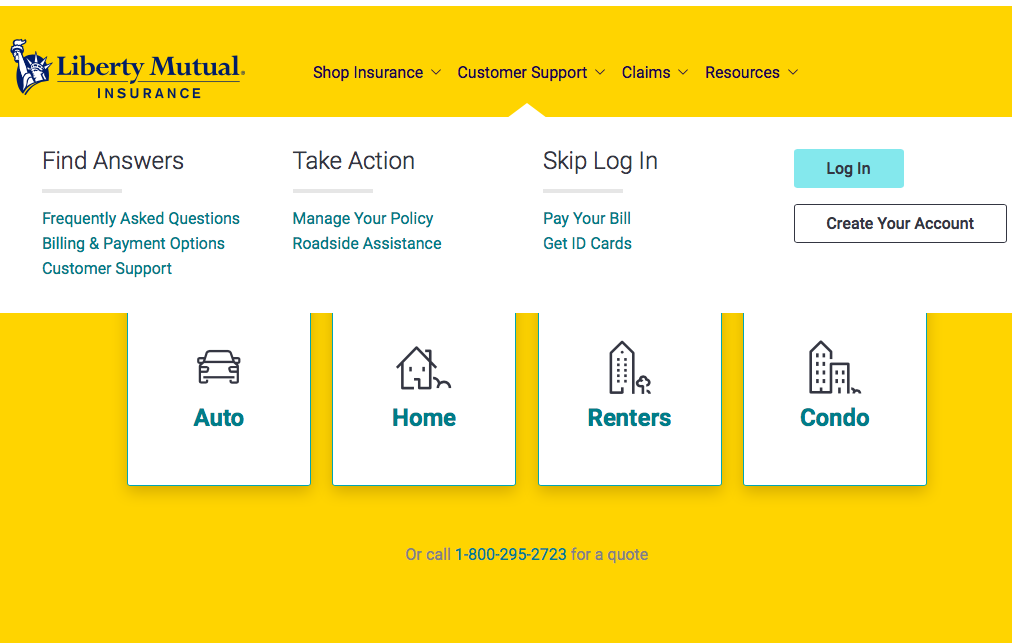 Under the "Find Answers" menu, you can click to the FAQ, customer support, and billing and payment options pages.
Is the design a plus or minus?
Liberty Mutual's design is colorful and eye-catching, but most important of all, it is user-friendly and simple to navigate. The large icons and well laid out boxes and drop-down menus make finding the answers you need quick and efficient.
Mobile App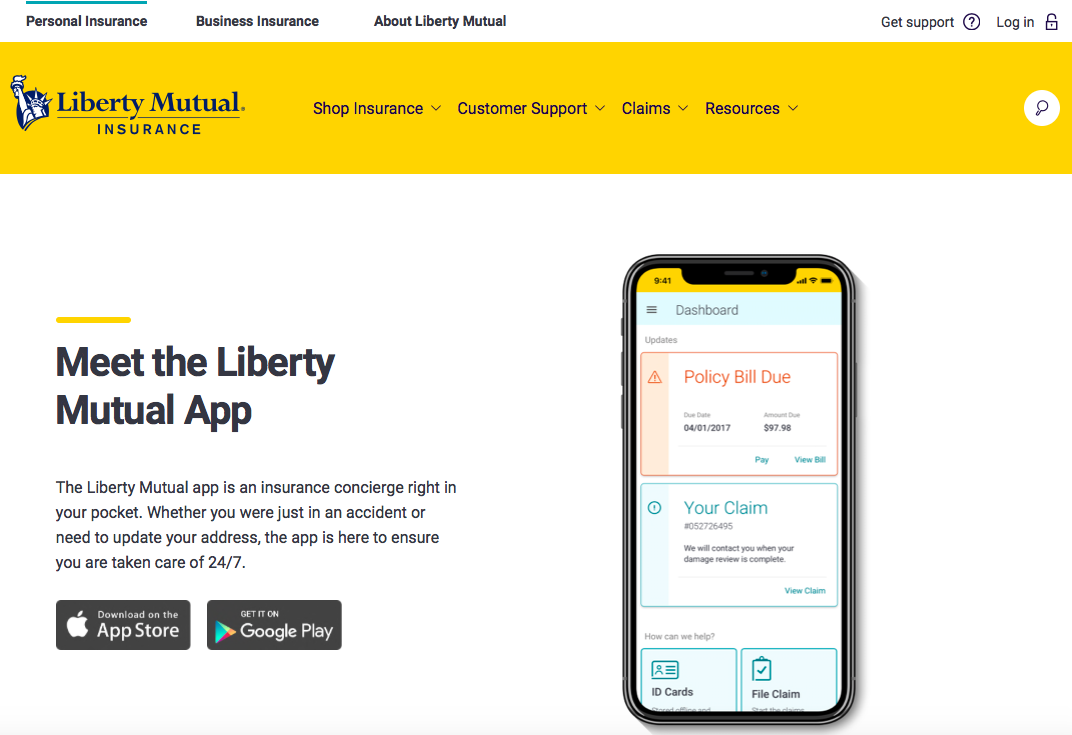 Liberty Mutual's mobile app makes handling all your key policy concerns and accessing vital information effortless on the go. But, just what can you do with this mobile app?
Available on the App Store and Google Play, here are some of the actions you can complete on your mobile device from anywhere:
Pay your bill
Access ID cards and policy documents
Update your contact, billing, and policy information
File a claim or manage an existing claim
Upload photos for your car repair
Request roadside assistance
How easily can you manage your account using just the app?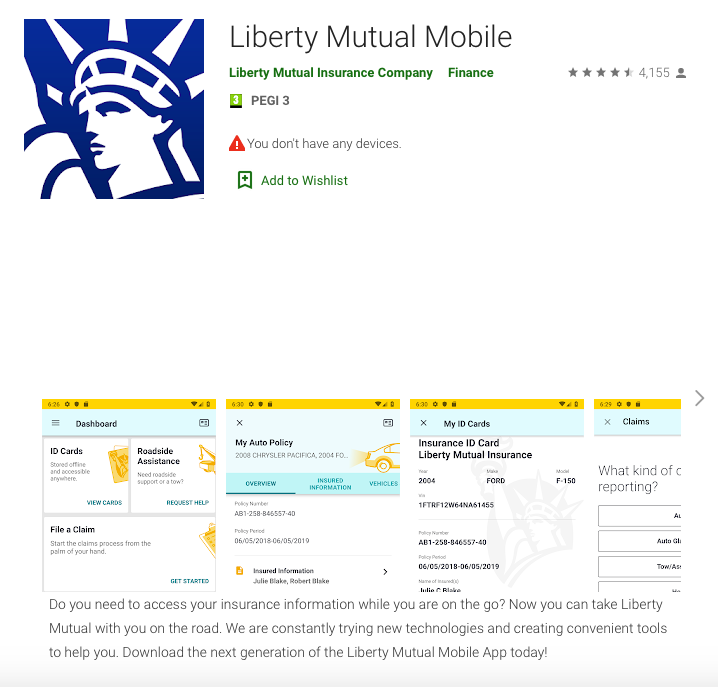 As you've probably gathered from the list above, you can take care of most of your primary insurance needs from anywhere via the mobile app.
The Android version of the app has a 4.6-star review on Google Play, based on over 4,000 reviews at the time of this Liberty Mutual auto insurance review.
Clearly, reviews are largely positive. Some users did note issues with the screen freezing or being unable to edit policy information.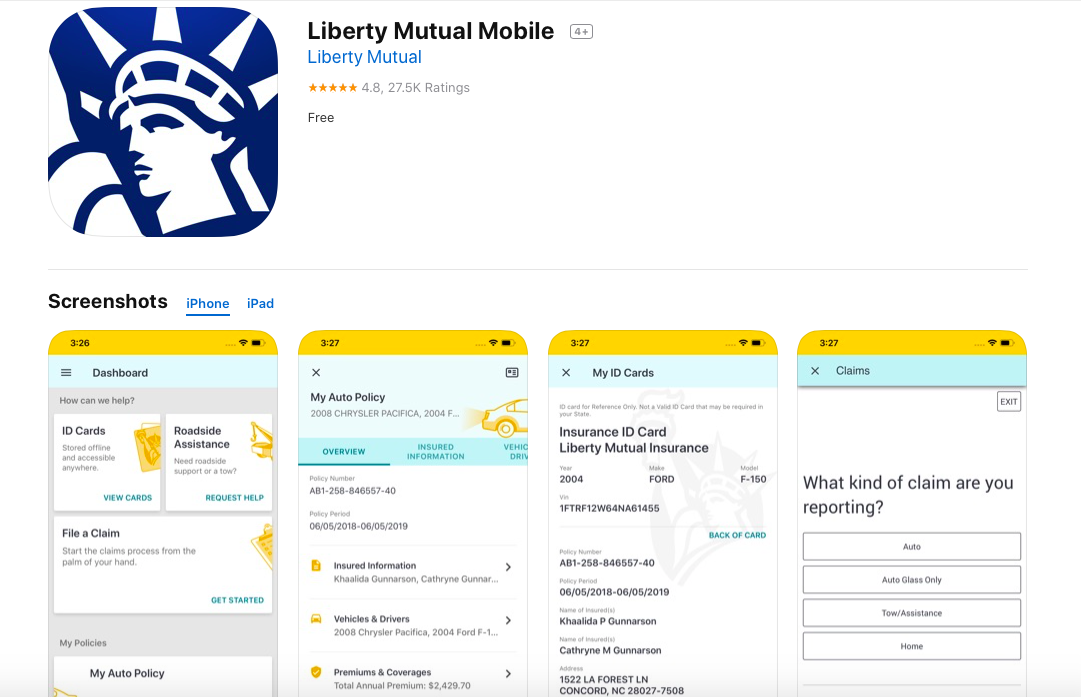 As for the App Store version, the Liberty Mutual app has a 4.8-star rating, based on 27,500 ratings. You can use the app on an iPhone or iPad with ease.
Is the design a plus or minus?
With clearly labeled selections and menu options on the app, you can click to your policy information, vehicle details, ID card, and more in seconds.
Based on the overwhelmingly positive reviews the app has garnered both on Google Play and the App Store, users generally seem to be more than pleased with the design.
Pros and Cons
We're not finished yet. Check out the table below for a quick recap of the pros and cons from our Liberty Mutual auto insurance review to help you determine the best way forward for your insurance needs.
The Bottom Line
So, what's the bottom line? Liberty Mutual has largely strong insurance ratings, an easy-to-navigate website, a highly-rated mobile application, and excellent coverage, program, and discount selections.
Liberty Mutual's rates are among the highest in the insurance market when compared to other top competitors by market share, but the company's steady increase in premiums written in recent years makes it clear that this hasn't been a deterrent for a large number of consumers.
The research shows that the company certainly has work to do in the area of customer service, with largely mixed reviews and a high incidence of consumer complaints that indicate results below the industry-wide average.
Liberty Mutual's secure financial position makes it a worthy contender for insurance consumers, but you'll likely want to take advantage of the most discounts possible or you could find yourself paying a steep annual insurance bill.
Enter your ZIP code below to compare auto insurance rates.
Secured with SHA-256 Encryption
Liberty Mutual Car Insurance FAQs
Before we send you on your way, check out our quick FAQs below to get your fundamental questions answered.
#1. Does Liberty Mutual offer a grace period?
Yes. Liberty Mutual provides a 10-day grace period in which you can renew your policy.
#2. How do you secure discounts through Liberty Mutual?
When accessing your quote, check any discounts you qualify for. If you aren't prompted to review discount options, get in touch with your insurance agent or contact Liberty Mutual customer service to discuss the discounts you could qualify for.
Certain discounts, such as the Good Student discount, may require to provide documentation to secure a reduced premium.
#3. Does Liberty Mutual car insurance coverage include hail damage?
Assuming you opt for comprehensive coverage on your policy with Liberty Mutual, you'll be covered for a range of non-collision damages, including hail damage.
#4. Does Liberty Mutual offer roadside assistance?
You can select roadside assistance as an optional add-on for your Liberty Mutual policy when obtaining your quote. With roadside assistance on your policy, you'll have aid for fuel and oil delivery, battery replacement, locksmith services, and towing.
#5. Can you cancel coverage with Liberty Mutual online?
There aren't currently any options on the Liberty Mutual website to cancel online. The best way to cancel coverage is to call customer service, clarify any fees or prorated refunds involved, and initiate the cancelation process.
We hope this Liberty Mutual auto insurance review has brought you once step closer to deciding what comes next in your insurance journey.
Finding the best coverage for all the drivers in your family at the most affordable price doesn't have to be complicated.
Obtain your quote for multiple car insurance companies with our FREE online rate tool. Enter your zip code now to start your quote.