The Ultimate New York Car Insurance Guide (Costs + Coverage)
Free Auto Insurance Comparison
Enter your ZIP code below to compare auto insurance rates.
Secured with SHA-256 Encryption
Home to the Statue of Liberty, the Big Apple, and the beautiful Finger Lakes it's no wonder that New York is the 4th-most populated state in the U.S.
With a population of over 19 million people and over 10 million registered vehicles on the road, one thing is for sure: if you live in New York and you want to own a car, you're going to need car insurance.
But with so many car insurance companies out there and so many different types of car insurance coverage, how do you know which provider and plan are right for you?
We know all of this can be difficult and confusing, so that's why we came up with the ultimate New York car insurance guide to answer all of your insurance questions.

New York Car Insurance Coverage and Rates
Some people know a lot about car insurance. But if that's not you, we understand. Let's start with the basics: car insurance coverage.
What are you getting for the coverage you pay for? What's actually covered in the event of an accident and what isn't? What is the minimum amount of car insurance you need in New York?
Have more questions about New York auto insurance? Keep reading to learn more about car insurance coverage and rates.
New York's Car Culture
The car culture in New York is full of American history and it begins with the automobile. It started in 1951 when the Museum of Modern Art displayed iconic automobiles from around the country.
Although the type of car varies from person to person, New Yorkers either love their car because it's historic, or because in the city, they are few and far between.
New York is also part of a group of states leading the charge to reduce carbon emissions. In our list of the 10 best states to own an electric vehicle, it ranks 10th, with 10 electric vehicle incentives, including a $2,000 rebate for people purchasing a qualifying electric vehicle.
New York Minimum Coverage
New York is one of about a dozen states in the U.S. that is considered to be a no-fault state.  But before we get into what no-fault means, let's explain New York's minimum coverage policy is.
By law, every driver in the state of New York must have insurance on their vehicle. This is called minimum coverage or minimum liability insurance.
Minimum coverage is the smallest amount of insurance coverage you can get for a vehicle. It's usually the least expensive and works as a security blanket. Minimum coverage is there to help you financially in the case of an accident.
But, minimum coverage may not be enough to cover all of the costs you can incur in an accident, especially if the other driver takes you to the small claims court. The costs of property damages and medical bills can add up quickly, so it's smart to have more insurance than the state requires.
In order to abide by New York's minimum insurance law, you must meet these requirements:
$25,000 liability coverage for bodily injury per person (when you cause a car accident)
$50,000 total liability bodily injury coverage per accident you cause (regardless of how many people are injured)
$10,000 liability coverage for property damage (per accident you cause)
$50,000 in no-fault (personal injury protection) coverage
Uninsured motorist coverage (for bodily injury sustained by you) subject to these same minimums
Now that you know what minimum insurance is, let's go back to what no-fault means.
In no-fault states, if another driver causes an accident and you were harmed in that accident, you are required to file a claim with your own insurance company to cover the costs of medical bills and emergency services.
According to NOLO, New York's no-fault car insurance system applies to injuries caused by car accidents, but not to vehicle damage claims.
A claim for damage to (or total loss of) a vehicle can be made against the at-fault driver in New York, with no limitations.
Forms of Financial Responsibility
A form of financial responsibility is just proof of insurance, and in the state of New York, all drivers are required to carry proof of insurance at all times while on the road.
If a law enforcement officer pulls you over and asks to see your insurance policy, you must show it to him or her by law.
You must be able to prove you have at least minimum coverage insurance on the vehicle you are driving.
If you are caught driving without proof of insurance, you may have your license suspended.
Acceptable forms of proof of insurance are:
Original insurance ID card
Electronic insurance ID card
Copy of your current car's insurance policy
Valid insurance binder (a temporary form of car insurance)
Premiums as a Percentage of Income
Have you ever heard of the term per capita income?
Per capita income is the average amount of income a person makes in a certain area.
In 2014, New York's average disposable income was $47,446.
The cost of full coverage insurance in 2014 was $1,327.82. If the average New Yorker makes just under $50k per year, this means that they spend 2.80 percent of their annual income just on car insurance.
On average, Americans paid about $950 per year for full coverage in 2014. Car insurance in New York is about $400 higher than the national average, however, their per capita income is also higher than the national average as well.
The states that border New York generally pay a cheaper car insurance premium, so if you're looking to move to or around New York any time soon, this might be something to keep in mind.
Core Coverage in New York
The data below shows the difference in cost from liability all the way to comprehensive coverage and is pulled directly from the National Association of Insurance Commissioners. 
Keep in mind that this data is from 2015, and because of inflation, insurance premiums have increased since then. Need additional coverage? Keep reading below as we talk about add-ons and endorsements.
Additional Liability Coverage
We've already gone over minimum coverage requirements, so we know that MedPay, personal injury protection, and uninsured/underinsured motorist coverage are additional liability coverage options.
Even though it can be easy to skip paying for additional liability coverage, you'll thank yourself when you get into an accident and you have more coverage than you need.
New York ranks 50th in the U.S. for uninsured drivers. This means that 6.10% of drivers in New York are uninsured.
But what is loss ratio?
Loss ratio percentage is how we measure the amount of filed claims paid versus the amount of filed claims unpaid.
Typically, when you're looking for an insurance provider, you want to look at the loss ratio percentage.
If the company has a loss ratio of over 100 percent, they might be in danger of going bankrupt and you might be at risk of not having legitimate claims paid. This is because they may have paid too many claims — some probably not legitimate.
On the other hand, if the loss ratio is too low (under 50 percent), the company may be scamming its clients. This means that fifty percent or less of claims filed are never paid.
So what should you look out for when you're finding a new insurance provider? Stay away from companies that have a loss ratio over 100 percent and under 50 percent.
Add-ons, Endorsements, and Riders
By now, you should know that carrying minimum coverage alone probably isn't the smartest idea. But how do you know what other kinds of add-ons are out there? What should you add to your basic policy?
Below is a list of additional coverage options. Click on the links to learn more about each specific coverage plan. Keep in mind that your provider may give you a discount if you decide to add more coverage options to your plan.
Guaranteed Auto Protection (GAP)
Personal Umbrella Policy (PUP)
Mechanical Breakdown Insurance
Non-Owner Car Insurance
Modified Car Insurance Coverage
Pay-As-You-Drive or Usage-Based Insurance
You can choose one or all of the add-ons listed above, but it's good to know what you want to protect and insure so that you know what kind of plan works well with your lifestyle.
Demographic Rates in New York
Did you know that factors like gender, marital status and age can affect your yearly car insurance premium?
Generally, even though most people think males pay more for insurance than females do, females actually pay more than males for car insurance.
If you're 17, don't be discouraged by this information. If you keep a clean record, your rates should decrease the older you get. But stay tuned as we discuss more factors that can affect your car insurance rate.
Cheapest Rates by Zip Code
As we discussed before, location can have an effect on your car insurance rate. Look for your zip code in the tables below and see what your rates could be based on where you live.
All 25 of the most expensive zip codes belong to Brooklyn.
Corning and Horseheads have the cheapest zip codes in New York.
Least and Most Expensive Cities in New York
Here are lists comparing rates in New York by the most expensive cities to have car insurance versus the least expensive cities to have car insurance.
Brooklyn is the most expensive city for car insurance. This isn't surprising, as Brooklyn also has the most expensive zip codes.
Corning is the cheapest city for car insurance in New York.
Enter your ZIP code below to compare auto insurance rates.
Secured with SHA-256 Encryption
Best New York Car Insurance Companies
So by now, maybe you have figured out what kinds of car insurance coverage you need, but you're still stuck on choosing a car insurance provider.
You don't want a company that's too expensive, but at the same time, you want good customer service, and help when you need it — especially when you get into an accident and need your claim paid.
But, how do you know which car insurance company to go with? Who will give you the best peace of mind? Which companies have had complaints, and which companies are on the verge of going bankrupt?
In this section, we will cover companies with the best financial and customer service rating, companies with the cheapest rates, and more — so keep reading to learn more about the best car insurance companies in New York.
Top Ten Car Insurance Companies with the Best Financial Ratings
We measure a company's financial rating with something called the AM Best ratings. This helps to determine financial strength.
This is important to a consumer because it tells if an insurer has enough liability to pay a claim, if it is at risk of bankruptcy, or if it's scamming its customers.
Remember, it's good to stay away from companies with a loss ratio of over 100% and under 50%.
Companies with Best Ratings
In 2018, J.D. Power ranked car insurance companies based on five different factors: interaction, policy offerings, price, billing process, and policy information, and claims.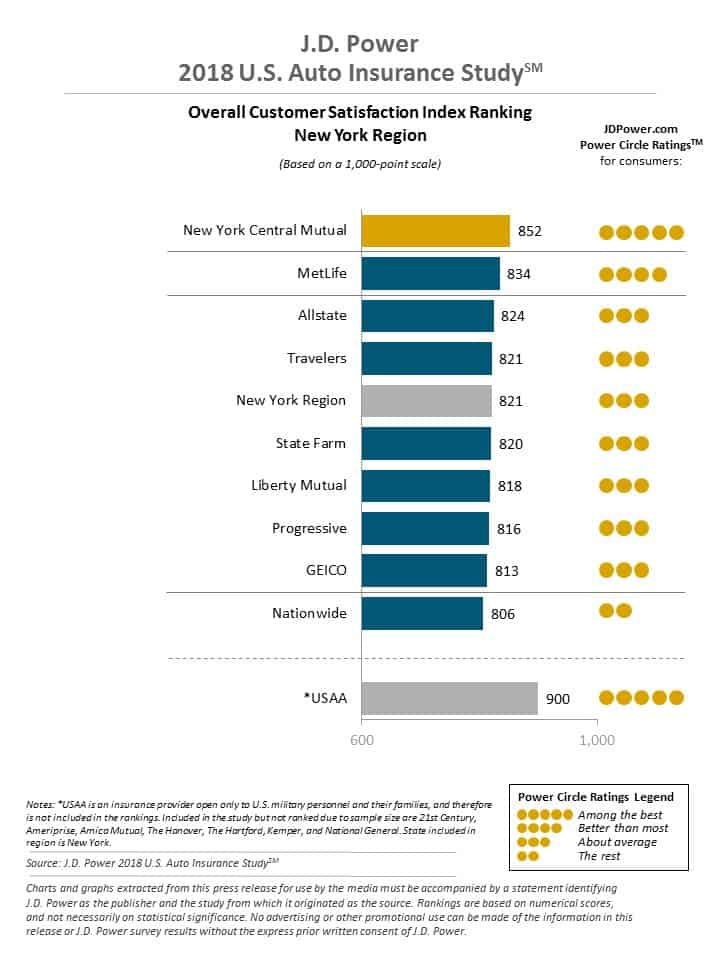 According to this study, New York Central Mutual was ranked as the best car insurance company in New York.
Top Ten Companies with the Most Complaints in New York
The data below shows complaint records from 2017. However, we want you to know that even the best companies receive complaints. The true test is how companies handle complaints.
Remember that this list above shows data for the top ten best insurance companies in New York.
New York Car Insurance Rates by Company
As you can see, Geico, Nationwide, Progressive and USAA all have rates below the national average. So if you're looking for a cheaper car insurance company in New York, these are your best options.
Commute Rates by Companies
Did you know that the more you drive, the higher your car insurance rate will be?
A few of these rates are the exact same whether you drive ten miles a day or 25 miles a day, but most of them differ by a couple hundred dollars or more.
Coverage Level Rates by Companies
It's an easy choice to only pay for minimum liability car insurance, but when you're standing in the middle of a car accident you caused, your wallet won't be so happy when you owe more money to fix damages than what your insurance will cover.
Credit History Rates by Companies
Good credit and poor credit can really alter you rate as well — sometimes by thousands of dollars.
According to Experian, in 2018, New York's average credit score was 688.
New Yorkers have an average of 3.34 credit cards with over $6000 of credit card debt.
This score is lower than the national average credit score of 704. If you have poor credit, Geico is the best company to go with as they have the lowest rate.
Driving Record Rates by Companies
Probably one of the biggest factors to affect your car insurance rate is your driving record.
Speeding violations and DUIs can be avoided. Car accidents are expected and are not always avoidable, so many insurance companies will give you a break on your rate if you've only had one accident.
Nationwide has great rates for drivers who have been in one accident.
However, drinking and driving can cost you much more than just a high insurance rate — it can cost you jail time, money, having your license taken away and potentially your life or someone else's.
Number of Insurers in New York
What's the difference between domestic and foreign insurance laws?
We're so glad you asked!
Domestic insurance laws are formed under New York law and foreign insurance laws are applied to every state in the country and are formed under U.S. law.
New York State Laws
Not every state has the same laws and it's hard to keep track of them all, especially if you're are a new driver. If you're new to New York or you're about to move there, this section is for you.
There's no reason to get pulled over for breaking the law just because you didn't know the law even existed.
As we talked about before, car insurance rates can go up hundreds of dollars after being cited for one speeding violation! That is not a situation that anyone wants to be in.
This section talks about New York road laws, car seat and seat belt laws, high-risk insurance laws and more. Don't go away. First, we'll explain how insurance laws are determined.
Car Insurance Laws
If you're going to drive in New York, you're going to need car insurance.
According to the NAIC, every state in the U.S. is granted the ability to enforce its own laws pertaining to the type and amount of liability insurance required, and the system used for approval of insurer rates and forms.
In addition, the states have enacted varying auto seat belt requirements, drunk driving laws, and maximum speed limits.
But how are these laws implemented?
New York usually uses to ways to form these laws: by flex rating and prior approval.
Prior approval means that rates and forms must be filed with and approved by the state insurance department before they can be used.
Approval can be by means of a deemer provision, which indicates approval if rates/forms are not denied within a specified number of days.
Flex rating means that the prior approval of rates is required only if they exceed a certain percentage above (and sometimes below) the previously filed rates.
If you're still confused, you can read more about how state laws are formed at www.naic.org.
Windshield Coverage
While there are no specific laws about windshield repair in New York, insurers may offer policies with no deductible to replace the glass of the windshield.
Aftermarket parts may be used if they are "equal or exceed the comparable OEM crash part in terms of fit, form, finish quality and performance", and if used must appear on the estimate.
High-Risk Insurance
What is SR22 insurance? Well, "SR" stands for "safety requirement" and an SR22 insurance form is just a document stating that a driver has car insurance.
You might need this kind of insurance (form) if you are caught driving without insurance, if you have been convicted of a DUI, or if you've lost your "good driver" status with your insurance company.
New York is one of eight states in the U.S. that does not require a driver to have an SR22 insurance form for an incident that occured inside its borders.
If you are from New York and you need an SR-22 form, it's because you were convicted of an incident that happened in a state that does require you to carry the form.
If you are a New York driver who has not maintained a good driving record or has experienced an insurance lapse, then the NY DMV will be able to set some definitive penalties on you.
Going without the proper SR-22 insurance could land applicable New York drivers with the following consequences if they are caught driving without it:
Revoked license and registration
A fine of up to hundreds of dollars
Their vehicle to be impounded
Arrest, if the infraction is serious enough
Low Income Car Insurance
The state of New York does not offer a low-income car insurance plan right now, however, if you need help saving money on your car insurance, there are certainly other ways to do so.
Here's a list of just a few ways you can save some extra green on your car insurance rate:
Student driver discount
Good driver discount
Homeowner discount
Military discount
Multi-insured car discount
Interested in saving more? Use our free tool to enter your zip code in the box below and start comparing rates in your area right now.
Automobile Insurance Fraud in New York
According to the III (the Insurance Information Institute), automobile insurance fraud may be committed by different parties involved in insurance transactions: applicants for insurance, policyholders, third-party claimants and professionals who provide services and equipment to claimants.
Common frauds include "padding," or inflating actual claims; misrepresenting facts on an insurance application; submitting claims for injuries or damage that never occurred, services never rendered or equipment never delivered; and "staging" accidents.
https://www.youtube.com/watch?v=MIYwI6r3MTU
The video above shows dishonest drivers attempting to get away with staging accidents.
In his 2014-15 Executive Budget, Governor Andrew Cuomo said he would expand the ability of the New York Department of Financial Services (DFS) to audit healthcare providers participating in the no-fault auto insurance system.
This was done to prevent fraudulent providers from receiving payment and fining providers who engage in illegal activities. The department will be authorized to make unannounced inspections.
Statute of Limitations
What does the statute of limitations law mean? This law protects drivers just as much as insurance companies — but how?
In the state of New York, drivers only have three years to file a personal injury claim or a property damage claim with his or her insurance company.
This protects the driver because it gives them an ample amount of time to file a claim. At the same time, insurance companies would go out of business if people were filing claims of accidents that happened ten, 20, or maybe even 30 years ago.
Think about how difficult it would be to validate a claim from an accident 10 years ago.
Vehicle Licensing Laws
Before we get into vehicle licensing laws, let's talk about something called REAL ID.
The REAL ID Act is a federal law passed by Congress resulting from the 9/11 Commission's recommendation that establishes specific federal requirements for state-issued driver licenses, permits and ID cards to be acceptable for certain federal purposes.
https://www.youtube.com/watch?v=a-_nl6ps-3M
REAL ID licenses will be the only acceptable form of ID if you want to board a domestic flight after October 1st, 2020.
Penalties for Driving Without Insurance
Because New York has strict laws about all drivers carrying car insurance, there are penalties for drivers who get caught driving without insurance. The following penalties can apply to you if:
Fine of up to $1500 if involved in accident plus $750 civil penalty
License and registration suspension – revoked for one year
Suspension of license if without insurance for 90 days
License suspension may last as long as registration suspension
Also, when it comes to the suspension of registration, you may be required to pay $8/day up to 30 days for which financial security was not in effect.
Then it is $10/day from the 31st to the 60th day $12/day from the 60th to the 90th day and proof of security is provided, or for the same time as the vehicle was operated without insurance.
Keep in mind that any time a law enforcement officer pulls you over, they will require you to show your license, registration, and insurance.
Acceptable forms of proof of insurance are:
Electronic insurance card
Original paper insurance card
Insurance binder (temporary insurance card)
Up next, let's talk about teen driving laws.
Teen Driver Laws
In the state of New York, you must be at least 16 years and six months old to drive without adult supervision. Below are the requirements for getting a learners license.
If you're a driver with a learners license, you must follow the rules listed below.
To graduate from a learners license to an unrestricted license, you must follow these requirements below.
License Renewal Procedures
According to the IIHS, every person young or old with a drivers license in the state of New York must renew his or her license every eight years. Proof of adequate vision is required at every renewal and drivers may do a license renewal online or through the mail.
New Residents
If you are a new resident in the state of New York and hold a valid drivers license in another state in the U.S., you are still legally able to drive on New York roads.
To remain legally licensed, you must apply for a New York driver license within 30 days after you establish you are a New York State resident.
Make sure when you get a New York license that you also have New York car insurance. If you already have an insurance provider, it's easy to make the call to switch your coverage to a new state.
Remember that minimum liability insurance requirements in New York are:
$25,000 liability coverage for bodily injury per person (when you cause a car accident)
$50,000 total liability bodily injury coverage per accident you cause (regardless of how many people are injured)
$10,000 liability coverage for property damage (per accident you cause)
$50,000 in no-fault (personal injury protection) coverage
Negligent Operator Treatment System
According to Driving Laws Published by NOLO, in the state of New York, a person can be convicted of "reckless driving" for driving a vehicle "in a manner which unreasonably interferes with the free and proper use of the public highway, or unreasonably endangers users of the public highway."
The consequences of a reckless driving conviction depend on the circumstances. But generally, reckless driving is a misdemeanor in New York, and the possible penalties are:
First offense: For a first reckless driving conviction, a motorist faces up to 30 days in jail and/or $100 to $300 in fines.
Second offense: For a second reckless driving conviction within an 18-month period, a motorist faces up to 90 days in jail and/or $100 to $525 in fines.
Third offense: For a third reckless driving conviction within an 18-month period, a motorist faces up to 180 days in jail and/or $100 to $1,125 in fines.
One reckless driving conviction can put up to five points on New Yorker's driving record. The more points you have on your driving record, the higher your insurance rate will be.
New York Rules of the Road
If you don't know the rules of the road, how do you expect to avoid getting a ticket? How do you know how fast you're supposed to go on the highway?
What kind of car seat is your kid supposed to be in? Do you keep right or move over when you're going slower than the speed of traffic?
To avoid tickets, traffic violations, accidents, fines and added points on your driving record, it's always best to make sure you know the rules of the road.
Fault vs. No-Fault
Because New York is a no-fault state, drivers are required to file claims with their own insurance company, even when they were not at fault for an accident they were involved in.
It's important to always have more than the minimum amount of insurance especially in no-fault states because you never know when someone could slam into your car and cause an accident — leaving you to pay for damages and medical bills out of pocket if you don't have enough insurance money to cover these costs.
Seat Belt and Car Seat Laws
Click it or ticket! New York has strict laws about buckling up. Keep reading for more info on seat belt and car seat laws.
Keep your child safe by following these laws about car seats.
There is also a law against driving with someone in the cargo area of a vehicle such as the bed of a pick-up truck.
However, this law is inapplicable to trips of five miles or less and inapplicable to trips of more than five miles if one-third or less of the passengers are standing or if suitable seats are securely attached and there are side rails and a tailgate.
The laws also don't apply to trips of more than five miles if there are less than five persons 17 or younger in the cargo area or if at least one person 18 or older is in the cargo area.
Keep Right and Move Over Laws
This law is pretty self-explanatory. If you are traveling slower than the average speed of traffic in New York, you are required to keep right.
However, according to AAA, when there is an emergency vehicle, tow truck or a maintenance vehicle with its lights flashing in sight going the same direction as you, you must exercise care, reduce speed, and move to an adjacent lane.
Speed Limits
We cannot stress enough how important it is to know what the speed limit is on New York roads.
Ridesharing
What is ridesharing?
Ever heard of Uber or Lyft?
If you want to work for a taxi service or a ridesharing service like Uber or Lyft, you have to have what is called ridesharing insurance.
Looking for a ridsharing insurance policy? Check out Allstate.
Automation on the Road
Automation on the road or in a vehicle can mean a few different things. The average driver doesn't own a car that currently drives itself, but we do have vehicles that have features like cruise control, automatic parking, and more.
Right now, New York is still testing out automation and deciding what laws need to be implemented before there are fully automated vehicles on the road.
Safety Laws in New York
Make sure you're paying attention as we discuss safety rules of the road next. In this section, we will cover DUI laws, distraction laws, cell-phone laws and more, so don't go away!
DUI Laws
In 2013, out of 8,368 reported alcohol-related crashes, 358 were fatal.
Drinking and driving is a serious crime and can be punishable by fines, jail time and more. Check out the table below to learn more.
Don't drink and drive. You run the risk of taking someone else's life and your own whenever you do.
Marijuana-Impaired Driving Laws
There aren't any specific laws about marijuana-impaired driving, but that doesn't mean you can't get ticketed for impaired driving or driving under the influence.
Being charged with impaired driving can cost you fines, jail time, and more.
Distracted Driving Laws
Just in the last 20 years or so, cell phones have come a very long way, from texting to GPS systems, to hands-free texting and commands, we have it all. But with all of the new technology comes new concerns.
According to AAA, "no person shall operate a motor vehicle while using a mobile telephone to engage in a call while the vehicle is in motion, unless that person is using a hands-free device. Text messaging while driving is prohibited for all drivers."
Primary enforcement gives a law enforcement officer the right to pull you over while driving if he or she expects that you are breaking the law by texting and driving.
– Driving in New York
Wow! We've covered a lot so far — everything from types of car insurance coverage and insurance laws, insurance companies, rules of the road and more.
But now, we want to talk about something a little more sobering: dangers on the roads in New York.
We believe that if you are aware of the risks on the road, you are more likely to avoid tricky obstacles like accidents or vehicle theft. Knowing these important facts might also help you save a life.
Let's get vehicle theft statistics out of the way first.
Vehicle Theft in New York
Some cars are more stolen than others. Here's a list of the top ten most stolen vehicles in New York. The year listed is the most popular model stolen.
Some places are considered to be more dangerous than others; likewise, some cities have more vehicle theft than others.
The data from the list below was collected from the FBI. It lists the cities in New York with the most theft. See if you can find your city on this list.
Road Fatalities in New York
There are many reasons as to why road fatalities occur, but let's take a look at specific factors that cause road fatalities the most.
Fatal Crashes by Weather Condition and Light Condition
Take a look at this chart below.
It appears that the most fatalities in New York occured in the daylight.
Fatalities (All Crashes) by County
Traffic Fatalities Rural vs Urban
Usually, more traffic fatalities happen in rural areas. This might be because there aren't as many hospitals and first responders in rural areas as there are in the city.
According to the table above, fatalities happen in urban areas almost as much as they do in rural areas.
Fatalities by Person Type
Crash type also plays a role in a fatality rate.
Fatalities by Crash Type
Five-Year Trend For The Top 10 Counties in New York in 2017
Next, we will talk about fatality statistics by county.
Fatalities Involving Speeding by County
Speeding is a major cause of traffic fatalities.
Fatalities in Crashes Involving an Alcohol-Impaired Driver (BAC = .08+) by County
Drinking and driving is also one of the leading causes of road fatalities in New York.
Teen Drinking and Driving
Teen drinking and driving has become an epidemic – not just in the state of New York, but all over the country.
In 26 states across the U.S., under-21 alcohol impaired traffic fatalities ranked below the national average of 1.2 deaths per 100,000 drivers. Thankfully, New York is one of those states.
EMS Response Time
EMS response time is everything when it comes to fatality rates. Arriving seconds too late often means the difference between life and death.
EMS response times in urban areas are significantly shorter than times in rural areas. This makes sense, considering urban areas generally have more EMS locations and are more easily accessible.
Transportation
How many cars do you own? How many cars does the average New Yorker own?
Car Ownership
According to Data USA, the average New York driver owns two cars. The gray bars in the chart below illustrate national average car ownership and the orange bars show New York's average.
Commute Time
Drivers in New York have a longer commute time (32.2 minutes longer) than the average U.S. driver.
Commuter Transportation
The most common method of travel in New York is to drive alone, but 28 percent of commuters use the public transit system.

Traffic Congestion in New York
According to Inrix, New York City, New York is the 40th most traffic-congested city in the world.
Now that we've explained everything you need to know about car insurance, rules of the New York road, road risks and dangers, car insurance companies and more, it's finally time for you to start shopping for a car insurance rate.
Guess what? It's so easy! All you have to do is enter your zip code into the box below to get started. We hope this guide eased your mind and helped you decide which types of car insurance is right for you.
Happy shopping!