The Ultimate Idaho Car Insurance Guide (Costs + Coverage)
Free Auto Insurance Comparison
Enter your ZIP code below to compare auto insurance rates.
Secured with SHA-256 Encryption
Idaho residents know there's a whole lot more to the state than potatoes! Although potatoes do have a big role in the economy. Potatoes represent 15 percent of the state's gross product.
Recreational opportunities abound in Idaho. Whether you're interested in hitting the slopes for some deep powder, white water rafting, hot spring soaking, or enjoying the outdoors in some other way, Idaho has the goods!
If you're more of a cultural connoisseur, Idaho has museums, music festivals, and fine dining to suit your preference.
Whatever you enjoy, you're going to have to hit the road to get there. And if you're going to drive, you're going to need car insurance.
What kind of car insurance do you need? Where can you find the best price? How do you know which company is best?
Finding answers to these questions can take a lot of time and can feel overwhelming, but we've already done the work, and we'll answer those questions and more starting with what Idaho law requires.
If you want to compare rates quickly and easily, we have just the tool for you! Enter your zip code above and see how much you could save on car insurance.
Idaho Car Insurance Coverage and Rates
The first thing you need to know is what insurance you need and how much of it you need to comply with the law. Let me preface these required minimums by saying that what the state requires is insufficient to adequately protect you financially.
Many car insurance companies won't even offer a quote for the minimum state requirement. Experts recommend that at the very least, you should carry $100K bodily injury liability for one person, $300K bodily injury liability per accident and $50K for property damage liability.
Minimum Coverage
You may see Idaho's requirements represented as follows: 25/50/15. The table above spells out what those numbers mean.
As previously encouraged, you should consider higher liability limits. Consider the following scenario: You t-bone a new Cadillac Escalade. The driver and passenger both require hospitalization and months of therapy.
The medical bills of the injured party exceed $100,000 and the property damage is about $60,000.
If you have only the minimum state-required limits, you will be liable for the difference which is over $50,000 for injuries and $45,000 for property damage. The injured party would collect from your insurance agency and then sue you for the remainder.
It doesn't cost that much more to increase your limits, and it is money well-spent.
Forms of Financial Responsibility
An insurance policy is the most common way to meet the liability requirements in Idaho. Proof of insurance can be in the following forms:
Insurance card
Electronic verification
Another less common option is to post an indemnity bond of at least $50,000, of which $15,000 is for property damage, for each registered vehicle up to $120,000 maximum for five or more vehicles.
Premiums as a Percentage of Income
The average disposable personal income (DPI) in Idaho is $33,600 per year. DPI is the money you have left after taxes. Car insurance costs an average of $673 a year, which ends up being two percent of the average Idahoan's DPI.
Over the course of three years, the cost of car insurance has risen as the average income has risen in Idaho.
Nationally, people pay about 2.4 percent of their DPI for auto insurance.
Idaho Cost for Core Coverage Compared to National Cost
The good news for Idaho residents is that rates are significantly lower than the countrywide average.
Additional Liability
Uninsured and underinsured motorist coverage is an important coverage option. You can refuse this coverage in Idaho by signing a form, otherwise, it will be automatically added to any policy.
And that's not a bad thing!
In Idaho, 8.2 percent of motorists are uninsured. If one of those drivers causes an accident with you, most likely you will be out of luck. You'll probably end up paying your expenses out of pocket.
Unless you have uninsured motorist coverage!
Be sure to consider both uninsured/underinsured motorist coverage for bodily injury and property damage.
Another type of insurance that is optional in Idaho is Medical Payments (MedPay). That coverage will pay for your medical expenses regardless of whose fault the accident is.
Below is a table showing the loss ratio trend for uninsured/underinsured motorist and MedPay in Idaho.
The loss ratio for those two kinds of coverage has been increasing over the past three years of data available. MedPay is approaching a loss ratio where you can expect rates to increase to stay solvent.
Uninsured/underinsured motorist coverage continues to have a fairly low loss ratio even though it has been rising, so it's not as likely you'll see the cost for that type of coverage increase much.
If you're wondering what a loss ratio is, we'll cover that next:
The loss ratio is the insurance company's money spent on claims compared to money earned in premiums.
If an insurance company pays out $50 in claims for every $100 earned in premiums, we would say their loss ratio is 50 percent.
If a loss ratio exceeds 100, the insurance company, or industry, is spending more than they are earning.
Add-ons, Endorsements, and Riders
https://www.youtube.com/watch?v=ROqJZjcmdr0
We've covered liability, uninsured motorist protection, and MedPay, but there are many other types of coverage you should examine and consider when building your policy so you're not surprised that something isn't covered when you make a claim.
Guaranteed Auto Protection (GAP) – Covers the difference between what you owe on a new car and the car's actual cash value
Personal Umbrella Policy (PUP) – Provides an extra level of liability protection.
Rental Reimbursement – Pays for a rental car if your car is damaged
Emergency Roadside Assistance – Covers the cost of a tow, jump, tire change, and other things you may need 
Mechanical Breakdown Insurance – Similar to an extended warranty, this coverage is only available for cars that meet certain criteria
Non-Owner Car Insurance – This is a good choice for people who rent or borrow cars but don't own their own
Modified Car Insurance Coverage – If you've customized your ride, regular insurance won't cover the increased costs. Modified coverage will
Classic Car Insurance – If you drive an antique or classic car, often a tailor-designed policy will provide the most appropriate coverage
Usage-Based Insurance – Several major car insurance companies have plans available where you can be eligible for discounts for safe driving
Pay-as-you-drive types of policies aren't yet available in Idaho, but thanks to their growing popularity, they may become available soon.
Next up, rate comparisons from some of the major insurance companies. We partnered with Quadrant Data Solutions to bring you these rate comparisons that follow.
Keep in mind that these averages include all driving records, all credit scores, and all coverage levels.
Your rates will almost certainly differ from these. This difference is why it's vitally important for you to do a comparison search of quotes for yourself.
Demographic Rates
Curious how rates compare between men and women in Idaho? We'll show you the comparison next!
Unsurprisingly, every company in our study charges 17-year-old males more for identical coverage than their female counterpart. Statistics prove that teen males are a higher risk for unsafe driving activity than teen females.
From the chart above, it's clear to see that Travelers is not the best choice for a teen male!
In the 25-year-old category, females usually still pay less for coverage in Idaho unless you go with Geico, who charges females more.
As you can see, depending on the company, married 35-year-old men and women take turns paying more for car insurance. When you see the rates like this, it's obvious that the difference in rates is negligible.
American Family and State Farm charge identical rates for 35-year-olds regardless of sex.
Once again, this time for the 60-year-old married category, American Family and State Farm charged the same price regardless of sex.
Rank by Demographic
As you can see, 17-year-olds pay the highest rates all around.
Rates by Zip Code
Search your zip code below to see find what the average rates are where you live.
Rates by City
The rates between cities only vary but about $370 from the most expensive city, Kamiah, and the least expensive city, Meridian.
Most states see a much bigger difference between cities. Idaho is consistent with rates statewide.
Obviously, not all the cities listed above are really "cities." We included everything from the smallest town to the largest city.
Rates in the 10 Largest Cities
Meridian, one of the largest cities, is also the least expensive. Idaho Falls is the most expensive out of these ten largest cities.
Enter your ZIP code below to compare auto insurance rates.
Secured with SHA-256 Encryption
Best Idaho Car Insurance Companies
So, which companies are the best? We'll show give you some guidance and show you complaint records, customer satisfaction results, and more rates. That information can help you decide what's best for you.
Financial Ratings for the 10 Largest Insurers
The largest insurance providers in the state all have strong financial ratings. Scores like the ones above indicate that these companies will remain solvent and will be able to pay claims.
Companies with the Best Ratings
J.D. Power has graded the major insurance companies by region. This chart will give you a pretty good idea for how each company treats their customers.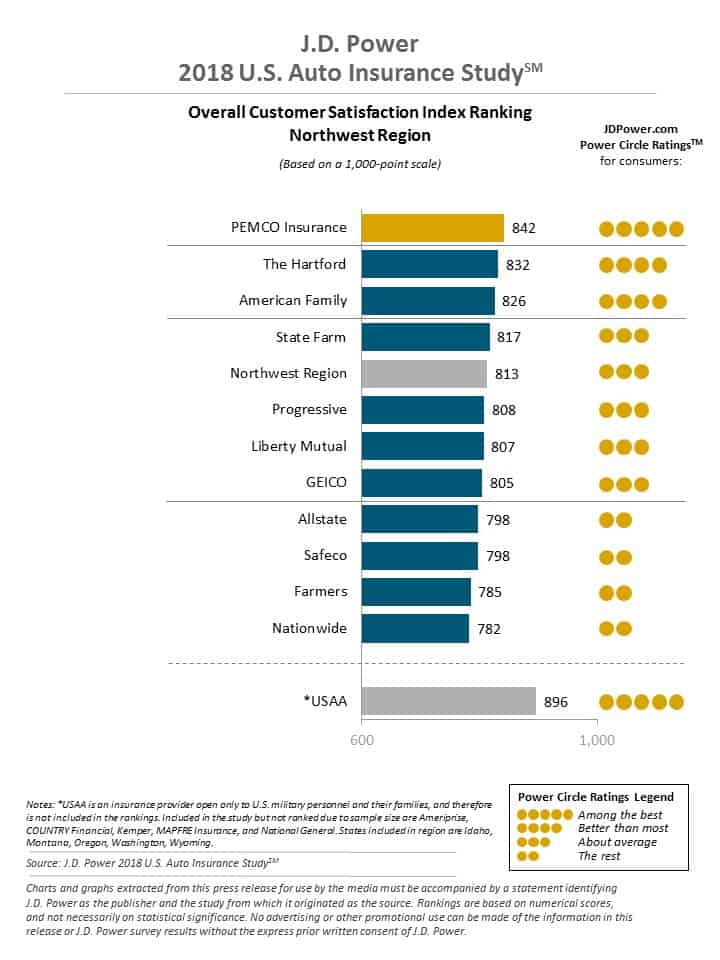 Complaints
This information is of great value as it reflects the complaint information specific to Idaho in 2017.
And even better than knowing complaints against a company for one year, is seeing a trend. If a company consistently has a high complaint index, they're probably consistently making customers unhappy.
If a company has one year with a high index, and other years at zero, you can take that high year with a grain of salt.
Once again, these averages are taking into account all driving records, all credit ratings, and more high- and low-risk information. Your actual rates will likely differ greatly.
Cheapest Car Insurance Companies
Below you can see the insurance companies we studied with their average rates from lowest to highest.
Rate by Commute
Allstate, Farmers, Liberty Mutual, Nationwide, and Travelers did not increase customers' rates for a 25-mile commute compared to a 10-mile commute.
Rates by Coverage Level
Surprisingly, the high coverage level for American Family and Nationwide costs less than the low coverage level! And the high level costs in between low and medium from Travelers.
It's interesting to note that none of the companies charge a huge amount more for a higher level of coverage. Again, I encourage you to consider carrying more coverage than the minimum.
Rates by Credit Rating
While your coverage level doesn't impact your rates in a big way, your credit rating most certainly does! The insurance credit score is not exactly the same as what you think of as your credit score.
The insurance companies use your credit report and cherry pick the parts of it that they believe correlate most to your risk as a driver.
Many people argue that credit score should have nothing to do with car insurance rates, but the insurance industry stands by their decision to use credit because they say that based on statistics, those with lower credit are more likely to file a claim.
How are Idaho resident's credit scores compared to the national average? Better! The U.S. average credit score is 675 while Idaho's average score is 681.
Rates by Driving Record
You probably think that universally, a DUI on your record is going to make your rates skyrocket while a speeding ticket won't have much effect. While this is a generally true statement, it's NOT universally true!
With State Farm, you'll pay the same increased rate for a speeding ticket as you do for a DUI, and it's not much of a surcharge, just around $164 annually.
What is universally true is that a clean record will get you the best rates, so drive carefully!
Largest Car Insurance Companies in the State
The ten largest car insurance companies account for about 83 percent of the market share!
It may come as a shock to you that Idaho has 833 insurers licensed to sell property and casualty insurance in the state. Ten of those are domestic and a whopping 822 are foreign insurers.
Since 10 companies make up 83 percent of the market share, that leaves the other 822 companies to compete for the remaining 17 percent.
Largest Companies in Idaho Direct Premiums Written
Allstate's loss ratio is significantly lower than the top five insurance companies. That makes sense when you consider that their rates are significantly higher than the other companies. Less of their money goes to pay claims while more of their money goes to investors.
Idaho Laws
Idaho has thousands of laws and you could spend the rest of your life weeding through them to find the ones most important to driving and insurance. Don't get overwhelmed. We've studied the laws and found the most important ones for you to know.
From vehicle licensing to DUIs, we'll remove confusion so you can drive with confidence!
Car Insurance Laws
The first aspect of the law we'll examine are laws relating to car insurance.
How State Law Require Rates to be Filed
Car insurance companies must file rates with the state, but do not need to be authorized to implement rates. When filing, they must also submit a certification that each policy complies with Idaho law.
High-Risk Auto Insurance
Most traffic violations add points to your license. After accumulating too many points in a certain period of time, you could have your licenses suspended or revoked.
If you commit a major violation like the ones listed below, your license will be suspended by that alone.
Driving under the influence of alcohol or other drugs
Using a motor vehicle to commit a felony
Leaving the scene of an accident resulting in injury or death
Leaving the scene of an accident before police arrive
Reckless driving
Conviction or action in another jurisdiction for an offense that, if committed in Idaho, would be ground for suspension, revocation or disqualification
Driving while suspended, revoked, disqualified etc. (driving without privileges)
Failing to pay judgment damages in an accident
Administrative license suspension (for failing a breath, blood or urine test (without a warrant) for DUI
Fleeing from or eluding a police officer
Unlawful use of a driver's license or identification card
Failure to carry motor vehicle insurance
Alcohol age violation (possession, use, or procurement)
Violation of license restrictions
School Districts may order the ITD DMV to suspend the driver's license of a minor who fails to attend school or does not comply with school requirements
Any court or the Department of Health and Welfare may order ITD DMV to suspend the driver's license of any person who fails to pay child support, fails to comply with visitation rights, or fails to comply with a subpoena for a paternity suit or child support proceeding
If you've had your license suspended or revoked, there are steps you must take to get it back.
According to Idaho.gov,
"After your suspension, revocation, disqualification etc. ends, you may get your license back by applying to ITD DMV in Boise and paying a reinstatement fee from $25 to $285 depending on the violation. For certain offenses, a receipt of court payment, proof of child support compliance, proof of school reenrollment and or proof of financial responsibility (insurance/SR 22 certificate) may also be required."
An SR-22 requirement is simply a form that the insurance company files that proves you have the required amount of insurance. If you cancel your coverage, the insurance company must notify the state.
If your record puts you at such a high risk that insurers are unwilling to cover you, you can likely find coverage through the Idaho Automobile Insurance Plan which is an assigned risk pool.
All the automobile insurers in the state share the risk of those who purchase insurance from the assigned risk pool. This enables people who can't find coverage to get the required amount of car insurance to drive in Idaho.
Windshield Coverage
Some states mandate zero deductible windshield replacement. Not so in Idaho. Individual companies have the option to include that perk, but it's not a law.
Aftermarket crash parts may be used with written notice. If you don't think that's a good idea, you can refuse that option and have new parts for repair, but you'll have to pay the difference. That's a hard pill to swallow for the consumer, and a definite advantage for the insurer.
Automobile Insurance Fraud in Idaho
Insurance fraud is a crime and Idaho has a state fraud department to investigate and prosecute cases of insurance fraud.
To put it simply, insurance fraud occurs when a customer deceives the insurer.
It can also happen when a phony insurance company deceives customers into purchasing bogus policies.
To protect yourself, don't pick an insurance company based on rates alone. Make sure you look up their financial rating and customer service reviews to ensure they're legitimate. The saying is accurate: "If it seems too good to be true, it probably is."
Consumer insurance fraud costs the insurance industry about 10 percent of its operating costs. Soft fraud, like lying about where your car is parked, or who lives in your household, seems like no big deal, but because so many people do it, the cost adds up big time.
Hard fraud like staging an accident and lying about injuries happens less frequently than cases of soft fraud, but each occurrence is very costly.
Felony fraud cases can be penalized with a maximum $15,000 fine and 15 years in prison.
Below you can see a summary what Idaho's fraud department accomplished in 2017.
Idaho Statute of Limitations
If you've been in an accident it is far better to make a claim right away than to wait. You'll have a harder time proving your case the more time has passed. There's really no benefit to delaying.
At the very most the state puts the statute of limitations at two years for physical injury and five years for property damage.
Boats
Boats with a permanently attached mode of self-propulsion made after 2000 must be titled. Any motorized boat used on Idaho waterways must be registered.
Vehicle Licensing Laws
Whether you're new to Idaho, or a lifelong resident, we'll cover what you need to know to keep you registered and licensed.
Penalties for Driving without Insurance
Idaho has a lower uninsured driver rate than most states. Even so, over eight percent of drivers don't have insurance.
Don't drive without insurance. It's not smart, and there are penalties:
First Offense

$75 fine
License suspension until you can show proof of insurance

Second Offense (within five years of the first)

Maximum $1000 fine
Up to six months in jail
License suspension until you can show proof of insurance
Idaho law enforcement uses the Online Insurance Verification (OIV) System to check if a driver's insurance is in compliance with the law.
Just because law enforcement can verify coverage online doesn't mean that you aren't responsible to carry proof of insurance. You're still required to have electronic or paper proof in your vehicle or on your person.
Teen Driver Laws
Idaho has a graduated driver licensing (GDL) system (GDL) for teen drivers, as does every state. Sixty-nine percent fewer teens died in motor vehicle crashes in 2017 than died in 1975.
The restrictions on teen driving that the different states have implemented have helped enable a safer driving experience for teens.
Older Driver Renewal Procedures
The general population may choose to renew their license every four-eight years. Individuals over 63 years old must renew every four years.
Proof of adequate vision is required of everyone at renewal, regardless of age.
The general population may renew by mail at every other renewal but can only renew for four years using the mail option. Residents over 70 years old may only renew in person.
New Residents
You must register your vehicles by the time you are considered a resident of Idaho. Residency begins when your primary home has been in Idaho for 90 continuous days.
Before registering your vehicle, you must have it insured with a company to provide insurance in Idaho.
Here's what you'll need when you go to the DMV to register your vehicle:
The vehicle being titled and registered. You will need to have the vehicle identification number (VIN) inspected. This inspection can generally be performed by a deputy of either the county assessor motor vehicle office or the county sheriff's office.
Current title and registration. If the vehicle has not been titled in your name, be sure the title has been signed over to you by the seller, and that you have a bill of sale from the seller. If the title is being held by a lienholder, bring the lienholder's name and address. If your title has been lost, you will need to apply for a duplicate title from the state of issuance.
Your personal identification.
Cash or a check for payment of any applicable taxes and fees.
You have 90 days from moving to Idaho to transfer your out-of-state driver license to Idaho.
College students and military are exempt from being required to get an Idaho license.
Rules of the Road
These laws are important to know and follow for your own safety and so you don't face the penalties of violating the law.
Fault Vs. No-Fault
Idaho is a tort state, which means that the party at fault in an accident must pay for the damages to the other party or parties.
Seat Belt and Car Seat Laws
Idaho law states that children 6 years old and younger must be in a child safety restraint. They recommend:
that children up to age 2 sit rear-facing
that children use a five-point harness forward facing seat until age 4
that children ages 4-8, or under four-feet, nine-inches tall, use a booster seat
Child safety seat laws are primary so you can be pulled over for a violation.
An unrestrained passenger motor vehicle occupant is killed every 5.5 days.
The cost of crashes involving unrestrained occupants was $589 million in 2014.
In 2014, the observed non-use of seat belts was 20 percent, but a shocking 66 percent of traffic fatalities were not belted. If that stat doesn't scare you into wearing a seat belt, it's likely nothing will.
Seat belt laws are secondary in Idaho, so you can't be pulled over just for being unbuckled, but if you're stopped by law enforcement for another reason, you can be issued a seat belt ticket.
Everyone in a vehicle must be buckled up. Adult seat belt violations will result in a $10 citation to the offender. The driver will receive the citation if the offender is under 18 years old.
Idaho has no laws restricting riding in the cargo area of a pickup truck.
Keep Right and Move Over Laws
Like in most places, drivers in Idaho must keep right if moving more slowly than the average speed of traffic. The exceptions include when passing another vehicle and when turning left.
Move over laws are designed to protect emergency personnel. In Idaho, vehicles are required to slow below the posted speed limit and, if safe to do so, vacate the lane nearest the emergency vehicle with emergency lights flashing.
Emergency vehicles include law enforcement, emergency medical services, tow trucks, and other recovery vehicles.
Speed Limits
Ridesharing
The following companies offer rideshare coverage in Idaho:
State Farm
American Family
Farmers
The coverage American Family and Farmers provide for ridesharing will help fill in the gaps between what a normal policy covers and what the rideshare service (Uber, Lyft, etc) covers.
State Farm's coverage does more than fill in the gaps. It extends to all ridesharing stages.
Safety Laws
Traffic laws are in place to keep people safe. Two of the most dangerous ways to drive are under the influence of drugs or alcohol or while distracted.
DUI Laws
Here are Idaho's blood alcohol content (BAC) limits:
Individuals under 21 years old have a 0.02 percent BAC limit
Commercial drivers have a 0.04 percent BAC limit
Drivers 21 years old and older have 0.08 percent BAC limit
Refusing to take a BAC test will result in a one-year license suspension and a $250 civil penalty.
Marijuana-Impaired Driving Laws
Idaho does not have a specific marijuana-impaired driving law. However, the DUI laws cover driving under the influence of alcohol or drugs. So if law enforcement witnesses and proves impairment, you will face the same penalties as with an alcohol DUI.
Distracted Driving Laws
All drivers are banned from texting while driving. There is no state hand-held ban for drivers of any age.
Texting violations are hard to prove because other hand-held activities like checking email are permitted. So, in order for law enforcement to prove a texting offense, they have to get a warrant for the phone to show that a text was sent or received at the time suspected. Basically, it's not worth it for law enforcement to enforce the law.
Several cities and counties have enacted handheld bans including but not limited to:
Idaho Falls
Pocatello
Blackfoot
Hailey
Ketchum
Sand Point
Blaine County
Idaho Can't-Miss Facts
Driving can be dangerous, and we're going to show you some of the sobering statistics of danger on the roads. Being aware of the danger can help you be more alert and drive more safely.
We'll examine vehicle thefts, traffic fatalities, and then we'll cover general driving information.
Vehicle Theft
Trucks are a popular target for thieves.
Meridian, the second largest city in Idaho didn't even make the top ten cities for vehicle theft. It also has the lowest cost of car insurance in the state. No wonder people are flocking to Meridian and making it their home.
Dangers on the Road in Idaho
Now, we'll look at how some of the specific dangers affect driving.
Fatalities by County
Fatality Rates by City
Boise had the highest traffic fatality rate in Idaho at 4.93 per 100,000. In 2016, 11 individuals died in traffic accidents.
Fatality Rates Rural Vs. Urban
Fatalities by Crash Type
Five-Year Trend for the Top 10 Counties
Fatalities Involving Speeding by County
Fatalities Involving an Alcohol-Impaired Driver (BAC = 0.08 percent) by County
Teen Drinking and Driving
Transportation
The average commute time in Idaho is over five minutes shorter than the overall U.S. average!
In the charts below, Idaho is represented by orange and the U.S. average by gray.

– Traffic Congestion
Idaho's largest city is Boise with just over 200,000 residents. Traffic congestion is, thankfully, significantly less than what you'd find in a big city. Still, Boise residents face congestion on the roads.
With average congestion of 20 percent, the morning peak is 22 percent and the evening peak is 34 percent.
On the bright side, the congestion level is down a whole one percent!
Finding the car insurance coverage you need at the best price is something you can do confidently!
Enter your zip code into the comparison tool below to get started on the road to better and cheaper coverage.