The Ultimate Kansas Car Insurance Guide (Costs + Coverage)
Free Auto Insurance Comparison
Enter your ZIP code below to compare auto insurance rates.
Secured with SHA-256 Encryption
Sitting right at the center of America, Kansas is flatter than a pancake – which isn't just a fun fact, because some basic scientific techniques were used to actually prove that.
And, when you take Interstate 70, you can feel the flatness all the more with 400 miles of corn and sunflowers around you.
Driving in Kansas can be smooth as a butter or boring depending on how you see the world, but having auto insurance coverage would always make the ride stress-free.
Scouring the web for Kansas automobile insurance? If you are living in Wichita, Overland Park, Kansas City, Topeka, or Olathe, you can acquire up to ten rate quotes from first rate insurers in the area via AutoInsuranceEZ.com. Rates differ by provider and you should compare rates thoroughly before you buy a policy. We'll show you how to pick the coverage to meet your needs.
In this auto insurance guide for Kansas, we will cover a lot of points that you should consider before buying coverage and try to make it an interesting read for you.
You can even start comparison shopping now using our FREE online tool. Enter your zip code above to get started.

Kansas Car Insurance Coverage and Rates
Do you understand all the terminology your car insurer uses with you – such as liability or uninsured coverage?
Or you just focus on getting the best rates for your policy?
If you're like most customers, your main focus is on getting the best rates for your coverage – and we don't blame you for that.
It's really difficult to come across insurance agents who explain everything around car insurance.
That's why we would start our guide with the basics i.e. what the different car insurance coverage options mean and how much coverage you need to buy.
Car Culture in Kansas
Since agriculture is a major contributor to the economy of Kansas, farmland constitutes about 88 percent of the state' land. That's why trucks and Ford F-150′ are so popular across Kansas.
However, you can spot a number of lowriders around Kansas City, fascination for which started in the early 19th century.
– Minimum Auto Insurance Coverage in Kansas
To drive in Kansas, motorists must buy the state-mandated minimum auto insurance coverage.
But, how much are you required to buy to meet the legal requirement?
Before we get into explaining what the different coverage options mean, let's understand the no-fault law of Kansas.
Kansas is amongst those few states that follow the no-fault law which means that you have to file a claim with your own insurance company if you're involved in an accident, irrespective of who was at fault.
Though the claims process is more streamlined in no-fault states, you can only claim damages for your medical injuries and property damage expenses.
The right to file a lawsuit or a third-party claim is limited in no-fault states unless it exceeds the monetary or verbal threshold as stated in the law.
When your medical expenses exceed your PIP limit, you're allowed to file a third-party claim in Kansas.
Apart from a monetary threshold, Kansas also has a serious injury threshold which allows motorists to file a lawsuit.
A serious injury means a fracture in a weight-bearing bone, permanent disfigurement, lifelong loss of a body function or permanent injury.
What's the difference between no-fault states and at-fault states?
The no-fault system came into place because of the inefficiencies of the at-fault system which required insurance companies to determine fault after an accident.
Because Kansas is a no-fault state, the minimum auto coverage requirements are different than at-fault states.
Bodily Injury Liability: Liability covers medical expenses, funeral costs, rehabilitation, and any other expenses of the third-party after an accident. In Kansas, you must carry at least $25,000 per person for personal injury liability with a limit of $50,000 per accident.
Property Damage Liability: To pay for the property damage costs of the third-party in an accident, you must carry a minimum of $25,000 per accident.
Personal Injury Protection (PIP): In a no-fault state, PIP coverage is mandatory because it enables motorists to file a claim with their own insurance company after an accident. Here's the minimum PIP requirement:

Medical Expenses: $4,500 per person
Disability/Loss of Income: $900 per month for a year
In-home Services: $25 per day
Funeral Expenses: $2,000
Rehabilitation Expenses: $4,500

Uninsured/Underinsured Motorist Coverage (UM/UIM): If you're hit by a motorist who doesn't have adequate coverage, your uninsured/underinsured coverage would pay for the medical, funeral, and rehabilitation costs of you and your co-passengers. The minimum UM/UIM coverage required is $25,000 per person and $50,000 per accident.
Though the Kansas Insurance Department recommends minimum coverage limits for auto insurance, it's usually recommended to buy higher coverage because if you're involved in a major accident, the claim settlement amount can exceed your state-mandated policy limits.
– Premiums as a Percentage of Income in Kansas
Budgeting the premium cost for auto insurance is important as that would help you to keep your expenses in control.
Since insurance is a fixed cost, you can always allocate a specific percentage every month towards premiums.
But, what's that specific percentage?
If we look at the trend from 2013-2014, data collected through the National Association of Insurance Commissioners, the average premium to income percentage hovers around 2 percent.
In neighboring Colorado, the premium to income percentage was around 2.15 percent, while in Oklahoma, it was 2.41 percent.
– Core Coverage Average Premiums in Kansas

For full coverage, the average premium cost was $862.93 in 2015 as per the National Association of Insurance Commissioners.
When you're shopping around for auto insurance, you will always notice that collision and comprehensive coverage are included in your quote though the state doesn't require you to buy these options.
So, what exactly do these coverage options mean and why do you need them?
Collision Insurance: While driving it's quite common to hit a stationary object or another vehicle and when you do so, your collision coverage would pay for the damages to your car.
Comprehensive Insurance: Since you can't predict certain events like fire, theft, storms, or hurricanes, you would be better off buying comprehensive coverage since it pays for any damages to your car as a result of these events.
Usually, the rates for collision and comprehensive coverage are lower than liability because the settlement amount in liability claims tend to be much higher, especially if the third-party decides to file a lawsuit.
Additional Liability Coverage in Kansas
To know whether insurance companies are meeting their payment obligations, you should look at their loss ratio.
Loss ratio helps to assess the long-term viability and profitability of an insurance provider. If an insurer has a loss ratio of 80 percent, then the company is paying $80 in claim settlements from every $100 earned in premiums.
If the loss ratio is lower than usual, it means the insurance company isn't really tending to the claim requests.
On the other hand, a loss ratio of more than 100 percent may not help an insurer sustain for long since they are paying off more than their premium income.
Let's look at other coverage options apart from the mandatory requirements in your state.
In a no-fault state, you have to buy Personal Injury Protection (PIP) to file a claim with your own insurance company after an accident which covers your medical expenses, funeral expenses, rehabilitation expenses, and lost income.
But, what if the PIP limits aren't enough to cover your medical expenses?
You can choose to buy Medical Payments coverage which would take care of any medical expenses that may arise after an accident. Medical Pay follows the policyholder which means that whether you're walking, sitting as a passenger in a car or driving, your Medical Pay would cover you.
Do remember that you also have the option to increase the PIP limits of your policy that would cover the medical expenses in an accident.
Another important coverage for motorists is the uninsured/underinsured motorist insurance which is mandatory in your state. Around 7.20 percent of motorists in Kansas are uninsured as per data from the Insurance Information Institute.
If you're unfortunately hit by a motorist without any insurance coverage, your UM/UIM insurance would kick in to cover any damages sustained during the accident.
Add-ons, Endorsements, and Riders in Kansas
As you have gone through a lot of jargons now and can understand the basic coverage options, you can just skim through few add-ons and riders below.
Guaranteed Auto Protection (GAP)
Personal Umbrella Policy (PUP)
Non-Owner Car Insurance
Modified Car Insurance Coverage
Pay-As-You-Drive or Usage-Based Insurance
Of late, usage-based or pay-as-you-drive insurance has gained a lot of traction because of the cost savings it offers for good driving behavior.
If you're a safe driver who doesn't exceed the posted speed limits or slams breaks, then you can save some money on your insurance premiums. For details of specific usage-based programs, you can directly connect with insurance companies to know more.
To get an idea of how the usage-based program works, take a look at this video from State Farm.
– Male vs Female Car Insurance Rates in Kansas
It's a well-known fact that your rates are impacted by your gender and age. And, statistically speaking, women are much safer on the roads than men, hence they have to pay lower premiums than men.
In the table, you would notice that the rate differential between males and females is huge for 17-year-olds and 25-year-olds.
As you age, you tend to become a more safe driver. Data from the CDC found that per mile accident rates for drivers between 16-20 are four times higher than older drivers.
You can also see the rankings of different carriers by demographics.
– Auto Insurance Rates by Zip Code in Kansas
Your zip code is another factor that impacts your insurance rates – population density, traffic, and theft numbers increase the probability of an accident, hence the rate differential.
Rates around Kansas City are higher than other zip codes.
Auto Insurance Rates by City in Kansas
Enter your ZIP code below to compare auto insurance rates.
Secured with SHA-256 Encryption
Best Car Insurance Companies in Kansas
Once you understand what the different coverage options mean and get an idea about average rates in your city, the next step is to find an insurance company that's suitable for your needs.
But, what all should you look for in a car insurance company?
Apart from the car insurance rates, you must check the long-term financial viability of an insurance company, its reviews, and the number of complaints by consumers to get a holistic overview of an insurer.
Let's look at these factors for insurance companies in Kansas.
Financial Ratings of Leading Car Insurers in Kansas
What if you buy coverage from a company that has a high probability of going bankrupt in the near future?
If your insurer doesn't have the financial strength to sustain for long, they might not be able to settle your claims when you're involved in an accident.
So, how can you assess the financial strength of an insurance company as a consumer? By checking the financial ratings from credit rating agencies you can make an educated assessment of how well an insurance company is placed in the market.
Because AM Best has a unique focus on the insurance sector and centuries of experience with credit rating, you can rely on their ratings before choosing an insurer.
In the table, you can see the ratings of all the leading auto insurance companies in Kansas.
Best's Financial Strength Ratings range from A++ (Superior) to D (Poor) and it clearly defines the ability of insurance companies in meeting their long-term insurance obligations.
Customer Reviews of Auto Insurance Companies in Kansas
When you buy everything after looking at online customer reviews, then why not confirm what consumers think about auto insurers?
Customer reviews always offer a real picture of an auto insurer, more transparent than what financial ratings would like you to believe.
To help you with customer reviews of insurance companies, we would look at the results of J.D. Power 2019 U.S. Auto Insurance Study.
As per the study, consumers are highly satisfied with their auto insurance companies these days. Those who bought their policies through the direct distribution model were the most satisfied overall.
Since Kansas is in the Central region, we would look at which auto insurers received the best reviews here.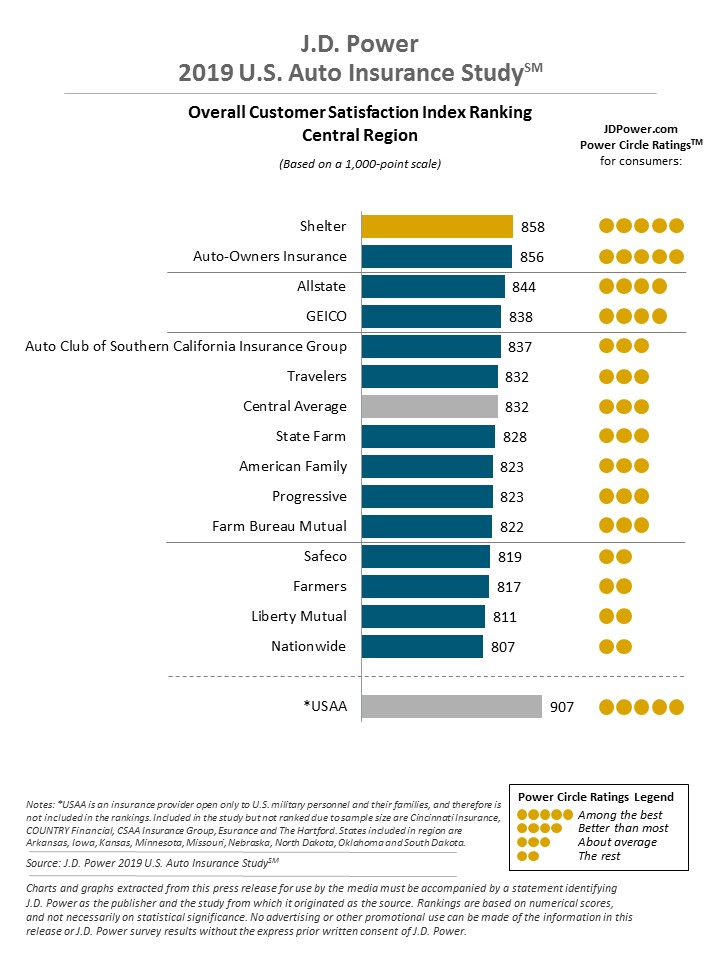 Shelter Insurance Company and Auto-Owners Insurance were rated the best among all the insurance companies in the Central region.
The study was conducted by the global leader, J.D. Power, to assess the satisfaction of consumers across five factors:
Interaction
Policy Offerings
Price
Billing Process and Policy Information
Claims
Complaint Numbers of Leading Insurance Companies in Kansas
A quick look at how many complaints have been made against the insurance companies can also offer insight into how well they tend to consumers.
– Average Annual Premiums by Insurance Carriers in Kansas
The average annual premium cost in Kansas is $3,392. In the table, you can see the average rates for leading insurers in Kansas and compare it with the state average. American Family Mutual offers the cheapest rate among all insurers.
Average Annual Premiums by Commute Rate in Kansas
If you clock higher miles on a regular basis, the probability of getting involved in accidents increases. That's why many carriers offer discounts if you drive 10 miles or less per day.
Geico, American Family, State Farm, and USAA are some insurers who offer discounts for low mileage in Kansas.
Average Annual Premiums by Coverage Level in Kansas
Higher the coverage level of your insurance policy, more would be the premium costs.  Though you could choose a low coverage to reduce the premium cost, do remember that it might not be enough to cover all your expenses in case you're involved in a major accident.
Average Annual Premiums by Credit History in Kansas
Your credit score is used, along with other factors, by insurance companies to create a score for calculating the premium rate.
Since a poor credit score means there's a high probability that you would default on your payments, insurers raise your premium rates to account for any future losses.
As per a special report by leading reviews firm Consumer Reports, a good credit score adds $233 to the premium cost in Kansas for single drivers, while a poor credit score boosts it by a whopping $1,301.
As per the credit reporting firm, Experian', 2017 State of Credit Survey, the average national vantage score was 675. In Kansas, the vantage score was better than the national average at 680.
Vantage score is a credit rating model that score consumers credit ability to make payments on a scale of 300-850.
Average Annual Premiums by Driving Record in Kansas
Driving record is a major factor in rate calculations because how you drive determines how likely you're to be involved in an accident.
Everything – from an accident, speeding violation, to a DUI – can raise your premium costs with few carriers taking DUI more seriously than anything else.
– Leading Car Insurance Companies in Kansas
Number of Insurance Providers in Kansas
Free Auto Insurance Comparison
Enter your ZIP code below to compare auto insurance rates.
Secured with SHA-256 Encryption
State Laws in Kansas
When you're out in the market to equip yourself with all the knowledge about car insurance companies and coverage requirements of your state, you might miss out on an important aspect i.e. the state laws.
Why is keeping yourself updated about state laws important?
Because if you don't follow the rules of road, car insurance laws, or fail to update your driver's license, you might get a ticket from law enforcement.
A violation may lead to an increase in premium cost. In this section, we would touch upon the basic laws you need to keep in mind while driving.
– Car Insurance Laws in Kansas
Every state implements laws with respect to car insurance to regulate the determination of premium rates and claims settlement process.
In addition, state agencies also ensure that everyone is able to obtain car insurance without any discrimination.
These laws are put in place to make the insurance landscape fair for everyone involved.
How State Laws for Insurance are Determined in Kansas
State laws play a considerable role in determining the liability insurance requirements, type of tort law, as well as the process of filing and approving rates.
In addition, each state determines drunk driving laws, seat belt requirements, and speed limits.
For rate filing, the regulation mechanism varies across states and can be one of these – determined by Commissioner; prior approval; modified prior approval; flex rating; file and use; use and file; and no file.
Kansas uses flex rating to file rates that requires approval only when the rates are above the previously filed rates. And, for filing forms, insurers need to wait for 30 days before putting the form into effect.
Now you know how the rates you see on your policy documents are determined, but what about the onus of liability in an accident?
To strike out any confusion about who's responsible to file a claim after an accident, states decide beforehand what type of tort law they wish to adopt. Because Kansas follows the no-fault law, motorists are required to file a claim with their insurance company.
As much as tort law is required to determine liability, states are also required to implement financial responsibility laws to make sure that everyone is covered in the event of an unfortunate accident.
Financial responsibility laws in Kansas require every motorist to carry insurance coverage as stated in the law or obtain a self-insurance certificate (owners of more than 25 vehicles) from the commissioner of insurance.
Windshield Coverage Laws in Kansas
When it comes to chips and cracks on the windshield, there's nothing specific in the law, however, driving with a damaged windshield that obstructs the driver's view is illegal.
– High-Risk Insurance in Kansas
We just talked about how every state has laws to protect the interest of insurance carriers as well as motorists in the car insurance market.
When high-risk drivers, those who have been involved in multiple accidents or violations, aren't able to obtain insurance coverage in the voluntary insurance market, the state law enables them to obtain coverage through a specific assigned risk plan.
In Kansas, this plan is known as the Kansas Automobile Insurance Plan.
What is the Kansas Automobile Insurance Plan (KAIP)?
The KAIP, established in 1950, offers auto insurance to motorists who are unable to get coverage in the voluntary insurance market.
The plan covers private passenger cars, motorcycles, motorhomes, non-owners, commercial trucks & autos, and other personal line risks.
How does the Kansas Automobile Insurance Plan work?
For private passenger car insurance, the plan requires all insurance companies conducting business in Kansas to participate.
Each insurance carrier is assigned a volume of high-risk applications directly proportional to its share of voluntary insurance policies written in the overall insurance market of Kansas.
Motorists who wish to apply for coverage under the KAIP can approach any agent who's licensed to write property and casualty insurance in Kansas.
Here's a short video with advice on how to become a low-risk driver.
While we are on the topic of high-risk insurance, let's understand when you need to file an SR-22 in Kansas.
If you do not maintain continuous insurance coverage, you're considered a high-risk driver and required to file an SR-22, whenever caught by law enforcement, which certifies that you will maintain financial security.
An SR-22's main purpose is to ensure that the driver filing it maintains continuous coverage which is monitored by the insurance company providing the SR-22.
In Kansas, the Division of Vehicles requires motorists to file an SR-22 when triggered by the following events:
When a motorist is unable to furnish proof of adequate insurance at a traffic stop
When a motorist is convicted for offenses listed under the Habitual Violator Statute
When a motorist's license is suspended because of a lack of insurance coverage
When a motorist is unable to provide insurance coverage evidence after an automobile accident
Automobile Insurance Fraud in Kansas
As per research, every household in America pays an extra $200 to $300 annually in premiums because insurance carriers raise the rates to offset any fraudulent claims.
Insurance Fraud can be committed in many ways and goes much beyond motorists staging accidents to benefit from the claims settlement money. It can be grouped primarily into two categories i.e. internal and external.
Internal Fraud: When an insurance company' employees perpetrate fraud it falls under the definition of internal fraud; such as agents issuing fake certificates, managers making false statements while filing documents with the Kansas Insurance Department, or agents pocketing premiums by issuing fake policies.
External Fraud: When parties outside the organization commit fraud, such as medical providers, policyholders, vendors, it's known as external fraud.
Examples of external fraud include arson for profit, fake or exaggerated claims, medical fraud, filing a false theft report, etc.
Insurance fraud, almost always, leads to a hike in premiums thereby affecting all policyholders equally. Hence, it's recommended to always be truthful in your dealings with carriers and report any fraudulent activity.
How can you report insurance fraud?
Any individual can report a fraudulent activity online at the National Association of Insurance Commissioners Online Fraud Reporting System or furnish a detailed account of the activity by writing an e-mail to [email protected].
Statute of Limitations in Kansas
The statute of limitations determines the time limit within which victims of a car accident are allowed to pursue a civil lawsuit.
In Kansas, you have two years from the date of the accident to file a lawsuit against the third-party for any personal injury or property damage.
Vehicle Licensing Laws in Kansas
Keeping yourself updated about the latest vehicle licensing laws can save you a ticket from law enforcement.
For instance, if you miss your license renewal deadline, you aren't allowed to drive.
– Real ID in Kansas
Under the Real ID Act, the federal regulations established new rules for license issuance by all states. For the purpose of national security in mind, each state would be required to issue Real ID compliant drivers licenses for better authentication and recognition.
In the near future, only a Real ID compliant license would enable people to access Federal facilities, nuclear power plants, and fly by commercial flights.
The law which allows only Real ID-compliant license as proof of identity for entering restricted facilities and flying would be effective from October 1, 2020, so make sure that you upgrade your license before that.
How can you get a Real ID in Kansas?
Whenever you visit your local DMV for license renewal or upgrade, take along the following documents:
Valid passport or birth certificate
Proof of social security
Proof of Kansas residency
Non-US citizens should bring their valid U.S. visa or valid permanent residency card or valid employment authorization card
In case you don't get your license renewed, you would have to use other identification documents for traveling by air or entering federal facilities after September 2020.
If you wish to know more about the Real ID-compliant licenses in Kansas, you can watch this short video.
– Penalties for Driving without Insurance in Kansas
Driving without insurance is illegal in Kansas and if you're caught doing so, you might face penalties and jail time.
On the first offense, the fine can range between $300 and $1,000.
Another offense within three years of the first one can lead to fines in the range of $800 to $2,500.
In addition, the motorist would have to file an SR-22 and maintain it for a period of twelve months.
Kansas allows motorists to show electronic proof of insurance on any mobile device whenever asked by law enforcement officers.
– Teen Driver Laws in Kansas
Getting a drivers license is quite liberating for children since they can get to their school or friend's home without seeking their parents' help.
At this stage, it becomes critical for teens to follow every driving rule written in the book and for parents to keep a close watch on how they are progressing.
Before you decide to get a license for your kids, you should gather all the facts about the Graduated Driver's Licensing program of Kansas.
Like most states, teens have to go through three stages in the driver's licensing process in Kansas i.e. Instruction Permit, Restricted License, and Full License.
Let's look at the requirements for progress in the program.
Instruction Permit: You can obtain an instruction permit at the age of 14 by passing the vision and written test. After getting the permit, you have to follow certain regulations:
The instruction permit is valid for only one year and can be renewed
If you're under 16, you must obtain written application from parent/guardian
While driving, the permit holder must be accompanied by an adult over 21 who has a valid driver's license with one year of driving experience
Use of any wireless device while driving isn't allowed except to seek emergency help or report anything illegal
Restricted License: When you have held the instruction permit for at least a year and completed 25 hours of supervised driving, you can apply for a restricted license at 15 with a written application from parent/guardian. Restrictions under this stage are as follows:
Under 16:
You must complete an approved driver's education course
You may drive anytime to/from a farm-related work or employment or between school and home through the most direct-route possible
If you're driving for any other purpose, not mentioned above, you should be accompanied by an adult over 21 in the front seat with a valid driver's license
During this stage, you must complete an additional 25 hours of driving, 10 hours from the overall 50 hours should be night time driving
You aren't allowed to drive with a minor passenger who isn't a sibling
Use of any wireless device while driving isn't allowed except to seek emergency help or report anything illegal
Over 16:
In the first six months, you're allowed to drive anytime between 5 A.M. and 9 P.M.
If you're driving beyond those hours, it should be to/from any job, school activities or farm-related work or when you're accompanied by an adult over 21 in the front seat with a valid driver's license
You're allowed to drive with one minor passenger who's a non-immediate family member
Use of any wireless device while driving isn't allowed except to seek emergency help or report anything illegal
Once you are 16.5, you don't have to follow any restrictions listed above provided there haven't been any infractions.
Full License: At the age of 17, you can obtain a full license by passing the vision, written, and road test. You would have to also submit an affidavit from your parent/guardian stating that you have completed 50 hours of supervised driving including 10 hours of nighttime driving.
In addition, Kansas also offers a Farm permit to teens which can be obtained if you reside on a farm or are employed on a farm. Restrictions under the farm permit are similar to the regular license.
Driver License Renewal Procedures in Kansas
The general population is required to renew their license every six years, while those over 65 are required to get it renewed every four years.
Everyone must pass a vision test at each renewal and must take the applicable documents to their local DMV.
Motorists in Kansas also have the option to use the online services of the State of Kansas to renew licenses and vehicle registrations.
If you're aged between 21 and 50, you can download the iKan app to see your eligibility for license renewal. Download for iOS or Google Play
Rules of the Road in Kansas
We will touch upon some basic rules of the road in Kansas that you come across on a regular basis while driving.
A refresher would help you to stay vigilant on the road.
Fault vs No-Fault
Kansas follows the no-fault system when it comes to insurance wherein motorists are required to approach their own insurance company for claim settlement after an accident.
If the damages exceed your policy limits, you can pursue the at-fault driver for claim under their liability coverage.
Seat Belt Laws in Kansas
All front-seat passengers in a motor vehicle are required to wear a seat belt in Kansas.
The law in Kansas allows police officers to stop and ticket motorists if they violate the seat belt regulation.
Car Seat Laws in Kansas
As a parent, protecting your children during a car ride should always be your priority and while restraining your child in the seat is important, you should make sure that the car seat is installed properly.
Also, remember to get the right restraint system for them as per the law:
Up to age one: Infants up to the age of one or till they weigh at least 20 pounds should be restrained in a rear-facing child seat at the back.
Ages 1-4: Toddlers above one should be restrained in a forward-facing child seat at the back.
Ages 4-8: Children between this age group, shorter than 4 feet and 9 inches, should be restrained in a booster seat.
Above eight: Usually, children outgrow their booster seats by this age and can be restrained in the back seat with an adult safety belt.
Keep Right and Move Over Laws in Kansas
Motorists in Kansas are required by law to drive in the right lane except:
when you need to overtake another vehicle
when you are getting ready to take a left turn
when being directed by a traffic control system
when required by some provision of law
Kansas also enacted the move over law due to the dangers workers face while working on highways.
As per the law, when you're driving on a highway or four-lane road and you notice a stationary vehicle with flashing lights, you should switch lanes and move to the furthest one.
Speed Limits in Kansas
Do follow the posted speed limits or the suggested limits in the table below.
Ridesharing Laws in Kansas
In 2015, the Kansas lawmakers passed a law to regulate the operations of Transport Network Companies (TNC) or ridesharing to make it safer for passengers to ride.
Auto Insurance Requirement:
After January 2016, drivers of TNC were required to buy insurance coverage when logged in the digital network and involved in a prearranged ride.
Logged-in the digital network: When a driver is available for a ride, the amount of insurance coverage should be as follows:
Bodily Injury Liability: $50,000 per person/$100,000 per accident
Property Damage Liability: $25,000
Engaged in a ride: When a driver has picked a person through the digital network, the insurance coverage should be $1,000,000 for bodily injury and property damage during the ride.
In addition, the new regulations stated driver requirements before they could start engaging in rides.
All individuals who apply to become a driver are required to go through a local and national background check and have their driving history reviewed for any records.
Automation on the Road
In 2017, Avis launched a fleet of cars that were completely connected through wireless technology and could relay information for better fleet management.
Though the state is still far from allowing driverless vehicles on its roads, lawmakers are continuously discussing the possibility of a future where autonomous vehicles would make driving much more safer than today.
Safety Laws in Kansas
None of the laws would be of much use if there aren't any safety laws in place. Distracted driving is a major cause of crashes across the US, hence it's important for every state to clearly establish laws.
DUI Laws in Kansas
The law in Kansas doesn't allow anyone to drive with a Blood Alcohol Level of 0.08 percent or more. If caught driving under the influence of alcohol, you could face harsh penalties.
Distracted Driving Laws in Kansas
Except for underage drivers, there's no restriction on talking while driving on a mobile phone in Kansas.
However, texting while driving isn't allowed for motorists in Kansas.
Those with an instruction permit, aged between 14 and 17, aren't allowed to use a cell phone for any purpose except to report an emergency or illegal activity.
Fines for violations:
For an instruction permit holder, a first violation can lead to a license suspension for 30 days and a fine of up to $250. A second violation can lead to a suspension for 90 days along with a maximum fine of $500.
A texting violation in the state is usually around $60 but it can be more depending on the additional court costs.
Driving in Kansas
Many factors contribute to the driving experience in any state. If the population density is low, traffic congestion isn't commonplace.
The use of public transport or private passenger cars also depends on that, congested and smaller cities tend to have more people commuting to work by public transport.
Let's look at some facts and figures to know the state of driving in Kansas.
Vehicle Theft in Kansas
If the rate of vehicle theft is high in your location, then the insurance premiums are raised by insurance carriers to account for losses in the future.
As per data from the National Insurance Crime Bureau, Chevrolet pickup is the most stolen vehicle in Kansas.
You can also see the motor vehicle theft data by the city from the FBI.
Road Fatalities in Kansas
The best way to avoid crashes and fatalities is to drive cautiously and follow all rules laid down by the state.
Despite the huge number of safety laws in place, Kansas registers many crashes and fatalities.
Fatal Crashes by Weather Condition and Light Condition in Kansas
Fatalities (All Crashes) By County in Kansas
Traffic Fatalities by Road Type in Kansas
Fatalities by Person Type in Kansas
Fatalities by Crash Type in Kansas
Fatalities Trend for the Top Ten Counties in Kansas
Fatalities Involving Speeding by County in Kansas
Fatalities in Crashes Involving an Alcohol-Impaired Driver (BAC=.08+) by County in Kansas
Teen Drinking and Driving in Kansas
DUI penalties are pretty harsh in the state of Kansas, and for teenagers, there's absolutely no tolerance for DUI.
In 2016, the state of Kansas registered 58 DUI arrests amongst underage drivers (below 18) as per data from the FBI.
The alcohol-impaired fatality rate per 100,000 people for motorists under 21 was 0.8 in 2016 in Kansas as compared to the national average of 1.2 deaths.
EMS Response Time in Kansas
Transportation in Kansas
Motorists are really keen to know how much time it takes to commute to the office or what's the reason behind all the peak-hour congestion.
In this section, we would look at some of the transportation numbers in Kansas.
Car Ownership in Kansas
As per research from Data USA, the average number of households in Kansas own two cars, just like the rest of the country (illustrated in grey).
Commute Time in Kansas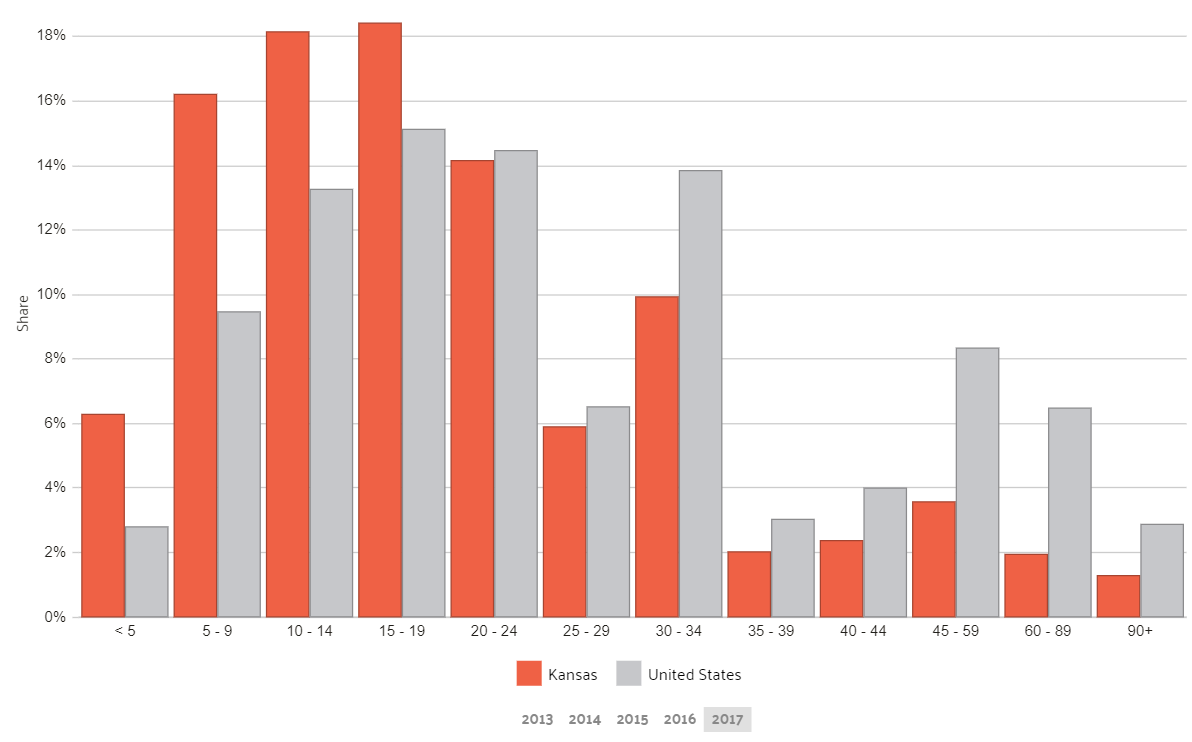 The average commute time for employees in Kansas is 18.2 minutes which is much lower than the national average of 25.5 minutes.
Commuter Transportation in Kansas
The most common method for commuting to work is driving alone, with a staggering 82.4 percent of the population choosing driving by themselves over carpooling or public transportation.
Traffic Congestion in Kansas
Though traffic congestion isn't a problem in Kansas overall, the traffic in Wichita is a concern for many as per data from the traffic analytics firm, Inrix.
Wichita is the 62nd most congested city in all of America where drivers lost 22 hours stuck in jams during 2018. The cost of congestion per driver amounted to $304.
After all this information, we believe you're more confident about how to buy the right coverage from the best car insurer in your state.
Start comparison shopping today by entering your zip code below in our FREE online tool.