The Ultimate Massachusetts Car Insurance Guide (Costs + Coverage)
Free Auto Insurance Comparison
Secured with SHA-256 Encryption
Massachusetts, also known as "the Puritan State" gets its name from the British colonist, John Smith named for the Massachusetts Tribe.
Massachusetts (officially the Commonwealth of Massachusetts) is the most populated state in New England.
Known for its beautiful vacation cities like Nantucket, Cape Cod, and Martha's Vineyard, the Bay State has miles of coastline, a hilly landscape, and rocky soil that is unsuitable for farming.
Whether you're just visiting for the weekend, or you're about to move to Boston, one thing is certain: you're going to need a great car insurance policy.
We know that finding the right car insurance policy can be confusing – especially if you don't even know what you need or why you need it.
If you're troubled with questions about auto insurance, need some insurance advice, or just want to save on your existing auto insurance policy, you've come to the right place.
In this ultimate guide to Massachusetts auto insurance, we will discuss types of mandatory car insurance, optional insurance coverage, safety laws, driving laws, risks of the road, and the reason why carrying car insurance is so important.
Cheap Car Insurance in MassachusettsSearching for Massachusetts automobile insurance? If you are living in Boston, Worcester, Springfield, Lowell, or Cambridge, you can acquire up to seven rate quotes from top providers in the area by using AutoInsuranceEZ.com.
Enter your zip code for FREE above and get started.
Massachusetts Car Insurance Coverage and Rates
First things first — the state of Massachusetts requires every driver to have car insurance. But, no one has time to spend hours researching different websites to try to find the best coverage and rate.
Imagine being able to find all the information in one place. So if you're looking for a one-stop-shop to do it all, we did all the leg work for you in this ultimate guide to Massachusetts auto insurance.
To help you better understand Massachusetts rates and coverage, let's take a deeper look into Massachusett's car culture.
Massachusetts Car Culture
According to the Hartford, car culture in Massachusetts tends to be made up of three groups, Menotti observes. First, you have "hardcore commuters" who gravitate to hybrid vehicles to save gas.
The second group loves performance-oriented, high-powered vehicles and shows little concern for fuel economy. And, third, you see "anything that runs," which includes some cars that appear to be safety hazards, Menotti said.
The tough winters also affect car culture, and the most popular vehicle in Massachusetts is the Toyota RAV4, tailed closely by the Honda CRV and the Ford F-Series.
Regardless of those three groups, Massachusetts is ahead of the curve when it comes to an important shift in the automobile industry: the move from fossil-fuel-burning cars to electric vehicles.
In our list of the 10 best states to own an electric vehicle, Massachusetts ranked 2nd with a grand total of 16 electric vehicle incentives. These include $2,500 rebates to people who purchase qualifying electric vehicles and $1,500 who purchase hybrid vehicles.
Minimum Car Insurance Coverage in Massachusetts
Before we get into Massachusetts' minimum coverage laws, let's reel it back for a second and start at the beginning.
According to Nolo, Massachusetts is one of a dozen or so states that follow some form of a "no-fault" car insurance system.
When you live in a no-fault car accident state, any driver who is involved in a car accident (whether he or she was responsible for causing it or not), is required by law to file a claim with his or her own personal insurance company.
Under no-fault, after a car accident, your own car insurance coverage (specifically, your "personal injury protection" or "medical payments" coverage) pays for medical treatment and other out-of-pocket losses incurred by anyone covered under the policy, up to coverage limits, regardless of who caused the accident.
But with a no-fault claim, you can't get compensation for your "pain and suffering" and other non-monetary damages stemming from the accident.
Confused yet? Just know that if you get into an accident, even if you didn't cause it, you need to file a claim with your own insurance company. This is exactly why you need to make sure you have a sufficient insurance policy.
Now, Massachusetts does have minimum liability insurance requirements.
If you are found responsible for causing a car accident, and the injured drivers' and/or passengers' losses exceed the limits of your car insurance policy, you may find yourself personally responsible for making up the difference out of your own assets.
The minimum liability insurance requirements in Massachusetts are:
$20,000 liability coverage for bodily injury per person (when you cause a car accident)
$40,000 total liability bodily injury coverage per accident you cause (regardless of how many people are injured)
$5,000 liability coverage for property damage (per accident you cause)
$8,000 in no-fault (personal injury protection) coverage
uninsured motorist coverage (for bodily injury sustained by you or anyone else covered under your policy, if injured by an uninsured or hit-and-run driver) at $20,000 per person/$40,000 total per accident.
You're not required to carry any kind of insurance for damage to your own vehicle in Massachusetts.
Looking for more insurance? We've got you covered. Keep reading for more info on additional liability coverage.
Forms of Financial Responsibility
A form of financial responsibility is just a fancy term for proof of insurance. Your proof of insurance is a piece of paper or a card that proves you have insurance that meets Massachusetts' minimum liability standards.
Anytime a law enforcement officer pulls you over, you must be able to show proof of insurance, your license and the vehicle registration.
What are some acceptable forms of proof of insurance?
Valid liability insurance ID cards
Copy of your current car's insurance policy
Valid insurance binder (a temporary form of car insurance)
Picture of proof of insurance on your smartphone
Electronic insurance card (this can be pulled up on your phone)
What happens if you can't show proof of insurance?
If you fail to show authentic proof of insurance (especially at the scene of an accident), you could be facing multiple penalties.
It's probable that you'll have to pay at least a $500 fine and you might even be arrested. Your driver's license could be suspended for up to 60 days and you'll have to pay a $500 reinstatement fee to get it back.
If you think that driving without insurance is cheaper than driving with it, you are wrong. The proof is in the pudding — driving without insurance can cost you thousands of dollars!
Premiums as a Percentage of Income
Are you wondering what insurance might cost you in Massachusetts?
We want to show you some numbers so you have a good idea as to what people spend on their Massachusetts auto insurance policy.
In 2014, Massachusetts' annual per capita disposable income was $50,366.
Disposable income is the amount of money a person takes home after paying taxes.
In the same year, Massachusetts drivers paid $1,107.76 for a comprehensive car insurance policy. This means Massachusetts drivers spend 2.20 percent of their income on car insurance.
From 2012-2014, the cost of Massachusetts car insurance increased by about $60, while the average disposable income increased by around $800.
When we look at some of the states' average that border Massachusetts, we find that New Yorkers pay about $1,327.82 per year on a full coverage policy with an average income of $47,446.
Vermont drivers pay an average of $746.79 per year for car insurance and have an average per capita income of $42,267. Countrywide, Americans have an average income of $40,859 and spend $981.77 per year on car insurance.
Core Car Insurance Coverage in Massachusetts
The data from the table above is pulled directly from the National Association of Insurance Commissioners (NAIC). Because this data is from 2015, you can expect rates to be higher today.
It's important to keep in mind that this data from the NAIC is based on Massachusetts' minimum liability insurance requirements.
While it's good to have minimum liability, it's better to have additional coverage added to your policy. Let's look at these options up next.
Additional Liability Coverage in Massachusetts
Personal injury protection is just one of three different types of additional liability coverage that is available to drivers. Massachusetts drivers can also get uninsured/underinsured motorist coverage as well as medical payment coverage.
But why is this important?
6.20 percent of Massachusetts drivers are uninsured. This means Massachusetts is ranked 49th in the U.S. for uninsured drivers.
If you are hit by an uninsured driver, that driver will not be able to help you cover the costs of medical bills or repairs to your vehicle if you need them.
Why? Most likely he'll bankrupt himself because he ran out of money to cover the costs of repairs for his own vehicle.
Long story short, this is a scenario in which you need more coverage than what is required by the state of Massachusetts.
But what does this have to do with the loss ratio percentage?
By looking at the loss ratio percentage, we can see how many filed claims went paid and essentially how many filed claims went unpaid. Keep in mind that every filed claim is not always paid.
When you get into a car accident, you call your insurance company and file a claim. This statement is usually a list showing damages to your vehicle and any medical bills that need be paid.
If a loss ratio percentage is too high (over 100 percent) then the insurance company may be at risk of going bankrupt because they are paying too many claims — some of these claims may be fraudulent.
On the other hand, if the loss ratio percentage is too low (under 50 percent), the insurance company could be scamming its clients. If you take a look at the table above, you'll see that these percentages are at a healthy — they aren't too low or too high.
So what should you look for when scouting a new car insurance company?
Ask to see what the loss ratio percentages are.
Stick with a company that has a loss ratio percentage between 50-100 percent.
Add-ons, Endorsements, and Riders
We've already talked about additional liability coverage, but did you know you can insure almost anything on your vehicle for any reason?
Your insurance policy should be unique — so why settle for anything less?
Below is a list of extra insurance options that you can tack right onto your existing policy. Click on the links to learn more about each additional insurance type.
Guaranteed Auto Protection (GAP)
Personal Umbrella Policy (PUP)
Non-Owner Car Insurance
Modified Car Insurance Coverage
Pay-As-You-Drive or Usage-Based Insurance
Choose one or choose them all. The choice is completely up to you.
Male vs. Female Annual Car Insurance Rates in Massachusetts
Did you know factors like gender, marital status and age can affect your car insurance rate?
Women typically pay less for car insurance than men do, however, in Massachusetts, it's illegal to base a car insurance rate on gender.
It's pretty understandable that young drivers are usually required to pay more for their insurance policy in general. Car insurance companies know that young drivers lack experience, which means they are more likely to be involved in an accident.
Don't worry about this too much if you're a teenage driver; your rates will significantly decrease as soon as you turn 25.
Important: the data above is based on actual purchased coverage by the state population and includes rates for high-risk drivers and those drivers who choose to purchase more than the state minimum as well as other types of coverage not required such as uninsured/underinsured motorist, PIP, and MedPay.
Rates in Massachusetts Ten Largest Cities
Here are the average car insurance rates for the top 10 most populated cities in Massachusetts.
Cheapest Rates by Zip Code in Massachusetts
Did you know that where you live can affect your car insurance rate? Some areas are more prone to accidents than others.
Find your zip code in the tables below.
Since Boston is Massachusetts' largest city, it makes sense that Boston has the highest car insurance rates.
Cheapest Rates by Cities in Massachusetts
Find your city in the tables below.
Roxbury, an area in Boston, has the most expensive car insurance rates.
Enter your ZIP code below to compare auto insurance rates.
Secured with SHA-256 Encryption
Best Massachusetts Car Insurance Companies
Taking the time to find the best car insurance company with the best rates and reviews probably isn't at the top of your weekend plans list, and guess what? That's okay! We already did all of that hard work for you.
We know that the best car insurance aren't the best just because of their rates — factors like customer service, financial ratings, and how a company resolves complaints all help form a great company.
Don't be discouraged by hundreds of car insurance companies swooning you just to take your business.
Keep reading for info on how to pick the best car insurance company.
Ratings of the Largest Car Insurance Companies in Massachusetts
The companies listed in the table above are ranked as some of the best companies in the state of Massachusetts. They all have decent loss ratio percentages and good AM Best Ratings.
AM Best Ratings are a way to show a company's financial strength.
Massachusetts Car Insurance Companies with the Best Ratings
When you're standing on the side of the road after you've just been in a serious car accident, the only thing you're going to care about is if the voice on the other end of the phone is a kind voice or not.
We know customer satisfaction is important and so does J.D. Power.
J.D. Power conducted a survey ranking car insurance companies for customer service satisfaction.
The 2019 U.S. Auto Insurance Study, now in its 20th year, examines customer satisfaction in five factors (in order of importance): interaction; policy offerings; price; billing process and policy information; and claims.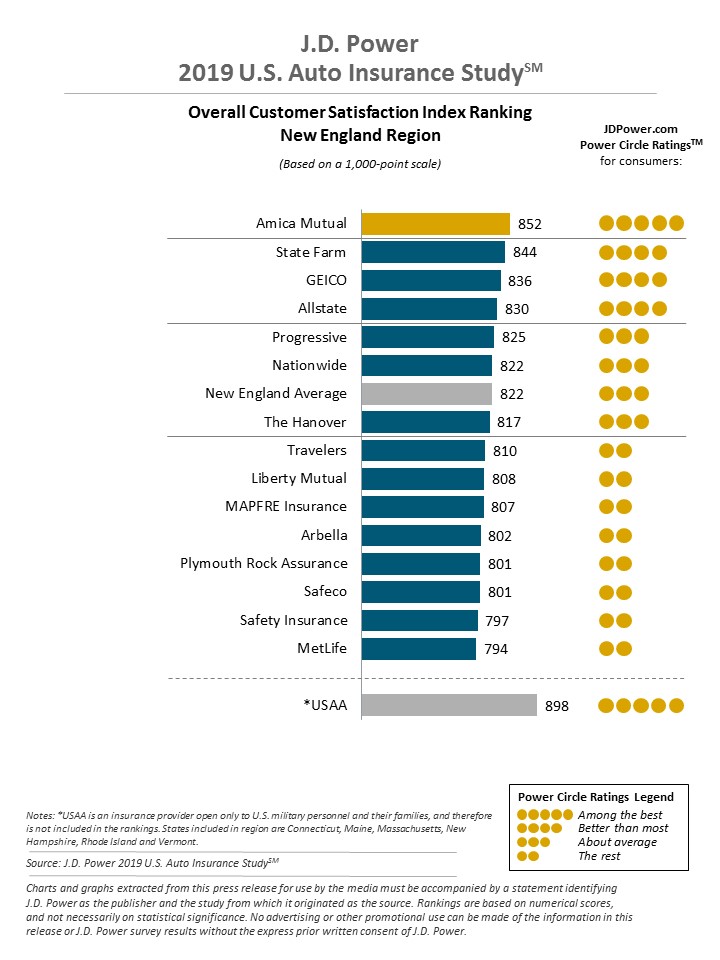 According to this survey, with the exception of USAA (a company that only services military members and their families) Amica Mutual was ranked number for customer service in the New England region of the U.S.
The study is based on responses from 42,759 auto insurance customers and was fielded from February through April 2019.
Companies with the Most Complaints in Massachusetts
The complaint info from the table below is brought to you by the NAIC.
Don't be discouraged by this data. All businesses receive complaints – it doesn't matter if you're the best business in the world.
How a company handles a complaint it what really matters.
Cheapest Companies in Massachusetts
Here's a quick look at some of the cheapest car insurance companies in Massachusetts.
State Farm Mutual Auto has cheaper insurance than USAA. That's kind of crazy, but it's true!
Commute Rates by Companies in Massachusetts
Did you know that drive distance can affect your rate?
As you can see, some companies may increase your rate if you drive more miles per year.
Coverage Level Rates by Companies in Massachusetts
Some companies will give you a little bit of a break on your rate if you carry more insurance.
Take a look at rates in the table below to see what we're talking about.
Credit History Rates by Companies in Massachusetts
Good news for Massachusetts drivers! It is illegal for car insurance companies to base a rate off of a credit score.
Here are some average rates from some great car insurance companies in Massachusetts.
In case you wondered, Experian says that Massachusetts has an average credit score of 699. Countrywide, Americans have an average credit score of 675, so Massachusetts residents have a higher score than the average American.
Driving Record Rates by Companies in Massachusetts
Overall, the biggest factor that can affect your car insurance rate is your driving record.
If you get just one DUI, your rate can increase by $2,000 or more! If you keep your record clean, your might qualify for a good driver discount which will save you even more money in the long run.
Number of Insurers in Massachusetts
What is the difference between domestic insurance laws and foreign insurance laws?
Domestic insurance laws are formed under the laws of Massachusetts while foreign insurance laws are formed under the laws of the U.S.
Massachusetts State Laws
There are literally hundreds of Massachusetts state laws, so we don't expect you to know every single one. Since we're just here to talk about car insurance, this section is just going to be about Massachusetts driving laws.
Knowing these driving laws can help you stay safe, and save you money by avoiding fines. We'll go over car insurance laws, vehicle licensing laws, teen driving laws, car seat and seat belt laws, and more.
We've partnered with the NAIC, the IIHS, Carwindshields.info, Responsibility.org, and the  DMV to bring you the following information.
Car Insurance Laws in Massachusetts
By now you should know that every driver in Massachusetts must carry car insurance. This is a law that was formed by the state of Massachusetts. But how was this law originally formed?
Massachusetts uses a file and use system when forming laws for private passenger auto insurance.
Companies may file group marketing plan deviations. If you're interested in learning more about how insurance laws are formed, please visit Mass.gov for more details.
Windshield Coverage
Having insurance that covers windshield repairs is a big deal for some people. But what are the windshield laws in Massachusetts?
If you have comprehensive insurance, the repair/replacement is either at no cost to you or there is a $100 deductible (only if you opted in to it), regardless of your normal comprehensive car insurance deductible.
If your car has less than 20,000 miles (15,000 for policies from 2003 or earlier) you can have OEM parts.
Find out more at Carwindshields.info.
High-Risk Insurance
High-risk insurance, (also known as SR22 insurance) is an extra insurance form you will need to purchase from your insurance company if you are considered to be a high-risk driver.
You might need high-risk insurance if:
You have been convicted of a DUI
You've been involved in a serious accident didn't have car insurance at the time
You were caught driving without insurance
You own a sports car
You have a high number of points on your driving record
You are over 70 years old
Your license was suspended
According to the DMV, the SR22 form is usually required as a result of a driving violation that requires retraining or testing.
To reinstate your license after a suspension, whether or not you obtain a hardship license, you might need to take a written and/or driving exam, you will likely need to pay a fee and you might need to take additional courses to reinstate your driving privileges.
To reinstate, you must arrange to see an RMV hearings officer on or after the day your hardship license expires. If your reinstatement is approved, the restrictions will be removed, and then you can get a replacement license.
Low-Cost Insurance Plan
Unfortunately, the state of Massachusetts does not offer any kind of government aid when it comes to purchasing a car insurance policy.
The only states that offer a government-aided car insurance program for families with low income are California, Hawaii, and New Jersey. But don't be discouraged by this – are you looking for more ways to save?
Ask your insurance provider if you qualify for any of the following insurance discounts:
Homeowner's discount
Good driver discount
Student discount
Military discount
Multi-car discount
Automobile Insurance Fraud in Massachusetts
What is automobile insurance fraud?
Watch this video below to learn four ways a person can commit insurance fraud.
According to the IIHS, insurance fraud can be "hard" or "soft." Hard fraud occurs when someone deliberately fabricates claims or fakes an accident.
Soft insurance fraud, also known as opportunistic fraud, occurs when people pad legitimate claims, for example, or, in the case of business owners, list fewer employees or misrepresent the work they do to pay cheaper premiums for workers' compensation.
The IIHS also says that the Insurance Research Council reported that "Auto insurance fraud and claim buildup added between $4.9 billion and $6.8 billion to closed auto injury claim payments in 2007."
Do you have a complaint about an insurance company?
Visit the Massachusetts Division of Insurance at the address listed below.
One South Station
5th Floor
Boston, MA 02110-2208
Give them a call at 617-521-7794 or visit their website.
Statute of Limitations
The Statute of Limitations law protects both the driver and the insurance company. It gives drivers ample time to file a claim while simultaneously providing a cut-off date for when claims can be filed.
If drivers just filed claims whenever they felt like it, car insurance companies would be broke and the auto insurance fraud rate would be through the roof.
In the state of Massachusetts, drivers have three years to file a property damage claim and three years to file a personal injury claim. Keep in mind that you have three years from the day of your accident to file your claims.
Massachusetts State-Specific Laws
Pay attention to some of these ridiculous (and not so ridiculous) state-specific driving laws below.
You may not drive with a gorilla in the backseat of your vehicle.
However, Massachusetts law requires drivers to stop at yellow lights unless they're so close to the intersection when the light switches to yellow that it's unsafe to stop.
Massachusetts doesn't allow drivers to make a left turn at a red light.
The driver of a motorcycle approaching an intersection that is controlled by a traffic-control signal utilizing a vehicle detection device that is inoperative due to the size of the motorcycle shall come to a full and complete stop at the intersection and may proceed with due caution when it is safe to do so.
If you'd like to learn more about Massachusetts' driving and insurance laws, please visit Mass.gov.
Vehicle Licensing Laws
Are you sick of driving your kid around everywhere and wondering when he or she can start driver's education? Do you know the penalties for driving without insurance? How often do you need to have your license renewed in the state of Massachusetts?
All these questions and more are answered up next.
Real ID
Have you ever heard of the term "Real ID"?
After October 2020, every driver must carry a Real ID to be able to go through airport security and board a domestic flight.
Keep in mind that you will not need a Real ID to vote or to drive.
Penalties for Driving Without Insurance
It is illegal to drive in Massachusetts without a valid car insurance policy. But what are the penalties for driving without insurance?
The info from the table above is brought to you by the Massachusetts State Legislature.
Jail time as a penalty for driving without insurance has worked well in Massachusetts. In fact, Massachusetts is ranked 49th in the U.S. for uninsured drivers and less than 6.5 percent of drivers are uninsured.
You might also have your license suspended for driving without insurance.
In case you missed it, let's review proper forms of proof of insurance in Massachusetts:
Valid liability insurance ID cards
Copy of your current car's insurance policy
Valid insurance binder (a temporary form of car insurance)
Picture of proof of insurance on your smartphone
Electronic proof of insurance (pulled through the internet)
It's important to carry your proof of insurance on you at all times while driving because any time a law enforcement officer requests to see a copy of your insurance card, you must show it to him or her.
You also must be able to show vehicle registration and your license.
Teen Driver Laws
Teens must be at 16 years old before starting driver education classes. Take a look at some of the laws in the table below about teenage driving.
In Massachusetts, driver education is required of license applicants younger than 18.
The requirement for supervised driving is 30 hours for applicants who have successfully completed a driver skills development program in a closed, off-road course licensed by the Registrar of Motor Vehicles.
Let's look at some laws for drivers with restricted licenses.
Driver License Renewal Procedures
The following info about license renewal is brought to you by the IIHS.
It doesn't matter if you're 16 years old or 60 years old, every driver in the state of Massachusetts must renew his or her license every five years.
If you are under the age of 75, you must provide adequate proof of vision when you renew your license in person. If you are 75 years old or older, proof of vision is required at every renewal.
Online renewal is permitted for drivers under the age of 75, however, you can only renew your license online every other time.
New Residents
According to Mass.gov, once you move to Massachusetts, you must convert your out-of-state license to continue driving.
You'll need to fill out a Class D, M, or D/M License and ID Card application, which you can also submit online, and take several original forms of ID to a Massachusetts RMV branch office.
Common documents you may need include:
Your out-of-state license
A document proving your date of birth, such as your original birth certificate
A document proving your signature, such as a passport or social security card
A document proving Massachusetts residency, such as a household bill addressed to you
Your Social Security number (SSN), or an acceptable alternative document
If your out-of-state license has been expired for more than one year but less than four years, you will be required to take a written test. If your license has been expired for more than four years, you will need to take a written and road test, as well as a vision exam.
Let your insurance company know you are moving to Massachusetts so they can change your existing policy to comply with Massachusetts law.
Keep in mind that if you later move within Massachusetts, you must report your change of address to the RMV within 30 days.
Negligent Operator Treatment System (NOTS)
Driving Laws Published by Nolo says that in Massachusetts, "reckless operation" and "negligent operation" are two separate offenses, with slightly different penalties.
With both crimes, there must be proof that the person's driving endangered others. The distinction lies in the mental state of the motorist. To be convicted of reckless operation, the prosecution needs to prove that the driver appreciated but disregarded the risk of the conduct.
Negligent operation, on the other hand, doesn't require a showing that the motorist actually realized the hazards posed by his or her driving.
A reckless or negligent operation conviction carries two weeks to two years in jail and/or $20 to $200 in fines.
For negligent operation, there's an additional $250 assessment. Convicted motorists also face a license suspension of at least 60 days for a first offense and a minimum one-year suspension for a second offense within three years.
Massachusetts Rules of the Road
Knowing the rules of the road can keep your wallet full, your insurance rate low, and your driver's license free from points.
Listen up as we walk through these simple rules of Massachusetts' roads.
Fault vs No-Fault
As we previously discussed, Massachusetts is one of 12 states that follows a no-fault car accident law.
If you are involved in an accident even if you didn't cause it, you are still responsible for filing a claim with your insurance company to report any property damage or personal injuries.
If you don't have adequate coverage, you might be stuck paying for these repairs and medical bills out of pocket, and remember, more insurance is better insurance.
Seat Belt and Car Seat Laws
Did you know that not wearing a seat belt while you are in a moving vehicle can cost you more than just your life?
Look at the table below to read these important laws about seat belts.
Not wearing a seat belt can cost you $25 plus fees. Buckle or pay up.
Massachusetts also wants children to be safe while on the road. Do you know all of the car seat laws listed below?
If you don't have your child in the proper car seat, you could be fined $25 or more.
It is illegal to ride in the cargo area of a pick-up truck.
Even though it is generally illegal to ride in the bed of a pick-up truck, there are exceptions to this law. See below.
During a parade
If the vehicle is being used for farming
If the vehicle is going less than 5 mph
Let's move on to keep right laws.
Keep Right or Move Over Laws
In Massachusetts, left lane driving is only allowed for passing or turning left.
Section 4B of Title XIV says "upon all ways the driver of a vehicle shall drive in the lane nearest the right side of the way when such lane is available for travel, except when overtaking another vehicle or when preparing for a left turn.
When the right lane has been constructed or designated for purposes other than ordinary travel, a driver shall drive his vehicle in the lane adjacent to the right lane except when overtaking another vehicle or when preparing for a left or right turn; provided, however, that a driver may drive his vehicle in such right lane if signs have been erected by the department of highways permitting the use of such lane."
AAA says drivers traveling in the same direction and approaching a stationary emergency vehicle, highway maintenance vehicle, or tow or recovery vehicle with flashing lights must slow down to a safe speed and, if practicable, move to a non-adjacent lane.
Speed Limit Laws
Do you know Massachusetts' maximum speed limit laws?
If not, check them out in the table below.
Ridesharing
If you drive for a company like Uber or Lyft, you'll need to have what is called ridesharing insurance. In the state of Massachusetts, it's illegal to be a ridesharer without it.
Need help finding a ridesharing policy? The companies below provide ridesharing insurance in the state of Massachusetts.
Liberty Mutual
USAA
MAPFRE
Automation on the Road
What is vehicle automation?
According to the IIHS, automation involves using radar, cameras, and other sensors to perform parts or all of the driving tasks on a sustained basis instead of the driver.
One example is adaptive cruise control, which continually adjusts the vehicle's speed to maintain a set minimum following distance.
Features such as automatic braking, which acts as a back-up if the human driver fails to brake, or blind-spot detection, which provides additional information to the driver, aren't considered automation under this definition.
But where does Massachusetts stand when it comes to vehicle automation?
Right now, Massachusetts is in the testing stages of automation on the road. But as technology improves and changes, these laws are likely going to change as well.
Safety Laws in Massachusetts
Knowing these safety laws could prevent you from losing your license, winding up in prison, or accidentally taking another person's life while on the road.
Buckle up as we tackle safety laws in Massachusetts. Up first we explain Massachusetts' DUI laws.
DUI Laws
In the state of Massachusetts, it is illegal to drink and drive. From 2008-2017, there were 1,244 alcohol-impaired traffic fatalities in Massachusetts – this is why there are strict laws against drunk driving.
Let's look at the penalties for drinking and driving.
If you're charged with drunk driving just one time, you could be facing up to two years in prison! These penalties may seem harsh, but in 2017, 120 people were killed in drunk driving accidents.
Marijuana-Impaired Driving Law
Some states have what is called a marijuana-impaired driving law. Since there aren't any laws formed about marijuana in the state of Massachusetts, this law is called something different.
If you are caught doing drugs of any kind while driving, you can be charged with impaired driving. If you are charged with impaired driving, you may be facing jail time, license suspension, and/or have to pay a hefty fine.
Distracted Driving Laws
The following info is brought to you by the IIHS.
Technology is a great thing, but there's no doubt it has become a distraction while driving. Take a look at these cell phone laws listed in the table below.
Please use caution when using your cell phone while driving. Studies have shown that the effects of texting and driving can be worse than drinking and driving.
Driving in Massachusetts
So far we've covered insurance laws, driving laws, safety laws, rules of the road, and more — but now we want to talk about Massachusetts' can't miss facts.
Knowing the following information will help you make the best decision when it comes to choosing your car insurance policy. In this next section, we'll touch on vehicle theft, road fatality rates, traffic congestion, and more.
From crash reports to Massachusetts risk factors, we've got them all covered.
Vehicle Theft in Massachusetts
Is your vehicle on this most stolen list?
The year with the vehicle is just the most popular model year stolen. The number listed as stolen for that make and model includes all model years of it.
The data from the table below is pulled directly from the FBI. It shows vehicle theft by cities in 2017 Massachusetts. Is your city on this list?
It is interesting to note that some of these cities have a theft rate of zero.
Road Fatalities in Massachusetts
We've partnered with the National Highway Traffic Safety Administration to bring you the following information.
Let's move on to a more serious subject: road fatality statistics. In 2017, there were 350 traffic fatalities in Massachusetts.
But what caused them? Before we answer that question, let's look at the most dangerous road in Massachusetts.
The Most Fatal Highway in Massachusetts.
According to geotab.com, the most fatal highway in Massachusetts is I-495. The I-495 has had 87 accidents that resulted in a fatality over the last decade. The highway is entirely contained within the state, running through the outskirts of the Greater Boston area.
To determine the most dangerous highway in each US state, geotab.com calculated a fatal crash rate that is based on the annual number of road fatalities and fatal crashes according to the National Highway Traffic Safety Administration and adjusted for the average daily traffic counts provided by the Federal Highway Administration.
Fatal Crashes by Weather Condition and Light Condition
Did weather or light conditions have anything to do with the fatality rate?
A large percentage of these fatalities happened in the light under normal weather conditions, so it doesn't seem like weather played a huge role in the Massachusetts fatality rate.
Fatalities (All Crashes) by County
Below are the numbers of fatal crashes by county.
Traffic Fatalities: Rural vs Urban
Usually, more fatalities happen in rural areas than they do in urban areas typically because there aren't as many EMS service locations in rural areas.
However, from 2008-2017, Massachusetts had almost 300 more fatalities happen per year in urban areas than in rural areas.
Fatalities by Person Type
Did person type or vehicle type have anything to do with the traffic fatality rate in Massachusetts?
Make sure to keep an eye out for motorcyclists, bicyclists, and pedestrians while driving. Paying attention to these "nonoccupants" can help lower your chances of causing an accident.
Fatalities by Crash Type
What types of crashes are most likely to be fatal?
According to the table above, most of these fatal crashes either involved some type of roadway departure or were single-vehicle crashes.
Five-Year Fatality Trend for the Top Ten Largest Counties in Massachusetts
Below is the five-year traffic fatality trend for the top ten most-populated counties in Massachusetts.
Fatalities Involving Speeding by County
Speeding takes many lives on the road. Speed limits are posted for a reason. In 2017, there were 98 speeding-related traffic fatalities in Massachusetts.
Fatalities in Crashes Involving an Alcohol-Impaired Driver (BAC = .08+) by County
In 2017, there were 120 alcohol-impaired fatalities in Massachusetts. Drinking and driving isn't worth it – every time you try to drink and drive, you risk your life and someone else's.
Respect the rules of the road, don't drink and drive.
Teen Drinking and Driving
Teenage driving is scary, but add some alcohol to lack of driving experience and you're in for some real trouble.
Massachusetts is ranked 42nd in the U.S. for teenage drinking and driving arrests.
In 26 states and D.C., under-21 alcohol-impaired fatalities per 100,000 people were at or below the national average of 1.2 deaths per 100,000 people.
Massachusetts has an average of one death per 100,000 population per year.
EMS Response Time
Sometimes seconds can mean the difference between life and death.
Because there are more EMS response services located in urban areas, it takes much longer for an ambulance to reach a crash site in rural areas than it does in urban areas.
Look at the table below for EMS response times.
Transportation in Massachusetts
Car insurance companies will often base their rates on state averages. Two categories that car insurance companies may base their rates on are transportation and traffic congestion.
Let's start with car ownership.
Car Ownership
According to Data USA, the following chart displays the households in Massachusetts distributed between a series of car ownership buckets compared to the national averages for each bucket.
The largest share of households in Massachusetts have two cars, followed by onw car.
The orange bars represent Massachusetts' average while the gray bars show the national average.
Commute Time
Using averages, employees in Massachusetts have a longer commute time (28.3 minutes) than the normal US worker (25.5 minutes). Additionally, 3.32 percent of the workforce in Massachusetts have "super commutes" in excess of 90 minutes.
Commuter Transportation
In 2017, the most common method of travel for workers in Massachusetts was Drove Alone, followed by those who Public Transit and those who Carpooled.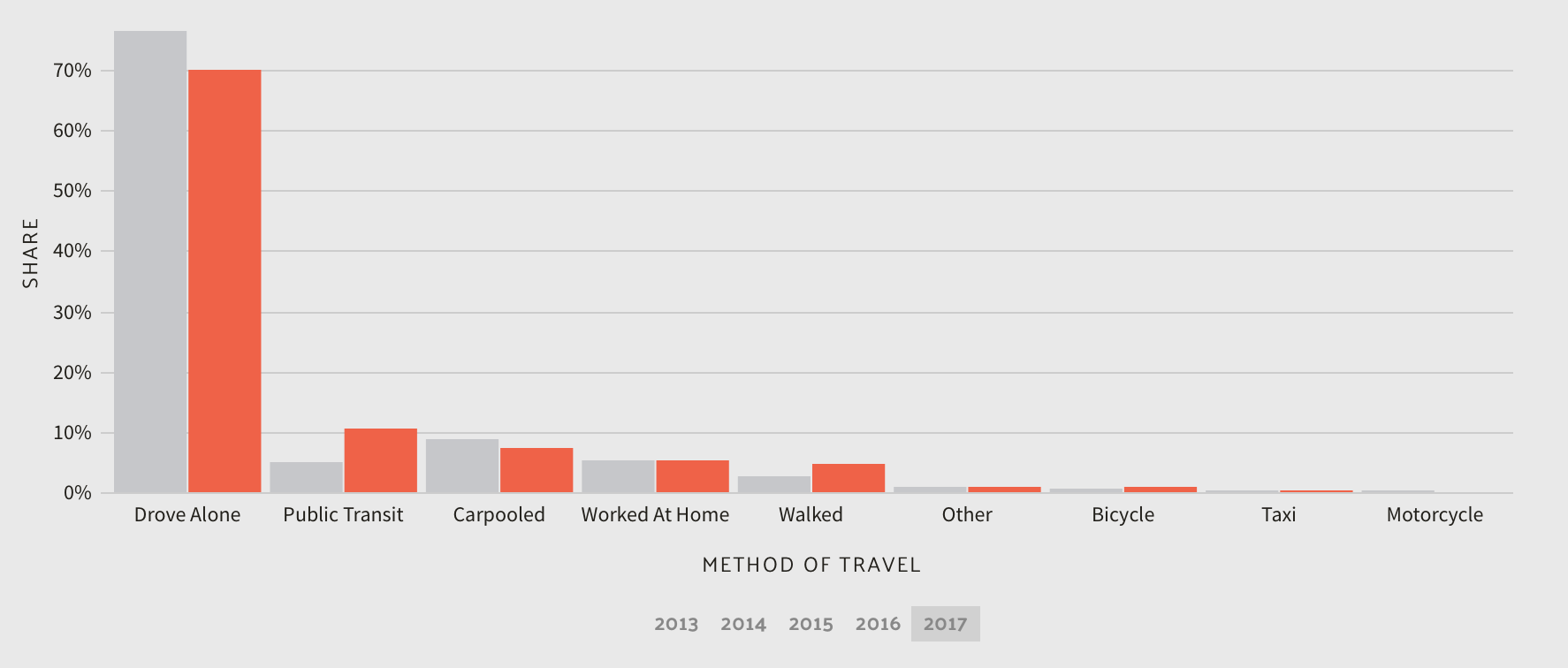 Traffic Congestion in Massachusetts
According to Inrix, Boston is the 8th most traffic-congested city in the world.
Now that you've read our extensive guide about Massachusetts auto insurance, it's time to start shopping for your very own insurance policy. To get started, use our free tool by entering your zip code into the box below.
Good luck and happy shopping.