Nationwide Auto Insurance Review for 2023
Free Auto Insurance Comparison
Enter your ZIP code below to compare auto insurance rates.
Secured with SHA-256 Encryption
Founded in 1926 by the Ohio Farm Bureau Federation in the city of Columbus, Ohio, Nationwide Mutual Insurance was originally known as Farm Bureau Mutual Automobile Insurance Company.
In its early days, the insurer focused solely on covering Ohio farmers, but its network soon grew to include policyholders in a number of other states before expanding to urban consumers in the 1930s.
That same decade, the company began selling life and fire insurance to customers, in addition to its auto insurance policies. In 1955, Farm Bureau Mutual became Nationwide Insurance. By 1965, the company was underwriting policies for insureds across 32 states.
Today, Nationwide has offices in all fifty states and spread across other parts of the world.
In 2009, Nationwide Corporation, Nationwide Mutual Insurance Company's wholly-owned subsidiary, purchased the entirety of Nationwide Financial Service's outstanding common stock shares that it didn't already own.
This move transitioned Nationwide Financial Services into both a wholly-owned subsidiary of Nationwide Mutual Insurance and a private company.
With an extensive range of insurance offerings including auto, boat, motorcycle, farm, pet, life, commercial, and homeowners insurance, along with pensions, mutual funds, long-term savings plans, and other financial services, Nationwide has come along way from its early days as a small carrier serving Ohio farmers.
Nationwide's diverse portfolio of products and systematic claims handling process make it an attractive option to insureds searching for the best coverage at the most affordable price.
Whether you're a loyal Nationwide customer and want to make sure you're getting the best deal on insurance or are just now considering coverage through this insurance behemoth — you've come to the right place.
In the following Nationwide auto insurance review, we're going to delve into all the key factors you need to consider and be aware of before taking the plunge and buying a policy.
From financial strength ratings, rating factors, and top discounts to consumer ratings and the claims process, everything you ever wanted to know about purchasing coverage through this carrier is right here in our Nationwide auto insurance review.
Ready to discover the best insurance rates in your area? Simplify your auto insurance search with our FREE online rate tool. Just enter your zip code in the box above to start your quote.
Without further ado, let's get down to business.
Nationwide's Rating Agency
An insurer's long-term credit ratings and financial strength rates are a critical factor to look at when deciding whether or not to purchase coverage.
No need to spend time scouring the internet searching for this information — our researchers did the legwork and broke down the data to provide you a comprehensive look at the ratings awarded to Nationwide by some the most respected rating agencies of today.
So sit back, relax, grab your coffee (or beverage of choice), and keep scrolling our Nationwide auto insurance review to learn more.
A.M. Best
A.M. Best is one of the premier rating bodies that regularly releases data widely respected and relied upon by both companies and consumers alike. If you're thinking to yourself, "Why are insurance ratings so important, anyway?", here's what you need to know.
An insurance company's ratings indicate two key components. First, ratings reveal the creditworthiness and financial stability of the insurer, with naturally translates to how likely the carrier is to be able to continue meeting its financial obligations to insureds.

Second, insurance ratings clearly illustrate whether or not consumers are generally satisfied with the carrier's services.
A.M. Best has a specific system of rating carriers ranging from an A+ Superior rating to a Poor D rating.
A.M. Best awarded Nationwide an A+ rating, which indicates a strong confidence that the carrier has a superior ability to meet its ongoing insurance obligations.
In short, this is great news for both the company and its network of insureds. Now, let's see what the Better Business Bureau's data revealed.
Better Business Bureau
Unlike A.M. Best, that looks at companies as a whole to assess ratings, the Better Business Bureau (BBB) bases its ratings on the states in which they operate in, with specific ratings assigned to different locations.
For example, in the state of Ohio where Nationwide Insurance is headquartered, the BBB has designated the carrier an overall rating of A+. On the 100-point scoring scale used by the BBB, this indicates a final score of 97 to 100.
The BBB uses numerous diverse rating elements when assessing ratings for various companies. These include:
The business's complaint history with the BBB
How long the company has been in business
The type of business
How transparent the company's business practices are
Any failure on the company's part to honor its commitments to the BBB
Any advertising issues that have come to the attention of the BBB
Moody's Rating
Moody's also uses a letter grade scale to rate companies, ranging from Aaa to C.
Moody's has assigned Nationwide Mutual Insurance Company an Insurance Financial Strength rating of A1. Companies rated with an "A" modifier are ruled to be upper-medium-grade and presenting a low credit risk.
In addition, the "1" modifier signifies that the company's obligations are in the higher end of its generic rating category.
S&P Rating
S&P's ratings have long been revered by companies in a plethora of industries and looked to by consumers. The insurance world is no different.
Nationwide Insurance has been designated an A+ rating, both in the Issuer Credit Rating and Financial Strength Rating categories.
Let's break down the data a bit. An insurer with a financial strength rating of A displays strong financial security characteristics. However, it is still more vulnerable to adverse business conditions than a carrier with higher ratings.
Likewise, a long-term issuer credit rating of A is good in the sense that it reveals that the company has a strong capacity to fulfill its financial commitments. That said, the carrier is somewhat more vulnerable to adverse circumstantial and economic changes than if it had been desiganted a higher rating.
A plus sign simply indicates the company's relative standing in its rating category.
So, what does this all mean for Nationwide? First of all, it's essential to look at the insurance ratings a company receives from multiple agencies as a whole, rather than the ratings awarded by a single entity.
Second, S&P's ratings are far from spelling disaster for Nationwide. As it stands now, the company remains in a solid position to meet its obligations to its insureds.
Only time will tell if economic shifts in the years ahead could impact the financial solidity of the company.
NAIC Complaint Index
Next in our Nationwide auto insurance review, we're going to look at a different, but equally important type of rating — consumer reviews.
One of the foremost resources for insurance consumer reviews is the National Association of Insurance Commissioners (NAIC).
The NAIC is the chief regulatory entity for insurance companies across the U.S. Check out the table below, indicating the most up-to-date consumer complaint index for Nationwide from the NAIC's recent study.
If you review the data in the table here closely, you'll notice that the number of complaints received by Nationwide each year was close to negligible, although they did go just over the national median complaint index in 2016. Furthermore, the number of complaints filed with the carrier decreased each year.
The numbers show that Nationwide has made concerted efforts to increase its level of customer service and overall consumer experience, and has clearly been met with success.
The interesting thing to note here, is that while the number of complaints submitted to Nationwide decreased steadily each year, so did the company's share of the U.S. market. Also, the carrier's number of premiums written decreased slowly but steadily during between 2016 and 2018 for a total decline of $18,496,765.
While these figures don't necessarily present cause for alarm at this point, they do bear watching in the years ahead.
If Nationwide's premiums written continue to decrease in the coming years, this could cause the carrier to lose money and displace the company from its current strong financial position.
JD Power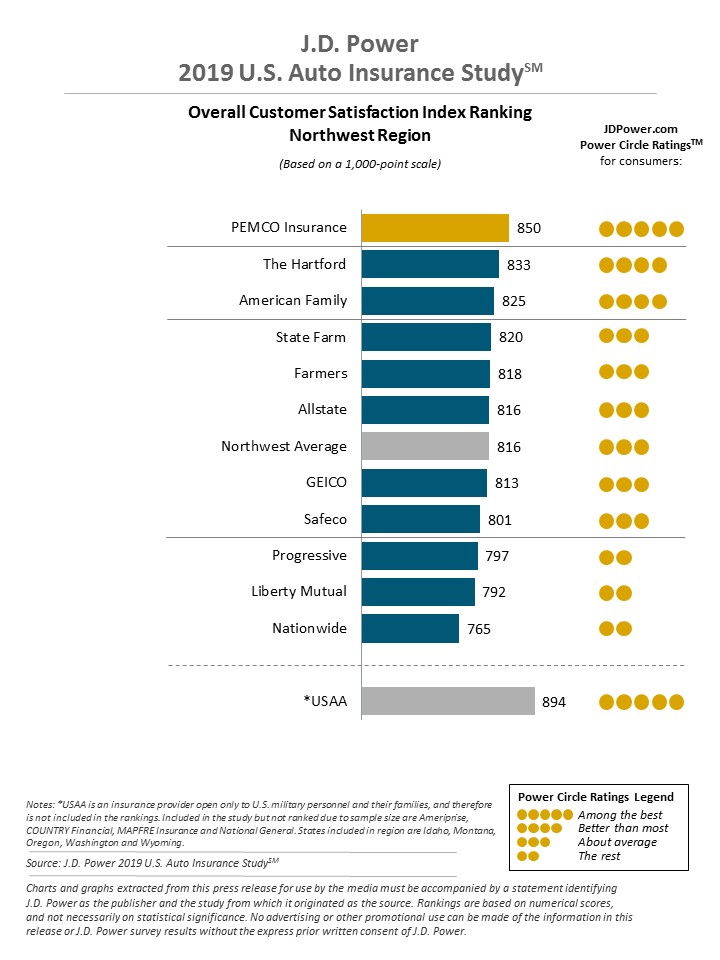 J.D. Power releases an annual insurance study indicating consumer satisfaction with top carriers across the country in particular states and regions.
The graph above reveals consumer satisfaction data in the Northwest Region of the U.S. alone, including the states of Idaho, Montana, Oregon, Washington, and Wyoming.
Nationwide was ranked at the very bottom of the top carriers rated, for a total of 765 out of 1,000 possible points.
This means that J.D. Power rated customer satisfaction with Nationwide below the industry average.
Consumer Reports
After the NAIC's largely satisfactory consumer complaint index and J.D. Power's somewhat conflicting results, let's take a look at what another esteemed publication's recent study found.
Consumer Reports recently conducted a survey of 23,609 subscribers regarding customer satisfaction with various top carriers in the insurance industry.
Check out the table below to see for yourself what respondents had to say about Nationwide.
As you can see, the consumers surveyed had very positive things to say about Nationwide's customer service, from the ease of reaching an agent to getting their claim paid out to tracking claim progress. Each aspect of Nationwide's customer service process was rated "Very Good", except for Agent Courtesy, which received a slightly superior rating of "Excellent".
The moral of the story here is that it's vital to review multiple sources of information when determining if a carrier is right for you, to form a complete picture of what that specific company has to offer you.
Consumer Affairs
Consumer Affairs awarded Nationwide an overall satisfaction rating of 1.9 stars for auto insurance specifically, based on 71 ratings submitted in the previous year at the time of this Nationwide auto insurance review.
However, it should be noted that this rating reflects a small fraction of the total 1,024 auto insurance customer reviews collected by Consumer Affairs in recent years. As such, this star rating may not present a complete picture of consumers' satisfaction.
According to Consumer Affairs, some of the top pros noted by Nationwide insurers were the carrier's customized plans, vanishing deductible program, classic car insurance offering, and strong 24/7 claims support. Consumers were also pleased with the SmartRide® discount program offering up to 40 percent off coverage for safe driving.
A few cons noted in the study included the fact that Nationwide currently doesn't offer rideshare insurance. Another con was the higher rates assessed by the company for motorists with unfavorably driving histories.
We'll see exactly how your driving record could impact your premiums further down in our Nationwide auto insurance review.
Enter your ZIP code below to compare auto insurance rates.
Secured with SHA-256 Encryption
Nationwide Company History
No Nationwide auto insurance review would be complete without an in-depth look into the carrier's history and future position of the company.
For details regarding Nationwide's share of the U.S. market in recent years to its key marketing campaigns to its community involvement, keep reading.
Let's get into it.
Nationwide Market Share
The greater share any given carrier controls of the U.S. insurance market, the more competitive a place it commands against other insurers. Take a look at the table below to see how Nationwide's share of the insurance market has shifted in recent years.
According to the data our researchers gathered from the NAIC, Nationwide's share of the U.S. market actually declined between 2015 and 2018.
In total, Nationwide's market share went down 1.12 percent in the three-year period studied.
Nationwide's Position for the Future
After looking into a wide range of factors, from financial strength ratings to long-term issuer credit ratings to market share stats, this begs the question — how is Nationwide positioned for the future?
A.M. Best, the BBB, and Moody's all awarded Nationwide stellar ratings for its abillty to continue to meet its financial obligations and creditworthiness. S&P's rating confirmed the other agency's findings, but noted that Nationwide was potentially vulernable to possible economic shifts in the future.
While the NAIC and Consumer Reports showed largely positive results in terms of customer satisfaction, J.D Power's study reported that Nationwide's consumer satisfaction was below the industry average when compared to the competition.
Consumer Affairs' ratings represented only a small fraction of the total reviews and were widely mixed.
What's the bottom line? As is stands now, Nationwide is in an secure financial position to meet its obligations to consumers. The decrease in customer complaints in recent years reveals the company's efforts to be cutting edge in meeting the needs of its insureds.
Nationwide's steady decline in its share of the U.S. market could easily right itself — but that, coupled with its decrease in premiums written in recent years does bear close watching.
If the company's market share and direct premiums written continue to diminish, this could prove destabilizing for Nationwide sooner than later.
Nationwide's Online Presence
Nationwide's website provides plenty of options for users to find the answers they need and take care of their insurance needs with ease.
You can do everything from filing your claim to checking a claim's status to setting up automatic payments to viewing or paying your insurance bill.
You can also call Nationwide directly at 1-877-669-6877 to speak with a representative directly, request roadside assistance, get a question answered regarding coverages or anything else you might need.
Nationwide's Commercials
Chances are when you've turned on the TV to watch your favorite show or flick, you've seen one of Nationwide's commercials, famously distinguished by its long-running slogan "Nationwide is on your side."
From Brad Paisley to Tori Kelley, prominent figures have frequently been featured in the company's recent (and genius) marketing campaigns, turning Nationwide's catchy tune into a heart-warming Jingle Sessions that stick with consumers long after the commercial break has ended.
According to an interview with Ad Age in 2016, Executive Vice President and Chief Marketing Officer Terrance Williams noted:
When you think about what "on your side" means and represents, it's part of our DNA. The jingle aligns with who we are. It's stood the test of time—it doesn't hurt that it's kind of catchy! We envision that it will always be part of who we are—you'll see elements and threads of it in our advertising on an ongoing basis and we may even tap into it even more.
Speaking of which, let's take a look at some of Nationwide's most memorable commercials.
Here, Peyton Manning and Brad Paisley extol the virtues of bundling your home and auto coverage.
https://www.youtube.com/watch?v=m8E83NGOTJ8
And they team up again in this Deductible Duet…
https://www.youtube.com/watch?v=cjEqAKhCPvE
Here, Peyton goes over his playbook to inspire Brad Paisley's next insurance jingle.
The commercial below featuring Tori Kelly depicts various consumer scenarios, yet again proving its adage "Nationwide is on your side."
https://www.youtube.com/watch?v=OpfNY2_6Cto
Nationwide Jingle Sessions continue with an important message to let customers know they can start an insurance claim directly from the app.
In this commercial, Leslie Odom Jr.'s take on the Nationwide tun drives home the point that this insurer is ready to there each step of the way, whether your child is heading off to school for the first time or you're planning for retirement.
Remember the hit CBS show Person of Interest? Here, Leslie, as his show character Peter Collier, presents (or rather sings) his case before the court with Harold Finch (played by Michael Emerson) looking on.
Nationwide in the Community
Nationwide has a long-standing history of philanthropic work and a dedication to engaging with local communities across the country.
Initiated in 1959, the Nationwide Foundation is a private, nonprofit organization with Nationwide's network of companies serving as the donors. According to the foundation's giving history,
"Since 2000, the Nationwide Foundation has contributed more than $498 million to nonprofit organizations across the country that work to meet crucial needs in communities with a significant presence of Nationwide associates.

In 2006, the foundation pledged the largest gift in its history, granting $50 million to Nationwide Children's Hospital. Over the last six years, the foundation gifted the hospital with an additional $60 million in grants to establish and support the Nationwide Foundation Pediatric Innovation Fund."
The foundation has established the Nationwide Community Impact Model, with identifies needs in local communities and awards grants to organizations which provide basic and emergency needs, along with crisis response efforts.
Nationwide has been clear in the fact that because they are privately owned and don't have shareholders, they have the freedom to utilize their human and financial resources in ways other organizations cannot.
Besides the widespread efforts of the Nationwide Foundation, the company's Community Connect initiative provides volunteer opportunities for employees across the nation.
Associates have the chance to locate opportunities, choose shifts, and log the hours they volunteer, for which they are rewarded with paid time off and have the possibility to be named Volunteer of the Year.
Nationwide's workplace giving initiative provides associates the opportunity to give back through vairous organizations, including the American Red Cross, Feeding America, and United Way.

The Associates Helping Associates program gives Nationwide associates the chance to lend support to each other in periods of financial struggle stemming from a personal tragedy or disaster. Associates Helping Associates offers financial aid up to $750 to cover basic living costs and up to $3,000 to cover the costs of shelter, food, and other essentials.
In the same 2016 Ad Age interview noted previously, Executive Vice President and Chief Marketing Officer Terrance William affirmed:
"We exist not for profit's sake but to honor the promises made to our members and ensure we're making a difference in our community. That's through the work that we do with Nationwide Children's Hospital, United Way, Red Cross and Feeding America.

Not only do we support those organizations by way of dollars, but we encourage our associates to get engaged and find the charity of their choice to volunteer at. We plan to do more talking about that to ensure we're connecting with millennials and consumers who care about corporate citizenship."
Clearly, when it comes to community involvement and caring for the needs of its people and consumers, Nationwide continues to step up to the plate.
Next in our Nationwide auto insurance review, we're going to take a look at another key indicator of any company's success — employee satisfaction.
– Nationwide's Employees
Curious what it's like to work for Nationwide? Here's what employees have to say.
A recent study conducted by Great Place to Work found that 82 percent of Nationwide employees considered it a great place to work.
In the same study, respondents reported the following:
91 percent said they are able to take time off from work when they think it's necessary
91 percent said that they feel good about the ways in which the company contributes to the community
91 percent said that when new employees join the company, they are made to feel welcome
88 percent said that people care about each other at the company
87 percent said that their facilities contribute to a good working environment
In 2019 alone, Nationwide ranked #21 in Best Workplaces in Financial Services & Insurance™, #26 in Best Workplaces in Texas™,#57 in Fortune 100 Best Companies to Work For®,and #34 in PEOPLE 2019 Companies that Care®.
Nationwide has a 3.5-star rating on Glassdoor based on 3.1k responses at the time of this Nationwide auto insurance review.
Of the respondents, 62 percent stated they would recommend the company to a friend and 73 percent reported that they approve of the CEO.
On, PayScale.com, Nationwide employees have awarded the company on overall satisfaction rating of 3.7 stars. Respondents also rated the company's outlook 3.9 stars, gave 3.8 stars for learning and development, and 3.5 stars for employee appreciation.
According to PayScale, claims adjusters earn an average of $53,109 annually, while insurance claims specialists are paid approximately $62,688 per year.
Nationwide has been a bright spot for women, doubling women in senior leadership positions from 29 percent to 34 percent from 2011 to 2017.
Interested in pursuing a career with Nationwide? Click here to learn more about possible opportunities.
Cheap Car Insurance Rates
It's only natural that a carrier's rates are probably the most significant factor you'll consider before taking the plunge and purchasing coverage.
Keep reading our Nationwide auto insurance review to get the inside scoop on how the company's average annual rates hold up against its competition in the U.S. insurance market.
Let's dive right in.
Nationwide Availability and Rates by State
Insurance through Nationwide is available to consumers in 48 of the 50 states and the District of Columbia. Nationwide coverage is currently not available in Alaska and Hawaii.
It may have already caught your attention that Nationwide's rates tend to be noticeably lower than the state average in most cases.
For example, Nationwide customers in Alabama pay roughly 25.35 percent less for coverage than the state average. In North Dakota, consumers are saving about 38.54 percent on coverage through Nationwide.
Comparing the Top 10 Companies by Market Share
The table we have here compares the top 10 insurers in the nation's average annual rates, in terms of their overall share of the U.S. insurance market.
So, how do Nationwide's rates compare when held up against its other top competitors in the insurance market? Let's take a look at a few examples by state.
For instance, in the state of Alabama, Nationwide offers the second-cheapest rates of all the carriers listed, coming in just under USAA. In the state of Florida, Nationwide charges consumers the fourth-cheapest rates, which makes its premiums come in somewhere in the median range.
If you navigate all the way to the end of the table, you'll see the median rates listed for all the carriers based on the premiums charged in each state. Once again, Nationwide offers the fourth-cheapest rates of the carriers listed.
In short, when you compare Nationwide to the other top carriers on the market, its rates appear to come in right at the middle — with several top companies offering cheaper rates and others charging much higher premiums.
Average Nationwide Male vs Female Car Insurance Rates
While a handful of states have banned insurers from using gender as a factor when determining rates, most states still allow the practice.
Check out the data our researchers gathered in the table below, revealing how various carriers, including Nationwide, assess rates based on gender alone.
In each of the age and gender categories listed for each carrier, Nationwide comes in somewhere in the mid to upper range in terms of rates.
For example, Nationwide charges 17-year old male drivers approximately $7,175.31 per year for coverage. Competitor State Farm assesses $7,324.34 in annual rates for teen male drivers.

Whereas, Liberty Mutual charges the same driver demographic about $13,718.69 per year and Farmers charges teen male drivers roughly $9,144.04 annually.
While factors like age and gender can and do often have a noticeable impact on how much you have to pay for car insurance, the moral of the story here is that picking the right carrier for your specific driver demographic could literally make a difference of thousands of dollars.
Average Nationwide Rates by Make and Model
The make and model of the vehicle you own can also affect how much you have to pay for car insurance. Let's see what kinds of rates Nationwide charges in comparison to the other top insurers in the market.
If you look at the rates Nationwide charges for each make and model listed and compare that to the overarching average of all the companies in the "Grand Total" column, you'll see that the carrier's rates are consistently lower than the industry average.
As an example, Nationwide charges the fifth cheapest rates of the top 10 carriers listed to consumers who own a 2015 Ford F-150.
For insureds who own a 2015 Toyota Rav4 XLE, Nationwide comes in again with the fifth-cheapest premiums, putting it right in the middle of its competitors rates-wise.
Average Nationwide Commute Rates
Did you know that the length of your daily commute could impact how much you pay for car insurance?
Take a look at the table below to see what kind of a rate difference you can expect to see from Nationwide and its competitors, depending on how far you have to drive to work each day.
According to the data our researchers gathered, Nationwide only charges consumers with 25-mile commutes just $25 more annually for coverage than insureds with a 10-mile commute to work each day. This makes Nationwide the second-cheapest carrier in terms of commute rates, second only to Progressive, who shows just an approximate $11 rate difference for consumers with 10 vs. 25-mile commutes.
Compare this to a company like Liberty Mutual, showing an approximate $160 rate difference for insureds who have a longer daily commute.
Likewise, another top competitor, American Family, charges consumers with a 25-mile commute to work about $80 more annually than individuals with a 10-mile commute.
Average Nationwide Coverage Level Rates
It's only natural to assume that if you pick higher coverage levels for your policy, you'll pay higher rates. After all, the greater the policy limits you select, the higher the level of risk the insurer assumes.
Check out the table here to see just how much your rates could change with Nationwide and other top carriers based on your chosen coverage levels alone.
You'll notice that in each coverage level category listed, Nationwide comes in the mid-range again in terms of the rates charged. But how much of a difference will you have to pay for low vs. high coverage with Nationwide?
As our research team discovered, you can expect to pay roughly $111 more per year if you select high over low coverage levels with Nationwide.
Let's compare this rate difference to a few of the other carriers listed. For example, Allstate charges consumers who pick high vs. low coverage levels about $500 more annually, while American Family shows a rate difference of just about $50.
If you look further down the table, you'll notice that Liberty Mutual charges individuals who opt for high over low coverage levels about $550 more annually, while Progressive assesses a rate difference of about $600. Hardly small change.
As you can see, the numbers jump all over the map, but Nationwide comes in again somewhere in the middle, making the company one of the more cost-effective options if you opt for higher levels of coverage.
Average Nationwide Credit History Rates
Other than a very few states where insurance companies are barred from using your credit history as a factor when determining your annual rate, most states still allow it.
Why does your credit history matter so much in terms of car insurance?
To an insurer, the state of your credit is a strong indicator of your financial responsibility, and therefore the likelihood that you'll meet your ongoing insurance premium payment obligations. Poor credit can also indicate to a carrier that the consumer is more likely to file a claim.
Check out the table below to see how much your rates could change based on your credit history alone.
In the credit history categories for good and fair credit, Nationwide comes in the middle range again in terms of the cost of coverage charged.
For consumers with poor credit, Nationwide charges the second-cheapest rates of all the carriers listed, second only to USAA. It just goes to show that having a less than optimal credit history doesn't mean you have to completely break the bank to find quality coverage.
With that said, having a poor vs. good credit history could cost you upwards of thousands of dollars in premiums per year in the long run.
The good news is, it's never too late to start rebuilding your credit so you can increase the likelihood of securing better rates down the line.
A 2017 study by Experian showed that the national average credit score was 675. The same study revealed that about 20 percent of Amercians have very high credit scores.
In the case of Nationwide, consumers with poor credit can expect to pay roughly $1,200 more per year in premiums than insureds with good credit.
For individuals insured with a carrier like Liberty Mutual, the rate difference is around a jaw-dropping $4,400.
USAA, known for its extremely affordable rates, charges individuals with poor credit about $1,900 more per year in premiums than consumers with good credit.
The data shows that Nationwide could be one of the best options for consumers with poor credit who are looking to secure excellent coverage without seeing their rates skyrocket astronomically.
Average Nationwide Driving Record Rates
It's hardly a shock that your driving record impacts your car insurance rates, but even just one DUI on your record could literally send your rates up thousands of dollars more per year.
As you can see from the data collected here, shows a rate difference of approximately $1,800 annually for insureds with a clean driving history vs. on DUI on their record.
If you look at the rate difference for a few other top carriers on the market, certain companies are even less forgiving of these types of driving violations. For instance, Allstate charges consumers with one DUI vs. a clean driving record about $2,400 more annually, while assesses round $2,800 in rates for drivers with one DUI.
Even USAA, who is always among the top carriers in the nation with the cheapest rates, will charge you roughly $1,600 more annually for one DUI on your record.
Long story short, safe driving habits don't just protect you and other drivers out on the road — they could mean thousands of dollars saved on car insurance.
Coverages Offered
Understanding what factors impact your rates is just half the story — knowing what coverages are available to you is equally important before you make your final decision of a carrier and begin to structure your policy.
From the types of policy add-ons available to bundling options to discounts, it's all here in our Nationwide auto insurance review.
Ready to learn more? Let's dig deeper.
Types of Coverages Offered
Let's take a closer look at the different kinds of coverage options you have at your disposal through Nationwide. Bear in mind, laws vary by state, so certain coverages are mandatory in specific states and not in others,
Bodily injury liability: If you are responsible for a collision and someone is injured as a result, this type of coverage will pay for things like medical expenses and lost wages.
Property damage liability: If you are responsible for a collision, this coverage helps to cover the costs of damages inflicted to another party's vehicle or property.
Personal injury protection (PIP): Personal injury protection coverage is "no-fault" insurance and is required in certain states. It pays for medical costs incurred by the policyholder and their passengers, regardless of fault. It could cover a portion of the bills stemming from a covered accident, including rehab and funeral costs.
Uninsured motorist: If you are hit by an uninsured, at-fault driver, this type of coverage will cover your damages stemming from the accident.
Underinsured motorist: If the at-fault driver doesn't have sufficient coverage to pay for your damages incurred from the accident, underinsured motorist insurance could cover the remainder.
Medical payments (MedPay): MedPay covers medical expenses incurred by you and your passengers in the course of a covered car accident.
Collision: No matter who is at fault, this type of coverage can pay for damage to your car if you hit another car or object, another car hits you, or you're involved in a rollover.
Comprehensive: Comprehensive coverage comes into play to cover the costs of certain events that cause damage to your vehicle, such as theft, vandalism, incidents involving animals, and natural disasters.
Towing and labor coverage: If your car is stuck, breaks down, or is inoperable after a crash, this type of coverage would pay for the costs of towing and labor.
Rental car expense: This type of coverage provides access to a rental vehicle or other means of transportation while your vehicle is being repaired following a covered collision.
Gap coverage: If your car is deemed a total loss after a collision, gap coverage could pay for the difference between what you own on the loan or lease and the actual cash value of the vehicle.
Accident Forgiveness®: You could avoid a premium increase after your first at-fault collision by purchasing this type of coverage.
Roadside assistance: This coverage gives you access to 24/7 emergency assistance in the event you need a tire change, fuel, a tow, or someone to jump-start your vehicle.
Vanishing Deductible®: You could earn $100 off of your insurance deductible as a reward for a safe of year driving, with savings up to $500. It is possible for your deductible to vanish entirely.
Total loss deductible waiver: This type of add-on coverage enables you to have your physical damage deductible (collision or comprehensive) waived if your car is ruled a total loss after an accident.
Factors That Affect Your Rate
We're going to delve deeper into discount options in the next section of our Nationwide auto insurance review, but we would be remiss if we didn't devote a section to bundling options.
By bundling your insurance policies with Nationwide, you could save big through the company's multi-policy discount.
You can apply this multiple-policy insurance discount to combinations of the following: homeowners insurance, auto insurance, renters insurance, motorcycle insurance, life insurance, and boat insurance.
Currently, the eligible policy combinations Nationwide offers include:
Auto and home
Motorcycle and renters
Auto, home, and life
Multi-car (f you insure multiple vehicles with Nationwide)
Boat and auto
Now, let's take a look at some of the other key discounts offered by Nationwide.
Getting the Best Rate with the Nationwide
Check out the table here to see how much you could be able to save on your next car insurance policy if you purchase through Nationwide.
You could save anywhere from five up to 40 percent on coverage, depending on the type of discount.
Bear in mind, some discounts may not be available in all states, and some discounts don't have the exact savings listed, so be sure to inquire with your insurance agent to ensure you take full advantage of all potential savings.
Nationwide's Programs
Nationwide sponsors a number of programs to help consumers increase their insurance savings.
Nationwide's SmartRide® program is designed to reward insureds for safe driving habits. Not only can consumers save up to 40 percent on coverage, but you could also get a 10 percent discount, just for signing up.
SmartRide® is Nationwide's usage-based program. How does it work? Nationwide sends you a small device that you plug into your vehicle to track your driving trends.
You can log into your online account to track your progress, savings, and receive individualized feedback regarding your driving habits.
At the close of the program, you send back the device and secure your final discounts, which Nationwide will apply at the time of your next policy renewal.
The carrier's Accident Forgiveness® program, available in select states, could help you avoid a policy premium spike after one at-fault accident. Other drivers on your policy could also benefit from this discount, but you can only use it one for every policy.
Though not a program per se, Nationwide's On Your Side® Review is a free insurance review all members should consider taking advantage of.
The review involves a brief conversation with a representative to ensure your policy is best serving your needs. Learn more about this free evaluation here.
The company also sponsors the Nationwide Auto Shopping Service powered by TrueCar® providing car shopping tools, reports, and other resources to help insurance consumers. Visit the Auto Shopping Service website here for more information.
Enter your ZIP code below to compare auto insurance rates.
Secured with SHA-256 Encryption
Canceling Your Policy
In the event you need to cancel your policy with Nationwide, here's how the process works.
Cancellation Fee
The good news for consumers is that Nationwide doesn't assess a cancellation fee if you decide to terminate your policy.
Is there a refund?
Upon canceling, you would receive the unused portion of your policy premium.
How to Cancel
While you can update and manage your Nationwide policy online, you'll need to cancel by phone, in person, or via mail. Speaking with your local agent could be the most efficient method.
In any case, the company requires that you submit written notice before it will proceed with terminating your policy.
Gather the Required Information and Documentation
Whichever method you use to cancel, you'll need to write a letter confirming your request for the termination of your policy. To do so, you'll need to include the following information in your letter:
Your name, phone number, and address
Your driver's license number
Your date of birth
Your social security number
Your Nationwide policy number
Your dated signature
The date you wish your policy to terminate
Option#1: Cancel by Phone
To cancel over the phone, simply contact your local Nationwide agent. You can locate their contact details on your policy documentation. If you're unsure who your agent is, contact member services weekdays from 8 A.M. to 6 P.M. ET at 800-882-2822.
You can also use the company's Find an Agent tool to locate an agent near you who can go over the cancellation process and what's involved in mailing your written notice.
Depending on the area you live in, you may be required to notify your local DMV of the cancellation or change in insurance, so be sure to inquire with your agent if that rule is applicable in your state.
Option #2: Cancel by Mail
If you wish to simply submit written notice, you can send your letter to: One Nationwide Plaza, 1 West Nationwide Boulevard, Columbus, Ohio 43215.
To allow time for your notice to process, mail your letter at least two to three weeks prior to the date you intend for the policy to end.
Option #3: Cancel in Person
With Nationwide's extensive presence around the country, you could also opt to meet with a local agent or your dedicated agent to cancel your policy in person.
If you're unsure where to find a local agent, check your policy documents or the Find an Agent locator tool linked previously for a list of agents located in your zip code.
When can I cancel?
You exert the right to cancel your policy at any time you wish.
That said, unless you don't intend to get behind the wheel, in order to comply with the minimum car insurance requirements mandated by most states' laws, you'll want to have a new policy selected to avoid a lapse in coverage.
How to Make a Claim
If you get into an accident and need to file a claim, Nationwide makes the process easy and efficient. Keep reading our Nationwide auto insurance review for the lowdown on filing your insurance claim.
Ease of Making a Claim
You can file your claim online, by speaking directly with your agent, or calling Nationwide at 1-800-421-3535. You can also request roadside assistance if you're still at the scene of the collision.
Once you've filed your claim, you can track claim progress in your online account with ease, or of course call and talk to a representative with any additional questions.
Premiums Written
Besides insurance ratings indicating a company's financial strength and outlook, its written premiums are another indicator if its future stability.
The table below illustrates the number of premiums written by Nationwide between 2015 and 2018.
As you can see, during the three-year period studied, Nationwide's premiums went up in 2016 from 2015, declined in 2017, and dropped by $614.7 million in 2018.
Given the shifts in premiums written between 2015 and 2018 alone, these numbers could easily go up again in 2019 and onward — but they do bear further watching in the years ahead.
Loss Ratio
Loss ratio also indicates a company's financial stability by revealing how much the carrier is paying out in conjunction with what it's earning back in premiums written.
If a carrier has a consistent loss ratio exceeding 100 percent, this indicates ongoing losses for the company.
The data our research team collected as shown in the table above reveals that Nationwide's loss ratio rose between 2015 and 2016, went down again in 2017, and dropped to its lowest point during the period studied in 2018.
In each year for which loss ratio was measured, the numbers were all within the normal range. The consistent decline in loss ratio is also good news for Nationwide, especially considering its decrease in premiums written between 2017 and 2018.
How to Get a Quote Online
Getting a quote from Nationwide is fast and user-friendly. Before you get started, be ready to provide the following items:
Date of birth
Contact information (name, phone number, address)
Social security number
Vehicle information
Keep scrolling our Nationwide auto insurance review for a step-by-step guide to retrieving your online quote.
Step #1 – Go to the Nationwide Website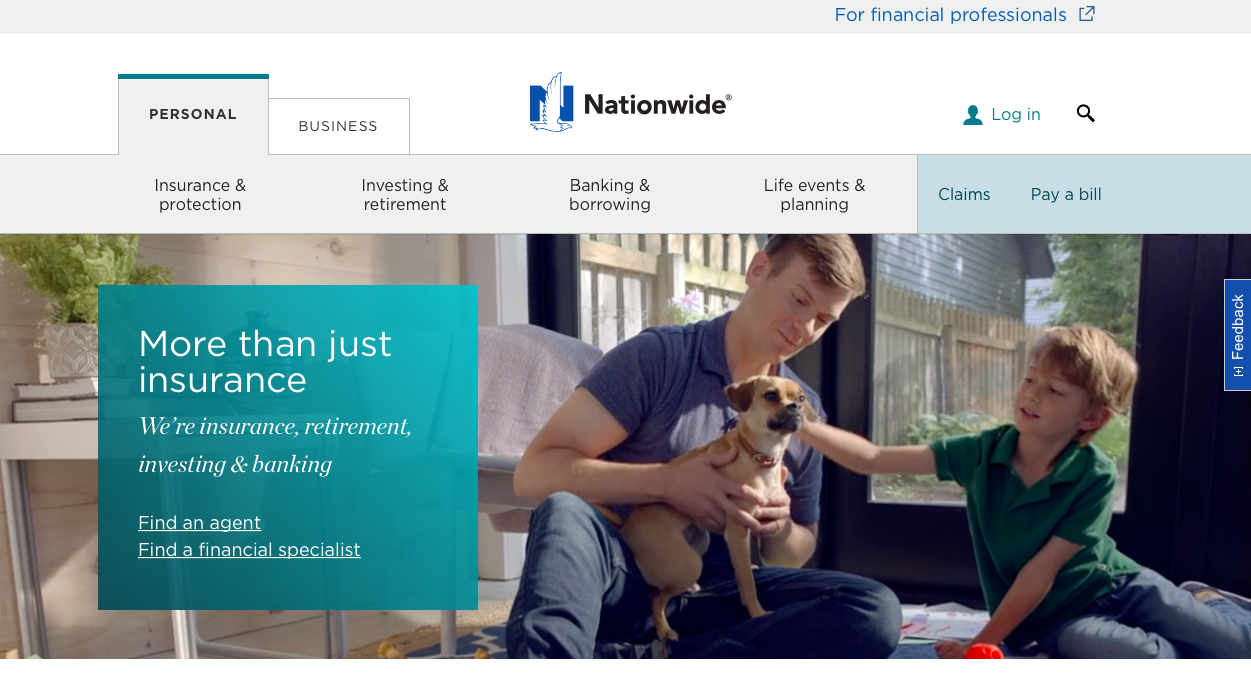 Open a new webpage and navigate to the Nationwide website here. Scroll down to the middle of the page where you'll see the following quote section.
Click on the auto icon.
Step #2 – Enter Your Zip Code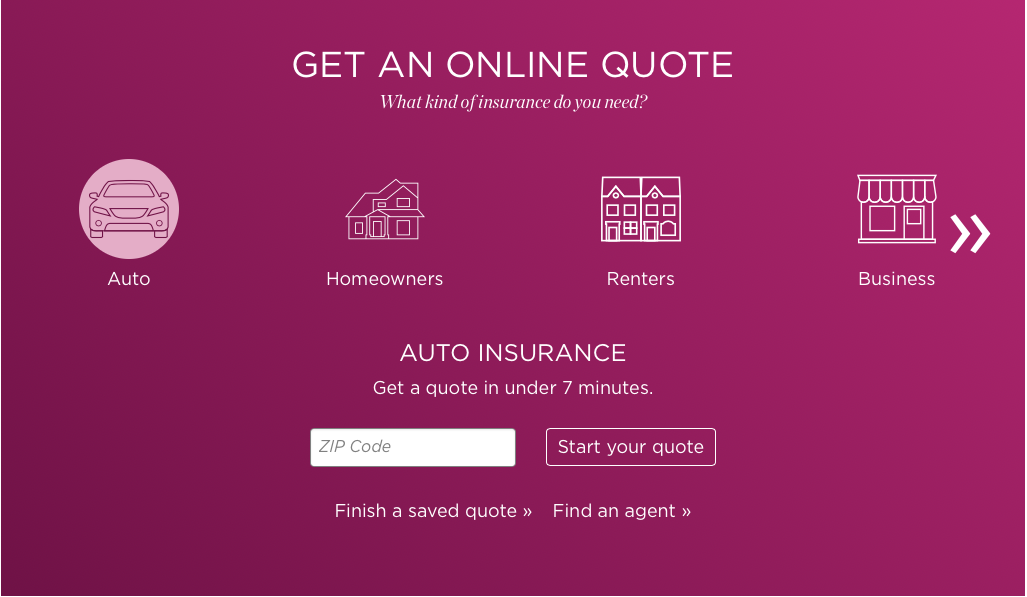 Enter your zip code in the box and hit "Start Your Quote".
Step #3 – Enter Your Personal Information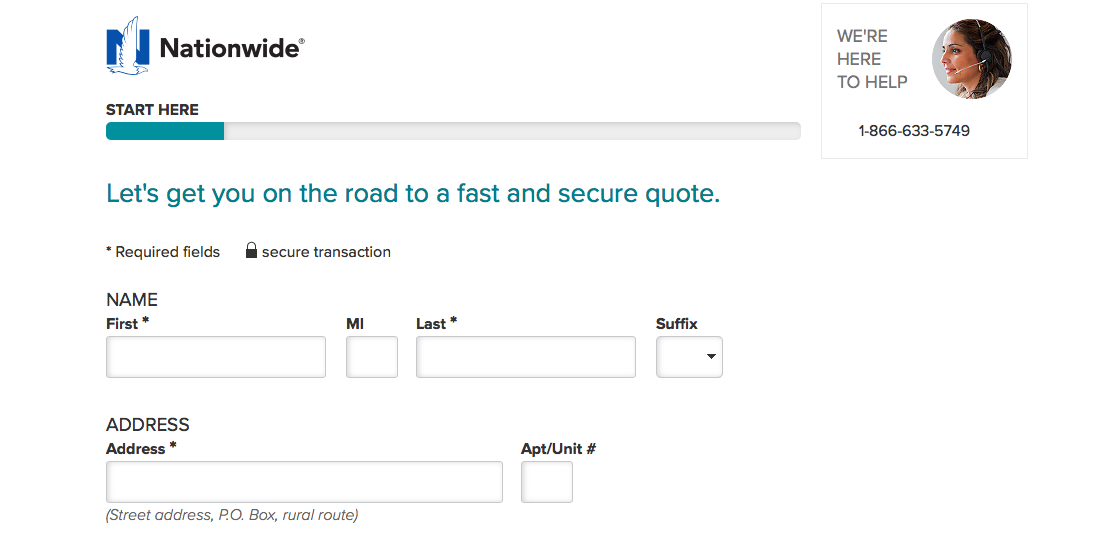 Enter your name, address, date of birth, email address, and phone number. Click "Continue".
Step #4 – Choose Vehicles to be Included in the Quote

Based on the information you provided, you'll be prompted to select from a list of possible vehicles for your new policy. You can also add vehicles. Choose the vehicle(s) you want to be included in the quote and hit "Continue".
Step #5 – Fill in the Vehicle Information

Next, you'll need to complete the vehicle information for the cars you selected. Once done, select "Continue".
Step #6 – Fill in Driver Details

At this step, you'll be prompted to confirm some of the personal information previously provided, along with other key details including marital status and previous accidents and violations, if applicable.
You also have an option to add another driver to the quote if you missed it on the prior step.
Once finished, select "Continue" to proceed.
Step #7 –Provide Information Regarding Prior Insurance

Here, you'll provide details about your current or prior insurance policy, including the date coverage ends, how long you've been with your current insurer, and your chosen coverage limits.
Select "Continue".
Step #8 – Select Discounts and Finish Your Quote

At this final step, any discounts triggered by the information you've provided will be revealed, and you'll have the opportunity to select other discount opportunities.
Once you're ready, select "Continue" to complete your quote. You'll see a list of potential discounts and coverage options. If you're ready to purchase your policy then and there, select your coverages and navigate to the "Purchase" button at the bottom to proceed.
Enter your ZIP code below to compare auto insurance rates.
Secured with SHA-256 Encryption
Design of Website and App
You've made it this far! Keep reading our Nationwide auto insurance review for our honest breakdown of this insurer's website and app.
Website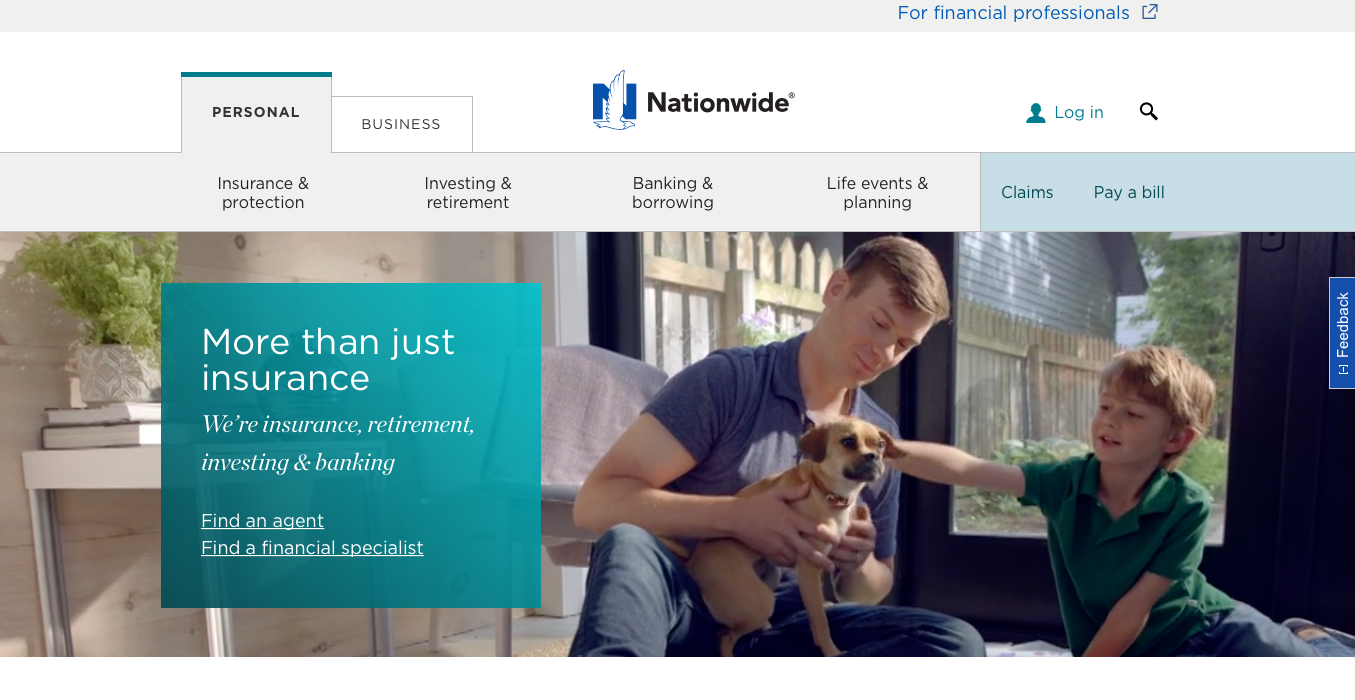 Nationwide's website is well-designed and easy to navigate. At the top of the homepage, you can navigate to everything from various insurance products to account login to the claims page.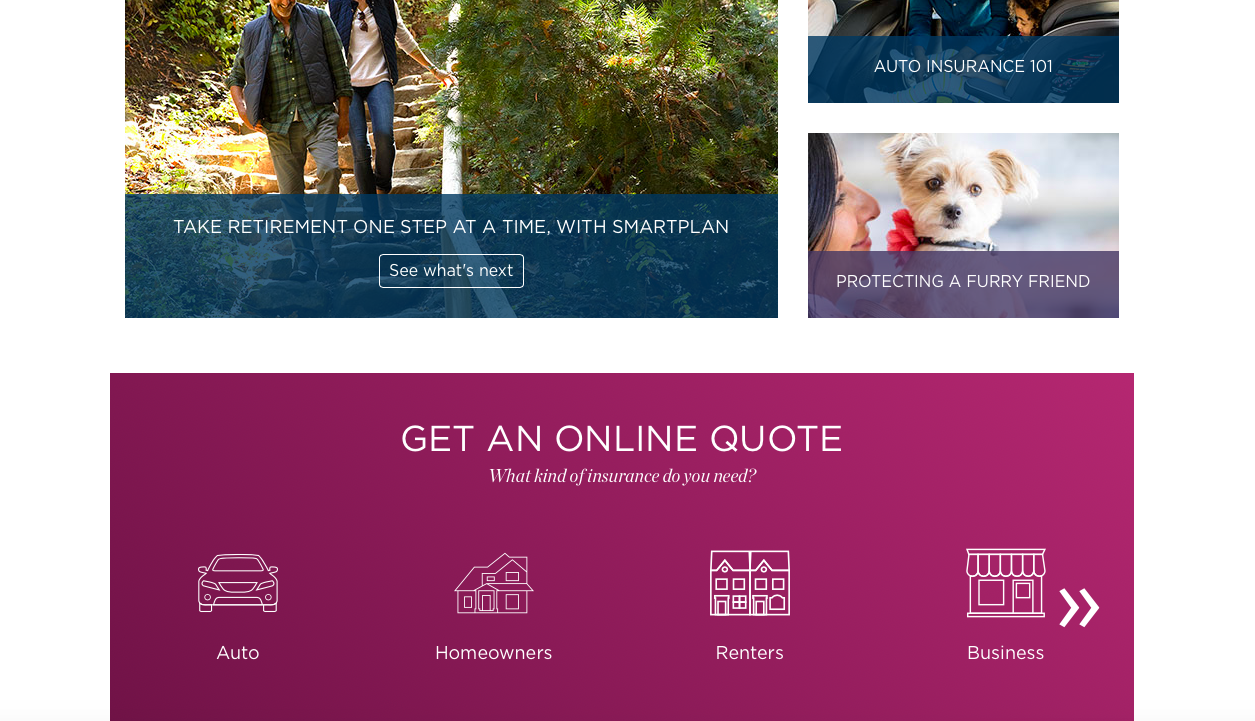 Scroll further down and you'll see the above, where you can learn more about retirement, auto insurance basics, and start an online quote.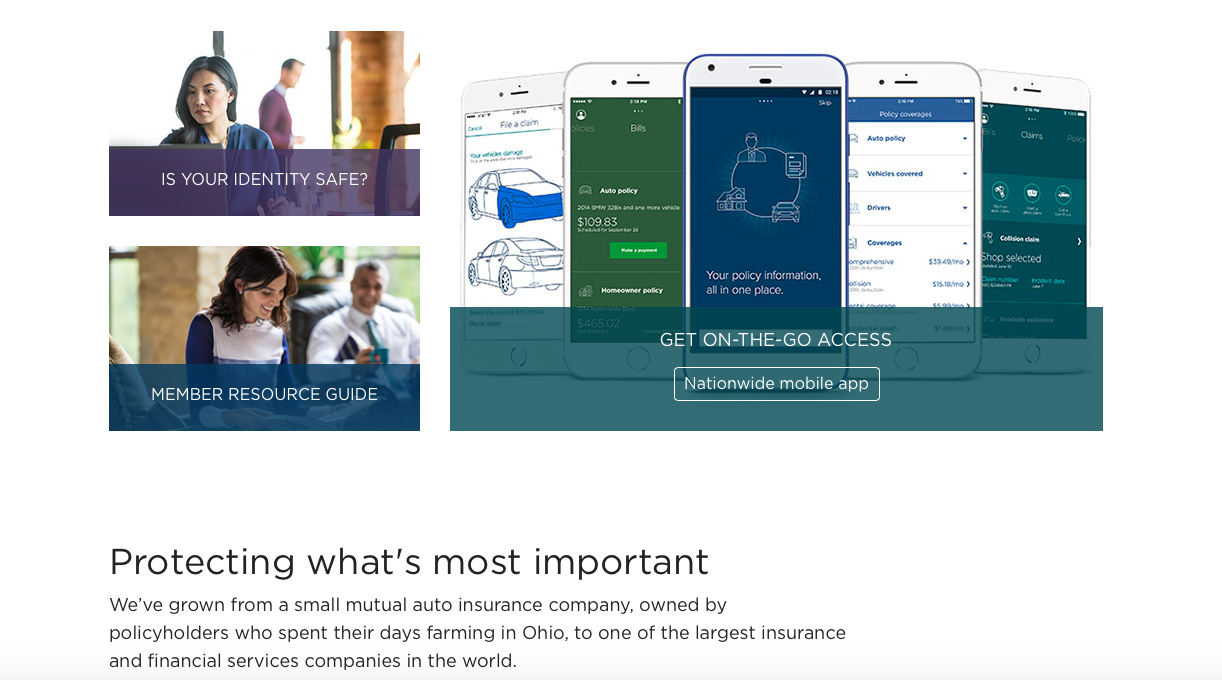 Keep scrolling towards the bottom of the homepage to learn more about Nationwide's mobile app and access other helpful resources.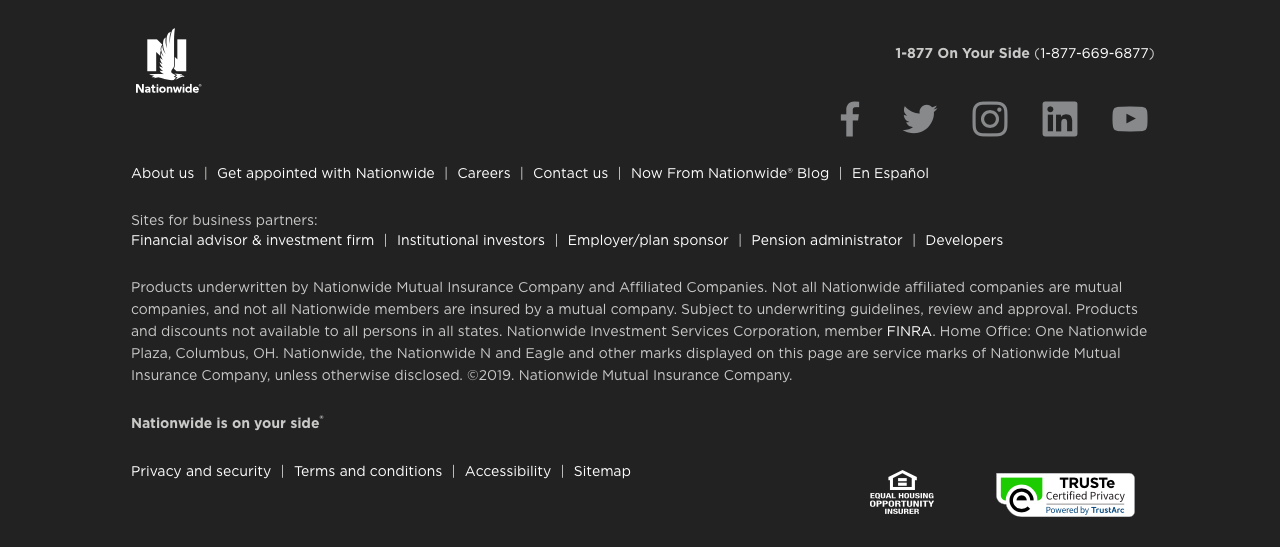 At the very bottom of the homepage, you can click through to Nationwide's social pages, careers page, Contact Us page, About Us page, and other helpful links.
How easy can you find answers?
Finding answers is quick and effortless with Nationwide's website. With a simple click or hovering your mouse over a dropdown menu, you can find the answers you need in moments.
Is the design a plus or minus?
The design is basic enough that it makes it easy to find what you need but still colorful and aesthetically pleasing to set a professional yet welcoming tone.
Mobile App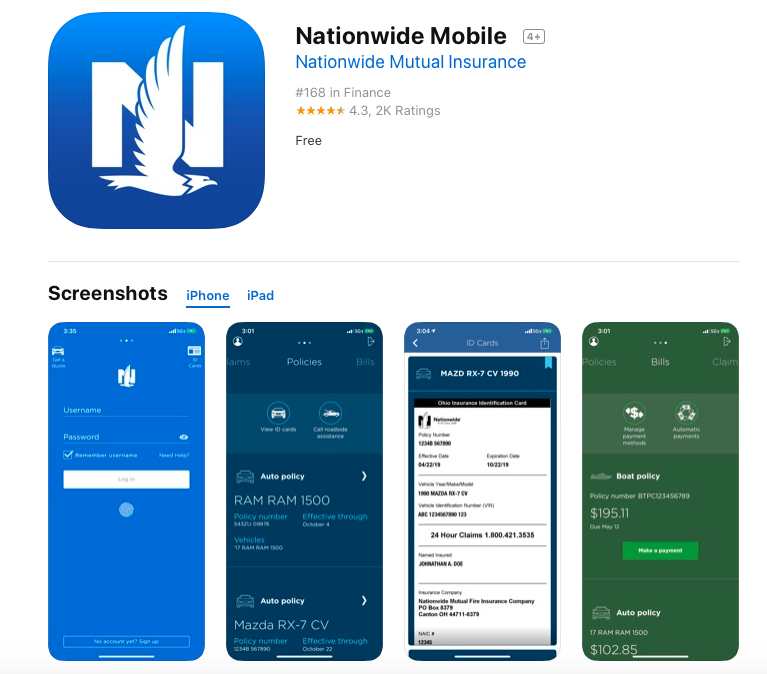 Nationwide's mobile app is available on Android,™ iPhone® and iPad®. Through the app, you can make payments, manage your payment methods, file a claim, save ID cards, get claims status info, request roadside assistance, and more.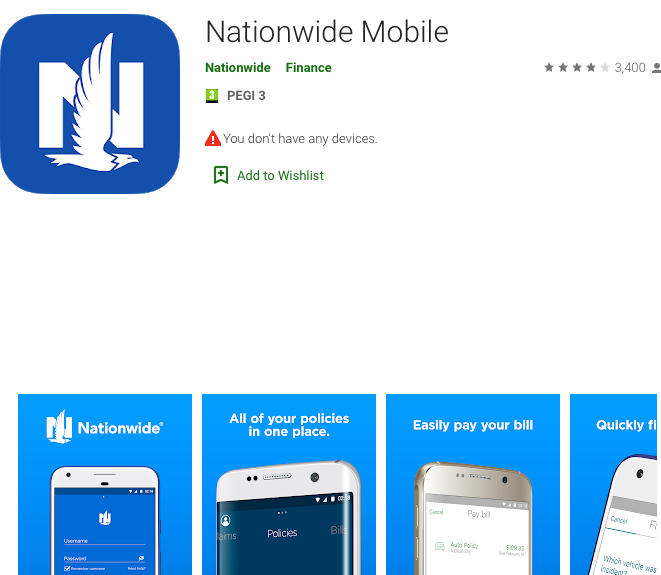 The App Store version has a 4.3-star rating based on approximately 2,000 ratings, while the Google Play Store has 3,400 reviews for a 4.0-star rating at the time of this Nationwide auto insurance review.
A few users have noted complaints with pages not loading and the app freezing on the login screen, but overall, most reviews are positive.
How easily can you manage your account using just the app?
You can take care of many of your essential insurance needs on the go through the app, from requesting roadside assistance to filing a claim to getting an insurance quote. The app is easy to use and enables you to manage your account from anywhere.
Is the design a plus or minus?
The design itself is simple and easy to navigate, but based on user reviews, it looks like the app could use some improvement in terms of loading time.
Multiple users have commented that the app loads very slowly or freezes, which of course could diminish user experience.
Pros and Cons
Check out the pros and cons we've listed out below for a quick recap of our Nationwide auto insurance review.
The Bottom Line
So, you might be asking yourself, what is the bottom line? In terms of financial strength, ratings from numerous renowned agencies such as A.M. Best and Moody's have affirmed Nationwide's superior financial strength.
The company received mixed consumer reviews in J.D. Power's study. However, Consumer Reports' study indicated wide consumer satisfaction and the NAIC revealed a decline in customer complaints in recent years.
The company's ongoing commitment to community involvement and giving back is evidenced further by its highly positive employee reviews and numerous awards and accolades.
Notably, the company's auto insurance rates hit right in the middle of what other top carriers in the U.S. market charge consumers. For certain rating factors such as driving and credit history, Nationwide assesses some of the most cost-effective rates in the market currently.
While Nationwide's premiums written have seen some shifts in recent years, its decline in loss ratio is great news for this carrier's financial strength and future revenue — which is also excellent news for consumers and make it this company an option worth looking into.
Enter your ZIP code below to compare auto insurance rates.
Secured with SHA-256 Encryption
Company Car Insurance FAQs
Still have some questions? Don't miss our Q&A below!
What do you need to obtain a Nationwide quote?
As with other major insurance companies, you'll need to furnish your name, date of birth, address, phone, and email to get a quote.
You'll also need to provide your vehicle information and any accident history. In just a few minutes you'll have a range of discount options in front of you and the option to purchase coverage.
How do you qualify for the Good Student discount?
Drivers between the ages of 16 and 24 who are enrolled in high school or college full time could qualify for the Good Student discount. Students must maintain at least a B average grade.
Does Nationwide auto insurance cover hail damage?
Assuming you purchase comprehensive coverage for your Nationwide policy, this would cover numerous types of damage stemming from incidents other than a collision or rollover, with hail damage being one of them.
Does Nationwide auto insurance include roadside assistance?
You can purchase roadside assistance coverage as an add-on to your Nationwide policy. With roadside assistance, you'll receive a range of service options including battery jump starts, gas delivery, lockout aid, towing up to 15 miles, and flat tire replacement.
Is Nationwide auto insurance expensive?
The cost of coverage with Nationwide will depend on a range of factors, including your vehicle type, age, gender, and driving history. By utilizing all the discounts available to you, you could enjoy noticeably lower rates than you otherwise would.
Save yourself time and stress searching from auto insurance — starting today.
Retrieve quotes for multiple car insurance companies in one place with our fast, easy, and FREE rate tool. Enter your zip code now to start your quote.