The Ultimate Oklahoma Car Insurance Guide (Costs + Coverage)
Free Auto Insurance Comparison
Enter your ZIP code below to compare auto insurance rates.
Secured with SHA-256 Encryption
When you hear someone mention the state of Oklahoma, a few things may come to mind. You might think of the vast, grassy plains and big blue skies, or even the famous Broadway musical "Oklahoma!".
With such a severe and destructive weather phenomenon that lasts roughly from March to August each year, it is important to be prepared in every way in case a tornado hits close to home.
This includes making sure that you are prepared with the best car insurance policy possible in the event of the unexpected.
Finding the right car insurance policy is not always the easiest task, but that is what we are here for.
Scouring the web for Oklahoma automobile insurance? If you reside in Oklahoma City, Tulsa, Norman, Lawton, or Broken Arrow, you may get up to eight rate quotes from major insurers locally via AutoInsuranceEZ.com. Prices differ by insurer and you ought to compare rates thoroughly before you buy a policy. We'll make it easier to obtain the coverage to meet your needs.
To get a free quote for the best rates in your area, you don't have to go to the just click here.

Cheapest Car Insurance in Oklahoma
Choosing a car insurance policy is never easy, and it can vary depending on where in the country you are. If you reside in the Sooner State, you've come to the right place.
As a resident of Oklahoma, you are probably looking for a policy that will keep you protected amidst the severe weather patterns that can hit the midwest for months at a time.
Keep following along so you can find out which coverage policy is the best fit for you.
Oklahoma's Car Culture
With Oklahoma's landscape consisting of long, flat roads, farmland, and the occasional mountains, the Sooner State's car culture is very much a "truck culture".
In fact, the most popular vehicles to drive are the Ford F-150 and the Dodge Ram, according to John Nardini.
The long, open roads and the occasional rocky mountain terrain have made pick-up trucks the most popular and practical vehicle to own in Oklahoma.
With some of the most diverse terrain in the country, ATVs, dune buggies, and other off-roading vehicles are quite popular as well, and pick-up trucks help transport these vehicles.
Oklahoma Minimum Coverage
Oklahoma is considered a "fault" car accident state, meaning that the individual who caused the car accident is at fault and under financial responsibility to pay for any damages that result from the accident.
These damages can include injuries, lost income, vehicle damage, and any other financial losses that resulted from the car accident. When it comes to an individual who suffers any kind of injury or damage from an auto accident, they have three options to proceed with:
by filing a claim with his or her own insurance company, assuming that the loss is covered under the policy (in this situation, the injured person's insurance company will likely turn around and pursue a subrogation claim against the at-fault driver's insurance carrier)
by filing a third-party claim directly with the at-fault driver's insurance carrier
by filing a personal injury lawsuit in civil court against the at-fault driver
If you are responsible for any kind of auto accident, you will need liability coverage to cover the costs that you would be deemed responsible for.
Liability coverage would cover the costs of medical bills, property damage bills, and other costs of drivers, passengers, and pedestrians who suffer injuries or vehicle damage from an accident that you caused.
While liability coverage covers these costs for others affected by a car accident that you caused, in the state of Oklahoma it does not apply to your own personal injuries or vehicle damage.
In the state of Oklahoma, the required minimum amounts of liability car insurance coverage are as follows:
$25,000 for bodily injury or death of one person in an accident caused by the owner/driver of the insured vehicle
$50,000 for total bodily injury or death liability in an accident caused by the owner/driver of the insured vehicle
$25,000 for property damage per accident caused by the owner/driver of the insured vehicle
If you are in a car accident and no one else's coverage applies towards your losses, you will need additional coverage since your own liability coverage will not apply.
Collision coverage can cover repairs to your damaged vehicle and is optional in the state of Oklahoma.
Forms of Financial Responsibility
In Oklahoma, all drivers are required to carry a minimum amount of liability coverage which ensures financial responsibility in an accident.
This law ensures that all drivers will be covered for damages as the result of an accident caused by another driver, and vice versa.
Premiums as a Percentage of Income
If you are concerned about how much you will be spending on your premium in regards to your income, you can reference the table below. This will show you what percentage of your income in the state of Oklahoma will go towards your premium.
Over the course of three years, from 2012 -2014, insurance as a percentage of income stayed relatively the same, only dropping from 2.42 percent in 2012 to 2.41 percent in 2013 and 2014.
Compared to other surrounding states, Oklahoma's insurance percentage of income falls somewhere in the middle, maybe slightly on the higher side. In comparison to the countrywide average, Oklahoma's percentage falls below the average.
Use our tool below to calculate your actual percent of income you pay for car insurance.
Core Coverage
Compared to the national average, Oklahoma's core coverage for an auto insurance policy is higher, according to the table below.
As we covered before, liability coverage is used to cover any damage you may have caused to another person and/or their vehicle in an auto accident.
On the other hand, comprehensive and collision insurance is used to cover your own damages on the basis of an accident or any other factor that you cannot control, such as the weather for example.
Additional Liability
Compared to the national average of car insurance costs, Oklahoma's average cost per year is slightly higher according to the National Association of Insurance Commissioners. Oklahoma also has the 18th most expensive premiums in the United States.
Loss ratio can be defined as the ratio of paid insurance claims compared to premiums earned.
As of 2014, Oklahoma's loss ratio compared to its pure premium was about 65 percent. When the loss ratio is over 100 percent this means that the company is losing money, but if it is too low this means that the company isn't paying claims.
When it comes to uninsured motorists in Oklahoma, they make up about 12.6 percent of the number of uninsured motorists nationwide. In the state itself, uninsured motorists make up 25.9 percent of motorists in the state.
Oklahoma does not require residents to carry uninsured motorist coverage, but it can be purchased as a policy option for an additional charge.
Add-ons, Endorsements, and Riders
There are also additional and affordable extra add-ons that can be included in your coverage plan in Oklahoma as well! If you want to expand your coverage plan to include these add-ons, you can choose from the list below:
Guaranteed Auto Protection (GAP)
Personal Umbrella Policy (PUP)
Non-Owner Car Insurance
Modified Car Insurance Coverage
Pay-As-You-Drive or Usage-Based Insurance
-Demographic Rates – Male vs. Female vs. Age
When it comes to the cost of car insurance in Oklahoma between males and females and their age, younger male drivers are charged the most while older female drivers are charged the least.
For instance, a 25-year-old male's car insurance will cost the most, followed by a 25-year-old female's insurance costing the second highest, a 60-year-old male's costing the second-lowest, and finally the 60-year-old female's car insurance costing the least.
In Oklahoma, younger male drivers are actually expected to be the most irresponsible drivers, which is why their car insurance is higher than that of a younger female.
Even when it comes to older drivers, in Oklahoma a male's insurance will still cost more than that of an older female around the same age.
It may seem surprising that car insurance rates differ between genders, as most would think gender would have nothing to do with the rates of your car insurance.
Surprisingly though, it is actually the opposite in most other states where females typically have higher insurance rates than males.
Cheapest Rates by Zip Code
Did you know that the area that you live can be a factor in how expensive your car insurance is? Take a look at the table below to find your zip code and compare your rates with other areas:
Cheapest Rates by City
You can even figure out how expensive your car insurance will be based on the city you live in. Take a look at the table below and find your city to see how expensive your car insurance will be:
You can tell by looking at the data from both the zip codes and cities that Tulsa and Oklahoma City have the most expensive car insurance rates. Smaller, lesser-known areas will guarantee cheaper insurance rates.
Enter your ZIP code below to compare auto insurance rates.
Secured with SHA-256 Encryption
Best Oklahoma Car Insurance Companies
Finding the right car insurance company is not always easy as there are so many to choose from. It can be difficult and time-consuming to research every insurance company and to compare their rates and policies. But, have no fear- we are here to help.
Keep following along with us as we give you information on all the best car insurance companies.
We will cover which companies have the best ratings, as well as which companies have the most complaints. No matter what you are looking for, we've got you covered.
We also take a look at data provided by Quadrant. We examine the average rate per company when it comes to level of coverage, length of commute, credit score, and driving record.
The Largest Companies Financial Rating
AM Best is a global credit rating agency that is a trusted source of information when it comes to insurance companies worldwide.
Their analysis and research into thousands of companies offer a unique perspective on which company to choose from when looking for an insurance policy.
Take a look at the list of companies and the ratings they received from AM Best in this table.
Companies with Best Ratings
According to a study done by J.D. Power, auto insurance customers are the most satisfied with their carriers because of positive customer service experience.
Despite increasing premiums, customers are happy with digital and live interactions with their carriers which makes for better customer experience.
Take a look at the table below to find the car insurance companies with the best ratings in Oklahoma, according to a 2018 J.D. Power auto insurance study: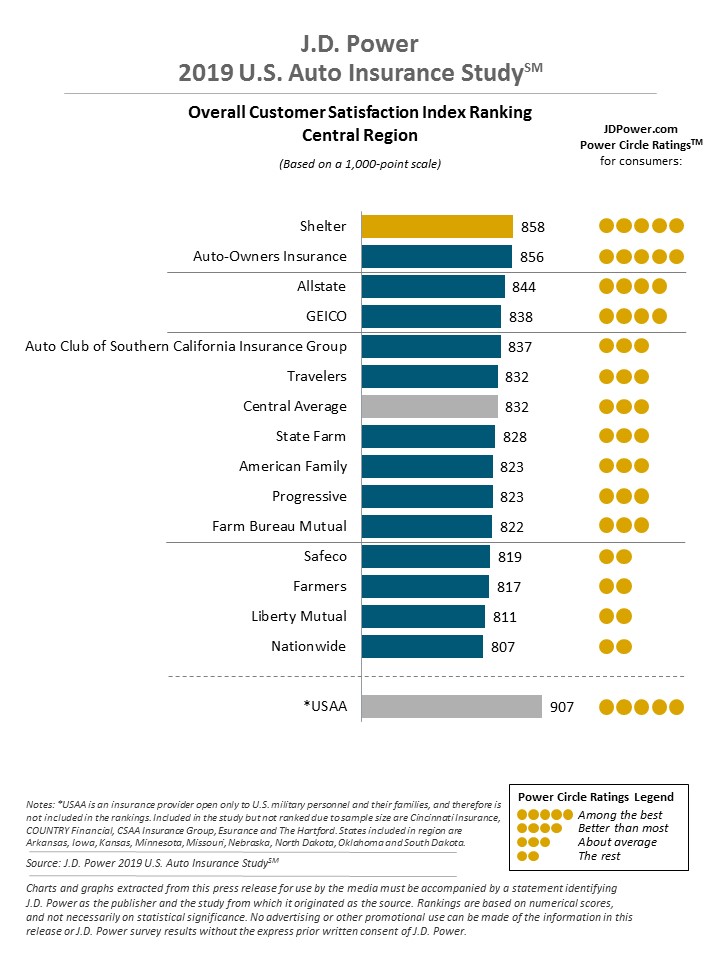 Companies with Most Complaints in Oklahoma
While it is always good to consider the positives of an insurance company when trying to choose a carrier, it is also important to look at the negatives when making this decision as well.
The number of customer complaints that a company receives can be an indicator of how well the company communicates with its customers.
The table below displays complaint data last published in 2017 on the Oklahoma Insurance Commissioner's site.
Cheapest Companies in Oklahoma
The table below indicates the car insurance companies and their rates as a percentage compared to the national average.
Commute Rates by Companies
Did you know that the length of your commute can increase your insurance rates? Typically, if you have a long commute and are using your car often, some companies will take this into account and increase your coverage.
Luckily though, in Oklahoma car insurance providers don't charge significantly more just because of a longer commute. Take a look at this table to see the comparison between Oklahoma average annual rates and annual mileage/commute length.
Coverage Level Rates by Companies
Are you wondering how your rates will change depending on the amount of coverage that you have? Well, the answer may seem simple. You will usually see costs decrease if you seek out less coverage.
This might seem obvious, but this may not always be in your best interest in the long run. The less coverage you seek out, the less you will be covered in case of a bad accident where you might eventually need that coverage.
Take a look below at the list of some of Oklahoma's insurance carriers and their coverage type compared to their annual rates.
As you can see from this table, State Farm is the best combination, as it offers high coverage with the lowest annual average rates compared to the other carriers with high coverage.
Credit History Rates by Companies
When looking for an insurance plan in Oklahoma, a good credit score is something that is very important to have. Like most things, the higher your credit score the better. With a higher credit score, you are more likely to receive better rates from the providers you want.
Experian reports that the average credit score for drivers in Oklahoma is 656. This means that Oklahoma is one of the top 10 states in the country with the lowest credit scores.
Driving Record Rates by Companies
As you probably already know, your driving record will definitely impact your insurance rates. The better the driver you are (little to no car accidents), the lower your rates will be. If you happen to get into a lot of fender-benders, your rates will increase.
The best way to keep your rates low is to make sure that you are following Oklahoma's driving laws.
-Largest Car Insurance Companies in Oklahoma
Take a look at this table to see the largest car insurance companies in Oklahoma and their direct premiums.
Number of Insurers by State
State Laws in Oklahoma
As mentioned before, the best way to keep your rates low and in control is to ensure that you are complying with Oklahoma's driving laws.
Every state is different, as their policies on speed limits, driving under the influence, and even seat belt usage can vary. It is important to become acquainted with these laws before getting on the road in any state.
By following Oklahoma's state driving laws, you are taking preventative measures that will save you from getting into any trouble on the road, which will only save you money in the long run.
If you are looking to familiarize yourself with Oklahoma's car insurance laws, then look no further! We've got you covered on everything from insurance to the rules of the road.
Car Insurance Laws
How State Laws for Insurance are Determined
Take a look to find out how Oklahoma's laws for insurance are determined.
Windshield Coverage
When it comes to windshield coverage in Oklahoma, there isn't much to it. Some insurers may require a specific repair shop, but it depends on the insurer.
High-Risk Insurance
In Oklahoma, "high-risk" drivers are those that have been in an accident. Unfortunately, accidents happen to the best of us, including the most careful drivers.
Once you get into an accident in Oklahoma, as a high-risk driver you need to fill out an SR-22 form to apply for high-risk insurance.
In Oklahoma, you need to fill out an SR-22 form if:
Your license has been suspended or revoked due to a DUI/DWI
You have no insurance and are in a vehicular accident
You have been involved in an accident that's caused severe injury to another driver
You are caught driving while uninsured
There are a significant number of points on your driving record
Low-Cost Insurance
In some states, low-income families are provided with a lower-cost car insurance program, but Oklahoma does not provide its low-income families with a government-sponsored car insurance program.
But, there are still plenty of programs available to fit any kind of lifestyle.
To find a car insurance plan that works for you and your family, click here to compare quotes from the top insurance carriers in your area.
Automobile Insurance Fraud in Oklahoma
About 10 percent of the insurance industry's incurred losses each year can be attributed to fraud. When it comes to insurance fraud, it can be committed by multiple different parties involved in insurance transactions.
This can include applicants, policyholders, third-party claimants, etc.
Statute of Limitations
In Oklahoma, you have two years to file a claim to receive compensation from your insurance provider if you get into an accident. This includes both personal injury and property damages.
It is important to file the claim as soon as possible to ensure that all injuries, damages, and losses get recorded.
Vehicle Licensing Laws
The REAL ID Act establishes minimum security standards for license issuance and production and prohibits Federal agencies from accepting for certain purposes driver's licenses and identification cards from states not meeting the Act's minimum standards.
Oklahoma has an extension for REAL ID enforcement, which allows federal agencies to accept driver's licenses and identification cards from the state of Oklahoma at federal facilities, nuclear power plants, and federally regulated commercial aircraft until October 10, 2019.
Penalties for Driving Without Insurance
In Oklahoma, the penalties for driving without insurance include a fine of $250.00, jail time for up to 30 days, and license suspension with a $275.00 reinstatement fee.
Police can seize license plates and assign temporary plates and liability insurance which would go into effect for 10 days.
They can also compound the vehicle if they choose to. If the car is compounded, the owner must also pay for the towing and storage fees.
Drivers must have proof of insurance to both drive and register a car in the state of Oklahoma, and you have to present proof of insurance to secure an Oklahoma license plate.
Teen Driver Laws
To obtain your learner's permit in Oklahoma, you have to be at least 15 years and 6 months of age. From here, you have to have your permit for at least another 6 months before going for your license.
You have to be at least 16 years of age with a minimum of 50 hours of supervised driving to legally take a driving test to obtain your license. 10 of these supervised driving hours need to be at night.
Once you receive your license, for the first year you cannot drive unsupervised between the hours of 10 p.m. – 5 a.m. and you cannot have more than one passenger in the car.
-Older Driver License Renewal Procedures
Renewing your license in the state of Oklahoma is quite simple, and there aren't many rules to it. Every resident in the state with a driver's license must renew their license every four years.
You cannot renew your license over the internet or by mail. Older drivers must also pass a vision test to renew their license as well.
New Residents
If you are new to the Sooner State, you'll need to secure a license plate and car insurance policy within the state. Share your new address with your provider and make sure that you have the minimum coverage required in Oklahoma.
You will also want to check with your provider to see if you need to take your vehicle to the Oklahoma Department of Public Safety (DPS) to get inspected to ensure that it is safe on the road.
-Rules of the Road
Like any other state, it is in your best interest to try and keep the rules of the road in mind while your driving- it is for your own safety.
Fault vs. No-Fault
Like we mentioned before, Oklahoma is an at-fault state. To refresh your memory, this means that when you get into an accident, one of the drivers will be determined to be "at-fault".
The at-fault driver is then responsible for covering the other driver's damages with their own insurance.
Seat Belt & Car Seat Laws
Each state has its own seat belt and car seat laws to protect drivers and passengers, including young children who may also be in the vehicle as well.
In Oklahoma, children under 2 years of age must be in a rear-facing child safety seat or until they outgrow the manufacturer's height/weight requirements. Children must also at least be 9 years of age to be able to sit in the front passenger seat.
Keep Right and Move Over Laws
In Oklahoma, left lane driving is prohibited if you are traveling under the speed limit.
Speed Limits
The speed limits in Oklahoma generally hover around 70-75 mph, depending on where you are. This table below shows the speed limits on different types of roadways:
Ridesharing
Since Uber and Lyft have become quite popular over the past few years, drivers on these apps have to register their vehicles to be able to rideshare. The following insurers are the only companies that allow drivers in Oklahoma to register their vehicles to rideshare:
Allstate
Farmers
Geico
Mercury
State Farm
USAA
Safety Laws
The most important part of driving on the road is knowing how to stay safe. A huge safety concern of getting on the road is watching out for drivers who may be under the influence of alcohol and/or marijuana. Check out the info below that shows Oklahoma's DUI Laws:
DUI Laws
In Oklahoma, if you get caught driving under the influence one time, it usually registers as just a misdemeanor. If it happens a second time, you can receive a felony. DUI's have more severe consequences the more often they happen, so it's best to avoid driving drunk altogether.
The consequences for drinking and driving are the same as when driving under the influence of marijuana because Oklahoma has not yet legalized the use of THC for medical or recreational purposes.
Distracted Driving Laws
In today's day and age of iPhones and the ability to send text messages quickly, texting and driving can be just as dangerous as driving while intoxicated.
Texting while driving is banned for all drivers in the state of Oklahoma, which is in the best interest and safety of everyone on the road.
Driving in Oklahoma
Last but not least, we are going to cover a few more serious topics to make sure you are best prepared when getting on the road in Oklahoma.
We will be covering vehicle theft in the state of Oklahoma, as well as different statistics on road fatalities in the state as provided by the National Highway Traffic Safety Administration. These topics are important to know, but of course, we hope that this information is never actually needed.
Vehicle Theft in Oklahoma
The table below shows the top 10 vehicles in Oklahoma that gets stolen. It appears that the bigger a vehicle you own in Oklahoma, the more likely it is to draw unwanted attention.
Pick-up trucks are popular vehicles of auto theft, as this may have to do with the fact that they are generally the most popular vehicle to drive in this state.
Oklahoma City and Tulsa are the top two cities for vehicle theft in Oklahoma, which makes sense as they are two of the largest cities in the state. These two cities are also known to have the highest insurance rates in the state, as we covered earlier.
Road Fatalities in Oklahoma
When it comes to fatalities on the road, once again Tulsa and Oklahoma City are the worst offenders for road fatalities.
Fatalities (All Crashes) By County
The counties in Oklahoma presented below are home to the most amount of road fatalities in the state:
Five-Year Trend for the Top 10 Counties
Below, the table shows the five-year trend for the top 10 counties in Oklahoma for fatalities beginning in 2013:
Fatalities Involving Speeding by County
Fatalities in Crashes Involving an Alcohol-Impaired Driver
Unfortunately, drunk driving is still a large factor in car crashes and fatalities every year. The table below shows the number of fatalities in crashes involving a driver under the influence of alcohol in different counties in Oklahoma:
Teen Drinking and Driving
With teenagers experimenting in alcohol use and becoming new drivers, they are sadly the cause of a majority of these fatalities caused by drunk drivers.
EMS Response Time
Despite the unfortunate event of drunk driving fatalities in Oklahoma, the EMS response times in the state are luckily decently quick. The rural and urban EMS times in Oklahoma are shown below:
And there you have it! These are all the major points that you need to know when it comes to looking for a car insurance policy in Oklahoma.
If you would like to get a free quote or compare rates in your area in the Sooner State, enter your zip code to get started.