6 Events in History that Caused Fatal Crash Drops [Coronavirus Included]
Due to the coronavirus lockdowns, traffic in Detroit has dropped over 60 percent, and Michigan's traffic overall has also seen a major decreased of 55 percent. In our ranking of events in U.S. history that caused fatal crash drops, the COVID-19 pandemic ranked 1st with a shocking 100 percent decrease in fatal traffic accidents and much fewer deadly car crashes occurring across America than the typical daily average.
UPDATED: Nov 27, 2023
Fact Checked
Free Car Insurance Comparison
Compare Quotes From Top Companies and Save
Secured with SHA-256 Encryption
Chris Abrams
Licensed Insurance Agent
Chris is the founder of Abrams Insurance Solutions and Marcan Insurance, which provide personal financial analysis and planning services for families and small businesses across the U.S. His companies represent nearly 100 of the top-rated insurance companies. Chris has been a licensed insurance agent since 2009 and has active insurance licenses in all 50 U.S. states and D.C. Chris works tireles...
UPDATED: Nov 27, 2023
It's all about you. We want to help you make the right coverage choices.
Advertiser Disclosure: We strive to help you make confident insurance decisions. Comparison shopping should be easy. We partner with top insurance providers. This doesn't influence our content. Our opinions are our own.
Editorial Guidelines: We are a free online resource for anyone interested in learning more about auto insurance. Our goal is to be an objective, third-party resource for everything auto insurance related. We update our site regularly, and all content is reviewed by auto insurance experts.
UPDATED: Nov 27, 2023
It's all about you. We want to help you make the right coverage choices.
Advertiser Disclosure: We strive to help you make confident insurance decisions. Comparison shopping should be easy. We partner with top insurance providers. This doesn't influence our content. Our opinions are our own.
On This Page
UPDATED: Nov 27, 2023
Fact Checked
A brief overview...
Mother nature ruled our ranking of the top 5 events that reduced fatal crashes
One election in the past 15 years found its way into the ranking
Traffic is down in the United States 38 percent due to the coronavirus
There are some events that change the scope of the world, from its financial systems to the relationships between countries to the demands placed on certain systems like health care. That's where we are in this day and age with the coronavirus, also known as COVID-19. The novel coronavirus has changed most everything we do, from where we work to who we can socialize with.
Our team of researches analyzing a major travel indicator: fatal accidents. We researched through the past two decades to figure out which events caused the largest fatal crash drops by comparing the fatal crash count for the event to the fatal crashes for those same dates in the previous year.
COVID-19  has affected the state of our streets and how far we move. See that chart to start the article? It shows just how much we have declined in our movement since March, according to the state. In many states, our average distance moved has dropped by 100 percent or less.
In addition to fatal crashes, COVID-19 has affected industries and their companies across America, including auto insurance companies.
Important Fact: Fewer car accidents mean fewer insurance claims being filed. Fewer claims filed mean less work (and money) for your auto insurance provider.
But we know what you're thinking: How does the coronavirus impact our roads, our day-to-day driving, and, just how safe it is to drive during the coronavirus pandemic?
Will it be true that the novel coronavirus reduces traffic accidents, particularly fatal ones? If true, it may turn out to be a coronavirus silver lining, a positive by-product of our coronavirus stay-at-home orders and coronavirus lockdowns.
As we'll find in the ranking, to reduce fatal crashes and lower the motor vehicle fatality rate, large parts of American society must be affected and few events qualify. Some events can make car crashes deadlier as well.
We've got all that covered and more. We start off with a list of six events in history that have reduced fatal crashes (coronavirus included), from presidential elections to hurricanes, and more.
Due to decreased mobility, now more than ever, finding the right auto insurance company for you is important and comparing auto insurance companies in your area is a great way to start.
The quickest and easiest way to save on rates, in general, is to compare live quotes from different insurance companies. Enter your ZIP code into our free online quote comparison tool to do just that and save money on auto insurance today.
Okay, now let's dive into the top historical events changing traffic and saving lives on U.S. roads. Put your mask on and bring an umbrella. We're in for a ride.
A Benefit of COVID-19: Decline in Deadly Crashes
There are some events in U.S. history that raise traffic. There are some that lower them.
When it comes to the United States in the past 15 years, we looked at different events to see their total fatal crashes, then looked at the fatal crashes for days corresponding to the event's days and week from a year prior.
Our researchers then created a ranking of the six events in history that reduced fatal crashes. It's morbid, sure, but helpful information to know.
Keep reading to find out.
#6 – Donald Trump's Election
When in History: November 2016
Our first event in history over the past 15 years that reduced fatal crashes is one that might surprise you: Donald Trump's election. The 2016 election season debuted without a clear front-runner in the Republican Party.
At times, there were over 10 candidates, separated by just small percentage points, vying for the nomination. Donald Trump emerged from that mix with a brand of common talk mixed with controversy.
His opponent? Hillary Clinton, who had been around national politics as long as her husband, Bill Clinton, had his initial presidential campaign. The 2016 presidential election season was ugly, full of bitter discourse that some said they hadn't seen in decades.
There was vitriol thrown at both candidates, controversy, records questioned. America was wound up and furious with both sides of the political spectrum throwing rocks at each other.
In the end, Donald Trump was left standing, with one side of the nation in joy and the other in angry defeat. The election had polarized the election, for years to come. What was a positive outcome of the election?
A reduction in fatal crashes.
To go with the methodology, we looked at the corresponding days for the corresponding week for the day of the election and two days after. For the event, the dates were November 8-10.
The corresponding days (Tuesday, Wednesday, and Thursday) and week (second week of November) were November 10-12.
For the presidential election day and two days after, there were 280 fatal crashes. For the prior corresponding time period, there were 298.
There was a reduction of 18 crashes or 6.4 percent. Why was there this big of a drop? One theory is that the election was so polarized and filled with so many strong emotions, that the conclusion of the election led to a collective breath, which made people calmer or more relaxed drivers.
Whether Donald Trump's presidency is good or bad for the nation is for history to decide. One benefit is that the election reduced fatal crashes. Which is always a good thing.
In this video, ABC covers the 2016 election coverage, including the election results from the swing state of Florida, along with the different reactions of the party camps. The supporters of the Trump campaign in the video were exuberant, while the Democrats were more somber.
Florida was considered a major state in 2016 that could swing the election, as it has been for a number of elections. Breaking Donald Trump's way was considered a big win for that campaign.
#5 – Hurricane Sandy
When in History: October 2012 Beginning as a tropical depression in the northeast coast of Nicaragua in the Caribbean Sea, Hurricane Sandy would mow through the Caribbean, setting off mudslides, before battering the East Coast with a mix of rain, winds, and surge abetted by a full moon.
What remained after Sandy was finished was financial damage, destroyed housing complexes, and an exposure of the disaster-preparedness of many East Coast communities, which were ill-equipped to handle the storm.
What also occurred as a result of Hurricane Sandy? A reduction of overall fatal crashes.
To calculate this measure, we looked at 17 states which were all affected one way or another by this superstorm: Connecticut, Delaware, Washington, D.C., Florida, Illinois, Maryland, Massachusetts, Michigan, New Jersey, New York, North Carolina, New Jersey, Pennsylvania, South Carolina, Virginia, West Virginia, and Wisconsin.
This includes the small town of Gaithersburg, Maryland, which has a low number of fatal auto accidents per year, and other towns across the coast. Our dates for the sample went from the beginning of its battering of America (October 29) to its end (October 31) and then the nearest corresponding weekday set for the previous year (October 23-25).
For those states and for that time during Hurricane Sandy, there were 89 fatal crashes. For the prior year, there were 100 crashes. That's a drop of 11 crashes during Hurricane Sandy, which amounts to a reduction of 11 percent. Another fortunate occurrence?
The panhandle of Florida and towns across the inside-south coast of America, such as Gulfport, Mississippi's cheap auto insurance rates, was not hit. This is likely due to people having an early warning and possible evacuation notice of the storm, with the ability to stay inside and waiting out the storm.
This devastating storm led to fewer people on the road and fewer fatal crashes.
Get your best auto insurance rates by plugging your information into our free insurance quote machine. Quotes are 100 percent individualized to you . . . your driving habits, your vehicle, and where you live.
In this video, ABC News covers the devastation of Hurricane Sandy as it hits Atlantic City, with intrepid reporters out interviewing people and standing in knee-deep water as they deliver their information to viewers nationwide.
The anchor also covers the hurricane itself, noting at one point that it is stretching over a third of the country, from Florida all the way up to the border with Canada.
#4 – Mendocino Complex and Carr Fires
When in History: July 2018
California wildfires are becoming a bit of a thing every season, with more and more acres of forest being turned to dust, houses being burned to the ground, and people fleeing areas with their possessions and children.
2018 was a particularly rough season for California wildfires, with two of the largest California wildfires of all time in the Mendocino Complex Fire and the Carr Fire.
During the Mendocino Complex Fire, over 10 communities were evacuated, with over 450,000 acres burned, $267 million in damage, and $201 million in fire suppression costs. The Carr Fire was about half that size.
The Carr Fire burned down 1,600 structures (nearly 1,100 of which were homes) and did about $1.7 billion in damages. So what does this have to do with fatal crashes?
It turns out, quite a bit. Both fires raged in July 2018, so we took a look at the previous year's July fatal crashes and saw that fires did play a role in reducing fatal crashes. There were 320 fatal crashes for July 2017. There were just 274 for July 2018.
That's a reduction of 46 fatal crashes or 14.4 percent, which makes it good for number four on our list.
In this video, CBS covers the moment that the Mendocino Complex Fire became the largest fire in California's history in just 10 days. It also notes that California is becoming hotter and drier every year, which means that even small fires can become massive fires.
There is a question of controversy in the video as to the ultimate cause of the increase of wildfires, with President Trump suggesting there is water not being utilized correctly in California and other groups pointing to climate change.
#3 – Hurricane Harvey
When in History: August 2017
Originating from a tropical wave off the west coast of Africa, Hurricane Harvey became the deadliest hurricane to hit mainland Texas in decades. With 130 mph+ winds and torrents of rain, it quickly overwhelmed small towns before settling over Houston, pouring a year's worth of rain in a week on the Space City and much of the rest of southwestern Texas.
Hurricane Harvey caused 103 direct and indirect deaths, with flooding causing over $125 billion in damages.
While these are all very grim notes, there is one positive that came out of Hurricane Harvey: the reduced number of fatal crashes. For this part of the study, we solely included Texas and Louisiana in our statistics, as those two states were hit the hardest by Hurricane Harvey. Along those lines, Arkansas, Tennessee, and Kentucky were removed.
Learn more: Cheap auto insurance in Jonesboro, AR
From August 26–31 of 2016 (going with our methodology), there were 64 fatal crashes in Texas and Louisiana (the other state that Harvey predominantly affected). During Hurricane Harvey, there were just 52, which amounts to an 18.8 percent drop.
The cause of this drop? Perhaps it's simple. Big storms like hurricanes—unlike snowstorms or tornado outbreaks—come with days worth of warning.
The preceding warnings all over the news and weather channels, allow people to stock up on canned goods, make arrangements to work from home, and otherwise stay in the house until the storm passes by.
Another major hurricane that resulted in fewer drivers on the road, which usually means less deaths by car. That is likely the reason that the fatal crash number dropped during Hurricane Harvey compared to the same dates for the previous year.
In the video above, BBC Newsnight covers the aftermath of Hurricane Harvey, speaking with residents about the disaster, noting the damage of the storm, such as sand across the highways and alligators dumped onto the streets.
They even cover topics such as climate change being a possible cause of Hurricane Harvey, although for one respondent in an interview, the jury was still out.
#2 – Hurricane Irene
When in History: August 2011
Transforming from an Atlantic tropical wave into (at its peak) a Category 3 hurricane, Hurricane Irene made landfall in North Carolina, causing widespread flooding, destruction to buildings, spawning off tornadoes, and causing 41 deaths.
While it landed in North Carolina as just a Category 1 hurricane, it caused over $13.5 billion worth of damage, making it one of the costliest storms in the history of America. There was one positive side: Hurricane Irene reduced the number of fatal crashes for that time period.
To do this, we looked at 13 states that Hurricane Irene affected: Connecticut, the District of Columbia, Delaware, Maine, Maryland, Massachusetts, North Carolina, New Jersey, New York, Pennsylvania, Rhode Island, Vermont, and Virginia.
In a rare event, Florida, including cities such as Tallahassee, which has the cheapest auto insurance rates of all major cities in Florida, were spared. On the flip side, states such as Connecticut, which usually doesn't get hit by hurricanes, were affected by Hurricane Irene.
Related: Cheap auto insurance in Waterbury, CT
We looked at a truncated timetable when it affected the United States from August 27–30. In 2010, the year before Hurricane Irene, there were 81 fatal crashes in these states for the corresponding week/weekday set.
During Hurricane Irene, there were 64. That is a reduction of 17 crashes, or 21 percent. Landing at 2nd on this list and at the top of all U.S. hurricanes.
Why might Irene be above Harvey and Sandy? Perhaps a simple answer: Irene affected more states than Harvey and residents had more time to react to Irene than Sandy. Now then, what is the one event that has caused a reduction in fatal crashes more than hurricanes and presidential elections?
In the video above, ABC News covers the devastation of Hurricane Irene in North Carolina and other parts of the East Coast. It also notes how Irene caused tremendous flooding and spawned off numerous tornados, which affected many regions.
In some locations, authorities were telling people power would be out for a couple of weeks. ABC News also talked to a storm chaser who took a crew out for a ride into the heart of the storm, where some footage was filmed on the top of elevated highways.
#1 – Coronavirus
When in History: November 2019 – Present
The novel coronavirus or COVID-19 is thought to have originated in a marketplace in Wuhan, China. While initially there was misinformation, soon more accurate information was uncovered that spelled out a virus that came from animals and left doctors with no specific medical pills designed to combat it.
Since those early days in Wuhan, the number of people infected by the virus has grown exponentially, with the world having three epicenters: China, Europe, and now the United States. When the coronavirus hit the United States, it hit hard, infecting over 100,000 in a matter of weeks.
To combat the virus, governments, state and local, have instituted quarantines that require people to remain in their homes, shutter restaurants and bars, and leave just a handful of industries deemed "essential" operating on a physical level with their storefronts open and employees still working in-person.
These are all without a doubt difficult times, and those quarantines come at a steep price to the economy and to workers who might not know where their next paycheck is coming from. Positives, aside from flattening the curve, are slim. One, though, is undeniable: crashes, even fatal crashes, are down significantly.
For this data, because it was so new, we turned away from the NHTSA crash sampling system. Instead, we looked at local news outlets that have looked at everything from fatal crashes to traffic collision calls to local police departments.
Let's start off with the most obvious and most relevant for this ranking, which is fatal crashes. For this, we turned to Seattle Business. It looked at the same time period: the third workweek of March for 2019 and 2020.
From that period in Seattle in March 2019, there were 12 fatal crashes. In March 2020 during the coronavirus pandemic, there were zero fatal crashes. In effect, there was a 100 percent drop in fatal crashes.
While that is the only fatal crash data available thus far, other local media outlets have looked at the drop in overall crashes. The New York Post found that crashes in NYC were down 33 percent from March 9 to March 15 for the same week last year.
Other media outlets have looked into the number of traffic accident calls made to local police departments. In Los Angeles, they are down about 51 percent. And then there is the Massachusetts Department of Transportation, which says that crashes are down 75 percent.
For these reasons, COVID-19 lands in the dire first place spot out of all the historical events that have caused major drops in fatal crashes. When the number of car crashes are down, deaths drop as well.
This is from big cities such as NYC where auto insurance costs are expensive to smaller cities such as Glendale, Arizona, where residents pay an average of $4,570 per year on auto insurance. But if everything's falling, what does this mean for traffic? It's time to dig a little deeper.
MSNBC covers the coronavirus situation in New York City, the epicenter for the coronavirus pandemic in the United States, where hospitals are being overwhelmed and EMS responders are falling ill with the virus.
As the death rate spikes and morgues fill to capacity, hospitals are having to use makeshift morgues in the back of refrigerated trucks.
With all the sickness, death, fear, and isolation this disease has brought with it, at least it has caused death by vehicle to decline in America.
Some things, like the spread of COVID-19 are out of your control. Want to know something that is in your control that could help protect you, your loved ones and your investments? Auto Insurance.
Compare quotes from the best insurance companies near you by using our free auto insurance quote generator below. Free quotes are pulled in a matter of minutes that are unique to you and your individual coverage needs.
Enter your ZIP code below to compare auto insurance rates.
Secured with SHA-256 Encryption
3 States with the Biggest Traffic Drops due to Coronavirus
We know one thing: Coronavirus has reduced traffic all across the country. From California to Florida to New York, traffic has dropped, sometimes considerably, as more and more cities and states are issuing mandatory quarantines.
So which states have had the biggest drops? They may be a surprise. For the next three sections and the three sections within the biggest traffic drops in cities, we used the INRIX weekly report. INRIX is one of the leading traffic monitoring organizations in the world.
Ready? It's time to give that germ-free car a little gas.
#3 – California
California, while not the epicenter of the coronavirus outbreak in America, was once and perhaps still is considered one of the hardest-hit areas. What are the numbers? As of this writing, there were over 7,000 cases with nearly 150 deaths.
To combat the spread of the virus, Governor Gavin Newsome issued a "stay at home" order, which forces people to remain in their houses outside of going to essential businesses and other crucial needs. This went into effect on March 19. As the order reads:
"The California Department of Public Health looks to establish consistency across the state in order to ensure that we mitigate the impact of COVID-19. Our goal is simple, we want to bend the curve, and disrupt the spread of the virus."
As such, the number of people on the streets likely dropped significantly. And along with that, there were a fewer number of drivers. California traffic has dropped 42 percent since March 13, making it good for number three on this list.
This is a 5 percent drop from the previous week, where California traffic had dropped 37 percent overall. Now, for the next two.
#2 – Ohio
Ohio is not necessarily considered a hotspot for the coronavirus, with just 704 cases as reported on March 25. But it is considered a leader in one category that we're all concerned with: a drop in the number of cars on the road.
Ohio traffic has dropped 45 percent since March 13, jumping from the bottom of the pack at 28 percent for the previous week to the second spot on our list.
This might be due to the simple fact that Governor Mark DeWine issued a "stay at home" order on March 23, likely curtailing the number of cars on the road. What is Ohio's state when fighting the virus?
Some say that it has the sixth-best preparedness of all the states in the country. There is one of the best ratios of hospital beds to persons in Ohio and one of the best ratios of doctors to persons as well.
While good ratios didn't stop New York's hospitals from becoming overwhelmed, it is a good sign for Ohio, as the coronavirus outbreak just seems to be heating up and DeWine is noting that the "stay at home" order could last into May. As DeWine said with the order:
"We would not have issued this if it was not a matter of life and death."
It's interesting to note that golf courses will not close during the quarantine order, though there are still rules for those who choose to golf. They include handwashing regularly, no handshakes, and only one person per cart.
#1 – Michigan
And that brings us down to our number one spot. This state is known for its muscle cars and scenic drives, but one thing it has going for it during the coronavirus crisis: the number one state with the biggest traffic reduction since March 13.
The reduction in traffic in Michigan during the coronavirus pandemic might all be due to a stay-at-home order that went into effect on March 24, driving down traffic 55 percent from March 13.
This is a 19 percent drop from the previous week, in which it was already tied for the lead with New York City at 36 percent. The order went into effect, like with other states, with the intention of "flattening the curve" of the coronavirus.
This tool decreases the number of exposure opportunities to transmit the illness, which spreads rapidly and causes damage to the lungs. This rapid spread can cause a flood of people to seek help from hospitals, which can become overwhelmed.
This is a serious issue, as has been seen in New York City in the United States and various countries abroad. Michigan is contributing significantly to hospitals and health care workers, with production companies, including GM, creating products like masks and gowns at scale. It is the state ranking 1st on this list. Now, how about the cities?
Click the link to learn more about auto insurance in Grand Rapids, Michigan.
Enter your ZIP code below to compare auto insurance rates.
Secured with SHA-256 Encryption
3 Cities with the Biggest Traffic Drops due to Coronavirus
So we've done states and seen the three states with the biggest traffic reductions from March 13 to March 27.
There is the obvious thought that the states with the biggest traffic reductions would have the cities with the biggest traffic reductions, but is that the case? From ever rainy and overcast days to the beginnings of soul, your three cities are here. Let's find out which they are.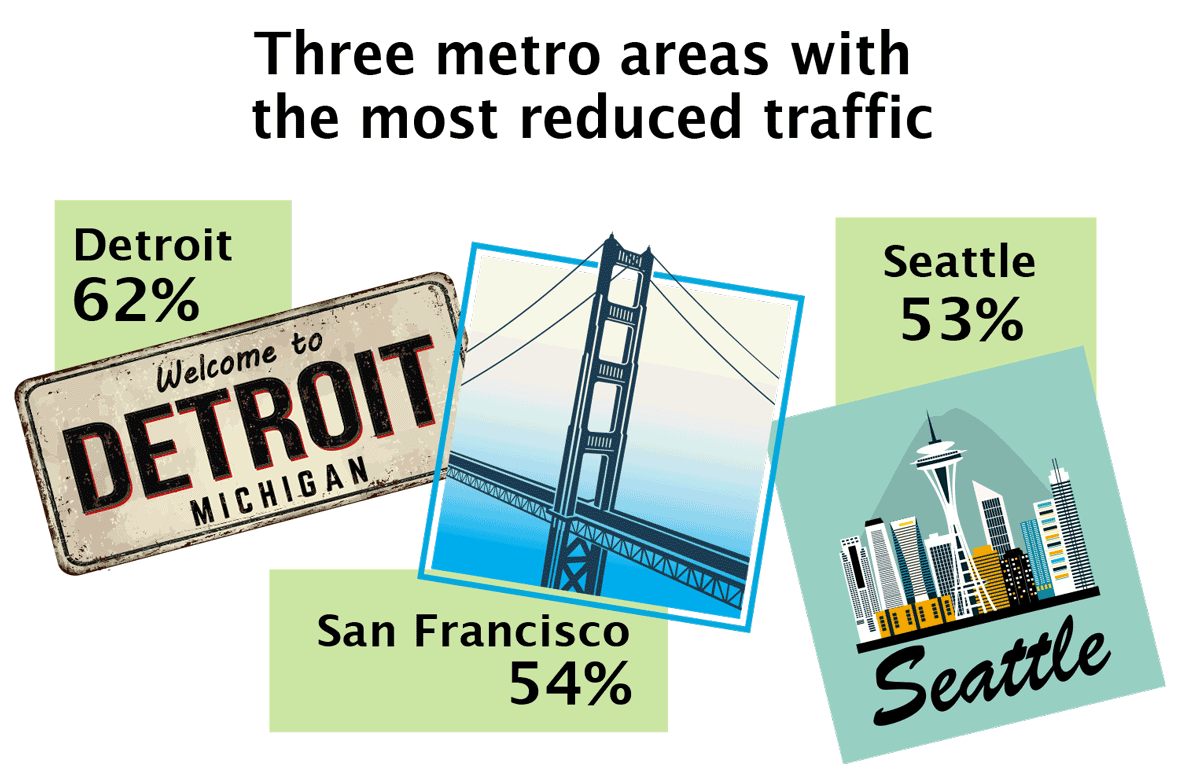 #3 – Seattle
Seattle is part of Washington state, which we already saw had a reduced number of fatal crashes in March of this year. One thing is certain as well: It is experiencing a drop in traffic overall enough so to land it in 3rd out of all the major metropolitan areas in the country.
Seattle has experienced a 53 percent drop in traffic since the start of the coronavirus pandemic. That number represented a large drop from March 20–27, with traffic dropping just 29 percent up to March 20, with an additional 24 percent coming in a week. Wrote INRIX at the time of its original report:
"One week into the coronavirus epidemic, Seattle experienced radical changes in commute patterns and consumer behavior. This research is likely a preview of what is to come for hundreds of cities across America if the COVID-19 outbreak continues."
Other publications are noting that the biggest drop on March 3 occurred around the time giants such as Amazon and Microsoft started asking employees to work from home instead of coming into the office.
In our study of the biggest police budgets, Seattle is shown to have the lowest percentage of the 20 most populous cities allocated to community services.
That percentage of revenue allocated to community services is 23.7 percent, which is 19.1 percent lower than the average for all 150 cities in the sample set. The article also makes note that even though the Seattle City Council is considering defunding the police, projecting a budget for next year is difficult given the local economy and the coronavirus pandemic.
#2 – San Francisco
The City by the Bay has many distinctions including culture, tech, and sports, but its latest ranking might just surprise you: Number two on the list of major metropolitan areas with the biggest drops in traffic. It is just a hair above Seattle and well-below our city in first. So what are the stats?
San Francisco has had a 54 percent drop in traffic since the start of the pandemic, with just 3 percent of that drop coming in the past week.
That means 51 percent of its traffic reduction occurred from the start of the pandemic to March 20, likely as a result of quarantines and companies asking workers to stay home.
The drop has occurred along with tech giants such as Google and Facebook asking employees to stay home instead of possibly spreading the coronavirus infection in the office. As published in Reuters:
"The San Francisco Bay area's army of tech workers heeded requests to do their jobs from home to help slow the spread of the coronavirus outbreak, easing traffic on local bridges for commuters who still had to drive to work."
It is likely to stay that way as the California quarantine continues.
#1 – Detroit
We've already seen Michigan on this list, as it is the state with the most reduced traffic in the country. The fact that it's home to the city in first for the largest traffic reduction helps to explain it.
But by how much has Detroit reduced traffic more than other cities?
Detroit has had a whopping 62 percent traffic drop since the pandemic began, with 40 percent of that drop occurring before March 20 and a full 22 percent more occurring in the following week.
INRIX adds in its report:
"Detroit has had a consistent 60%+ drop in overall traffic volume most of the work week."
This comes as the virus has spread throughout Detroit and as people have tried to quarantine. Some people have wondered if less amount of traffic will speed up construction projects in the city. Sadly, the city says it won't speed up construction projects.
Is it safe for me to travel during the coronavirus pandemic?
You may have seen the prices for gasoline getting lower and lower, making owners of gas-guzzlers like the Dodge RAM 3500s, which has an average auto insurance rate of $1,180 per year, happy. Or noticed that Airbnb prices are cheaper in your dream vacation destination. But at the same time, you've heard the stats and read the news.
So, is it safe to travel by car during the Coronavirus pandemic?
There's really no straight answer to this, as noted in many organizations and publications. While not traveling to an area in the world where COVID-19 cases are through the roof is a no-brainer, road-tripping to your favorite spring break spot might not seem so clear-cut.
There are, still, some things to pay attention to.
Hawaii, Florida, and Rhode Island are the first three states to issue quarantines for domestic travelers.
In the case of Hawaii, it requires an automatic 14-day quarantine when you land, regardless of whether you're returning from a trip or visiting. Florida has issued a mandatory 14-day self-quarantine for visitors traveling from the New York area or Louisiana.
To detect those visitors, Florida has set up checkpoints on highways, asking visitors where they've been. If they've been from one of those areas, they are required to quarantine and must give the address of where they'll be staying to the authorities. Rhode Island has a similar 14-day quarantine order for visitors traveling from the New York area.
As the virus continues its trajectory in the United States, it's possible that more states will follow suit. If you're coming back from a road trip from your favorite out-of-state spot, you may be required to quarantine when you return, even if you are a resident of that state.
Of course, one plus about traveling right now is the lack of traffic. The following chart shows the traffic reduction percentage for both cities and America as a whole.
The chart runs through March 20. Nationwide, the amount of traffic has dropped 30 percent since the start of the pandemic, while city traffic has dropped a little more than 40 percent. This means you'll have a much more pleasant ride if you're going on road trips, as there will be less traffic 0n the roads.
But there's also the safety factor to look at. Some publications consider that it is safer to travel in cars over planes, mostly because there is less human contact. But, as the Centers for Disease Control and Prevention note, there are six questions travelers, even those planning to drive on a road trip, should ask themselves.
Is COVID-19 spreading in the area where you're going?
Will you or your travel companions be in close contact with others during your trip?
Are you or your travel companions more likely to get severe illness if you get COVID-19?
Do you have a plan for taking time off from work or school, in case you are told to stay home for 14 days for self-monitoring or if you get sick with COVID-19?
Do you live with someone who is older or has a serious, chronic medical condition?
Is COVID-19 spreading where you live when you return from travel?
In the end, no one can tell someone whether to travel or not. That is always a personal decision, as there are many risks involved, even before COVID-19.
Keeping an eye out for news about your destination can help, as well as asking people in that area (if you know any) about news can always help as well
In this video, a business insider correspondent reports on the different responses in airports during the coronavirus pandemic. She notes that it has been surprising how busy the airports have been and how many people are still traveling.
Many airports have set up temperature check stations where travelers are screened as they land, as well as some hotels have set up temperature checks. Masks are also pretty standard for travelers in airports and planes.
Enter your ZIP code below to compare auto insurance rates.
Secured with SHA-256 Encryption
How far are Americans traveling each day?
Interested in knowing how far Americans are traveling since the start of the coronavirus pandemic? We've got your answers. The following chart shows the average personal travel distance for the four largest metropolitan areas—New York City, Los Angeles, Chicago, and Houston—throughout the month of March.
All experienced steep declines throughout the month, with one very unusual rise towards the end of the month for Houston. Houston was also the city with the smallest percentage decline of daily personal travel distance of all the four metro areas.
As we'll see in the final part of this section, Houston is a part of Texas, which has lagged behind in some of the measures to combat the virus, including suffering from a lack of testing kits. Texas Governor Abbott, until early April 2020, had not issued a mandatory statewide stay-at-home order.
There will be similar comparisons to other parts of the south and the southeast, which brings us to our next part of this section: the number of coronavirus cases in the United States.
In the graph below, you can see the number of COVID-19 cases in the United States depending on the state and county. It is updated every day with information from Johns Hopkins University.
The highest number of cases are clearly in the Tri-State area of Pennsylvania, New Jersey, and New York.
It's not just around New York City either. In Western New York, which contains the city of Buffalo (want to learn more about auto insurance requirements in Buffalo?), cases are above 1,000 and still rising.
Many other states have high concentrations of cases as well, including California, Washington state, Louisiana, Michigan, Illinois, and more. The bigger the blue dot, the higher the concentration of cases in an area is.
As the map shows, the hardest-hit areas are in urban centers such as New York City, Chicago, Los Angeles, and more. The states farther west, such as in the Midwest, have fewer cases in part because they are more rural areas.
The New York Times also analyzed traveling or the movements of people within states and regions of the country.
This study found that states in the Southeast, including Florida, have people traveling at a greater distance than other people. In most counties in the Southeast, people are still traveling over two miles per day, as of March 26.
Want specialized quotes for you and your area? Add your information into our free quote machine to see rates specialized for you.
How is the coronavirus pandemic affecting truck drivers?
You might be asking about the fear that the coronavirus is causing and how that fear affects truck drivers. Considered an essential business, shipping companies and their truck driver employees (or contractors) have been allowed to continue operating as cities and states are issuing quarantines. Their inputs are seen as somewhat invaluable:
Truck drivers move cargo load all across the country, keeping grocery store shelves stocked and transporting medical equipment from factories to hospitals.
It has even gotten to the point that the federal government lifted a long-held law that stipulated truck drivers could drive only 11 out of 14 hours. Perhaps the law was important for public safety, making its repeal a certain sign of the seriousness of COVID-19 in America.
But truck drivers, even more than your average road trip driver, face health and sanitation challenges related to COVID-19. What are some of them?
Closed roadside eateries
Customers wary of them
A lack of hand sanitizer or disinfectant wipes
Add to the fact that they are interacting with people to make deliveries or pick them up, their chances of infection are likely higher than those for other people. Simply, truckers are risking their lives by continuing to work during the coronavirus pandemic.
When it comes to the industry, trucking is booming, with trucking jobs posted on a freight marketplace called DAT, up 66 percent from the beginning of the month. This is in part due to panic buying, which has resulted in goods such as hand sanitizer, toilet paper, and cold and flu product sales rising over 100 percent.
It can be a lonely job, though more and more people are recognizing the impact truckers are having during the COVID-19 pandemic and thanking them by providing free food, creating "Big Rig Only" drive-through lanes, and offering them free showers.
While the truck-driving business is booming now, at least one truck driver thinks it may struggle in the future, with decreased imports from overseas and fewer companies wanting to ship cargo due to lack of money.
Forbes, in the video above, covers the fact that empty roads make it easier for truck drivers to do their jobs, creating fewer problems with traffic and allowing them to drive faster. The demand has also increased as people are raiding stories for merchandise such as hand sanitizer, toilet paper, and masks.
Truck drivers are also being thanked more than usual, as people are seeing them as essential to their day-to-day life and putting their lives on the line while working.
Is it safe to rideshare during the coronavirus pandemic?
Then, there's this thought when it comes to transport, traffic, and fatal crashes: Do I or do I not take a rideshare or drive for a rideshare company? The answer, like most situations when it comes to COVID-19, is a personal question depending on risk and circumstances.
It's important to note, however, that rideshare companies and drivers are taking a sting from this pandemic and the lack of customers. Some executives at ridesharing companies are admitting that their company's revenue could take a hit during the pandemic, as the quarantines either force or encourage people to stay home.
Rideshare drivers lose money as well due to a lack of customers. Some drivers who had been making up to $200 a day while driving for Uber or Lyft are now making $20 to $40.
The drivers are stuck in a quandary: they don't get paid sick leave (unless they contract COVID-19) and they don't get unemployment. They are stuck in the position of either having to work, make little money, and expose themselves to COVID-19, or stay at home and not be able to pay necessary bills. This is due to their classification within the organizations as independent contractors rather than employees.
Some have railed against these rideshare companies for a long time about the classification, as they work over 40 hours per week but don't have access to basic things such as health care. Even with the struggle for rideshare drivers, some drivers are still working.
So, what do you do when you get ready to ride in a rideshare vehicle? Uber has three guidelines, which it states when a driver accepts a ride:
Wash your hands before entering the vehicle
Sit in the back seat
Open the window for better ventilation
Other states have guidelines as well, including basic health information like sitting as far away from the driver as you can, sneezing or coughing into tissues or into your elbow, and not making physical contact when handing over money.
Like all the situations in this article, it is your decision on whether to travel or not, and it depends on how much risk you want to take. Rideshare drivers are there, for now, and they provide essential services. Hopefully, some of those tips will lead to a less stressed and virus-free ride.
In the video above, the NBC news station in Los Angeles covers the various guidelines about drivers and passengers, including what drivers and passengers are doing to protect themselves during a ride.
Part of the guidelines is rolling the windows down so that the germs can't linger in the car after someone coughs or sneezes. Rubber gloves are also thought to be helpful in not getting the virus.
Enter your ZIP code below to compare auto insurance rates.
Secured with SHA-256 Encryption
What if my license is expiring while there is a stay-at-home order in place?
Then there's the question of whether you can drive on the road at all if you have an expired license. This is a tricky issue, as many people don't or wouldn't like to go to DMV to get their license renewed, as it puts them in contact with more people.
To handle the issue of the coronavirus pandemic, many DMVs are closing shops and having appointment-only visits. These visits can be for a variety of things, including expired licenses.
Still, some states have recognized the dangers of having numerous people come to the DMV at once for things such as driver's licenses. Instead of dealing with this possibility, the states have extended the period for renewing your driver's license for up to 60 days, depending on circumstances.
Those states include hard-hit states such as California and New Jersey. California's government-run DMV page states:
"In response to the COVID-19 pandemic, the California Department of Motor Vehicles (DMV) today asked California law enforcement to exercise discretion for 60 days in their enforcement of driver license and vehicle registration expiration dates beginning March 16, 2020."
They include moderately hit states (as of this writing) such as Texas. Dennis Bonnen, the speaker of the Texas House of Representatives, shared a document on Twitter that spelled out Texas's policy on expiring licenses.
Essentially, your license is still valid if it expires after March 13, 2020. This extension is indefinite, presumably until the coronavirus pandemic in Texas is under control. Some states have not necessarily extended the deadline for renewing licenses but modified the rules to allow more people to renew online. This includes Washington state, which writes:
"We temporarily suspended laws and rules that require residents to visit an office to renew every other time and prohibited customers over 70 from renewing online."
In the end, a quick search for "driver's license in [your state]" will likely give you the answers you're looking for.
Interested in looking for insurance today? Use our free quote tool by entering in your information to receive personalized quotes for you based on your area and other auto insurance rate factors.
How do the events in our rankings compare against one another?
You might be asking, "You've shown all the information for each mini-section in our rankings. But how about comparing them to one another and putting that in one place?" That section is here.
The events here are listed here starting with the main part of our article, which is the 6 Events in History that Reduced Fatal Crashes. As with the ranking section of the article, they are listed in descending order in the table. It runs from prior year fatal crashes to the fatal crashes during the event to percent reduction based on those two numbers.
6 Events in History that Reduced Fatal Crashes
| Event | Event Year | Event Location | Prior Year Fatal Crashes | During Event Fatal Crashes | % Reduction |
| --- | --- | --- | --- | --- | --- |
| Trump Election | 2016 | Nationwide | 298 | 280 | 6.0% |
| Hurricane Sandy | 2012 | 15 States & DC | 100 | 89 | 11.0% |
| Mendocino & Carr Fires | 2018 | CA | 320 | 274 | 14.4% |
| Hurricane Harvey | 2017 | LA & TX | 64 | 52 | 18.8% |
| Hurricane Irene | 2011 | 12 States & DC | 81 | 64 | 21.0% |
| COVID-19 Pandemic | 2019-Present | Washington State | 12 | 0 | 100.0% |
The next table puts together the numbers we have about the numbers of collisions for the three cities and one state mentioned in the coronavirus section of the article during the rankings. Like the other table, this table follows a prior year/during the event/percent reduction format.
However, in this table, we're measuring traffic collisions rather than only fatal crashes. We have four areas in this sample set—three cities and one state. The three cities are New York City, Los Angeles, and San Francisco.
The state is Massachusetts. In columns two and three, you'll see their prior-year collisions and their current-year collisions, respectively. In the final column, you'll see their overall collision reduction percentage.
Traffic Accident Reduction due to Coronavirus
| Coronavirus Location | Prior Period Collisions | Collisions During Pandemic | % Reduction |
| --- | --- | --- | --- |
| New York City | 16,050 | 9,974 | 37.9% |
| Los Angeles | 562 | 274 | 51.2% |
| San Francisco | 260 | 110 | 57.7% |
| Massachusetts | 2500 | 569 | 77.2% |
The largest drop is in the state of Massachusetts, which has experienced an over-77 percent drop in total collisions.
Two other cities, Los Angeles and San Francisco, have had drops of over 50 percent, while New York, which has been at a stay-at-home order for some time, has had a recorded drop of 33 percent.
That's how they all play out, from the fatal crashes per event compared to the comparison between different cities and one state when it comes to overall traffic collisions. There is little doubt that the coronavirus pandemic has reduced traffic, which has likely led to a reduction in fatal crashes and traffic collisions.
Tips during the Coronavirus Pandemic—from Latex Gloves to Financial Relief
In this section, you'll find it all, from thoughts about social distancing to citizens breaking quarantine to visit national treasures, to what you should do about your auto insurance during the coronavirus pandemic. From the experts to you.
"Due to the continuous spread of COVID-19 and its deadly effects throughout the world, many things have happened, especially for the general public. So many restrictions have been imposed on the general people for their safety and well-being.
Similarly, many restrictions have been levied on Canadians as new cases are constantly rising. In Ontario and Quebec, travel restrictions have been imposed and business has been tightened. A state of emergency was also declared in the city of Toronto on Monday by the Mayor.
Things that we can do to avoid getting infected and spreading the virus would be avoiding travel at all costs. If it is an emergency, have a hand sanitizer with you. Cash can easily transfer the virus and can affect a huge amount of people, so try to go cashless as much as possible.
Decrease the possibility of human contact as much as possible. The virus survives on the surface for up to three days and does not die due to a spike in temperature and can only be killed at a temperature above 50 degrees Celsius. Sanitizing the insides of your vehicle is also important.
This includes the steering wheel, gear knobs, seats, the touchscreen or the navigation system and switches and controls as they are one of the predictable breeding grounds for bacteria as well as viruses.
Quarantining yourself is essential after the trip, especially if you have any older relatives living with you.
Try wearing masks and wearing latex sanitized gloves while driving and traveling. Any kind of crash is quite impossible in these circumstances as not many vehicles are on the road due to social distancing."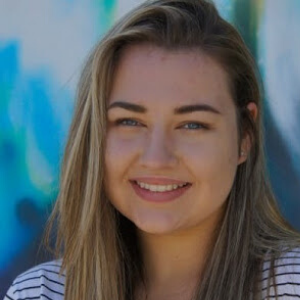 Jennifer Willie is an editor at the travel information center, ETIA.com.
ETIA educates travelers around the world with the latest news and travel requirements.
---
"One positive we can take away from the coronavirus outbreak is the quieter road conditions. Due to the fall in oil prices, there has been a reduction in gas costs. So for those who do not want to stay at home, further distances are accessible for those that wish to explore.
However, some people have the same ideas. Last weekend there was a spike in the number of visitors that gathered around UK's National Parks, including Snowdonia in Wales. You can see a Twitter update by BBC Wales News if you click here.
As a result, the authorities have now been forced to shut down those landmarks as the number of visitors caused concern for health professionals and stopping the spread of the virus. At the moment there haven't been any restrictions on driving.
However, it might not be long before the government introduces new measures to keep everyone safe within their homes.
Currently, there has been no advice on how to make cars safer during this outbreak, experts have a variety of explanations on how the virus spreads, whether this can travel through surfaces or just passed on from person to person is a question yet to be answered. We are being updated every single day.
However, these updates are now mainly focused on the number of people infected on the ever-growing list of deceased. All we can say is, we hope this passes soon and we are back to normal. However, I am not complaining about the quiet roads we can now enjoy."

Jeremy Foster is the founder and CEO of TravelFreak.com.
His blog providers readers with advice on travel, gear, money, and working abroad.
---
"Driving isn't directly restricted, but my city has banned some businesses from opening their doors to the public. People also can't meet in groups over 10, which restricts us from driving to public events or to certain stores.
If huge numbers of people keep getting the coronavirus, more cities will follow major metropolitan areas like San Francisco, New York, and Atlanta that have shelter-in-place orders.
The orders restrict people from driving anywhere except for reasons like getting groceries or working at essential jobs. Other areas are enforcing a nighttime curfew, restricting people from driving after 9 or 10 p.m.
One major situation about car safety during the coronavirus is that you might be considering dropping auto insurance if you can't pay your bills. Before doing that, try following these steps:
Call customer service and tell them your financial situation.
Work out a payment plan. Many auto insurance companies are offering financial relief to customers experiencing hardship right now.
Keep your car safe from damage by maintaining at least some auto insurance coverage.
The main effects I'm seeing are that people can't drive to see older family members in long-term care. Those facilities are locked down right now.
Unfortunately, because people can't drive to see family members in long-term care, this can make those family members lonely from not getting out and seeing familiar faces.
Also, some people are afraid of driving to other areas or even running errands because the coronavirus is spreading so widely. Personally, I don't want to drive out-of-state to visit family because they live in areas with fewer cases than I do."
Sarah George is a U.S. insurance staff writer with Finder.com.
Finder helps its readers navigate complex insurance decisions.
---
Enter your ZIP code below to compare auto insurance rates.
Secured with SHA-256 Encryption
Big Environmental like COVID-19 Keep Us Off the Streets
We've seen the top six events of the past 15 years and the traffic flow reductions of our top three states and cities. We've heard from the experts. What does all this mean?
When it comes to history, big environmental events have the capacity to take us from the streets and put us in our houses.
Whether we are sheltered in from an incoming hurricane or quarantined to battle the coronavirus, we spend less time on the road and have fewer fatal crashes. It might be considered a silver lining among all this tragedy that our horrific fatal crash numbers per year are going down.
Car crashes might not ultimately be more serious than the coronavirus, but they are serious and should be the subject of further initiatives in the future.
Methodology: Events in History that Reduced Fatal Crashes
For the methodology of ranking the top six events in history that reduced fatal crashes, we looked at a few sources of data. Chief among them was the National Highway Traffic Safety Administration's crash sampling system, which details and breaks down the fatal crashes from 2018 to 2004.
For #6 to #2 in our ranking, we looked at the number of fatal crashes for the period of the event, with an extra couple of days for our elections.
Ultimately, we crossed off several events from our list, including Hurricane Katrina, Barack Obama's elections, even a blizzard in the South, that affected, among other cities, Albany, Georgia, with its low $68 comprehensive insurance monthly rate.
We tried other jarring events like the Boston Marathon bombing and mass shootings such as those in Newtown, Connecticut, and Las Vegas, Nevada. In many cases, the number of fatal crashes was so small for the areas already that it was impossible to find any statistically verifiable differences.
An area, for instance, like Connecticut, which contains the town of New Haven that has a $122 monthly insurance rate for people with poor credit scores, had a too low number of crashes per day and month to make the data verifiable.
What we came up on our list of historical events that reduced fatal crashes with were five events: three hurricanes, a combination of two fires, and one presidential election.
We cross-referenced the fatal crash data for those events with the corresponding days of the week and weeks of those events for the previous year. This meant that if we had an event in the third week of October from Tuesday to Thursday in 2018, we compared that data with the third week of October from Tuesday to Thursday of 2017.
When it came to the coronavirus, no data was readily available for the entire country through the NHTSA crash sampling system, so we took another tack. We looked to news outlets who were analyzing the fatal crashes or traffic collision calls to their local fire and police departments. From there, we used the data to inform our rankings.
We have never seen an event like the coronavirus pandemic in decades, if not a century. The most comparable case being the Spanish flu. COVID-19 has shut down our restaurants, closed our schools, shuttered our offices, and, yes, emptied our streets.
It has also started a change in how people shop for auto insurance. That change is likely to accelerate as autonomous vehicles and driving habits push the cost for premiums down and manufacturers start to offer auto insurance directly to customers. It is uncertain how the auto insurance industry will respond.
But, one thing is for certain: Now is a great time to save on auto insurance. The quickest way to do that is to compare quotes from different auto insurance companies. Plug your ZIP code into our free quote tool to find the best coverages that meet your insurance needs and fit into your budget.
Enter your ZIP code below to compare auto insurance rates.
Secured with SHA-256 Encryption
Chris Abrams
Licensed Insurance Agent
Chris is the founder of Abrams Insurance Solutions and Marcan Insurance, which provide personal financial analysis and planning services for families and small businesses across the U.S. His companies represent nearly 100 of the top-rated insurance companies. Chris has been a licensed insurance agent since 2009 and has active insurance licenses in all 50 U.S. states and D.C. Chris works tireles...
Editorial Guidelines: We are a free online resource for anyone interested in learning more about auto insurance. Our goal is to be an objective, third-party resource for everything auto insurance related. We update our site regularly, and all content is reviewed by auto insurance experts.