The Ultimate South Dakota Car Insurance Guide (Costs + Coverage)
Free Auto Insurance Comparison
Enter your ZIP code below to compare auto insurance rates.
Secured with SHA-256 Encryption
With more shoreline than Florida, rollings hills, mountains, and plains, it's no wonder that camping is South Dakota's favorite past time.
Often referred to as the "Land of Plenty", the "Land of Infinite Variety", and "the blizzard state", South Dakota is home to the Mount Rushmore National Memorial which hosts over two million tourists and visitors per year.
South Dakota is the fifth least populated state in America while simultaneously being the fifth least densely populated state in the U.S. South Dakota has approximately 880,000 residents and more than 940,000 registered vehicles.
But while you're driving a car, a motorcycle, or an RV up and down South Dakota's scenic shoreline, you must remember one very important driving detail: you need car insurance.
Finding the right type of car insurance and a decent provider can be daunting and time-consuming — and that's exactly why we put together this ultimate guide to South Dakota car insurance.
Scouring the web for South Dakota automobile insurance? Sometimes looking for a provider can be difficult. But with AutoInsuranceEZ.com, it's as simple as entering your zip code. We can supply you with the top 8 insurance providers in your spot, whether you live in a big city like Sioux Falls, Rapid City, or Aberdeen, or a lesser populated area such as Watertown or Brookings.
In this guide, we will talk about car insurance coverage, laws, risks of the road and more. Don't go away! Car insurance coverage and rates are up first.

South Dakota Car Insurance Coverage and Rates
How do you know what type of insurance is right for you? Do you think you might be paying too much for your current car insurance policy?
We want you to know exactly what you're paying for and why you're paying for it. But before we get into insurance coverage laws and regulations, let's explore South Dakota's car culture.
South Dakota's Car Culture
South Dakota has two major sections: East River and West River. Most of the state's population lives in East River, so the back roads in West River are often lonely.
With a state being so large, South Dakota drivers rely heavily on their vehicles to get from East River to West River and back.
Many workers commute to bigger cities like Pierre and Sioux Falls, but the popular choice for transportation remains the same: the automobile.
South Dakota is also a place for campers and skiers — so any vehicle sturdy enough to pull a pop-up trailer or carry a roof rack is popular vehicle among state natives. Having said this, the Ford F150 is the most purchase vehicle in South Dakota.
South Dakota Minimum Coverage
Every driver in the state of South Dakota must have car insurance. This is a law set up to protect every driver from going bankrupt if and when they are involved in an accident. But there are many different policies out there, so how do you know which one is right for you?
That part is easy! Drivers in South Dakota are required to carry at least a minimum liability insurance policy.
This insurance policy is there to work as a safety net — it's not guaranteed to make sure you escape all injuries when you fall, but, it's there to keep you from cracking open your skull on the pavement.
In other words, minimum coverage helps you cover the costs of damages resulting from an accident, but it is likely not going to cover all of the costs of incurred damages.
The requirements for minimum liability coverage in the state of South Dakota are as follows:
$25,000 liability coverage for bodily injury or death of one person in an accident caused by the owner/driver of the insured vehicle
$50,000 liability coverage for total bodily injury or death liability in an accident caused by the owner/driver of the insured vehicle
$25,000 liability coverage for property damage per accident caused by the owner/driver of the insured vehicle
This is also sometimes referred to as the 25/50/25 policy. Make note that South Dakota requires twice as much money for personal injury as it does for property damage.
South Dakota is considered an at-fault state.
Now that you know you need to carry at least the minimum amount of insurance required, don't you want to know why you need to carry it?
When we say South Dakota is an at-fault state, we mean that anyone who causes a car accident is liable for covering any and all costs of property damages and personal injury bills which resulted from that accident.
If you caused an accident and three people were injured, guess what?
You're the one footing the medical bills for these three people.
Hopefully, your minimum liability insurance policy will cover all of these costs, but in the grand scheme of things, $100,000 really doesn't go a long way when it comes to hospital bills and car parts.
This is why we recommend having more than just minimum coverage. But, we'll get into that a little later.
Forms of Financial Responsibility
A form of financial responsibility is just a form that proves you can be and will be held liable in the case of an accident.
This is also referred to as "proof of insurance". Have you ever been pulled over and the police officer asks to see your registration and proof of insurance?
He's checking to see that you are obeying the law by carrying insurance.
Acceptable forms of proof of insurance are:
Valid liability insurance ID cards
Copy of your current car's insurance policy
Valid insurance binder (a temporary form of car insurance)
Electronic insurance ID cards
If you are caught driving without proof of insurance, you could be facing some serious penalties.
According to the South Dakota Department of Public Safety Motor Vehicle Division, a conviction for driving without proof of insurance is considered a "Class 2 Misdemeanor" punishable by 30 days in jail, a $100 fine, or both.
In addition, the offender's driver license will be suspended for at least 30 days, and for up to one year.
Premiums as a Percentage of Income
Your insurance premium is the amount of money you will pay for your yearly insurance policy. But what is the average premium in South Dakota and what percentage of a person's income is spent on car insurance a year?
In 2014, South Dakota residents spent an average of $744.28 per year on their car insurance policy.
South Dakota's average income per capita in the same year (2014) was $41,825.00. This means drivers in South Dakota spend an average of 1.78 percent of their total disposable income a year on car insurance alone.
When comparing this average to surrounding states, on average, North Dakotans pay about $20 more per year and Nebraskans pay about $60 more per year for car insurance.
This rate isn't really that high, considering the national average car insurance premium is around $981 per year. In 2012, South Dakotans only paid 1.67 percent of their income for their car insurance policy. The trend seems to be that the rates increase every year.
Keep in mind that because these statistics were recorded back in 2014, rates are likely to be higher.
Core Car Insurance Coverage in South Dakota
The above data is pulled directly from the National Association of Insurance Commissioners. This data is from 2015, so you can expect rates to be higher in 2019 and so on.
Carrying minimum coverage will keep you out of prison, but it might not keep you from owing thousands of dollars to repair someone's car when an accident happens.
It's always a great idea to carry more than the minimum required — your wallet will thank you down the road.
Looking for more padding to add to your existing policy? Up next, we will talk about insurance add-ons and endorsements.
Additional Liability Coverage in South Dakota
Medpay, uninsured and underinsured motorist coverage are all optional plans to add to your minimum insurance policy. At the moment, it's easy to disregard them because you think you'll never need them.
But really, these add-ons are very important to have.
Here's why:
7.70 percent of motorists in South Dakota are uninsured. This means the state is ranked 42nd in the U.S. for uninsured drivers.
Let's say one day you're minding your own business and all of a sudden you're hit by an uninsured driver. You need to go to the hospital because you broke your leg and you have pieces of shard stuck in your hands.
Your car was totaled. Since South Dakota is technically an at-fault state, the person who hit you is required to call his or her insurance company.
But wait . . .
This person is an uninsured driver so there is no insurance company to call. This person doesn't have thousands of dollars on hand to pay for your medical bills and totaled vehicle, so what happens?
That driver that hit you goes bankrupt while they're attempting to pay your bills.
This is where uninsured or underinsured motorist insurance coverage steps in.
But what is loss ratio?
Loss ratio is how we determine how many filed claims were paid and how many were unpaid. Why is this important?
It's important to know this because insurance companies don't always pay out 100% of claims. This is usually a good thing. Say what?
If you look at the loss ratio table above, MedPay and uninsured claims were paid out most of the time. Somewhere between 50-80 percent of these claims were paid.
If a company is paying too many claims (over 100 percent usually) than that company could be at serious risk of going bankrupt, and you don't want that because then, you'll never get your claim paid.
On the other side, if a company hasn't paid out enough claims (under 50 percent) you might be getting scammed by your insurance company.
It could mean that that company is receiving premiums from thousands of clients every year and not paying out half of the filed claims they are getting.
So what should you look for finding a new provider? Make sure that the provider's loss ratio is between 60-100 percent and you should be good to go.
Add-ons, Endorsements, and Riders
Medpay and uninsured liability insurance are just two of the many options you can add to a basic policy.
Click on the links below to learn more about each type of car insurance.
Personal Umbrella Policy (PUP)
Rental Reimbursement
Emergency Roadside Assistance
Mechanical Breakdown Insurance
Non-Owner Car Insurance
Modified Car Insurance Coverage
Classic Car Insurance
Pay-As-You-Drive or Usage-Based Insurance
Buy one add-on or buy them all! You're never limited to how much car insurance you can buy: the more the merrier.
Now that you understand all of the different types of car insurance, it's time to start talking about factors that can affect your insurance rate. How do you get the best rate? Can you control the rate at all? What companies have the best rates?
All that and more – up next.
Demographic Rates – Male vs. Female vs. Age
Even though it probably shouldn't, gender and marital status can affect your rate.
Age affects your rate as well, but we understand that one: the younger you are, the less experience you have, and the less experience you have, the more likely you are to be in a car accident.
Normally, men pay more for car insurance than women do and your rate typically decreases in cost once you get married.
But what other factors can affect your car insurance rate?
Cheapest Rates by Zip Codes in South Dakota
Where you live can also affect your rate. Find your zip code on the list below.
Cheapest Rates by Cities in South Dakota
Below is a list of cities to live in South Dakota with the cheapest insurance rates.
According to this list, Watertown has the cheapest insurance rate.
Enter your ZIP code below to compare auto insurance rates.
Secured with SHA-256 Encryption
Best South Dakota Car Insurance Companies
With literally thousands of car insurance providers out there, how do you know which one to choose? You may choose the one who has the cheapest rates, but what other things should you look for when finding a new company to ensure you?
In this section, we will discuss things like customer service satisfaction, customer complaints, AM best ratings, and more.
Don't go away — financial ratings are up first.
The 10 Largest Insurance Companies Financial Ratings in South Dakota
As it shows in the table above, the AM Best ratings prove a companies' financial strength, and based on these ratings, these companies are some of the best in the business.
All of these companies stay in the loss ration safe zone – they all have percentages over 50 percent and under 100 percent.
South Dakota Companies with the Best Ratings
After you've just been in an accident, the last thing you want to deal with is a nasty insurance agent questioning you over the phone — that's why customer service is a huge deal when it comes to being in the insurance industry.
The chart below by J.D. Power ranks some of the best car insurance companies in South Dakota and the surrounding region. These rankings are based on five categories: interaction; policy offerings; price; billing process and policy information; and claims.
Besides USAA (a company that only serves military members and their families), Shelter insurance was ranked as the number one insurance company in Arkansas, Kansas, Minnesota, Missouri, Nebraska, North Dakota, Oklahoma, and South Dakota.
Complaint Statistics for the Top Ten Largest Insurance Companies in South Dakota
The complaint stats below are credited to the NAIC.
Every company receives complaints; how a company handles complaints is what really matters.
South Dakota Car Insurance Rates by Company
After looking at the data above, State Farm and Progressive Northern usually carry the cheapest average annual rates. Most of these rates are well below the national average.
Let's get back to factors that can affect your car insurance rate.
Commute Rates by Company in South Dakota
How far you drive every day is another important factor that affects your car insurance rate.
The difference between driving ten miles a day and 25 miles per day affects a car insurance rate by a few hundred dollars! Wow!
Coverage Level Rates by Companies in South Dakota
Some car insurance companies will give you a break on the cost of your policy if you choose to buy more car insurance than just the minimum policy required.
The cost of low coverage is only a couple hundred dollars cheaper than high coverage in most cases. Having better coverage could really pay off if you are in a serious accident.
Credit History Rates by Companies in South Dakota
A good credit report will likely help you save some dough when it comes to your insurance policy. Take a look at the table below and see for yourself.
Many people don't realize that your credit score can affect so many aspects of your life. For instance, credit scores affect auto insurance rates. Good news for South Dakotans: they have the second-highest average credit scores of any state.
According to Experian, in 2017, South Dakota's average credit score was 700. That's actually a pretty great score and above the national average credit score of 675.
When it comes to your insurance rate, the cash difference between having a good credit history and a poor credit history can be hundreds, if not thousands of dollars.
If you have had trouble with your credit score in the past, don't worry — the sooner you fix your score, the sooner your car insurance rate will decrease.
Driving Record Rates by Companies in South Dakota
The very first question car insurance companies often ask when giving you a quote is, "Have you been given a speeding ticket or been in an accident in the last three years?"
A person's driving record is often one of the biggest factors when deciding rate.
If you are convicted of just one DUI, you're looking at paying thousands of dollars more per year for your insurance policy.
Not only will your rates drastically increase when you get a DUI, but it's likely that you will have to pay hundreds of dollars in fines and you may even face some jail time as drinking and driving is a serious crime in the state of South Dakota.
Number of Insurers in South Dakota
You may be wondering, "what's the difference is between domestic insurance and foreign insurance?"
South Dakota domestic insurance laws are formed under South Dakota state law. These laws may not apply to the rest of the U.S. Foreign insurance laws are formed under the laws of the U.S. and apply to every state in America.
While we're on the topic of domestic laws, let's continue on to this next section: South Dakota state laws.
South Dakota State Laws
Sometimes it can be difficult and overwhelming to be aware of every single law ever written in any given state at any given time in history.
Some laws have been repealed, some have just been put into practice, but either way, every resident in South Dakota is required to follow these laws — even if the law seems kind of crazy or unknown.
To help you avoid getting fined or going to jail, we want to talk about specific driving laws and why you should follow them. Even if you think you know all about South Dakota state laws, you should still read this section to refresh your memory.
First, we'll start with car insurance laws.
Car Insurance Laws in South Dakota
Have you ever wondering how insurance laws are formed? According to the NAIC, state laws have a considerable influence on auto insurance.
Each state determines the type of tort law and threshold (if any) that applies in the state, the type and amount of liability insurance required, and the system used for approval of insurer rates and forms.
In South Dakota, car insurance rates/forms must be filed with and approved by the state insurance department before they can be used.
This system is set in place to make sure companies aren't just making up some random amount of money to charge their clients for their car insurance policy.
Approval can be by means of a deemer provision, which indicates approval if rates/forms are not denied within a specified number of days.
Windshield Coverage
Even though it's not a law that an insurance company in South Dakota must replace a broken windshield without a deductible, individual insurance companies may offer this option with a comprehensive coverage plan.
We've all been there: you're driving down the road and bam! Your windshield gets hit with a tiny, little rock that leaves a baseball size crack. More than likely, that crack is unfixable, and your whole windshield needs to be replaced.
If you do have to pay a deductible or go through insurance to get it repaired, here are some laws that you should be aware of.
Consumer has the right to choose repair vendor
Aftermarket crash parts allowed with written notice in an estimate
If you live somewhere out west where the wind can be reckless, it might be a good idea to get a comprehensive plan so you never need to pay out of pocket to fix a broken windshield.
High-Risk Insurance
No one's perfect; accidents happen. That's what insurance is there for in the first place. However, if you are caught driving without insurance, you may need to get what is called SR22 insurance or high-risk insurance.
A South Dakota SR-22 car insurance certificate, or financial responsibility insurance form, is a document of proof that a driver is financially responsible for carrying the minimum car insurance as required by the state.
SR-22 car insurance must be carried by uninsured drivers who were involved in an accident they caused that resulted in damages or injuries for which they failed to pay compensation.
You may also be required to get SR-22 insurance if the following applies:
you are a driver with unsatisfied judgments
drivers whose licenses were revoked
drivers who are under mandatory insurance supervision
drivers with three or more mandatory insurance violation convictions on their driving record
Don't forget: if you are required to get SR-22 insurance, your rates will likely increase.
Low-Income Insurance
South Dakota currently does not have a program to help out low-income families who need car insurance, however, there are other ways to save on your policy.
Check out these discounts listed below:
Student discount
Military discount
Homeowner's discount
Multi-car discount
Good driver discount
Don't get down-! if your rate isn't where you want it because of an accident, be sure to shop around for a company with an accident forgiveness program.
Automobile Insurance Fraud in South Dakota
The Insurance Information Institute defines fraud as "hard" or "soft." Hard fraud occurs when someone deliberately fabricates claims or fakes an accident.
Soft insurance fraud, also known as opportunistic fraud, occurs when people pad legitimate claims, for example, or, in the case of business owners, list fewer employees or misrepresent the work they do to pay lower premiums for workers compensation.
Auto insurance fraud and claim buildup added between $4.8 billion and $6.8 billion to closed auto injury claim payments in 2007, according to the Insurance Research Council's November 2008 study, Fraud and Buildup in Auto Insurance Claims: 2008 Edition.
Auto insurance fraud is a serious crime in the state of South Dakota and can be punishable by jail time and fines. Worried about committing insurance fraud? Don't pad your claims and don't fake an accident and you should avoid car insurance fraud altogether.
Statute of Limitations in South Dakota
The statute of limitations law is how a state determines how long you can wait until it is too late to file a claim after an accident. This law protects both the driver and the insurance company.
In South Dakota, you have three years after you get into an accident to file a claim for personal injury and six years after to file a claim for property damage.
Don't wait to file your claims! If too much time passes and an insurance company cannot process your claim because of the statute of limitations law, you will be forced to cover the costs of damages and medical bills yourself.
South Dakota State Specific Laws
Here's one weird state-specific driving law in South Dakota:
A driver can be charged with a DUI even if he or she is not technically driving the vehicle. What do we mean?
If you are sitting in a parked car and are under the influence of alcohol, you can be charged with a DUI. Even if you are not behind the wheel, you can be convicted of a DUI.
Vehicle Licensing Laws
At this point, you probably know what a license is. But have you ever heard of a REAL ID?
By the year 2020, every person who wishes to fly domestically must have a REAL ID to get through airport security. Although you don't need this ID to vote, you still will need it to fly.
Penalties for Driving Without Insurance
You should know by now that it is South Dakota law that every driver is required to carry car insurance. But what are the penalties if you are caught driving without car insurance?
It doesn't matter if it's your first time driving without insurance or your seventh. The penalties are always the same.
Fine: $100 and/or 30 days imprisonment
License suspension for 30 days to one year
Filing proof of insurance (SR-22) with the state for three years from the date of conviction
Failure to file proof of insurance after you are convicted of driving without it will result in the suspension of vehicle registration, license plates, and driver license.
If you have car insurance and you don't carry proof of insurance, you could still be facing some of the same penalties.
Acceptable forms of proof of insurance are:
Copy of your current car's insurance policy
Electronic car insurance card
Valid liability insurance ID cards
Valid insurance binder (a temporary form of car insurance)
If you have a hard time forgetting to carry a copy of your insurance card, ask your provider if they provide online access so if you're in a jam, you always have your card if you have your phone.
Teen Driver Laws in South Dakota
South Dakota is the only state in the U.S. where you can get a driver's permit at age of 14. Take a look at the table for more laws about teen driving below.
South Dakota also has some rules for keeping young drivers and those with driver's permits safe while on the road.
License Renewal Procedures
If you are a 25-year-old driver or a 95-year-old driver, you must renew your license every five years.
Proof of adequate vision is required at every renewal for those 65 and older and for those renewing their license in person.
All drivers may renew their license every other time online or by mail.
New Residents
If you are a new resident in the state of South Dakota, you must transfer your driver's license within 90 days. If you have a Commercial Driver's License (CDL) holder, you have 30 days.
You're also going to need to let your provider know you will need South Dakota car insurance. Please be aware that some insurance providers don't cover drivers in certain states.
Remember that South Dakota's minimum liability car insurance requirements are:
$25,000 liability coverage for bodily injury or death of one person in an accident caused by the owner/driver of the insured vehicle
$50,000 liability coverage for total bodily injury or death liability in an accident caused by the owner/driver of the insured vehicle
$25,000 liability coverage for property damage per accident caused by the owner/driver of the insured vehicle
Negligent Operator Treatment System
The South Dakota Legislature defines negligent or reckless driving as "Any person who drives any vehicle upon a highway, alley, public park, recreational area, or upon the property of a public or private school, college, or university carelessly and heedlessly in disregard of the rights or safety of others, or without due caution and circumspection and at a speed or in a manner so as to endanger or be likely to endanger any person or property, is guilty of reckless driving."
In the state of South Dakota, reckless driving is a Class 1 misdemeanor. If you are convicted of reckless driving, your license may be revoked for 30 days or more and you may need to pay fines.
If you have a reckless driving misdemeanor on your record, your car insurance rates are sure to skyrocket. If you don't want that, don't mess with the law and be responsible every time you get behind the wheel.
South Dakota Rules of the Road
If you're going to be driving in South Dakota on vacation, or even if you're just passing through, you're going to need to know the rules of the road. What do we mean by rules of the road?
Keep reading to find out more.
Fault vs No-Fault
South Dakota is considered to be an at-fault state. We discussed this above in more detail, but basically, it follows the principle, "if you break it, you buy it."
If you cause a car accident and you damage another person's vehicle, property and/or cause them some kind of personal injury, you are 100 percent required to cover the costs of repairs and medical bills if necessary.
This is why it is always better to have more insurance than the law requires. Going bankrupt over an accident is no fun.
Seat Belt and Car Seat Laws
South Dakota wants its drivers to be safe while on the road. Read the laws in the table below to find out more about seat belt requirements.
Children also need to be safely buckled in at all times while driving. If you're unsure about child car seat safety, keep reading below.
The fine for breaking these car seat laws is $25 plus fees. Keep your child safe while on the road. It's always better to be safe than sorry.
If you were wondering if riding in the cargo area of a truck is illegal in South Dakota, it is not. However, the state doesn't advise doing this because it is extremely unsafe.
Keep Right and Move Over Laws
Most states in the U.S. say that if you want to drive slow, then keep right or move over. But, South Dakota doesn't have any law that says you need to get over if traveling slower than the average speed of traffic around you.
In fact, you can legally drive at a minimum speed of 40 miles per hour on roadways like interstates or highways.
Now, if you're driving next to someone driving much slower than the speed limit, South Dakota state legislature says you may pass someone under these conditions:
When the vehicle overtaken is making or about to make a left turn
Upon a street or highway with unobstructed pavement, not occupied by parked vehicles, of sufficient width for two or more lines of moving vehicles in each direction
Upon a one-way street, or upon any roadway on which traffic is restricted to one direction of movement, where the roadway is free from obstructions and of sufficient width for two or more lines of moving vehicles
A violation of these laws above is a class 2 misdemeanor.
Speed Limit Laws
South Dakota has some of the highest speed limits in the country. Listed below are South Dakota's maximum speed limit laws.
Speeding is often the most common type of traffic violation. If you get caught going over the speed limit, you will be fined, possibly incur points on your driving record, and your car insurance company will be notified and most likely raise your rates.
Ridesharing
Ridesharing insurance can be kind of expensive, but nonetheless, it is the law to have it in South Dakota if you plan on working for a ridesharing company like Uber or Lyft.
You can read more about ridesharing laws and insurance here.
Automation on the Road
What is automation?
As defined by the IIHS, automation involves using radar, camera, and other sensors to perform parts or all of the driving tasks on a sustained basis instead of the driver.
One example is adaptive cruise control, which continually adjusts the vehicle's speed to maintain a set minimum following distance.
Features such as automatic braking, which acts as a back-up if the human driver fails to brake, or blind spot detection, which provides additional information to the driver, aren't considered automation under this definition.
South Dakota currently does not have any laws on vehicle automation, but you can check back with IIHS every so often to see if this has changed.
Safety Laws in South Dakota
It's so important to know about the safety laws in your home state. In this next section, we want to make sure you are aware of South Dakota's DUI laws, impaired driving laws, and distracted driving laws.
DUI Laws
In 2017, there were 35 alcohol-impaired driving fatalities in South Dakota.
Below are the penalties for drinking and driving by the number of offenses.
If you are convicted of drinking and driving just one time, you can face jail time, having your driver's license taken away, and you will have to pay $2000 in fines — not to mention your car insurance rate will also dramatically increase.
Don't drink and drive. It's not worth risking your life or someone else's.
Marijuana-Impaired Driving Laws
In the state of South Dakota, if you are under 21 years old, there is a zero-tolerance policy for driving while using THC and metabolites.
If you're over the age of 21 and you're using drugs of any kind while driving, you can be penalized for impaired driving.
Distracted Driving Laws
It is illegal for all drivers to text while driving. Studies have shown that texting and driving are almost always worse than drinking and driving.
If you break these laws, you could be fined some serious dough. Texting can wait. Don't bet your life on a few seconds while looking down at your phone.
Driving in South Dakota
Now that we've talked about some of South Dakota's safety laws, car insurance laws, and state-specific driving laws, it's time to get into some of South Dakota's risks and dangers of the road.
Are you aware of the vehicle theft rates in your area? Which vehicles are stolen the most? How many road fatalities happen per year and why do they happen at all?
These are some of the questions we are going to answer in this next section. Don't go away! We're covering vehicle theft first.
Vehicle Theft in South Dakota
The table below shows the most popular types of vehicles that are stolen.
The data from the table below is pulled directly from the FBI. This list shows how many vehicles were stolen in what city in 2016. Check to see how many vehicles are stolen in your area per year.
Some of these cities had zero theft. That's not a typo, that's the truth.
Road Fatalities in South Dakota
No one likes to talk about something as depressing as death rates, but sometimes it's important to know so we can prevent accidents and fatalities from happening later.
In this next section, we will discuss fatality statistics: where they happen the most, what plays a role in a fatality, and why they happen in the first place.
Fatal Crashes by Weather Condition and Light Condition
Did the South Dakota weather play a role in traffic fatalities? Look below to find out.
Most of these fatal crashes happened in the broad daylight. Some happened at night in the dark. But as far as we can tell, crazy weather really wasn't a factor when it came to preventing death after a crash.
Fatalities (All Crashes) by County
Here's a list of the number of traffic fatalities per county from 2013-2017 in South Dakota.
Traffic Fatalities Rural vs Urban
Most people think fatal crashes happen more in the city than they do in the country.
This might be because there are obviously many more vehicles on the road in the city so it only makes sense that more vehicles mean that there are better chances for someone to get into an accident.
However, this might be true of crashes in general, but it is not the case when it comes to fatal crashes.
There are many more emergency services located in cities than there are in rural areas, so even if you are badly injured in a crash, you are more than likely just minutes away from receiving the care you need to survive.
Fatalities by Person Type
Who dies in car accidents the most? Is it people who are riding a motorcycle? Pedestrians? Truck drivers? Read below for info on fatalities by person type.
Fatalities by Crash Type
What kinds of vehicles are most likely to be involved in a fatal crash?
Five-Year Fatality Trend For The Top 10 Counties in South Dakota
Fatalities Involving Speeding by County
Speeding is another sad and preventable cause of traffic fatalities.
Fatalities in Crashes Involving an Alcohol-Impaired Driver (BAC = .08+) by County
Drunk driving plays a major role when it comes to fatal crashes.
If you live in Shannon County, keep an eye out for drunk drivers. There were 28 alcohol-related fatalities in Shannon County that occurred from 2013-2017.
Teen Drinking and Driving
According to responsibility.org, In 26 states and D.C., under-21 alcohol-related driving fatalities per 100,000 population were at or below the national average of 1.2 deaths per 100,000.
South Dakota's average was 2.8. Besides Montana, South Dakota has the second highest teen drinking and driving fatality rate in the country.
Although it has the second highest rate for teenage alcohol-impaired fatalities, South Dakota has the highest rank in the country for teens who are arrested because of drinking and driving.
This statistic makes South Dakota the most dangerous state in the U.S. for teenage DUIs.
EMS Response Time
Sometimes, seconds can make all the difference in the world when someone's life hangs in the balance — that's why EMS response time is extremely important.
Check out these averages if you're interested in learning how long it will take an emergency service to reach you after you've been involved in a serious accident.
Generally, it takes less time to get to a victim who is in a more populated located like an urban area or a city. This is because there are usually more EMS locations in cities than there are in the country.
Transportation
Have you ever wondered how many cars your neighbors own?
Car Ownership
Most South Dakota residents own two cars. The orange bars in the chart below illustrate South Dakota's average, while the gray bars represent the average of the U.S.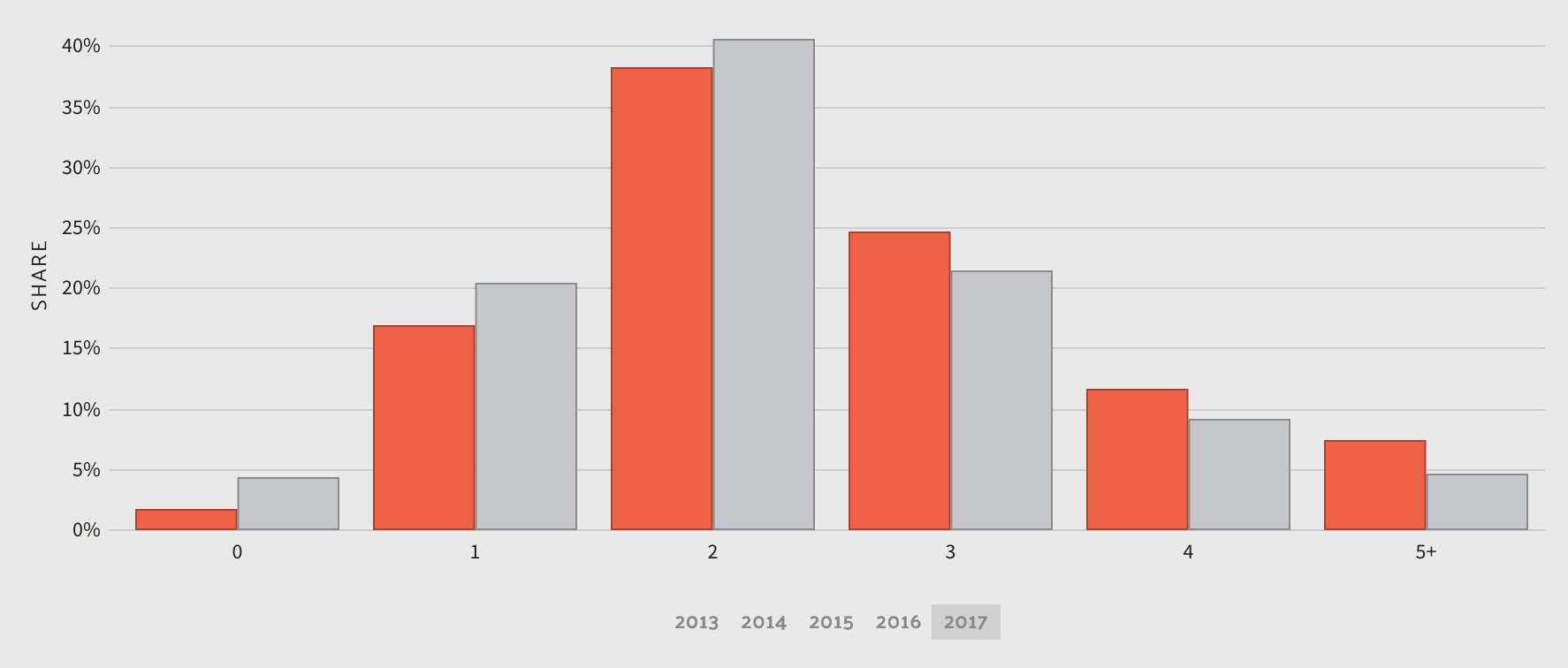 Commute Time
According to Data USA, "using averages, employees in South Dakota have a shorter commute time (16.3 minutes) than the normal US worker (25.5 minutes).
Additionally, 1.24 percent of the workforce in South Dakota have "super commutes" in excess of 90 minutes.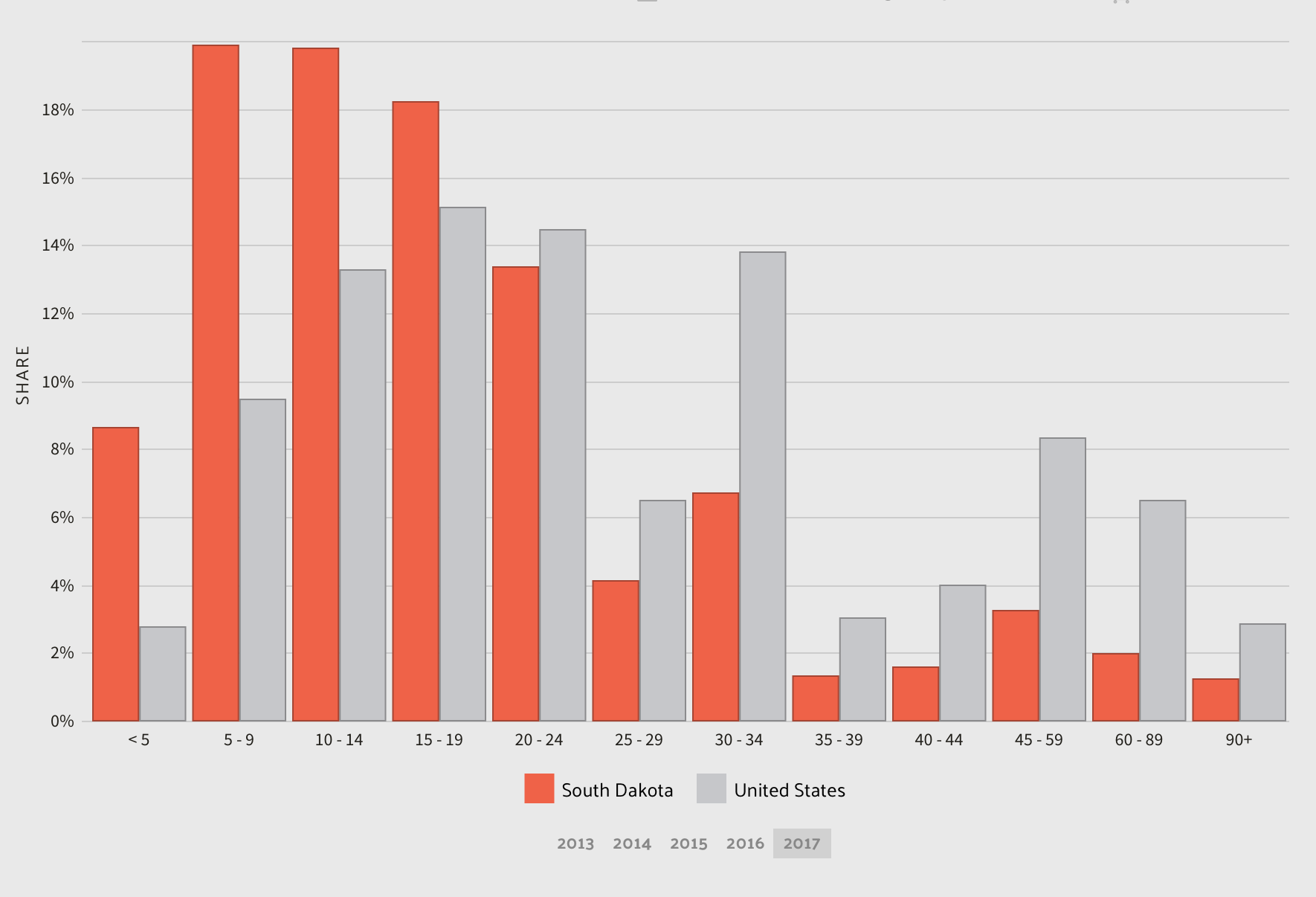 Commuter Transportation
Driving alone is a very popular form of transportation in South Dakota. 81.2% of residents drive alone to work every day.
Traffic Congestion in South Dakota
Good news for the residents of South Dakota. According to Inrix, South Dakota does not have any cities on the most traffic-congested cities in America list.
That's all folks! We hope you enjoyed this thorough guide to South Dakota car insurance. If you want to start shopping for a new car insurance policy, all you have to do is enter your zip code in the box below for a free quote.
Happy shopping.