The Ultimate Missouri Car Insurance Guide (Costs + Coverage)
Free Auto Insurance Comparison
Enter your ZIP code below to compare auto insurance rates.
Secured with SHA-256 Encryption
Often called the "Mother of the West", the "Cave State" and the "Show Me State" by many of its natives, Missouri is famous for the beautiful Ozark Mountains, the Gateway Arch, and the Missouri Compromise.
With a population of over 6 million people, and over 5 million registered cars on the road, one thing is for sure: compromising on your Missouri car insurance policy is clearly not an option.
Finding the right car insurance policy and the best rate to go with it is sometimes an agonizing and tedious mission, which is exactly why we created this ultimate guide to Missouri car insurance.
In this guide, we will discuss costs and types of coverages, rules of the road, specific Missouri car insurance laws, and more. But don't go anywhere! Missouri car insurance coverage and rates are up next.

Missouri Car Insurance Coverage and Rates
If you live in the "Town of the Large Canoes", it might be difficult to pay for a car insurance policy that you don't fully understand – especially when you don't even know what that policy specifically covers.
So, if you're struggling a little bit with picking a policy (and a provider) and you want to know exactly what you're paying for when it comes to your insurance policy, keep reading as we explain major coverage types, proof of insurance, and Missouri car insurance companies.
Missouri's Car Culture
Because of Missouri's large cities and mountainous terrain, the state's car culture tends to fall on a broad spectrum.
If you live in the city, you might drive something like a Tesla because charging stations are always close by. You may prefer a pick-up truck to transport goods back and forth from where you live.
Since the Ozarks are a popular vacation spot and a fun place for car shows, classic cars are also a big part of Missouri's culture.
Missouri "car" culture doesn't always involve cars, but horses, says Eric Wynn.
"I have to be very careful passing the Amish buggies as there are no road shoulders, and the buggies are on the main roads," he says.
Missouri Minimum Coverage
Let's start with the basics. According to Missouri state law, every driver in Missouri must have car insurance — no ifs, ands, or buts about it.
But, let's say you want the minimum amount of insurance necessary that complies with the state law.
This is called minimum liability car insurance. Before we get into what minimum liability car insurance actually means, let's explain the difference between an at-fault state and a no-fault state.
Missouri is an at-fault state. At-fault car accident states require the person who caused the accident to be responsible for all damages resulting from that accident.
Simply put, if you cause an accident, you need to get on the phone with your car insurance company and tell them about the damages done to your car and any other damages done to any other cars from that accident so they can hopefully cover all of the costs to fix them.
You are also responsible to cover the costs of any medical bills in the case that someone is injured during the accident.
No-fault car accident states require every person involved in an accident to file a claim with their own car insurance company.
Okay, so no that we've got that out of the way, let's go back to the definition of minimum liability coverage.
Missouri's minimum liability insurance must meet all of the following requirements:
$25,000 for bodily injury or death of one person in an accident caused by the owner/driver of the insured vehicle
$50,000 for total bodily injury or death liability in an accident caused by the owner/driver of the insured vehicle
$10,000 for property damage per accident caused by the owner/driver of the insured vehicle
Liability coverage gives drivers a security blanket in case they get into an accident so they aren't at risk for going bankrupt. However, this doesn't mean liability insurance will always cover all of the costs of damages and medical bills.
If the costs of damages exceed these amounts listed above, the driver is then forced to pay for them out of his/her own pocket.
Forms of Financial Responsibility
So not that we know you must have car insurance to drive a car in Missouri, it's time to talk about proof of financial responsibility. Simply put, proof of financial responsibility is proof that you actually carry an insurance policy.
According to the Missouri Department of Revenue, you must keep some proof of insurance in your vehicle at all times. If a law enforcement officer asks for proof of insurance and you cannot show it, the officer may issue you a ticket.
Acceptable forms of proof of insurance are:
Electronic/digital copy of your insurance card issued by your provider
Valid liability insurance ID cards
Valid insurance binder (a temporary form of car insurance)
If you are caught driving without insurance, you may get your license suspended and you may be required to get SR-22 insurance.
SR-22 insurance may be required if the driver has been charged with a DUI after causing an accident, or was caught driving without insurance at the scene at an accident.
The SR-22 proves that you hold the mandatory liability coverage for the necessary period of time, based on your exact infraction.
Premiums as a Percentage of Income
Have you ever heard of the term, per capita disposable income?
This is the amount of money a person takes home after their taxes have been paid.
In 2014, Missouri's average per capita income is $36,690.
Missouri drivers paid an average of 2.3 percent of their income to car insurance in 2014. While the average per capita income continues to increase, insurance rates also rise. The average price paid for full coverage car insurance in 2014 was $845.39.
If we look at surrounding states rates, Iowa drivers only paid $683.67 in 2014 for the same type of insurance.
Kansas was about the same as Missouri's at $850.79, and Arkansas's average full coverage car insurance rate was highest at $900.18.
Overall, Missouri's rate was about $105 cheaper than the national average of $951 in 2014.
Core Coverage in Missouri
The data above is pulled from the National Association of Insurance Commissioners, but because the numbers are from the year 2015, rates may be higher now than they were back then.
Minimum liability coverage is required, but having additional coverage is always a good idea. Trust us, you'll thank yourself the next time you get into an accident.
Keep reading to learn more about additional coverage.
Additional Liability Coverage
Even though medical payments and underinsured/uninsured coverage plans are not required in Missouri, it still might be a good idea to add them to your insurance policy. Why? Fourteen percent of drivers in Missouri are uninsured.
Missouri is ranked 17th in the U.S. for uninsured drivers.
This statistic is a wake-up call.
If you were to get in an accident with an uninsured driver and that driver went bankrupt paying the costs of damages and medical bills, you might never see a dime of the money you are rightfully owed from that driver that caused the accident in the first place.
But what is a loss ratio and why is it important?
Loss ratio is how we measure how many filed claims were paid out by an insurance company, and how many were not paid.
What is a claim?
A filed claim is when you call your insurance provider and tell them you were in a car accident (or something else caused damage to your vehicle). That provider then decides whether or not it is worth it to pay to repair the vehicle or to total it.
If they decide it needs to be totaled, a check for the amount of money that the vehicle was worth before the accident is then written to the client to cover the cost of a new vehicle.
If a loss ratio percentage is too high, (over 100 percent) the insurance company may be at risk of bankruptcy because they are paying too many claims that maybe they shouldn't have.
Some of the claims could have been fraudulent, some could have been avoided altogether.
But, if the loss ratio percentage is too low, (under 50-60 percent) the insurance company may be scamming you and every other client they work to protect.
According to our table above, the percentages for medical payments and uninsured/under-insured drivers sit in a sweet spot. Most of the range from 60-70 percent, so that's a good thing.
What should you take away from this section? Stay away from car insurance companies if their loss ratio is above 100 percent or below 50 percent.
Add-ons, Endorsements, and Riders
Usually, when you are adding on different coverage options to your already existing policy, you will most likely save money. It's like going to the grocery store and buying five meals for $10, but when you buy those meals separately, they cost $3 each at a regular price.
But what kind of coverage should you add to your basic policy? How do you know what kind of add-ons are out there?
Don't worry! We've compiled a list below of additional coverage options. Click on the links to read more about what each type of insurance covers.
Guaranteed Auto Protection (GAP)
Personal Umbrella Policy (PUP)
Mechanical Breakdown Insurance
Non-Owner Car Insurance
Remember, you don't have to choose one type of coverage over the other, and the more car insurance you have, the better.
Demographic Rates in Missouri
Factors like marital status, age, and gender affect your car insurance rate.
Every company on this list above has a different rate. Sometimes rates are higher for women, sometimes they are higher for men.
Usually, younger drivers will pay a little (or a lot) more a year for their car insurance only because providers know that the younger you are, the less driving experience you have, and the more likely you are to get into an accident.
Hopefully, by the time you're 25, your rates will decrease if you've kept a clean record.
Cheapest Rates by Zip Codes in Missouri
Did you know that where you live can either increase or decrease your insurance rate? Look for your zip code below to figure out your rate based on where you live.
Sedalia has the cheapest zip code in Missouri, whereas Saint Louis and Kansas City have the 25 most expensive zip codes.
Cheapest Rates by City in Missouri
These are tables that compare the most expensive cities with the most expensive rates versus the least expensive cities with the least expensive rates in Missouri.
Sedalia, the city with the cheapest zip code, also has the cheapest rates overall.
Enter your ZIP code below to compare auto insurance rates.
Secured with SHA-256 Encryption
Missouri Car Insurance Companies
There are literally hundreds of car insurance companies out there, so how are you supposed to choose just one to insure you?
You might choose a company thinking you are getting a good rate, only to find out that the coverage isn't all that was originally promised.
That's why we've done all the hard work for you and collected data on Missouri's best car insurance companies. Keep reading to learn more about best ratings, company complaints, and more.
The Largest Companies Financial Rating
Have you ever considered financial strength to be something important when choosing a car insurance company?
We measure financial strength through something called the AM Best Rating. Take a look at the ten largest Missouri companies and their AM Best Ratings.
As we discussed earlier, loss ratio percentages should stay above 50 percent and under 100 percent. Every single one of the companies on our list stays between these two numbers, so rate away we know that they all have a strong financial rating.
Companies with Best Ratings
JD Power has also ranked car insurance companies by dividing them up into regions across the U.S.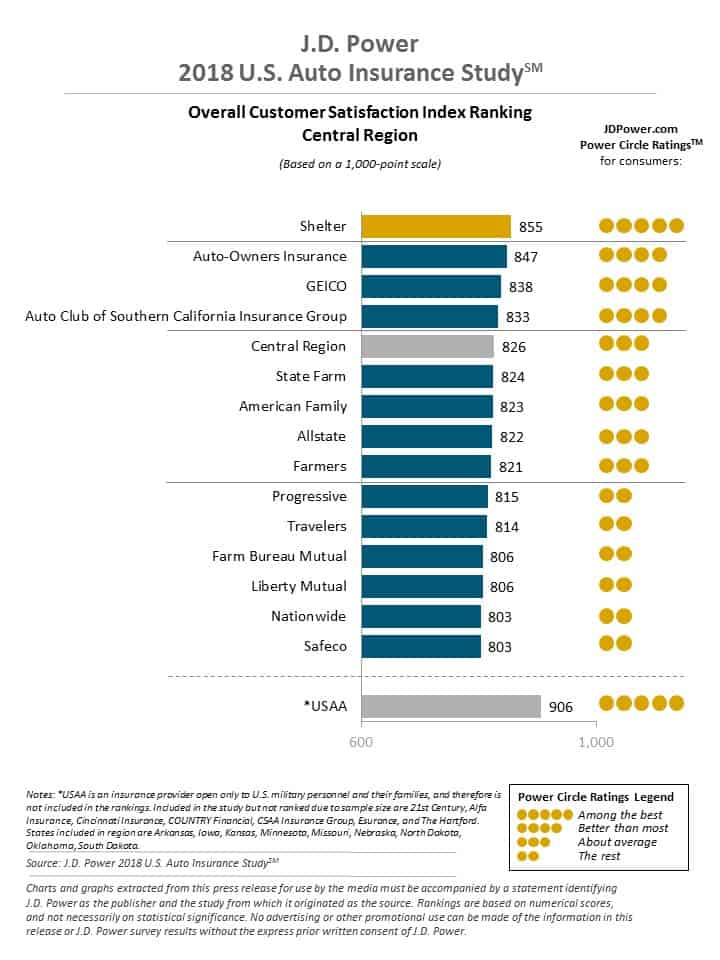 These rankings are based on five key factors: interaction; policy offerings; price; billing process and policy information; and claims.
Companies with the Most Complaints in Missouri
Every company receives a complaint or two every now and then; how a company chooses to handle a complaint is what's really important.
Below are complaint statistics for the ten largest car insurance companies in Missouri.
Cheapest Companies in Missouri
This chart compares rates in Missouri against the national average car insurance rate.
Commute Rates by Companies
Since car insurance is there to help us in the event of an accident, it only makes sense that they are aware of how far we're driving every day. The more you drive, the more likely you are to get into an accident.
Here are rates based on commute distance.
Many of these rates are the same, and some only changed about $100 or so.
Coverage Level Rates by Companies
Sometimes, if you add more coverage to your basic insurance plan, your rate will be discounted.
Check it out below.
Credit History Rates by Companies
Did you know your credit can affect your rate? If you have poor credit, you are most likely going to have a high car insurance rate. On the other hand, if you're responsible with your credit, your rate should be relatively low.
The difference between some of these rates are thousands of dollars.
Missouri state drivers had an average credit score of 675 in 2017.
But credit score, coverage level, and commute distance aren't all that can affect your rate.
Up next, different driving records reflect car insurance rate.
Driving Record Rates by Companies
If you're given just one citation for speeding, your rate can increase by hundreds of dollars. If you get a DUI, forget it. You're looking at having your rate increased by thousands of dollars.
Number of Insurers in Missouri
What's the difference between domestic and foreign insurance?
Domestic insurance laws are formed in the state of Missouri. Foreign insurance laws are influenced and formed by the laws of any state in the U.S.
Missouri State Laws
If you are a new resident of Missouri or you're thinking about moving there, you need to learn specific Missouri state driving laws. Otherwise, you may be pulled over for something and not even know what you're getting a ticket for.
Just because you are unaware of a law, doesn't mean you're excused from it.
In order to get you all caught up with Missouri state laws, we've compiled a list that includes seat belt laws, insurance coverage laws, can't miss facts, and so on. So hold on tight and join us for this section on Missouri state laws.
Car Insurance Laws
Every driver in the state of Missouri must carry at least the minimum liability insurance.
Regarding rate filing, use and file (10 days) and the use self-certification option is available and under the jurisdiction of the commissioner.
According to the National Association of Insurance Commissioners, the department of insurance in Missouri can disapprove new policy forms within 60 days.
Windshield Coverage
By law, Missouri insurers do not have to pay to repair a broken windshield, however, some insurance companies may offer this coverage with a comprehensive plan.
If you choose to have a comprehensive plan that covers windshield damage, after-market parts may be used, if stated on the estimate, and the parts are at least equal in like, kind and quality in terms of fit, quality, and performance.
Keep in mind that the insurer may choose the repair vendor.
High-Risk Insurance
No one wants to be considered a "high-risk" driver. But if you get into an accident, you may be required to carry an SR-22 insurance form. SR-22 insurance may also be required if you find yourself in any of the following scenarios:
License suspension
DUI conviction
Reckless driving
Driving without insurance
Missouri SR-22 requirements will be different from state to state, so always confirm that your SR-22 policy is still active if you move across state lines.
Low-Cost Insurance
Have a low-income household? California, New Jersey, and Hawaii offer low-income car insurance plans. Unfortunately, Missouri does not offer a specific discount for low-income households at this time.
But, there are many other ways to save on your car insurance premium.
Ask your provider if they carry any of the following discounts:
Student discount
Good driver discount
Multi-car discount
Homeowner's discount
Over 25 years-old discount
Want to save even more on your yearly premium? All you have to do is enter your zip code into the box below and we will find you the best rate possible.
Automobile Insurance Fraud in Missouri
Auto insurance fraud is a serious crime in the state of Missouri. According to the Insurance Information Institute, insurance fraud can be considered "hard" or "soft".
Hard fraud occurs when someone deliberately fabricates claims or fakes an accident.
Soft insurance fraud, also known as opportunistic fraud, occurs when people pad legitimate claims, for example, or, in the case of business owners, list fewer employees or misrepresent the work they do to pay lower premiums for workers compensation.
Committing insurance fraud can cost you money, jail time, and even license suspension.
Statute of Limitations
When you live in a world where time is a vital concept to life, you have what is called the statute of limitations.
The statute of limitations law is there to protect a consumer or provider when it comes to filing a claim with an insurance company. If you're in an accident, don't wait to file a claim – do it right away.
Missouri gives you five years to file a claim for personal injury damage and property damage. Does that seem like a long time? Five years can go by pretty fast, so file that claim as soon as possible.
Vehicle Licensing Laws
Have you ever heard of a Real ID?
After October 2020, all Missourians must carry a passport or a Real ID with them when going through airport security. You will not need the Real ID to drive, vote or prove your age.
Keep mind that you will need to provide the proper documentation at the DMV when you are applying for the Real ID.
Penalties for Driving Without Insurance
If you get caught driving without insurance, you may have to pay a fine, have your license suspended, and drive under supervision.
If a law enforcement officer pulls you over and asks to see proof of insurance, you must provide it to him or her at all times.
Acceptable forms of proof of insurance are:
Electronic insurance card
Valid insurance card
Copy of your insurance card
You might be required to get SR-22 insurance if you are caught driving without any insurance at all. This means your premiums will go up and your wallet weight will go down. Don't be that person – drive with insurance.
Teen Driver Laws
You must have a minimum age of 15 years old in order to get a learner's license in the state of Missouri.
Before graduating to a restricted license, you must be at least 16 years old.
If you have a Missouri state restricted license, you must follow the guidelines below.
At the age of 17 years and 11 months, all restrictions will be lifted and a young driver can get a regular license.
Older Driver License Renewal Procedures
We've talked about teen drivers, and now it's time to discuss older drivers. If you are over the age of 70, you must renew your license every three years. If you are younger than 70, you must renew your license every six years.
Missouri drivers may not renew their license online or through the mail and proof of adequate vision is required at every renewal.
New Residents
What kind of car insurance do you need if you move to Missouri and how long do you have before you have to have Missouri insurance?
Missouri drivers must have a minimum insurance policy of:
$25,000 for bodily injury or death of one person in an accident caused by the owner/driver of the insured vehicle
$50,000 for total bodily injury or death liability in an accident caused by the owner/driver of the insured vehicle
$10,000 for property damage per accident caused by the owner/driver of the insured vehicle
New Missouri residents applying for an instruction permit or driver license must provide acceptable documents of the following:
Proof of Identity;
Date of Lawful Status;
Proof of Social Security number
Proof of Missouri residential address
Driver Examination Record (Form 100) from the Missouri State Highway Patrol (MSHP) indicating successful completion of tests (not required for nondriver identification card)
Negligent Operator Treatment System
According to NOLO, unlike most other states, Missouri doesn't have a law that prohibits "reckless" driving. The closest analog is Missouri's careless and imprudent driving law.
That law requires motorists to:
drive in a "careful and prudent manner"
drive at a rate of speed so as not to endanger the person or property of another
"exercise the highest degree of care"
There are serious penalties for people who are caught while carelessly driving. Careless and imprudent driving is a class B misdemeanor. Convicted motorists face up to six months in jail and a maximum of $1,000 in fines.
A careless and imprudent driving violation will also add four demerit points to the motorist's driving record.
Careless and imprudent driving offenses that involve an accident (collision) are class A misdemeanors. A conviction carries up to a year in jail and a maximum of $2,000 in fines.
Rules of the Road
If you don't know what the rules of the road are, how do think you're going to obey them? Buckle up as we discuss the rules of the Missouri road in this section below.
Fault vs. No-Fault
As we previously discussed, Missouri is an at-fault state. This means that if someone causes an accident that you're involved in, you are required by law to file a claim with your insurance company.
It also means that you are responsible to cover the costs of any damages and medical bills if you (or your vehicle) were harmed in the accident.
Because these costs can add up quickly, it is important to always have more than the minimum amount of car insurance required.
Seat Belt and Car Seat Laws
How old does your child need to be to be able to sit in the passenger seat in Missouri? Have you ever wondered if your car seat complies with state law? Missouri laws about seat belts and car seats are in place for a reason.
Continue reading below if you have any questions about seat belt or car seat laws in Missouri.
Keep your child safe by making sure they are in the correct car seat for their age, weight, and height.
Even though Missouri laws states there is no preference for a rear-facing car seat, it's still important to research the safest way to transport your child while in a vehicle.
Keep in mind that is also illegal to ride in the cargo area of a vehicle, i.e., the pick-up cargo area of a truck.
Keep Right and Move Over Laws
If you are driving slower than the average speed of traffic, the law requires you to keep right and allow other drivers to pass you in the left lane.
According to the Missouri Revisor of Statutes, the driver of a motor vehicle may overtake and pass to the right of another vehicle only under the following conditions:
When the vehicle overtaken is making or about to make a left turn
Upon a city street with unobstructed pavement of sufficient width for two or more lines of vehicles in each direction
Upon a one-way street
Upon any highway outside of a city with unobstructed pavement of sufficient width and clearly marked for four or more lines of traffic
State law also requires drivers approaching a stationary emergency vehicle displaying flashing lights, including towing and recovery vehicles, traveling in the same direction, to vacate the lane closest if safe and possible to do so, or slow to a speed safe for road conditions.
Speed Limits
As common as getting a speeding ticket is, you would think more people would pay attention to speed limit signs.
Unless otherwise marked, here are the speed limits for different types of roadways in Missouri.
Remember, these are the maximum speed limits in the state of Missouri. If you exceed these limits, you are breaking the law.
Ridesharing
What is ridesharing?
Have you ever heard of ridesharing services like Uber or Lyft? If you're considering working for a ridesharing service, you're going to need special ridesharing insurance.
Currently, USAA is the only insurance company in Missouri that offers ridesharing insurance.
Automation on the Road
According to the IIHS, automation is defined as the use of a machine or technology to perform a task or function that was previously carried out by a human.
There are no laws about automation in the state of Missouri at this time.
Safety Laws
Ever wonder what Missouri safety laws are? In this section, we will go over DUI laws, distracted driving laws, and more.
DUI Laws
Driving while under the influence is a crime and is punishable by fines, jail time and license suspension.
If you drink and drive just one time and get caught, there are serious consequences.
There is no minimum on jail time or fines, so depending on the judge you have for your DUI trial, you could have a short stay in prison, or a long one; it's all up for interpretation and the judge's imagination.
Marijuana-Impaired Driving Laws
Currently, there aren't any laws against marijuana-impaired driving. But, just because you technically can't be pulled over for marijuana does not mean you can't be pulled over be impaired driving.
The penalty for impaired driving varies from state to state and can include fines, jail time, and license suspension.
Distracted Driving Laws
Although technology has been a very helpful resource, it can also be a distraction to drivers on the road. If you are under 21 years old in the state of Missouri, texting and driving is against the law.
There aren't any laws against talking on your phone, however, if the phone call or the text can wait, it's better to wait until you're done driving to answer it. Recent studies have shown that texting and driving is worse than drunk driving sometimes.
Driving in Missouri
So far, we've talked about types of Missouri car insurance, rules of the road, DUI laws, speed limits and more. But now it's time to talk about the risks of the road.
If you are aware of the risks of the road, you are less likely to be involved in an accident, and more likely to stay safe while driving on Missouri roads.
Don't go away. In this section, we will go over vehicle thefts, road fatalities, and traffic congestion.
Vehicle Theft in Missouri
Did you know that some cars are stolen more than others? Here's a list of the top ten most stolen vehicles in Missouri.
Where you live also plays a role in the frequency of vehicle theft. Below is an FBI list with the cities in Missouri where vehicle theft is most prevalent.

Road Fatalities in Missouri
What kinds of risks play a factor in traffic fatalities? Is it the road type? Drinking and driving? Type of vehicle? Sometimes weather patterns affect traffic fatalities.
Fatal Crashes by Weather Condition and Light Condition
Fatalities (All Crashes) by County
Traffic Fatalities Rural vs Urban
Generally, there are more fatalities in rural areas than there are in urban areas. This could be because there aren't as many hospitals and emergency centers in rural areas as there are in more populated places like cities.
Fatalities by Person Type
Fatalities by Crash Type
Five-Year Fatality Trend For The Top 10 Counties in Missouri
Fatalities Involving Speeding by County
Fatalities in Crashes Involving an Alcohol-Impaired Driver (BAC = .08+) by County
In 2017, there were 254 fatalities in Missouri that resulted from drinking and driving.
Teen Drinking and Driving
In 2016, the Missouri under-21 alcohol-impaired fatality rate was above the national average (1.2 deaths per 100k population) at 1.7 deaths per 100k population.
Missouri is ranked 13th in the U.S. for teenage deaths resulting from under-aged drinking.
EMS Response Time
EMS response time can make all the difference in a life and death situation. If help arrives minutes too late, or makes a wrong turn on the way to the hospital, the EMS team could lose the person they're working on.
Transportation in Missouri
Ever wondered how many cars are on the road in your state?
The average driver in Missouri owns two cars.
Car Ownership in Missouri

Commute Time
On average, Missouri drivers spend less time commuting (22.5 minutes) than other drivers in the U.S. (25.5 minutes).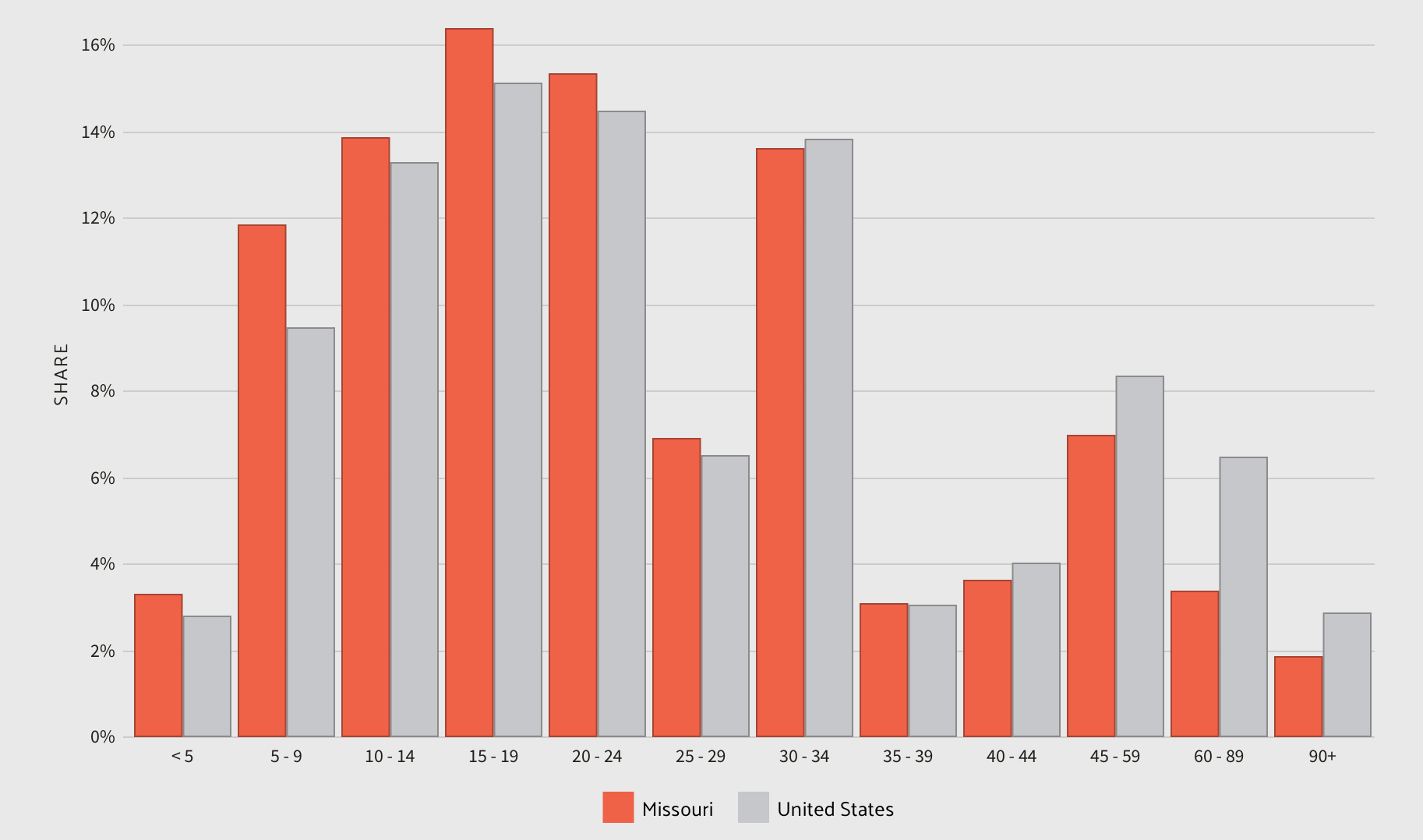 Commuter Transportation
Over 80 percent of Missouri commuters drive alone as you can see on the chart below.

Traffic Congestion in Missouri
According to the 2018 Inrix Global Traffic Scorecard, Kansas City and St. Louis are the two most congested cities in Missouri.
We hope this guide has been helpful to you, but now it's time to shop for your own unique car insurance rate.
To get started, simply put your zip code in this box below and compare car insurance rates today.