The Ultimate Pennsylvania Car Insurance Guide (Costs + Coverage)
Free Auto Insurance Comparison
Enter your ZIP code below to compare auto insurance rates.
Secured with SHA-256 Encryption
Whether you are driving through many scenic byways in the Keystone state or commuting to the office in the Steel City, you need car insurance to drive in the state.
But we understand that researching about insurance coverage in your state is often confusing and painful. You will have to spend hours looking for the best resources, collect data, etc.
In the market for Pennsylvania automobile insurance? Sometimes searching for a provider can be difficult.
Whether you live in a big city like Philadelphia, Pittsburgh, or Allentown, or a lesser populated area such as Erie or Reading, AutoInsuranceEZ.com makes getting quotes easy. Just enter your zip code to get started.
Car Insurance Coverage and Rates in Pennsylvania
We know that the best auto insurance policy is the one that we need.
But what how to figure what feature of the policy is applicable or relevant for me?
After all, a policy not only needs to provide adequate coverage but also should be economical. You should know what feature to drop and what to purchase in a plan.
In the guide, we will help you answer these and more.
Pennsylvania's Car Culture
Pennsylvania has a rich automotive history showcased through its various museums. The Keystone State is also home to the iconic Pocono Raceway that hosts IndyCar and NASCAR races.
Unfortunately, the racing heritage is slightly extended to the public roads with drivers sometimes exceeding the speed limit by more than 10 miles per hour.
Slow down and follow the rules! It's for everyone's safety.
Minimum Insurance Coverage Required in Pennsylvania
Before you figure out what is the best insurance coverage, you should know about the insurance laws applicable in the State of Independence.
Pennsylvania is among the few states that provide a 'choice' insurance model to its residents. You can either opt for a 'full tort' and 'limited tort' coverage, which will change the coverage in case of injury in a car accident.
Under a full tort coverage, you are responsible for the damage caused to others and reserves the right to sue if someone else has injured you in an accident.
In limited tort, you are the under the no-fault system. In case of an accident that resulted in injury, you will be compensated by your insurer for medical costs regardless of fault.
However, under limited tort, you are restricted for your right to sue the other driver for an injury.
You can step out of the no-fault system in case you suffer a severe injury such as serious impairment of a body function, or severe and permanent disfigurement.
All vehicles registered in Pennsylvania must have minimum liability insurance coverage.
The law in Pennsylvania requires you to purchase the following minimum liability insurance regardless of the choice of coverage you want to get:
$15,000 for injury or death of one person in an accident or $30,000 per accident that results in injury or death of more than one person
$5,000 property damage protection when you're at fault
In case you choose a no-fault plan, you also have to purchase the medical payments coverage:
$5,000 medical benefits protection that covers you or your passengers in case of an accident regardless of fault
While buying the minimum liability coverage will keep you compliant with the law, it may not be financially prudent to drive with minimum coverage.
If you do not have enough liability coverage, and you are at-fault in an accident, you will have to bear all the expenses that your insurance does not cover.
Let us now review why the minimum liability protection is required:
Liability coverage will kick in if you cause damage to other vehicle or property. E.g., if you rear-end a car and are held at fault, your insurer will compensate the third-party up to your policy limit.
However, $5,000 may not be enough if you hit an expensive car or accidentally cause substantial property damage. If the damage claim exceeds the amount covered under your policy, you will have to pay out of pocket.
This video will help you understand the concept of liability insurance:
To protect yourself against financial injury, you should purchase additional liability insurance than the minimum mandated by the state law.
Forms of Financial Responsibility Required in Pennsylvania
It is mandatory to maintain vehicle liability insurance in Pennsylvania.
Any lapse in vehicle insurance may result in registration suspension.
Also, do not drive without insurance. Not only it's financially risky, but also, you can attract fine and license suspension. DMV can also revoke your license plate and registration.
You would have to pay a $500 fine to avoid registration suspension along with registration restoration fee.
Do not make the mistake of driving without insurance.
In place of motor insurance, you can also apply for self-insurance with PennDOT.
To get approved for self-insurance, you would submit the following to PennDOT:
Financial statements that show your latest financial condition
Minimum collateral of $50,000 for one vehicle
– Premiums as a Percentage of Income in Pennsylvania
How to save on premiums?
To answer this question, we need to understand what are you paying compared to your other drivers in the state.
The benchmark premium rate will help you analyze an insurance quote that you may receive from an insurer.
On average, premiums amount to a lower share of income compared to the national percentage.
However, the numbers we shared above are average numbers. These may not necessarily be relevant in your case. Please use our FREE calculator to what percentage of your income is spent on car insurance.
CalculatorPro
Core Car Insurance Coverage in Pennsylvania
The lower share of income is due to a higher disposable income, coupled with a lower average premium than the national average.
As per the data from the National Association Of Insurance Commissioners, the average premium for full coverage is $950, which is more than $30 less than the national average.
Auto insurance premium in Pennsylvania is at par with the national average.
However, you can further save by using the following methods:
Optimize your deductible
Have all your cars in a single policy
Complete a certified defensive driving course
Equip your cars with safety equipment such as anti-theft alarm
Reduce your annual mileage
 Additional Liability Coverage in Pennsylvania
If you opt for no-fault insurance, you are required to purchase the medical benefits rider. However, Pennsylvania law does not require you to purchase PIP or uninsured motorists coverage.
It is however prudent that you consider the add-ons as they provide additional financial protection in case of an accident.
Medical Payments
Medical Payment coverage is expected to cover your medical expenses in case of an accident up to the limits of your policy. The 'MedPay' coverage pays you regardless of who was at fault in an accident.
Personal Injury Protection (PIP)
You can opt for PIP that includes several benefits, including medical payment, lost wages, funeral expenses, etc.
However, please remember that MedPay and PIP both are primary benefits that provide medical coverage in case of an accident.
The difference is that PIP also provides additional coverages such as lost wages and funeral expenses.
Uninsured/Underinsured Motorist Coverage
Pennsylvania has more than 7 percent of drivers that carry no insurance or less than required insurance on the road.
If a driver who is not carrying liability coverage hits you, he or she will not be able to call an insurance company for a claim. If the person does not have enough assets to pay out of pocket for damages, he or she may declare bankruptcy.
Who is going to pay for damages in such a case?
This is why you should consider purchasing uninsured/underinsured coverage.
But it is also essential that the insurer can settle the claim.
Loss Ratio is an excellent measure to figure out if your insurer can pay a claim.
It is the ratio of total premiums earned by an insurer against total claims settled.
A high ratio may indicate that although the insurer is likely to settle your claim, your premium might increase in the near future.
Conversely, a low loss ratio might indicate that the insurer will not settle your claim.
The loss ratio is at par with the national average, which indicates that on average, you are expected to receive claim settlements for all legitimate claims.
Add-ons, Endorsements, and Riders
When selecting your coverage, you can also consider the following add-ons and riders that caters to your specific requirements:
Guaranteed Auto Protection (GAP)
Personal Umbrella Policy (PUP)
Emergency Roadside Assistance
Rental Reimbursement
Modified Car Insurance Coverage
Classic Car Insurance
Non-Owner Car Insurance
Pay-As-You-Drive or Usage-Based Insurance
 Insurance Premium Rates by Gender –
Male vs. Female Rates
Now that you have reviewed the different insurance options, it's time we examine what factors impact your premium rate.
A better standing on the important factors might help you get more discounts on your insurance rates.
Insurers in Pennsylvania do not differentiate based on gender but do consider your age when calculating your premium rate.
Teen drivers generally have to pay the highest premium. However, they can shop around to find the insurer that provides the most economical premium rate.
 Insurance Rates by Zip Code in Pennsylvania
Insurance premium also differs by zip code as insurers consider local data points while calculating rates. E.g., if there have been a lot of car thefts in your zip code, insurers might see this as an additional risk and increase your premium rates.
The 25 most expensive zip codes are all in Philadelphia.
Bellefonte and State College have the cheapest zip codes in Pennsylvania.
Car Insurance Rates by City in Pennsylvania
Take a look at the tables below to see if your city has expensive or cheap insurance rates.
Unsurprisingly, Philadelphia is the most expensive city.
Bellefonte, which has the cheapest zip code, is also the cheapest city.
Enter your ZIP code below to compare auto insurance rates.
Secured with SHA-256 Encryption
Best Car Insurance Companies in Pennsylvania
You might be wondering, how do you choose among the many insurers in the market?
It will feel great if you get the cheapest car insurance. Right?
But, you should consider many different factors, including customer reviews and financial strength of the company.
 Financial Ratings of the Leading Insurance Companies in Pennsylvania
We don't always have the time or the skills to analyze the financial strength of a prospective insurance company.
Therefore, we are using https://www.autoinsurance.org/how-do-the-am-best-auto-insurance-ratings-work/ to understand the financial health of the leading insurance companies in Pennsylvania.
A.M. Credit is one of the most reputed insurance credit rating agency.
 Customer Satisfaction Rating of Leading Car Insurance Companies in Pennsylvania
It will take long to browse through various forums, opinion polls, customer reviews to find which car insurance companies are best in customer satisfaction.
Instead, we are leveraging the J.D. Power Customer Satisfaction Ratings.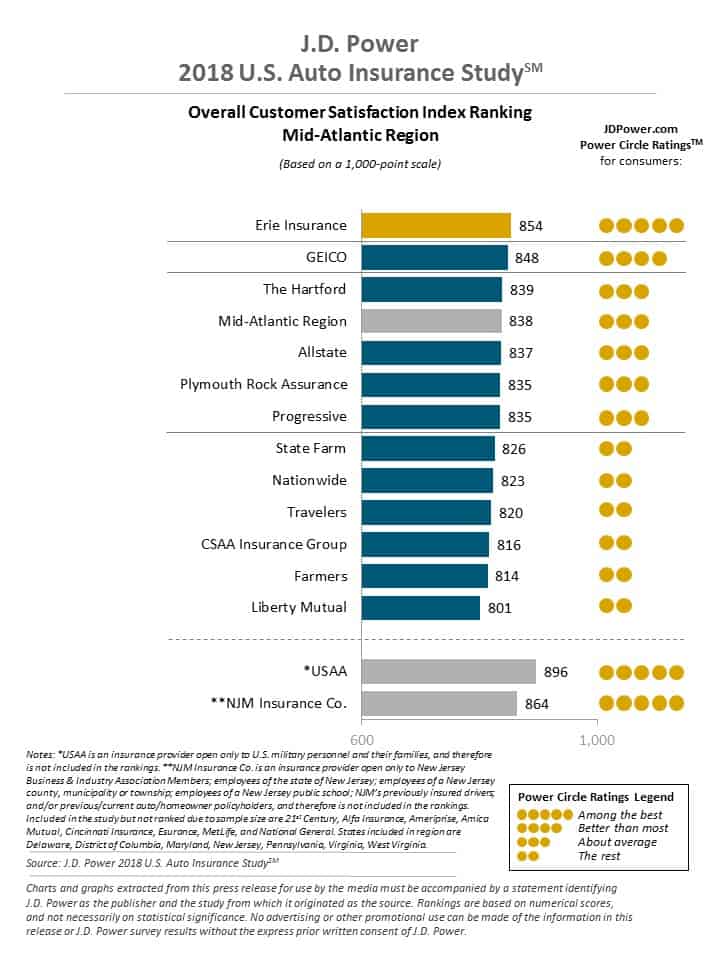 All most all insurers have a respectable rating, but Erie and Geico stand out as the best in customer satisfaction ratings in the region.
 Car Insurance Companies with MOST customer complaints in Pennsylvania
Another critical metric to review would be the number of complaints received.
We need to keep in mind that all companies receive complaints; however, it is more important how companies deal with these complaints.
 Cheapest Car Insurance Companies in Pennsylvania
On average, USAA and Geico are the cheapest car insurance companies in Pennsylvania. However, these are average numbers, and your premium rate might be different.
Remember, any slight difference in factors can significantly change the premium rate.
 Car Insurance Premium Rates by Annual Commute in Pennsylvania
Many insurers provide discounts if your annual commute is around 6,000 miles.
Car Insurance Premium Rates by Coverage Level in Pennsylvania
On average, USAA provides the cheapest rates for both high and low coverage levels.
Car Insurance Premium Rates by Credit History in Pennsylvania
Car insurers consider your credit score while calculating the premium rate.
In Pennsylvania, USAA and Nationwide might provide the best rate if you have a poor credit record.
However, in case your credit score is good, you can also consider Geico and State Farm for a better rate.
Car Insurance Premium Rates by Driving Record in Pennsylvania
Driving record is an important risk indicator for an insurer. A DUI or an at-fault accident might lead to an increase in your premium rates.
 Largest Car Insurance Companies in Pennsylvania
 Number of Insurers in Pennsylvania
Pennsylvania State Laws
You get discounts on your premium rates if you keep a clean driving record.
However, to keep a clean driving record, it is imperative that you have updated knowledge about the various automotive laws applicable in the state of Pennsylvania.
We will help quickly recap the most relevant driving and non-driving automotive laws in the state so that not only you get the best rates but remain safe on the road.
Car Insurance Laws in Pennsylvania
According to the National Association of Insurance Commissioners, State laws determines the tort rule, minimum liability insurance requirement, and approval system used by insurers.
In Pennsylvania, insurers have to seek prior approval with the state insurance department before using insurance rates and forms.
Let us further review specific laws governing car insurance in the State of Independence.
Windshield Coverage Laws in Pennsylvania
In Pennsylvania, there is no specific law governing the insurers to provide windshield coverage as part of the policy. However, insurance providers may provide windshield protection as part of the comprehensive coverage.
High-Risk Insurance in Pennsylvania
Insurers could deny you auto insurance coverage if you were involved in multiple DUI convictions or at-fault accidents.
With a poor driving record, you will be considered a risk by the insurance companies and therefore will not offer you a policy in the voluntary market.
How do you find coverage in such a scenario?
Well, you can opt for Pennsylvania's Assigned Risk Plan (ARP) that assigns high-risk drivers to insurance companies based on a quota.
The premium rate under ARP is almost always more expensive than the voluntary market; however, the policy coverage remains identical.
The quota is calculated based on the amount of business each insurance company writes in the state.
To be eligible to apply for insurance under ARP, you must prove that you searched for auto insurance in the voluntary market for a minimum of 60 days without success.
Within ARP, you may also qualify for the Clean Risk Rate (CRR). Eligibility criteria for CRR are:
No more than $1,150 paid by the insurance on your behalf
No more than three traffic violations
No suspension or revocation of driver's license
You must have held the license for three years
You should aim to keep a clean driving record and access the voluntary market for a cheaper premium rate.
Low-Cost Insurance in Pennsylvania
Pennsylvania does not have a provision for a low-cost insurance plan for its residents. The state recommends that you shop around for the cheapest insurance rate.
Auto Insurance Fraud in Pennsylvania
Auto insurance fraud is a severe crime in Pennsylvania. And, rightly so!
It increases premium rates for the rest of us as insurance companies take steps to cover for its losses.
Pennsylvania considers insurance fraud as a felony. It carries a punishment of up to seven years in prison along with $15,000 in fines.
Typical auto insurance fraud includes staging auto accidents, inflating claims bill, false reporting of vehicle theft, misrepresenting details in an insurance application, and many more.
Here are the broad types of insurance fraud: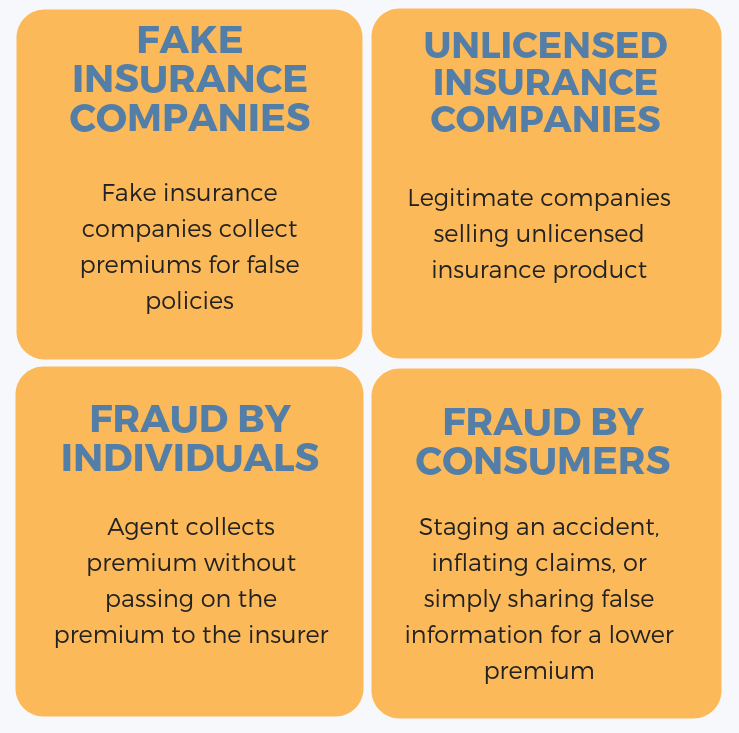 We need to be vigilant against insurance fraud. If you witness a scam or were a victim of one, please report the crime here:
The National Insurance Crime Bureau (1-800-TEL-NICB (1-800-835-6422))
 – Statute of Limitations in Pennsylvania
In Pennsylvania, the statute of limitation is two years for personal injury and property damage.
But what is a statute of limitation?
It is the time until which you can sue a third party for damages after an accident.
In the case of Pennsylvania, you have two years after an accident to step out of the no-fault system and sue the third party for personal injury or property damage.
Don't wait until its too late.
Vehicle Licensing Laws in Pennsylvania
You cannot drive or purchase auto insurance without a valid driver's license.
If your driver's license is due for renewal soon, consider opting for REAL ID compliant driver's license.
In the following section of the guide, we will explain the license renewal procedure in Pennsylvania.
 REAL ID implementation in Pennsylvania
Have you heard about REAL ID?
https://www.youtube.com/watch?v=Q2t4UsvLVg0
It is a federal law that will require a federally acceptable identification to enter federal buildings or to board domestic flights after October 2020.
Pennsylvanians can opt for a REAL ID-compliant driver's license that will be acceptable at federal buildings or for boarding domestic flights.
If you received your driver's license after September 2003, then PennDOT might already have you the required documents on file.
You can apply for REAL ID online! Apply for pre-verification online, and if your PennDOT has your documents on file, you can apply for your REAL ID-compliant driver's license online.
If you do not have the updated documents with PennDOT, you will need to visit a REAL ID Center near you.
The other federally acceptable IDs are:
US Passport
Foreign Passport
U.S. Military ID
Permanent Resident Card (Green Card)
Penalties for Driving Without Insurance in Pennsylvania
It is mandatory to maintain liability insurance for all registered vehicles. If you are found operating a motor vehicle without the minimum liability insurance, you can face several penalties.
Let us review the penalties and challenges you may face if you are caught driving without insurance:
Financial Penalty: If you are found operating a car without liability insurance, you would have to pay a fine of anywhere between $100 to $500.
For repeat occurrences, the penalty can increase to as high as $1,000. You will also have to pay license and registration restoration fee.
License Suspension: You can face three months of license suspension that can potentially increase to six months. However, it can also include registration suspension and impounding of the vehicle.
Jail: If you are a repeat offender or caused an accident without insurance, you can be jailed for a period of time.
Financial Repercussion: Regardless of the penalty, you are putting yourself at substantial financial risk by driving without insurance.
If you cause a serious accident, you will have to pay for the damages out of pocket that can potentially consume your financial assets.
Impact on Insurance Policy: If you were ever caught driving without insurance, you might find that insurers are not too keen to write you a policy or your premium rate may increase substantially.
 Teen Driving Laws in Pennsylvania
Approximately 100,000 teens aged between 16 and 17 are licensed annually in Pennsylvania.
The licensing laws in Pennsylvania allow for a three-stage method for teen drivers. It will enable teens to learn driving in a step-by-step process.
A teen can apply for a learner's permit at the age of 16. The learner's permit essentially allows teen drivers to learn under the supervision of experienced drivers.
To qualify for the Junior Driver's license, a teen has to undertake 65 hours of supervised learning. Of the 65, 10 of those hours must be in nighttime and five hours in inclement weather.
For a Junior License, you also need to pass a road test along with completing a driving education course.  The Junior License restricts the nighttime driving hours along with passenger age and number.
To get an unrestricted driver's license, the teen must be 18 or have held the Junior License for a minimum of 12 months. The teen also has to make sure the record is clean, and there are no penalties or suspension on the Junior License.
If you are applying for a driver's license before October 2020, it will make sense to get a REAL ID compliant driver's license.
 License Renewal Procedure in Pennsylvania
The unrestricted driver's license has a four-year validity in Pennsylvania. If you are older than 65, you can choose for a two or four-year renewal cycle.
The good thing is that you can choose to renew the license online. No need to go to the DMV office.
 New Resident Licensing Procedure on Pennsylvania
If you have just moved to Pennsylvania, you must obtain the PA driver's license within 60 days of establishing residency in the state.
You have to visit the nearest DMV to exchange the out-of-state driver's license for a PA driver's license. However, you do not have to write the knowledge test if you have a valid out-of-state driver's license.
 Rules of the Road in Pennsylvania
Following rules and regulations on the road are critical for everyone's safety on the road.
That's not all, following road rules keeps the driving record clean and thus keeps premium rates from rising!
Let us do a quick recap of the road rules in Pennsylvania.
Fault vs. No-Fault
Pennsylvania is a choice state where you can opt for full tort or limited tort system of insurance. With limited tort, you can save on premium but let go your right to sue the third party for small damages.
You can also opt for full tort where you keep the right to sue for damages.
Seat belt and car seat laws in Pennsylvania
Seat Belts, coupled with air bags, are vital to passenger safety in a car.
Which is why it is mandatory for driver and front seat passenger to wear seat belts. If you are not wearing seatbelts may attract a $10 fine for the first offense.
Children younger than two years must be rear-facing child restraint seats whereas children between the ages of two and four must be in forward-facing child restraint seats.
Children eight years or older can use adult seatbelts. However, it is the driver's responsibility for child restraint, and failure to use seatbelts can attract a $75 penalty.
 Keep Right and Move Over Laws
You are required to keep right unless you are passing a vehicle turning right or driving slow.
You are also required to vacate the closest lane or slow down if you see an emergency vehicle stopped with flashing lights.
 Speed Limits in Pennsylvania
 Ridesharing Laws in Pennsylvania
If you drive for Uber, Lyft, or any other ridesharing company, you should be aware of the different types of coverage you need to drive in Pennsylvania.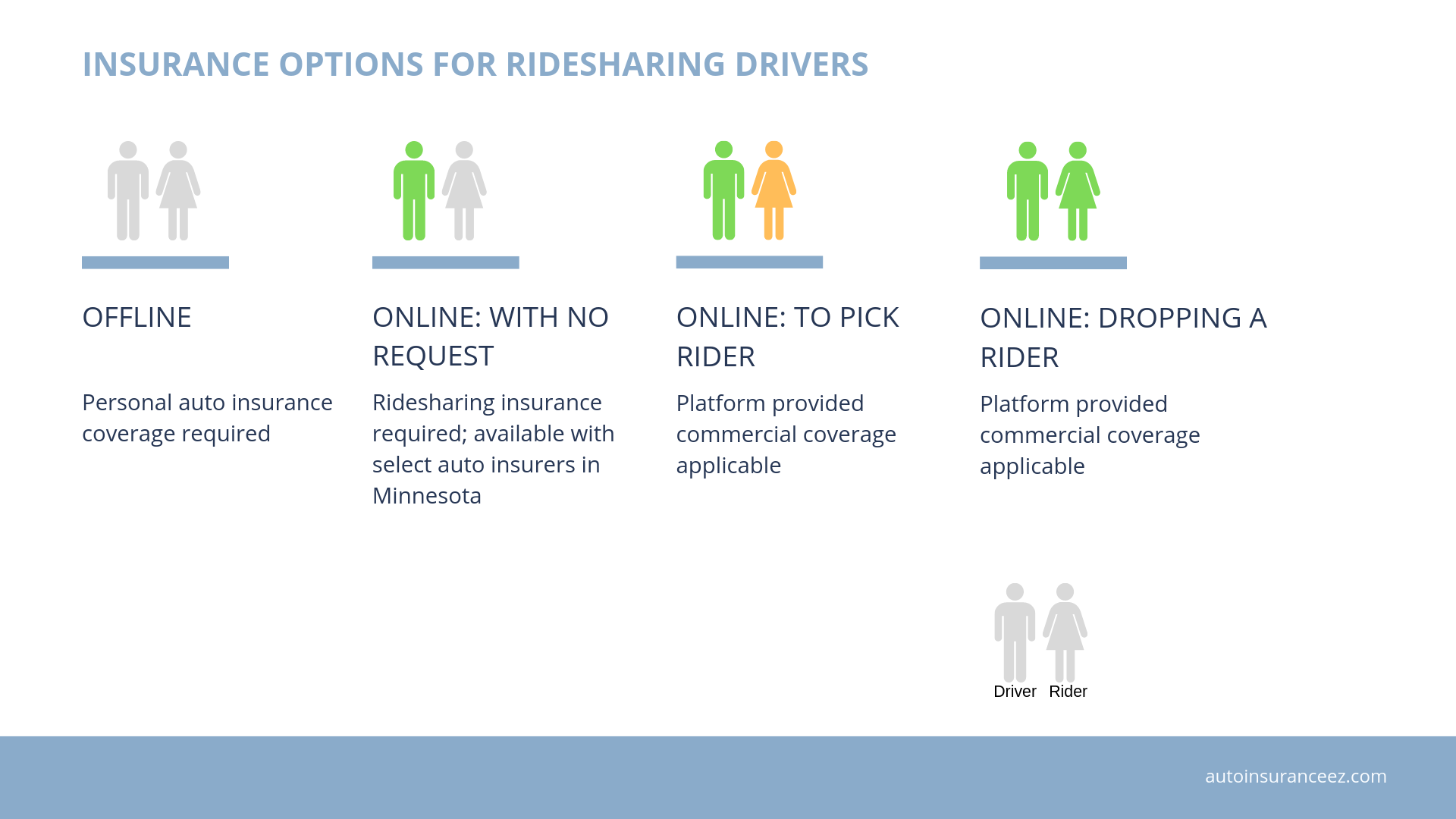 In insurance parlance, there are four scenarios when you are operating a vehicle for a ridesharing company.
First, when you are offline. In this case, you are expected to maintain your private auto insurance policy. However, you should also let your insurance provider know that you also drive for a ridesharing company.
Next, are the cases when you are either picking a passenger or dropping a passenger. In that case, Uber/Lyft should provide you the $1,000,000 liability and collision coverage. Please note that there is generally a $1,000 to $2,000 deductible for the collision coverage.
The last bit is the scenario in which you are logged in to the application but are yet to accept a ride. In such a case, you should purchase 'gap insurance.' In Pennsylvania,  Erie, Geico, Liberty Mutual, and Progressive offer gap insurance for drivers.
 Automation on the Road in Pennsylvania
Pennsylvania recently approved its first automated car road tests in October 2018. Uber and Aurora are using this opportunity to test their cars in the state.
Safety Laws
A reckless or impaired driver is a danger on the road to everybody.
Pennsylvania has strict laws to prevent this behavior from drivers.
 DUI Laws in Pennsylvania
In 2017, there were 314 alcohol-impaired driving fatalities on the road in Pennsylvania. Thirty-one of these fatalities were for drivers below the age of 21.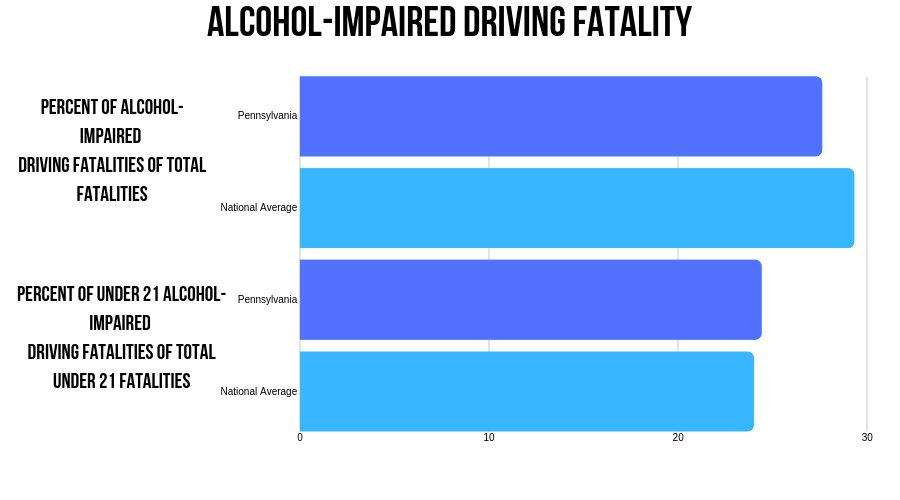 With alcohol-related fatalities at par with the national average, we see strict penalties to deter people from drunk driving in Pennsylvania.
The lookback period in Pennsylvania is ten years.
The lookback period is the time frame in which any offense is counted as subsequent offense and attracts a harsher penalty.
Marijuana-Impaired Driving Laws in Pennsylvania
In Pennsylvania, law enforcement can book a person if his or her marijuana residue is THC per se (1 nanogram) or more.
Remember: If you ingest Marijuana, you can have residue for days, weeks or even month. This may result in a DUI charge.
Distracted Driving Laws in Pennsylvania
The laws in Pennsylvania doesn't prohibit drivers from using handheld devices or cellphones. However, you are not allowed to use text messaging while driving. You can be stopped and fined as distracted driving is a primary offense in Pennsylvania.
Driving in Pennsylvania
There are certain factors that you can control to get a better premium rate; however, you can't control everything.
For instance, car theft, fatality rate, or traffic congestion are few factors that also impact your rates because of the direct correlation with the probability of a claim.
You can look at these data points in the next few sections.
Vehicle Theft in Pennsylvania
Honda Accord was the most stolen vehicle in Pennsylvania.
To search for city data for motor vehicle theft, you can refer to the table below.
Road Fatalities in Pennsylvania
A lot of reasons lead to fatal crashes on the road; some are human errors, while others are out of our control.
Fatal Crashes by Weather Condition and Light Condition in Pennsylvania
Fatalities (All Crashes) by County in Pennsylvania
Fatalities by Road Type in Pennsylvania
Fatalities by Person Type in Pennsylvania
Fatalities by Crash Type in Pennsylvania
Five-Year Fatality Trend for the Top 10 Counties in Pennsylvania
Fatalities Involving Speeding by County in Pennsylvania
Fatalities in Crashes Involving an Alcohol-Impaired Driver (BAC=.08+) by County in Pennsylvania
Teen Drinking and Driving in Pennsylvania
Mixing drinking with driving isn't a very safe idea, especially for teenagers, as their inexperience can result in fatal crashes.
In 2016, 365 arrests for underage DUI were registered in Pennsylvania making the state 12th highest in America for DUI arrests under 18.
Though the DUI arrest rates are high in Pennsylvania, the rate of under 21 alcohol-impaired driving fatality per 100,000 people was 0.8, much lower than the national average of 1.2.
EMS Response Time in Pennsylvania
Transportation in Pennsylvania
Your average commute to work is affected by a number of factors in your city, such as the number of cars owned by households and the preferred mode of transportation.
Car Ownership in Pennsylvania

A large majority of the households in Pennsylvania own two cars, just like the average car ownership in America (illustrated in grey).
Commute Time in Pennsylvania
On average, workers in the US spend around 25.5 minutes on commute to work, whereas, the commute time in Pennsylvania is slightly higher at 25.7 minutes.
Moreover, around 2.86 percent of the motorists have super commutes and spend more than 90 minutes on the road to reach work.
Commuter Transportation in Pennsylvania
Most workers in Pennsylvania prefer to drive alone to work, with only 8.51 percent choosing carpooling as their mode of transportation.
Traffic Congestion in Pennsylvania
Philadelphia and Pittsburgh can test the patience of anyone during the traffic congestion in peak hours.
As per traffic analytics firm Inrix, Pittsburgh and Philadelphia are the 7th and 9th most congested cities in America, respectively.
In Pittsburgh, commuters lose around 127 hours in congestion while in Philadelphia, commuters lose 112 hours. As with everything else, when you lose time stranded somewhere, there's a monetary cost attached to the lost hours.
The cost of congestion in Pittsburgh is a whopping $1,776 per driver, and in Philadelphia, the price comes to $1,568.
Now that you know how to find the best insurance coverage for your needs, you can start comparison shopping today by entering your zip code below in our FREE online tool.