The Ultimate Vermont Car Insurance Guide (Costs + Coverage)
Free Auto Insurance Comparison
Enter your ZIP code below to compare auto insurance rates.
Secured with SHA-256 Encryption
With an undisputed claim to the best maple syrup in America, Vermont is a paradise for those who want a simpler life and feast on fresh produce all the time.
The clean air and wide spaces make it a healthy place to spend your life in. In fact, statistics have constantly shown that the people in Vermont are the healthiest and almost all the people have health insurance.
And, that brings us to the point of auto insurance – which is essential to drive around in the beautiful state.
Since there's a lot that you need to know before buying auto insurance, we are writing this in-depth guide as your one-stop solution for any questions that you might have regarding coverage. So, you can relax and rely on us for all the information.
Sometimes looking for a provider can be tricky. But with AutoInsuranceEZ.com, it's as simple as keying in your zip code. We can present you with the top 10 insurance providers in your area, whether you live in a big city like Burlington, Essex, or Rutland, or a lesser populated area such as Colchester or South Burlington.
You can also start comparison shopping today using our FREE online tool. Enter your zip code above to get started.
Car Insurance Coverage and Rates in Vermont
What you buy in auto insurance coverage is usually more than the state-mandated minimum requirement.
How do you then decide what amount of coverage is enough for you?
Also, do you really understand what liability, collision, or comprehensive insurance means?
If you ask people about their car insurance coverage, most of them are in the dark about what the different terminologies mean or how would their coverage kick-in in the event of an accident.
Take for example the minimum auto liability requirements across states – it only covers the injuries and damages to the third-party in an accident and the at-fault driver has to get additional coverage that pays for his/her injuries and damages.
We will uncover all this information for you so that you know what you're buying.
Car Culture in Vermont
Since Vermont is the second least populated state in America, you would hardly find people honking or traffic congestions anywhere in the state.
With the state's commitment to keeping its environment non-polluted, the use of electric vehicles and bio-diesel is actively encouraged across the state.
That's part of the reason why Subaru continues to be a popular vehicle in Vermont. It's fuel-efficient and an all-weather make, which is much-required during the harsh winter days.
Minimum Auto Insurance Coverage Requirement in Vermont
Without auto insurance coverage, it's illegal to drive in Vermont. Hence, the state mandates auto owners to at least buy the minimum liability coverage.
In Vermont, you must carry the minimum personal injury liability coverage that would cover medical injuries of the third-party to the extent of $25,000 per person and $50,000 overall for all the injured parties. In addition, you must also carry property damage liability coverage of $10,000 to cover any damages to the third-party' property.
We are only talking about third-party injuries and damages in the coverage above. Why?
Because that's what liability coverage stands for – to redress the liability of an at-fault driver in an accident towards the injured party.
How do auto insurance providers determine liability in an accident?
As part of the investigation process, auto insurance companies determine who was at fault in an accident. Resultantly, the at-fault driver's auto insurer is responsible to settle damages of the injured party.
Vermont is an at-fault state by law which dictates how liability is determined in a state. In no-fault states, auto owners turn to their own insurance carriers for reimbursements post an accident, irrespective of fault.
State laws in Vermont also require the auto owners to carry Uninsured Motorists Coverage of $50,000 per person with an overall limit of $100,000 per accident and $10,000 for property damages.
If you're hit by a motorist who isn't carrying any insurance, you would be covered for injuries and damages through the UM coverage.
Do remember that if you're the at-fault driver in an accident, the minimum liability coverage wouldn't cover your medical injuries or property damages.
What options do you have to cover your own damages?
Collision and comprehensive coverage options always come handy as these protect your car from damages.
For your personal injuries, you can choose either Personal Injury Protection (PIP) or Medical Payments coverage since both these options would pay for your medical expenses.
PIP also covers your lost wages, so that can be an added advantage if you lose your ability to earn in the short-term as a result of an accident.
You can also watch this short video to understand all the coverage options you have.
Forms of Financial Responsibility in Vermont
As an auto owner, you are required to maintain financial responsibility to cover for any damages in the event of an accident. Financial responsibility can be met by:
Buying an insurance policy or a bond with the state-mandated insurance coverage limits
Or by way of self-insurance of $115,000 to be filed with the Commissioner of Motor Vehicles
Under no circumstance, vehicle owners are allowed to drive without buying either an auto liability policy or filing a self-insurance certificate.
Premium as a Percentage of Income in Vermont
The proportion of your premium payments to income determines whether its high or low. In the three years from 2012-2014, premium payments were less than 2 percent of the average disposable income in Vermont.
Note that disposable income is the amount available for spending after taxes have been paid off by a household.
Though the disposable income is high in its neighboring states, except Maine, Vermont has a better premium to income ratio than New York, Massachusetts, and Maine.
These calculations are based on averages, so you can calculate the percentage of your auto premiums to income using our calculator.
Core Coverage Premiums in Vermont
When you buy an auto insurance policy, it usually includes three components i.e. liability, collision, and comprehensive.
To give you an idea of how much auto policy costs, we are including the cost for these three options in the coverage.
For liability insurance, there has been a slight change in premiums from the 2013 to 2015 period. Collision insurance has increased quite a bit over the same period.
But, when it comes to national average premiums, the insurance cost in Vermont is much lower. Liability coverage, which is the most expensive out of the three, costs $538 on average annually, while you have to pay only $343 in Vermont.
Additional Liability Coverage in Vermont
Apart from the basic coverage options mentioned in the section above, you also have the option to buy either Personal Injury Protection or Medical Payments coverage to pay for your medical injuries in the event of an accident.
If you want to know if insurers in Vermont are paying off claims for these options, you can see the loss ratio table.
Loss ratio signifies the amount of claims being paid off by an insurance company compared to the earned premiums. If an insurer's loss ratio is 70 percent, it means the claim payouts are $70 from a premium income of $100.
Loss ratio also indicates whether an insurance company is earning profits or not because if the ratio is more than 100 percent, the insurer is undergoing losses. For Medical Payments, claim payouts have ranged around 80 percent from the 2013-2015 period.
Since Uninsured Motorist coverage is mandatory in Vermont and can be quite useful, every motorist must carry this.
Around 6.80 percent of the motorists in Vermont are uninsured (Vermont ranks 47th in the percentage of uninsured motorists) which isn't as bad as other states but if you get involved in an accident with an uninsured motorist, your coverage would protect you from the damages.
Add-ons, Endorsements, and Riders in Vermont
We have talked about all the basic coverage options that you need to consider while buying auto insurance. But there are some add-ons and riders that are meant to help auto owners in specific situations.
For instance, if your car suddenly breaks down while driving, which wasn't caused by a collision or an act of nature, then having mechanical breakdown insurance can save you hundreds of dollars in repair cost.
Browse through the links below to explore the available options:
Guaranteed Auto Protection (GAP)
Personal Umbrella Policy (PUP)
Non-Owner Car Insurance
Modified Car Insurance Coverage
Pay-As-You-Drive or Usage-Based Insurance
While we are on the topic of saving costs, let's delve into usage-based insurance or pay-as-you-drive option.
We know that the cost of auto insurance isn't as high as some other states, but who doesn't like to save money? Especially, when you have an option to get discounts on premiums based on how you drive.
With the help of telematics technology, auto insurers track the driving pattern of auto owners, who choose to enrol in the usage-based program, by recording their acceleration, braking habits, daily mileage, and other data to determine whether they're safe drivers or not.
Once an auto owner completes a pre-defined period in the program, auto insurers assess their driving behavior and offer discounts if applicable.
Though only a few auto insurers offer the usage-based program, it's worth a try to get discounts on your auto premiums.
Male vs Female Auto Insurance Rates in Vermont
If you're young and inexperienced with driving, you are going to pay a much higher premium than those who are above 25.
Usually, auto insurance companies factor in the age and gender, among other things, of auto owners while calculating premiums, and young male drivers get the worst rates. Because, statistically, they are riskier drivers.
In the table, you can notice that 17-year-old drivers pay the highest premiums, with the young males paying significantly higher than their female counterparts. Once drivers reach the age of 25, their gender isn't a major contributor to the calculation of rates.
Geico General and Nationwide Mutual offer the best rates across all categories, though USAA has the cheapest rates, it's only available for military personnel and their families.
You can also see the ranking of different providers for the demographics on the basis of average annual rates.
Auto Insurance Rates by City in Vermont
The statewide average premium rate is $3,234, and you can search your city or zip code in the table to check how much your rates vary from the average.
Surprisingly, the rates in Burlington, South Burlington, Colchester, Rutland, and Essex Junction are the lowest despite being the most populated cities in Vermont.
Enter your ZIP code below to compare auto insurance rates.
Secured with SHA-256 Encryption
Best Car Insurance Companies in Vermont
By now, you know about different types of insurance coverage and the average rates for auto insurance in your zip code and city.
But, how would you find out which insurer to buy a policy from? You might be enticed to search the cheapest quote and close the deal, but would that be enough?
Before buying an auto insurance policy, you must check the financial viability, customer reviews, complaint numbers of insurance providers to avoid any suffering later.
Let's look at the factors that can help you in making a decision.
Financial Ratings of the Leading Auto Insurance Providers in Vermont
Auto owners buy policies to protect them from the cost of any damages that may arise in the future if they happen to get involved in an unfortunate accident.
But, what if your auto insurer doesn't have the financial strength to survive till the end of your policy period?
That's why it's recommended to always review the financial rating of an insurance provider before buying a policy.
As a customer, you have the option to check the financial strength of an insurance provider through the ratings published by any of the five independent credit rating agencies – A.M. Best, Fitch, Kroll Bond Rating Agency, Moody's and Standard & Poor's.
For the purpose of your convenience, we have shown the A.M. Best ratings, which has a unique focus on the insurance sector, for the leading insurance providers in Vermont.
Best's Financial Strength Ratings uses a scale from A++ to D which signifies the superior to poor capability of insurance providers to meet their long-term insurance obligations.
Customer Reviews of Auto Insurance Providers in Vermont
Along with financial strength, insurance providers should also have impeccable service standards because accidents can cause a lot of distress to auto owners.
Customer reviews can help you understand in detail if an insurance provider can meet your expectations – which can range from a prompt response to a fast claim settlement process.
J.D. Power, a leading marketing information services company, conducts annual surveys of auto insurance customers to assess providers on five factors – interaction; policy offerings; price; billing process and policy information; and claims.
Giving a read to their customer survey results can be the starting point of your review research.
As per the 2019 U.S. Auto Insurance Study, the convenience of self-service because of digital technologies and do-it-yourself tools have eradicated the need to go through an agent for buying a policy which has helped in improving the overall customer satisfaction levels.
Here are the customer satisfaction rankings for auto insurers in the New England region.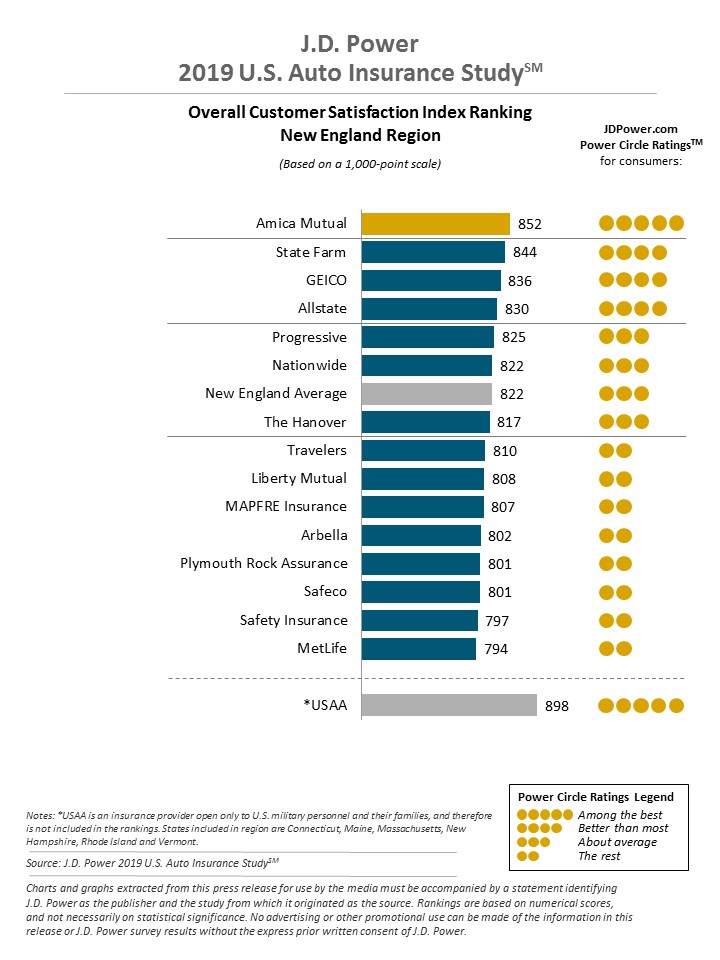 Amica Mutual has the best ratings in the New England region, followed by State Farm, Geico, and Allstate.
Complaint Numbers of Leading Car Insurance Providers in Vermont
While you're researching the reviews of auto insurers, you should also browse through the number of complaints against an insurer.
The table presents the country-wide data for complaints against the leading insurers in Vermont.
If you want to search for complaints data of any specific insurer, you can do so through the Consumer Insurance Research section of the National Association of Insurance Commissioners.
Auto Premiums by Insurance Carriers in Vermont
Nationwide Mutual, Geico, and USAA have the cheapest premium rates in Vermont which are below the state average of $3,234.
Auto Insurance Premiums by Commute Rate in Vermont
If you don't use your personal car for long drives or to reach the office, you might save some money on premiums because of low mileage.
Allstate, Geico, State Farm, and USAA offer slightly lower rates for drivers clocking fewer miles.
Auto Insurance Rates by Coverage Level in Vermont
Buying the state-mandated minimum liability coverage would cost you the lowest, there's no doubt about that. But would that be enough for you?
Experts recommend that you should carry more than the minimum coverage required in your state to account for any excessive medical or property damage costs in the event of a severe accident.
Therefore, though you might have to pay higher premiums, you wouldn't be personally liable if the damages are way too high in an accident.
If you aren't aware of what to do after an accident, here's a quick video on the claim filing process.
Auto Insurance Rates by Credit History in Vermont
Your credit history is used by auto insurance companies to determine your premium rates – lower your credit score, higher would be your premiums.
As per Consumer Reports, insurance companies create their own proprietary score by picking a few elements from a consumer's credit record to determine the probability of a consumer getting involved in an accident.
On average, drivers with a poor credit history in Vermont pay $1,298 more annually than those with an excellent record. Surprisingly, drivers who have excellent credit but a DWI on their record pay only $836 more.
In the table above, you can see how most insurers charge almost twice the base rate from auto owners with a poor credit history.
Fortunately, the average credit score of Vermont is better than most states. As per the 2017 State of Credit survey, the average vantage score of Vermont was 702 (among the top ten in America) while the national average was 675.
Auto Insurance Rates by Driving Record in Vermont
Since the probability of filing a claim is directly proportional to how you drive, your driving record makes an impact on your premiums. An interesting point to note here is that different records are treated differently by insurance companies for calculation.
For instance, some insurers charge the most from drivers with a DWI/DUI record because that indicates callous driving behavior.
Most of the leading insurance companies in Vermont, Allstate, Geico, Liberty Mutual, Nationwide, and USAA, charge a significantly higher premiums from auto owners with a DUI record.
Leading Car Insurance Providers in Vermont
Number of Insurers in Vermont
Free Auto Insurance Comparison
Enter your ZIP code below to compare auto insurance rates.
Secured with SHA-256 Encryption
State Laws in Vermont
The minimum coverage requirements, rules that govern fault in an accident, and the approval process of rates are all determined by state laws.
Whatever the rates are in your state, whether high or low, needs to be approved first by the state insurance department and then put to use. Though the process might differ in each state, the legal system abstains insurers from charging unfair prices.
In these rule books, the state also offers a provision to file a complaint against any wrongdoing or fraudulent activities by insurers or auto owners.
If you own a vehicle, you should keep yourself updated about the basic car insurance laws of your state.
Car Insurance Laws in Vermont
We don't want you to overload you with information that many never come handy, that's why we are focusing on a few specific laws related to car insurance that would help you understand how rates are determined as well as be useful in some situations.
How State Laws for Insurance are Determined in Vermont
Since this directly impacts auto owners, we will talk about the tort law, approval of rates, and minimum coverage requirements for car insurance.
In Vermont, which follows the at-fault system, liability in an accident is determined by who was at fault. The at-fault party is responsible to cover the third-party damages through his/her liability coverage.
To regulate rates for car insurance, each state has to adopt one of the regulation mechanisms, which include – determined by Commissioner; prior approval; modified prior
approval; flex rating; file and use; use and file; and no file.
Vermont follows the open competition rate mechanism wherein rates must be filed with the state insurance department, which can be rejected if there's lack of supporting details.
Under the financial responsibility laws, auto owners must buy minimum liability coverage or a bond with limits of 25/50/10 or buy a self-insurance certificate.
Windshield Coverage Law in Vermont
Windshield coverage isn't covered in the law of Vermont, and it's up to the auto insurance companies to offer with comprehensive coverage.
Do consult with your agent before buying coverage because loose gravels can damage your windshield.
High-Risk Car Insurance in Vermont
Did you know that you could be rejected car insurance if you have accumulated a couple of traffic violations or accident records on your driving?
If the probability of your filing a claim is high or you're considered a high-risk driver, then auto insurers can refuse to offer you coverage.
What can you do in such a situation because driving without coverage is illegal in Vermont?
For high-risk drivers, the state offers the Vermont Automobile Insurance Plan that places all these drivers in a risk pool from which they are assigned an auto insurer.
High-risk drivers have the chance to get coverage for a period of three years with the assigned insurer.
Why would an auto insurer offer coverage to high-risk drivers?
All auto insurance companies, allowed to conduct business in Vermont, are required to offer coverage to a certain percentage of high-risk drivers depending on their market share in the state.
If an insurer covers 10 percent of the auto insurance market, it's obligated to offer coverage to 10 percent of the high-risk drivers.
The catch is that the auto insurance premiums are quite exorbitant considering the probability of a claim is high. You should try to get back to the voluntary market by improving your record.
Auto Insurance Fraud in Vermont
Amongst the most vulnerable lines prone to insurance fraud, auto insurance is one. As per the estimates of the insurance industry, fraud accounts for around 10 percent of the losses incurred by the property and casualty insurance industry.
Who do you think has to bear the cost of frauds?
The insurance industry passes on the cost of fraud to customers to recover the losses. So, if you see your premiums rising every year, it might be due to the rising number of insurance fraud in your area.
The common types of fraud include, but not limited to, inflating the claim amount, concealing or providing incorrect information on the application form, staging accidents, and submitting claims for accidents that never happened.
As a consumer, it's your duty to report any fraudulent activity that you come across through the portal of the National Association of Insurance Commissioners.
You can also connect with the Vermont Department of Financial Regulation to file any complaint against an insurance provider by calling 800-964-1784 or e-mailing at [email protected].
Statute of Limitations in Vermont
The laws of every state determine a time limit that allows victims of car accidents to file a lawsuit within that period. A lawsuit beyond the stipulated period isn't allowed barring a few special circumstances.
The Statute of Limitations in Vermont requires motorists to take legal action within three years after the accident for claiming damages.
Vehicle Licensing Laws in Vermont
Motorists might be under the impression that once they get a driver's license, there's nothing much to do after.
But, you have to renew your license on time, and if you fail to do so, you might get a ticket or have to pay a late renewal fee.
Also, you need to be aware of any new regulations related to licensing passed in the legislation.
Let's look at the regulations and licensing rules in Vermont.
Real ID in Vermont
Although the Real ID Act was established in 2005, it is now that all states have started issuing identification documents that comply with the requirements of the Act.
In the wake of international terrorism and identity theft, the federal government established a new regulation to check the authenticity of identification documents issued by each state.
From October 1, 2020, everyone would be required to use a Real ID-compliant document (state ID or driver's license) to enter certain federal facilities and travel by a commercial flight.
Alternatively, you can use a federal document, such as a passport, to access these facilities.
Here's a short video from the Vermont Department of Motor Vehicles explaining how Real ID works.
Current Driver's License or State ID holders:
New applicants can get a Real ID-compliant document if they satisfy the criteria or bring the required documentation. Existing ID or DL holders would have to visit their nearest DMV location to get a new document that's Real ID marked.
To get a Real ID document, everyone must show proof of Vermont residency, social security number, lawful status in the US, proof of identity, and date of birth. Do browse through the Real ID checklist.
Penalties for Driving without Insurance in Vermont
Since it's illegal to drive without auto insurance in Vermont, you could be subjected to fines and license suspension when caught without adequate coverage.
The fines for violation can range between $250 and $500 and your license could be suspended until you furnish proof of financial responsibility.
Teen Driver Laws in Vermont
For teens, the feeling of driving by themselves is exhilarating, with no adults to keep a check on their driving speed or braking pattern.
And, that can be really stressful for parents because teens can be dangerous drivers at times.
The Graduated Driver's License Program for young drivers under 18 was introduced to ensure that teens have enough practice and supervision before they can be allowed to drive alone.
Let's look at the process of getting a license for young drivers. Also, check the parent's guide for supervised driving.
Learner's Permit: To get a learner's permit, an individual must be 15 or above and has to follow a few rules to successfully move to the next stage.
Must complete 40 house of driving, including 10 hours of nighttime driving
Must be accompanied by a licensed adult above 25, or a parent/guardian or a driving instructor
Must maintain a clean driving record, without any recalls, revocations, or suspensions for six months before applying for the Junior Driver's License
Junior Driver's License: When a teen completes one year driving with a learner's permit and is at least 16, he/she becomes eligible for a Junior Driver's License. The following rules apply at this stage:
Must pass a state-approved driver's training education with 30 hours of in-classroom study, six hours of road practice, and six hours of observation.
Must not carry passengers for hire during this stage
In the first three months of driving, teens can only drive with a parent/guardian or a driving instructor or a licensed adult above 25
In the next three months, teens can drive with family members
After the completion of six months under the Junior Driver's License, teens can drive with anyone
Driver's License: Once a teen is 18, he/she is eligible to apply for a full Driver's License. There shouldn't be any recalls, revocations, or suspensions in the previous six months before applying for a full license.
Do remember that the learner's permit and junior driver's license are subject to recalls if you carry passengers for hire, drive for employment, accumulate points, violate passenger numbers and age restrictions, and get a recommendation from a diversion/reparative board.
Do watch this short video to get some tips on teen driver safety.
License Renewal Procedure in Vermont
Motorists in Vermont have the option to renew their license after two or four years for which they're notified by mail 30 days before the expiry date.
Renewals by mail are allowed if the photograph on the license was taken in the last four years.
Since Vermont has started issuing Real ID-compliant licenses, it's recommended to get one by visiting your local DMV office.
New Residents in Vermont
When you move to Vermont, you would need to apply for a local driver's license within 60 days of your move by proving your residency in the state and surrendering your out-of-state license.
The new Vermont license would be mailed to you within 7-10 business days of your application.
Rules of the Road in Vermont
If you're careless while driving and jump a red light or violate the speed limit rule, you might get fined and accumulate points.
And, that can lead to an increase in your premium rates. We will cover some basic rules of the road to brush up your knowledge.
Seat Belt and Car Seat Laws in Vermont
State laws in Vermont require every passenger in a vehicle to wear seat belt irrespective of their position.
For passengers under 18, the following car seat laws apply:
Below the age of one and under 20 pounds: Infants should be restrained in a rear-facing car seat which is federally-approved
Between one and eight years old: All children up to the age of eight should be placed in a child passenger restraining system
Between eight and 17 years old: When children outgrow their car seats, they should be restrained by a seat belt
On the first violation, the fine is $25 which increases to $50 for a second violation and to $100 for subsequent violations.
Keep Right and Move Over Laws in Vermont
Drivers are required by the law to drive on the right side of the road and can use the left lane only under the following circumstances:
When you're passing or overtaking another vehicle
When there's an obstruction on the road that requires you to move to the left lane
When preparing to take a left turn or to enter a private road
When official traffic-control devices allow the use of left-lanes
The move over law in Vermont requires motorists to change lanes when approaching a stationary vehicle which might include an ambulance, fire fighting vehicle, tow truck, law enforcement or a repair vehicle.
Speed Limits in Vermont
Ridesharing in Vermont
Last year, Vermont signed a bill to regulate the operations of ridesharing companies such as Uber and Lyft. Vermont was pretty late in the game to bring a legislation for Transport Network Companies or TNCs.
The new law laid-out insurance requirements and background checks for those planning to become drivers in these companies.
Automation on the Road in Vermont
When it comes to testing autonomous vehicles on the road, Vermont is conducting its own research about the future prospects and challenges with driverless vehicles.
The state doesn't have any regulation as of now that allows testing, but it might soon join other states and contribute to the overall benefits by allowing testing in a rural setting.
Safety Laws in Vermont
There's absolutely no excuse that can justify distracted driving or driving under the influence of alcohol or drugs.
Usually, law enforcement officers are pretty harsh with motorists who risk it for everyone by being careless on the roads. Therefore, it's recommended to avoid engaging in other activities while driving.
DUI Laws in Vermont
A person shouldn't drive or attempt to drive a motor vehicle if the Blood Alcohol Level (BAC) is 0.08 percent or higher. The BAC limit for commercial drivers is 0.04 percent and 0.02 percent for school bus drivers.
If you violate the DUI laws, you could face penalties and jail time.
In addition, an ignition interlock device would be installed in your car to control your driving behavior. For a BAC of more than 0.16 percent after the second conviction, there are enhanced penalties.
Do remember that if you're involved in an accident while driving under the influence of alcohol, that leads to injury or death, you could be imprisoned for up to 15 years.
Distracted Driving Laws in Vermont
Laws in Vermont prohibit drivers to use a portable electronic device for texting or calling while the vehicle is in motion.
Violation of the handheld ban can lead to fines in the range of $100 to $500.
Driving in Vermont
Until now, we looked at information that can help you in buying auto insurance thoughtfully and keeping your driving behavior in check so that your premium rates aren't raised by providers.
In this section, we will look at some facts and figures that impact the driving experience in your state.
Vehicle Theft in Vermont
From the data, it seems that pick-up trucks are quite favored by thieves, or maybe these vehicles are found in more numbers across Vermont.
If you want to see theft data by city, you can look at the table below sourced from the FBI.
Road Fatalities in Vermont
Road accidents are inevitable, but you can be cautious while driving if you're aware of the common reasons leading to fatal crashes in your state.
Let's look at some crash numbers from the National Highway Traffic Safety Administration.
Most Fatal Highways in Vermont
Though you should drive safe everywhere, you should be extra cautious of US-7 highway since it's the most dangerous in the state. This highway has seen over 50 crashes in the last ten years.
Fatal Crashes by Weather Condition and Light Condition in Vermont
Fatalities (All Crashes) by County in Vermont
Franklin, Rutland and, Windsor county have seen the maximum number of fatalities from crashes over the years.
Traffic Fatalities by Road Type in Vermont
Fatalities by Person Type in Vermont
Fatalities by Crash Type in Vermont
Fatalities Trend for the Top 10 Counties of Vermont
Fatalities Involving Speeding by County in Vermont
Fatalities in Crashes Involving an Alcohol-Impaired Driver (BAC=.08+) by County in Vermont
Teen Drinking and Driving in Vermont
Teens aren't allowed to drive after drinking and there's absolutely no tolerance for underage drunk driving in Vermont.
In Vermont, the under 21 drunk driving fatality rate was 0.7 per 100,000 people, while the national average was 1.2 in 2016.
EMS Response Time in Vermont
Transportation in Vermont
Office commutes are longer when everyone prefers to drive alone to work. And, that also leads to traffic congestions.
With a rural and picturesque setting, driving could hardly ever be a pain in the Green Mountain state, but let's see if Vermont has traffic congestions or not.
Car Ownership in Vermont
On average, most households own two cars, followed by three cars in Vermont. As illustrated in the graph above by Data USA, the car ownership pattern resonates with the national average (represented in grey).
Commute Time in Vermont
Employees spend less time commuting to work in Vermont than the rest of the country. On average, the commute time is 21.6 minutes whereas the national average is 25.5 minutes.
Commuter Transportation in Vermont
Almost 74.9 percent of the population drives alone to work, and only 9.17 percent of people carpool. Across the country, the majority of people prefer to drive alone to work.
Now that you have gone through the whole guide, you can start comparison shopping today by entering your zip code below in our FREE online tool.