Levels of Driving Automation Are Defined in New SAE International Standard
Free Car Insurance Comparison
Compare Quotes From Top Companies and Save
Secured with SHA-256 Encryption
UPDATED: Jul 19, 2021
It's all about you. We want to help you make the right coverage choices.
Advertiser Disclosure: We strive to help you make confident insurance decisions. Comparison shopping should be easy. We partner with top insurance providers. This doesn't influence our content. Our opinions are our own.
Levels of Driving Automation Are Defined in New SAE International Standard
In today's world, technology is more alive than ever before. It is becoming a more substantial part of daily life, and there are new inventions seemingly every week. With the push to make driving safer, automobile experts created automated driving.
With continued high levels of fatal crashes, automated driving is where society is seeking answers. SAE International's standard J3016 sets out to provide a unified definition for autonomous driving.
Some of SAE International's goals include:
Classify every level of automation from 'no automation' to 'full automation'.
Use the technological differentiation to create definitions and levels
Remain consistent with industry practice.
Remove confusion and be effective across disciplines.
Educate our communities by clarifying what the driver will need to perform, at each level, while the automation system is active.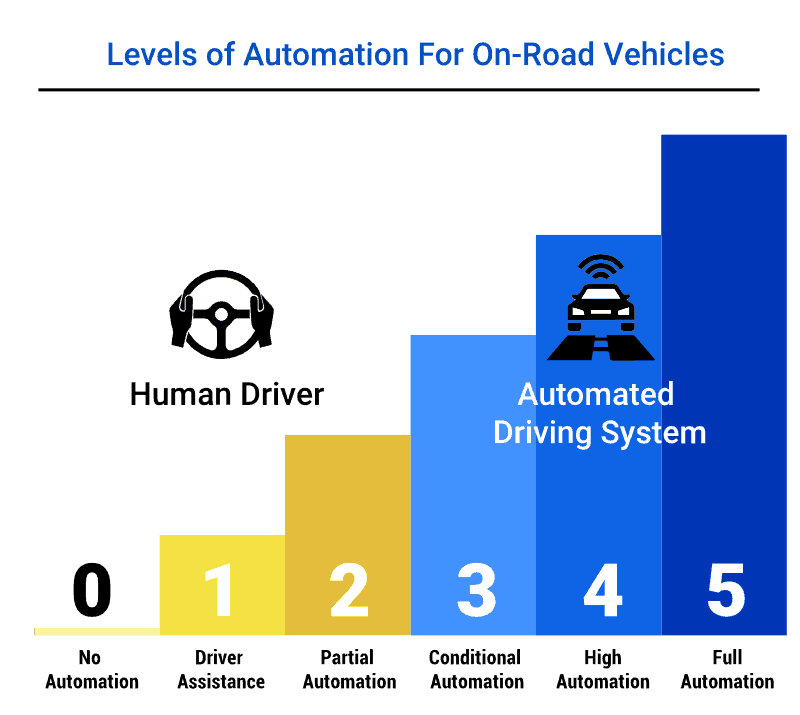 SAE International's Levels of Driving Automation
The term"automated driving" may be vague to some. Cruise control has been in cars for a decade now, and that is technically automated driving. So, how do we use the same term to describe vehicles that fully function on their own? To avoid confusion, the SAE created these levels of automation.
The system contains six levels ranging from 0-5; each level describes a classification of how "automated" the system within the vehicle is.
"The levels are categorized by the extent to which a car takes over tasks and responsibilities from its driver, and how the car and driver interact."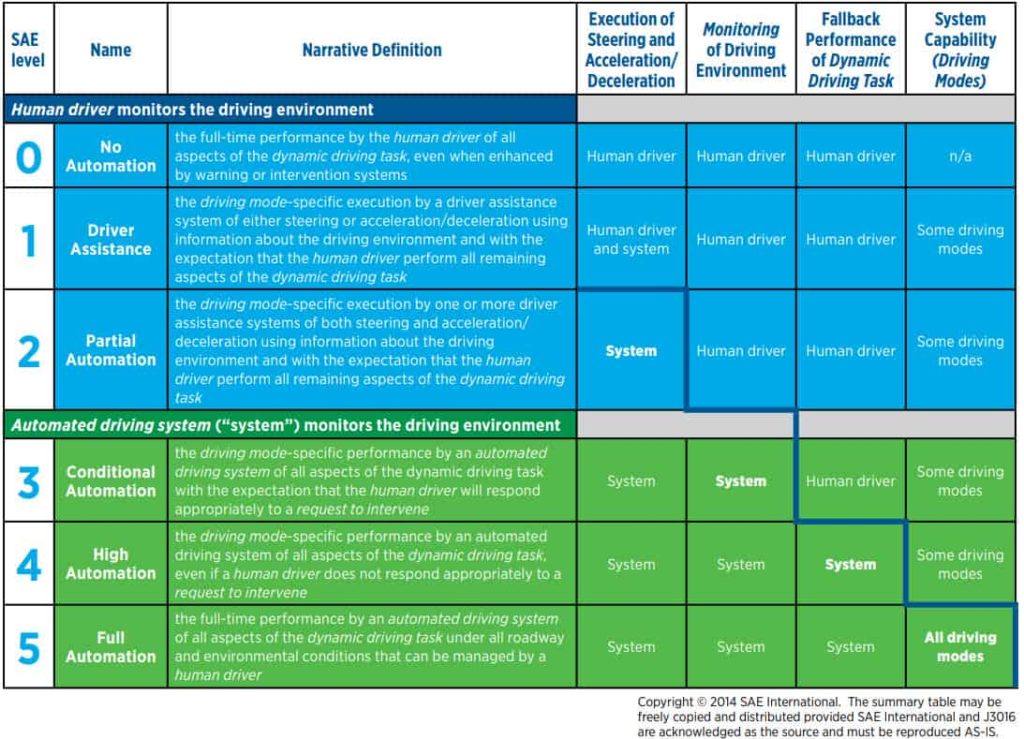 Key Terms according to the SAE International Standard J3016:
"Dynamic driving task includes the operational (steering, braking, accelerating, monitoring the vehicle and roadway) and tactical
(responding to events, determining when to change lanes, turn, use signals, etc.) aspects of the driving task, but not the strategic
(determining destinations and waypoints) aspect of the driving task.
Driving mode is a type of driving scenario with characteristic dynamic driving task requirements (e.g., expressway merging, high speed
cruising, low speed traffic jam, closed-campus operations, etc.).
Request to intervene is notification by the automated driving system to a human driver that s/he should promptly begin or resume
performance of the dynamic driving task."
Editorial Guidelines: We are a free online resource for anyone interested in learning more about auto insurance. Our goal is to be an objective, third-party resource for everything auto insurance related. We update our site regularly, and all content is reviewed by auto insurance experts.