The Ultimate Michigan Car Insurance Guide ( Costs & Coverage + New Law 2023)
Free Auto Insurance Comparison
Enter your ZIP code below to compare auto insurance rates.
Secured with SHA-256 Encryption
In Michigan, there are several players in the game of high car insurance rates: car insurance companies, hospitals and doctors, personal injury attorneys, Michigan lawmakers, and, most importantly, YOU, the policyholder.
Each player's role has been both defense and offense in a very competitive and exhausting game for decades, but it is policyholders that spend the most time on the bench.
But there's a game-changer coming July 1, 2020. Michigan lawmakers finally cleared the table and made some serious decisions towards reform. If you know the current no-fault law like the back of your hand, get an update on the changes. Read the entire article for the backstory.
We aren't here to promise lower rates right away because the new law will take several years to unwind the spiraling socio-economic crisis previous laws created; however, we can help you understand why the car insurance rates are so high, explain the changes that are coming in 2020, provide ideas to reduce your rates in the meantime, and reveal the companies that have the (relatively) cheapest rates.
Continue reading to get a comprehensive history of car insurance in the state of Michigan and what you can do to get back in the game until the new law goes into effect.
Looking for Michigan automobile insurance? If you reside in Detroit, Grand Rapids, Warren, Sterling Heights, or Flint, you can receive up to ten rate quotes from leading insurers in your area by using AutoInsuranceEZ.com.
Costs can vary by company and you should compare rates diligently before you invest in a policy. We'll help you get the coverage to suit your needs.
Start today with just your zip code.
Michigan Car Insurance Coverage and Rates
Before we get into the ins and outs, we need to be a bit direct…
When it comes to car insurance in Michigan, you get what you pay for; this has been the case since 1972.
During her 2018 campaign, the newly elected Governor of Michigan, Gretchen Whitmer, gives a great summary of the current situation.
We will get into more about the details on why the rates are so high a little later on.  For now, let's get started with the basics.
– Car Insurance Requirements in Michigan
Michigan is a "no-fault" state, which means drivers file claims to their own insurance companies rather than filing a liability claim or lawsuit against another driver, regardless of who is at fault.
In essence, Michigan's no-fault law is designed to protect you from being sued as a result of an auto accident and keep lawsuits out of the court system.
However, if you cause an accident in Michigan in which someone is killed, seriously injured, or permanently disfigured, you can (and likely will) be sued.
Also, if you are sued for damages caused to another person's vehicle which is not covered by their insurance policy, you can be sued for up to $1,000, but only if you are 50 percent or more at fault in an accident.  Your degree of fault would be determined by a judge or jury.
Even though it doesn't matter who is at fault, Michigan requires that you carry, at the minimum, the following liability amounts just in case you are sued.
$20,000 – covers injury/death of one person.
$40,000 – covers injuries or death of more than one person.
$10,000 – covers property damage (outside of Michigan).
Liability insurance pays anyone owed compensation when you are in an accident.
You may be wondering: Why need liability coverage if it doesn't matter who is at fault?
Liability insurance is beneficial if you:
regularly drive in another state that is at-fault
are in an accident (in Michigan) with someone from another state
So, it may be good to consider increasing the liability limits beyond what is required by law if one or both of the above scenarios could apply to you.
So, if it's not liability coverage causing such high rates, then what is it?
Now, before we go blaming it all on Ohio State, let's take a deep breath and explore the top four factors that keep Michigan car insurance rates so high.
What's the good news?
Politicians and lawmakers in Michigan have been working at insurance reform for decades, so there has been at least talk of ways to reduce rates; however, nothing substantial has been done.
High Rates Factor #1: Unlimited Lifetime Personal Injury Protection
A significantly large part of your no-fault policy premium will be paid towards Personal Injury Protection (PIP) which in Michigan, unlike other no-fault states, has no maximum limit. This part of your policy will cover:
all reasonably necessary medical expenses (for life)
up to 85 percent of the income you would have earned if you had not been injured, or a maximum of $5,700 per month (effective October 2018; whichever is less), for up to three years
housekeeping and yard services (up to $20 per day)
However, this basic no-fault policy will not pay for repairs to your vehicle. That is additional (optional) coverage that we will cover later.
In at-fault states, personal injury protection is not included, and insurance companies charge rates that reflect only the statistical likelihood of their insureds in hitting another vehicle because they assume other drivers have insurance to cover themselves when at-fault.
The included personal injury protection portion of your policy the main reason why rates are so high in Michigan, a no-fault state.
So, let us make a correction:
In Michigan, you pre-pay for what you (may) get.
Affectionately called "reinsurance," the rates for personal injury protection are dictated by the Michigan Catastrophic Claims Association (MCCA) that was established just four years after the 1972 no-fault law was put into place.
The MCCA sets the mandated, unlimited personal injury protection coverage at $192 per vehicle (as of April 2019). The expectation is that insurance companies pay up to $550,000 per occurrence before the MCCA will reimburse them.
March of every year, the MCCA writes a press release to notify insurance companies of the assessment per vehicle due to them. The assessment fee includes two amounts:
a base fee for each vehicle to anticipate new claims
a fee per vehicle to make up the deficit of past claims
Personal injury protection rates were more than half just a decade ago and have been as little as three dollars per vehicle in the past. The fee has been in flux over the years, but fees will increase again in July 2019 to $220 per vehicle.
$177 to anticipate new claims
$34 to make up a deficit of $3.6 billion related to existing claims
It gets worse.
No one really knows the exact amount in the MCCA fund or the formula they use to calculate the rate. Leaders have tried to obtain this information through legal action but have yet to be successful.
Since 1978, the MCCA has paid over $17.2 billion in open claims. Of all claims made since 1978, 44 percent remain open to this day.
Not knowing the formula or the amount in the fund makes it difficult for citizens to take action.  Experts say the fund has reached somewhere between $20 and $40 billion.
Remember, though, that these fees are due annually per vehicle from the insurance companies, not directly from policyholders. If the MCCA is not releasing their formula, it's unlikely the insurance companies will give details on their formula either.
In at-fault states, rates are calculated based on assumed risk considering many different factors that we will cover later.
Assumed risk formulas aren't released by the insurance companies in at-risk states either, so, it is assumed that, if in an at-fault state, the liability rates go up based on assumed risk, it's likely that the Michigan insurance companies increase a policyholder's personal injury protection rates just as they would liability coverage for an at-risk driver.
High Rates Factor #2: $1M in Property Protection
Also another reason Michigan rates are so high is the property protection insurance (PPI) included in your no-fault policy which will pay up to $1 million for damage your car does (in Michigan) to other people's buildings and fences and their vehicle if it is properly parked, but not in the case of a collision.
We should make a distinction between property damage liability and property protection.
Property damage liability is required at a minimum of $10,000, but will only cover property damage that occurs outside the state of Michigan.
The $1 million in property protection is unique to the state of Michigan, and there are no options in levels of coverage.
Say for instance you were speeding, lost control, and took out someone's fencing, mailbox, some expensive landscaping, and maybe even a 50-year-old Japanese Maple.  Let's say these damages totaled $45,000.
If you were given the option to choose levels of coverage for property damage, you may have chosen $40,000. Your chosen coverage level would cover up to $40,000 (with an optional deductible), and you would have to pay the remaining $5,000 out of pocket.
However, for Michigan residents, insurance companies are assuming that any damage you do to property with your vehicle could be equal to $1 million; therefore, your policy includes estimations of the premium it would take to cover a maximum of $1 million in damages in any and all scenarios.
So the property protection portion is intended to pay for your "at-fault" portion (except when your vehicle collides with another moving vehicle), and the personal injury protection is intended to pay for any and all possible medical costs and loss of wages for the rest of your life.
In effect, Michigan is asking you to pay for, with no limits, the statistical likelihood of you hitting someone's vehicle or property AND the likelihood of another vehicle hitting you.
You may be asking: but what about damage to my vehicle or damage to another vehicle that is not parked?
Collision Coverage is intended to cover damages to your own vehicle, which is an (optional, but) additional cost.  We will cover that later.
High Rates Factor #3: Profits vs. Losses
Remember, when you first started reading, we explained that the Michigan car insurance game has been going on for decades with the following players:
Car Insurance Companies
Hospitals and Doctors
Personal Injury Attorneys
Michigan Lawmakers
And, most importantly, YOU the policyholder
This is a game of profits and losses.
Let us explain.
All insurance companies in the state of Michigan have what is called a loss ratio per company.
A loss ratio shows how much a company spends on the types of claims to how much money they take in on premiums. A loss ratio of 60 indicates the company spent $60 on claims out of every $100 earned in premiums.
So, the closer the ratio is to 100, the more claims that are paid; however, this also shows that insurance companies are losing money. Sixty to 70 loss ratio is considered to be in the safe zone.
You can see in the table above that, statewide, insurance companies in Michigan haven't done a great job of managing their loss ratios. We will cover loss ratios for specific companies later.
Uninsured/Underinsured motorists coverage ratios have remained in the safe zone, and we will explain later why this is so.
However, companies are losing a great deal of profit on paying personal injury protection  (PIP) claims.
It's very clear that Michigan residents are making claims against their own car insurance company when in an accident (that is what PIP is for).
After all, this is the only way to get your money's worth on the premiums paid.
But here's the crazy part.
The unlimited personal injury protection not only covers you but also covers all family members living in the same household. The benefit is even paid when a family member is a passenger in another vehicle that is involved in an accident.
Personal injury protection also covers anyone who does not have a no-fault policy and is injured as a passenger or pedestrian in an accident involving your vehicle, which, in an at-fault state, is usually covered by a special policy called uninsured/underinsured motorists coverage.
It even covers a motorcyclist injured in an accident involving your car.
When you stop and think about the fact that Michigan car insurance rates are more than double that of car insurance rates in surrounding states (and the highest in the nation), it becomes clear why…
Michigan laws do not encourage consumer options that insurance companies are permitted to offer in other no-fault states.
In fact, Michigan still operates on no-fault laws passed in 1972, well before the progressive health insurance reforms over the last several decades that essentially takes the place of the need for unlimited PIP coverage.
There are only 11 other no-fault states in the US besides Michigan, but what makes these other states different than Michigan's no minimum / no maximum PIP coverage is that they may:
have various options in PIP coverage levels (Florida, for example, has a minimum of $10,000 PIP required)
specify certain limits for some types of injuries (New Jersey, for example, requires a minimum of $250,000 PIP for brain or spinal cord injuries and $15,000 PIP for all other injuries)
allocate certain amounts of minimum PIP requirements towards medical bills and lost wages (Minnesota, for example, requires $40,000 per person, per accident, but only up to $20,000 can be used towards medical bills)
give you the option to choose between no-fault or a traditional tort policy (Kentucky, New Jersey, and Pensylvania)
Here's the kicker.
In 2013, personal injury protection made up 52 percent of the car insurance premium paid by Michigan residents, which was an increase from 22 percent in the year 2000.
And this percentage is continuing to increase.
Michigan hospitals and doctors currently have no statutory limits on what they can charge in services for auto insurance medical claims.
This lack of limitations resulted in the average cost per auto accident injury claim reaching $75,600 in 2013.
Let's put that into a different perspective. In the table below, data for 2015 for Michigan is compared to Florida which comes in second as paying out the second highest amount on mandated personal injury claims.
Remember, Florida requires a minimum of $10,000 PIP coverage, and Michigan includes unlimited PIP coverage.
In 2015, Michigan car insurance companies had only 12 percent of the total PIP claims that Florida did; yet, insurance companies were forced to pay out one billion more in losses than Florida insurance companies.
In fact, the state of Michigan boasts about its high-quality health care services, but that is mostly attributed to the hospitals and doctors placing top priority on auto accident patients because those are the money makers.
You may be thinking:
Dying in a car accident is the way to go in Michigan; the PIP benefits are better than my health and life insurance benefits combined!
Truth be told, Detroit Mayor Mike Duggan, has called the case of Michigan car insurance rates a "civil rights issue."
It seems that every year, a plea to make changes to the 1972 law is turned down by the Michigan legislature; but Mayor Duggan is more hopeful this time around with a federal judge backing him up, calling the situation "shameful."
In most states, it's frowned upon to not carry car insurance; however, for the state of Michigan, which ranks number four in the country for the highest percentage of uninsured motorists (20 percent), it's considered a socio-economic crisis.
Every day, one in five Michigan residents drives without car insurance, risking their lives just to make a living.
Michigan residents who do choose to legally drive a financed vehicle and purchase car insurance pay increasing rates that are fueled by excessive and specialized litigation as well as hospitals and doctors practicing with no limits on charges for treatment after an auto accident.
In fact, from 2011 to 2015, Michigan rates increased by almost 22.8 percent, well over the national rate of 11 percent increase for the same time period.
Year after year, Michigan vies for the number one spot against New Jersey and Louisiana for having the highest rates in the country.
Even though New Jersey consistently ranks in the top three, its rates increased by only six percent from 2011 to 2015, well below the national percent increase rate.
You may be wondering: How is Michigan's situation different?
Watch Mayor Duggan's February 2019 compelling argument to help the one out of five Michigan motorists who simply can't afford the premiums and must drive without any coverage at all.
To summarize Mayor Duggan's main points, he attributes the swelling cost in premiums to a few factors:
Medical providers are permitted to charge up to 86 percent more for services paid for by auto insurance claims than they charge for Medicare patients.
Trial lawyers target drivers recently in accidents to file more lawsuits against insurance companies, resulting in overwhelmed courts by as much as 42 percent of all cases heard statewide are auto insurance cases.
And the 1972 no-fault law was put in place to keep auto lawsuits out of the courts! This law promised lower rates, too.
Mayor Duggan is proposing that lawmakers:
allow insurance companies to offer varying levels of coverage instead of mandating lifetime medical coverage and future losses
allow Medicare, employer-provided insurance, or marketplace policies cover accident-related medical costs for at least senior citizens and perhaps other demographics (like those below the poverty level)
prohibit medical providers from charging higher prices for medical services that are paid for through auto insurance
Lawmakers in Michigan have been discussing car insurance reform for decades in considering small changes to help reduce premiums; however, now rates are so high, those legislatures who are in favor of the reform say that it is best just to replace the current no-fault system with a completely at-fault system.
Worth noting here, Colorado successfully reduced its premiums by 27 percent in a two-year period by making the cold-turkey switch.
What are Michigan drivers saying about the call for hopeful reform?
Until Michigan legislators initiate some type of reform, residents are faced with the challenge of piecing together coverage for the best price possible.
High Rates Factor #4: Increasing Cases of Auto Insurance Fraud
If 20 percent of residents are not purchasing car insurance, that means 80 percent are paying extremely high rates for basically phenomenal health care, but only if in an accident.
So, it begs the question:
Would you be tempted to commit insurance fraud if you paid such high rates?
Wouldn't we all like to know the data on reported auto insurance fraud cases in Michigan?
Unfortunately, Michigan legislatures only just recently passed a law requiring an auto insurance fraud investigation unit.
In September of 2018, Former Michigan Governor, Rick Snyder tasked Patrick McPharlin, Director of the Department of Insurance and Financial Services (DIFS), with establishing the anti-fraud unit.
Snyder's executive order interestingly came in the wake of Mayor Duggan and eight Metro residents' suit filed in late August 2018 naming McPharlin as the defendant.
As of April 2018, DIFS has created a webpage featuring a general video about fraud, a definition of auto insurance fraud, examples of auto insurance fraud, the legal consequences of committing fraud, and a form to report fraud.
We can all assume that auto insurance fraud has been indirectly causing increases in auto insurance premiums; hopefully, DIFS will have answers soon.
– Premiums as Percentage of Income in Michigan
How exactly (un)affordable is car insurance for Michigan residents?
Let's find out.
In 2014, the annual per capita disposable personal income in Michigan was $36,419.
Disposable personal income (DPI) is the total amount of money available for an individual to spend (or save) after their taxes have been paid.
The average annual cost of car insurance in Michigan is $1,350.58. This amount is $376 more than that the national average but still does not include the PIP assessment fees or the PPI fees.
Unfortunately, Michigan residents pay THE largest percent of of their income on annual car insurance premiums in the nation. Michigan residents pay almost four percent annually of their average DPI.
Michigan percent of income spent on car insurance premiums is 1.3 percent higher than the national average.
In just two years from 2012-2014, the percent increased by nearly half a percent. Wages and salaries are not keeping up with increasing car insurance rates.
The average Michigan resident has $3,035 each month for living expenses. Car insurance alone will cost about $112.
Remember, these amounts include only liability, collision, and comprehensive coverages. These estimates do not include PIP or PPI fees.
Case in point, two of the Detroit residents who filed suit with Mayor Duggan report paying 15-20 percent of their monthly income on car insurance premiums.
Use our rate-as-percent-of-income calculator below to get your own more accurate estimate.
CalculatorPro
Why is getting the best deal on car insurance so important?
American Consumer Credit Counseling suggests saving 20 percent of every paycheck.  With Michigan's DPI, that's about $607 each month! With car insurance rates continuing to increase, this leaves very little for savings.
– Core Car Insurance Coverage in Michigan
The National Association of Insurance Commissioners, the experts on the matter, tracks average rates for each type of coverage. Their 2015 data, the most recent that is available, is displayed in the table below.
The national average of all states for full coverage is $1,009.38.  You can see Michigan comes in over $341 higher than the national average.
Worth noting, the state of Michigan comes in third place in the nation as having the highest full coverage rates!
Michigan is one of the only four states that has an average liability coverage over $700 annual premium and an average collision coverage over $400 annual premium.
It seems that Michigan residents get a break on comprehensive coverage rates in comparison to other states.
– Coverage Options in Michigan
Even though Michigan has minimum requirements for liability coverage, experts recommend drivers purchase more in case you are sued.  The state's minimum amounts don't even come close to the bills to expect if you are in an accident.
You may be wondering: Why do I need more coverage than required by law?
Despite the little reprieve afforded to Michigan residents, we are still here to help you search for a relatively affordable insurance policy. Start comparison shopping today using our FREE online tool. Enter your zip code below to get started!
– Collision and Comprehensive Coverage in Michigan
If you recall, we explained that the standard Michigan no-fault policy covers just about everything in a car accident except your vehicle (unless your vehicle is properly parked, then the other driver's insurance will cover the damage).
If you are in an accident, regardless of who is at fault, you will need coverage to make needed repairs or replace your vehicle if it is totaled.
The other driver's insurance will pay up to $1,000 in repairs known as "min-tort," but it doesn't take much to run up $1,000 in repairs in a minor fender bender with today's cost of parts and labor.
Unlike your no-fault insurance policy, you actually have coverage level options with collision coverage. Note that collision coverage has a deductible which is an amount you will have to pay out of pocket if you make a claim. You can reduce your collision coverage rate by selecting a higher deductible.
In Michigan, there are three collision coverage options:
Limited – your insurance pays, less your chosen deductible, but only if you are more than 50 percent at fault.
Standard – same as limited, except you are covered no matter how much you are at fault.
Broad Form – same as standard, except if you are more than 50 percent at fault, repairs will be covered without paying a deductible.
If your car is stolen or damaged by a falling object, animal, fire, flood, or vandalism, comprehensive insurance pays for your car repairs or replacement.
If you own a financed vehicle, collision, along with liability and comprehensive (also known as full coverage), will likely be required by your lender.
If you have an older car, you may not want collision and comprehensive coverage.
– Add-ons, Endorsements, and Riders
Here's a list of other useful coverage available to you in Michigan:   
Guaranteed Auto Protection (GAP)
Personal Umbrella Policy (PUP)
Non-Owner Car Insurance
Modified Car Insurance Coverage
Pay-as-You-Drive or Usage-Based Insurance
– Required Forms of Financial Responsibility in Michigan
Laws not only enforce the amount you pay in car insurance. Laws are in place to also enforce the financial responsibility of drivers.
If you are pulled over in Michigan, you must provide proof of vehicle registration and proof of insurance.
Michigan officers now have a way to check if your vehicle is registered and insured without pulling you over. They simply enter your license plate number into a system that was implemented in 2014.
Penalties for Driving Without Insurance
The penalties for driving without insurance could include a $500 fine, jail time, or revocation of your driver's license.
Unfortunately, the financial responsibility of having car insurance is costing some residents 15-20 percent of their monthly income, so some (20 percent of Michigan residents) simply have to drive without insurance.
If you drive without insurance, and you severely injure another driver, you may be sued for the damages and medical costs if the other driver does not carry the no-fault coverage and/or additional uninsured motorists coverage.
As an alternative to suing or being sued when two uninsured motorists collide and sustain major injuries, the State of Michigan established the Michigan Assigned Claims program in 1973. Drivers must apply and be approved to receive assistance.
Enter your ZIP code below to compare auto insurance rates.
Secured with SHA-256 Encryption
Ways to Save on Michigan Car Insurance Premiums
We don't have a magic wand to wave to make Michigan car insurance rates closer to the national average, but we can clue you in on a few ways to knock a few dollars off your monthly premium.
DIFS provides a consumer guide on how to reduce your cost in car insurance. DIFS also includes a section in their auto insurance guide on several ways to save.
We include some of those and more below.
Possible Discounts
We did some research and contacted several companies to verify the published and unpublished discounts available to policyholders.
We can't guarantee that each company offers each discount in Michigan, but it never hurts to ask!
In the table below is a list of typical types of discounts.  Each column is for a company.
If there is a value in the company column and discount row, then that value is equal to the percent discount you may be able to get. You can sort each column by clicking on the black arrows.
Drive a Motorcycle
Believe it or not, if you drive a motorcycle, you are exempt from the no-fault requirement to pay upfront for unlimited personal injury protection.
It will be frightfully cold in the winter months, but a small investment in water and wind-proof gear could result in a hefty return!
The great news is that you have two options if you drive a motorcycle:
If you wear a helmet, all that you need is liability coverage for bodily injury and damages to another vehicle. Medical coverage is optional, but it can be purchased in increments of $5,000 to cover your own injuries.
If you don't wear a helmet, you must still purchase liability coverage AND at least $20,000 in medical coverage.
If you are in an accident not involving another vehicle, the medical coverage you purchased will kick in up to the limit you selected.
What's the BEST news?
If you are in an accident with a vehicle, under the no-fault laws, all the motorcyclist's bills are paid by the other driver's insurance company and reimbursed by the MCCA fund if your losses exceed the set limit.
If you are serious about saving a ton on insurance, consider driving a motorcycle.
Coordinate PIP with your Health Insurance Provider
You can reduce your PIP premium if you coordinate health/disability income policies and auto insurance benefits. Doing so will ensure that your health insurance or disability income policy becomes the primary payer for any medical expenses or wage loss.
The only downfall is that your car insurance company may require an additional deductible, but it wouldn't hurt to explore this option.
However, coordination can't occur if your health insurance is through Medicaid, Medicare, Medicare Supplemental or Medicare Advantage.
Contact DIFS to get more details about coordination.
Obtain a Work Loss Waiver
Senior citizens and retirees may be eligible for a work loss waiver if you drive less than 3,000 miles per year.
Michigan law requires insurance companies to offer senior citizens and retirees a reduced PIP premium. It can't be waived entirely because PIP covers others involved in an accident with your vehicle, but it certainly helps to shave a little off the top!
Those are a few ways to reduce your monthly car insurance rates. Again, it may take off only a little, but every dollar counts in Michigan.
Now, let's review some of the factors that go into calculating your personal car insurance rate.
Other Factors that Determine Car Insurance Rates
Just when you thought Michigan car insurance rates couldn't get any higher, there are characteristics unique to you that may increase or decrease your rate quotes.
We will first examine basic demographics such as gender, age, and marital status.  A little later on, we will look at credit scores, driving record, and commute miles for individual car insurance companies.
– Male vs Female Annual Car Insurance Rates in Michigan
Most are under the impression that men pay higher rates than women, and that is true in most cases in Michigan. However, six states, most recently California, have outlawed charging different insurance rates based on gender and/or marital status.
Our researchers found that the two most influential factors that go into rate calculations are age and the specific carrier.
Let's see how these demographics factor into rates for Michigan residents.
 – Demographic and Insurance Carrier
Age, gender, marital status, and many other factors go into calculating your rate.  To give you an idea of how these few variables affect rates, we provide a table below showing the cheapest average rates for Michigan's insurance carriers. Click on the arrows for each column to sort the table.
The three columns at the far right of the table show the average rate for those over 17 compared to those age 17. You will see that age affects rates to a great extent; after all, we do become more experienced and mature drivers as we age.
Also to note, statistics show that younger drivers exhibit more risky behavior.
Cheapest Michigan Car Insurance Rates by Zip Code
Where you live is a huge factor for car insurance rates, especially in Detroit.
Average rates by zip code are shown in the two tables below. Feel free to search the table for your current zip code or new zip codes to which you plan to relocate.
If you watched Mayor Duggan's argument earlier, he explains that residents of Detroit and outside of Detroit have the exact same rate of car accidents (eight per 1,000 drivers); however, Detroit residents file 12 PIP claims per 1,000 drivers while suburbanites file only five PIP claims per 1,000 drivers.
Mayor Duggan blames the personal injury attorneys that advertise heavily in the Detroit area and are now expanding into surrounding counties.  What do you think causes the difference of $6,000 or more in annual premiums?
The city of St. Louis has the cheapest zip code in Michigan.
Cheapest Michigan Car Insurance Rates by City
The table below shows the top 10 cities in Michigan with the most expensive car insurance rates.
Detriot ranks at the top of the list, costing $6,000 more on average than Dearborn.
The cheapest cities to buy car insurance in are St. Louis, Shepherd, and Westphalia.
Michigan Car Insurance Reform: July 2020
A new law 46 years in the making will take effect on July 1, 2020. Drivers will save between seven percent and 44 percent on the personal injury protection portion of their premium while others may have to pay more. But, PIP isn't the only part of your premium that will decrease effective July 2020.
Let's just say Michigan lawmakers took the term "reform" pretty seriously; the state is enacting portions of the new law much like at-fault states. Drivers will save in some portions of their premium and should expect to pay more in other portions of their premium.
In the sections below, we explain each change to the law and how the experts think they will pan out over the next eight years.
Choices in PIP Coverage
Depending on your choice between four options, the PIP portion of your premium may decrease (or increase). In the table below, we have calculated the projected savings for each option.
You can quickly see that for the majority of the population, drivers will get only seven to 16 percent in savings overall. However, this portion of the new law will assist the most vulnerable residents of Michigan: those below the poverty level and older adults.
Unfortunately, if you choose to keep unlimited PIP coverage as is currently required for all drivers, you will likely see an increase in your premium within the next few years.
The Michigan Catastrophic Claims Association (MCCA), the entity responsible for paying out injury benefits, will still charge an annual assessment per vehicle (increasing to $220 July 2019) to cover deficits, no matter what coverage level you choose or even if you opt-out.
Beginning July 2020, the annual MCCA fee per vehicle will decrease based on which coverage level you choose. If you choose to keep unlimited PIP, you will continue to pay $220 (or more), and if you choose to opt-out, your annual fee is estimated to drop to $43 per year. So, even if you choose not to benefit from a catastrophic claim, you still have to pay into the pot.
The good news is that, with the new law, the MCCA is mandated to pay refunds to drivers if their assets exceed 120 percent of what they are liable to pay. But, remember, this is only per vehicle and not per driver.
For example, if the MCCA banks an extra 40 percent beyond what they are required to pay out, expect to see a 20 percent refund the following year – a whopping $8.60 for those who opt out, and up to $44 for those who choose unlimited PIP coverage (if their annual fee doesn't increase).
Changes that Accompany Choice-PIP
Going from requiring drivers to purchase full, unlimited personal injury protection through their own insurance companies to now having options that involve so many other players like the MCCA and healthcare provides comes with an effort to balance the scales.
To place more control on what hospitals and doctors can charge for auto accident victim care, the new law puts into effect a limit based on the Medicare fee schedule to provide a standardized method in figuring charges and reimbursements.
Any medical service rendered cannot exceed 190 to 250 percent higher than the fee that Medicare would reimburse.
The exact percentage will be determined based on the type of facility that provides care. This portion of the law goes into effect for any treatment provided after July 1, 2021.
The new law will also provide reimbursement for treatment obtained prior to the previous one-year back limit that was in place for those who are denied or cut off from no-fault benefits. This will promise claimants reimbursement during the period from the time they filed the claim and the time the insurer denies the claim as long the claimant's pursuit is with reasonable diligence.
Anyone receiving PIP benefits is now limited to 56 hours per week of in-home care. The current law places no limit on in-home care. This limitation applies after July 1, 2021.
After the choice-PIP goes into effect, an injured person can sue for excess medical expenses beyond their chosen PIP cap amount.
The right to sue for excess medical expenses places more responsibility on the insurance company for the negligent driver which is similar to how at-fault states operate.
This portion of the law is backed by the new minimum liability coverage amounts as described in the next few paragraphs.
The same individuals permitted to sue for medical expenses can also sue for pain and suffering under the new law; however, a new definition is in place. In order to sue for pain and suffering, the injury sustained must be a serious impairment of body function that is observable by someone other than the injured person. The new definition takes effect immediately.
And, in a final attempt to even out the playing field, the new no-fault law now requires drivers to obtain much higher liability limits.
Currently, and prior to July 2020, minimum liability coverage requirements are $20,000 for one person or $40,000 for two or more persons to cover bodily injury. Under no-fault law, liability coverage is useful only when you regularly drive in another state that is at-fault state or if you are in an accident (in Michigan) with someone from another state.
The new minimum liability coverage limits will be $50,000 and $100,000 which now makes Michigan, joining Alaska and Maine, one of only three states that require such high minimums in coverage.
Drivers will have to specifically elect for the minimum coverage (if desired) because the default minimums on all drawn policies will be $250,000 and $500,000.
Increasing the default and minimum liability coverage levels is another way Michigan is striving towards an at-fault system and simultaneously giving insurance companies a way to charge more in other types of premiums.
Rates Determined by Only your Age and Driving Record
The current and traditional way of determining rates is based on assumptions that if you are female, married, have good credit, own your home, have a higher level of education and a higher salary, then you must be a more responsible and safer driver.
The portion of the new Michigan no-fault law that will likely reduce your rates the most is the prohibition of determining rates based on discriminatory factors such as gender, marital status, credit score, home ownership, education level, and occupation.
Some states have recently outlawed rates based on gender (California) and some have laws going as far back as the 1980s that prohibit rates based on gender and marital status (Montana).
Michigan is the first state to enact a law enabling insurance companies to determine your rate based on only two factors: age (which equates to the amount of driving experience you have) and driving record (convictions such as speeding tickets, accidents, or a DUI).
However, those drivers who have the characteristics currently used to judge responsibility and safety may experience slight increases.
The new law includes zip codes as a discriminatory factor as well, but it does not prohibit insurance companies from setting rates based on "territories" of the state, which has yet to be defined. However, the insurance companies are mandated to justify and negotiate such rates with the state Department of Insurance and Financial Services before they are put into place.
Mini-Tort Recovery Limit Increase
One reason no-fault law was originally put into place was to keep car accident lawsuits out of the court system. Borrowing from laws in place in at-fault (or tort) states, Michigan needed a way to allow drivers to recover fees associated with property damage in the case they are less than 50 percent at fault in an accident and did not carry collision coverage.
The state accomplished this with a mini-tort law that permitted such drivers to claim up to $1,000 in vehicle damages from the at-fault driver's insurance company. The new law has now increased this amount to $3,000 thereby increasing the responsibility of an insurance company to be accountable for their insureds who cause accidents.
How the New Law Affects How Insurance Companies do Business
All of the changes and new additions to the no-fault law have an encroaching (and sometimes advantageous) effect on how insurance companies can determine rates.
One loophole made for insurance companies is that if they can show to the Commissioner that the changes to the law impose a risk to their capital gains and violate their constitutional rights, they can possibly avoid reducing their premiums.
It's likely that more transparency will be requested to reveal validated profits and losses experienced by each company.
Luckily, there is a part of the new law that will require transparency when it comes to holding insurance companies and physicians accountable.
Beginning July 1, 2022, the Insurance Commissioner will begin to demand documentation from insurance companies in their rate filings to the Department of Insurance and Financial Services (DIFS) that they are passing along savings to drivers as a result of the standardized medical provider fees as described previously.
So, it may take a few years to see how the standardized medical treatment fee schedule actually reduces rates.
And, in the case an insurance company wishes to use their own, preapproved medical care provider for examinations, there are more stringent qualifications put into place for physicians selected by insurance companies. For example, such qualifications may include a Michigan licensure, board certification in the specialty area for the specified injury, and/or substantial clinical practice or teaching in the specialty area.
So, in essence, your total out-of-pocket premium may not change by much in the coming years, but lawmakers hope that these changes will funnel down savings to drivers and eventually create a dynamic (and somewhat chaotic) equilibrium in profits and losses for all the players in the game.
One thing is for certain: throughout the next eights years of watching this major game of reform play out, we will be here to referee and help you make the best choices in your car insurance coverage.
Michigan Car Insurance Companies
When the unexpected happens, which company will meet your unique needs? It can be a challenge to make a choice when there are so many options.
To help you begin to make some comparisons, our analysts compiled data for the 10 insurance companies in Michigan with the cheapest quotes.
Let's go!
The 10 Largest Car Insurance Companies in Michigan
Before we get to the cheapest rates, let's take a look at the largest car insurance companies in Michigan.
The national market share is mostly dominated by four select companies; however, we have listed the largest ten companies in Michigan here (as of 2017) to provide you with more options relative to your own state.
The table below displays the market share percentage, total direct premiums written, and loss ratios. The table is sorted by market share; however, you can sort as you like.
Remember, these are the loss ratios for all coverage types combined and are for the largest companies not those with the cheapest rates.
– Car Insurance Companies with the Best Ratings
A.M. Best is a third party entity that provides ratings of companies' credibility and financial outlook, so this is a great place to start in narrowing down your options.
Taking into consideration customer satisfaction ratings is important as well as financial stability. The JD Power Circle Ratings in the image below cover the north central region which is comprised of five states to include Michigan.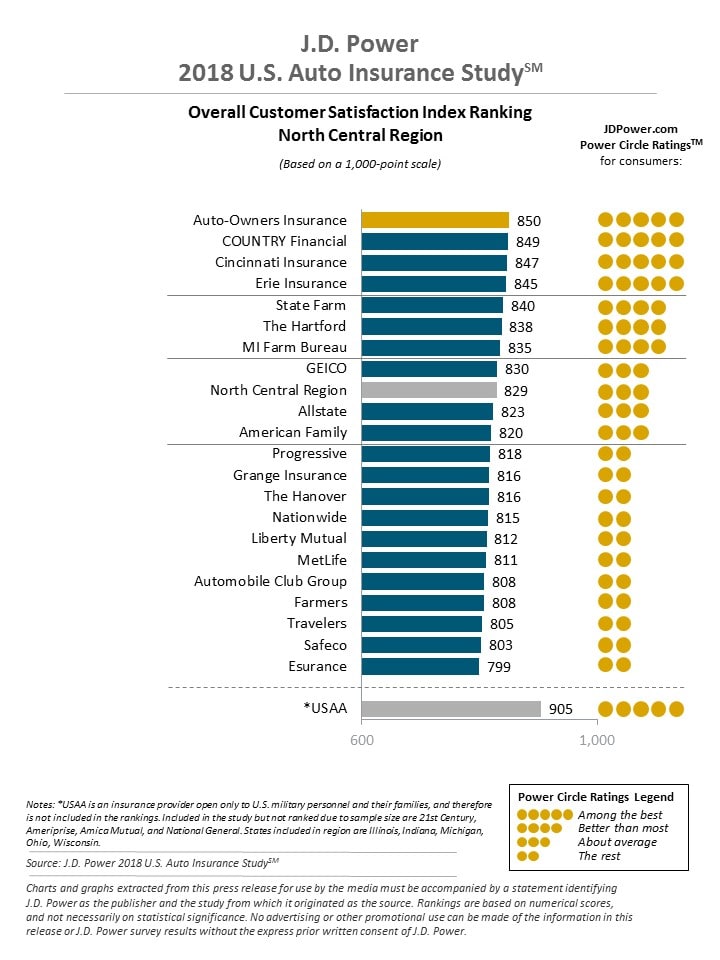 – Companies with Most Complaints in Michigan
We've looked at the positive ratings for financial stability and customer satisfaction. Now it is time to review the negative aspect of ratings: customer complaints.
We took the same 10 companies and located their complaint ratios compared to their direct premiums written.  So just because a company has the most customers in your state doesn't necessarily mean those customers are satisfied.
Michigan DIFS releases complaint ratios each year, and 2017 data is their most recent that is published. The table is sorted based on the company name. Feel free to sort and search the table.
A company with a complaint index of one has an average number of complaints. A company with a complaint index higher than 1.0 has more complaints than average.
If you would like to submit an official complaint about auto insurance, you can submit it here.
State Car Insurance Rates by Company
We know Michigan rates will be outrageous across the board, but some companies will have better rates than others even if it is by only $50 per year.
In this section, we cover the average annual rates for the ten companies in Michigan with the cheapest rates based on unique factors to you: your commute, driving record, and chosen coverage level.
But first, let's look at the cheapest average rates by company overall.
As you can see in the table above, USAA and Progressive have the best rates compared to the state average.  Note that USAA offers services to only active and retired military and their family members. If this doesn't apply to you, Progressive may be a good option.
Commute Rates in Michigan
If you have a long commute, getting a policy with Allstate, Farmers, Nationwide, or Progressive is a good option because all of these companies don't charge more for a longer commute.
Liability Coverage Rates in Michigan
The adage "buy in bulk" applies in most states that the higher the liability limits you select, the better deal you are getting on coverage.
Unfortunately, that is the case for only one company in Michigan, Nationwide, as you can see in the table below.
In most states, it could cost as little as $3-17 per month to move from low or medium coverage to high liability coverage.  This is the case for Travelers and USAA, but not of the other companies in Michigan.
Remember that it is personal injury protection which makes Michigan rates so high. Increasing your liability coverage will be beneficial in only two situations:
if you regularly drive in another state that is at-fault
if you are in an accident (in Michigan) with someone from another state
Credit History Rates in Michigan
If you see an increase in your premium, and you did not get a ticket and you were not in an accident, your credit score may have reduced into a lower threshold.
It appears that Travelers is the most forgiving in its rates if you have poor credit; however, it is still an increase of up to $380 per year.
Driving Record Rates in Michigan
Michigan has two different point systems: one for your actual driving record and one for your insurance eligibility.
Your eligibility to purchase car insurance is not available if one or more of nine different situations applies.
Otherwise, an insurance company can deny you coverage if you have more than six eligibility points from violations within the past three years.
If you receive a speeding citation, get into an accident, or get caught drinking and driving, expect your premium to increase.
In Michigan, it looks like USAA, Progressive, Nationwide, and State Farm are less stringent when it comes to getting a speeding ticket and/or being in an accident.
Also worth noting, most insurance companies have less leniency on drivers who are cited for a DUI, but Progressive and Nationwide appear to be the most lenient.
Even though Michigan has the highest rates in the country, you can still get a relatively reasonable rate if you do your research.
Enter your ZIP code below to compare auto insurance rates.
Secured with SHA-256 Encryption
– Driving Laws in Michigan
Car insurance laws vary from state to state, and Michigan is no different, as we have seen already. In this section, we cover more laws associated with car insurance.
High-Risk Insurance
The state of Michigan has established its own independent agency called the Michigan Automobile Insurance Placement Facility (MAIPF) to assist those who are finding it difficult to purchase coverage from a carrier in the competitive market due to denial of coverage because of a bad driving record.
Read the DIFS consumer counselor guide on MAIPF for more details.
Windshield Coverage
Michigan law does not require insurance companies to provide windshield repair or replacement, but it is an option through purchasing comprehensive coverage.
The law does permit insurance companies to request aftermarket parts if included in the estimate.
You have the right to choose the repair vendor, but if there is a difference in the quote, you will have to pay it.
Statute of Limitations
A statute of limitations is the limit on the amount of time you have, from the time of an accident, to bring a lawsuit to court. Most states differentiate time limits for personal injury and property damage matters.
However, Michigan combines the two, and you have three years to file for the lawsuit for both personal injury and property damage.
Comparative Negligence
Michigan is a "modified comparative fault" state based on the Michigan law Section 600.2959.
This statute is used to settle cases in which the injured party is partially at fault. The amount in damages will be reduced if an injured party is found to share the blame. If the injured party is found to be 50 percent or more at fault, there are no damages.
– Vehicle Licensing Laws
Let's look at what licensing requirements are in place in Michigan for different groups of people.
Teen Driver Laws
The Michigan government provides a consumer guide on insuring your teen driver. They also provide a guide written for teens.
Older Driver License Renewal Procedure
New Residents
If you are planning to relocate to Michigan, here are the things you need to do:
Social Security Card
Proof of US citizenship
 two proof of residence documents
Pass a vision test and meet the physical and mental standards
Pass a written knowledge and driving skills test (waived if you have a driver's license from another state)
Pay the $25 fee
Purchase car insurance before registering your vehicle
– Rules of the Road in Michigan
Knowing the basic driving laws of Michigan will ensure your safety and keeping your rates from increasing.
Ready?
Keep Right and Move Over Laws
All drivers in Michigan must keep right with the following exceptions: passing, turning, heavy traffic, & freeways with three or more lanes.
Move over laws usually always apply to emergency vehicles; however, in Michigan, this applies to any vehicle with flashing lights including tow trucks. If a driver is not able to completely move out of the lane closest to the stationary vehicle, they must slow to a safe speed in all weather, road, and traffic conditions.
Speed Limits
Maximum posted speed limits are 70 mph (65 mph for trucks) on rural interstates and 75 mph (65 mph for trucks) on certain segments of rural interstates, 70 mph on urban interstates, 70 mph on limited access roads, and 55 mph on all other roads.
Carseat and Cargo Area Laws
Any child 7 years old and younger and fewer than 57 inches tall must be in a child safety seat.
Children age 8-15 years and children who are at least 57 inches tall may use a regular seat belt.
Children 3 years old and younger must be in the rear seat if available.
Anyone 16 and over seated in the front of the vehicle and not wearing a safety belt will be fined $25 for not wearing a seat belt.
No person shall ride in the cargo areas of a pickup truck unless:
The person is 18 years or older
The person is 17 and younger if the vehicle is moving 15 mph or less
parades
military vehicles
farming
construction
An emergency requires that people be in the cargo area
Ridesharing
Rideshare services like Uber require that all their drivers maintain their own car insurance policies that meet at least the minimum coverages required by Michigan law. However, if a driver wishes to obtain special coverage for this role, Farmers offer specialized rideshare coverage.
Automation on the Road
According to the Insurance Institute for Highway Safety (IIHS), "automation is the use of a machine or technology to perform a task or function that was previously carried out by a human. In driving, automation involves using radar, camera and other sensors to gather information about a vehicle's surroundings, which is then used by computer programs to perform parts or all of the driving task on a sustained basis."
Currently, Michigan authorizes testing of any "automated motor vehicle" and deployment of "on-demand automated motor vehicle networks."
The operator of the said vehicle must be a licensed driver but does not have to be in the vehicle.
The standard no-fault insurance requirements apply to automated vehicles.
– Michigan's Safety Laws
Two basic practices that ensure your safety and the safety of others in Michigan is to buckle up and obey the speed limits. Other laws exist to prevent impaired or reckless driving.
OWI Laws
Drinking and driving laws in Michigan require a blood alcohol level of 0.08 percent to be cited with operating a vehicle while intoxicated (OWI).
The first and second offenses are unclassified, but the third and subsequent offenses are considered felonies.
The look-back period is seven years for the second offense and unlimited/lifetime for the third and subsequent offenses.
Marijuana-Impaired Driving Laws
Michigan has zero tolerance for THC only.
Distracted Driving Laws
All distracted driving laws in Michigan are primarily enforced which means you can be pulled over for violating these laws.
Handheld devices are currently permitted in Michigan; however, all drivers are banned from texting.
All learner's permit holders and all intermediate license holders are not permitted to use a cellphone unless it is through an integrated voice-operated system.
Michigan: Fascinating Facts You Need to Know
How safe is it to drive in Michigan?
Well, the data our researchers found might surprise you.
Let's examine the statistics of theft and fatalities from risky driving behavior.
– Vehicle Theft in Michigan
Here are the top-10 stolen cars in Michigan:
Listed below are the three cities in which the most vehicles were stolen in 2013.
– Risky/Harmful Driving Behavior
keeping your eyes on the road and staying aware of common risky driving behaviors is the best way to stay safe while driving.
Weather and Light Condition Fatalities
Traffic Fatalities
Traffic Fatalities by Person Type
Fatalities by Crash Type
Five-Year Trend for the Top 10 Counties
Fatalities Involving Speeding by County
Fatalities in Crashes Involving an Alcohol-Impaired Driver by County
Teen Drinking and Driving
EMS Response Time
– Transportation
If you live in Michigan, chances are you two to three cars for your household, drive alone to work, and spend 10-24 minutes commuting.
Car Ownership
Commute Time
With an average commute time of 23.5 minutes, Michigan ranks below the national average of 25.3 minutes.
That means 1.89 percent of Michigan residents suffer through a "super commute" spending in excess of 90 minutes in the car!
Commuter Transportation
Most people in Michigan drive to work alone.
Traffic Congestion
Is traffic a major problem in Michigan?
According to the INRIX Scorecard, Detroit, ranked 27th in the US for worst traffic.  Those who drive in Detroit sit in traffic for 66 hours per year! This time spent in congestion equates to $926 per driver.
TomTom finds that morning peak is 23 percent higher and evening peak is 41 percent higher than the normal flow of traffic.
Don't waste another minute while you wait. Start comparison shopping car insurance rates today!