The Ultimate Montana Car Insurance Guide (Costs + Coverage)
Free Auto Insurance Comparison
Secured with SHA-256 Encryption
Home to Glacier National Park, Yellowstone National Park, the Rocky Mountains, and the Great Plains, the Treasure State is the fourth largest state in the U.S. and it is quite possible that more grizzly bears live in Montana than humans.
With a population of just over 1 million people (and a whole lot of bears), Montana is the 43rd most populous state in the U.S. Montana's breathtaking diverse terrain, wilderness, snow-capped mountains, and hiking trails make it one of the most-visited states in America
Whether you're in Montana just to practice your hiking skills, or you're a Montana native who loves to drive on rocky terrain, one thing is for certain: you're going to need car insurance.
Not everyone has the patience or the time to search for car insurance, and that's perfectly okay because we're here to say we've already done all of the work for you.
In this handy-dandy Montana auto insurance guide, you'll find information like auto insurance laws, where to find the cheapest insurance policy, safety laws, how to save money on your auto insurance policy, and much more.
If you live in Billings, Missoula, Great Falls, Bozeman, or Butte, you may get hold of up to ten rate quotes from top providers in your area via AutoInsuranceEZ.com. Price ranges fluctuate by agency and you should compare rates thoroughly before you obtain a policy. We'll show you how to pick the coverage to meet your needs.
Want to get started saving money on your auto insurance right now? Use our free money-saving tool by entering your zip in the box above.
Montana Car Insurance Coverage and Rates
You might be wondering about what kind of coverage you need and the answer to that question is sort of a complicated one. But let's start with the basics: Montana requires every driver to have auto insurance. But how much auto insurance is required?
You might be looking for the cheapest policy you can get and that's okay, but we're here to tell you that having more insurance will benefit you and your wallet in the long run.
Before we get into minimum liability insurance requirements, let's go over Montana's car culture. This will help you better understand Montana's laws and regulations.
We've partnered with the Insurance Information Institute, Nolo.com, the National Association of Insurance Commissioners and Census.gov to bring you the following information.
Montana's Car Culture
According to the Hartford, the most common vehicles on Montana's roads are big pickups like Chevy Silverado 1500s and beyond with the Z71 package, which fully equips the vehicle to go off-road.
After all, Montana residents are known for having jobs that entail farming, ranching and really anything that has to do with the outdoors.
But it's not all trucks on Montana roads. "In larger cities like Billings and Bozeman, you will see more cars and import brands", says Mike Satterfield, an automotive writer who runs the site The Gentleman Racer and has taken road trips through Montana, including one in a Fiat 500.
"While many drive their trucks every day, a surprising amount of sports cars are kept for the summer driving season," he says.
Minimum Car Insurance Requirements in Montana
The first thing you should know about Montana (in regards to car insurance) is that it is one of 38 states considered to be a traditional at-fault car accident state.
In at-fault car accident states like Montana, if you cause an accident, you are responsible for covering any incurred costs from that accident.
These costs could include damages to your vehicle as well as anyone else's and medical bills.
The at-fault driver is also responsible for filing a claim with his or her insurance company and hopefully, the insurance company will tell the driver that the insurance policy is large enough to absorb all of the costs.
If the at-fault driver does not have enough insurance, he or she will have to cover these costs with personal assets.
In short, the scenario above explains why it is a good idea to carry more insurance than what is required. But what type of insurance is actually required by the state of Montana?
Montana Code Annotated section 61-6-103 requires that any motor vehicle operated on public roads be insured by a liability insurance policy that meets the following minimum coverage limits:
$25,000 liability coverage for bodily injury or death of one person in an accident caused by the owner/driver of the insured vehicle
$50,000 liability coverage for total bodily injury or death liability in an accident caused by the owner/driver of the insured vehicle
$20,000 liability coverage for property damage per accident caused by the owner/driver of the insured vehicle
Liability coverage pays the medical bills, property damage bills, and other costs of drivers, passengers, and pedestrians who are injured or have their vehicle damaged in a car accident you cause, up to coverage limits.
Forms of Financial Responsibility in Montana
A form of financial responsibility is just a fancy term for proof of insurance. Every driver is required to carry their proof of insurance (insurance card) on their person or in their car at all times.
If a law enforcement officer pulls you over, you must be ready to show proof of insurance, registration and your license.
Here some acceptable forms of proof of insurance:
Valid liability insurance ID cards
Copy of your current car's insurance policy
Valid insurance binder (a temporary form of car insurance)
Electronic insurance card (or picture proof of your insurance card)
If you're pulled over and cannot show proof of insurance, you may be facing some serious penalties.
Even if you actually have an insurance policy, there is no way to prove this unless you can show an insurance policy. In this case, a police officer might give you a warning, or he or she may deem you as a driver without insurance.
Driving without insurance in Montana is considered a misdemeanor. A first-time offender could be punished with a fine between $250 and $500, or up to 10 days in jail.
It's kind of silly to go to jail for a crime that could've easily been prevented. Take a photo of your insurance card if you're bad with loose papers and never leave the house with the photo (or your cell phone).
Premiums as a Percentage of Income
Montana's average per capita disposable income in 2014 was $36,041.
A person's per capita income is the amount of money they take home after paying taxes. In 2014, Montana drivers paid $868.55 on average for a full coverage car insurance policy. This means drivers pay an average of 2.41 percent per year on car insurance alone.
From 2012-2014, Montana auto insurance increased by about $50 and the average per capita income increased by about $400.
When we look at surrounding states' averages, Idaho had a per capita income of $33,600 in 2014 and paid an average of $673.13 a year for a full coverage car insurance policy.
Wyoming had a much higher average per capita income of $49,918 and paid an average of $844.33 for a full coverage insurance policy.
Countrywide, Americans have an average per income capita of $40,859 and pay $981.77 a year for auto insurance.
Core Car Insurance Coverage in Montana
The data from the table above is brought to you by the National Association of Insurance Commissioners (NAIC). Since this data is from 2015, you can expect rates to be a little higher today.
Keep in mind that these rates are based on Montana's minimum coverage laws.
Additional Liability Coverage in Montana
While the additional types of liability coverage listed above aren't required by the state of Montana, it still might be a good idea to carry them.
Because Montana is an at-fault state, a driver who causes an accident is required by law to pay for any damages associated with that accident; hopefully, the driver carries a big enough insurance policy so they don't have to pay out of pocket to help cover damages.
But what happens if a driver is uninsured?
9.90 percent of Montana drivers are uninsured. Montana is ranked 33rd in the U.S. for uninsured drivers.
If an uninsured driver hits you and you don't carry underinsured/uninsured motorist coverage, you might be stuck paying for the damages done to your vehicle out of your own pocket.
More than likely, the uninsured driver will go bankrupt trying to pay for damages done to his own vehicle, and you'll never be paid.
This is where uninsured motorist coverage steps in to help.
But what about loss ratio?
When you're looking for a new Montana auto insurance company, it's important to look at that company's loss ratio percentage.
If the loss ratio percentage is too high, (over 100 percent) the company could be at risk of going bankrupt because they are paying too many claims.
When you get into a car accident, you need to file a claim with your insurance company stating what damage was done to your vehicle and what medical bills need to be paid.
On the other hand, if a loss ratio percentage is too low, (under 50 percent) the insurance company could be scamming its clients because it's not paying enough of filed claims.
As you can see in the table above, Montana auto insurance companies have great average loss ratio percentages — they all fall between 50-100 percent.
Add-ons, Endorsements, and Riders in Montana
With so many extra insurance coverage options, it can be difficult to understand which ones could work well with your lifestyle.
Your Montana auto insurance policy should be as unique as you are. Click on the links below to learn more about each individual policy.
Guaranteed Auto Protection (GAP)
Personal Umbrella Policy (PUP)
Non-Owner Car Insurance
Modified Car Insurance Coverage
Pay-As-You-Drive or Usage-Based Insurance
More coverage is always better coverage. Choose one add-on or choose them all. The choice is completely up to you.
Male vs. Female Annual Car Insurance Rates in Montana
Did you know factors like gender, marital status and age can affect your auto insurance rate?
In Montana, it is illegal to base an insurance rate on gender or marital status.
Are you worried about your age affecting your rate? Car insurance companies know teenage drivers have little experience on the road, which is exactly why they hike up their rates for young drivers.
If you keep a clean record, your rates are likely to decrease significantly once you turn 25.
Keep in mind that our data is based on actual purchased coverage by the state population and includes rates for high-risk drivers and for drivers who choose to purchase more than the state minimum as well as other types of coverage not required such as uninsured/underinsured motorist, PIP, and MedPay.
Cheapest Rates by City in Montana
Are you curious about what insurance might cost based on cities in Montana? Look for your city in the table below.
Rates in Montana's Ten Largest Cities
What are Montana's most populated cities?
Enter your ZIP code below to compare auto insurance rates.
Secured with SHA-256 Encryption
Best Montana Car Insurance Companies
With literally hundreds of car insurance companies out there, it can be a tough choice to pick just one, especially when you don't know what to look for in a company.
In this next section, we've answered all of the difficult questions and pulled valuable info on some of the very best car insurance companies for you.
Keep reading to learn more about AM Best ratings, customer service satisfaction rankings, company complaints, and more.
Ratings of the Largest Car Insurance Companies in Montana
We can determine a company's financial strength by studying their AM Best Rating. As we previously discussed, generally, a company should not have a loss ratio percentage over 100 percent or under 50 percent.
As you can see from the table above, Allstate and Farmer's both have loss ratio percentages under 50 percent.
In both of these cases, the percentage is still in the 40 percent range, and both companies have a great AM Best rating, so it really isn't a huge deal that the loss ratio percentage is on the lower side.
Montana's Car Insurance Companies with the Best Ratings
When you're standing on the side of the road while trying to get a hold of your car insurance company after you've just been in a car accident, the last thing you want to hear over the phone is a nasty voice.
Customer service is very important, especially when it comes to your auto insurance provider. J.D. Power agrees, and that's exactly why they rank auto insurance companies every year based on customer satisfaction.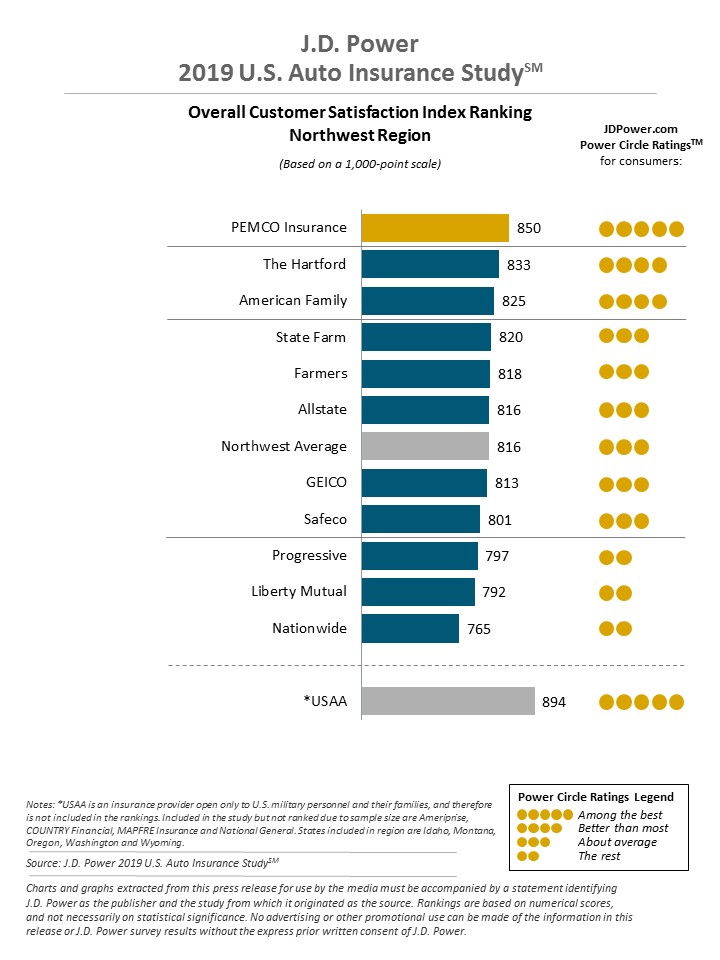 The 2019 U.S. Auto Insurance Study, now in its 20th year, examines customer satisfaction in five factors (in order of importance): interaction; policy offerings; price; billing process and policy information; and claims.
With the exception of USAA, (a company that only serves military members and their families) PEMCO Insurance was ranked number one for customer service in the Northwest region on the U.S.
The study is based on responses from 42,759 auto insurance customers and was fielded from February through April 2019.
Companies with the Most Complaints in Montana
All companies receive complaints. How a company handles a mistake is what really matters.
Below are some numbers on company complaints in Montana.
Don't be discouraged by these numbers — even the best rate companies are on this list.
Cheapest Companies in Montana
Take a look at some of the cheapest Montana auto insurance companies.
Commute Rates by Companies
Did you know that your rate can be affected by how many miles you drive per year?
According to this table above, whether you drive 6,000 miles per year or 12,000 miles per year, Liberty Mutual has the cheapest insurance in Montana.
Coverage Level Rates by Companies
Insurance is expensive, but sometimes having more insurance can save you money in the long run.
If you have a good insurance company, you might be able to save more money if you carry more coverage than what is required by the state of Montana.
To get a better picture of what we mean, take a look at the table below.
Liberty Mutual only charges about $200 more per year for high coverage car insurance.
Credit History Rates by Companies
Your credit score can also affect your car insurance rate.
According to Experian, Montana has an average credit score of 689.
The average American has a credit score of 675, so Montana residents often have a higher-than-average credit score.
As you can see, a bad credit score can increase your rate by hundreds, if not thousands of dollars. Want to keep your rates lower? Keep your credit score high and your credit card usage low.
Driving Record Rates by Companies
The biggest factor that affects a car insurance rate is your driving record. Check out the table below to see what we mean.
If you get into one accident, your yearly rate is likely to increase by more than one thousand dollars. If you're caught drinking and driving and charged with a DUI, your rate could increase by thousands of dollars.
Number of Insurers in Montana
There are many more foreign licensed insurers than there are domestic insurers, but what exactly is the difference?
Domestic insurance laws are formed under the laws of Montana while foreign insurance laws are formed under the laws of the U.S.
Montana State Laws
It's important to know your state laws, but we don't expect you to know every single one of them. However, being aware of Montana state driving laws can help keep you safe while on the road and help you avoid accidents and traffic fines.
In this section, we'll cover topics like teen driver laws, statute of limitations laws, vehicle licensing, Real ID laws, and much more.
We've partnered with the NAIC, the IIHS, Carwindshields.info, the DMV, and Responsibility.org to bring you the following information.
Montana Car Insurance Laws
By now you should know that Montana requires every driver to have car insurance. But have you ever wondered how state car insurance rate laws are formed?
According to the NAIC, car insurance rates must be filed prior to use with supporting data.
For more info on Montana state insurance laws, visit the Montana Motor Vehicle Division.
Windshield Coverage
Unfortunately for drivers in Montana, there aren't any mandatory windshield coverage laws. This means that unlike some states, Montana insurance companies are not obligated to pay for a broken or cracked windshield if it needs to be replaced.
Most likely, you'll have to pay a hefty deductible first, before having your windshield repaired or replaced.
Not a fan of paying a deductible every single time you get a crack in your windshield?
Some insurance companies may offer a deductible-free windshield coverage with a comprehensive plan.
High-Risk Insurance
Have you ever heard of high-risk insurance?
Montana SR22 car insurance is one way the state of Montana is able to keep track of drivers that have not continuously proven financial responsibility by having car insurance. It is also required for "high-risk" drivers.
But what might qualify you as a high-risk driver?
Conviction of DUI
Driving while uninsured
Having too many points on your license
Causing a car accident
Driving a high-risk car
Being over a certain age
The cost of SR22 insurance is determined by your state's minimum liability requirements. The SR22 insurance minimum in Montana is $25,000 for injury to one person, $50,000 for injury to two or more people, and $10,000 for property damage.
Keep in mind that an SR22 verifies your fulfillment of Montana's minimum liability requirements for the next three years.
Low-Cost Insurance Program
Currently, Montana does not have a program to help out families pay for car insurance if they have a low income. California, New Jersey, and Hawaii are the only states in the U.S. that actually do have a government-assisted insurance program.
Don't be discouraged by this — are you still looking for more ways to save on your insurance policy?
Ask your insurance provider if you qualify for any of the following discounts:
Homeowner's discount
Multi-car discount
Student discount
Military discount
Good driver discount
Automobile Insurance Fraud in Montana
How can you get busted for insurance fraud?
According to the IIHS, insurance fraud can be "hard" or "soft." Hard fraud occurs when someone deliberately fabricates claims or fakes an accident.
Soft insurance fraud, also known as opportunistic fraud, occurs when people pad legitimate claims, for example, or, in the case of business owners, list fewer employees or misrepresent the work they do to pay lower premiums for worker's compensation.
The IIHS also says that the Insurance Research Council reported that "Auto insurance fraud and claim buildup added between $4.9 billion and $6.8 billion to closed auto injury claim payments in 2007."
If you or someone you know would like to report a fraudulent insurance claim, please contact the Office of the Montana State Auditor, Commissioner of Securities and Insurance.
840 Helena Ave. Helena, Montana 59601
Phone: (800) 332-6148 or (406) 444-2040
Statute of Limitations
The statute of limitations law exists to protect both the insurance company as well as the claimant.
If you get into a car accident, you can't wait 20 years to file a claim. If this were possible, insurance companies would go out of business. On the other hand, the statute of limitations law does give a driver ample time to file a claim.
According to Montana state law, a driver has three years to file a personal injury claim and two years to file a property damage claim.
Montana State-Specific Laws
Did you know it's illegal to drive in Montana with a sheep in the cab of your truck unless you have a chaperone?
As far as we know, this is one of the only weird driving laws in Montana. If you'd like to read up on more Montana car insurance laws, click here.
Vehicle Licensing Laws
In the state of Montana, every driver must be a licensed driver. We will get into licensing laws further down, but first, we want to cover Real ID laws.
What is a Real ID?
After October 2020, drivers will not be able to board a domestic flight or enter a federally secured building without a Real ID.
Penalties for Driving Without Insurance
We get it – car insurance isn't an exciting thing to pay for, but every driver must carry their own personal car insurance policy.
If a law enforcement officer pulls you over, you must be ready and willing to show proof of insurance, you license and registration.
What are some of the penalties for driving without insurance?
If you're caught driving without insurance just one time, your license could be suspended. Even if you have insurance, you can still be penalized for driving without proof of insurance.
Let's review acceptable forms of proof of insurance.
Valid liability insurance ID cards
Copy of your current car's insurance policy
Valid insurance binder (a temporary form of car insurance)
Picture of proof of insurance on your smartphone
Electronic proof of insurance
If you're not great at carrying around papers and insurance forms, take a photo of your insurance card as soon as you receive it and that way (if you carry your phone on you all of the time) you should have it on you at all times.
Teen Driver Laws
In the state of Montana, teens can start driver's education as early as 14 years and nine months old.
Take a look at the table below for more info about how to get a license in the state of Montana.
In Montana, license applicants younger than 16 must have completed driver education.
Check out the table below for restricted licensing laws in Montana.
License Renewal Procedures
If you are under the age of 75, you must your license every eight years. If you are 75 or over, you must renew your license every four years.
IMPORTANT: If you are turning 75, you must renew your license even if you have previously renewed it within the last eight years.
Keep in mind that proof of adequate vision is required at every renewal and mail or online renewal is permitted by any driver regardless of age.
New Residents
Are you thinking about moving to Montana?
New residents are required to transfer their out of state license to Montana one within 60 days of living in the state.
Do you remember Montana's minimum liability insurance requirements?
$25,000 liability coverage for bodily injury or death of one person in an accident caused by the owner/driver of the insured vehicle
$50,000 liability coverage for total bodily injury or death liability in an accident caused by the owner/driver of the insured vehicle
$20,000 liability coverage for property damage per accident caused by the owner/driver of the insured vehicle
If you are getting ready to move, or have already moved to Montana, make sure you give your current insurance company a call so that they can switch your out of state insurance to meet Montana's insurance requirements.
Some insurance companies do not provide insurance in every state.
Negligent Operator Treatment System
According to Driving Laws by Nolo, Montana has a law that prohibits negligent or "careless driving." The law requires all motorists to drive "in a careful and prudent manner that does not unduly or unreasonably endanger the life, limb, property, or other rights of a person."
The difference between reckless and careless driving might be subtle in some cases. But generally, the distinction has to do with the driver's level of culpability.
Unlike with reckless driving—which requires proof that the driver intentionally or knowingly did something risky behind the wheel—a motorist can be convicted of careless driving without realizing the dangerousness of the driving.
Careless driving is a misdemeanor, but the consequences are less serious than those for reckless driving. The possible penalties for a careless driving conviction are:
First offense: For a first careless driving violation, there's a $10 to $100 fine.
Second offense: For a second careless driving conviction within a year, the driver is looking at fines of $25 to $200.
Third offense: For a third or subsequent offense within a year, the driver is facing $50 to $500 in fines.
Offenses involving death or injuries: A careless driving offender who causes death or "serious bodily injury" to another person faces up to six months in jail and/or a maximum $5,000 in fines.
A careless driving conviction adds four points to the motorist's driving record.
Montana
Rules of the Road
In this next section, we're going to cover the rules of the road. If you want to avoid accidents, fines, jail time, points on your license, or license suspension, this section might be one you will want to pay attention to.
First, let's start by reviewing Montana's at-fault law.
Fault vs No-Fault
As we previously discussed, Montana is an at-fault car accident state. This means that anyone who causes an accident is responsible for covering the costs of damages and/medical bills incurred from that accident.
It's a great thing to have more insurance than what is required because often, you can run out of insurance money before you even make a dent in paying some of these bills.
Keep in mind that at-fault drivers are also responsible for filing a claim for other drivers if they were involved in the accident as well.
Seat Belt and Car Seat Laws
Click it or ticket! Are you aware of Montana's car seat and seat belt laws?
Avoid a fine (and injuries) by following these Montana safety belt laws below.
If you break one of these laws, you're looking at a $20 fine plus fees.
Help keep your little ones safe by making sure they are in the right type of car seat while traveling in a moving vehicle.
Have you ever wondered if riding in the cargo area of a pick-up truck is illegal?
In Montana, there are no state laws about riding in the back of a pick-up truck, however you should always use caution while riding in an area of a vehicle that does not have a seat belt.
Keep Right or Move Over Laws
In Montana, drivers must keep right if they choose to drive slower than the average speed of traffic. Passing on the right is allowed under certain circumstances.
According to Montana Code, the operator of a vehicle may overtake and pass on the right of another vehicle only under the following conditions:
When the vehicle overtaken is making or about to make a left turn; or
on a roadway with unobstructed pavement of sufficient width for two or more lanes of vehicles moving lawfully in the direction being traveled by the overtaking vehicle.
The operator of a vehicle may overtake and pass another vehicle on the right only under conditions permitting safe movement. The movement may not be made by driving off the pavement or main-traveled portion of the roadway.
AAA says Montana law requires drivers approaching a stationary emergency vehicle displaying flashing lights, including towing and recovery vehicles, traveling in the same direction, to vacate the lane closest if safe and possible to do so, or slow to a safe speed.
If on a highway with a speed limit 50mph or greater, the driver must slow by at least 20mph below the posted speed limit.
Speed Limit Laws
The number one traffic violation in Montana is speeding. Knowing Montana's speed limit laws can keep your wallet full and your driving record clean.
See the table below for the maximum speed limits in Montana.
Remember that these are the maximum limits allowed on the roads in Montana.
Ridesharing
If you work for a company like Uber or Lyft, you must have ridesharing insurance. Insurance companies know that the more you drive, the more likely you are to get into an accident.
Are you looking for ridesharing insurance?
Check out these companies below for more information.
Farmer's Insurance
State Farm
Automation on the Road
Have you ever heard of vehicle automation?
The IIHS says that in driving, automation involves using radar, camera, and other sensors to perform parts or all of the driving task on a sustained basis instead of the driver.
One example is adaptive cruise control, which continually adjusts the vehicle's speed to maintain a set minimum following distance.
Features such as automatic braking, which acts as a back-up if the human driver fails to brake, or blind-spot detection, which provides additional information to the driver, aren't considered automation under this definition.
At this time, Montana has not deployed or tested complete vehicle automation.
Safety Laws
In this next section, we will go over three very important safety laws: DUI laws, impaired-driving laws, and distracted driving laws.
If you are unsure of theses safety laws, it might benefit you to scan over them so you can avoid penalties, fines and accidents.
DUI Laws
From 2008-2017, there were 796 alcohol-impaired traffic deaths in the state of Montana. But if you're going to spend a night out on the town, what are some important drinking and driving laws to follow?
What are some the penalties involved with these DUI offenses?
In 2017, there 56 alcohol-related fatalties in Montana. Please don't drink and drive – it's an action that can be easily avoided.
Marijuana-Impaired Driving Laws
According to Responsibility.org, if you are caught driving with more than THC per se (5 nanograms) of marijuana on your person, you will be charged with impaired driving.
If you are convicted of drugged-driving, you could be facing fines and/or jail time.
For states without a marijuana-specific per se drugged driving law, an impairment-based statute exists that requires law enforcement to prove impairment of the driver. Successful prosecution depends on documented behavioral evidence and recent drug use.
Distracted Driving Laws
Technology has come a long way in the last few years, but just like any other tool, texting has become both a convenience and a curse.
Studies have shown that the effects of texting and driving can be worse than drinking and driving. Look at the table below to find out more about distracted driving laws.
While there aren't any laws about using your cell phone while driving in Montana, it still might be a good idea to use discretion if you choose to use your phone in a moving vehicle.
Driving in Montana
Now that we've covered Montana's driving and safety laws, it's time to get into Montana's can't miss facts.
What are some of the risks to owning and operating a vehicle in Montana? What about vehicle theft? What causes traffic fatality rates in Montana?
From crash statistics to traffic congestion, we will cover all this and more up next. The following info is brought to you by the NHTSA, Responsibility.org, Data USA, Census.gov, the FBI and Inrix.
Vehicle Theft in Montana
Is your vehicle on Montana's most-stolen list?
The year with the vehicle is just the most popular model year stolen. The number listed as stolen for that make and model includes all model years of it. The Chevy pick-up truck is clearly the most stolen vehicle in Montana.
Did you know that some cities have more vehicle theft than others? The data from the list below is pulled directly from the FBI.
Find your city below.
Road Fatalities in Montana
Accidents happen and sometimes they result in deaths. Many of these traffic fatalities have resulted from specific scenarios. In this section, we want to talk about why they happen and what causes them.
In 2017, there were 186 traffic fatalities in the state of Montana. Before we get into the causes of these fatal accidents, let's first talk about the most dangerous road in Montana.
Most Fatal Highway in Montana
According to Geotab.com, US-2 is the northernmost east-west US Route. Its Montana stretch has an average of 13 fatal crashes per year.
Over 30,000 people are killed every year in car accidents.
To determine the most dangerous highway in each US state, Geotab calculated a Fatal Crash Rate that is based on the annual number of road fatalities and fatal crashes according to the National Highway Traffic Safety Administration, adjusted for the average daily traffic counts provided by the Federal Highway Administration.
Fatal Crashes by Weather Condition and Light Condition
Do weather and light conditions cause frequent fatal car accidents in Montana?
According to this table above, many of these accidents occurred either in broad daylight or in the dark under normal weather conditions.
Fatalities (All Crashes) by County
Below is a list showing fatal crashes by counties in Montana. Can you find your county on this list?
Traffic Fatalities: Rural vs Urban
Are traffic fatalities in Montana more likely to happen in rural areas or urban areas? Normally, more fatalities happen in rural areas because it takes longer for an emergency response team to arrive at the crash site.
On average, you are eight times more likely to get into a fatal accident in a rural area than you are in an urban environment. Stay tuned as we discuss EMS response times a little further down.
Fatalities by Person Type
Did person or vehicle type have anything to do with the fatal crash rate in Montana?
Fatalities by Crash Type
Does a certain type of crash cause more fatal accidents than other types of crashes?
According to this table above, crashes involving a roadway departure were most likely to result in a fatality.
Five-Year Trend For The Top 10 Counties in Montana
Below is the five-year trend for the top ten largest counties in Montana.
Fatalities Involving Speeding by County
Speeding is a huge cause of road fatalities in Montana. In 2017, there were 59 speeding-related road fatalities in Montana.
Fatalities in Crashes Involving an Alcohol-Impaired Driver (BAC = .08+) by County
In 2017, there were 56 alcohol-impaired road fatalities in Montana. Below is a list showing traffic fatalities that resulted from drunk driving by the counties they ocurred in and the year they ocurred.
Drunk driving is against the law. Please don't drink and drive.
Teen Drinking and Driving
For obvious reason, teen drivers don't have a lot of driving experience — but add some alcohol to the lack of experience and you've got yourself a deadly mix.
Montana is ranked fifth in the U.S. for teenage drinking and driving.
According to Responsibility.org, in 26 states and D.C., under-21 alcohol-impaired driving fatalities per 100,000 population were at or below the national average of 1.2 deaths per 100,000 population.
Montana has the highest teenage drunk-driving fatality rate in the country with an average is 3 deaths per 100,000 population.
EMS Response Time
Sometimes arriving seconds early to a crash site can mean the difference between saving someone's life or sending them straight to the morgue.
Because there aren't as many EMS services located in rural areas as there are in cities, EMS response times are generally much faster in urban environments than they are in rural areas.
According to the table above, urban EMS response times are much lower than they are in rural areas.
Transportation
Insurance companies will often base their rates on averages – the average number of cars owned per family, the average amount of time someone spends driving in traffic, and the average amount of miles a person drives per year.
This next section will cover transportation averages that will include car ownership, commuter transportation, traffic congestion and types of transportation that people use the most.
Car Ownership
How many cars do Montana drivers own on average?
According to Data USA, the following chart displays the households in Montana distributed between a series of car ownership buckets compared to the national averages for each bucket.
The largest share of households in Montana have two cars, followed by three cars.
The orange bars represent Montana's average while the gray bars show the country's average.
Commute Time
Using averages, employees in Montana have a shorter commute time (16.9 minutes) than the normal US worker (25.5 minutes). Additionally, 1.66 percent of the workforce in Montana have "super commutes" in excess of 90 minutes.
Commuter Transportation
In 2017, the most common method of travel for workers in Montana was to drive alone, followed by those who carpooled and those who worked at home.
Traffic Congestion in Montana
Good news for Montana drivers! Montana doesn't have any cities on Inrix's worst cities for traffic list.
In the words of Porky Pig, that's all folks! Now that we've covered all you need to know about Montana auto insurance, it's time to start shopping for your very own insurance policy. To begin, use our free tool by simply entering your zip code in the box below.
Happy shopping.