Cheap Car Insurance in Lafayette, LA
Free Auto Insurance Comparison
Enter your ZIP code below to compare auto insurance rates.
Secured with SHA-256 Encryption
The "Happiest City in America" is known for letting the good times roll through its flavorful cuisine, lively music, and Cajun culture. This small southern city with a big heart and French flair inspires passion.
Lafayette, Louisiana, is also nicknamed "The Hub City" for the two interstates that run through it (I-10 and I-49). Driving is one of Lafayette residents' favorite ways to get around, and they like to live large and in charge, with pickup trucks and SUVs among the most popular vehicles.
While they drive, they better carry insurance to comply with the state of Louisiana law.
When it comes to shopping for car insurance, you have several options — the sheer number can be overwhelming. How do you decide which coverage is right for you?
We seek to answer that question and more in this "can't miss" guide. We'll cover the factors that set prices, average rates in Lafayette, car insurers, local laws, and much, much more.
Plus if you want to know how Lafayette compares to car insurance in Louisiana, we've got you covered.
So, if you're ready to join us on this journey through auto insurance in Lafayette, buckle up. And, while you're at it, feel free to enter your ZIP code in our free tool to compare rates.
Cheap Car Insurance in Lafayette
As the cost of living continues to rise, so do auto insurance rates. The average price of a car insurance premium in Lafayette is $5,401.55. It's not exactly cheap, and some drivers can struggle to afford it.
But, rates you receive aren't always set in stone. You have options and may qualify for discounts. In this section, we'll explore the main factors insurers assess when they assess risks and adjust their rates.
First up, we'll go over some of the most controversial aspects of insurance: gender and age.
Does gender and age affect my car insurance in Lafayette?
Yes, though it may seem unfair, your gender and your age influence your auto insurance rates.
Data USA statistics show that the average age of Lafayette residents is 35. Many drivers there, if they have enough experience, get the lowest rates. The table below shows average prices for typical age groups in the "Cajun Capital City":
In line with the median age of city residents, 35-year-olds pay less for their premiums than other drivers.
Looking at the battle between the sexes, females in Lafayette pay an average of $5,504.79 yearly for full coverage car insurance premiums, while their male counterparts pay $5,777.09 annually.
The table below combines age and gender with marital status. Let's see how all three factors play into the average rates.
As is usual for 17-year-old drivers, insurers charge them the highest rates. Why do policies for teens cost so much?
"Teenage drivers have higher rates of fatal and nonfatal crashes compared to older drivers, and they are more likely to be at fault in their crashes." — The Louisiana Department of Insurance
If they're lucky enough, their parents will include them under their own policies.
Now that we've covered the biggest factor in rates, we'll go over another major player: your location.
What are the cheapest ZIP codes in Lafayette?
Often based on crime, natural disasters, and accident rates in a given area, car insurance prices can vary in different neighborhoods in the same city.
Below are rates for Lafayette neighborhoods.
As shown in the table below, drivers in ZIP code 70501, which includes Center Street and Mouton Park, pay more for their premiums than those in other parts of the city. On the opposite end of the scale, however, residents in ZIP code 70507 (the area of Coussan Road) pay the lowest average rates.
This may be in large part, due to crime rates, and to some extent, income levels.
The Lafayette Parish Sheriff's Office provides data maps that show how often crimes have occurred in certain districts within a specified time frame. They caution that they "serve as a tool to create an awareness of crime in the areas where we live, work, learn, or spend leisure time." But, they're not an official representation of local crime statistics.
As we'll explore further below when we go over vehicle theft, the neighborhoods of Milton and Johnston Street/Ambassador Caffery Parkway are among the safest in Lafayette.
Next, we'll evaluate auto insurance companies that operate in Lafayette to see which one comes out on top.
What's the best car insurance company in Lafayette?
The level of customer service a company offers, together with discounts, coverage options, and reviews, can influence which company you consider to be the best. The amount of time and effort involved in researching companies can be overwhelming.
We're here to ease the burden. Below, we'll look more closely at other factors that can affect your rates and help you find the right car insurance company for your needs.
Cheapest Car Insurance Rates by Company
Which insurers in the Cajun Capital City offer the lowest prices for car insurance? Below, we'll evaluate them based on age, gender, and marital status.
The cheapest insurers are USAA and State Farm. Their rates cost an average of $1,000 to $2,000 less than Allstate, Progressive, and Geico's prices.
Best Car Insurance for Commute Rates
The more miles you drive, the more you're likely to pay for your auto insurance. Louisianans drive an average of 14,566 miles annually. How far do you drive every year?
The chart below shows how much car insurance rates vary for 10- to 25-mile commutes.
Allstate and Progressive don't factor mileage into their pricing. Among the companies that do, Geico and State Farm offer the lowest rate differences between the two mileages, which amounted to about $200.
Best Car Insurance for Coverage Level Rates
The policies you buy and their coverage levels also influence your car insurance costs. Below, we'll look at rates for low, medium, and high amounts of coverage.
In Lafayette, regardless of which insurer you choose, the difference in cost between the lowest and highest coverage levels is more than $1,000. With Progressive insurance, the highest amount of coverage costs almost $3,000 more than the lowest. Generally, it's not cheap, so you may need to look for other ways to save.
Best Car Insurance for Credit History Rates
Another major aspect of car insurance pricing is your credit score. Here's how rates vary for drivers with poor, fair, and good credit scores in Lafayette.
The price difference between poor and good credit among the top insurers averaged between $2,500 to $3,000.
Best Car Insurance for Driving Record Rates
Your driving record, whether it's clean or spotty, provides more fodder for car insurers to raise or lower your rates. Here's how much they charge on average for common driving penalties in Lafayette.
With Allstate coverage, one accident can skyrocket your rates by $2,500. But, for State Farm insurance customers, the price increase for one crash from a clean record is more like $1,800.
What are some car insurance factors in Lafayette?
Together with the factors we explored earlier, the area's economy, including employment rates, can influence car insurance rates. Among other aspects, we'll also look at income, education, and poverty levels in Lafayette.
City Metro Report
As the Lafayette Area Economic Development Authority (LEDA) notes, the city "offers the essential elements needed to ensure the growth and development of its business community."
Lafayette is known for its "wealth-creating industries," which employ nearly 40 percent of the local workforce: mining (energy), construction, manufacturing, and information.
The Lafayette Economic Development Authority (LEDA) reports that in 2019 the Cajun Capital City had an unemployment rate of 3.6 percent, which nearly matched the national average (3.5 percent).
A report by 24/7 Wall Street found that Lafayette's metro area had the nation's third-highest job loss from 2014 to 2019 of about 7 percent, which lagged behind the national figures of more than eight years of continuous job growth.
The LEDA counters the gloomy statistics, touting that the Lafayette area has gained more than 9,500 jobs since January 2017, which was during the area's "energy downturn."
Despite estimated job losses in goods-producing industries like oil and gas of 30 percent according to Federal Reserve data, the area has seen increases in health care and hospitality of 8 and 4 percent, respectively.
Compared to another major Louisiana city, according to the Brookings Institution's Metro Monitor, Baton Rouge has had a more dismal overall job growth of 0.1 percent (ranking it 94th out of 100 major cities).
Median Household Income in Lafayette
According to Data USA, in 2017, Lafayette households had a median annual income of $48,533, which was less than the average yearly U.S. income of $61,937, yet higher than the state average of $47,905. The Lafayette median yearly income showed a 1 percent growth from the previous year.
With the average annual income of $48,533, drivers there pay nearly 11 percent of their wages toward car insurance.
How much do you pay? Find out with our free calculator below.
CalculatorPro
Homeownership in Lafayette
Homeownership shows that a driver may be more reliable and able to pay car insurance premiums. If you own a home, you could pay less for car insurance than if you rent. To save more, homeowners can also bundle their car and home insurance.
Data USA reports that in 2017, 55 percent of the housing units in Lafayette were owner-occupied. This percentage was below the national average of 64 percent.
That same year, the median property value in Lafayette grew to $181,900 from the previous year's value of $177,100. Most homes in the Happiest City in America were worth $150,000 to $175,000.
Education in Lafayette
In 2016, universities in the Hub City awarded 6,086 degrees. Data USA reveals that the largest universities in Lafayette by the number of degrees awarded are the University of Louisiana at Lafayette (3,386 or 56 percent), South Louisiana Community College (1,661 or 27 percent), and Unitech Training Academy-Lafayette (215 or 4 percent).
The most popular majors in Lafayette are general studies (745 or 12 percent), registered nursing (617 or 10 percent), and medical assistant (225 or 4 percent).
Community colleges, which provide several degrees and certificates in a range of programs, are a lower-cost alternative to traditional schools. South Louisiana Community College offers degrees and certificates in more than 50 programs in energy and other popular fields to 10,000 students annually.
Wage by Race and Ethnicity in Common Jobs in Lafayette
Data USA figures show that in 2017, the highest paid race/ethnicity of Louisiana workers was Asian. These workers were paid only one time more than White workers, who made the second highest salary of any race/ethnicity.
This chart shows how much of the top three races and ethnicities' wages in a common field, customer service, pay for car insurance, based on the average cost of an annual full coverage premium in Lafayette, $5,401.55.
Native American customer service representatives earned more than whites and Asians. Nearly 12 percent of the Native Americans' salaries went to car insurance. Generally, the more a worker earns, less of their income pays for car insurance. Keep in mind that the cost of the premium listed is an average and might not reflect your experience.
Wage by Gender in Common Jobs in Lafayette
In Louisiana, Data USA has found that in 2017, full-time male employees earn more than females, at an average of $62,488 versus $40,269 yearly. Generally, males made one and a half times more than females.
Based on the average cost of an annual full coverage premium in Lafayette, $5,401.55, below are the yearly average wages for the most common jobs in Louisiana, and how each gender's incomes pay for car insurance:
Males in retail sales — the highest-earning workers — paid 10 percent of their wages to car insurance. By contrast, the lowest-paid employees, female cashiers, paid a whopping 28 percent of their earnings for premiums.
Poverty by Age and Gender in Lafayette
According to Data USA numbers, 19 percent of the population for whom poverty status is determined in Lafayette live below the poverty line, which is higher than the national average of 13 percent. The largest demographic living in poverty are females ages 18–24, followed by males 18–24 and females 25–34.
The U.S. Census Bureau uses a set of money income thresholds that vary by family size and composition to determine who classifies as impoverished. If a family's total income falls below their limits, the Census Bureau classifies that family and every family member as living in poverty.
Poverty by Race and Ethnicity in Lafayette
A worker's race and ethnicity can affect their earnings. If their wages aren't high enough, they may end up living in poverty. According to Data USA, the most common racial or ethnic group living below the poverty line in Lafayette is black (12,383 people at 50 percent), followed by white (9,712 residents at 39 percent) and Hispanic (1,465 citizens at nearly 6 percent).
Employment by Occupations in Lafayette
Data USA says that from 2016 to 2017, employment in Lafayette declined at a rate of 0.375 percent, from 64,200 to 64,000 workers.
The most common job groups by the number of people living in Lafayette are sales and related occupations (8,109 people), office and administrative support jobs (7,652 workers), and food preparation and serving-related fields (6,209 employees).
Enter your ZIP code below to compare auto insurance rates.
Secured with SHA-256 Encryption
Driving in Lafayette
Poor road conditions and busy highways number among the hazards of driving in Lafayette, and if you deal with them too often, they can get on your nerves.
To help you navigate through these and other aspects of driving life, in this section, we'll cover the major roadways in Lafayette, pavement conditions, popular road trips, and traffic laws.
Get ready to learn more.
What are the major roads in Lafayette?
Lafayette has a fair number of highways in varying conditions. Let's find out more about them.
Major Highways in Lafayette
Thirteen highways traverse Louisiana and span 934 miles of roadway. The map below shows the major interstates and other roads that run through the Hub City.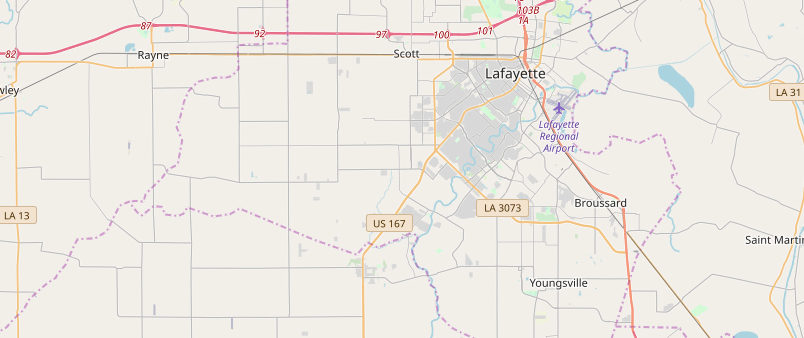 These highways include:
U.S. Route 90 – It stretches 2.6 miles northwest to southeast and is signed as Business 90, with no directional shields. It's also known as University Avenue and Pinhook Road.
Louisiana Highway 94 – This state highway spans eight miles east to west from the junction of U.S. Highway 90 (US 90) and U.S. Highway 167 (US 167) in Lafayette to LA 328 in Breaux Bridge.
Interstate 49 – Interstate 49 from Shreveport to Kansas City is part of High Priority Corridors 1 and 72, North-South Corridor, while the future section between New Orleans and Lafayette is part of High Priority Corridor 37 — U.S. 90.
The Lafayette Regional Xpressway (LRX) is a transportation improvement project the Lafayette Metropolitan Expressway Commission started in 2004.
Planned as a controlled-access toll road using a new location to connect I-49 north of Lafayette near the city of Carencro, the LRX will also connect I-10 west of Lafayette near the cities of Scott and Duson and U.S. 90 south of Lafayette near Youngsville at U.S. 90.
Major interchanges are proposed at I-49, I-10, U.S. 167/Johnston Street and U.S. 90, with consideration for junctions at other cross streets. The proposed facility would be four lanes with the potential for expansion to six.
The video below shows what it's like to drive along U.S. Highway 90 West in Lafayette:
Now, we'll go from looking at the major routes in Lafayette to checking some fun destinations to visit while you're traveling.
Popular Road Trips/Sites
Lafayette offers several attractions for lovers of fun and adventure to explore. Below are some suggested trips:
This unique village in Cajun country hosts ten buildings spread over 32 acres that show what 19th-century life was like.
This 150-acre recreational area offers the sights and sounds of flora and fauna, with six miles of trails where visitors can enjoy hiking and biking. There's also a canoe/kayak launch.
This Christmas elf village boasts animated displays, live entertainment, local food, and shopping.
The video below features the local farmers market and science museum:
One thing that can spoil a good road trip is a flat tire from pavement that has buckled. Next, we'll discover the typical road conditions in Lafayette.
Road Conditions in Lafayette
Below are pavement conditions and vehicle operating costs in Lafayette from the national transportation research group TRIP:
Most roads there are in poor shape, which means road safety conditions are an issue. Vehicle operating costs (VOC) can include repairs from driving over potholes or road debris along the highway.
Does Lafayette use speeding or red-light cameras?
According to the Insurance Institute for Highway Safety, Lafayette has speeding cameras but doesn't use red-light cameras at its intersections.
What type of vehicles are in Lafayette?
Below, we'll cover the most popular cars owned in the area, car ownership, and crime rates (including vehicle thefts).
Most Popular Vehicles Owned
YourMechanic tracks the types of vehicles it services nationwide and breaks down the information by each major city to show Americans' car preferences.
According to their survey, 50 percent of the cars they repair in Baton Rouge (about an hour away from Lafayette) are American-made. The Honda Accord is the most popular make and model.
Consumer Reports gives the 2020 Honda Accord an 82 out of 100, reporting that "Honda took a big gamble with its wholesale overhaul of the popular Accord midsize sedan. The redesign includes the addition of new turbocharged engines, an available hybrid powertrain, comprehensive changes to the control layout, and standard crash-avoidance features, all wrapped in an attractive, coupe-like body."
It also noted that the Accord is "one of the quickest cars in its class, yet it averages an excellent 31 mpg overall, a one-mpg improvement over the previous Accord four-cylinder."
For safety, the car received a good rating from the IIHS, and the National Traffic Highway Safety Administration gave it five stars.
See the video below for details about the Touring edition:
We've looked at some of the most popular cars in the area. Now, we'll cover the number of households that own cars compared to those that get by without them.
How many cars per household?
Data USA has found that most Lafayette households own two cars, followed by one vehicle. With two-car ownership at 48 percent, the rate is slightly higher than the national average of 42 percent.
Households Without a Car
The table below reveals how many Lafayette households on average own and don't own cars.
Though the percentage of car ownership increased from 2015 to 2016 by nearly 3 percent, the number of cars owned stayed the same, at about 2 percent.
Speed Traps in Lafayette
Speedtrap.org keeps track of speed traps all across the United States, as ranked by its users. Among the Lafayette roads visitors have debated are truly speed traps, the following received the most votes:
Johnson Street near South College Drive
On Settlers Trace between Beaulieu and Ambassador
West Bluebird Street behind Comeaux High School (Student Lane)
South Ambassador Caffery Parkway approaching Verot School Road
Just north of Lafayette (about three miles) on I-49
If you're in those areas, it makes sense to obey speed limits to avoid worrying about speed traps and potential penalties. And best of all, you'll help keep yourself and others safe.
Vehicle Theft in Lafayette
The Federal Bureau of Investigation (FBI) reports that in 2017, 297 vehicle thefts occurred in the Hub City.
Neighborhood Scout also tracks crime statistics for U.S. cities. The safest district in Lafayette include the neighborhood of Milton.
The site gives the city a crime index of 3, which means it's 3 percent safer than other U.S. cities. In Lafayette, your chances of being a victim of a violent crime are one in 182. Statewide, however, they decrease slightly to one in 186. In the city and across the state, these chances are fairly high.
For property crimes, those chances are lower, at one in 21 in Lafayette and one in 31 in Louisiana as a whole.
Per square mile in Lafayette, an average of 137 crimes occur, which is four times the rate statewide (34). Nationally, the average is 31 crimes per square mile.
For a closer look at the crimes that occur in Lafayette, below is a chart showing figures from 2017:
Overall, more property crimes occurred than violent crimes.
How is traffic in Lafayette?
Car insurers also explore traffic patterns in an area to see how congested they are. The more cars that are on the road, the more accidents will happen.
Below, we'll cover traffic congestion in Lafayette, the busiest highways, and the safety of its streets and roads.
Traffic Congestion in Louisiana
Lafayette didn't make it onto any major traffic monitoring studies' results for congestion, however, New Orleans and Baton Rouge did. Let's see how the TomTom Traffic Index ranked those two cities:
The City of Baton Rouge ranked the highest worldwide for its traffic congestion, at 169th. Given the increased traffic, for every 30 minutes of travel, during peak travel times in the morning, commuters face an extra ten minutes in traffic, and in the evening, the time doubles to 20 minutes.
The French Quarter placed 242nd globally for its traffic levels, where drivers must add an extra nine and 14 minutes respectively to their morning and evening commutes.
In the video below, an architect offers ideas on how to improve traffic congestion in Baton Rouge:
Now, we'll explore how commuters travel in Lafayette.
Transportation
Commuters in the Cajun Capital City have a shorter drive time of 20.4 minutes than the average U.S. worker (25.1 minutes). Additionally, 3.5 percent of the workforce in Lafayette faces a commute longer than 90 minutes.
Data USA reports that in 2017, most commuters — 82 percent — drove alone, followed by those who carpooled (9 percent).
Around 1 percent of commuters take a bike to work. Even so, Lafayette made 360 Quote's list of the Most Dangerous U.S. Cities for Cyclists. Using data from the National Highway Traffic Safety Administration (NHTSA) and statistics from the U.S. Census Bureau, a total of 696 commuters biked to work in 2017 out of 126,476 people.
From these figures, 251 cyclist deaths occurred per 100,000 commuters. Within the prior four years, there were seven bike rider fatalities.
Outside of pedestrians, bicyclists are among the travelers most vulnerable to motor vehicle accidents. So, make sure that you watch out for them — besides other traffic — during your regular commute.
Busiest Highways
Based on the Louisiana Department of Transportation and Development traffic count data, U.S. Route 90 and Route 167, Interstate 10 and 49, and Louisiana Highway 3184 and 182 are the busiest.
This map shows current local traffic conditions and which highways are the most active. U.S. Route 167, for instance, appears as one of the most congested roadways in the area.
How safe are Lafayette streets and roads?
In this section, you'll find out how many fatal accidents happened in Lafayette Parish courtesy of the National Highway Traffic Safety Administration (NHTSA). We'll cover everything from the total fatalities by county to vehicle and railroad accidents.
Below are the total crash deaths by county in 2018:
Fatalities (all crashes) – 18
Fatalities in crashes involving an alcohol-impaired driver (BAC = .08+) – Six
Single-vehicle crash fatalities – Nine
Fatalities in crashes involving speeding – Three
Fatalities in crashes involving a roadway departure – Seven
Fatalities in crashes Involving an intersection (or intersection-related) – Six
Passenger car occupant fatalities – Five
Pedestrian fatalities – Five
Pedal cyclist fatalities – One
Most of the crashes involved single vehicles and roadway departures.
Next, the figures below show the fatalities by road type and function class in Louisiana.
Most of the crashes occurred on arterial roads. An arterial road is a high-capacity urban road. Depending on the amount of traffic, the arterial road may be classified as a highway or a minor arterial road. A collector road gathers traffic from local roads and takes drivers to arterial roads.
Based on U.S. Department of Transportation (DOT) data, the table below shows the number of railroad and highway crash incidents that happened in Lafayette from 2012 to 2016:
Several accidents occurred in Lafayette, including two that involved pedestrians.
Allstate America's Best Drivers Report
Allstate America's Best Drivers Report tracks the numbers of accident claims drivers make nationwide. According to Allstate claims data, the average driver in the U.S. will experience a collision once every 10.57 years.
In 2019, the nearby city of Baton Rouge ranked 188th out of 200 major cities on the report, down from 185th the prior year. The chart below shows residents' insurance claim statistics.
Drivers in Baton Rouge went an average of seven years between accident claims, and they were nearly 55 percent more likely to file a claim compared to the national average.
Compared to other cities nationwide, Baton Rouge drivers file more claims more often, and that shows in the city's ranking on the report.
Ridesharing
Below are the ridesharing services available in Lafayette beyond regular taxi rides.
To show you how much they cost, we've included fare prices for a one-way trip from Lafayette Regional Airport to ZIP code 70501 in the Hub City, a 2.4-mile ride that takes an average of nine minutes:
Lyft – This lowest cost Lyft service will grant you a request for a regular four-seat car. $7
Lyft Plus – This is the best Lyft option for larger groups. A Lyft Plus car can seat six or more passengers. Fare prices tend to run higher than a regular Lyft ride to compensate van and SUV drivers for their higher vehicle running costs. $10
Uber X– This budget service gives riders a regular-size car that seats four. $7
Uber XL – Uber's service for larger groups will seat up to six passengers. $10
These are just estimates; the actual prices may differ. For example, Uber has "upfront pricing," which reflects its guaranteed rate, but it may add extra fees. Lyft reportedly varies its prices based on demand, known as "surge pricing."
RideGuru calculates for each rideshare company and every service option different fees and commissions from the total fares customers pay. They include booking fees (taken upfront), commissions (that drivers must pay), and other adjustments and special fees applied due to surge and upfront pricing.
As shown above, Uber X and Lyft charge the lowest rates. On the other hand, Lyft Plus and Uber XL, options for larger groups, offer the highest estimated fare, $10.
E-star Repair Shops
A program from Esurance, E-star helps drivers find the best repair shops in their areas. According to E-star, these are the top repair shops in and around Lafayette:
Louisiana Auto Collision – Lafayette
900 E. Simcoe St.
Lafayette, LA 70501
Email:

[email protected]


Phone: (337) 233-6411
Gerber – Lafayette/Verot School Road
1555 Verot School Rd.
Lafayette, LA 70508
Email:

[email protected]


Phone: (337) 317-8200
Fax: (337) 465-2301
When your car needs repair, check out E-star shops to ensure you get quality service.
What is the weather like in Lafayette?
U.S. Climate Data reveals the average temperature in Lafayette is 69 degrees. The city receives a moderate amount of rainfall yearly.
City-Data shows that Lafayette Parish averages 20 natural disasters yearly, which is higher than the U.S. average of 13. Every year, an average of four natural disasters lead to emergency declarations and 16 are presidential declarations.
Below is a breakdown of the causes of disasters. Note: some incidents may be assigned to more than one category.
Hurricanes – 10
Floods – Six
Storms – Six
Tropical storms – Two
Drought – One
Freeze – One
Most of the natural disasters that hit Lafayette involve hurricanes and storms, which may lead to floods.
Given the risks involved, it makes sense to buy comprehensive car insurance for protection from these and other hazards that can damage your vehicle.
Is public transit available in Lafayette?
Whether you need to get around the city or travel a long distance, you'll find plenty of public transit options in Lafayette that include bus and rail service.
The Lafayette Transit System (LTS) offers bus service in metropolitan Lafayette. Twelve routes run Monday–Saturday, usually at half-hour or hourly intervals. During the late evening and late-night hours, buses keep running, with four routes covering specific zones of the city. All LTS buses are low-floor and handicapped accessible, and each one carries a bike rack.
Basic fares:
Adult – $1
Child ages 5–12 – 90 cents
Disabled, seniors, and Medicare recipients – 50 cents
Child age 5 (with adult) – free
Day Pass – $3
Amtrak passenger rail service is also available in Lafayette.
Is Alternate Transportation available in Lafayette?
Major bike and scooter rental companies, such as Lime and Bird, don't operate in the Cajun Capital. The city, however, recognizes the need for dedicated bike paths and rentals and has included them in its comprehensive growth plan.
Is parking easy in Lafayette?
Several parking lots and garages are available throughout Lafayette, including metered street-level parking.
City parking garages are at the following addresses:
Parc-Auto du Centreville
121 E. Vermillion Street
Lafayette, LA 70501
South Buchanan Street
809 South Buchanan
Lafayette, LA 70501
For an access card to these parking garages, contact the account clerk at 337-291-8161.
ChargeHub lists the most popular electric car charging stations within 10 miles of Lafayette. Some of them are free. Most of them are Level 2; however, some Level 3 charging stations are also available. The main charging network is ChargePoint.
How is the air quality in Lafayette?
Pollution from vehicle exhaust has been linked to health issues and even climate change. The pollution not only goes directly into the earth's atmosphere, but it also reacts with other pollutants, which makes the situation worse.
Children and people with chronic illnesses can be most sensitive to the effects.
Below are the Environmental Protection Agency (EPA) air quality levels for Lafayette Parish from 2016 to 2018. The EPA calculates the Air Quality Index (AQI) for four major air pollutants under the Clean Air Act: ground-level ozone, particle pollution, carbon monoxide, and sulfur dioxide.
For each of these pollutants, the EPA has established national air quality standards to protect public health.
The Air Quality Index (AQI) measurements remained consistent during those three years, and days unhealthy for sensitive groups were, fortunately, rare.
In Louisiana, certain vehicles registered in the five-parish Baton Rouge ozone non-attainment area (Ascension, East Baton Rouge, Iberville, Livingston, and West Baton Rouge parishes) must undergo emissions tests.
Military/Veterans
It's not always easy for active military and veterans to find car insurance discounts. After all, not every insurer offers them.
We've done the hard research for you. Here you'll find information about military discounts the top companies provide and facts about when local veterans served and nearby military bases.
Let's learn more about our veterans and how much they can save.
Veterans by Service Period
Data USA stats show that most of Lafayette's veterans served in Vietnam (2,240), which was nearly two times more than any other conflict. Recent Gulf War veterans placed second (1,917 total). These numbers nearly match the national figures.
Military Bases Within an Hour
No military bases are located within an hour of the Hub City.
Military Discounts by Providers
If you are or were in the U.S. military, most car insurance companies will want to give back by serving you. Many of them offer military discounts.
Below is a list of known providers who give military discounts. We excluded those who offer discounts only in certain states.
*USAA provides a 15 percent military discount for garaging cars on a military base.
USAA in Louisiana
USAA provides car insurance only to U.S. military personnel and their families. The company's insurance premiums tend to cost less than those of standard insurers.
Below, you'll see how USAA's and other insurers' rates compare to the cost of average annual full coverage premiums in Louisiana.
Compared to other top insurance carriers, USAA offered the lowest rates statewide.
Unique City Laws
Laws control several aspects of our daily lives, and sometimes it can be hard to stay current with the latest regulations.
To make the task easier for you, we'll go over some of Lafayette's laws that govern cell phone use, food trucks, tiny homes, and parking regulations.
Are you ready to learn even more?
Hands-Free Laws
Louisiana bans the use of handheld devices in designated school zones. Holders of learner's permits and intermediate licenses can't use handheld cellphones while they drive. These laws are primary enforcement, which means a police officer can pull you over and ticket you for committing the offense.
Drivers younger than 18 can't use handheld devices, nor can all drivers during their first year with a full license. This law falls under secondary enforcement. So, an officer would need to pull you over for another infraction, such as a burned-out headlight before they cite you for handheld use.
Food Trucks
Lafayette allows food trucks to run in the city and has certain rules regarding their operation. Before you set up shop, make sure you follow local regulations.
Tiny Homes
Tiny homes appeal to people who want to simplify their lives. Before you abandon standard housing, you should be aware that small houses must follow specific regulations.
A tiny house is usually considered a mobile home and must follow the same laws. Lafayette has several laws regarding mobile and modular homes of different sizes.
Parking Laws
In Lafayette, a vehicle parked in a metered zone must be parked with the front bumper of the car next to the parking meter. In parallel parking spaces, the car must sit next to a parking space, and in diagonal parking spaces, the center and front of the car must face the meter.
As for reserved parking for the handicapped, appropriate parking spaces have been designated throughout the city.
Enter your ZIP code below to compare auto insurance rates.
Secured with SHA-256 Encryption
Lafayette Car Insurance FAQs
This "can't miss" guide has covered a lot of info on car insurance in Lafayette. But, if we haven't answered all of your questions, you may feel that it's incomplete.
Not to worry. We'll answer some frequently asked questions about Lafayette and its auto insurance options below to round out your knowledge.
What is the cost of living in Lafayette?
The cost of living in any area can vary based on factors such as the local average salary and the real estate market.
According to PayScale, Lafayette's cost of living is 10 percent lower than the national average. Data the LEDA has compiled shows that as of 2019, Lafayette's composite score for cost of living is 89.1, which is 11 points lower than the national average of 100.
Further, Lafayette's housing expenses are 25 percent lower than the national average, and utility rates are 9 percent higher than the U.S. figures. Transportation expenses like bus fares and gas prices are 4 percent below the national average.
Grocery prices in Lafayette averaged 2 percent lower than the nationwide median, while healthcare costs were 13 percent less.
Where is Lafayette?
The Hub City lies along the Vermilion River in southwestern Louisiana.
Is Lafayette a good place to retire to?
Lafayette made Kiplinger's 2019 list of the 50 Best Places to Retire in the U.S. for its low cost of living for retirees, which is eight percent below the national average. The median income for the population age 65 years and older is $64,729, and the publication considers the state to be "tax-friendly."
It also lauded Lafayette for its rich history, "distinctive foods, two-stepping tunes and, of course, Cajun and Creole culture." It also helps that there's plenty of natural beauty and wildlife to explore and observe along its rivers, swamps, and bayous.
Which car insurance companies are available in Lafayette?
The Louisiana Department of Insurance offers a searchable directory of the companies that operate in the state. The top insurers available in Lafayette are among our data charts at the beginning of this article.
How much car insurance coverage should I buy in Lafayette?
As an at-fault state, if you cause a car accident in Louisiana, you'll be responsible for paying any damages through your insurance coverage. Because of this, the state requires drivers to carry liability insurance in certain minimum amounts, as outlined below.
$15,000 – covers bodily injury/death per person
$30,000 – pays total bodily injury or death per accident
$25,000 – covers property damage per accident
These minimum requirements don't cover injury, death, or damage to you or your passengers, which is why you should consider buying more than the required coverage for greater protection.
The law firm video below answers some common questions about car insurance in Louisiana:
Please remember that this basic liability coverage won't pay for any damage to you or your passengers from a car accident. To protect yourself and others, it's wise to buy more liability auto insurance than the minimum required amounts.
How can I get cheap auto insurance in Lafayette?
Distracted driving accidents and high car repair costs and gas prices are among the reasons why car insurance rates rise nationwide. But did you know that a high number of stolen vehicles and uninsured drivers — together with increased accident to litigation and flood rates — are to blame for costly premiums in Louisiana?
The news report below goes into more detail.
Generally, as we outlined above, the best way to keep your rates low is to drive safely and obey the rules. Strong credit history can also help, as can the right ZIP code. Don't forget to look for discounts that can help you save even more.
How was this guide? Did you find it helpful?
We hope you've gained the knowledge you need to start comparing rates. If you're ready, enter your ZIP code in our free quote tool.