Allstate Auto Insurance Review for 2023
Free Auto Insurance Comparison
Enter your ZIP code below to compare auto insurance rates.
Secured with SHA-256 Encryption
Rachael Brennan
Licensed Insurance Agent
Rachael Brennan has been working in the insurance industry since 2006 when she began working as a licensed insurance representative for 21st Century Insurance, during which time she earned her Property and Casualty license in all 50 states. After several years she expanded her insurance expertise, earning her license in Health and AD&D insurance as well. She has worked for small health in...
UPDATED: Apr 7, 2023
It's all about you. We want to help you make the right coverage choices.
Advertiser Disclosure: We strive to help you make confident insurance decisions. Comparison shopping should be easy. We partner with top insurance providers. This doesn't influence our content. Our opinions are our own.
Editorial Guidelines: We are a free online resource for anyone interested in learning more about auto insurance. Our goal is to be an objective, third-party resource for everything auto insurance related. We update our site regularly, and all content is reviewed by auto insurance experts.
Key Info
Provider Specifics
Year Founded
April 17, 1931
Current Executives
Tom Wilson, CEO
Steven E. Shebik, CEO

Number of Employees
42,900
Total Sales
Total Assets
38.5 billion
112.4 billion
Headquarters Address
2755 Sanders Road, Northbrook, IL, 60062
Phone Number
(847) 402-5000
Company Website
http://www.allstate.com
Premiums Written
33,251,176
Loss Ratio
59%
Best For
Discounts
Are you in good hands? Allstate is a long-standing company with a lot of discounts and programs to offer the consumer.
Wondering if it's a good fit for you? Keep reading to find out how Allstate is rated and where their rates fall among the top 10 companies out there.
Wanting to get compare quotes now? No problem. Enter your ZIP code to start looking for quotes in your area.
Cheap Car Insurance Rates
Let's get right into the information you came here to find. It's usually all about the money. If you've narrowed it down to the last few companies, chances are it'll be the price that seals the deal.
Where does Allstate stand with the top competitors in the country? We're going to tell you. We're going to look at factors that make your rate go up or down, and see where Allstate lands in the pack.
Allstate Availability and Rates by State
Luckily for the consumer, it doesn't matter if you live in Virginia or Wisconson. Allstate writes in all 50 states.
Hawaii holds the cheapest rates for Allstate. Unfortunately, Michigan holds the highest rates.
| State | Average Annual Premium |
| --- | --- |
| Alaska | $3,145.31 |
| Alabama | $3,311.52 |
| Arkansas | $5,150.03 |
| Arizona | $4,904.10 |
| California | $4,532.96 |
| Colorado | $5,537.17 |
| Connecticut | $5,831.60 |
| District of Columbia | $6,468.92 |
| Delaware | $6,316.06 |
| Florida | $7,440.46 |
| Georgia | $4,210.70 |
| Hawaii | $2,173.49 |
| Iowa | $2,965.86 |
| Idaho | $4,088.76 |
| Illinois | $5,204.41 |
| Indiana | $3,978.81 |
| Kansas | $4,010.23 |
| Kentucky | $7,143.92 |
| Louisiana | $5,998.79 |
| Maine | $3,675.59 |
| Maryland | $5,233.17 |
| Massachusetts | $2,708.53 |
| Michigan | $22,902.59 |
| Minnesota | $4,532.01 |
| Missouri | $4,096.15 |
| Mississippi | $4,942.11 |
| Montana | $4,672.10 |
| North Carolina | $7,190.43 |
| North Dakota | $4,669.31 |
| Nebraska | $3,198.83 |
| New Hampshire | $2,725.01 |
| New Jersey | $5,713.58 |
| New Mexico | $4,200.65 |
| Nevada | $5,371.62 |
| New York | $4,740.97 |
| Ohio | $3,197.22 |
| Oklahoma | $3,718.62 |
| Oregon | $4,765.95 |
| Pennsylvania | $3,984.12 |
| Rhode Island | $4,959.45 |
| South Carolina | $3,903.43 |
| South Dakota | $4,723.72 |
| Tennessee | $4,828.85 |
| Texas | $5,485.44 |
| Utah | $3,566.42 |
| Virginia | $3,386.80 |
| Vermont | $3,190.38 |
| Washington | $3,540.52 |
| West Virginia | $3,820.68 |
| Wisconsin | $4,854.41 |
| Wyoming | $4,373.93 |
Comparing the Top 10 Companies by Market Share
Listed below are the top 10 companies in the insurance industry by market share. How do Allstate's rates compare? Let's take a look.
| INSURER | AVERAGE RATE |
| --- | --- |
| Allstate | $4,887.95 |
| American Family | $3,443.09 |
| Farmers | $4,194.27 |
| Geico | $3,215.01 |
| Liberty Mutual | $6,073.45 |
| Nationwide | $3,450.00 |
| Progressive | $4,035.52 |
| State Farm | $3,260.00 |
| Travelers | $4,434.91 |
| USAA | $2,537.30 |
USAA is the cheapest out of the 10. The thing to know about USAA is that it is only for military, veterans, and eligible family members. So, if you aren't eligible, you can't receive their rates.
State Farm and Geico hold the lowest rates out of the remaining nine companies.
Average Allstate Male vs Female Car Insurance Rates
So who pays more in car insurance? We've all heard the jokes about bad women drivers or men who drive too fast, but are they really rated differently?
It some states, the answer is yes.
| | Married 35-year old female | Married 35-year old male | Married 60-year old female | Married 60-year old male | Single 17-year old female | Single 17-year old male | Single 25-year old female | Single 25-year old male |
| --- | --- | --- | --- | --- | --- | --- | --- | --- |
| Allstate | $3,156.09 | $3,123.01 | $2,913.37 | $2,990.64 | $9,282.19 | $10,642.53 | $3,424.87 | $3,570.93 |
With Allstate, women pay slightly lower rates than males.
If you live in the states below, you won't be rated based on gender.
California
Hawaii
Massachusetts
Montana
Pennsylvania
North Carolina
Average Allstate Rates by Age
Your age group is also used by Allstate to determine you premium.
As you can see in the chart above, the older you get, the lower your premium. The biggest drop is between the ages of 17 and 25.
Average Allstate Rates by Make and Model
The type of car you drive will also play a part in making up your premium. Check out the rates below.
| | 2015 Ford F-150: Lariat SuperCab with 2WD 6.5 foot bed and 2.7L V6 | 2015 Honda Civic Sedan: LX with 2.0L 4cyl and CVT | 2015 Toyota RAV4: XLE | 2018 Ford F-150: Lariat SuperCab with 2WD 6.5 foot bed and 2.7L V6 | 2018 Honda Civic Sedan: LX with 2.0L 4cyl and CVT |
| --- | --- | --- | --- | --- | --- |
| Allstate | $4,429.74 | $4,753.69 | $4,324.99 | $5,491.12 | $5,380.28 |
The rates for a Ford F-150 are significantly higher for a newer model than the rates for the same truck just a few years older.
Average Allstate Commute Rates
A longer commute to work could also affect your annual premium.
| | 10 miles commute, 6,000 annual mileage. | 25 miles commute, 12,000 annual mileage. |
| --- | --- | --- |
| Allstate | $4,841.71 | $4,934.20 |
Although it's not much, you'll see a slight increase if you travel more often throughout the year.
Average Allstate Coverage Level Rates
More coverage equals higher premiums. If you chose the minimum limits required by your state, you'll have a lower premium but may not be covered the way you would like to be if you were in an accident.
| | High | Low | Medium |
| --- | --- | --- | --- |
| Allstate | $5,139.02 | $4,628.03 | $4,896.81 |
As you can see, the difference between low and medium coverage is less than $200 for the year. We suggest getting a quote for more coverage because you may find it fits in your budget.
Average Allstate Credit History Rates
Credit follows you on bigger purchases such as your home or car, but does it affect your insurance?
| | Fair | Good | Poor |
| --- | --- | --- | --- |
| Allstate | $4,581.16 | $3,859.66 | $6,490.65 |
Poor credit could cause your premiums to double compared to someone with good credit.
Average Allstate Driving Record Rates
Your driving record is probably one of the best-known factors in determining your car insurance rate.
| | Clean record | With 1 accident | With 1 DUI | With 1 speeding violation |
| --- | --- | --- | --- | --- |
| Allstate | $3,819.90 | $4,987.68 | $6,260.73 | $4,483.51 |
A clean record will obviously get you the lowest premium. The highest-rated violation is a driving under the influence conviction, which will almost double your annual premium.
Enter your ZIP code below to compare auto insurance rates.
Secured with SHA-256 Encryption
Coverages Offered
Discounts, programs, and bundling options are the icing on the cake for a company. Most of the larger companies offer great incentive programs and bundling options.
Let's take a look at what Allstate has to offer.
Allstate's Bundling Options
Allstate offers multiple lines of business. This makes it easy for them to offer one-stop shopping for all your insurance needs.
You can find the following insurance lines available with Allstate:
Auto
Home
Renters
Life
Retirement and investments
Boat
Business
Condo
Event insurance
Flood insurance
ID restoration
Landlord
Motorcycle
Pet insurance
Power sports
Personal umbrella policy
Travel insurance
Allstate can take care of most of your needs from your pet to retirement.
Allstate's Discounts
Allstate offers 29 discounts for consumers.
Allstate Discounts Availability
| Discounts | Allstate |
| --- | --- |
| Adaptive Cruise Control | |
| Adaptive Headlights | |
| Anti-lock Brakes | x |
| Anti-Theft | x |
| Claim Free | x |
| Continuous Coverage | x |
| Daytime Running Lights | x |
| Defensive Driver | x |
| Distant Student | x |
| Driver's Ed | x |
| Driving Device/App | x |
| Early Signing | x |
| Electronic Stability Control | x |
| Emergency Deployment | |
| Engaged Couple | |
| Family Legacy | |
| Family Plan | |
| Farm Vehicle | x |
| Fast 5 | |
| Federal Employee | |
| Forward Collision Warning | |
| Full Payment | x |
| Further Education | |
| Garaging/Storing | |
| Good Credit | |
| Good Student | x |
| Green Vehicle | x |
| Homeowner | |
| Lane Departure Warning | |
| Life Insurance | x |
| Low Mileage | x |
| Loyalty | |
| Married | |
| Membership/Group | |
| Military | x |
| Military Garaging | |
| Multiple Drivers | |
| Multiple Policies | x |
| Multiple Vehicles | |
| New Address | |
| New Customer/New Plan | |
| New Graduate | |
| Newer Vehicle | x |
| Newly Licensed | |
| Newlyweds | |
| Non-Smoker/Non-Drinker | |
| Occasional Operator | |
| Occupation | x |
| On Time Payments | x |
| Online Shopper | |
| Paperless Documents | x |
| Paperless/Auto Billing | x |
| Passive Restraint | x |
| Recent Retirees | |
| Renter | |
| Roadside Assistance | |
| Safe Driver | x |
| Seat Belt Use | |
| Senior Driver | x |
| Stable Residence | |
| Students & Alumni | |
| Switching Provider | |
| Utility Vehicle | x |
| Vehicle Recovery | x |
| VIN Etching | |
| Volunteer | |
| Young Driver | |
| Discounts Provided # | 29 |
Allstate's Programs
Two programs included with your Allstate auto insurance policy are Drivewise® and Allstate Rewards®.
Drivewise® uses the app installed on your phone to monitor driving habits. It tracks speed, hard braking, and safe driving hours. You can earn 10 percent cash back for signing up and up to 25 percent cash back for every six months of safe driving.
You can also earn Allstate Rewards®. Driving safely can earn you points, and those points can be turned into gift cards or other rewards.
Other programs Allstate offers can be added for a cost to your policy. Make sure to ask your Allstate agent about the following add-ons:
Deductible Rewards® — if you drive accident free, your deductible will lower $100 for every year.
New Car Replacement — Allstate will replace your new car, not just give you a check for the depreciated value.
Accident Forgiveness — your rates won't go up no matter who was at fault after an accident.
Safe Driving Bonus® — add to your policy to get a bonus for every six months you are accident-free.
As you can see, Allstate has a wide variety of programs that are included or can be added to your auto insurance policy.
Rating Agency
Insurance companies are rated on several different things. Financial status, customer approval, and claims satisfaction are just a few areas that third-party companies analyze.
Customer service and claims satisfaction are huge factors for customers searching for the right company. They're something you could deal with regularly when dealing with an insurance company.
If you have a company that has poor customer service or doesn't deal with claims well, you could end up very frustrated.
Financial rating is a very important factor that customers often overlook. It's not a factor that is often talked about. If your company isn't financially stable, this could hinder claims payouts.
Let's take a look at some of the most well-known rating agencies.
A.M. Best
A.M. Best focuses solely on the insurance industry. The primary focus is the financial strength of the insurer.
Allstate has an excellent A+ rating.
Better Business Bureau
The Better Business Bureau is an effective rating company that bases rates on the ethical and trustworthy practices of a business. Customers can leave reviews and complaints.
Allstate has another stellar A+ rating.
Consumer Reports
Consumer Reports is a well-known rating agency that is often used when looking to make any type of purchase from a microwave to a car. Why should purchasing car insurance be any different?
Consumer Reports access is paid by the customer and is a trusted source of information. Chances are if you're paying for information, you're going to listen to their ratings.
Here are the Consumer Report ratings for Allstate:
Reaching an agent: Excellent
The simplicity of the process: Very good
Promptness of response: Very good
Damage amount: Very good
Agent courtesy: Excellent
Timely payment: Excellent
Freedom to select repair shop: Very good
Being kept informed of claim status: Very good
Consumer Affairs
Consumer Affairs uses customer reviews to rate companies. Companies can decide to join their accredited list of companies for a fee. Companies can still be reviewed even if they chose to not be accredited.
Allstate chooses to not be enrolled in the accredited business program, but they still get reviews. In fact, last year they received 1,408 reviews.
The following can be found on the Consumer Affairs site:
PROS:
Excellent financial strength to meet its claims obligations
Discounts include a new car, multiple policies, smart student, anti-theft device and anti-lock brakes
A leading car insurer in the United States
Offers Allstate eSmart, EZ pay plan, FullPay, early signing, responsible payer, accident forgiveness, deductible rewards, and Safe Driving Club discounts
Above-average rating on claims satisfaction
CONS:
Some customers experienced occasional premium increases
Prices are slightly above the industry average
So far, things are looking pretty good for Allstate. They have great financial status and seem to keep most of their customers very pleased and satisfied.
Company History
When did Allstate start their journey into the insurance world, and how far have they come? The short answer is a long, long time ago.
In 1930, the President and Board Chairman of Sears, Roebuck, and Company got the great idea of starting an insurance company. Not only would he start a company, but business would take place through the mail.
With the backing of Sears, Robert Wood started Allstate and the first policy was sold in 1931.
In 1939, Allstate began what would change the insurance industry forever. Auto rates were altered to fit the use, mileage, and age of the vehicle.
By the 1960s, Allstate began to work with the U.S. government on car safety, advocating for air bags and seatbelt usage in all vehicles.
Allstate became a public company in 1990 and offered agents to become independent contractors, making them owners of their own business.
Allstate's Market Share
With about 9 percent of the U.S. insurance market, Allstate has an impressive hold on the insurance market.
Allstate's Market Share Over Time
Like most companies, Allstate's rank in the marketplace has changed over the past few years.
While their share has slightly declined, they are among the top four largest insurance companies.

| Year | Rank | Direct Premiums Written | Loss Ratio | Market Share |
| --- | --- | --- | --- | --- |
| 2015 | 3 | $19,000,663,000 | 65.02 | 9.97 |
| 2016 | 3 | $20,813,858,000 | 64.75 | 9.7 |
| 2017 | 4 | $21,430,405,000 | 59.51 | 9.26 |
| 2018 | 4 | $22,663,214,000 | 56 | 9.19 |
Allstate's Position for the Future
Allstate has a strong position in the future. They are among the top 10 largest companies available to consumers.
They have a wide range of products and discounts to welcome a variety of consumers needing insurance.
Allstate's Online Presence
Allstate has a strong online presence. Consumers can see an agent in person or purchase insurance online. We'll take a look at the ease of online use later.
Allstate's Commercials
Commercials — we all love them. Some people even watch the Super Bowl not for football but commercials.
Allstate knocks it out of the park with Mayhem. We've all seen him. He's a dog, he's a cat, or even a raccoon. Whatever he is, we normally remember his commercials, which means Allstate is doing their job.
They have even added the beloved comedian and actress Tina Fey to the lineup of commercials.
Mayhem is a dog in this latest commercial, but Allstate does a great job of marketing their Drivewise program.
https://www.youtube.com/watch?v=pheB-gNIGF4
Like cats? Maybe not after this commercial that shows what a cat can do to your home.
We can't leave out the raccoon commercial.
https://www.youtube.com/watch?v=sFFatUJPDUk
Needless to say, Allstate has strong commercial recognition.
Allstate in the Community
Allstate doesn't stop at just your insurance. They have a strong presence in the community as well.
Safe Driving
Allstate believes in giving back to the community by educating drivers. Teen drivers are the most at risk for driving carelessly.
#Gettheresafe is a program that lets teens share getting to their destination safely by posting pictures with hashtags. This enters them into contests while spreading the word of safe driving habits.
Allstate also started the program Save 11. This program was named after the 11 teen lives lost daily. Save 11 has helped pass legislation for safer laws reducing teen fatalities.
Local Giving
Allstate also believes in helping right where you live.
In 2015 alone, Allstate volunteers across the country gave 230,000 hours to serving their community.
Ending Domestic Violence
Allstate founded Purple Purse. This foundation helps people recognize signs of domestic abuse. Not only do they help in the recognition of the abuse, but they also help open communication.
https://youtu.be/Q3pUlXtNgU4
Allstate's Employees
With more than 10,000 employees and over $10 billion of business every year, Allstate must have some pretty loyal employees to keep it all running.
There are close to 5,000 reviews on Glassdoor.com, and most reviews are four stars or above.
Reviews come from a wide range of employees. From claims adjusters to sales agents, most people favor working at Allstate.
According to the Allstate Prosperity Report, over half of the employees are female at 56.3 percent.
Allstate is also a diverse employer, having 35.1 percent minority employment.
Allstate boasts that in 2017, it retained 86 percent of its employees. If anything says happy employees, it's the fact that they aren't finding other jobs.
It's no surprise Glassdoor has a lengthy list of awards for Allstate:
2019 Military Friendly® Top 10 Employers, Military Friendly®, 2019
Top Companies for Executive Women, National Association for Female Executives, 2017, 2018 and 2019
Top 50 Companies for Diversity, DiversityInc, 2017 and 2018
One of the World's Most Ethical Companies, Ethisphere Institute, 2017 and 2018
Diversity Best Practices Inclusion Index, Diversity Best Practices, 2017 and 2018
Best Companies for Multicultural Women, Working Mother, 2017 and 2018
The Civic 50 Honoree, Points of Light, 2018
2018 Top 20 Hispanic Employee Resource Groups, Professional Latino
CIO 100 Award, CIO, 2018
"Best-of-the-Best" Corporation for Inclusion, National Gay and Lesbian Chamber of Commerce, 2018
Corporate Partner, National Gay and Lesbian Chamber of Commerce, 2018
2018 Top Performer, Leadership Council on Legal Diversity, 2018
Military Friendly® Spouse Employer, Military Friendly®, 2017
Military Friendly® Employer Gold Award, Military Friendly®, 2017
The Civic 50 Honoree, Points of Light, 2017
Change The World List, Fortune Magazine, 2017
Top 50 Companies for Supplier Diversity, Black Enterprise Magazine, 2017
50 Best Companies for Diversity, Black Enterprise Magazine, 2017
Free Auto Insurance Comparison
Enter your ZIP code below to compare auto insurance rates.
Secured with SHA-256 Encryption
Enter your ZIP code below to compare auto insurance rates.
Secured with SHA-256 Encryption
Canceling Your Policy
Sometimes you need to cancel your policy. Maybe you found a better rate elsewhere, or you're moving out of the country. Whatever the reason, you want the process to be easy to get out of your current policy.
Let's take a look at how easy, or difficult, Allstate makes the cancellation process.
Cancellation Fee
There is usually no fee to cancel your insurance, but it can vary from agency to agency. Check with your Allstate agent to confirm their cancellation policy.
Is there a refund?
If you paid your policy in full and decide to cancel in the middle of the term, you'll get a refund. Depending on how much you've paid and when your cancellation date is will determine if there is a refund. If you're not renewing your policy and it's at the end of your term, you won't have a refund.
How to Cancel
Contact your Allstate agent to cancel your policy. Most agents have clients sign a cancellation form stating the intent to cancel and the effective date.
When will it go into effect?
The cancellation will go into effect on whatever date you request.
How to Make a Claim
Let's take a look at the claims process for Allstate customers.
Ease of Making a Claim
Allstate makes the claim process very easy. You can file a claim online, over the phone, in-person, or even on the mobile app.
You can easily track claims online. If you get into an accident with an Allstate customer, you can even track your claim even if your insurance is elsewhere.
Loss Ratio
The loss ratio is the ratio between premiums written and claim payments. For instance, if a company writes $100,000 in premium and pays $60,000 in claims, the loss ratio is 60 percent.
You want a company that has a high enough loss ratio to show they payout for claims. If it's too high, the company could suffer financial distress because they aren't making any money.
Let's look at Allstate's loss ratio for the last four years according to the National Association of Insurance Commissioners:
2015 — 65.02 percent
2016 — 64.75 percent
2017 — 59.51 percent
2018 — 56 percent
Allstate has a good loss ratio, enough for the company to make money and enough to show they do have a history of paying claims.
How to Get a Quote Online
Nowadays, most things are automated or online. The ease of sitting at your computer and getting what you need without having to interact with another person is becoming a popular way of doing business.
Is insurance any different? To Allstate, the answer is no. They make getting a quote online an absolute breeze.
The Basics
First, Allstate asks for some simple, basic information to get your quote started, starting with your ZIP code.
Next, they'll ask some common questions. Name, date of birth, and address are the essential pieces of information needed to obtain a quote.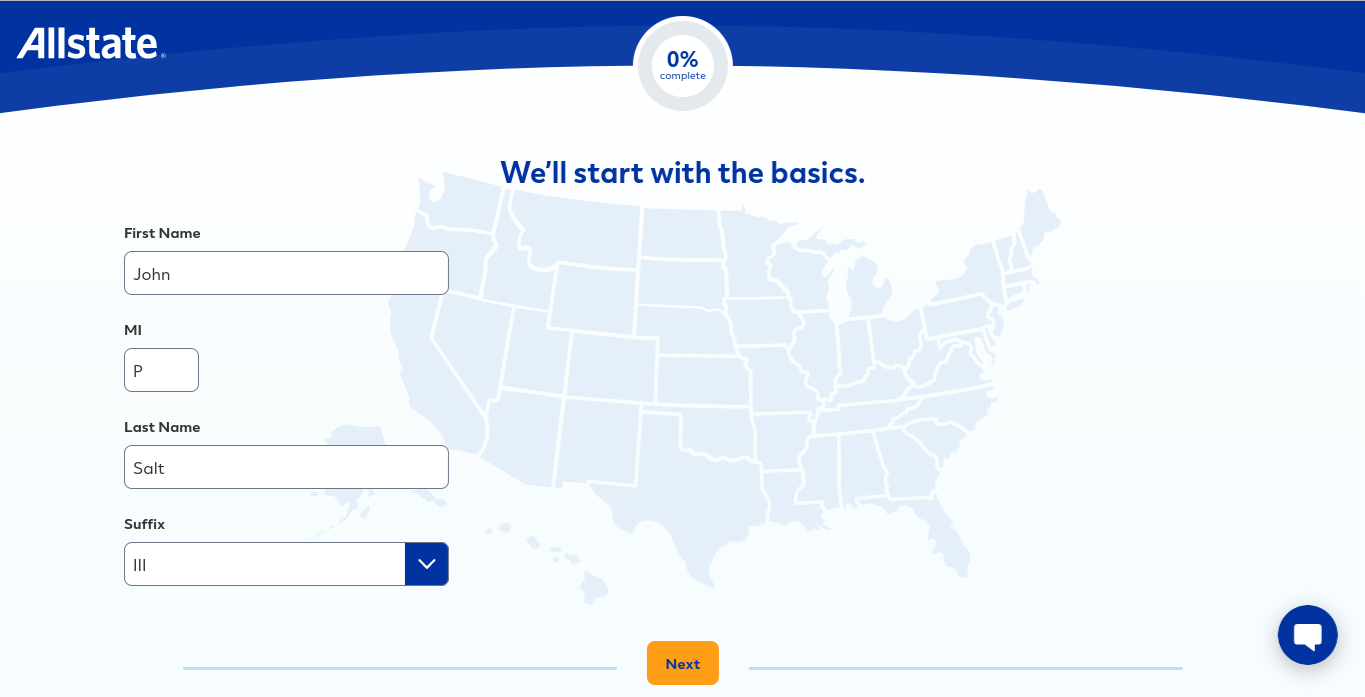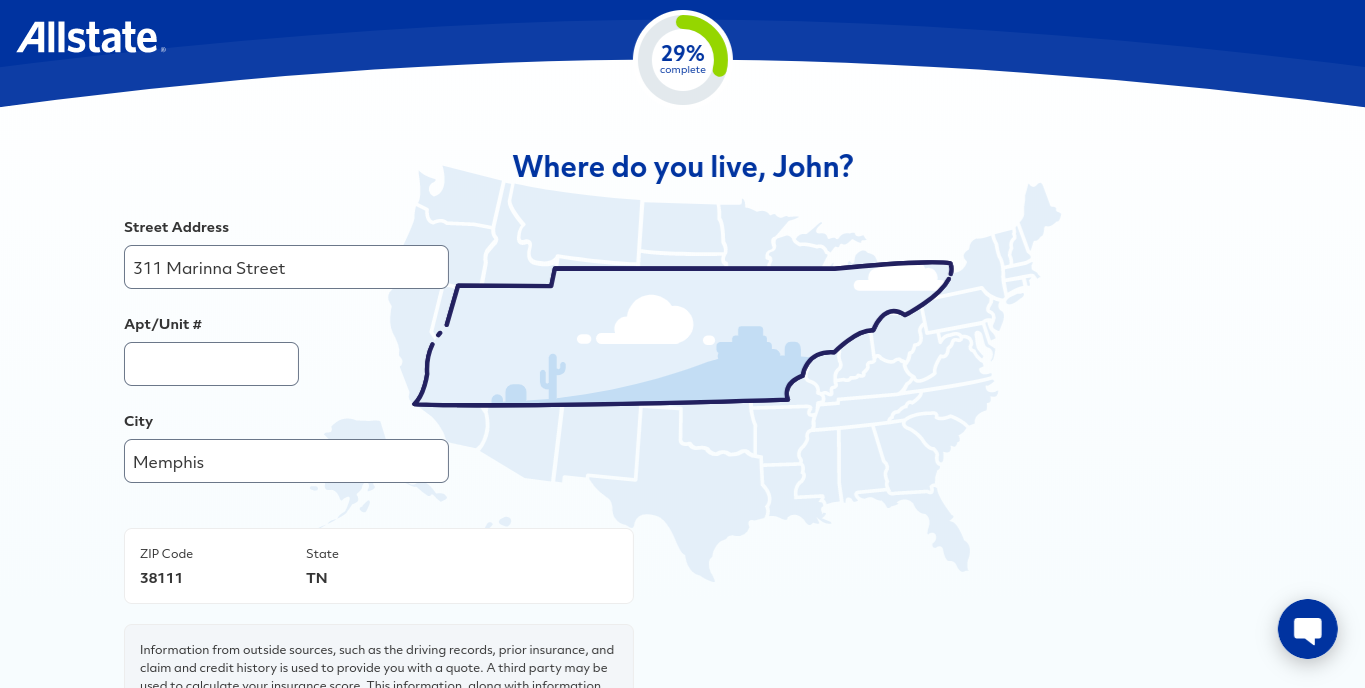 As you finish, you'll answer questions such as marital status and homeownership. Remember, the answers to these questions could get you discounts and lower rates.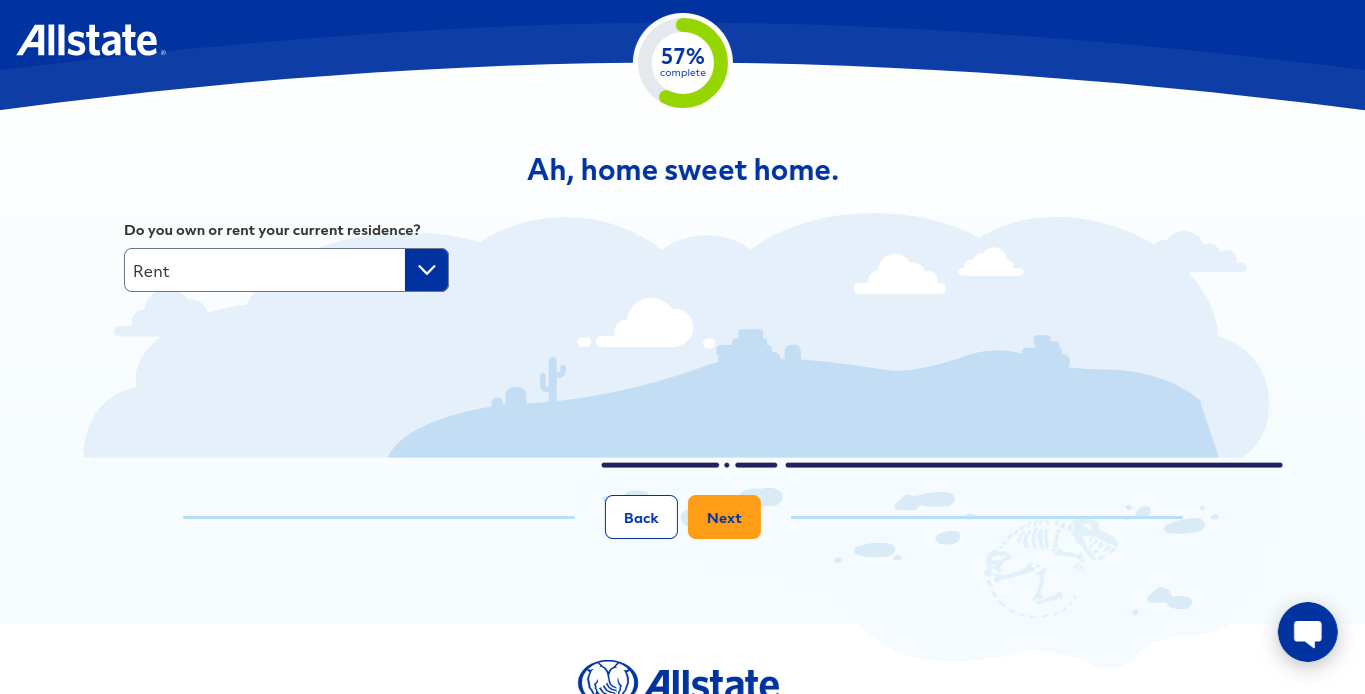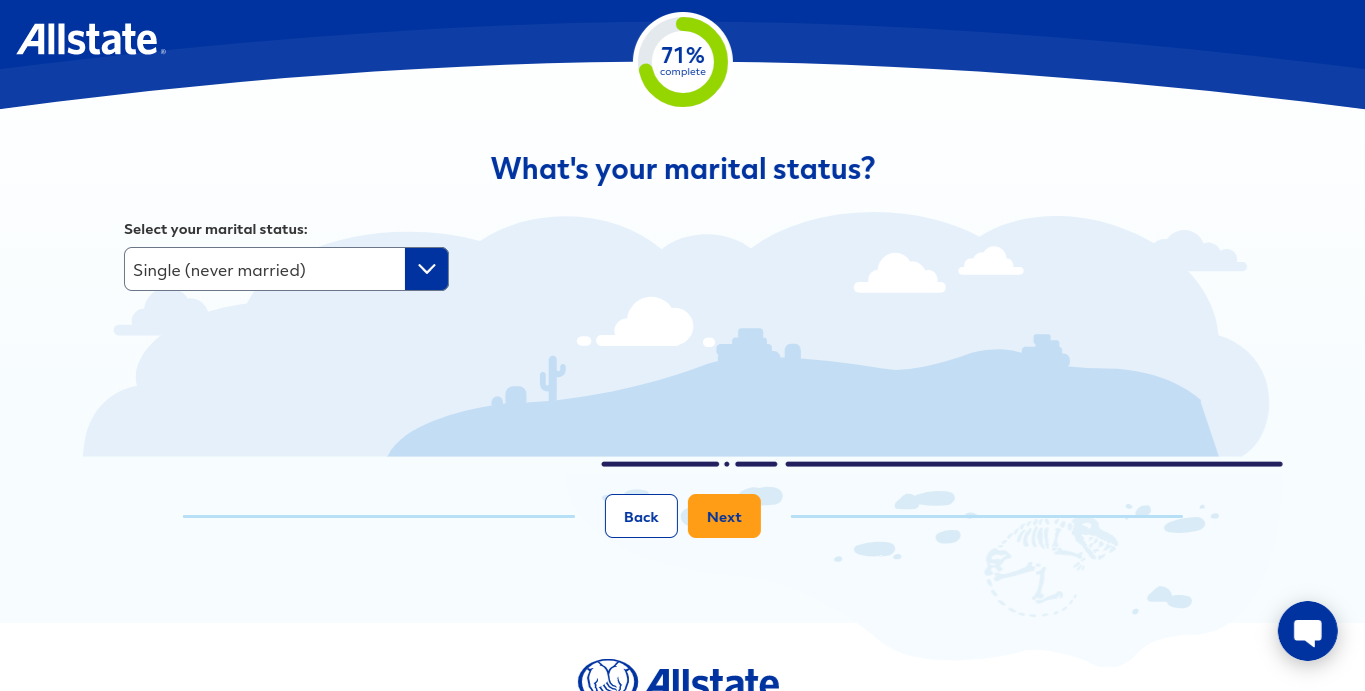 Vehicle Information
Next up, Allstate will need to know what cars you'll be putting on the policy.
Necessary information includes the year, make and model of the car.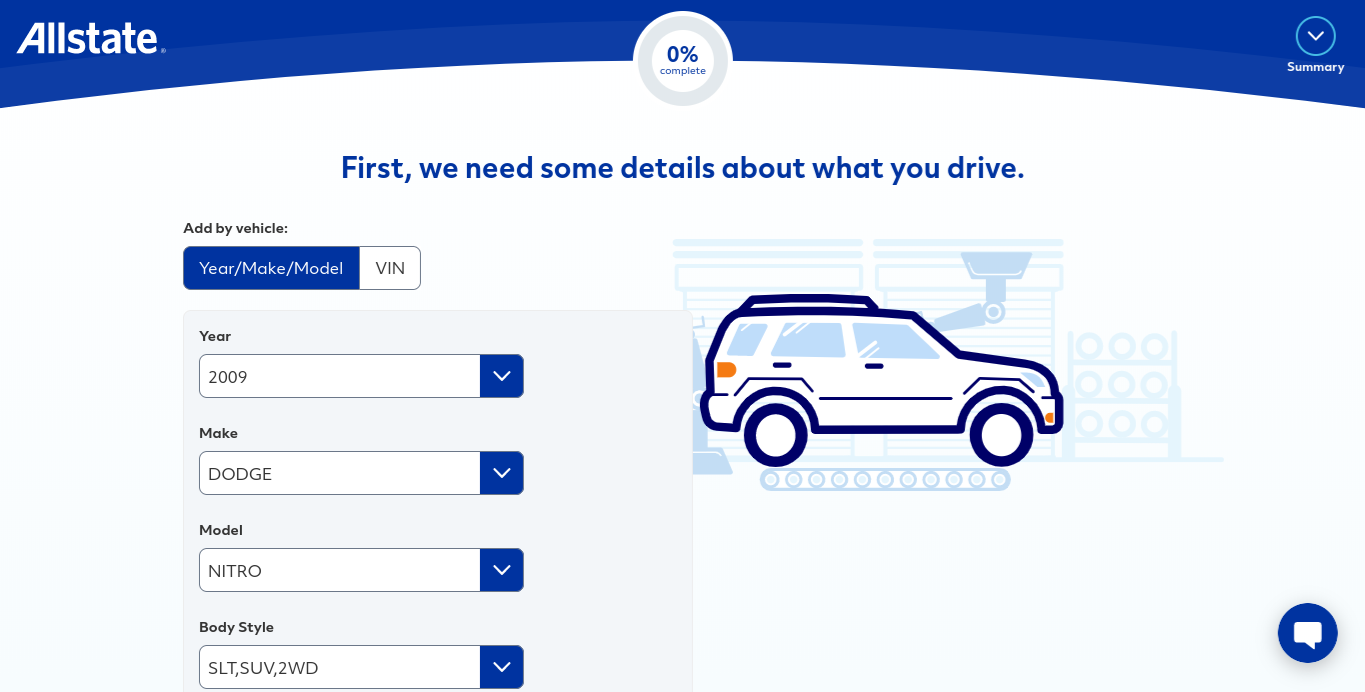 They'll also ask if you lease or own the car. This question is asked because if you have a lien on your vehicle, you're usually required to have full coverage on the vehicle.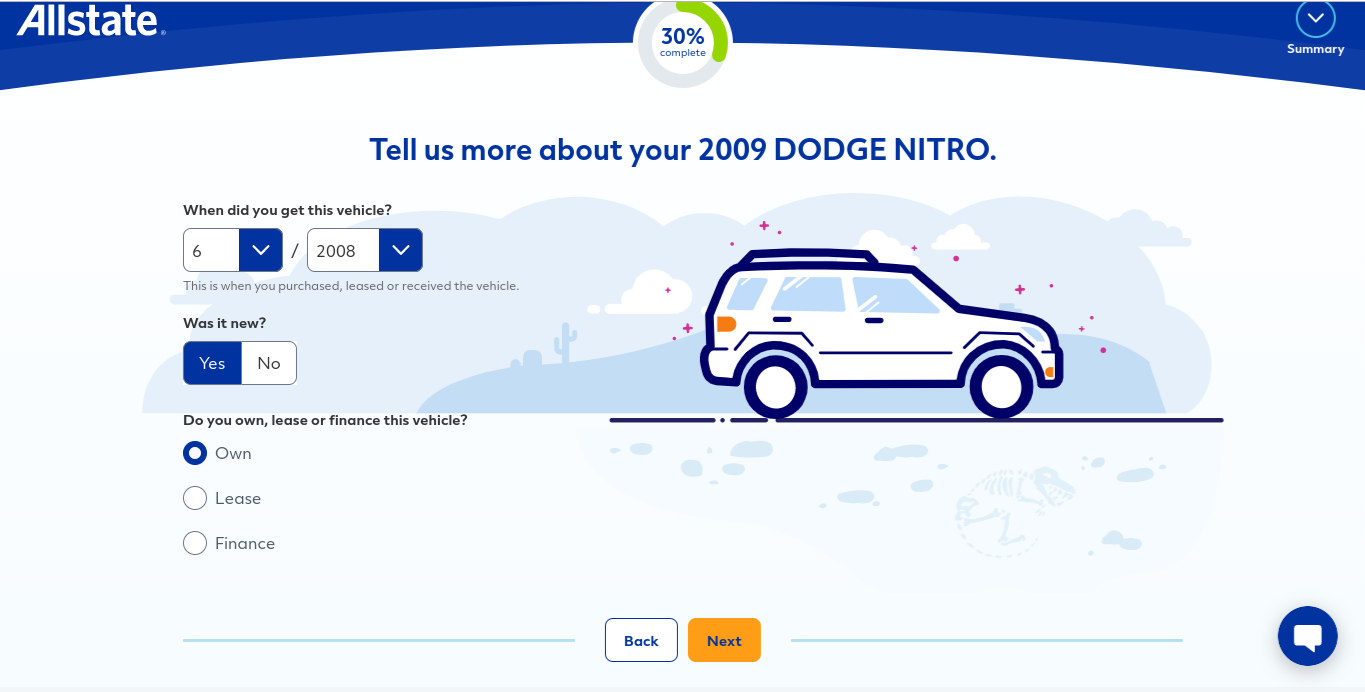 Allstate then asks how you are planning to use the car. Cars are rated differently depending on the usage of the vehicle. As you remember from earlier, shorter commutes mean a slightly lower rate.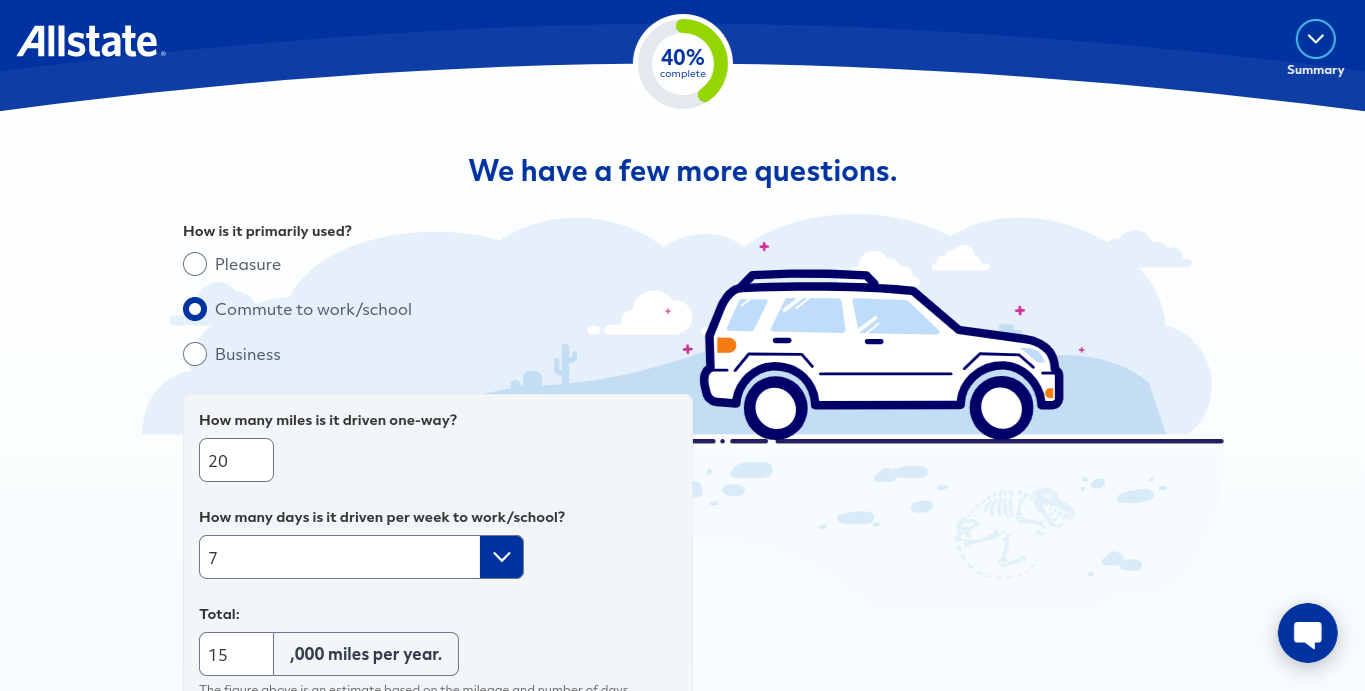 Allstate can even look to see if your vehicle qualifies for certain discounts.
Personal Details
Allstate will need a little more information about yourself.
Questions will include when you were licensed and whether you have had any violations or accidents.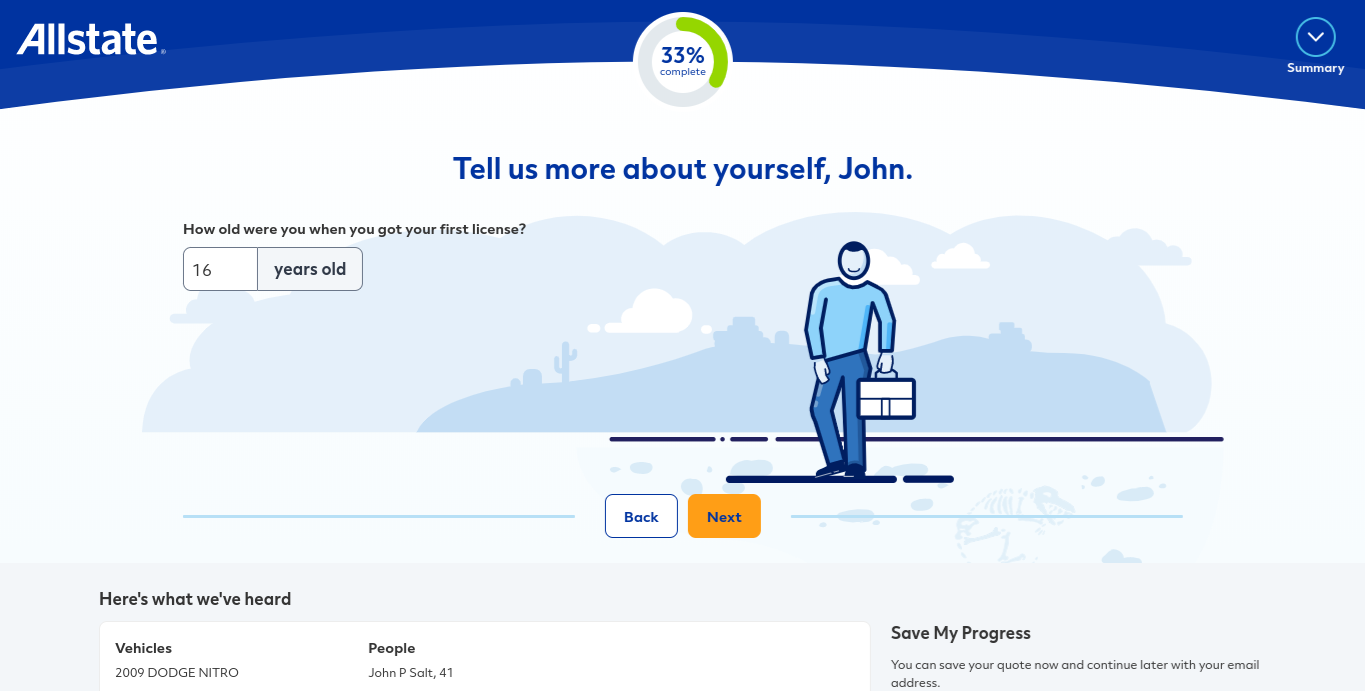 Allstate also wants to make sure you've had continuous insurance coverage. So you'll need to give them your prior or current policy information.
The Final Quote
Finally, you get to the numbers. You can change your coverage, add programs, and lower coverage on the final screen.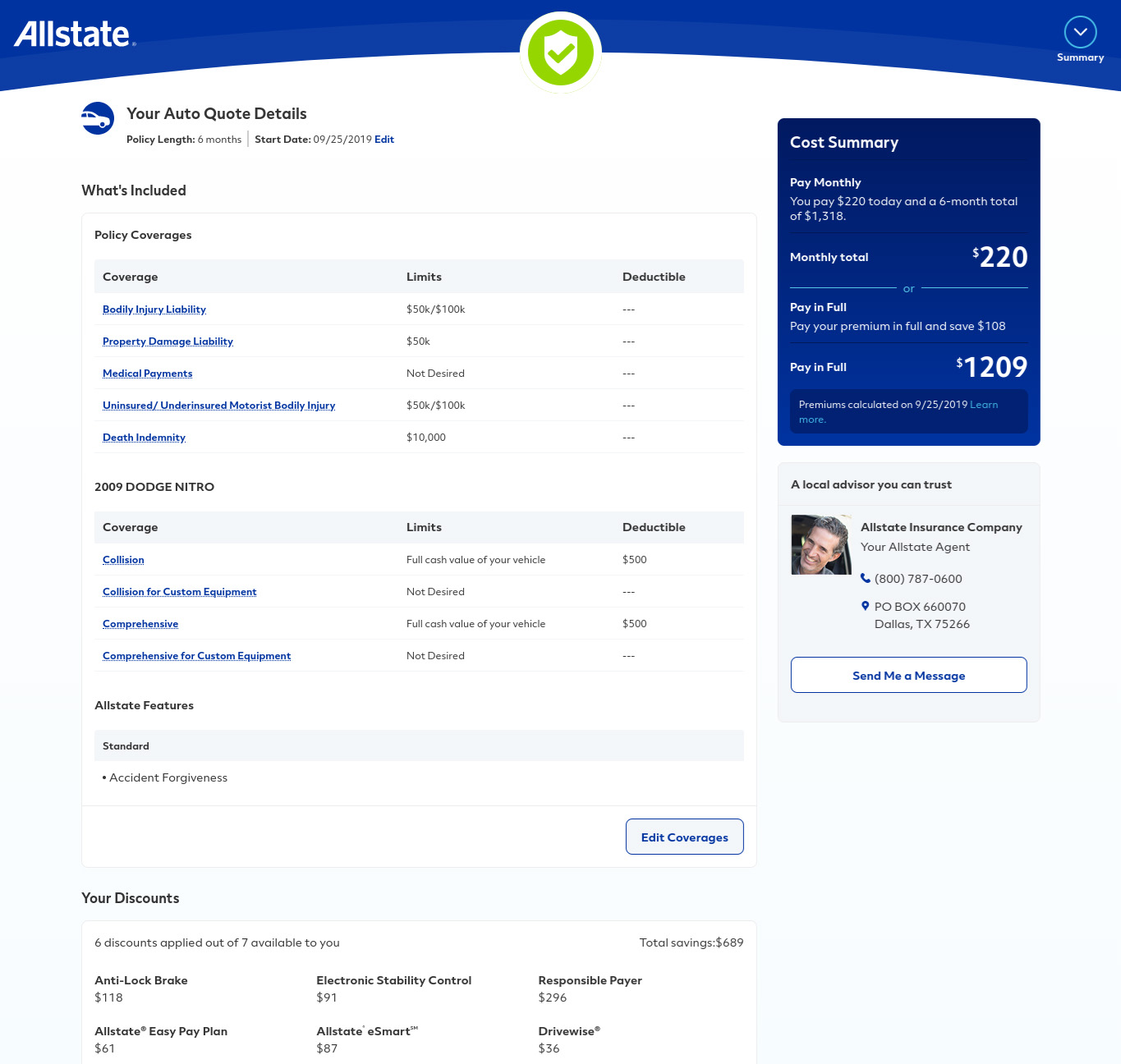 Enter your ZIP code below to compare auto insurance rates.
Secured with SHA-256 Encryption
Design of Website/App
Allstate has an incredibly easy-to-use website. You can find and access everything easily.
Their app is also a very functional and useful tool. You can find everything from policy information, payment, and ID cards on their mobile app.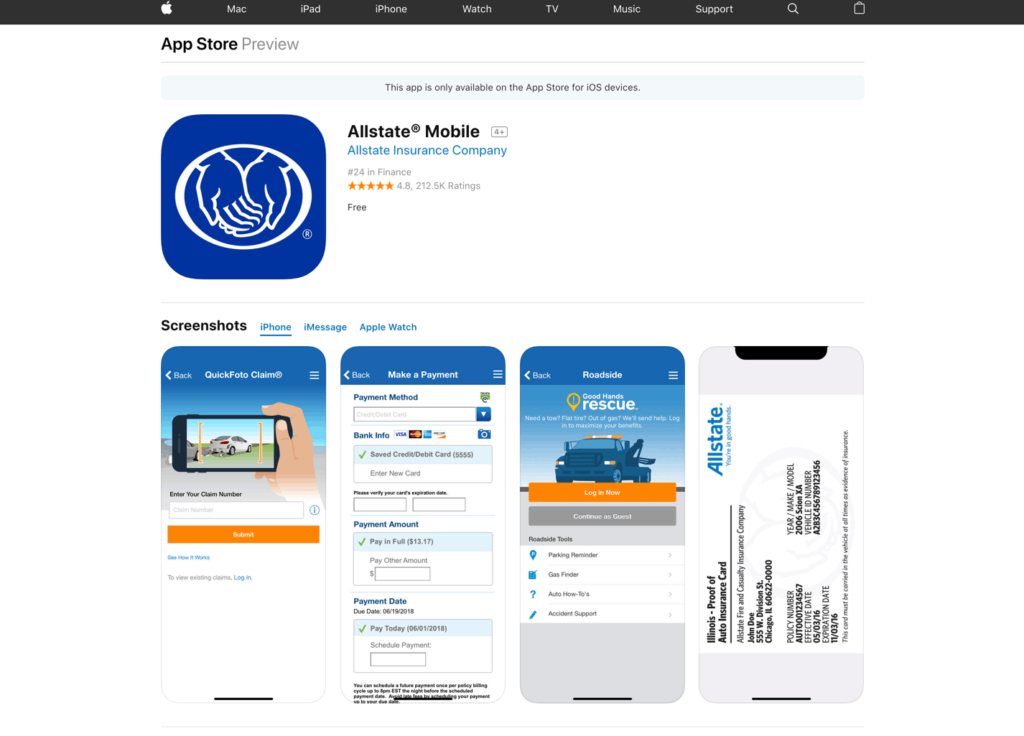 Pros & Cons
Allstate has a lengthy list of pros versus a very short list of cons.
They have heavy community involvement and are financially stable. This makes them a company that wants to make people better and also has the financial backing to pay out claims and get customers back to driving on the road.
Allstate also has a long list of discounts.
Their website is extremely functional and easy to use for whatever you need, whether you're making a payment, filing a claim, or getting a quote.
One major con that Allstate faces are their rates. Other companies such as USAA and Geico tend to beat them on lower premiums.
The Bottom Line
Allstate is a solid company. They are financially stable and offered in all 50 states.
While their rates may not be the lowest in town, they do offer a multitude of discounts and programs to help lower their premiums.
Allstate is definitely a company to take a look at when searching for an insurance company.
Enter your ZIP code below to compare auto insurance rates.
Secured with SHA-256 Encryption
FAQs
Do you still have some questions about Allstate insurance? Here are some commonly asked questions.
What is the Claims Satisfaction Guarantee?
Allstate is so sure you will love their claims process that if you don't, you'll get six months of coverage for the vehicle involved in the claim for free. It's as simple as that. No questions asked.
What exactly is Drivewise®?
Take a look at this video from Allstate to give you a better understanding of Drivewise®.
https://www.youtube.com/watch?v=oYWf8XEdpa0&feature=youtu.be
I prefer a local agent. How can I find one?
Some people prefer in-person contact with an agent versus online or over the phone. Allstate understands that and offers a find an agent tool on the website.
How can I get a quote from Allstate?
That's easy. Go online to allstate.com or find an agent in your area.
We hope this has helped you see if Allstate is the right fit for you.
Still wanting to compare quotes? We have you covered. Enter your ZIP code to compare quotes in your area.