The Ultimate Alabama Car Insurance Guide (Costs + Coverage)
Alabama car insurance rates can be as low as $61/mo with liability requirements of 25/50/25 for bodily injury and property damage coverage. Alabamans paid an average of $817.95 for car insurance in 2015, but we will show you how to get the best rate for Alabama car insurance.
Free Auto Insurance Comparison
Enter your ZIP code below to compare auto insurance rates.
Secured with SHA-256 Encryption
Car insurance rates got you down?
Whether it's monthly, quarterly, or biannually, finding a letter in your mailbox or inbox from your insurance company is never a good thing. Alabamans paid an average of $817.95 for car insurance in 2015.
Were you one of them?
Or did you pay a lot more? No one likes to pay too much for anything, let alone, paying too much for car insurance. But where do you start? What if you could find all of the information you need in one spot? Would you invest the time? What if it would save you money? A LOT of money. I bet you would.
Find affordable Alabama automobile insurance coverage online. Whether you live in Birmingham, Montgomery, Mobile, Huntsville, or Tuscaloosa, or whether you live in Hoover, Dothan, or Decatur, with so many companies offering car insurance in your state, how do you know what auto insurance is right for you?
Find affordable auto insurance policies and optional insurance coverages available in the state of Alabama.
Enter your zip code above in our FREE online tool.
Alabama Car Insurance Coverage And Rates
The median household income in Alabama in 2016 was over $46,000. In 2015, drivers, on average paid over $819 for car insurance. Now, we're not a math genius or anything, but however you work it out, consumers in Alabama are paying nearly 2 percent of their income on car insurance.
There has to be a better way.
There is a better way and we're going to show you how.  Get started now by clicking here and entering your zip code in our FREE online search tool.
Below, we have provided information and helpful advice so you can get the best coverage options for your needs.
– Minimum Car Insurance Requirements in Alabama
Okay, you've read the numbers, but what do they mean?
What is 25/50/25?
Bodily injury?
Accidents?
We hope you never have to deal with any of these situations or end up in one of these:
But if you do, the basic minimum requirements in Alabama that all motorists must have for liability insurance are:
$25,000 to cover the death or injury of one person
$50,000 to cover the death or injury of more than one person
$25,000 to cover property damage
Liability insurance pays all individuals — drivers, passengers, pedestrians, etc. — who are owed compensation for property damage and/or injuries resulting from a car accident that you or anyone under your policy causes. If you cause a wreck, liability insurance pays everyone affected by the accident.
These required amounts are only for the minimum amounts. You may want to carry additional coverage because in the event of an accident your payout to injured victims could quickly run out.
Further below, we will show you additional coverage options to help you make the best decision.
Required Forms of Financial Responsibility in Alabama
What exactly is financial responsibility? In Alabama, financial responsibility is proof that you have the state's minimum liability insurance requirement. Alabama state law requires all motor vehicle owners and every driver to have proof of financial security at all times.
Here are four acceptable forms of proof of financial security in Alabama:
Copy of your current car's insurance policy
Valid insurance binder (a temporary form of car insurance)
Valid liability insurance ID cards
Picture of proof of insurance on your smartphone
Important: Alabama state law requires proof of insurance and registration to be accessible at all times by hard copy documents or electronically via a smartphone. If you're one who consistently loses papers or has a messy glovebox, make sure to keep a picture of your required paperwork readily accessible on your smartphone.
You can face fines and/or go to jail in Alabama if you don't have the state minimum requirements.
Driving without the state minimum insurance requirements in Alabama may result in the following:
A fine of $500 for your first violation
A fine of $1,000 for your second or subsequent violation
Suspension of your driver's license
Suspension of your car registration
If law enforcement suspends your registration, you'll have to pay $200 to have it reinstated for the first offense. And $400 for second or subsequent offenses.
Don't risk it! Don't let that happen to you, get started now by clicking here and entering your zip code in our FREE online search tool.
Premiums as Percentage of Income in Alabama
Alabama's annual per capita disposable income is $33,535. 
Disposable personal income (DIP) is the total amount of money individuals have available to spend or save after their taxes have been paid. This means residents of Alabama have only $2,794 to spend a month, and that amount can be eaten up quickly when you are paying for food, clothing, and shelter.
When you add in car insurance, which residents in Alabama pay on average $837 for annually, the monthly budget shrinks to even less!
Monthly, Alabama consumers spend $67 dollars on minimum car insurance. Add in additional coverage, and that monthly amount grows even higher.
Everyone wants to save money each month, make sure you're not paying too much on car insurance. Get started saving now by clicking here and entering your zip code in our FREE online search tool.
Core Car Insurance Coverage in Alabama
The above table shows the most recent data provided by the leading source on the matter, the National Association of Insurance Commissioners. Expect car insurance rates in Alabama to be significantly higher for 2019 and on.
The nationwide average for car insurance is $954.99, so the Cotton State falls slightly below the national average of insurance costs.
One thing to consider: While Alabama's minimum coverage requirements are important, experts recommend purchasing more than what state law requires. In the case of an accident, you'll be glad for extra coverage.
Up next, we've got the main types of coverage options which you can add to a basic insurance plan.
Additional Liability Coverage in Alabama
Med Pay, Uninsured, and Underinsured Motorist coverages are not required in Alabama. It may be tempting to skip out on these coverages because they are optional, but you should still have them.
Why?
Because they're some of the most important coverages in case of an accident. Uninsured drivers will likely go bankrupt before being able to pay the exorbitant costs racked up in an accident.
Don't be underinsured, get started now by clicking here and entering your zip code in our FREE online search tool.
If you view the table for Alabama's loss ratios, you'll see that Med Pay and Uninsured/Underinsured's loss ratios have increased slightly. What does this mean?
It's good news! In 2015, top insurance companies in the U.S. had loss ratios that ranged from 94-112 percent. While Alabama is under these numbers, companies with high loss ratios (over 100 percent) are losing money. Alabama also avoids having a low loss ratio — companies with low loss ratios are not paying out claims.
What to remember — avoid companies with high or low loss ratios.
– Add-ons, Endorsements, and Riders in Alabama
Have you considered adding extra coverages to your policy? Do you even know what is available?  Choosing from a list of options can be daunting, and we know you want the best options for your family at the best price.
To help you decide, we've made a list of affordable options to add to your policy. Click on the selections below to learn more about them.
Guaranteed Auto Protection (GAP)
Personal Umbrella Policy (PUP)
Rental Reimbursement
Emergency Roadside Assistance
Non-Owner Car Insurance
Modified Car Insurance Coverage
Classic Car Insurance
Low-Mileage Discount
Any of the above options are great choices to add to your policy. Choose what works best for you and your family.
Get started on selecting the best insurance for your family by entering your zip code in our FREE online search tool.
Male vs. Female Annual Car Insurance Rates in Alabama
The above data from our researchers shows that females and males' rates vary from provider to provider. It's a common misconception that males always pay more than females for car insurance. In general, females pay more than males.
It is clear in Alabama, though, that the scale tips from age to age. With providers like State Farm Mutual, young teenage drivers pay more than older drivers for insurance. This makes sense when you consider younger drivers are usually less experienced on the road.
Important: Your driving record and coverage plan will play a larger part than gender in determining your insurance costs.
Highest and Lowest Alabama Car Insurance Rates by ZIP Code
Let's take a look at how location affects your car insurance rates.
According to our researchers' data, Birmingham zip codes are the most expensive places to purchase car insurance.
Clearly, where you live does matter in relation to car insurance costs.
Highest and Lowest Alabama Car Insurance Rates by City
We have also collected data on the most and least expensive cities in Alabama. Look at the tables below to discover if your city is on them.
The largest city in Alabama, Birmingham, made it onto the list of most expensive cities.
Now that we've covered area rates, let's start looking at the best and worst insurance companies in Alabama.
Enter your ZIP code below to compare auto insurance rates.
Secured with SHA-256 Encryption
Alabama Car Insurance Companies
You've seen the commercials. You've seen the ads. But what's really behind the curtain of most insurance companies? Can you really save money with a 10-minute phone call?
But who wants to spend time doing all of that searching? That's why we've researched the best providers in Alabama, so you can make the best choice for your situation. We've looked at companies' financial ratings, AM's best ratings, and which companies have the most complaints.
Get started on your own search by entering your zip code into our FREE online tool.
Keep reading to learn about Alabama's insurance providers.
Ratings of the Largest Car Insurance Companies in Alabama
The companies listed above are some of the top-rated in Alabama. The table shows the companies' AM ratings, which judges the companies' financial strength.
As mentioned previously, a company shouldn't have a high (over 100 percent) or a low loss ratio. Some companies are a little low on their loss ratio, but a few, like Geico, have a good loss ratio. Furthermore, none of the companies are in danger of bankruptcy because of a high loss ratio.
Alabama's Car Insurance Companies with the BEST Ratings
Customer service is an important part of any company, from restaurants to car insurance providers. That's why we have looked at companies with the best customer satisfaction ratings.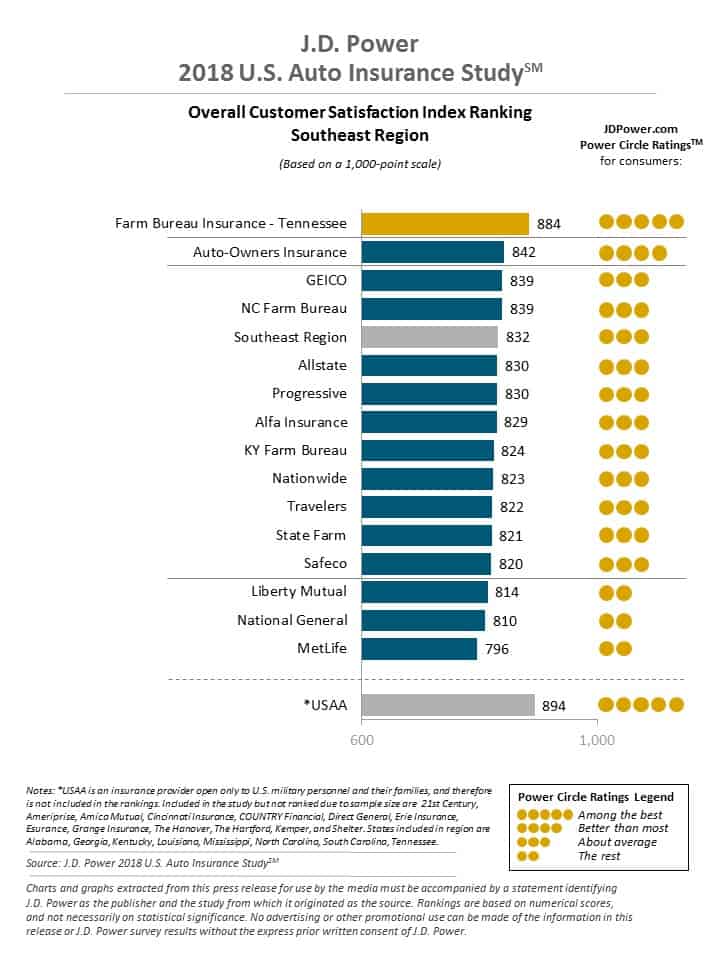 Geico ranks near the top of the list — showing that Geico is great at customer satisfaction. One thing to consider, cost shouldn't be your only concern when searching for car insurance. You should also be looking at how the insurance provider treats its customers and resolves claims and complaints.
Companies with the MOST Complaints in Alabama
Below, you will see the number of complaints collected by the NAIC for the biggest insurance providers in Alabama.
While some of the numbers may be troubling, complaints don't necessarily mean you should avoid a company. For example, Geico made it onto the list for best customer ratings and the list for most complaints. Obviously, the insurance giant is good at resolving customers' issues, proving that complaints don't necessarily mean a company is bad.
Want to get started on your own seearch for new car insurance? Enter your zip code in our FREE online search tool to get started
Alabama Car Insurance Rates by Company
According to the data above, companies like Allstate and Nationwide have rates lower than the national average. Companies like SAFECO, though, have higher rates than the national average. These rates could contribute to why SAFECO and other companies aren't on the popular Alabama insurance providers list.
Cost of Different Annual Commutes by Alabama Companies
Most company rates don't change when the commute is shortened to a 10-mile commute, except for Geico and USAA, both of whom have rate reductions over a $100.
Up next, a break-down of coverage level rates in Alabama.
Coverage Level Rates
USAA has the lowest rates listed for all levels of coverage. This is great news if you or a family member is in the military. If not, many companies are separated by less than a hundred dollars, so select the provider who best meets your insurance needs.
Alabama Credit History Rates
In Alabama, the average credit score is 654. Unfortunately, this number places Alabama on the list of the top 10 states with the lowest credit scores.
As you can see from the table above, poor credit scores can add thousands to your annual cost. A bad credit score at Progressive changes your annual average from $4009-$5011!
That's an extra $1002 a year!
Clearly, your credit score plays an important role in determining your car insurance rates.
Below, we've covered the other huge factor in determining rates — your driving record.
Alabama Driving Record Rates
According to the data above, any infraction on your driving record can increase your car insurance costs. That's why you should obey all traffic laws and never drink and drive.
Number of Insurers in Alabama
There are many more foreign insurers than domestic. Domestic insurance is formed under the laws of Alabama, though foreign insurance is formed under the laws of any state in the country.
Get started now by entering your zip code into our FREE online search tool.
Alabama State Laws
Celebrating a University of Alabama Football National Championship usually means large celebrations, excited fans, and excessive amounts of thrown confetti.
Usually. But not in Mobile, where it is against Alabama law to throw confetti.
There are more unusual state laws in Alabama where throwing salt on railroad tracks is prohibited, and wearing a fake mustache which causes laughter in a church is also a no-no.
Well, nobody should have to worry about any of those outdated laws, and the same thing goes for Alabama driving laws. We've done the work for you, scroll down to read our roundup of Alabama's state driving laws.
Car Insurance Laws in Alabama
Alabama state law requires drivers to have car insurance. The Mandatory Liability Insurance Law of 2013 requires Alabama drivers to have auto insurance for all registered vehicles.
If you are a high-risk driver, car insurance companies may refuse to give you car insurance (even though insurance is required by law). If this happens to you, the DMV tells high-risk drivers to turn to Alabama's Auto Insurance Plan (AAIP). Talk to your insurance provider about what options are available.
High-Risk Insurance Alabama
Had an accident? Sometimes, accidents sometimes despite our best efforts. If an accident happens to you and affects your driving record, you are required to fill out an SR-22 form for high-risk insurance.
Reasons why you may need to fill out an SR-22 form:
Driving while uninsured
A traffic violation that results in a fatality or serious injury
A high number of points on your driving record
Conviction of DUI/DWI
A high-risk car (sports cars, etc.)
Being over 70 years old
Remember — insurance providers may refuse to cover you. If this happens, apply to AAIP.
Low-Cost Insurance in Alabama
Alabama does not have a government-sponsored car insurance program for low-income drivers. But don't give up, because shopping around for low rates in Alabama is easy.
Get started now by entering your zip code in our FREE online search tool.
Other discounts which you may be eligible for include:
Good driver discount
Homeowner's discount
Windshield Coverage in Alabama
Unfortunately, in the state of Alabama, insurance companies are not required by law to replace a damaged windshield. While Alabama law doesn't require insurers to replace windshields, some insurance companies may offer windshield replacement or repair with a comprehensive insurance plan.
Insurers who offer replacement or repair must use replacement parts that are similar quality so that your car is as good as it was before. If you decline the insurer's replacement offer, however, you will have to pay the cost of windshield repairs yourself.
Automobile Insurance Fraud in Alabama
Alabama has four insurance fraud agencies in the United States who investigate fraudulent activities. Here are the two main ways to commit fraud according to the ALDOI:
Intentially faking an accident or making a false claim
Adding "extra" onto a legitimate claim
In 2017, there were 223 investigations of possible fraud investigated in Alabama. The easiest way to avoid being investigated? Don't commit fraud on your claims.
The Statute of Limitations in Alabama
Have you been involved in an accident? Do you want to file a claim? If so, you only have a certain amount of time to file a claim to receive the money you are owed.
The statute of limitations in Alabama is:
Personal Injury: Two years
Property Damage: Two years
This ticking time clock starts on the day you are injured or your property is damaged. If you or someone you love has been injured in an accident, don't wait too long before beginning the claims process.
Alabama State Specific Laws
In Alabama, an insurance provider must submit in writing at least 20 days before doing so, a notice that cancellation of policy will be issued. However, a policy cannot be terminated without due cause.
According to the ALDOI, the following are all ways your policy may be canceled:
Nonpayment of premium
Policy was obtained through a material misrepresentation
Insured violated any of the terms and conditions of the policy
Named insured failed to disclose motor vehicle accidents and moving traffic violations for the preceding 36 months if asked in the application
Named insured failed to disclose on written application information necessary for acceptance or property rating risk
Insured made a false or fraudulent claim or aided another in presentation of such a claim
Failure to maintain membership in any group or organization when this is a prerequisite to purchase of insurance
Named insured or any other operator who resides in same household or customarily operates an auto insured under the policy:

Has had a driver's license suspended or revoked within 36 months prior to cancellation notice
Is subject to epilepsy or heart attacks
Has an accident record or conviction record; a physical, mental, or other condition which would endanger public safety
Has been addicted to the use of narcotics or other drugs within 36 months prior to the cancellation notice
Uses alcoholic beverages to excess

Has been convicted or forfeited bail during the preceding 36 months for:

Any felony
Criminal negligence resulting in death, homicide, or assault arising out of the operation of a motor vehicle
Operating a motor vehicle while intoxicated or under the influence of drugs
Being intoxicated while in an automobile or while having custody of an auto
Leaving the scene of an accident without stopping to report
Making false statements in a driver's license application

The insured automobile is:

Mechanically defective, and operation might endanger public safety
Used in carrying passengers for hire or compensation
Used in the business of transportation of flammables or explosives
An authorized emergency vehicle
Changed in shape or condition during the policy period which increases the risk
Subject to an inspection law, and has not been inspected, or if inspected, failed to qualify
Now that you've learned all of the reasons insurance providers can cancel your policy, let's get started searching for a company that will provide you with excellent customer service while saving your money.
Get started today, by entering your zip code in our FREE online search tool.
Alabama's Vehicle Licensing Laws
We all love the feeling of driving down the open road with the windows down and the smell of the Alabama Coast wafting in on an ocean breeze. But if you're not careful, that bright light you see in your rearview mirror won't be the sun, but a highway patrol officer pulling you over for speeding, or worse, driving while uninsured.
Here are the penalties for driving without insurance in Alabama:
Authorities may suspend or revoke your license if caught while driving uninsured.
Let's review what types of documents are acceptable for proving financial security in the state of Alabama.
Acceptable proof of insurance forms in Alabama:

Valid liability insurance ID cards
Copy of your current car's insurance policy
Valid insurance binder (a temporary form of car insurance)
Picture of proof of insurance on your smartphone
Whenever an officer of the law pulls you over, you must provide proof of registration, insurance, and a driver's license.
Since 2013, the State of Alabama Online Insurance Verification System has been in place. Basically, the system helps law enforcement immediately check the insurance status on your vehicle.
If you violate car insurance laws, Alabama has the right to suspend your vehicle registration. You will be notified if authorities are suspending your registration. Below are reasons authorities may suspend your vehicle registration according to the Alabama Department of Revenue.
"The Department did not receive a timely response to a questionnaire that was sent to verify the MLI coverage on the vehicle."
"The insurer identified in the response to the questionnaire has failed to confirm or has denied coverage on the vehicle for the insurance verification date as requested."
Our point of showing you this information is this — purchase car insurance so you can keep your keys and driving wherever you need to go.
Get started now by entering your zip code in our FREE online search tool.
Teen Driver Laws in Alabama
In Alabama, teens can get a learner's permit at age 15. While teens still have to wait until they are 16 years old to apply for a restricted license, they can get a year of driving experience before they drive solo. Teens must also fulfill the requirements listed below before receiving a license or restricted license.

There are also limitations in place for teen drivers with restricted licenses.
Older Driver License Renewal Procedures in Alabama
Alabama law requires older drivers to renew their licenses every four years, the same as the general population. One perk of being an older driver:
Proof of adequate vision is NOT required at the time of renewal, and older drivers (and general population) are allowed to renew their licenses online every other renewal.
New Residents in Alabama
If you move to Alabama you have 30 days to acquire an Alabama driver's license. Also, there is now an Alabama Mandatory Liability Insurance Act that requires everyone to have liability insurance. You may remember that Alabama requires vehicle owners to have the following liability insurance:
$25,000 to cover the death or injury of one person
$50,000 to cover the death or injury of more than one person
$25,000 to cover property damage
You will also need to contact your current provider, as your provider may need to change rates and coverages to meet Alabama's requirements of minimum liability coverage.
Alabama Rules of the Road
Everyone has to follow the rules, but if you're new to Alabama, there may be laws you're unfamiliar with. That's why we've compiled a list of several important laws to keep you in good standing and on the road.
Fault vs. No-Fault
Alabama is an at-fault state. This means that if you are at-fault in an accident, you may be held liable for injury and property damage costs. The at-fault driver will have to pay all medical expenses, damages, and other costs that occurred from the accident.
This means that if you don't have insurance OR the right coverage, your resources will quickly be drained. The last thing you want is to go bankrupt due to an accident.
Keep Right and Move Over Laws
Here's how to keep right in the state of Alabama. If driving SLOWER than the average speed of traffic around you, you must keep to the RIGHT. However, there are certain occasions where you are allowed to pass on the right.
Findlaw.com explains these circumstances as the following:
If the vehicle you are passing is making or about to make a left turn
If the roadway is wide enough for two or more lines of vehicles moving in the same direction as the vehicle you are passing.
If you do pass on the right make sure you can do so safely and without driving off the roadway.
Alabama has also passed a new anti-road rage bill that prohibits drivers from staying in the left lane for more than a mile and a half (unless passing other vehicles).
Alabama residents are also required to move over one or more lanes for stopped vehicles.
These vehicles include:
Police and emergency vehicles
Car crashes with flashing  lights
Utility service vehicle with rotating or flashing lights
Garbage vehicles when actively on duty
Respect others and move over as soon as you can.
Alabama Speed Limits
Below are the speed limits across the state of Alabama. Make sure to also pay attention to speed limit signs while driving, as the speed limits posted below are the maximum speeds in Alabama.
Alabama Seat Belt and Car Seat Laws
Do you know Alabama's seat belt laws? Different states have different laws, and knowing Alabama's laws will help you avoid a fine.
On September 1, 2019, Alabama also put into effect a new seat belt law. All backseat passengers must buckle up now, not just drivers and front-seat passengers.
In addition to keeping you safe, Alabama has laws protecting children in the car. Being familiar with Alabama's car seat laws will help you keep your little ones safe in the car.
The fine for breaking car seat laws is the same as seat belt laws — $25 plus fees.
As for riding in cargo areas (such as pickup trucks), there are no laws in Alabama restricting this. Make sure to use common sense when riding in a cargo area to ensure your own and other's safety.
Ridesharing in Alabama
You may be familiar with ridesharing companies like Uber and Lyft. If you want to rideshare, you must purchase ridesharing insurance from one of the following providers in Alabama:
Farmers

Geico

State Farm

USAA
These insurers offer ridesharing insurance, but each one has different coverages and requirements, so make sure to choose one that best fits your needs. Most ridesharing companies will also require you to undergo vehicle safety checks to make sure your car is safe for passengers.
Automation on the Road in Alabama
What is automation? IIHS defines it as the following:
"Automation is the use of a machine or technology to perform a task or function that was previously carried out by a human. One example is adaptive cruise control, which maintains a set speed."
In Alabama, automated vehicle drivers have to follow the laws listed below.
Start your search for insurance by entering your zip code in our FREE online search tool.
DUI Laws in Alabama
Alcohol-related accidents account for 28.3 percent of all driving fatalities in Alabama. Drunk driving has catastrophic results for everyone involved, that's why strict laws are in place to prevent such occurrences.
There are varying degrees of charges based on the number of offenses. Below, you'll see the penalties for first time and consecutive offenses.
A 5th offense is treated the same as the 4th offense in Alabama. These laws may seem harsh, but in 2017, 268 people died in Alabama from alcohol-related accidents.
Please don't drink and drive!
As for marijuana-impaired driving in the state of Alabama, there are no specific laws in place. This does NOT mean you can get away with using marijuana and driving.
Law enforcement can still charge you with impaired driving, even though there isn't a specific law in Alabama against marijuana-impaired driving.
Distracted Driving Laws in Alabama
Below are Alabama's laws about cellphone use while driving.
Below, are Alabama's laws about cellphone uses while driving.
Alabama Can't-Miss Facts
Now that you have a good understanding of the laws in Alabama, let's jump into Alabama's can't-miss facts.
You now know the rules of the road, but do you know the risks of owning and operating a vehicle in Alabama?
It's difficult to remember all of the risks associated when driving your favorite sports car, and really, who wants to? While insurance is important, it's also crucial to know what to keep your eyes out for on the road.
We've laid out everything you need to know about the risk factors in Alabama, from vehicle theft to crash reports, so that you can be aware of what's around you and get home safely.
Vehicle Theft in Alabama
The table below will let you know if your vehicle is on Alabama's most-stolen list. If your car is stolen, a comprehensive coverage plan will usually cover your costs.
Ford has the most stolen vehicles of any brand. Where you live is also import. Below, the FBI's data on the 10 worst cities for vehicle theft.
If you live in Birmingham, you might want to keep a closer eye on your vehicle. Is your city not listed above? Keep reading to see if it makes the list for best cities with a lack of vehicle theft.
These numbers are not typos — the average number of thefts in these cities is ZERO. (You should still probably lock up your vehicle!)
Alabama's Crash Report
Although, vehicle thefts are significant, risky and harmful behavior when driving in Alabama is more alarming. In the years 2015-2017, there were 2881 traffic fatalities in the state of Alabama.
According to data collected by the NHTSA, three of Alabama's cities made it onto the list of traffic fatalities by cities.
More fatal accidents happen on rural roads than in the city, due to less congestion and higher speed limits.
While road type plays a significant role in accidents, vehicle type is also important.
But what type of accidents cause fatalities you may be wondering?
Speeding is a major cause of accidents in Alabama, especially when you consider that speeding can also lead to leaving the roadway, another major cause of accidents. Up next, we're going to look at the top-10 counties in Alabama where accidents involving fatalities occurred.
Speeding-Related Fatalities in Alabama
Because speeding is one of the major culprits of fatal accidents, the NHTSA reported on fatalities involving speeding by county.
Drunk Driving Fatalities in Alabama
Another major culprit in fatal accidents is drunk driving. Below are the number of fatal crashes involving alcohol-impaired drivers by county.
Cullman and Jefferson counties once again ranked in the top number of fatalities for both speeding and drunk driving fatalities.
Another sobering side of drunk driving is alcohol-impaired deaths among teenage drivers.
https://youtu.be/3LcKP2ko6LI
Teenage drivers often lack experience and adding alcohol into the mix often makes for a deadly concoction.
Drunk driving at any age is dangerous, but we want to draw focus onto the lives that are too often cut tragically short. The national average for underage drunk driving deaths is 1.2 per 100,000 population. This is one of the highest in the nation. Please don't drink and drive.
The good thing about these numbers is that Alabama ranks 48th in the U.S. This means Alabama has a LOW number of arrests compared to other states — meaning Alabama doesn't have as many underage drunk drivers on its streets. Unfortunately, the underage drunk drivers who do drive contribute to one of the highest fatality rates in the U.S.
Involved in an accident in Alabama? Next up, we look at how long it takes for help to arrive after a crash.
EMS Response Time in Alabama
If you or someone you know is in an accident, you want help to arrive as FAST as possible.
As you can see from the table, help arrives faster if you live in an urban area.
Transportation in Alabama
When you drive down your neighborhood, do you ever take note of how many cars are sitting in your neighbors' driveways? Usually, we can tell if someone is visiting by that extra car parked outside the house.
In Alabama, the average amount of cars owned is two.
Does it take you forever to get to work? Have you ever wondered how others' commute times in Alabama are compared to yours? In Alabama, the average commute time is 23.9 minutes, which is less than the national average.
Up next, the most common methods of commuting in Alabama.
Top Alabama Cities for Traffic Congestion
Good news! None of Alabama's cities made it onto INRIX's list of worst cities for traffic. While this doesn't mean you won't sit in traffic, at least you can feel better about the fact that other states have it way worse than Alabama.
According to the Business Council of Alabama, drivers in Birmingham spend 34 hours yearly in traffic, and drivers in Huntsville spend 23 hours yearly.
Now that you have read through this comprehensive guide, you are ready to hit the roads in Alabama! Start comparing car insurance today by entering your zip code below in our FREE online tool!