The Ultimate Maine Car Insurance Guide (Costs + Coverage)
Free Auto Insurance Comparison
Secured with SHA-256 Encryption
Located in New England, the Pine Tree State is the only state that shares its borders with only one other state: New Hampshire.
Maine has 3,478 miles of coastline (that's more coastline than the state of California) and is almost completed surrounded by the Atlantic Ocean.
With a diverse landscape of rocky coasts, heavily-wooded Pine tree forests, and over 6,000 lakes and ponds, Maine is a beautiful place to live and visit.
But if you plan on moving to Maine and driving all 3,478 miles of coastline, one thing is for certain: you're going to need a great Maine auto insurance policy.
Feeling overwhelmed? You've come to the right place. In this ultimate guide to Maine car insurance, we will go over topics like types of car insurance, car insurance rates, factors that can affect car insurance rates, driving laws, safety laws, and more.
By the end of this guide, you'll have every important piece of information you need in order to make an informed decision about what kind of car insurance policy to buy.
Browsing for Maine automobile insurance? Whether you are living in Portland, Lewiston, Bangor, South Portland, or Auburn, you can obtain up to ten rate quotes from leading providers in your state by using AutoInsuranceEZ.com.
Get your quote free today. Just enter your zip code above to get started.

Maine Car Insurance Coverage and Rates
The following information is brought to you by the Insurance Information Institute, Nolo, AAA, and the National Association of Insurance Commissioners.
By law, Maine requires every driver to carry a car insurance policy. But how much does car insurance in Maine actually cost?
When it comes to car insurance, we want you to understand what you're paying for and why you're paying for it. But before we get into coverage laws and rates, let's talk about Maine's car culture.
Maine's Car Culture
When you live so far North and it's very cold and snowy for most of the year, it's important to have a vehicle that can transport you from one place to another without getting stuck.
According to the Hartford, the state's snowy winter and rugged topography, along with native ingenuity, do factor into local transportation history.
Maine is also credited with inventing the first modern-day snowmobile – a vehicle that has been used for transporting residents who live in isolated, roadless places.
Minimum Car Insurance Requirements in Maine
What type of car insurance is required in the Pine Tree State?
Every driver is required to carry a minimum liability auto insurance policy because Maine is an at-fault car accident state.
Minimum liability insurance works like a net at the bottom of a 10-story building. Imagine there's a fire in your building and you need to jump out of the 10-story window into the net below.
You probably won't die if you jump into the net, but you might have some serious injuries.
This is how liability insurance works. If you have minimum liability insurance and you get into an accident, you're probably not going to go bankrupt paying for repairs from said accident, but you may have to cough up more money than you want.
Let's take a look at Maine's minimum insurance requirements below:
$50,000 for bodily injury or death of one person in an accident caused by the owner/driver of the insured vehicle
$100,000 for total bodily injury or death liability in an accident caused by the owner/driver of the insured vehicle
$25,000 for property damage per accident caused by the owner/driver of the insured vehicle
In Maine, a "Combined Single Limit" of $125,000 in liability insurance will also satisfy the state's requirements for this type of coverage.
But why do you need insurance at all?
We can answer this question in two answers.
Maine is an at-fault car accident state.
New Hampshire does not require drivers to carry car insurance.
Why are these two things important?
In an at-fault car accident state, if you cause an accident, you are legally required to cover all of the costs in damages and medical bills to anyone or anything associated with that accident.
Not a lot of people have $125k lying around to cover these expenses, so that's where auto insurance steps in to help.
Since Maine borders New Hampshire and New Hampshire doesn't require drivers to have car insurance, Maine drivers are at risk of hitting an "uninsured driver" or being hit in a car accident by a driver from New Hampshire who is uninsured — this can cause some complicated problems.
We will get into underinsured/uninsured drivers further down in this guide, but for now, it's important to understand that having more insurance than the minimum amount required is highly recommended.
Required Forms of Financial Responsibility in Maine
What is a form of financial responsibility? Financial responsibility is just a fancy name for proof of insurance. All drivers must have proof of insurance on their person or in the vehicle at all times.
If a law enforcement officer pulls you over, you must be ready and willing to show proof of insurance, license, and registration.
Acceptable forms of proof of insurance are:
Valid liability insurance ID cards
Copy of your current car's insurance policy
Valid insurance binder (a temporary form of car insurance)
Picture proof of insurance
Electronic form of proof of insurance
If you are caught driving without proof of insurance, you may have your license and registration suspended and be given a fine of $100-$500.
Premiums as a Percentage of Income
In 2014, Maine's annual per capita disposable income was $37,049.
Annual per capita disposable income is the amount of money a person takes home after paying taxes.
If you divide this number by 12, Maine residents have about $3,000 per month to spend on bills, groceries, and car insurance.
In 2014, a full coverage Maine insurance policy cost $689.12. This means Maine residents spend 1.86 percent of their income on car insurance. This is definitely lower than the national average cost of car insurance at $981.77.
The cost of Maine car insurance increased by about $21 from 2012-2014. Countrywide, car insurance increased by an average of $60 during the same years.
When we look at surrounding states' average, Vermont residents paid an average of $746.79 in 2014 for car insurance and New Yorkers paid $1,327.82 for the same policy.
Core Car Insurance Coverage in Maine
The data from the table above is pulled directly from a very reputable source: the National Association of Insurance Commissioners (NAIC).
Please keep in mind that this data is from 2015, so rates are likely to be more expensive now.
The countrywide average cost of car insurance is $981.77, so Maine insurance is about $300 cheaper than the national average cost.
Minimum insurance is important (you'll break the law if you don't have it) but having more than the minimum required is always a better idea and highly recommended. When you get into an accident, you'll be glad you have the extra coverage.
Additional Liability Coverage in Maine
The coverage types listed in the tables above are optional and not required by the state of Maine.
But even though they are optional, it is still a good idea to carry extra liability insurance.
But why?
Maine is ranked as the 51st state in the U.S. for uninsured drivers.
Four and half percent of all drivers in Maine are uninsured. If an uninsured driver causes an accident and hits your car, it's not likely that the driver will be able to pay you to cover the repairs and/or medical bills which resulted from that accident.
At-fault car accident states hold the driver who caused the accident responsible for covering the damages resulting from that accident.
The uninsured driver might try to pay back some of the debts he or she owes, but will most likely go bankrupt while attempting to cover all of the debts.
But what are loss ratio percentages?
Loss ratio percentages show a company's financial strength.
If a company has a low loss ratio percentage, (under 50 percent) the numbers aren't adding up and that company could be taking advantage of its clients by not paying all of the filed claims that should be rightfully paid.
However, if the loss ratio percentage is too high, (over 100 percent) the company could be at risk of going bankrupt because they are paying too many claims – some of which could be fraudulent.
So what should you keep in mind when looking for a new insurance provider? Make sure the loss ratio percentage is well between 50-100 percent.
Add-ons, Endorsements, and Riders
Are you looking for even more coverage options? Your auto insurance policy should be as unique as you are.
Click on the links below to learn more about these add-ons and endorsements.
Guaranteed Auto Protection (GAP)
Personal Umbrella Policy (PUP)
Non-Owner Car Insurance
Modified Car Insurance Coverage
Pay-As-You-Drive or Usage-Based Insurance
Pick one or pick them all. The choice is up to you.
Male vs. Female Annual Car Insurance Rates in Maine
Did you know factors like gender, marital status and age can affect your car insurance rate?
People may believe that women pay more money than men do, but in fact, men usually pay more for car insurance than women.
Some car insurance companies may give you a break if you're married, but generally, if you're under 25 years old, you might be paying more than double what someone over 25 will pay.
Car insurance companies know young drivers don't have a ton of experience behind the wheel and they are also more likely to cause an accident. These two factors contribute to why teenage insurance rates are so high.
Rates in Maine's 10 Largest Cities
Below is a table showing rates for the top ten most populated cities in Maine.
Cheapest Rates by Zip Code in Maine
Did you know that where you live can affect your car insurance rate? Find your zip code in the table below.
Cheapest Rates by Cities in Maine
Is your city on this list below?
Enter your ZIP code below to compare auto insurance rates.
Secured with SHA-256 Encryption
Best Car Insurance Companies in Maine
With literally hundreds of car insurance companies out there, it can be hard to pick just one to trust with your money.
Don't worry, because we did all the difficult work for you. We sifted through hundreds of companies and found the best ones; we looked at factors like financial ratings, customer service rankings, AM Best ratings, rates, and company complaints.
The information below is brought to you by J.D. Power, the NAIC, and Maine.gov.
Ratings of the Largest Car Insurance Companies in Maine
AM Best Ratings show a company's financial strength.
The companies listed in the tables above have some of the best financial ratings in the world. If you'll notice, all of these companies have good loss ratio percentages as well. They all fall between 50-100 percent.
Maine's Car Insurance Companies with the Best Ratings
In early 2019, J.D. Power conducted a study ranking car insurance companies based on customer satisfaction.
The 2019 U.S. Auto Insurance Study, now in its 20th year, examines customer satisfaction in five factors (in order of importance): interaction; policy offerings; price; billing process and policy information; and claims.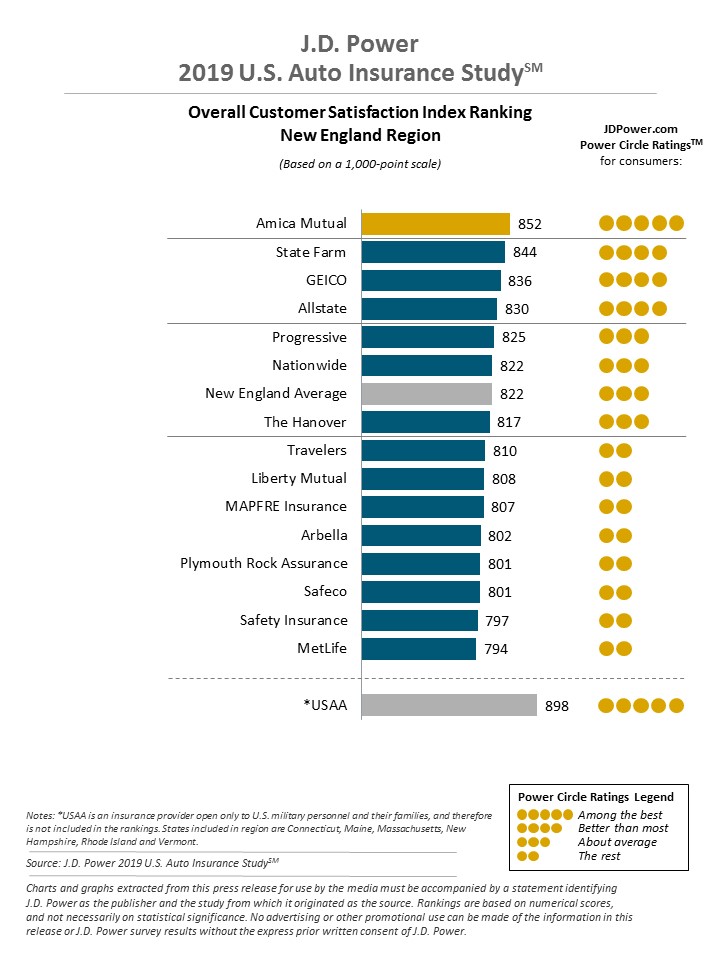 The study is based on responses from 42,759 auto insurance customers and was fielded from February through April 2019.
According to this study, Amica Mutual was ranked number one in customer satisfaction (USAA only serves military members and their families).
The Top 10 Largest Companies with the Most Complaints in Maine
The data below is collected from the NAIC.
Every company receives complaints – that's just how the world works. How a company handles a complaint is more important than the complaint itself.
Maine Car Insurance Rates by Company
From the data above, you can see that Geico and USAA have the cheapest car insurance rates in Maine. These rates are much lower than the national average.
Keep in mind that the yearly national average car insurance rate is about $300 more than Maine's average rate.
Commute Rates by Companies in Maine
Average daily driving distance can also affect your rate. Check out the table below.
Some car insurance companies may increase your rate if you drive more miles per day and per year.
Coverage Level Rates by Companies in Maine
Car insurance companies may give you a better rate if you have better coverage. You'll understand what we mean if you look at the table below.
It may only cost you a couple of hundred dollars more per year to have more coverage. In the long run or in the case of an accident, this is sure to pay for itself a few times over.
Credit History Rates by Companies in Maine
Want to really screw up your perfectly-priced car insurance rate faster than lightning speed? Stop making payments on your credit cards and watch your rate steadily increase.
Check out what we're talking about below.
From good credit history to poor credit history, some of these rates increase by a few thousand dollars.
According to Experian, Maine's average credit score is 689. This score is higher than the national average of 675.
As a rule of thumb, if you keep a clean credit history, your rates will stay low. Miss a few credit card payments and your rate is likely to increase.
Driving Record Rates by Companies in Maine
Besides your credit history, your driving record has the most influence on your car insurance rate.
If you're charged with one DUI, your rate is sure to increase by a few thousand dollars a year.
Number of Insurers in Maine
What is the difference between domestic and foreign insurance?
Domestic insurance laws are formed under the laws of the state of Maine while foreign insurance laws are formed under the laws of the federal government.
Maine State Laws
We don't expect you to know every single Maine state law, however, it would benefit you to know Maine driving laws.
To help you avoid traffic tickets and fines, check out this section below about important driving laws. The information below is brought to you by the NAIC, the IIHS, Carwindshields.info, Maine.gov, Responsibility.org, and www.quadinfo.com.
Car Insurance Laws in Maine
To help you better understand car insurance laws, let's first discuss how they are formed.
Who creates insurance laws?
Maine uses what is called a "file and use" system. According to the NAIC, Maine statute contains a deemer provision but doesn't specifically require approval. If you want more info on this, you can visit the Maine Legislature website at legislature.Maine.gov.
Windshield Coverage
Unfortunately for Main drivers, car insurance companies are not required to replace a broken windshield every time a pebble makes a huge crack in it. However, insurance companies may provide windshield coverage with a comprehensive insurance plan.
Here are some other things you might want to know about windshield coverage in Maine:
Aftermarket and used parts allowed, consumer may refuse but pays difference in quote
Consumer has right to choose repair vendor but may have to pay difference in quote
High-Risk Insurance
Have you ever heard of high-risk insurance or SR22 insurance?
In Maine, SR22 insurance is required by Maine state law whenever a person is convicted of  any of the following charges:
Driving after suspension
Operating a vehicle while intoxicated
Has had an accident and was either driving while intoxicated or did not have a valid driver's license when the accident occurred
If you have an excessive number of points on your record
If you've been convicted of reckless driving
You might also need to get SR22 insurance if there has been reason to think you are a high-risk driver.
To get SR22 insurance, you'll need to get the form from your current insurance provider and then provide it to the Maine Bureau of Motor Vehicles (BMV) so you can prove you actually have SR22 insurance.
You'll most likely need to carry SR22 insurance for a duration of three years.
Keep in mind that not all insurance companies provide SR22 insurance, so you may need to switch providers if your current insurer does not offer high-risk insurance.
You'll also need to make sure you are carrying the right amount of minimum liability insurance so your compliant with the insurance laws in Maine.
Low-Cost Insurance
Maine doesn't offer any kind of government-aided car insurance program. Only three states in the entire country offer this program: New Jersey, California and Hawaii.
But don't be discouraged by this, because there are still more ways to save money on your current insurance policy.
Ask your provider if you qualify for any of the following discounts:
Homeowner's discount
Military discount
Student discount
Multi-car discount
Good driver discount
Looking for even more ways to save? Enter your zip code in the box below to get started.
Automobile Insurance Fraud in Maine
What crimes qualify as automobile insurance fraud?
Here's four ways you commit insurance fraud.
According to the III, insurance fraud can be "hard" or "soft." Hard fraud occurs when someone deliberately fabricates claims or fakes an accident.
Soft insurance fraud, also known as opportunistic fraud, occurs when people pad legitimate claims, for example, or, in the case of business owners, list fewer employees or misrepresent the work they do to pay lower premiums for workers compensation.
The III also says that the Insurance Research Council reported that "Auto insurance fraud and claim buildup added between $4.9 billion and $6.8 billion to closed auto injury claim payments in 2007."
Trying to avoid insurance fraud? Don't pad your claims and don't stage an accident.
If you'd like more information about insurance fraud or if you have any questions about Maine car insurance, please visit the Maine Bureau of Insurance.
Give them a call at 207-624-8475 or visit their office in person at the address listed below:
#34 State House Station
Augusta, ME 04333-0034
Statute of Limitations
The statute of limitations law exists to protect both the insurance company and the driver.
If anyone could decide to file a claim at any time, insurance companies would run out of business. This is why we have something called the statute of limitations law.
In Maine, you have six years to file a property claim and six years to file a personal injury claim.
Keep in mind that the clock starts ticking to file a claim on the day you got into an accident.
Maine State-Specific Driving Laws
We thought we'd include Maine's state-specific driving laws. Check out the list below.
Driving a golf cart in the street is illegal
Driving while watching a DVD is illegal
Driving without a front bumper is illegal
Driving past a funeral procession is illegal
Driving with an open container of alcohol is illegal
To find a complete list of Maine's car insurance laws, please visit Maine.gov.
Vehicle Licensing Laws
Think of paying for car insurance as you think of paying for food; you need it to survive!
But what happens if choose to live without car insurance or a proper license? Up next, we'll let you in on some vehicle licensing laws, driver license laws, and penalties for driving without a license. Don't go away — this next section is very important.
Real ID
What is a Real ID?
By October 2020, all drivers must have a Real ID in order to go through airport security and to board a domestic flight.
You won't need a Real ID to vote or to keep your driving status, so unless you're a frequent flyer and don't have a passport, it's not a huge deal if you don't want to get a Real ID.
Penalties for Driving Without Insurance
By now you should know that driving without car insurance in Maine is against the law. But what happens if you decide to break the law and get caught driving without car insurance?
According to Mainelegislature.org, the penalty is always the same if you're caught and charged with driving without insurance.
Now that you know the penalties for driving without insurance, let's rewind and review acceptable forms of insurance.
Valid liability insurance ID cards
Copy of your current car's insurance policy
Valid insurance binder (a temporary form of car insurance)
Picture of proof of insurance on your smartphone
Anytime you are pulled over by a police officer, you must be ready and willing to show proof of insurance, license, and registration.
So if you're thinking about skipping paying for your next car insurance policy, don't. Not having car insurance is statistically cheaper than having it.
Teen Driver Laws
In Maine, you can start driver education at the age of 15 years old. However, driver education is required for a permit and a license if the applicant is younger than 18.
The learner's permit holding period and the certification of practice driving applies to license applicants younger than 21.
Check out some of these teen driver laws below.
Here are some driving laws for younger drivers with restricted licenses.
Please keep in mind that the period of license restrictions may extend beyond the person's 18th birthday.
License Renewal Procedures in Maine
Take a look at these license renewal laws in the table below.
Unless you need to provide proof of adequate vision and you're under the age of 62, save a long trip to the DMV and renew your license by mail or online.
New Residents
According to Maine.gov, if you are moving to Maine and have a valid out-of-state driver's license, you can get a Maine license by:
Visiting the Maine motor vehicle office nearest you.
Providing proof of your physical address in Maine.
Providing proof of legal presence (the most common documents used are a certified birth certificate or U. S. Passport).
Completing a vision screening. You may not be required to take a written and road test.
Turning in your out-of-state license.
Paying the exam and license fees (these fees differ by class).
You must obtain a new license within 30 days of moving to Maine. You'll also need to contact your current insurance provider and let them know you are moving to Maine and need Maine car insurance.
Let's review Maine's minimum liability insurance requirements:
$50,000 for bodily injury or death of one person in an accident caused by the owner/driver of the insured vehicle
$100,000 for total bodily injury or death liability in an accident caused by the owner/driver of the insured vehicle, and
$25,000 for property damage per accident caused by the owner/driver of the insured vehicle
Be aware that some car insurance providers do not carry insurance policies for every state in the U.S.
Negligent Operator Treatment System (NOTS)
Driving Laws Published by Nolo says Maine uses the term "driving to endanger" instead of "reckless driving" or "negligent driving."
A driving-to-endanger conviction requires proof that the motorist was:
driving in a way that endangered another person or property, and
"criminally negligent" in doing so
A driver doesn't need to endanger someone outside of the vehicle to be convicted: endangerment of the driver or a passenger in the driver's vehicle is sufficient.
Wondering what the punishments are for reckless driving in Maine?
The consequences of a Maine driving to endanger conviction depend on the circumstances.
Possible penalties are:
Convicted motorists are looking at up to six months in jail, a maximum $1,000 in fines, and a license suspension of 30 to 180 days.
An offender who causes "serious bodily injury" to another person can be convicted of aggravated driving to endanger, a class C crime. The offender faces up to five years behind bars, a maximum $5,000 in fines, and a license suspension of 180 days to two years.
A driving-to-endanger conviction will also add two demerit points to the motorist's driving record. Accumulating 12 or more points within a year leads to license suspension.
Maine Rules of the Road
Not knowing the rules of the road can cost you hundreds of dollars in fines and add points to your license – so that's exactly why we wanted to add this section: Maine's rules of the road.
Fault vs No-Fault
As we previously discussed, Maine is an at-fault car accident state.
This means that the person who was responsible for causing an accident is also responsible for covering the costs of any damages to a vehicle and/or person who was harmed or injured during that accident.
Because Maine is an at-fault state, we highly recommend having more insurance than the amount required because liability insurance will drain quickly when you're faced with paying for car repairs and medical bills.
Seat Belt and Car Seat Laws
The following info is brought to you by the IIHS.
What are Maine's seat belt laws? Do you know them? If not, check out the table below.
Click it or ticket! Be safe and obey one of Maine's simplest rules of the road by wearing your seat belt in a moving vehicle.
Maine also wants small children to be placed correctly and safely in a car seat as well. Pay attention to these car seat laws listed below.
Children who are 11 years and younger and less than 100 pounds must be in the rear seat if available.
If you are caught breaking one of these car sear laws, you will be fined $50 plus fees.
Is it against the law to ride in the cargo area of a pick-up truck in Maine?
The short answer is yes, however, you might not be covered in the case of an accident while riding in the back of pick-up truck if the following applies to you:
You are 19 years old or older
Agricultural workers and hunters 18 and younger
If you are in a parade
People in OEM installed seats outside passenger compartment
Keep Right and Move Over Laws
Have you ever heard of Maine's keep right or move over law?
In Maine, left lane driving is only allowed for passing or turning left. Keep right except to pass when the speed limit is at least 65mph.
AAA says Maine state law requires drivers approaching a stationary emergency vehicle displaying flashing lights, including towing and recovery vehicles, traveling in the same direction, to vacate the lane closest if safe and possible to do so, or to slow to a safe and reasonable speed.
Also included in the law are utility vehicles.
Speed Limit Laws
Check out the table below to learn about Maine's speed limit laws.
Please remember that the limits listed above are the maximum speed limits in Maine.
Ridesharing
Do you know what ridesharing is? If you work as a driver for a company like Uber or Lyft, you need to have ridesharing insurance.
Here are some insurance companies that provide ridesharing insurance in Maine:
Keep in mind that some insurance companies may legally refuse to insure you just because you need ridesharing insurance.
Automation on the Road
What is automation on the road?
According to the IIHS, automation involves using radar, camera, and other sensors to perform parts or all of the driving task on a sustained basis instead of the driver.
One example is adaptive cruise control, which continually adjusts the vehicle's speed to maintain a set minimum following distance.
Features such as automatic braking, which acts as a back-up if the human driver fails to brake, or blind-spot detection, which provides additional information to the driver, aren't considered automation under this definition.
Maine is still in the early stages of testing automation on the road, but this doesn't mean it will be too long before automated vehicles start appearing on Maine roads.
Safety Laws in Maine
It's time to talk about a few of Maine's safety laws. This section will cover laws about drinking and driving, doing drugs while driving, and the use of a cell phone while driving.
DUI Laws
Drinking and driving is against the law in the state of Maine. From 2008-2017, there were 441 alcohol-impaired driving fatalities in the state of Maine. Below are some state laws about drinking and driving.
But what are some of the penalties for drinking and driving? The penalties vary based on the number of offense.
If you're caught drinking and driving a fifth time, you'll receive the same penalties as if it was your fourth offense.
Marijuana-Impaired Driving Laws
Currently, there aren't any state-specific marijuana laws in the state of Maine, however this doesn't mean you can't be pulled over for something called "impaired driving."
If you are caught and charged with impaired driving, you could be facing jail time and you may have to pay a fine as well.
Distracted Driving Laws
Maine has strict laws about using a cell phone while driving. Studies have shown that the effects of texting and driving are almost always worse than drinking and driving.
AAA says that a person operating a motor vehicle while distracted is guilty of the infraction of failure to maintain control of a motor vehicle.
There isn't a text important enough that it must be answered while driving a moving vehicle.
Driving in Maine
The information and statistics below are pulled directly from Responsibility.org, Datausa.io, the FBI, and the National Highway Traffic Safety Administration.
This next section covers Maine's can't-miss facts! So far we've gone over insurance laws, safety laws, rules of the road and more, but are you aware of Maine's risks of the road?
First we want to discuss a very important topic: vehicle theft.
Vehicle Theft in Maine
Is your vehicle on this top ten most-stolen vehicle list? The year with the vehicle is just the most popular model year stolen. The number listed as stolen for that make and model includes all model years of it.
If your vehicle is stolen or you're worried about vehicle theft, a comprehensive plan should replace your vehicle if it is stolen.
Below is a list that is pulled directly from the FBI. It shows the worst cities in Maine where vehicle theft is most prominent.
Some of these cities had zero vehicle theft in 2017 — that's not a typo that's a fact.
Road Fatalities in Maine
It's time to get into a topic that is a little more sobering: road fatalities. Every year, over 30,000 people are killed in road crashes in the United States.
What causes them?  Are some vehicles more likely to be involved in a fatal accident than others? Do factors like weather, crash type or area play a role in road fatality statistics?
Is there a road that is known for causing fatal accidents? How do we prevent fatal accidents? All this and more – up next.
Most Fatal Highway in Maine
According to geotab.com, the most fatal highway in Maine is US-1. The road follows the Atlantic coast and the border with Canada. There is an average of nine fatal crashes per year on this road.
To determine the most dangerous highway in Maine, Geotab calculated a fatal crash rate that is based on the annual number of road fatalities and fatal crashes according to the National Highway Traffic Safety Administration, adjusted for the average daily traffic counts provided by the Federal Highway Administration.
On average, there are 99 fatal crashes that occur every single year in the state of Maine.
Fatal Crashes by Weather Condition and Light Condition
According to this table below, most fatalities happened in broad daylight under normal weather conditions.
Fatalities (All Crashes) by County
Below is a list showing fatal crashes by counties in Maine.
Traffic Fatalities: Rural vs Urban
Normally, there are more traffic fatalities in rural areas than in urban areas. This could be attributed to the lack of EMS service locations in rural areas.
As you can see in the table above, this fact was true in the state of Maine.
Fatalities by Person Type
Did person or vehicle type have anything to do with the fatality rate in Maine?
Fatalities by Crash Type
Were fatalities more likely to happen when a certain type of crash type occurred?
By the data in this chart above, fatalities happened the most when a crash involved some sort of a roadway departure.
Five-Year Fatality Trend for the Top 10 Largest Counties in Maine
Here's the five-year fatality trend for ten largest populated counties in Maine.
Fatalities Involving Speeding by County
Speeding is another major culprit of road fatalities.
There were 49 speeding-related traffic fatalities in 2017.
Fatalities in Crashes Involving an Alcohol-Impaired Driver (BAC = .08+) by County
How many fatal crashes involved drinking and driving?
In 2017, 50 traffic fatalities resulted from alcohol-impaired driving.
Teen Drinking and Driving
What happens when a teenager who has been drinking gets behind the wheel? Inexperienced driving mixed with a little bit of alcohol can make a deadly recipe.
Maine is ranked 19th in the country for under-18 DUI arrests.
In 26 states and D.C., under-21 alcohol-impaired driving fatalities per 100k population were at or below the national average of 1.2 deaths per 100k population. Maine's average is 2.3 deaths per 100k population.
EMS Response Time
EMS response time is normally faster in urban areas than it is in rural areas, but arriving seconds too late or too early can almost always mean all the difference in every life or death emergency situation.
Don't be alarmed by these average response times. EMS teams work very hard to find the fastest routes possible to every crash site.
Transportation
Have you ever wondered about how many cars are on the road? Car insurance companies often base their rates loosely off of general statistics such as car ownership, commute miles and transportation and more.
The following data is pulled from Data USA.
Car Ownership
The following chart displays the households in Maine distributed between a series of car ownership buckets compared to the national averages for each bucket. The largest share of households in Maine have two cars, followed by three cars.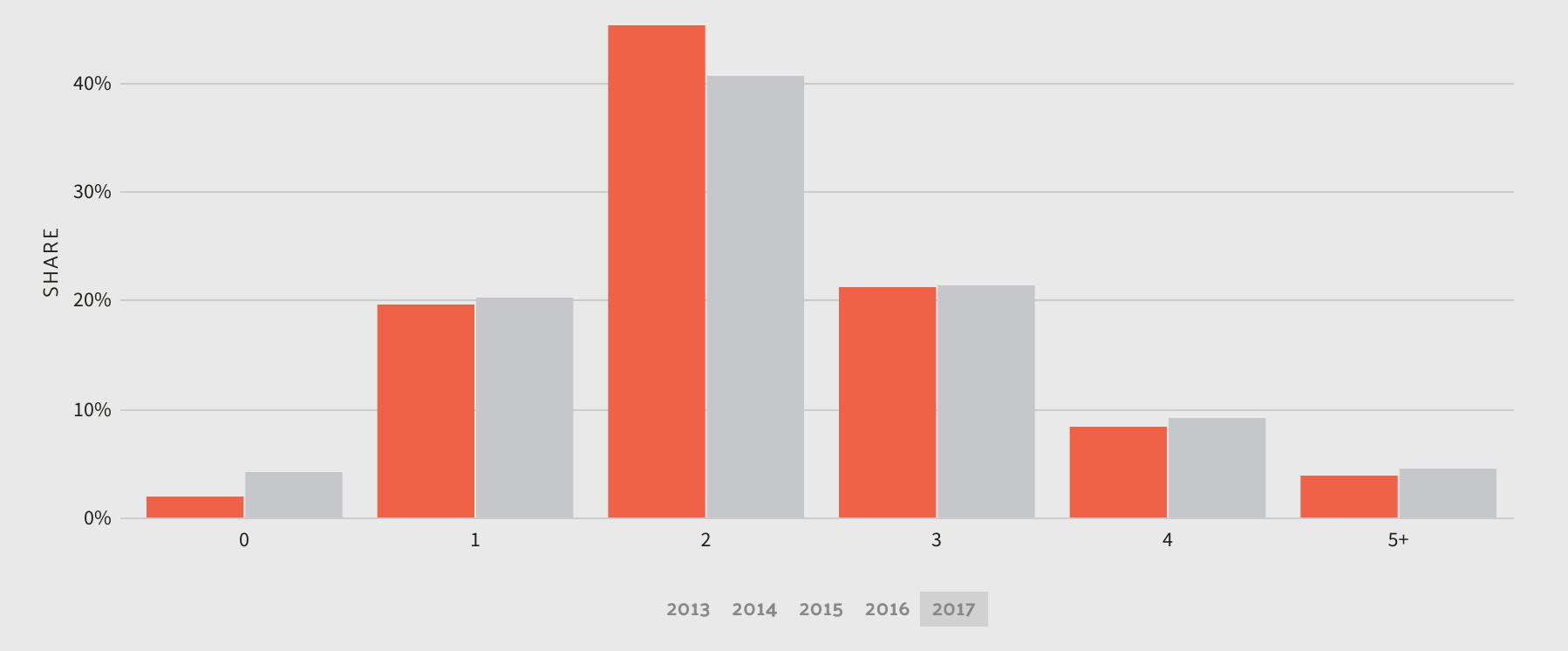 The orange bars represent Maine's average while the gray bars show the national average.
Commute Time
Using averages, employees in Maine have a shorter commute time (22.6 minutes) than the normal US worker (25.5 minutes). Additionally, 1.93 percent of the workforce in Maine have "super commutes" in excess of 90 minutes.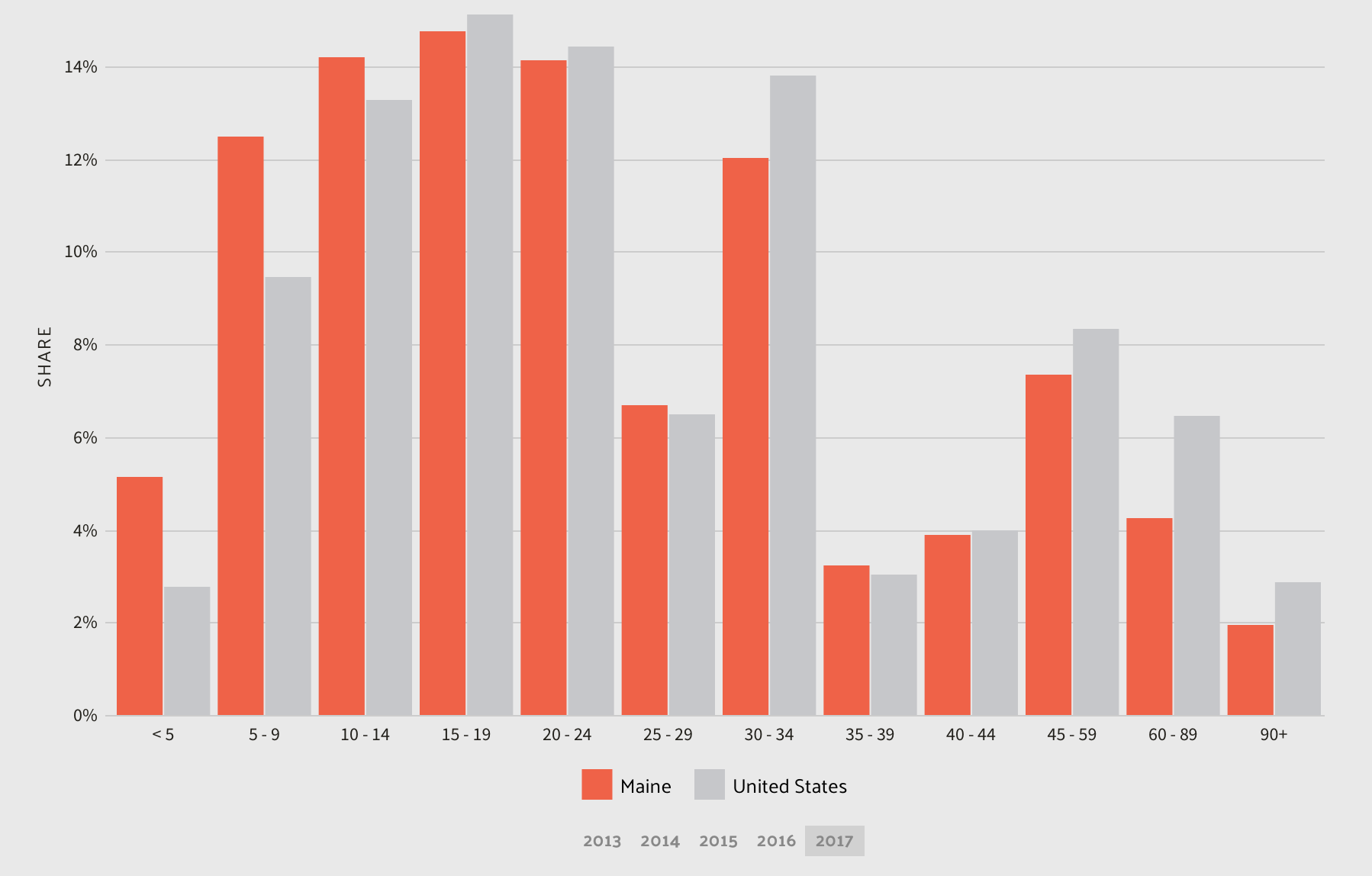 Commuter Transportation
In 2017, the most common method of travel for workers in Maine was Drove Alone, followed by those who Carpooled and those who Worked At Home.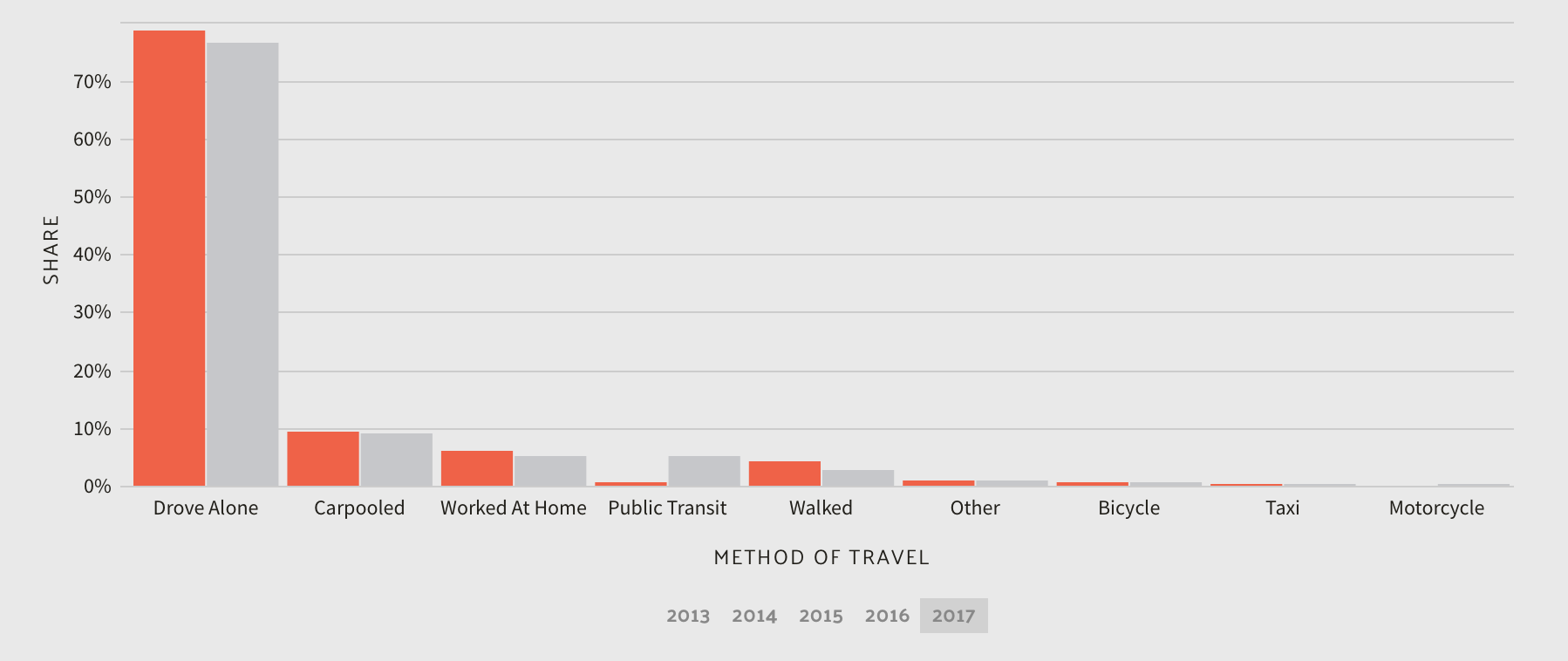 Traffic Congestion in Maine
Good news for Maine drivers! According to Inrix, none of Maine's cities made it onto the list of worst-traffic congested cities in the world.
Of course this doesn't mean you'll never sit in traffic in Maine, but at least the state of Maine isn't known for having a ton of traffic.
Now that we've covered everything you need to know about Maine car insurance, it's time to start shopping for your own unique insurance policy. All you need to do is enter your zip code in the box below to get started.
Good luck and happy shopping.