The Ultimate New Jersey Car Insurance Guide (Costs + Coverage)
Free Auto Insurance Comparison
Enter your ZIP code below to compare auto insurance rates.
Secured with SHA-256 Encryption
New Jersey is the most densely populated state in the United States. Over nine million people call New Jersey there home.
If you are a native from New Jersey than you share that with the likes of Jack Nicholson, Judy Blume, Whitney Houston, Frank Sinatra, Bruce Springsteen, Grover Cleveland, and Aaron Burr.
New Jersey holds the title for the longest boardwalk and the first baseball game played in Hoboken. An unfortunate title New Jersey holds is the title of most cars stolen. More cars are stolen in Jew Jersey than Los Angelos and New York City combined.
Yikes, that's a lot of stolen cars. We will dig into those details a little later and tell you which car is the most popular in the eyes of a car thief and where most of the cars are being stolen.
Don't worry, it won't be all bad! We are going to sift through the research and help you with all your New Jersey auto insurance needs.
Finding the right insurance and understand how it works can be tough, and we are going to help you out with it.
Looking for cheap car insurance in New Jersey? If you are living in Newark, Jersey City, Paterson, Elizabeth, or Edison, you can find up to nine rate quotes from first-rate insurers in your area through AutoInsuranceEZ.com.
We make it so easy, you can even get a quote by entering your zip code above.

New Jersey Car Insurance Coverage and Rates
New Jersey is the most expensive state for car insurance. But why?
Due to the density of the state, that leads to more accidents. Drivers also tend to buy more expensive cars since there is a lot of wealth in the state. New Jersey is a high-commuter state, so more drivers are on the road for longer periods of time.
Insurance carriers in New Jersey also have strict personal injury protection guidelines to ensure no one is left liable in an accident where injuries occur.
We are going to to take a look at New Jersey insurance companies, what type of coverages are available, and where the cheapest insurance is in the state.
New Jersey's Car Culture
New Jersey is known for the number of commuters living in New Jersey. New Jersey drivers hold the second highest percentage on the list for longest commutes. Most commuters drive to New York or Pennsylvania.
Not everyone commutes though. New Jersey, only behind New York, leads the states for most used public transportation.
If you do own a car, how much insurance is required by law? We are hitting that topic next!
New Jersey Minimum Coverage
Car insurance is required for all drivers in the state in New Jersey.
You can purchase two types of insurance policies in New Jersey, basic or standard. A basic policy is substantially cheaper than a standard policy.
Forms of Financial Responsibility
Per the New Jersey Motor Vehicle Commission:
"Your insurance company must issue you a paper or electronic New Jersey Insurance Identification Card for each vehicle under your policy. N.J.S.A. 39:3-29. Pursuant to N.J.S.A. 39:3-29.1 and N.J.A.C. 11:3-6.1 – 6.5, New Jersey insurance identification cards must meet the following specifications:

The dimensions of the paper card must be between three inches by five inches and five and a half inches by eight and a half inches;
The white cardstock must be at least 20 lbs in weight; and
The front of the card must contain the insurance company's name, the insured's name and address, the policy number, effective date, expiration date, vehicle description (make, model and VIN), the heading "State of New Jersey Insurance Identification Card," the insurance company code, and the name and address of the insurance company or the office or agency issuing the identification card. The reverse of the card shall include the address established by the insurer for the filing of notification of the commencement of medical treatment by treating medical providers.

In New Jersey, the insurance identification card may be displayed or provided in either paper or electronic form. For these purposes, "electronic form" means the display of images on an electronic device, such as a cellular telephone, tablet or computer. Paper insurance card specifications have not changed.

You must keep the card in the vehicle, or be able to produce the electronic format:

Before an inspection.
When involved in an accident.
When stopped for a traffic violation.
When you are stopped in a spot check by a police officer.

Failure to present the card or electronic form may result in fines.

Driving an uninsured vehicle may result in fines, community service, license suspension, and insurance surcharges."
You, as the driver and/or car owner, are responsible for showing proof of your financial responsibility.
Premiums as a Percentage of Income
So how much is this insurance going to take for your income? New Jersey hovers around under three percent of your annual income.
To get a more exact calculation, you can check out this tool.
Core Coverage
We already mentioned earlier, New Jersey is the most expensive state for car insurance. The above table shows a breakdown of core coverages and the cost versus the cost countrywide.
Let's explain some of the core coverages listed above.
Liability coverage is divided into two types of liability coverages which are bodily injury and property damage for which you are held liable.
Collision and comprehensive coverage are additional coverages to pay no matter the fault and can cover windshield damage, collision with animals, hit and runs, weather, and theft.
Full Coverage is the combination of three coverages listed above and in some cases additional coverages depending on the insurance carrier.
Additional Liability
Additional Liability can include personal injury protection, medical payments, and uninsured/underinsured motorist coverage.
Personal injury protection is a required coverage in New Jersey. This coverage is used for any medical expenses that result from a car accident for you or any passengers in your vehicle. This also includes if you were struck while cycling or a pedestrian.
Medical payments are similar to personal injury protection, but the coverage is optional.
Uninsured/underinsured motorist coverage is a required coverage in the state of New Jersey. This coverage is used for when you are in an accident involving someone with not enough or no insurance coverage.
The table above shows the loss ratio for these listed liability coverages. Loss ratio is the ratio of claims payments to premium payments.
So, for example, if a customer pays $1000 for premium and the company pays out a $700 claim then the loss ratio would be seventy percent.
Therefore, if the loss ratio is over one hundred percent the company is not making money and spending more on claims than what it is bringing in. The reverse would show a company does not pay out for claims.
Add-ons, Endorsements, and Riders
Guaranteed Auto Protection (GAP)
Personal Umbrella Policy (PUP)
Non-Owner Car Insurance
Modified Car Insurance Coverage
Pay-As-You-Drive or Usage-Based Insurance
– Demographic Rates – Male vs. Female vs. Age
So who pays more for insurance? I think most people know the younger you are the more expensive your insurance is going to be.
Male versus female can be close. Depending on the age and company, it can be a toss-up for who pays more.
– Cheapest Rates by Zip Code
Which zip codes have the cheapest premium? Take a search and see where your zip code falls on the list.
07926 in Brookside has the cheapest car insurance rate in New Jersey.
Newark leads the pack with nine out of the top 25 zip codes landing in Newark for the most expensive cities in New Jersey.
– Cheapest Rates by City
The next set of data shows rates by city.
Brookside has the cheapest car insurance rates in New Jersey, while Irvington and Newark have the most expensive rates.
Enter your ZIP code below to compare auto insurance rates.
Secured with SHA-256 Encryption
Best New Jersey Car Insurance Companies
So what makes the best insurance company in New Jersey? Well, there are several things that can make a company go from the bottom of the list to the top.
Financial ratings, customer service, and rates are definitely on the top of the list of valuable things to look at in a company.
So let's take a look at these factors and see which companies land on the top of New Jersey's best insurance companies.
– The Largest Companies Financial Rating
AM Best rating is a global company focusing on the insurance industry. They rate companies based on financial security and credit.
The table below shows the largest writing companies in New Jersey with their AM Best ratings.
None on the list go below an A- rating, so New Jersey drivers have some good choices for insurance companies.
– Companies with Best Ratings
One of the reasons these companies get so big is because of customer service. Good customer service can sometimes make a customer stay with the same company, even with a premium increase.
– Companies with Most Complaints in New Jersey
Every company will eventually get a complaint. You have to remember some of these companies are so large that a high number of complaints are still low considering how many customers they have.
– Cheapest Companies in New Jersey
Everyone is looking for a good deal on their insurance. We took seven insurance companies and compared average annual rates to the state average.
– Commute Rates by Companies
New Jersey has a big population of commuters. How much do all the commuting cost New Jersey drivers? Let's take a look.
Commuting is a factor in your premium, but as you can tell from the above chart it does not make a huge impact on your premium.
Coverage Level Rates by Companies
Coverage is one option that most drivers look at and think if they lower it, then their premium will drop significantly.
Farmers is one company that has a more drastic difference in premium when changing your level of coverage. If you take a look at a company like Geico, for instance, the change isn't as big.
It is a good idea to quote out your insurance with different levels of coverage. You may be surprised how much a small amount in premium can give you a large payout in coverage.
– Credit History Rates by Companies
Credit history is one of those silent factors that follows you around. It is there for big purchases like cars and homes and can also make or break your interest rate. Credit history also plays a determining factor in your insurance rate.
Companies use your credit history just like we use AM Best rating for insurers. Credit history rates give insurers a look at how a customer pays bills and how timely they are.
Credit history rates have a significant impact. In some cases, your premium doubles or more from a good rating to a poor rating. Keep a look out at your rating and do your best to keep a good score.
New Jersey does not allow any insurance to be denied, canceled, or non-renewed due to credit history. Companies can not offer unfavorable payments plans due to credit.
Credit is not used for consumers covered by the Special Automobile Insurance Policy or Basic Policy programs which will discuss later in this section.
– Driving Record Rates by Companies
Some are lucky enough to have clean, squeaky driving records; that's not the case for everyone. Have you ever wondered how much that speeding ticket is costing you with your insurance premium?
A DUI conviction is definitely the violation that will cost you the most. Some companies rate tickets higher than accidents or the other way around. So take a look at the companies and see which one may be better for you if you have any violations listed above.
– Largest Car Insurance Companies in New Jersey
Now, let's take a look at the largest companies in New Jersey.
Geico, by far, has a strong hold on the New Jersey markets. As you can see from the previous tables, their rates are usually on the lower side so you can see why they write so many New Jersey drivers.
Number of Insurers by State
New Jersey has over eight hundred companies to chose from which looking at insurance.
The difference between domestic and foreign is where the company originated. A domestic company is local to New Jersey and was started under New Jersey law, while a foreign company was started in another state.
New Jersey State Laws
We are going to cover a lot of information in this next section. Knowing laws for your state is vital to avoid unnecessary fines, suspensions, and the hassle fixing issues that arise from not knowing simple laws.
We are now going to breakdown some different state laws pertaining to drivers in New Jersey.
Car Insurance Laws
New Jersey car insurance companies must file rate increases with the state and get approval before increases.
Windshield Coverage
There are no unique laws pertaining to windshields in New Jersey. If you have a standard comprehensive deductible is $750.
High-Risk Insurance
The state of New Jersey does not require you to have an SR-22 filing. If you do require this filing from another state and recently moved to New Jersey, you do need to transfer that filing to your New Jersey insurance company.
New Jersey follows insurance eligibility points system. Depending on your amount of points determines which insurance market you can get insurance through. There is the voluntary market and assigned risk market.
The below is a statement from New Jersey Banking and Insurance pamphlet located on their website:
"In accordance with New Jersey regulations for Eligible Person
Qualifications, any driver who has accumulated seven or more insurance eligibility points for the three-year period immediately preceding the application for insurance or the three-year period ending 90 days prior to renewal of a policy may not be considered eligible to purchase coverage
in the voluntary market. As a result, some insurers will direct them to purchase insurance through the Personal Automobile Insurance Plan (PAIP). It is important to note, however, that not all insurers in the voluntary market refuse to cover drivers with seven or more insurance eligibility points. If you have seven or more insurance eligibility points it may be a good idea to shop around and compare your coverage and pricing options.
The PAIP is not an insurance company; instead, it acts as an administrative clearinghouse and assigns each driver to a company for coverage. Therefore, this type of coverage is referred to as "assigned risk." The state
has standardized the rates for this type of coverage and they do not vary from company to company. The rates may also be substantially higher than rates in the voluntary market. To find PAIP producers in your area, call
1-800-652-2471 or visit the Department's web site, www.dobi.nj.gov."
Low-Cost Insurance
New Jersey offers the Special Automobile Insurance Policy initiative to help drivers that would otherwise go without car insurance. This insurance is offered through most insurance providers.
This is offered to drivers enrolled in certain Medicaid programs. Your insurance provider can determine your eligibility.
Automobile Insurance Fraud in New Jersey
Any type of fraud in New Jersey is considered a serious crime. If convicted, punishment can be jail time, fines, and loss of your driver's license.
There are two types of fraud that can be committed. Soft fraud is when customers pad information whether on the application or when filing a claim.
Hard fraud is the knowing act of staging an accident, or any type of claim, knowing that you are deliberately trying to scam the insurance company.
Statute of Limitations
Statute of limitations is the amount of time you have to file a claim after it has occurred. In New Jersey, you have two years for personal injury and six years for property damage. The best thing to do is file a claim as soon as the claim occurs.
State Specific Laws
Some of these laws may seem a little strange, but nonetheless, they are laws in New Jersey. See if you have broken any of the laws below without knowing them.
Motorists must honk when passing another vehicle. This law includes skateboarders!
If you have been convicted of driving under the influence, you can no longer apply for personalized license plates.
You can not pass horse-drawn carriages on roads
You can not pump your own gas.
If you are caught "frowning" at a police officer, you are breaking the law. Make sure you take that ticket with a smile.
Car dealerships must be closed on Sunday.
Vehicle Licensing Laws
New Jersey is noncompliant for the Real ID Act. They have received an extension for this noncompliance and New Jersey residents can still use their New Jersey license to board commercial airlines and nuclear plants until October 2019.
Penalties for Driving Without Insurance
New Jersey has one of the harshest laws against driving without insurance on the books. The consequence is more severe than being convicted of a DWI charge. The first offense can get you the following:
Fines ranging from $300-$1000
Loss of license for one year
A surcharge of $250 a year for three years
If that did not deter you from ever driving without insurance the second time convicted will. Being convicted for a second offense the following can be imposed:
Fines up to $5000
Loss of license for two years
Mandatory jail time of fourteen days
Additional 30-days community service
New Jersey wants to instill in all drivers to drive with insurance or suffer harsh consequences. You must carry an insurance ID card with you or have an electronic copy stored on a phone or laptop.
Teen Driver Laws
Teens can obtain their driver's permit at the age of sixteen in New Jersey. To get their permit, a teen driver must enroll in a licensed driving school.
Once a permit is obtained, pass a road test, and have at least six months of supervised driving you can then get your probationary license.
Once a probationary license is obtained, you must practice unsupervised driving for one year before you can then get your basic driver's license.
Per the New Jersey Motor Vehicle Commission, supervised driving is as follows:
"Display a reflectorized decal on each license plate (front/back); decals available at motor vehicle agencies, $4 per pair.
No driving after 11:01 p.m. and before 5:00 a.m.
Permit and probationary drivers under 21 may drive outside the prescribed hours for employment or religious reasons.

Drivers must carry legible documentation on letterhead signed by the employer, organization or religious institution stating the reasons for this request. It must include the title, address and telephone number of designated official.

You must be accompanied in the front seat by an adult supervising driver who is at least 21 years of age, and who possesses a valid New Jersey driver's license, and has a minimum of three years driving experience.

Parent(s), guardian(s) or dependent(s) are allowed as passengers. A dependent can be the driver's child, not brother or sister.

Only one additional passenger is allowed unless accompanied by a parent or guardian.

You cannot use cell phones, handheld video games or any other interactive, wireless device, whether it is "hands-free" or not.

Seat belts must be worn at all times."
Unsupervised driving is as follows:
"Display a reflectorized decal on each license plate (front/back); decals available at motor vehicle agencies, $4 per pair.

No driving after 11:01 p.m. and before 5:00 a.m.

There are no time limits for basic driver's license holders 18+.

Permit and probationary drivers under 21 may drive outside the prescribed hours for employment or religious reasons.

Drivers must carry legible documentation on letterhead signed by the employer, organization or religious institution stating the reasons for this request. It must include the title, address and telephone number of designated official.

Parent(s), guardian(s) or dependent(s) are allowed as passengers. A dependent can be the driver's child, not brother or sister.

Only one additional passenger is allowed unless accompanied by a parent or guardian.

You cannot use cell phones, handheld video games or any other interactive, wireless device, whether it is "hands-free" or not.

Seat belts must be worn at all times."
Older Driver License Renewal Procedures
Older drivers have the same renewal process as any other drivers. If you are over 70, you have the personal option to shorten your renewal period from four years to two years. We will review the license renewal procedures in a section below.
New Residents
Once you move to New Jersey, you have 60 days or when your current license expires, whichever comes first to update to a New Jersey license.
You must bring your current license, ID, and permit fee to a local motor vehicle agency to get a new license. As long as you are good standing, your road tests will be waived.
If you are under the age of 21, you will need to follow the Graduated Drivers License program.
License Renewal Procedures
Renewal for New Jersey license is every four years. You can renew by mail if you do not need an updated picture. Every ten years, you will need adequate proof of vision.
Rules of the Road
To be safe, all drivers need to familiarize themselves with the rules of the road for the state they are driving.
We have covered the legal aspect of laws and renewal procedure, so now lets switch gears and look at the speed limits, seat belts, and other rules of driving in New Jersey.
Fault vs. No-Fault
New Jersey is a no-fault state. This means in a no-fault state, your medical coverage under your auto policy will pay out no matter who is at fault.
Seat belt and Car Seat laws
Seat belts are required for all passengers in front or rear seats. If convicted, the driver will be subjected to fines and fees.
Children less than 2 years old and under 30 pounds are to be in a rear-facing infant seat. Children younger than four must also be a rear-facing seat until the child is over the guidelines mandated by the car seat manufacturer.
A child younger than 8 years old must be in a front-facing seat or booster seat.
Riding in the cargo of a truck is not permitted.
Keep Right and Move Over Laws
Driving in the left lane is only for turning left and for passing. Cars should slow and move over if possible when emergency vehicles are present.
Speed Limits
| Type of Road | Speed Limit |
| --- | --- |
| School Zone, Business or Residential Districts | 25 mph |
| Low Density business and Residential Districts | 35 mph |
| All other Roadways | 50 mph |
| Interstates and certain State Highways | 55 mph |
| State Highways | 65 mph |
Ridesharing
Ridesharing is becoming a common way to commute. Whether that is carpooling or using a service like Uber or Lyft, it is always a good idea to check with your insurance company on gaps in coverage. You want to be clear with who you are driving, when, and where.
Automation on the Road
Automated cars are no longer a thing of the future. Cars are parking and now driving with no driver necessary. New Jersey currently has no laws regarding automation, but that doesn't mean there are no laws under review.
There are several proposed bills under consideration, one offering a one-year pilot program for a fully autonomous car.
Safety Laws
Alcohol and cell phones are two major distractions and impairments causing major safety hazards on that road. Let's take a look at what laws are in place to keep New Jersey drivers safe.
DUI Laws
As we saw earlier, driving without insurance has a harsh consequence in New Jersey. Driving while intoxicated is no different. The fines are steep, but even worse is the jail time and license suspension.
If you are caught three times, you lose your license for 10 years.
Distracted Driving Laws
No driver is allowed to use a hand-held device or text while driving. Anyone with a permit or probationary license has a complete ban on any use of a cellular device.
Take these laws seriously, as New Jersey charged a woman in 2019 for vehicular homicide after she was texting and rear-ended another car. Even if you don't cause a fatality, you could face heavy fines and penalties for driving distracted.
Driving in New Jersey
Lastly, we are going to look at some unfortunate statistics occurring in New Jersey. As mentioned earlier, New Jersey has the highest amount of auto theft.
We will also look at the statistics of traffic fatalities. We will inform you when and where and how most fatalities in New Jersey occur.
Vehicle Theft in New Jersey
This first table is a list of the most stolen vehicles in New Jersey. It will also list the most popular year of each car model of the total amount stolen.
Second, we break down which cities have the most crime. If you are located in a city with high auto theft, be vigilant. Keep possessions out of sight or not located in the car, try to park near a light, and always keep your car locked.
Road Fatalities in New Jersey
A sad reality in a world full of drivers and cars is fatalities happen. We are first going to take a look at the weather condition of fatalities.
Fatal Crashes by Weather Condition and Light Condition
Most fatalities happen in normal weather conditions and daylight hours.
Fatalities by County
Now let's look at which counties have the highest amount of auto fatalities.
Traffic Fatalities
It is not surprising since New Jersey is mostly a metropolitan area, most accidents happen on urban roads.
Fatalities by Person Type
Most fatalities happen to occupants riding or driving passenger cars.
Fatalities by Crash Type
Most traffic fatalities involve a single vehicle followed by roadway departure.
Five-Year Trend For The Top 10 Counties
Fatalities Involving Speeding by County
Fatalities in Crashes Involving an Alcohol-Impaired Driver
Teen Drinking and Driving
New Jersey has a no tolerance law against any teen drinking. If you are caught driving with any alcohol, under the adult blood alcohol level, you can get a license suspension and community service.
If a driver under 21 years of age is found with an alcohol level over the adult level, that driver will be treated as an adult.
EMS Response Time
If you are ever in an accident, you want to know how fast an emergency medical team can get to you and get you to the nearest hospital.
Lucky for New Jersey drivers, whether the accident happens on a rural or urban road from the time of the accident under 60 minutes you will be at a hospital.
Transportation
We know New Jersey is a high commuting state. So let's take a look at how long their commutes are, how they commute, and how many cars most New Jersey families own.
Car Ownership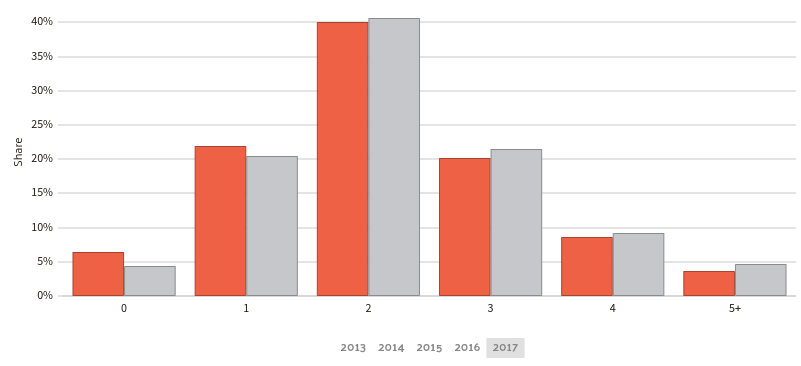 Commute Time
New Jersey has a large number of drivers that commute to work, including out of state traveling. The average resident living in New Jersey travels over thirty minutes to work. Over five percent of the working population of New Jersey commute over ninety minutes.
Commuter Transportation
While most drivers still choose to drive to work alone, New Jersey still has a higher use of public transportation than the United States average.
Traffic Congestion in New Jersey
If you look at a traffic report most major roadways in New Jersey have "delayed" as their status.
Holland Tunnel connects Jersey City to Manhattan. Its a huge source of congestion and even more so since New York is proposing a congestion pricing that could cause even more issues. It is no surprise New Jersey residents spend so much time commuting to work.
We have covered a lot of information for this densely populated state of over nine million residents. You have state laws, insurance companies, rates, and coverages. You can now get a free quote here.