Progressive Auto Insurance Review for 2023
Free Auto Insurance Comparison
Enter your ZIP code below to compare auto insurance rates.
Secured with SHA-256 Encryption
Over 80 years ago in 1937, Jack Green and Joseph Louis established Progressive Mutual Insurance Company, designed to offer auto insurance coverage to all car owners at an affordable price.
Progressive was the very first insurer to give consumers the option to fulfill their policy premiums in installment payments over five decades ago, leading the way for other carriers who started to offer flexible payment options to insureds.
In 1971, after over three decades of operation, Progressive enhanced its range of insurance products to include commercial auto insurance coverage.
Today, Progressive is among the largest providers of personal and commercial car insurance coverage and has remained unwavering in its commitment to provide quality coverage at cost-effective rates.
Progressive has continued to lead the way in comprehensive claims services — first, with its introduction of  24/7 claims support back in 1990, and its launch of Immediate Response® Vehicle in 1994, which sends specially equipped vehicles with trained claims representatives to wherever consumers need them, even to a crash scene.
Finding car insurance doesn't need to be complicated, but with so many provider options in the insurance market competing for your attention, it can be tough to know which carriers really offer the best coverage for your specific needs.
If you're considering purchasing coverage through Progressive for the first time, are a faithful customer who wants to make sure you're getting the best deal on coverage, or are simply curious to find out more about what this insurer has to offer — look no further than this complete Progressive auto insurance review and guide for drivers everywhere.
Searching for car insurance is faster and easier than ever when you use our FREE online rate tool. Ready to begin? Just enter your zip code in the box above to start your quote! 
Now, it's time to dig deep into the nitty-gritty of what car insurance consumers need to know about purchasing coverage through Progressive, from insurance ratings to rating factors to policy options and so much more.
Let's get this show on the road.
Progressive's Rating Agency
If you're wondering what insurance ratings are and why they matter — here's what you need to know.
Rating agencies such as A.M. Best and S&P are widely respected by consumers across a range of industries for their independent ratings that measure the financial outlook of specific companies. These agencies and others regularly release ratings for car insurance companies across the nation, indicating the financial state and creditworthiness of various carriers.
Not only do insurance ratings reveal critical information regarding a company's ability to continue fulfilling its financial obligations to insureds, but they also indicate how satisfied consumers are overall with the carrier's services.
Let's take a closer look.
A.M. Best
Insurers take A.M. Best's ratings very seriously, as a rating demotion can make a considerable impact on consumers' confidence in any given carrier's products and services. These ratings also indicate how much of a risk the company poses to investors.
A.M. Best issues ratings ranging from a superior A+ all the way down to a poor D rating. So, what does this agency have to say about Progressive Insurance?
As of July 2019, A.M. Best awarded Progressive a Superior A+ Financial Strength Rating, which is the highest rating they will designate to a company. An A+ rating reveals that a carrier has a superior ability to continue to meet its insurance obligations.
A.M. Best has also designated Progressive a Long-Term Issuer Credit Rating of aa, which they only assign to a company that is deemed to have a superior capacity to meet its senior financial obligations.
Better Business Bureau
The Better Business Bureau is a non-profit entity that releases ratings for carriers based on the organization's individual Accredited Business System.
While the BBB is not connected to any government regulatory institutions, the organization's ratings are a valuable resource that both insurers and insureds alike look to.
The BBB's ratings are awarded to carriers based on the various states they operate offices in, rather than a single universal rating for each company. 
For example, in the state of Ohio where Progressive is headquartered, the BBB has designated the carrier a B- rating.
The BBB bases its ratings on a 100-point scoring scale with associated letter grade modifiers. So, a B- rating indicates an overall score of 80 to 83.99 points. These ratings take into account a range of criterion, such as:
The type of company
The company's complaint history
How long the company has been in business
How transparent the company's business practices are
Any advertising issues the company has had that are known to the BBB
Whether the company has failed to honor specific commitments made to the BBB
While the BBB's ratings for Progressive are certainly lower than what A.M. Best awarded, it is worth noting that you should base your decision of an insurer on a variety of ratings from different sources, rather than just one or two.
Otherwise, it could be challenging to draw a complete picture of how the carrier is really doing, both in its capacity to meet investor obligations and the needs of consumers.
Next in our Progressive auto insurance review, let's take a look at the ratings awarded by another premier agency widely respected in the insurance industry — Moody's.
Moody's Rating
Moody's scale for long-term ratings spans from the highest modifier of Aaa down to C, the lowest rating awarded. Moody's also adds numerical modifiers, which reveal whether a carrier is at the higher, mid-range, or lower end of its generic rating category.
As of our Progressive auto insurance review, Moody's has designated the carrier an Insurance Financial Strength rating of Aa2, noting the company's outlook as Stable.
To dissect the data a bit, this means that Progressive's financial obligations are rated to be high quality and subject to very low credit risk. The numerical modifier "2" reveals that the company falls in the mid-range of its generic rating category.
In short, these ratings are fantastic news for both Progressive and its current and future customers.
S&P Rating
S&P's ratings are a strong measure of various companies' creditworthiness, as well as the potential risk factors presented. The agency also uses a letter grade ranking system to assign ratings to carriers.
In its most recent report, S&P affirmed its Issuer Credit Rating and Financial Strength Rating for Progressive Corporation and its core subsidiaries. Progressive's current ratings in both categories are AA. Both ratings indicate that the company is in a strong financial position to meet its continual obligations with solid financial security characteristics.
Now that you have a clearer picture of where Progressive stands in terms of financial stability, let's delve into another vital component that should factor into your decision of an insurer — consumer satisfaction.
Let's get into it.
NAIC Complaint Index
The National Association of Insurance Commissioners (NAIC) is the premium insurance regulator and standard-setting entity in the U.S. insurance market, controlled by the premier insurance regulators in all 50 states, including five U.S. territories and the District of Columbia.
The table below illustrates the most recent NAIC consumer complaint index for Progressive.
As you can see from the data above, the total complaint index for private passenger auto consumers went up between 2016 and 2017, then dipped to its lowest point during the period measured in 2018. In both 2016 and 2018, however, Progressive's complaint index was better than the national median.
Furthermore, the carrier's share of the U.S. market increased each year, as did its total premiums written.
These data our researchers gathered is not just good news in terms of Progressive's financial position, but the most recent decline in customer complaints indicates that the company has stepped up its game to meet the needs of consumers.
The numbers show that those efforts have paid off — as evidenced by the company's growing share of the U.S. market and climb in written policy premiums.
JD Power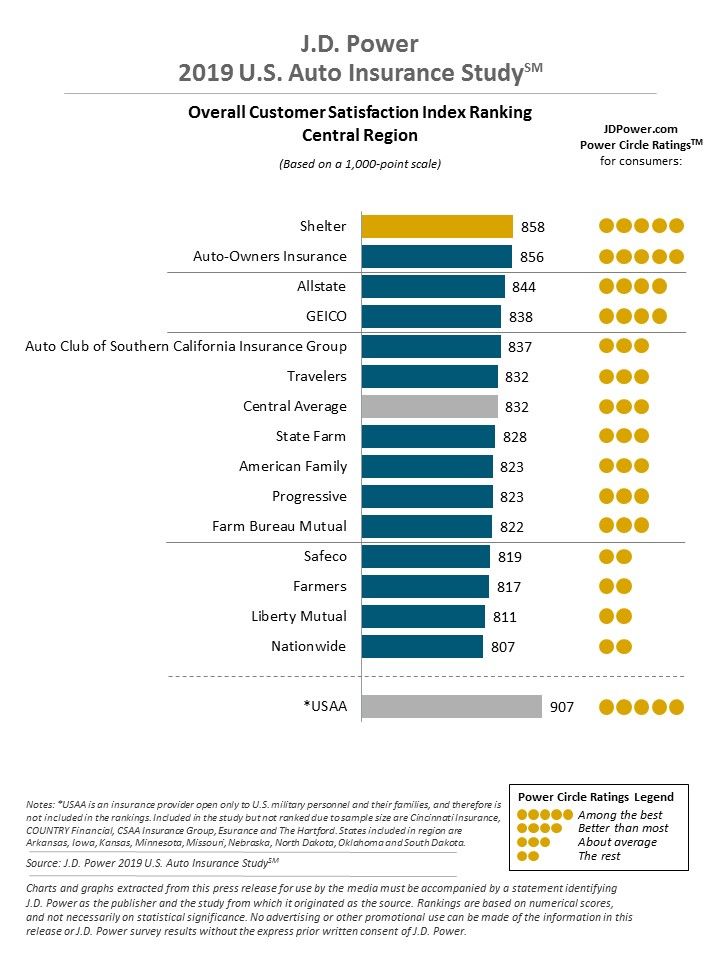 J.D. Power conducts an annual insurance study that measures consumer satisfaction with top carriers across the country broken down by specific regions and states.
The graph above reveals customer satisfaction in the Central Region of the U.S., including the states of Arkansas, Iowa, Kansas, Minnesota, Missouri, Nebraska, North Dakota, Oklahoma, and South Dakota.
Progressive received 823 out of 1,000 possible points in J.D. Power's Central Region rankings. This places the company in the "about average" ratings category compared to other top carriers, and neck in neck with competitors like American Family and Farm Bureau.
These ratings show that Progressive's consumer ratings and overall customer satisfaction are right in line with the industry average.
Consumer Reports
Consumer Reports is another valuable resource that providers helpful consumer insight for various top insurers in the U.S. market.
Check out the data in the table below, based on the most recent study Consumer Reports released regarding customer satisfaction with Progressive.
According to this study, consumers appear to be satisfied with Progressive's customer support and claims services, rating the carrier "Very Good" in all categories, except for Timely Payment, which received an "Excellent" rating.
Overall, Progressive walked away with an 87 out of 100 possible points in Consumer Reports' insurance study.
Consumer Affairs
Progressive Auto Insurance has a 3.7-star rating on ConsumerAffairs.com, based on 2,761 ratings submitted in the year prior to this Progressive auto insurance review.
Some of the major advantages noted in Consumer Affairs' report included a good selection of discounts, speedy claims process, add-ons like gap insurance and roadside assistance, and exceptional customer service.
The primary cons listed by consumers were the fact that discounts aren't available in all states, and no brick and mortar stores.
Enter your ZIP code below to compare auto insurance rates.
Secured with SHA-256 Encryption
Progressive Company History
All these facts and figures are great — but they only tell part of the story.
Next in our Progressive auto insurance review, we're going to take a look at other crucial aspects consumers need to know, including the company's market share, position for the future, community involvement, and more.
Let's get down to business.
Progressive Market Share
In 2017, Progressive displaced competitor Allstate to become the third-largest car insurance company in the U.S. Take a look at the table below, indicating Progressive's share of the U.S insurance market between 2015 and 2018.
While the numbers here don't dominate the U.S. market, Progressive's market share increased steadily each year in 2015, 2016, 2017, and 2018, for a total jump of 2.27 percent during the three-year period.
Progressive's Position for the Future
After taking a deep dive into the insurance ratings, consumer ratings, and key market data available for Progressive, this begs the question — how is the company positioned for future success?
A.M. Best, Moody's, and S&P all awarded glowing financial strength ratings to Progressive, with the BBB coming in just behind. The NAIC showed a distinct decline in consumer complaints in recent years, and J.D. Power rated the company's customer satisfaction index right in line with the industry average.
Progressive gathered positive B ratings from both Consumer Reports and Consumer Affairs, indicating overall consumer satisfaction with components such as the claims process, range of discounts offered, and customer service team.
This data, combined with the company's steady market share increase during the several years leading up to this Progressive auto insurance review, establishes a stable future outlook for the carrier.
Assuming the company continues to excel in the area of customer satisfaction and offer exceptional coverage at an affordable price, it's not difficult to fathom that Progressive could continue to hold its place as a leader in the insurance market among the Top Four for many years to come.
Progressive's Online Presence
Progressive customers can take care of a range of policy tasks online with total ease. Through your online account, you can:
Make and schedule payments
Check your billing history
Update policy details (i.e. drivers, personal information, vehicles, etc.)
Access your policy documents (i.e. declarations page, contracts, notices, ID card, etc.)
Report and track a claim
Locate agent contact details and secure a quote for policy changes
You can also contact the sales and customer service department 24/7 by calling 1-800-776-4737 to do things like pay your bill, make policy changes, or request roadside assistance.
Progressive's Commercials
There's hardly a more recognizable representative of Progressive's genius marketing at work than everyone's favorite customer service representative — Flo the "Progressive Insurance Lady".
Over a decade ago, Progressive's company brand was hazy at best, and the company needed a new marketing initiative to blaze a path forward into a strong corporate identity.
Enter Flo.
Progressive's new campaign aired its inaugural ad on January 14, 2008 — little did the company know that this only the beginning of a long and beautiful relationship between the soon-to-be-beloved Flo and the consumer public.
Check out the first time the world was introduced to Flo…
And another simple but effective message to consumers in the early days of Flo…
The first few years of this campaign, Flo never left the imaginary Progressive store where she graced customers with her enthusiastic good charm and humorous antics.
Then, the company took the marketing initiative to the next level — Flo ventured out of the Progressive store and into the world.
Since then, we've all waited with bated breath and anticipation to see where Flo might turn up next.
Check out some of Flo's most memorable appearances —
This commercial was Flo's first-ever trip out of the Progressive superstore into the great big world.
Here, Flo shows up at what some would deem an inopportune time — a blind date.
https://www.youtube.com/watch?v=zrxmUjHmIDU
Things take a slightly supernatural turn when Flo and her colleagues emerge from a farmer's cornfield…
https://www.youtube.com/watch?v=gOdnR7jCz7Q
In a classic soap opera spoof, Flo emerges as the maid with Susan Lucci making a guest appearance.
And Flo's hairdresser is less than impressed when she finally takes a trip to the salon for a new 'do.
Here, one overly enthusiastic consumer lets the power of the Name Your Price® Tool go to his head.
Over time, we've been introduced to other Progressive representatives, like Jamie. In the commercial below, Jamie is a less than submissive student at the School of Hard Lefts.
https://youtu.be/ISmVGMta-7I
Flo makes a guest appearance at Jamie's birthday party…and Jamie serenades his guests with an original tune.
https://www.youtube.com/watch?v=zTqmiJ4LW9c
While Progressive's marketing campaign has come a long way since the early days of Flo, she has a special place in the hearts of consumers.
In a recent interview with Fast Company Magazine, Progressive's Chief Marketing Officer Jeff Charney had this to say about everyone's favorite "Insurance Lady".
"I've got the No. 1 brand icon now and we want to stay there…If you think about Q scores, if you see Flo 15 to 20 times a month, multiply that by 10 years–I don't care if you're Tom Hanks, Will Smith, Ellen DeGeneres–whoever it is, if they're trying to sell you something, you'd probably get tired of that person. The data is showing us the opposite about Flo. That's a very difficult thing to achieve."
The Progressive marketing approach might be unconventional, but it's hard to deny that it's been incredibly effective — and entertaining.
Progressive in the Community
Progressive maintains its commitment to community involvement through a number of different initiatives, including the Progressive Insurance Foundation.
The Progressive Foundation has a charitable donation matching program, matching funds to qualifying 501(c)(3) charities donated to by Progressive employees.
Through Progressive Together®, company employees are encouraged to give back and support local communities be joining local events, contributing monetary donations, and volunteer work. Employees can locate and sign up for volunteer opportunities in their local communities via the company intranet.
As part of Progressive's STEM Progress Program®, employees visit local schools to teach engineering, technology, math, and science skills through insurance concepts to students.
The goal is to engage and inform young minds how to apply these newfound skills to their future careers and real-world circumstances.
Learn more about Progressive's various social responsibility initiatives, including its environmental stewardship program, by clicking here.
Progressive's Employees
According to a study conducted by Great Place To Work, 92 percent of employees at Progressive say the company is a great place to work.
Check out the video above for an inside look into working as a claims adjuster at Progressive, then watch the video below to meet one of the company's analysts.
In Great Place To Work's study, respondents had the following to say about working at Progressive:
97 percent stated that when employees join the company, they are made to feel welcome
94 percent state that management is ethical and honest in its business practices
93 percent stated that the company's executives embody the best characteristics of the company
93 percent stated that they are provided the resources and equipment needed to perform their job role
93 percent stated that they are proud to tell others that they work at Progressive
Have you ever wondered what a day in the life of a Progressive auto damage claims adjuster looks like? Check out the video below to see for yourself!
Of Progressive's employee population, Great Place To Work reported that 47 percent of workers are Millenials, 39 percent are GenXers, and 13 percent are Baby Boomers. In terms of employee tenure, here's what Great Place To Work's study found:
28 percent of employees have worked at the company for less than two years
26 percent of employees have worked at the company between two and five years
10 percent of employees have worked at the company between six and 10 years
13 percent of employees have worked at the company between 11 an 15 years
12 percent of employees have worked at the company between 16 and 20 years
11 percent of employees have worked at the company over 20 years
Progressive has also been the recipient of numerous awards and accolades over the years.
In 2019 alone, Progressive ranked #5 Best Workplaces in Financial Services & Insurance™, #31 Best Workplaces in Texas™, #76 Fortune 100 Best Companies to Work For®, #18 Best Workplaces for Millennials™, #10 Best Workplaces in New York™, and #17 Best Workplaces for Women™.
The insurer has a 3.7-star rating on Glassdoor at the time of our Progressive auto insurance review, based on 2.5k reviews listed. Of the respondents, 72 percent said they would recommend the company to a friend, and 91 percent approve of the CEO.
According to PayScale, Progressive employees earn an average salary of $57,090 per year, with most salaries ranging from an average of $41,961 up to $89,893 annually.
PayScale's study found that employees in the Senior Software Engineer/Developer/Programmer role make the highest average salaries at $96,492, while Claims Adjusters Trainees make the least with a median annual salary of $45,869.
Interested in learning more about future opportunities with Progressive? Visit the company's Careers Page to learn more.
Cheap Car Insurance Rates
When you're searching for car insurance, trying to decide if a specific carrier is best suited to your driving needs, it's vital to understand the average rates you can expect to pay for coverage before taking the plunge.
We've got you covered.
Keep scrolling our Progressive auto insurance review to access the company's rates by state, top factors that affect your rates, and see how the company's average annual premiums measure up to the competition.
Let's go.
Progressive Availability and Rates by State
Progressive is available to consumers in all 50 states. Check out the table below, illustrating Progressive's average annual rates in all 50 states compared to the average cost of coverage in each state, based on the premiums charged by competitor insurers.
Use the search bar to navigate the table and find out where your state fits into the mix.
As you can see from the data listed here, Progressive's rates come in noticeably above the state average in some states, and well below the average cost of coverage in other states.
Let's look at a few examples.
For instance, in the states of California and Delaware, coverage through Progressive costs respectively 22.75 percent and 30.14 percent less than the state average.
However, if you look at the cost of Progressive insurance in Vermont, for example, you'll see that coverage costs roughly 61.32 percent more than the state average.
Down south in the state of Alabama, the cost of coverage through Progressive is approximately 24.77 percent higher than the state median amount.
The moral of the story here is that where you live can have a significant impact on the rates you can expect to pay for auto insurance. 
Comparing the Top 10 Companies by Market Share
The table above reveals the top 10 insurance companies in the U.S. insurance market, in terms of market share.
Let's take a look at the rates in a few different states to see how Progressive's rates compare to the competition. 
If you look at the cost of coverage in the state of California, for example, you'll see that Progressive charges the second cheapest rates of all the carriers listed, coming in right behind USAA.
Scroll further down to the state of Florida, and the data shows that Progressive actually charges the second most expensive rates of all the carriers listed.
So, while consumers could save big on auto insurance coverage with Progressive in certain states, in others, they could be paying considerably higher rates than what the competition is charging.
Average Progressive Male vs Female Car Insurance Rates
While a handful of states have enacted legislation making it illegal for insurers to use gender as a factor when determining consumer auto insurance premiums, most states still permit the practice.
Check out the table below to see how much the top U.S. carriers in the insurance market, including Progressive, assess insured rates based on age and gender.
Progressive's rates are among the cheapest for both 60-year old and 35-year old motorists, while the company charges some of the highest rates of the carriers listed for 17-year old and 25-year old male motorists.
Case in point, for 35-year old male drivers, Progressive comes in with the third-cheapest rates of all the carriers listed. Likewise, for 60-year old female drivers, the carrier charges the fourth-cheapest rates.
However, if you look at what Progressive charges a higher-risk driver demographic like teen drivers, the company's rates jump considerably higher than some of its competitors. For instance, for 17-year old male drivers, Progressive assesses the the fourth most expensive rates.
In fact, the carrier charges teen male drivers roughly $1,500 more than a company like American Family does and approximately $4,200 than what USAA charges the same driver demographic.
Average Progressive Rates by Make and Model
Take a look at the table above to see how much your auto insurance costs could change based on the make and model of the vehicle you own.
For example, if you look at what the top carriers charge consumers with a 2015 Honda Civic Sedan, LX with 2.0L 4cyl and CVT, you'll see that a carrier like State Farm charges insureds with this vehicle roughly $3,024.24 per year. Progressive, on the other hand, assesses around $4,429.56 in annual rates to owners of this vehicle type. That's an approximate $1,400 difference in rates, which is anything but small change.
However, if you compare Progressive's $4,429.56 in annual premiums to what a company like Liberty Mutual charges 2015 Honda Civic Sedan LX vehicle owners at $5,869.32, Progressive's rates are about $1,400 cheaper.
In general, Progressives comes in at the mid-range in most cases when compared to the rates charged by other top carriers in the market based on car make and model.
Average Progressive Commute Rates
Did you know that your daily commute to work could affect how much you have to fork over for car insurance? Depending on the company, you could have to pay noticeably higher rates if you have a longer commute to work each day.
Let's see what the numbers have to say.
According to the data our researchers collected, Progressive actually charges the cheapest rate difference when compared to the other top carriers listed charge insureds who have a 10 vs. 25-mile commute.
Whereas Progressive insureds will only see their bill go up by about $11 if they have a longer commute, insureds with a company like Liberty Mutual would see roughly $160 difference in their annual rate.
In the case of carriers such as American Family and State Farm, consumers with a longer commute could expect to pay around $80 and $170 more per year, respectively.
Average Progressive Coverage Level Rates
You could notice a major difference in the policy premiums you have to pay, depending on whether you opt for high, medium, or low coverage levels.
Why would your coverage level potentially increase the cost of insurance? 
Consider this.
Car insurance companies use consumer insurance premiums to cover the liabilities they incur when underwriting a policy. Carriers may also choose to invest the premium to enjoy a higher rate of return and counterbalance part of the costs of providing coverage in order to maintain competitive rates. Insurance companies then invest these premiums in assets with diverse liquidity and profits, but carriers must retain a certain amount of liquidity.
Therefore, because an insurer uses your premiums to cover the liability they take on by underwriting your policy, it follows that if you select higher coverage levels, the company will be accepting a higher level of liability.
To cover the costs associated with that additional liability, the company would raise your premiums accordingly.
The question is, by how much?
Check out the table below to see how the top carriers in the U.S. insurance market, including Progressive, will either raise or lower your rates depending on the coverage levels you pick.
In each of the coverage level categories listed, Progressive comes in somewhere in the middle of its competitors in terms of the rates it charges for high, medium, or low coverage.
However, insureds with Progressive can expect to see roughly an additional $600 tacked onto their insurance bill each year if they select high over low coverage for their policy.
Let's compare this jump in rates to a few of Progressive's competitors.
For example, insureds with Allstate will see about a $500 increase on their insurance bill for picking high vs. low coverage levels, while American Family customers will only have to pay about $50 more annually.
If you look further down the table, you'll see that Liberty Mutual shows roughly a $550 rate difference for consumers with high vs. low coverage, while Travelers charges approximately $400 more annually to insureds who opt for high coverage.
To sum it all up, while Progressive's premiums are about average in each coverage level category when compared to the competition, when you break down the company's difference in rates for high vs. low coverage, Progressive's rate gap is one of the widest of all the insurers listed.
Average Progressive Credit History Rates
A 2017 study conducted by Experian found that the national median credit score is 675, while approximately 20 percent of Americans have very high credit scores. At the time of the study, the national median credit score was at its highest since 2012.
Like it or not, your credit score can and will impact the car insurance rates most companies assess for your policy. A small number of states have banned the use of credit scores as an insurance factor, but must state laws still allow the practice.
Insurance companies look at your credit history as an indicator of your financial ability to fulfill your monthly auto insurance premiums on time.
Consumer credit history is also one of the factors that an insurance company can utilize for risk analysis when assessing an individual's insurance score, which correlates to the likelihood of that person filing a claim in the future.
This is because the statistics show, that consumers with poor insurance scores have a higher probability of filing a claim.
Check out the table below to see how much your rates could change based on your credit history alone.
As you may have already noticed, the rate gap for individuals with a good vs. poor credit history is much wider with some insurance companies than others.
On average, Progressive charges consumers with poor credit roughly $1,100 more per year in premiums than individuals who have a good credit history.
Compare this to the rate gap with a carrier like Liberty Mutual, where insureds with poor credit pay about $4,400 more per year in premiums than customers with good credit do.
With a company like State Farm, you could still expect to pay about $2,800 more per year if you have poor rather than good credit.
Even a carrier like USAA, known for offering among the most cost-effective coverage of the top insurers in the U.S. market, shows an approximate $1,900 rate gap for poor vs. good credit.
Regardless of the carrier you pick, you should expect to pay higher premiums if you have a less than stellar credit history. With that said, Progressive's jump in rates for poor vs. good credit is one of the lowest of the top carriers for whom data was collected.
The good news? It's never too late to start working on repairing your credit and improving your credit score. Plus, over time, improving the state of your credit means you could secure more optimal rates for coverage down the road.
Average Progressive Driving Record Rates
We've all been taught that your driving history will have a huge impact on your car insurance rates. The fact of the matter is, just one accident or DUI on your record could see you paying thousands of dollars more per year in auto insurance premiums.
Check out the table here to see how Progressive, along with other top competitors, adjust insured rates based on their driving history alone.
The data shows that Progressive customers with violations on their driving record can expect to pay anywhere from around $600 to $1,400 more per year than insureds with a clean record, depending on the nature of the violation.
Compare Progressive's rates to a carrier like American Family, who charges insureds with one DUI on their record the highest rates, for a total approximate rate increase of $1,600.
State Farm, the largest car insurance company in the nation at the time of this Progressive auto insurance review, charges insureds with one DUI vs. a clean driving record just roughly $800 more per year.
It is interesting to note, that Progressive assesses its highest jump in rates to drivers who have one accident on their record while charging the smallest difference in rates to motorists who have been charged with one DUI.
Coverages Offered
When you purchase a policy through any carrier, one of the most important components in your insurance journey (besides rating factors) is understanding the range of coverage options available to you as the consumer.
Keep reading our Progressive auto insurance review to find out the types of coverage you can purchase through this carrier, bundling options, discounts, and more.
Let's take a closer look.
Types of Coverages Offered
Check out the various coverage options available to Progressive customers.
Bodily injury liability: Covers the cost of medical bills and lost wages incurred by someone if you cause an accident and they're injured as a result.
This coverage includes anyone involved in the accident, plus legal expenses if the injured party pursues a case for the damages stemming from the accident.
Property damage liability: Covers damages to another person's vehicle and property in the event you cause a collision.
Comprehensive: Safeguards your vehicle against theft, vandalism, fire, hitting an animal, weather events, hitting an animal, and other damage not stemming from an accident or rollover.
A deductible (your out of pocket costs) will typically apply, but you can select the amount of your deductible.
Collision: If you hit another object such as a tree, curb, or another vehicle, collision coverage would pay to repair or replace your car, regardless of who is at fault.
Collision insurance also includes a deductible. For insureds who select collision coverage for their policy, Progressive covers vet bills up to a certain limit if your pet is hurt in a car crash.
Uninsured/underinsured bodily injury: This coverage pays for injuries incurred by you and your passengers if you're hurt in a crash and the at-fault party has no insurance or insufficient insurance to cover your claim.
Uninsured/underinsured motorist property damage: Pays to repair or replace your vehicle if you're hit by an at-fault driver that does not have enough coverage or none at all.
Medical payments (MedPay): If you are involved in a car accident, this type of coverage would pay for medical and funeral costs. It covers passengers and family members, regardless of fault.
Medical payments coverage would also apply when you or your family members are passengers in someone's vehicle or are hit by a car when riding a bike or walking.
In certain states, PIP (personal injury protection) is provided for medical payments and offers similar protection.
Roadside assistance: Pays for a towing service if your vehicle breaks down. Progressive will tow you to the nearest near facility or your preferred mechanic if the shop is within a radius of 15 miles. This coverage also includes fuel/fluid delivery should you run out of gas, flat-tire changes, and lock-out services.
Loan/lease payoff (gap insurance): If your vehicle is totaled in a covered accident and you had previously financed or leased the car, gap insurance would pay for the difference between what you owe and the actual cash value of the vehicle.
Rental car reimbursement: If your vehicle is involved in a covered accident, rental reimbursement coverage would pay for your rental vehicle while your car is in the shop.
Custom parts and equipment value: This coverage will pay to replace or repair items that you add to your vehicle, such as custom wheels, a stereo navigation system, or paint.
Rideshare coverage: Rideshare insurance extends your coverage to protect you if you're logged into a ridesharing app waiting for a customer request.
Rideshare providers' policies typically cover limited occurrences during this waiting period and may not cover any damages your vehicle occurs.
Most company policies only apply after you've accepted a customer trip request and during the journey, so rideshare coverage covers that gap.
Deductible savings bank: Progressive's deductible savings bank feature subtracts $50 from consumers' comprehensive and collision deductible for every claim-free policy period (policies have a six-month duration).
Factors That Affect Your Rate
One excellent way to save on coverage when you purchase insurance is to bundle multiple policies together.
Through Progressive's multi-policy discount (more on discounts in the next section of our Progressive auto insurance review), you can save big if you take out an auto policy, plus renters, home, or condo insurance.
Check out the various bundling options offered by Progressive:
Auto and home insurance
Auto and renters insurance
Any two or more insurance products (if you don't have a car or home policy)
Personal insurance (options to purchase health, travel, life, pet, and wedding/event insurance coverage)
Now, let's take a look at some of the top discounts you'll want to ask your insurance agent about if you purchase coverage through Progressive.
Getting the Best Rate with Progressive
Everyone wants to save on car insurance — and you exponentially increase your insurance savings by utilizing the full range of Progressive discounts available to you. Take a look at the table below to see the various discount options offered by Progressive.
Bear in mind, discount availability could depend on the state you live in. Also, some discount savings amounts vary, which is why quite a few named in the table above don't show the exact savings listed.
Let's dig a little deeper into Progressive's chief discount options and what they could mean for your policy in terms of savings.
Loyalty Discounts
With Progressive's multi-policy discount, if you purchase two or more policies through this carrier, you could enjoy an average discount of five percent or more. With auto and boat insurance, only one policy would be discounted.
However, for a combination of auto and home insurance, Progressive doubles the discount offered so you can enjoy savings on both policies.
Progressive's multi-car discount means an average savings of 12 percent off your policy, if you have more than one vehicle listed.
Another fantastic loyalty discount the company offers is the continuous insurance discount.
While savings vary, the company honors the time you've been insured by a previous carrier so you don't lose longevity benefits by transitioning over to Progressive.
The amount you save would depend on the duration you've been consistently insured without cancellations or gaps in coverage.
Driver-Based Discounts
Progressive Snapshot®, the company's pay-as-you-drive insurance program, customizes your car insurance rate based on your specific driving habits.
The safer your driving habits, the greater your potential to save big. Consumers enjoy average policy discounts of $145, but exact savings vary based on the individual driver.
The teen driver discount also varies based on the specific insured, but Progressive's teen discount helps to offset the cost of adding insureds 18 years or younger to your policy.
The good student and distant student discounts could also help you save if you have one or more students on your policy. The good student discount would apply if you have a student on your car insurance policy who maintains a B average or better.
If you have a full-time student on your auto policy who is more than 100 miles away from home and doesn't have a vehicle at school, you could also receive the distant student discount.
Progressive insureds could also save an average of 10 percent on their policy for being a homeowner.
This discount would apply regardless of whether you are covered through Progressive's home insurer network.
Discounts Based On How You Quote and Purchase Coverage
Progressive even offers discounts based on how you quote and buy your policy. For example, the company's online quote discount could cut your insurance costs by an average of four percent, if you get your insurance quote online.
The discount is still applicable even if you finish your quote over the phone with a licensed Progressive representative.
By signing your policy documents online, you could enjoy an average discount of 8.5 percent with Progressive's sign online discount. Along the same lines, if you opt to receive your insurance documents by email rather than in paper form, Progressive will automatically apply its paperless discount, assuming you sign your documents online.
The paperless discount is on top of the sign online discount.
If you opt to pay for the entirety of your six-month policy right out of the gate, Progressive would apply the pay in full discount to your coverage.
If paying in full isn't an option, the automatic payment discount could still help you save on coverage. Note, that you cannot combine the pay in full and automatic payment discounts together. 
Progressive's Programs
Check out some of the top programs Progressive offers to date.
Progressive Snapshot®
Through the Progressive Snapshot® program, you'll not only get an automatic discount for signing up, but you could save an average of $145 on coverage based on how safe your driving habits.
The Snapshot® program is simple — once you get your quote, choose the Snapshot® mobile app or plug-in device when you sign up. Next, you'll drive with the Progressive Snapshot® device or app for your first policy duration (typically six months).
You can keep an eye on your progress either online or via the mobile app. The discount would then be credited upon completion of the program when you renew your policy.
PerkShare®
The PerkShare® program is essentially a coupon book to help Progressive insureds obtain discounts from a wide network of affiliates, including Enterprise Rental Car and Tire Kingdom Car Care and Tires.
Accident Forgiveness
Progressive offers both Small Accident Forgiveness and Large Accident Forgiveness programs. Beginning with your first policy, Small Accident Forgiveness means you won't see a spike in rates if you have a claim of less than $500.
With the Large Accident Forgiveness program, if you have been an insured of Progressive for a minimum of five years and have had no accidents in the three years prior, your rates won't go up if you have an accident.
Similarly, for every claim-free policy period, Progressive will subtract $50 from your comprehensive and collision deductible if you add the deductible savings bank feature to your policy.
Loyalty Rewards Program
All Progressive customers are enrolled automatically in this program, offering rewards and discounts based on a range of factors.
Name Your Price® Tool
With this tool, Progressive will show you a variety of auto insurance coverage options when you get your quote.
First, you fill in the information needed to get your quote. After answering all the questions, the Name Your Price® tool will generate your rate. You'll then be able to access a range of coverage options and adjust as needed with the tool to fit your policy needs.
Canceling Your Policy
If you purchase coverage through Progressive and need to cancel for any reason, here's what you need to know about the cancellation process.
Cancellation Fee
Progressive doesn't typically charge a fee for canceling your policy, but this could depend on the state you live in and the type of policy you've taken out.
Based on the type of plan you have and your state, you could be subject to a cancelation fee comprising 10 percent of your remaining premium.
Before canceling, it is important to speak directly with a representative to confirm whether you'll incur any fees for terminating your policy.
Is there a refund?
If you decide to cancel your policy before your policy period is set to expire, you should be refunded for the amount of the unused insurance premiums, minus any fees.
The customer service agent you speak with would likely be able to explain exactly how much you'll receive back.
Upon canceling, if a refund applies, you'd receive a check in the mail with the refunded amount, typically along with a formal cancelation notice from Progressive.
How to Cancel
The best way to cancel your policy is to call Progressive directly at 1-800-776-4737 to speak with a representative directly. Depending on the state you live in, you may also be required to submit a written cancellation request.
Be sure to have the following information available, or ready to provide in your cancelation letter, if required:
Your Progressive policy number, and the date and time you want the policy to terminate
Your name, address, and phone number
Your dated signature (if sending a letter)
The name of your new insurer, your new policy number, and start date of your new policy, or
Proof that you no longer intend to drive (such as a plate forfeiture, bill of sale, etc.)
Bear in mind, even if you wait to cancel your policy with Progressive until right before it's set to renew, you'll still need to contact the customer service department and cancel officially.
The majority of policies renew automatically, and you don't want to end up paying for both your Progressive policy and your new insurance policy.
When can I cancel?
You can cancel your policy with Progressive at any time. Just be aware that fees, refunds, and policies vary. Unless you don't plan on driving anymore after you cancel your policy, be sure to have a new insurance policy in place so you don't experience a gap in coverage.
Enter your ZIP code below to compare auto insurance rates.
Secured with SHA-256 Encryption
How to Make a Claim
Keep reading our Progressive auto insurance review to find out exactly what you need to do if you ever need to file an auto insurance claim on your policy.
Ease of Making a Claim
Progressive makes reporting an auto insurance claim fast and easy. You can report your claim through your online account or by calling the customer service department directly at 1-800-776-4737.
After submitting your claim, you should hear from a claims representative by the end of the business day to discuss your questions and schedule a vehicle inspection.
Once your vehicle is inspected, you'll receive an estimate for required repairs.
Progressive will help you set up the vehicle repair service and towing if required.
You have the option to use your own repair shop or bring your vehicle to one within the Progressive network. In addition, if you need a rental vehicle, your claims representative will arrange to secure you one.
Remember, if you have rental reimbursement coverage on your policy, your rental costs could be covered depending on your policy details and the nature of your claim. 
If your vehicle is in the shop, your claims representative will check the repair status periodically and deal with any other issues that arise, such as further damage, payments, or updates to the completion date while your car is in the shop.
If you use one of Progressive's network repair shops, the carrier will guarantee your repairs for however long you own or lease your vehicle. You can check also check the status of your claim by logging into your online account for updates.
Premiums Written
Progressive has received excellent ratings from top rating agencies regarding its financial strength and stable outlook. Another strong indicator of a carrier's financial performance and future outlook its to examine the company's total premiums written and loss ratios.
The table below illustrates the premiums underwritten by Progressive between 2015 and 2018.
The data our research team collected is fantastic news for Progressive — the numbers show that the company's premiums written increased steadily each year during the three-year period studied.
In total, the increase in premiums written by Progressive between 2015 and 2018 was astonishing $10.5 billion. 
Loss Ratio
Loss ratio indicates a carrier's financial state because it illustrates how much a carrier is paying out in conjunction with what it's earning back in the premiums it underwrites.
A consistent loss ratio over 100 percent is bad news for any insurer because it shows that the company is continuing to lose money.
Likewise, the consistently lower a company's loss ratio is, the better its financial health.
Take a look at Progressive's loss ratios between 2015 and 2018.
In each year studied as shown in the table above, Progressive's loss ratio was well within the healthy range. In fact, while the company's loss ratio elevated slightly in 2016 from the year before, it declined in both 2017 and 2018.
How to Get a Quote Online
Ready to get your online quote from Progressive? Here's your quick and easy guide to accessing your quote in just a few minutes.
But first, be ready to provide the following before you start your quote:
Contact information (name, address, phone number)
Date of birth
Social security number
Step #1 – Go to the Progressive Website
Open up a new tab or window on your computer and navigate to the Progressive home page. Select the auto icon under "Select a product to quote".
Step #2 – Enter Your Zip Code to Begin Your Quote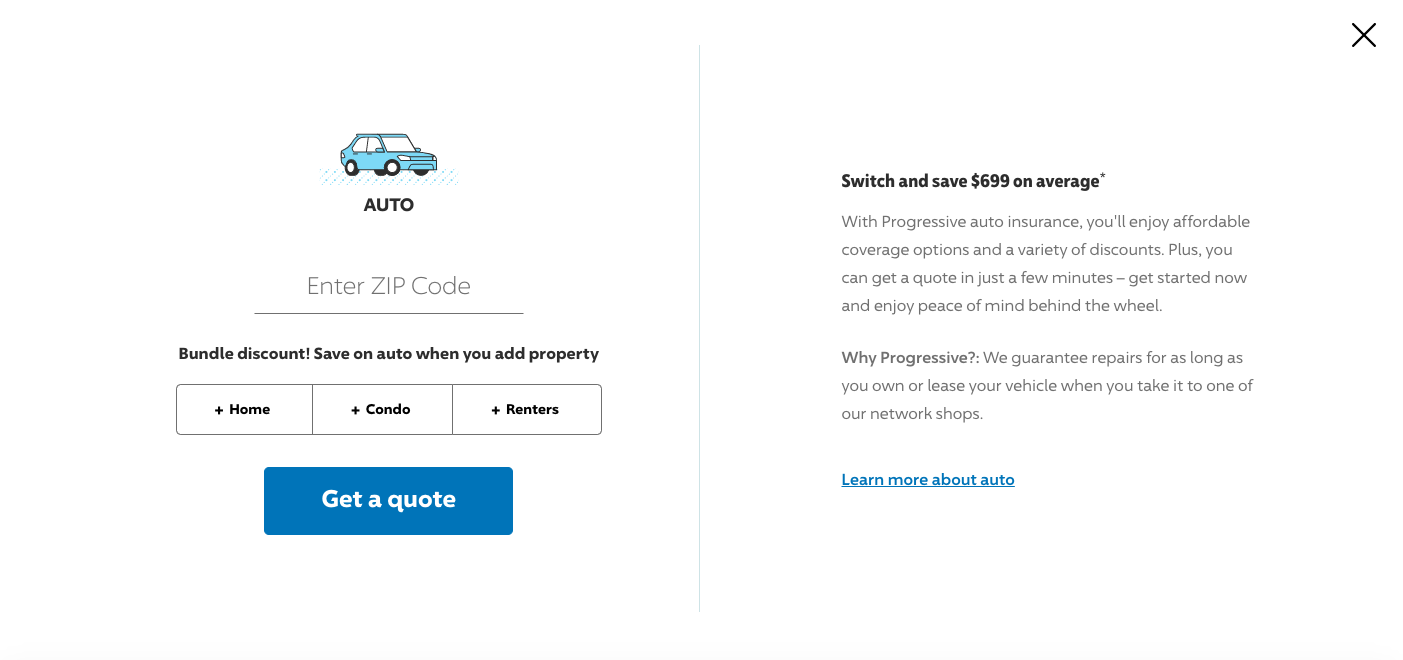 Once you select the Auto product icon, you'll be prompted to enter your zip code, and including bundling options in your quote if desired. Enter the requested information and select "Get a Quote" to continue.
Step #3 – Enter Your Name, Date of Birth, and Address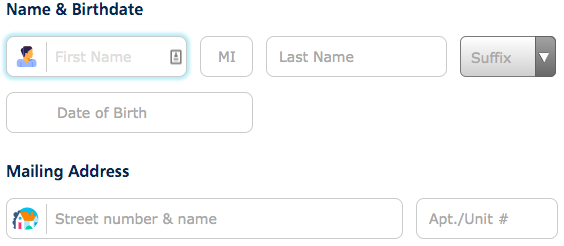 Next, you'll be prompted to enter your name, date of birth, and mailing address. Fill in the required fields then select "Okay, start my quote" to proceed.
Step #4 – Select Vehicles to be Included in the Quote
Based on the information you entered in the previous step, the quote will likely generate vehicles you currently own to include in the quote. Select the vehicles you want included and hit "Continue".
On the next screen that's generated, you'll be prompted to add vehicle information (i.e. whether you own or lease the vehicle, whether you use it for business or personal use, etc.) and add other vehicles to the quote that weren't previously listed.
Once you've added all the vehicles you want included in the quote and filled in the required fields, select "Continue" to go to the driver information page.
Step #5 – Complete Driver Details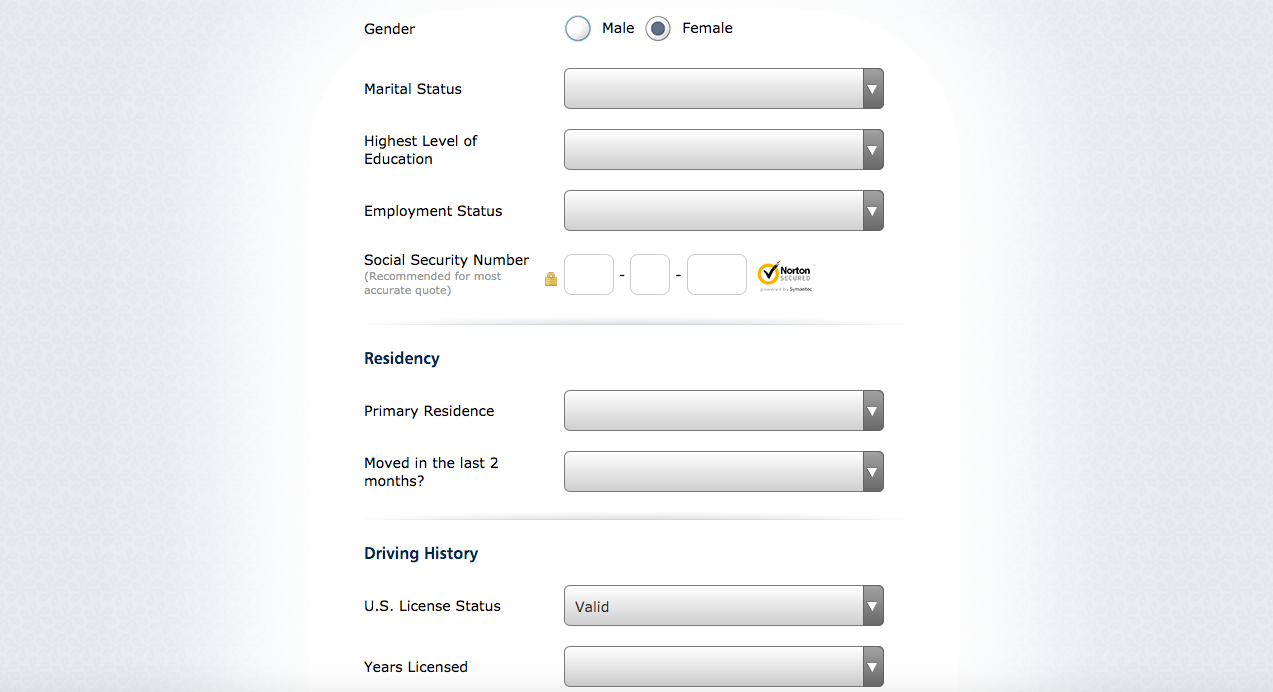 On this page, you'll need to complete personal information, including details regarding your marital status, occupation, education level, and driving history.
Fill in the required fields before selecting "Continue".
Step #6 – Include Additional Drivers in Your Quote (If Applicable)

At this point, based on your address, the quote tool could locate other drivers you may or may not wish to add to your quote. Select your preference and hit "Continue".
Step #7 – Complete Insurance History
The next page will request information regarding your insurance history, including whether you're currently insured, your current coverage limits with your insurer, whether you have any non-auto policies with Progressive, and when you want your new Progressive policy to start.
Once you're finished, hit "Continue" to proceed.
Step #8 – Option to Enroll in Progressive Snapshot®
Before proceeding to your final quote, you'll have the option to enroll in the Progressive Snapshot® program. You can enroll any of the vehicles included in your quote and whether you want to use the mobile app or plug-in device.
If you don't want to enroll, simply select "No, Thanks" and press "Continue".
Step #9 – Select Preferred Bundling Options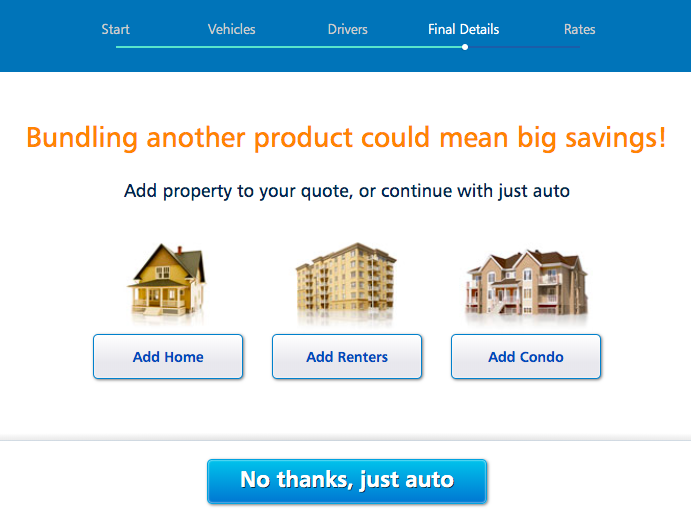 You can also select other properties to add to your quote or hit "No thanks, just auto" based on the range of insurance options you're looking for.
Step #10 – Complete Your Quote and Select Policy Options
The final page will take you to your rates where you can select your new policy and adjust coverage options as desired.
Design of Website and App
Curious to see how Progressive's website and app measure up? Keep scrolling this Progressive auto insurance review to read our honest assessment of both!
Website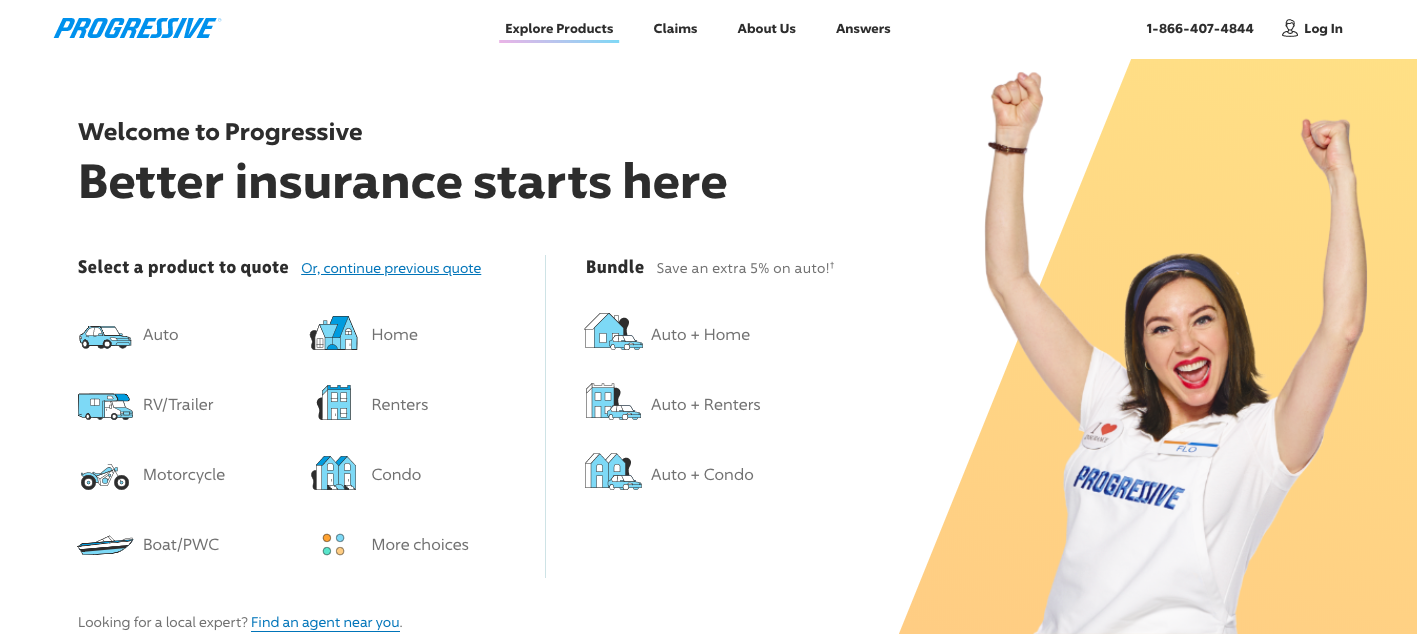 Let's take a quick tour of the Progressive website!
At the top of the home page, you can select a product to get your free quote or click through the dropdown menus at the top to do everything from explore various insurance products to filing an auto claim.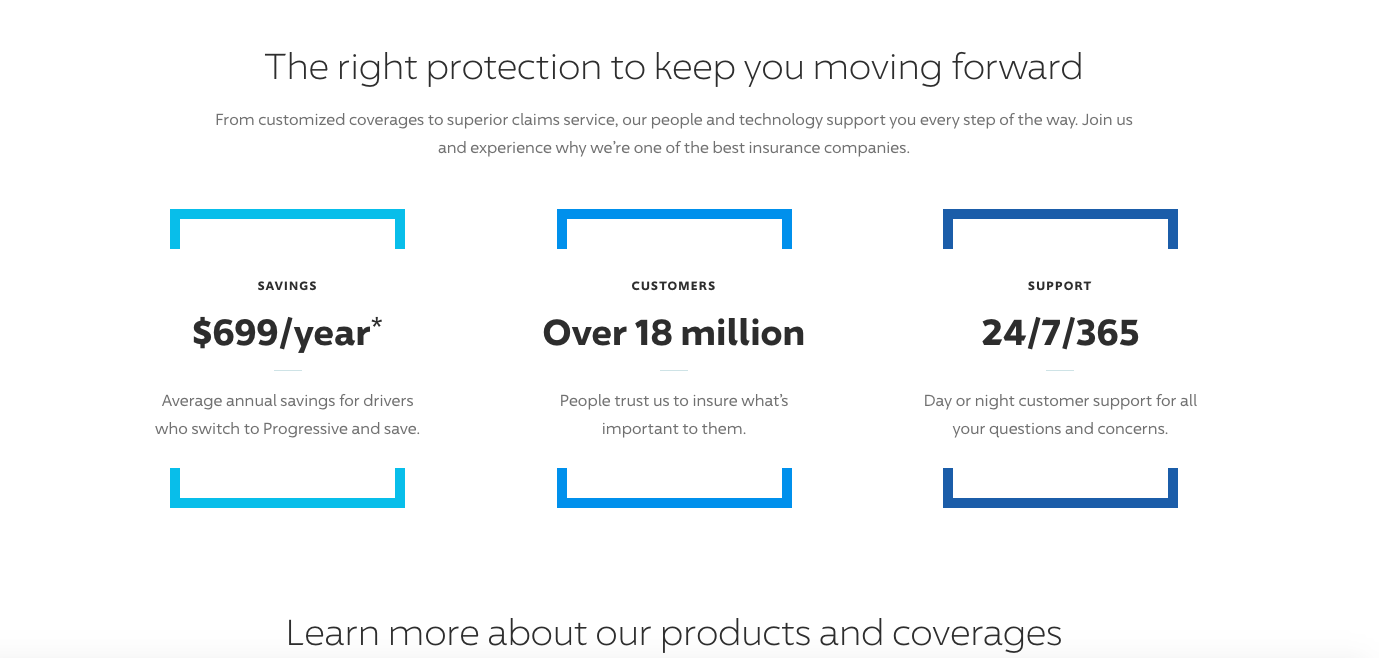 If you scroll further down the Progressive website, you'll see some eye-catching stats about what the company has to offer consumers.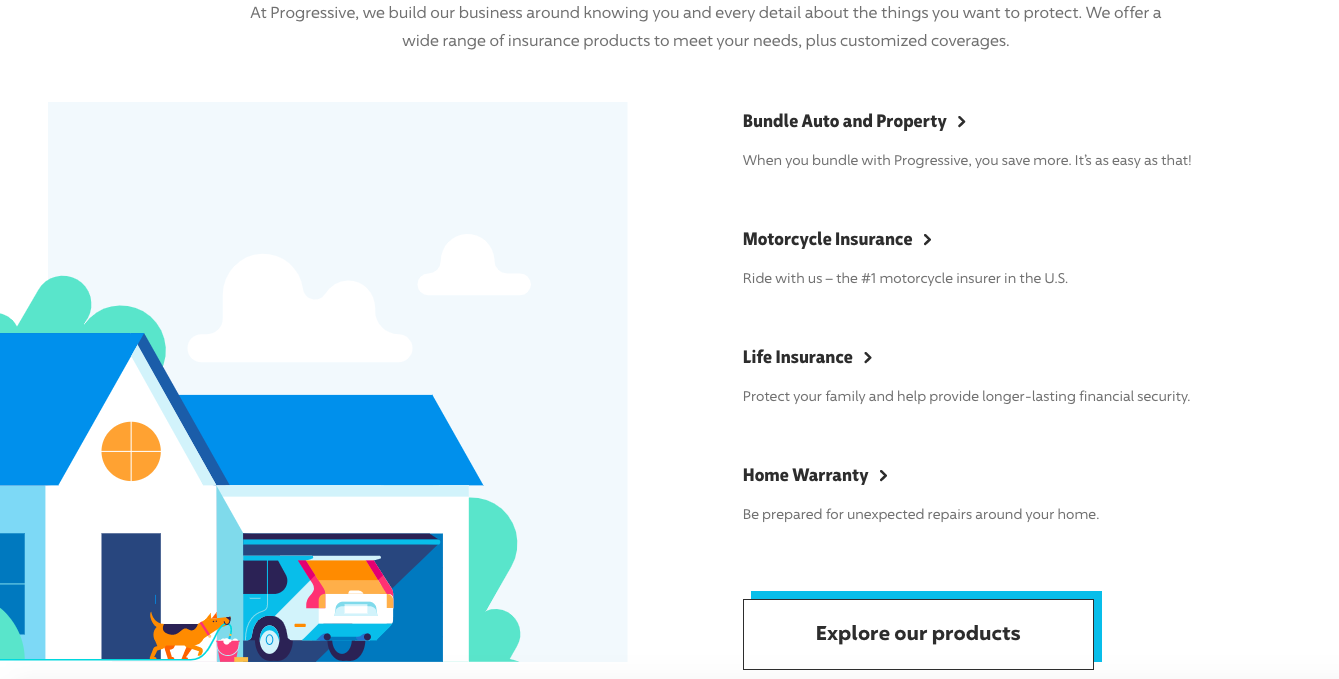 You can also click through to various insurance products to learn more about the coverage options you could incorporate into your policy.
Finding answers to your insurance questions is easy with links to the Progressive Answers, About Us, Newsroom, and Careers pages — all just a click away on the company's homepage.

At the bottom of the Progressive homepage, you have more links to the various insurance offerings the company offers, along with company information, links to customer support, and more.
How easy can you find answers?
Finding answers is fast and efficient on the Progressive homepage. At the top navigation menu, you can click through to explore everything from the different product offerings the company provides to claims information to the dedicated answers section.
Is the design a plus or minus?
Progressive's website is colorful, aesthetically pleasing, and most important — simple to navigate. All in all, the layout flows logically and it takes just moments to find the answers you need.
Mobile App
The Progressive mobile app is available both in the App Store and the Google Play Store. Let's take a quick look at what the mobile app has to offer insurance consumers.
How easily can you manage your account using just the app?
With both Progressive mobile app, you can do everything from viewing coverages and policy details, pay your bill, and report a claim to request roadside assistance, contact a claims representative or agent, and access your ID cards.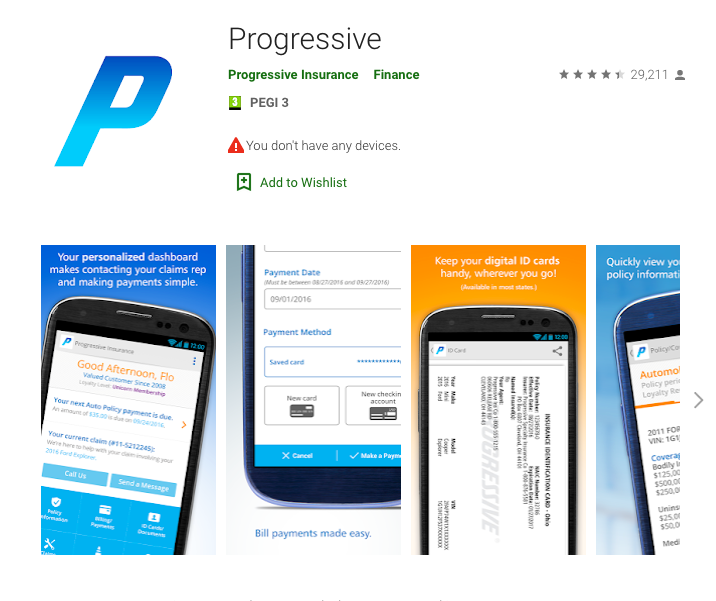 The App Store version has 3.4 out of five-star rating, based on 1.6k reviews. The Google Play version has a 4.4-star rating based on 29,211 reviews at the time of our Progressive auto insurance review.
Is the design a plus or minus?
Overall, users appear to be widely satisfied with the app, noting that it's convenient and user-friendly. Some reviewers have noted issues with too many push notifications and being unable to make certain policy changes through the app.
Enter your ZIP code below to compare auto insurance rates.
Secured with SHA-256 Encryption
Pros and Cons
Check out our quick recap of the pros and cons from our Progressive auto insurance review to help you make the best decision for your coverage needs.
The Bottom Line
So, you might be thinking — what is the bottom line?
The third-largest auto insurance company in the nation, Progressive offers an excellent range of insurance products at competitive prices.
Top rating agencies like A.M. Best, S&P, and Moody's have awarded the company stellar ratings for its financial stability and creditworthiness.
Progressive has taken significant strides to increase its services to consumers, as evidenced by the decline in customer complaints in recent years.
The claims process is quick and efficient, and Progressive's range of special discounts and programs makes it easier than ever to structure your policy, your way.
Company Car Insurance FAQs
Check out our answers to some of consumers' most frequently asked questions regarding this insurer below!
Can you set up an automatic payment plan with Progressive?
Yes. All you have to do is log into your Progressive account online and navigate to the payments page. You'll need your bank account information, including your bank routing number and account number to set up automatic payments.
Can you change your coverages in the middle of a policy period?
Yes. Log into your online account at any time day or night to make changes to your policy, or speak with a customer service representative directly at 800-776-4737. Bear in mind, certain changes to your policy could impact your premium costs.
Do you have to start a brand new policy to add another car or driver?
No. All you have to do is make the necessary updates to your existing policy either online or over the phone with a Progressive representative.
Can you report or get information regarding a claim online?
Yes. Simply log into your online account to start a claim or track its status.
Does Progressive auto insurance include cover roadside assistance?
Yes, if you add roadside assistance coverage to your policy. Progressive's roadside assistance coverage includes towing services if your vehicle breaks down, fuel/fluid delivery should you run out of gas, lock-out services, and flat-tire changes.
We hope this Progressive auto insurance review has brought you one step closer to the next stage in your insurance journey.
Still undecided about purchasing coverage?
Compare rates for multiple providers in minutes with our FREE, fast, and easy online rate tool! Enter your zip code in the box below to start your quote.