The Ultimate Washington Car Insurance Guide (Costs + Coverage)
Free Auto Insurance Comparison
Enter your ZIP code below to compare auto insurance rates.
Secured with SHA-256 Encryption
Ranked eighth in population growth, Washington sure is on its way to becoming one of the most lucrative states to live in America. Seattle's booming job market and the tech start-up scene have a strong pull which works in favor of the Evergreen State.
Whether you have recently moved or are a long-time inhabitant of the state, you would understand the importance of having the right car insurance coverage to protect yourself on roads that are getting more and more congested.
In addition, car insurance laws and coverage requirements keep changing with time, and you should know about the basics before buying coverage.
To make the process of buying a policy simple for you, we are putting together a car insurance guide that would cover all the details that you may need to know.
Shopping for Washington automobile insurance? Sometimes looking for a provider can be tricky. But with AutoInsuranceEZ.com, it's as uncomplicated as typing in your zip code. We can supply you with the top 5 insurance providers in your spot, whether you live in a big city like Seattle, Spokane, or Tacoma, or a lesser populated area such as Vancouver or Bellevue.
Start comparison shopping today with our FREE tool above.

Car Insurance Coverage and Rates in Washington
Though we would include a great deal of information in this guide, we think the most important thing you must know about is the minimum coverage requirements and rates in your city or zip code.
Most often consumers buy what they're asked by their insurance agents, without really understanding how a particular coverage would protect them.
That's why we would explain what coverage options you're required to have, what are some good to have options, and how these would cover your expenses in the event of an accident.
Washington's Car Culture
Subaru Outback is the most popular car in Washington and that tells a lot about the outdoorsy nature of the people who live here.
Such is the fascination with Subaru that one among every 10 cars is a Subaru in the Seattle-Bellevue-Everett area as per a survey by Nielsen Scarborough.
Apart from Subaru, car owners in Washington are also quite taken by the electric vehicle trend and the state has one of the highest numbers of plug-in electric cars. The state also plans to register around 50,000 electric vehicles by the year 2020.
Minimum Auto Insurance Coverage Requirement in Washington
To drive legally in Washington, you must buy the minimum auto insurance coverage mandated by the state or prove financial responsibility for any car accident that might happen in the future.
The minimum insurance requirement includes bodily injury coverage up to the limit of $25,000 per person and $50,000 overall to cover the personal injury expenses of the third-party in an accident.
In addition, auto owners must also carry property damage liability coverage of at least $10,000.
Washington follows the traditional at-fault system for determining liability in an accident which means that the at-fault driver is responsible to pay for the damages of the third party.
When you only buy the minimum liability coverage, you're exposing yourself to the risk of bearing your own personal injury and property damage expenses in the event of an accident. Because liability coverage only pays for the third party damages.
What can you do to cover your personal damages from an accident?
You have many options to consider that can cover your medical injuries as well as the damage to your car if you're involved in an accident caused by you.
Most of the auto insurance policies include both collision and comprehensive coverage because these options cover damages from different causes. And, since the cost isn't very high, it's recommended to take both options with your policy.
Medical Payment and Personal Injury Protection are two options that cover medical expenses for your personal injuries in an accident. What you choose depends on the cost of the coverage and your requirement.
Do remember that PIP also covers lost wages if you're unable to work due to your injuries.
At all times, you're required to carry proof of insurance with you while you're driving. Washington allows motorists to show electronic proof of insurance so you can keep the proof in your mobile phone.
Apart from buying the required coverage options, you should also give a thought to the policy limits that you buy. The state minimum limits wouldn't be enough to cover your damages if you're involved in a major accident.
That's why experts recommend buying liability coverage with limits of at least $100,000/$300,000. Because if you're sued in an accident and your policy limits aren't enough, you could end up losing your personal assets.
If you want to understand what a typical car insurance policy covers, you can watch this video.
Forms of Financial Responsibility in Washington
The financial responsibility laws of Washington require motorists to prove that they would be able to bear the expenses from an accident if they're involved in one. To prove financial responsibility, motorists have the following options:
Buy the minimum auto insurance coverage with liability limits of 25/50/10
Those who own 26 or more vehicles can go for self-insurance. For more information, you can get in touch with the Driver Records, Department of Licensing, PO Box 9030, Olympia, WA 98507-9030
You can also make a certificate of deposit with the Department of Licensing or any bank for an amount of at least $60,000
You can also file a liability bond with a surety bond company for a minimum amount of $60,000
Premiums as a Percentage of Income in Washington
If you have been earning for some time and need to pay a few bills every month, we know how you budget for every cost so that your expenses don't exceed your income.
That's why we are putting together the percentage of premiums to disposable income trend for three years from 2012-2014.
On average, the premium cost is around 2 percent of the income in Washington. You can also calculate your premiums to income ratio in our in-house calculator.
You can also compare the percentage of premiums to income ratio of Washington with other neighboring states. Apart from Idaho, the ratio of premium to income is the best in Washington.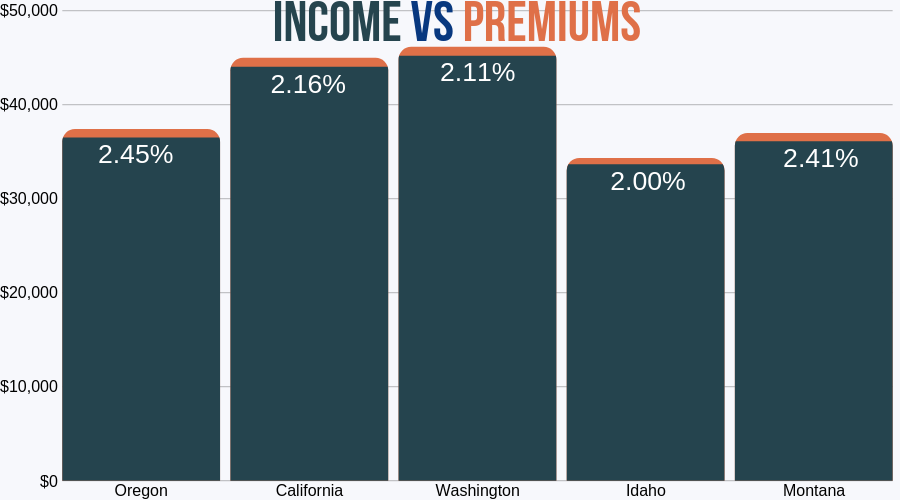 Core Coverage Auto Premiums in Washington
We have collected data for the average premium rates in Washington which would give you an idea of how much you need to account for auto insurance each month.
For liability coverage, the average annual premium rate is $596 which is higher than the national average of $538. But collision coverage at $265 annually is cheaper than the national average of $322.
Additional Liability Coverage in Washington
We have already discussed the additional liability coverage that you may consider buying if you would like to protect yourself in the event of an accident. Let's look at the loss ratio for these coverage options in Washington.
Loss ratio is the ratio of losses and expenses to premiums earned. In short, it signfies the amount of claims settled to premiums earned on auto insurance.
If the loss ratio is higher than 100 percent, it means the company paid more in claims than it earned through premiums. This wouldn't be a profitable situation for any insurance company.
For medical payments, loss ratio has been consistently over 100 percent which means insurance companies in Washington are making losses on Medical Pay coverage.
Another coverage option that you must consider in Washington is the – Uninsured/Underinsured Motorist Coverage (UM/UIM). Have you thought about what would happen if you're hit by an uninsured/underinsured motorist?
As per data from the Insurance Information Institute, around 17.40 percent of the motorists in Washington are uninsured which makes it the 7th ranked among states with the highest number of uninsured motorists.
When you're hit by a motorist who doesn't have adequate coverage or no coverage at all, you might have to pay your damages out of pocket. With UM/UIM coverage, you would be covered by your insurance company for any expenses arising out of such accidents.
Add-ons, Endorsements, and Riders in Washington
We have covered the basic information about the types of coverage you must have and also some other options that you may need. Apart from those options, insurance providers also offer add-ons and riders for specific situations.
For instance, your classic car deserves a special policy for its upkeep. You can take a look at all such options below.
Guaranteed Auto Protection (GAP)
Personal Umbrella Policy (PUP)
Non-Owner Car Insurance
Modified Car Insurance Coverage
Pay-As-You-Drive or Usage-Based Insurance
We think that pay-as-you-drive or usage-based insurance should be mentioned specifically for you because we don't want you to miss the chance of earning discounts.
Usage-based insurance is a program that rewards good driving behavior through the use of telematics technology wherein a connected device is installed in your car to track your driving pattern. Though every provider uses its own parameters to assess the driving of auto owners, most of the programs record driving speed, braking pattern, miles driven, and acceleration.
To know whether an insurance provider offers the program, you must check for the information online or connect with an agent. Most of the leading providers have come out with some form of usage-based program to reward auto owners.
Male vs Female Auto Insurance Rates in Washington
You must be aware of the fact that premium rates might vary drastically from one person to another. Different factors are taken into account to determine your rates and we will look at the impact of age & gender in this section.
For single 17-year-old drivers (see table), the rates for auto insurance are significantly higher than the rates for other age groups. After you turn 25, rates stay stable as you get older and other factors take more importance for the calculation of rates.
In the 17-year-old category, males are charged much higher than their female counterparts because younger males are considered riskier drivers. If you're a young new driver in Washington, Geico and Allied P&C AXCM would be easy on your pocket.
You can also see the rankings of insurance carriers by the rates.
Auto Insurance Rates in the 10 Largest Cities of Washington
The state-wide average insurance premium is $2,986 and the most expensive cities to buy insurance are Seattle, Tacoma, and Renton. Among all the most populated cities in Washington, only the premiums in Spokane are lower than the average rate.
Auto Insurance Rates by Zip Code in Washington
You can search for the average rates in your zip codes and also compare rates offered by different carriers.
Port Townsend has the cheapest zip code, while Seattle has some of the most expensive car insurance rates.
Auto Insurance Rates by City in Washington
The tables below break down auto insurance rates by city.
Port Townsend, the city with the cheapest zip code, also has the lowest rates.
Enter your ZIP code below to compare auto insurance rates.
Secured with SHA-256 Encryption
Best Car Insurance Companies in Washington
After you have decided which coverage options are the best for you, the next level of research involves finding an insurance provider suitable for your needs.
If finding the cheapest rate is the most important factor for you – then you should look for a provider who offers that rate but always remember to check a few details – such as financial ratings, company reviews, and complaint numbers – about any company before buying a policy.
Reviewing these basic details about insurance providers would give you a clear picture of their financial standing and customer service standards.
Financial Ratings of the Leading Insurance Providers in Washington
A.M. Best Ratings are an indicator of the financial strength of insurance providers in the long-run or their ability to meet the long-term contractual obligations.
Since not every consumer has the time or knowledge to assess the financial well-being of insurers to check whether their claims would be settled in the future, it's a good practice to check ratings from a certified credit rating agency.
Although there are five credit rating agencies – A.M. Best, Fitch, Kroll Bond Rating Agency, Moody's, and Standard & Poor's – we have collected data from A.M. Best because of its unique focus on the insurance sector.
A.M. Best assigns ratings in the scale of A++ to D which range from insurance providers superior to poor ability in meeting their insurance obligations in the long-term. You should also check the ratings from other agencies to validate the analysis of A.M. Best.
Customer Reviews of Car Insurance Providers in Washington
How can you know whether customers are satisfied with an insurance provider? By checking online reviews, seeking opinions from colleagues & acquaintances, or by browsing through customer satisfaction surveys.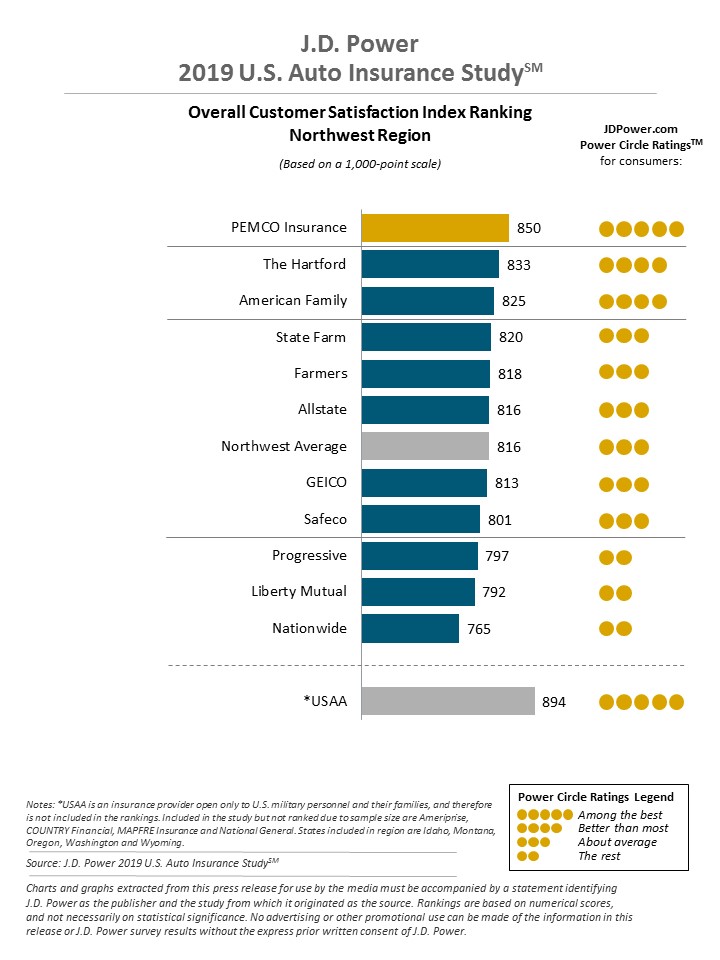 The annual customer satisfaction survey from J.D. Power can be a good starting point in your research.
J.D. Power, a global marketing information company, assesses auto insurance companies on five factors in its survey which are – interaction, policy offerings, price, billing process and policy information, and claims.
As per the results of the survey, customers were most satisfied with the services of PEMCO insurance followed by The Hartford and American Family in the Northwest region of America.
The survey also found that overall customer satisfaction has been rising with the introduction of digital technologies resulting in the adoption of direct distribution models.
Those consumers who prefer to do everything by themselves online would be happier with the new-age auto insurers.
Do note that PEMCO insurance has received a B++ rating which means a good ability to meet its insurance obligations yet has some of the best customer reviews.
Complaint Numbers of Leading Car Insurers in Washington
You can see the number of complaints against the leading car insurance providers in the table. If there are more than the usual number of complaints, it's a warning signal for you.
You can also check the website of the National Association of Insurance Commissioners to get complaint data for any provider.
Auto Premiums by Car Insurance Carriers in Washington
The annual average premium in Washington is $2,986 and the cheapest rates are offered by Allied P&C AXCM, USAA, State Farm, and Geico. Do remember that USAA offers coverage only to members of the military and their families.
Auto Insurance Rates by Commute Rate in Washington
Remember what we talked about for usage-based insurance? Though these types of programs are quite popular now, carriers have been offering different sorts of discounts depending on the driving patterns of auto-owners since long.
One such example is the discounts offered for low daily or annual mileage of commuters. If you clock low miles on average, your premiums would be lower than others.
In the table, you can see that American Family, Geico, State Farm, and USAA offer a slightly lower rate for commuters clocking only 10 miles per day.
Auto Insurance Rates by Coverage Level in Washington
The level of coverage you choose can considerably increase or decrease your premium rates.
If you have a tight budget, you can buy low coverage to get the cheapest rates. However, lower coverage also means a higher level of risk and if you have a lot of personal assets, you could lose those in the event of a severe accident.
Auto Insurance Rates by Credit History in Washington
Your credit history impacts your insurance rates worse than many other factors. Since the ability to meet future premium payments isn't certain for those with poor credit scores, insurance carriers charge extra over the basic rate.
You can see the rate differences for all the insurers in the table above – insurers like Liberty Mutual charge almost $3,000 more for auto insurance from those with a poor credit record.
As per the State of Credity survey in 2017, the average vantage score of Washington was 693 while the national average was 675. Vantage score is a consumer credit rating system developed jointly by Equifax, Experian, and TransUnion.
For a poor credit score in Washington, the annual premium rates are $1,563 more than the base rate.
Here's a short video on what all factors can impact your premium rates.
Auto Insurance Rates by Driving History in Washington
Since the probability of claims increase if you're a risky driver, you're charged a higher premium when you have been involved in an accident or traffic violation in the past.
Depending on the type of record, insurance carriers determine your rate. Most of the insurers charge the highest from motorists with a DUI record.
Leading Car Insurance Companies in Washington
Number of Car Insurance Providers in Washington
State Laws in Washington
Knowing about the types of insurance coverage and best car insurance companies isn't enough as you need to follow the state laws related to car insurance and driving so that you can stay out of trouble on the road.
Many motorists end up paying unnecessarily high premiums because of a traffic violation they weren't aware of. Or some motorists miss out on new regulations because they weren't keeping track.
In this section, we will talk about all the laws that may come in handy while you're driving.
Car Insurance Laws in Washington
What you pay in insurance premiums is regulated by the state. No insurance company is allowed to charge as per their whim.
To regulate rates, each state has to follow one of the mechanisms – determined by
Commissioner; prior approval; modified prior approval; flex rating; file and use; use and
file; and no file.
In Washington, insurance companies have to take prior approval before using rates which should be first filed and approved by the state insurance department.
Apart from rate approvals, financial responsibility and tort laws are also decided by the state which have a significant influence on how liability is determined in accidents.
Windshield Coverage Law in Washington
With respect to windshield coverage, Washington doesn't have any specific laws. However, there are requirements specific to obstructions and cracks on the windshields.
Drivers should have a clear view of the road and posters or non-transparent materials aren't allowed on the windshield
As far as cracks are concerned, the law says that drivers shouldn't drive a vehicle that can be harmful to anyone on the road
High-Risk Car Insurance in Washington
If you have a stellar driving record, you wouldn't know about high-risk car insurance in Washington. You would be surprised to know that high-risk drivers, those who have accumulated a couple of records, can be denied coverage by insurance providers.
Where would high-risk drivers go, as buying car insurance is mandatory to drive in Washington?
The Washington State Legislature has created an Automobile Insurance Plan to provide insurance to high-risk drivers in which all insurance providers authorized to write policies in Washington must participate.
How does the High-Risk Automobile Insurance Plan work?
All high-risk applicants are placed in a pool and assigned an insurance provider with whom they have to buy coverage which lasts for three years usually.
These insurance providers insure a percentage of the high-risk drivers in proportion to their market share in Washington.
What is the eligibility for the plan?
To apply for the plan, you must have a registered Washington vehicle and driving license issued by the state. You would need to prove that you were unable to obtain coverage from the market in the last 60 days.
Your best option would be to get a policy in the voluntary market, but if your application is getting rejected by insurers, you should approach an agent for the high-risk plan. Do remember that the premiums are exorbitantly high if you're high risk.
Here's some advice on how to improve your record to get cheap insurance.
Auto Insurance Fraud in Washington
Insurance fraud can be committed by any party involved in an insurance transaction – such as applicants, policyholders, insurance providers, or professional service firms who are serving the needs of claimants.
The annual cost of property & casualty insurance fraud was $30 billion from 2013-17 as per estimates by insurance industry. And, auto insurance is one of the most vulnerable lines for an insurance fraud.
Auto insurance fraud includes filing an incorrect claim amount, staging accidents, submitting claims for accidents that never happened, and concealing or providing incorrect information on the insurance application.
Who do you think bears the cost of insurance fraud?
Since losses from insurance frauds end up in the books of insurers, they pass on the cost to policyholders by charging higher premiums.
Premiums in your city or zip code might be high because of the high number of insurance frauds as rates differ between zip codes.
Insurance fraud law in Washington
As per the state legislature, fraudulent claims are considered a gross misdemeanor and it's considered a class C felony if the claim amount is more than $1,500.
You should try to prevent fraud if you come across a person or situation that seems fraudulent and report the same to the Office of the Insurance Commissioner.
Statute of Limitations in Washington
The law in each state enforces a strict time limit to bring a lawsuit against the at-fault party after a car accident. In Washington, you have three years from the date of the accident to sue for personal injuries and property damage.
Vehicle Licensing Laws in Washington
Licensing regulations keep changing with time – sometimes there are modifications to teen licensing procedures and other times there might be a new security protocol that requires the issuance of new licenses.
We are including the important licensing regulations that might be useful to you, but it would help if you update yourself from time to time about these.
Real ID in Washington
Federal security standards better known as the Real ID Act, established in 2005, require the compliance of all states for the issuance of identification documents.
Driver's licenses and other identification documents issued by states are important to the overall security framework.
Starting in October 2020, residents of Washington would be allowed to enter certain federal facilities and fly by commercial airlines only when they present their Real ID compliant identification document or driver's license. You would still be allowed to use your federal ID for these purposes if you don't have Real ID documents.
Here's an interesting video explaining the Real ID Act.
Though you can use your passport to access certain federal facilities and travel by air, you should genuinely consider getting a Real ID license because it will make your life easier and help the government in identity checks.
To get a Real ID license, you should visit the Department of Licensing in Washington with all the requisite documents.
Penalties for Driving without Insurance in Washington
Buying car insurance coverage is mandatory in Washington and failure to do so can result in fines of $550 and more. If you're the at-fault party in an accident without the required coverage, your license could be suspended if you're unable to pay damages.
When you're stopped by a law enforcement officer, you must show the proof of auto insurance otherwise you would get a ticket.
Teen Driver Laws in Washington
Getting your first driver's license as a teenager can be an enthralling experience but you have to do everything right to obtain one and then maintain a good driving record.
Because insurance premiums for teenagers are quite steep, you would not want to get a ticket that might raise your rates further.
In 2016, 2,433 teenagers between the age of 16 and 19 were killed in motor vehicle accidents and 292,742 received emergency treatments as a result of injuries.
Facts like these make lawmakers more strict when it comes to teenage driving. Let's look at licensing regulations for teens in Washington.
Instruction Permit: To get an instruction permit, you must be at least 15 and enroll in a driver training program. If you're older than 15 years and six months, you have to take the knowledge test to get the permit.
However, you must take the driving course to get a license.
After you apply for an instruction permit, your driver training school sends a waiver to the Department of Licensing which issues the instruction permit to you.
You must follow certain restrictions while driving with an instruction permit:
You aren't allowed to use a mobile phone or wireless device except to report an emergency, seek help, or to prevent an injury
You are allowed to drive only with a licensed driver who has at least five years of driving experience. Along with the licensed driver, you can have any passengers in the back seat irrespective of age
The instruction permit is valid for a period of one year and can be renewed twice
Permanent License: After you have held the instruction permit for six months, you can apply for a permanent driver's license. You should meet the following requirements for a permanent license:
Must be at least 16 years old
Complete the requisite driver training program
Practice 40 hours of day time and 10 hours of nighttime driving with a licensed driver with at least five years of driving experience
Pass the road test at a driving testing location
You can only get a driver's license if you haven't been convicted of a traffic violation six months prior to the application for a license or a drug/alcohol offense while driving with the instruction permit.
Intermediate Driver's License: Drivers under the age of 18 are issued an intermediate license after the instruction permit which automatically converts to a permanent license when the driver turns 18.
You must follow a few restrictions if you're under 18 years old:
During the first six months of the license, you can't drive with passengers under the age of 20 unless the passengers are your immediate family members. During the next six months, you can only drive with three passengers below 20 years old who aren't your family
You aren't allowed to drive between the night hours of 1 A.M. and 5 A.M except when you're accompanied by a licensed driver who's at least 25 years old. An exception to this rule is when you're driving for agricultural purposes
Penalties for Violations
First Offense: For the first offense, a warning letter would be sent to your parents if you get a ticket for violating a restriction or rule of the road or are involved in a crash
Second Offense: Your license would be suspended for a period of six months or until the age of 18, whichever of the two comes earlier
Third Offense: Your license would be suspended until the age of 18
One of the first safety measures for new drivers is buying an appropriate car which is safe as well as affordable. Take a look at these options for teenage drivers.
License Renewal Procedures in Washington
Driver's license in Washington needs to be renewed every six years. If you're under the age of 24 or over 74, you will have to visit a driver licensing office for renewal.
If you're eligible for online renewal, you can do so through License eXpress. The renewal fee is $9 per year.
When can you renew your license?
You can renew your license one year before the expiration date (usually your birthday) or up to 60 days after expiration. After 60 days, you would be charged an extra $10 for renewal.
New Residents in Washington
Moving to a new state means a lot of excitement as well as paperwork. And, renewing your driver's license and plates is one of them.
As per the state's law, you must convert your out-of-state license to a Washington license within 30 days of establishing residency.
Do note the following related to your driver's license after moving to Washington:
You can decide between a standard license or an enhanced driver's license which works as a passport for re-entry into the US when you're coming back from Canada, Mexico, Bermuda, and the Caribbean
You can check if you are eligible to pre-apply for a license online
Find a driver license office close to your new home
Rules of the Road in Washington
Abiding by the rules of the road anywhere in your state is the best way to keep your auto premiums in check. And, if you happen to follow all the rules and drive safely, you can also get discounts under usage-based insurance programs.
Fault vs No-Fault Law in Washington
Washington follows the traditional fault system to determine liability in an accident. If you're the at-fault party in an accident, you would be responsible to pay off the damages to the injured party/parties.
A person who suffers injuries in an accident can pursue one of the following approaches for reimbursement:
File a third-party claim with the at-fault driver's insurance provider
File a claim with his/her own insurance provider who would usually pursue a subrogation claim from the at-fault party's insurer
Bring a personal injury lawsuit against the at-fault party
Seat Belt and Car Seat Laws in Washington
In traffic accidents, 22 percent of the fatalities involved a person not restrained by a seat belt in Washington. The good thing is Washington has a 95 percent seat belt usage as per data from 2016.
Washington's state law mandates everyone who's 16 years old or above to wear a seat belt while driving or riding in a motor vehicle.
Any violations of the seat belt laws can lead to fines up to $124 per person.
Children below the age of 16 should be restrained in car seats for which the state legislature recently implemented new regulations.
The updated law would be effective from Jan. 1, 2020. Under the new law:
Below Age 2: Infants should remain in rear-facing seats for as long as possible until they surpass the height and weight requirements of the car seat
Age 2-4: After children turn two, they should be restrained in a forward-facing seat with a proper harness until the time they meet the height and weight requirements of the car seat
Age 4 and above: Children who are shorter than 4'9" and older than four should be restrained in a booster seat. It's recommended to use booster seats till they turn 10 or 12
When children are old enough for seat belts, they should be properly restrained with shoulder and lap seat belts
Keep Right and Move Over Laws in Washington
The state law requires motorists to keep right while driving except when there's an obstruction ahead or you need to pass.
On all roads with sufficient width, or two or more lanes, a car should be driven on the right except the following circumstances:
When passing or overtaking another motor vehicle
When there's an obstruction which makes it necessary to move to the left lane
When you're driving on a highway with three lanes or less and you approach a stationary vehicle
When you're driving on a highway with traffic restricted to one-way
When you're driving on a three-lane roadway providing for two way movement of traffic
The state also requires you to move over to the adjacent lane or slow-down reasonably if you're approaching a stationary emergency vehicle which may be any of the following:
Emergency vehicles using clear audio or video signals to indicate it's position on the road
Tow trucks using red signals as per the requirements
Roadside assistance vehicles using warning signals with 360-degree visibility
Law enforcement vehicles displaying blinking or flashing lights
Slow-moving highway construction vehicles using flashing lights
Speed Limits in Washington
Taking cues from the posted speed limits is your best bet, but if nothing is posted you can follow these speed limits.
Ridesharing Laws in Washington
Transport Network Companies (TNC) or ridesharing companies have become a ubiquitous part of our lives. We can't think of city life without Uber or Lyft.
Since these companies began operations a few years back, there have been many discussions regarding regulations that would make it safe for everyone involved in a ridesharing transaction.
In 2015, a new ridesharing law was passed in Washington which promarily focused on the insurance requirements of the motor vehicles. Drivers are required to carry a minimum liability and uninsured motorist coverage of $1 million during the ride arranged through an app.
When the TNC driver is logged in the app and waiting to pick up a passenger, he must have bodily liability coverage of $50,000 per person/$100,000 per accident and $30,000 for property damage.
Automation on the Road in Washington
Around the country, there's a lot of speculation about the safety of autonomous vehicles but Washington Gov. Jay Inslee is hopeful that Washington will be a major hub for driverless cars.
In his own words, "We are going to be the future of the electrification of the transportation system and the autonomous vehicle center of the U.S."
In 2018, the state set out a budget of $600,000 for research that would help them in converting the diesel-run ferries to hybrid electric.
As per the Governor, around 24 companies are working on self-driving technology in the state now, after it signed an executive order encouraging companies to test driverless vehicles.
The order included safety and protection of everyone while these vehicles are being tested – and requires compliance with regulations, certification from the Department of Licensing, and financial responsibility.
The Washington State Legislature also signed an order to form an Autonomous Vehicle Work Group that would develop policy recommendations for the operation of driverless vehicles.
Safety Laws in Washington
The main motive behind the implementation of rules of the road is to maintain safety for everyone. And, nothing makes people more vulnerable on roads than distracted driving or driving under the influence of drugs/alcohol.
Let's look at the safety laws in Washington.
DUI Laws in Washington
In Washington, a driver is determined to driving under the influence of alcohol or drugs when:
The Blood Alcohol Level (BAC) is higher than 0.08 percent in adults (21 and above), 0.04 percent in commercial drivers, and 0.02 percent in minors (below 21)
The driver is found driving a vehicle under the influence of drugs, alcohol, or a combination of both, irrespective of the BAC level
You would have to face severe penalties if you're convicted for DUI in Washington if your BAC level is lower than 0.15 percent.
Your penalties would be enhanced if your BAC level is more than 0.15 percent.
Marijuana-Impaired Driving Laws in Washington
Washington is amongst the few states that has implemented marijuana-impaired driving laws.
A driver can be convicted for DUI if he/she is found with a THC concentration of 5.00 or more through an analysis of blood.
Distracted Driving Laws in Washington
Washington has taken the distracted driving laws to another level – you aren't allowed to hold an electronic device while driving, even if you're waiting at a traffic signal. In fact, the law also bans applying makeup or eating while driving.
You can still use hands-free electronic devices but it's recommended to just use it before you start driving. Also, there's a complete ban on texting.
Penalties for violations:
On the first offense, you would be fined $136
If you're caught again in five years, you would be fined a minimum of $234
For other activities, such as grooming, eating, or reading while driving, you could get a ticket for $99
These violations are also reported to your car insurance company which can raise your rates.
Driving in Washington
Driving in each state is different, a lot of factors impact your experience, such as population density, car ownership in households, fatal crashes, number of thefts, etc.
Some of these are even taken into consideration to calculate your rates depending on how much a factor influences the probability of an accident.
We would cover some facts and figures related to these factors in this section.
Vehicle Theft in Washington
In Washington, the popular choice for vehicle thefts is Honda. You can also search for the number of thefts in your city from this data provided by the FBI.
Road Fatalities in Washington
Fatal crashes happen due to a lot of reasons, let's look at what's causing most of the crashes in Washington through data provided by the National Highway Traffic Safety Administration.
Most Fatal Highway in Washington
The Washington section of the I-5 is the busiest and most dangerous in the state reporting 25 fatal crashes each year. The highway has seen 245 crashes and 258 fatalities.
Fatal Crashes by Weather Condition and Light Condition in Washington
Fatalities (All Crashes) by County in Washington
Traffic Fatalities in Washington
Fatalities by Person Type in Washington
Fatalities by Crash Type in Washington
Five- Year Fatality Trend For The Top 10 Counties in Washington
Fatalities Involving Speeding by County in Washington
Fatalities in Crashes Involving an Alcohol-Impaired Driver (BAC = .08+) by County in Washington
Teen Drinking and Driving in Washington
EMS Response Time in Washington
Transportation in Washington
Traffic congestion is a nuisance for everyone, especially when you're driving to work. Well, we can't change the traffic situation in Seattle but can provide some data about transportation in your state.
Car Ownership in Washington

The chart, illustrated by Data USA, shows the percentage of households with the number of cars they own in Washington vs the national average (in grey). Most of the households in Washington own two cars, followed by three cars.
Commute Time in Washington
Employees in Washington have a longer commute than the rest of the country as they spend 26.1 minutes on average to get to work against the national average of 25.5 minutes.
Commuter Transportation in Washington

The most common way for commuting is driving alone in Washington and only 10.2 percent of the people carpool.
Traffic Congestion in Washington
Road congestion in Washington is getting worse each year with a rise in job growth which means more people commuting to work. Drivers in Washington waste 102 hours in traffic delays every year, which is the third-worst in America.
Of the most congested cities in Washington, Seattle takes the number one ranking. In 2018, drivers in Seattle spent 138 hours in traffic congestion making it the sixth most congested city of America.
The cost of congestion per driver was $1,932 annually, as per traffic analytics firm Inrix.
Now that you have gathered all the information about car insurance, you can start comparison shopping today using our FREE online tool. Enter your zip code below to get started.