The Ultimate West Virginia Car Insurance Guide (Costs + Coverage)
Free Auto Insurance Comparison
Enter your ZIP code below to compare auto insurance rates.
Secured with SHA-256 Encryption
Though the roads of West Virginia are windy and you may have to encounter more sharp turns than you are comfortable with, driving in the mountain state is always a thrilling experience.
Ask any West Virginian and they would tell you how many times they have to drop their driving speed from 70 mph to 10 mph on an interstate – no exaggeration there.
The scenic drives in the state make up for all the twists and turns.
As a resident of West Virginia, one thing that you must take seriously is auto insurance because you never know what might happen on those windy roads.
To raise your awareness, we are writing this in-depth car insurance guide for West Virginia which would include information about the right amount of insurance coverage and how to select an auto insurer suitable for your needs.
Sometimes browsing for a provider can be tricky. But with AutoInsuranceEZ.com, it's as straightforward as entering your zip code. We can provide you with the top seven insurance providers in your location, whether you live in a big city like Charleston, Huntington, or Parkersburg, or a lesser populated area such as Morgantown or Wheeling.
You can also start comparison shopping today by entering your zip code above in our FREE online tool.
Car Insurance Coverage and Rates in West Virginia
Do you just buy the coverage limit recommended by your insurance agent or take an informed decision by knowing about the minimum requirements and rates in your area?
Well, if you haven't ever conducted any research for your coverage, you should first try to know about the coverage requirements, laws related to insurance, and then the premium rates you might have to pay.
And, we have done all the research for you, so that you can get accurate details before buying a policy.
West Virginia's Car Culture
A lot of country roads is what defines West Virginia, at least for the millions of people who heard the evergreen number – Take Me Home, Country Roads.
Here's the track which is the state's unofficial song, although many people say that the song wasn't about West Virginia, but who wants that kind of trivia for such a historic number.
Coming back to the car culture (it's so easy to get nostalgic), driving in the state is fun but can be stressful for new drivers because of the mountainous roads. Still, people prefer to drive around whenever they have to get somewhere.
Minimum Car Insurance Coverage in West Virginia
In West Virginia, you aren't allowed to drive a motor vehicle without the required amount of insurance coverage. That's why you must carry the state-mandated minimum car insurance coverage.
As per the law in West Virginia, all auto owners must buy bodily injury liability coverage with minimum limits of $25,000 per person and $50,000 for one accident. In addition, you must carry property damage liability coverage of $25,000.
You must carry proof of insurance coverage at all times in your car. West Virginia also allows motorists to show electronic proof of insurance on any wireless device.
One thing you must note about liability coverage is that it only covers third-party expenses of personal injuries and damages in an accident. To cover your own damages, you will need to buy additional coverage.
How is fault or liability determined in a car accident?
Claims for car accidents are pursued differently in at-fault and no-fault states.
Since West Virginia is an at-fault state, the party which is responsible for causing the accident is required to cover the damages sustained by the third-party.
In no-fault states, each party in an accident pursues the insurance claim with their own company irrespective of fault.
As you must cover your own expenses after an accident, if you're the at-fault party, we recommend that you should look at options for additional coverage.
Collision and comprehensive coverage, though not mandatory, are usually part of the auto policy as these cover damages from any type of collisions or natural events.
For personal injuries, you can choose either Medical Payments or Personal Injury Protection (PIP). As the names suggest, you would get reimbursed for your medical expenses or personal injuries from both these coverage options.
However, if you choose PIP, it would also cover rehab expenses and lost wages as well.
Having both for medical expenses wouldn't be a sensible idea since these serve the same purpose and if you feel that the limits aren't enough, you can always raise the policy limits.
Now, the next important part of auto insurance coverage is the state-mandated policy limits – are these enough for car accidents?
The minimum coverage requirements are good enough for minor accidents or fender benders. But, if you were to get involved in a major accident with a luxury car, the state-mandated limits would not cover the cost of damages.
If you're sued in an accident, you could end up losing your personal assets. That's why many experts recommend minimum liability limits of $100,000/$300,000.
Forms of Financial Responsibility in West Virginia
Financial responsibility laws require motorist to be responsible for the damages they might cause in an accident. To meet these laws in West Virginia, you must have:
Liability insurance coverage with limits of 25/50/25 or
Self-insurance certificate if you own 25 or more vehicles which you can obtain from the commissioner. The commissioner would issue the certificate only when an applicant presents documents of vehicle ownership and an itemized financial statement that lists $1 million in assets
Premiums as a Percentage of Income in West Virginia
In absolute terms, it's difficult to assess the impact of auto insurance costs on your day-to-day living.
But, if you calculate the proportion of your income going towards auto premiums, you will be able to budget better and also compare it with other monthly expenses.
In 2014, the percentage of premiums to income was 3.20 percent as per data from the National Association of Insurance Commissioners. In the three years from 2012-14, the proportion of auto premium has remained almost the same.
West Virginia has the highest percentage of auto insurance to income ratio, followed by Kentucky and Pennsylvania.
If you would like to compare your premiums with income, you can use our in-house calculator.
CalculatorPro
Core Coverage Auto Premiums in West Virginia
For full coverage, that includes liability, collision, and comprehensive insurance, the annual average cost of auto premium is $1,025.
If you choose to buy only liability coverage, your auto premium would be $491 which is lower than the national average of $538.
Additional Liability Coverage in West Virginia
We talked about the additional coverage that you should buy to protect yourself from injuries and damages.
Though none of the other options are mandatory, you would be surprised to know how many people file claims against those coverage options.
One way to see how many claims are being settled for different coverage options is to check the loss ratio.
Loss ratio is the ratio of claims settled to premium income earned in the context of the insurance industry. If an insurance company has a loss ratio of 60 percent, it means it paid out $60 in claims from $100 of premium earned.
For Medical Payments, insurers in West Virginia saw a loss ratio of around 64 percent in 2015. A very high loss ratio or something above 100 percent means that the insurer is paying more claims than it's earning through premiums, which means it's making losses.
For uninsured/underinsured motorist coverage (UM/UIM), the loss ratio was 49 percent in 2015 which means there weren't many UM/UIM claims.
But, why would you need uninsured motorist coverage when the state mandates motorists to buy coverage?
Despite the law, many motorists let their insurance coverage lapse and never buy a policy again.
Around 10.10 percent of auto owners in West Virginia are uninsured, not the worst compared to the whole country as the state is ranked 32nd in the number of uninsured motorists.
Nevertheless, there's a risk in being hit by a motorist who has no coverage or inadequate coverage.
That's why insurance companies offer UM/UIM coverage so that you wouldn't have to bear all the expenses by yourself. If you buy UM/UIM coverage, your insurer would pay for the damages whenever you're hit by an uninsured car.
Add-ons, Endorsements, and Riders in West Virginia
You may have other specific needs that might require you to buy a few add-ons and riders. So, why not explore the available options to make an informed choice?
For instance, if you feel you might need an additional layer of protection in car accidents or a lawsuit would strip you from your personal assets, you can buy a personal umbrella policy.
Guaranteed Auto Protection (GAP)
Personal Umbrella Policy (PUP)
Non-Owner Car Insurance
Modified Car Insurance Coverage
Pay-As-You-Drive or Usage-Based Insurance
Until now, we have talked about what you need to buy and what you must buy to protect yourself in car accidents.
You would be happy to know that many car insurance companies also have a program that can help you in saving money by being a safe driver – known famously as usage-based insurance or pay-as-you-drive.
Telematics technology or electronic devices that can track your driving behavior has helped insurers in pricing their auto policies more accurately. So, if you follow the speed limits, hit the brakes softly, and drive less miles on regular basis – you might get discounts from your insurer.
Though not every insurer would monitor the same elements, you stand a chance to gain with your good driving habits. So, talk to your insurance company today to participate in their usage-based program.
Male vs Female Car Insurance Rates in West Virginia
If you're a 17-year-old, you have to pay extremely steep auto insurance premiums compared to the rates charged from experienced motorists. Some insurers take quite a couple of grand more from new drivers.
As you get older you become more experienced in driving which translates to a lower probability of car accidents. After turning 25, you pay more or less the same premiums unless a specific factor leads to an increase in your rates.
The premium rates also vary by gender for young drivers – and 17-year-old male drivers pay a lot more than their female counterparts.
If you're a young driver in West Virginia, State Farm Mutual Auto, Nationwide Mutual, and USAA would be reasonable choices for you.
Do remember that USAA is available only for the members of the military and their family.
Auto Insurance Rates in the 10 Largest Cities of West Virginia
Here's a list of the auto premium rates in the most populated cities of West Virginia – you can search for your zip code or city using the search button.
The statewide average annual premium rate is $4,067 and some of the cities, such as Gilbert, Kermit, and Lenore, have premiums close to $1,000 over and above that rate.
But it doesn't mean that all zip codes in a city have high premiums, you can always search by city in the table and see which zip codes offer the most affordable rates.
Auto Insurance Rates by Zip Code in West Virginia
Among the many factors that impact your premium rates – zip code is one and it really makes a difference where you live.
Elements like the density of population, theft rates, number of accidents, etc. in your area helps underwriters to calculate the risk associated with driving in a particular zip code.
Enter your ZIP code below to compare auto insurance rates.
Secured with SHA-256 Encryption
Best Car Insurance Companies in West Virginia
Your research for car insurance should obviously involve which car insurance company is the best for your needs.
A lot of auto owners focus on just getting the cheapest quote without assessing what they need and how a little analysis would make them realize that the cheapest is not always the best.
Also, motorists who have a poor credit record, or any accident or traffic violation history would need to find an insurer offering the most reasonable rates as those factors can significantly increase your rates.
In this section, we would look at all the elements you should check in an auto insurance company and how you can get the best rates depending on your personal factors.
Financial Ratings of the Leading Car Insurance Companies in West Virginia
Before buying a policy, you should definitely check the financial standing or strength of an insurer.
Insurance is something that might reap you benefits in the future if you were to get involved in an accident, and you have to be certain that the insurance company would last until that long.
Financial strength ratings help you to understand the ability of insurers in meeting their long-term contractual obligations. If the rating is below average, you can cross the company off your list.
There are five independent agencies that assign ratings to insurance companies – A.M. Best, Fitch, Kroll Bond Rating Agency, Moody's and Standard & Poor's.
We have collated the A.M. Best ratings of the leading car insurance companies because of the agencies focus on the insurance sector.
A.M. Best assigns financial strength ratings in the range of A++ to D which indicates the varying degrees of the ability of an insurer to meet its future obligations, with A++ being the highest rating.
Customer Reviews of the Car Insurance Carriers in West Virginia
What tells you the true story of any insurance company than its customer reviews?
While we know that consumers check reviews of insurance carriers with their friends, colleagues, and acquaintances, browsing through the web for customer satisfaction surveys also helps in knowing the overall feedback.
J.D. Power, a well-known name in the car reviews and rating sector, conducts an annual survey to gauge the level of customer satisfaction for auto insurance providers.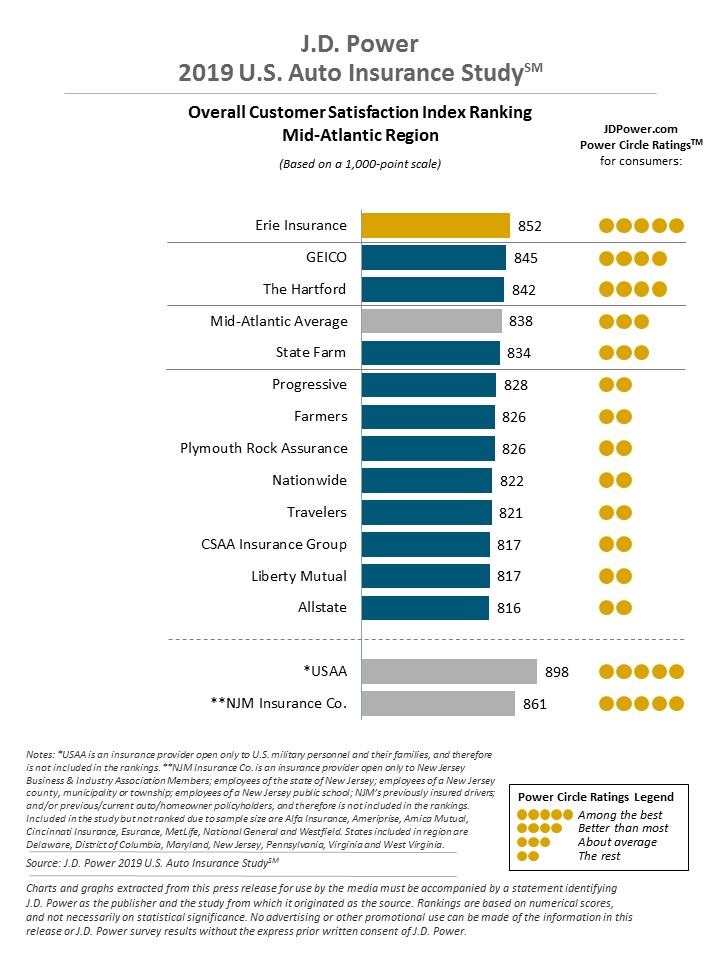 In the mid-Atlantic region, Erie Insurance came out as the most popular carrier amongst consumers in the 2019 U.S. Auto Insurance Study, followed by Geico and The Hartford.
With consumer satisfaction levels at an all-time high because of digital interactions and processes, J.D. Power assessed the satisfaction on five factors –  interaction; policy offerings; price; billing process and policy information; and claims.
Complaint Numbers of Leading Car Insurers in West Virginia
Consumers complain against an insurer when they're unsatisfied with their services or have been wronged in some way.
Complaint numbers may not tell you what exactly happened but it gives you an idea of the number of people who are constantly dissatisfied with a particular carrier. It would be good to know these numbers before making a decision.
It seems like Erie Insurance Group does stand to its popularity as found in the J.D. Power customer satisfaction survey.
Auto Insurance Rates by Carriers in West Virginia
The average annual premium in the state is $4,067 and Geico, Nationwide Mutual, State Farm, and USAA offer rates lower than the average. If you're looking for the cheapest deal, you should choose State Farm.
Auto Insurance Premiums by Commute Rate in West Virginia
If you work from home or carpool to work, you might get a lower insurance rate than those who clock 25 or more miles per day.
Clocking lower miles means you're less prone to accidents in the long-term – some usage-based insurance programs also offer discounts for lower mileage. In West Virginia, Geico, State Farm, and USAA offer lower rates to motorists driving less on a regular basis.
Auto Insurance Premiums by Coverage Level in West Virginia
When you buy coverage with lower limits, you would pay the cheapest rates as you can see in the table.
Reducing policy limits to get the best rates may help you in budgeting now, however, if you happen to get involved in a major accident, you might have to bear all the expenses from your pocket.
Auto Insurance Premiums by Credit History in West Virginia
Since your credit history is a barometer of your ability to make future payments, insurance carriers penalize motorists who have a fair to poor credit rating by charging high rates.
Most of the insurers charge almost double the rates from motorists with a poor credit record than the base rate – such as Liberty Mutual, State Farm, and USAA.
As per a study by Consumer Reports, an adult single driver with a poor credit history is charged $1,373 more than those with an excellent history.
The average vantage score for the state of West Virginia was 658 as per the State of Credit survey in 2017. The national average vantage score was 675 and West Virginia was among the top 10 states with the lowest credit score.
Developed by three major credit bureaus, the Vantage score uses a range between 300 and 850 to indicate the credit paying ability of individuals.
Auto Insurance Premiums by Driving Record in West Virginia
Traffic violations, accidents, or DUI records can all raise your rates drastically. The difference in rate varies by insurers with some of them charging more from motorists with an accident record while others charge more for a DUI record.
Allstate, Geico, and Liberty Mutual would be quite expensive if you have a DUI record, though Allstate and Liberty Mutual have a higher base rate than other carriers.
If you would like to know what all factors can impact your car insurance rates, here's a short video for you.
Leading Car Insurance Companies in West Virginia
Number of Car Insurers in West Virginia
State Laws in West Virginia
Just when you thought you're done with all the research you need for your car insurance purchase, you come across a section on state laws.
We wouldn't bore you with regulations that would never be of any use to you when it comes to driving and car insurance.
But, it never hurts to know the basic laws related to car insurance, rate determination, teen licensing procedures, license renewal requirements and much more.
Car Insurance Laws in West Virginia
The state legislature regulates the auto insurance industry to make sure the system isn't unfair to motorists or nobody takes undue advantage of the benefits from claims.
To that effect, there are certain regulations that you must know of as these are quite useful for auto owners.
How State Laws for Auto Insurance are Determined
Everything from the liability insurance requirements, base premium rates, tort laws to seat belt law and speed limits are determined by the state legislature. These laws are in place to regulate the functions of insurers and keep the driving behavior of motorists in check.
For the use of rates, each state has to follow one of the mechanisms – determined by
Commissioner; prior approval; modified prior approval; flex rating; file and use; use and
file; and no file.
In West Virginia, insurance companies need to file rates with the state insurance department which must be approved before being used. If there is no response in 60 days, the deemer provision indicates that the rate stands approved.
Just like rate approval, the financial responsibility laws of the state require motorists to carry minimum liability coverage with limits of 25/50/25 so that it protects everyone on the roads.
Windshield Coverage Laws in West Virginia
There aren't any specific laws with respect to windshield coverage in West Virginia, however, there are specifications related to cracks and chips on the windshield.
Chips and cracks in the area blocking the view (8-1/2 by 11-inch area) of the driver aren't permitted
Chips and cracks bigger than one and a half inches along the area that is used by the wipers aren't permitted
High-Risk Car Insurance in West Virginia
Did you know that a motorist with multiple records of traffic violations or accidents can be denied insurance coverage?
Maybe you have never faced such a situation or heard about this from anyone, but you should know about the options available to high-risk drivers.
If a motorist is denied insurance in the voluntary market because he/she is high-risk, they can knock the doors of the West Virginia Automobile Insurance Plan (WVAIP) to get coverage.
What is the West Virginia Automobile Insurance Plan (WVAIP)?
The WVAIP was created to offer coverage to high-risk drivers in which all insurance companies licensed to conduct business in West Virginia must participate.
The pool of high-risk drivers is shared by all the companies in proportion to their market share in the state. Usually, they're provided coverage for a period of three years under the plan.
Who are eligible to apply to the plan?
High-risk drivers who hold a valid West Virginia driver's license and a state-registered motor vehicle are eligible to apply. You must also show proof that you were denied coverage in the voluntary market.
As this coverage is for high-risk drivers, the premiums are always on the higher side, so you should take steps to get back to the voluntary market.
Auto Insurance Fraud in West Virginia
When a motorist knowingly commits an act to benefit from an insurance contract deceptively, it's known as an auto insurance fraud.
Fraud can happen at any time during the process of buying, selling, underwriting, or claims settlement – and many auto insurers and agents are also involved in fraudulent activities.
The cost of these insurance frauds – estimated to be around $30 billion annually – isn't only dertimental to the operations of an insurer but hurts consumers in the long run as well since the losses are passed on to them.
Common types of fraud include, but are not limited to, providing incorrect information on the application form, inflating actual claims, staging accidents, submitting claims for crashes that never occurred, etc.
If you're ever involved in a fraudulent insurance claim, you might have to face severe penalties and an increase in premiums.
If the benefit sought for fraudulent activity is lower than $1,000, you might be charged a fine up to $2,500 and face prison time of up to one year
If the benefit sought for fraudulent activity is $1,000 or above, you might be imprisoned in a correction facility for a period of one to ten years and fined up to $10,000
It would always help the law enforcement if you report any fraudulent activity that you come across with the Office of the Inspector General by e-mailing at [email protected] or calling on 304-558-5241.
You can also send a mail to the department – WV Offices of the Insurance Commissioner, Fraud Division, One Players Club Drive, P.O. Box 2901, Charleston, West Virginia 25330-2901.
Statute of Limitations in West Virginia
Vehicle Licensing Laws in West Virginia
After car insurance laws, next comes vehicle licensing – something that you must keep yourself updated with to avoid getting a ticket.
Real ID in West Virginia
We believe that by now you are aware of Real ID requirements in your state. But do you know whether you need one or not?
Real ID is a federal effort in colloboration with the state governments to enhance security and document authentication for entry into certain federal facilities and flying by commercial airlines. State-issued documents, such as driver's license and identification card have to be Real ID-complaint to meet the requirements under this regulation.
Who needs a Real ID-compliant document?
Starting October 1, 2020, all residents who would like to use a state-issued document for entering certain federal facilities or flying within the country would need a Real ID document.
You can still use a federal identification document – such as your passport – to do those.
If you have a standard driver's license, you would have to visit a DMV office to get a Real ID license or identification card.
Before visiting the office, make sure you take along these following documentation with you:
Proof of identity
Proof of social security number
Proof of residency in West Virginia (two documents)
Penalties for Driving without Insurance in West Virginia
Every motorist is required to carry at least the mandatory liability insurance coverage in West Virginia. If you think you can let your policy lapse, it would be reflected in the monthly insurance verification checks of the state.
The West Virginia Online Verification (WVOLV) was designed to help the DMV in electronic verification of your insurance coverage during citations, crashes, registration, and monthly checks on all vehicles.
You're required to keep proof of insurance coverage at all times with you which can be electronic and needs to be shown whenever asked by a law enforcement officer.
Driving without insurance would definitely attract penalties since you're putting everyone at risk.
First Offense: During the insurance verification process, if the DMV sends a notice for lack of coverage information on file and you fail to provide proof, your vehicle registration would be suspended. Once you show the proof of insurance, you can get your registration reinstated by paying $100. In addition, your driving privilege can also be suspended.
Second Offense: If you're sent a second notice within five years of the first one, your driving privileges would be suspended for a much longer duration.
Motorists who try to get a little smart by providing false insurance information would have to face a 90-day suspension of driver's license, vehicle revocation, and the possibility of a prosecution that would lead to fines of up to $1,000 and prison time of up to one year.
Teen Driver Laws in West Virginia
Driving can offer the freedom that teenagers crave but it's also a huge responsibility. Reckless driving can ruin many lives and you would be surprised to know how many fatal crashes are caused by teens.
The West Virginia DMV has designed a Graduated Driver's License program (GDL) to ensure that teens, 15 to 17-year-olds, have enough practice before they can drive on their own.
Eligibility Requirements for GDL:
Each level has different eligibility requirements and requires new drivers to abide by certain terms. Let's look at those:
Driver's License Renewal Procedure in West Virginia
Under the West Virginia DMVs "Drive for Five" program, all driver's licenses expire in five years or at an age which is a multiple of five. This program was introduced to make it easier for motorists to remember the expiration year.
The DMV might issue a license with a shorter or longer duration to enable adherence to the new program. For instance, if you're 37 right now, you would be issued a license for three years so that it expires when you're 40. The next cycle would be for five years.
The license renewal fee is $5 every year plus 0.50 cents.
Renewal would be a good time to get a federal driver's license or a Read ID license which would cost you $10 more.
New Residents in West Virginia
If you're moving to West Virginia with a valid out-of-state driver's license, you can transfer the license after your move.
If you have an expired license, you would have to take all the tests, complete an alcohol awareness course, and surrender your out-of-state license to get a West Virginia license.
New residents must also get their vehicles titled and registered in West Virginia within 30 days of residency.
Fee: The title fee is $15 (lien fee of $10, if required) and the registration fee is $51.50. You're exempted from the sales tax if you already hold a title from another state.
Rules of the Road in West Virginia
Though we all drive with the knowledge that we are aware of all the rules of the road, we might forget some overtime. That's why we are writing about the most basic situations you come across on a daily basis.
Fault vs No-Fault in West Virginia
West Virginia follows the traditional tort law for determining liability in car accidents. If you accidentally hit someone, it becomes your responsibility to compensate the injured parties.
Your liability coverage protects you from your mistakes on the road.
Seat Belt and Car Seat Laws in West Virginia
Many fatalities are prevented in car crashes because of seat belts, so you must restrict yourself in a safety belt and your children in an appropriate car seat.
In West Virginia, all front-seat passengers are required to wear a seat belt and failure to do so might result in a fine of $25 along with points on the driving record.
Every driver of a motor vehicle is also required to properly secure children below the age of eight in a car seat. Children who are above eight or taller than 4 feet 9 inches should wear seat belts.
The West Virginia DMV provides a few guidelines on choosing the right seats for children.
Until the age of two, children should ride in rear-facing seats
When they turn two, children can be restricted in a forward-facing seat with a harness
At age four or when the child weighs 40 pounds, a booster seat can be used
Children should be restricted in a booster seat until the age of 8 or when they are at least 4 feet 9 inches tall
It's recommended to keep children in the back seat until the age of 13
Any violations of the car seat law can lead to fines between $10 and $25.
Here's an insightful video on how to get the correct seats for your kids.
Keep Right and Move Over Laws in West Virginia
In West Virginia, motorists are required to drive on the right lane and use the left lane for passing only except when preparing to take a left turn or when the lane is allocated for traffic movement at the time being.
Any violation can lead to a fine of up to $100 for the first time, up to $200 for a second violation within a year from the first one, and up to $500 for a third or subsequent violation.
Another law that is often ignored by motorists is the move over law which requires motorists to change their lane when approaching an emergency vehicle with flashing lights that might include, law enforcement vehicles, firefighters, road workers, etc.
Speed Limits in West Virginia
You would see the posted limits on all the streets while driving, but if you don't notice one, do follow these limits.
Ridesharing Laws in West Virginia
When people started using their personal cars to transport people from one location to another, it was hailed as a very innovative and pocket-friendly way of commuting.
But, it was realized later that such ridesharing services would require special liability coverage. Resultantly, most of the states now have ridesharing laws to protect everyone involved in the transaction.
As per the ridesharing law of West Virginia, Uber or Lyft drivers must carry liability coverage of:
$50,000 for bodily injury of one person and $100,000 for one accident while the driver is logged-in the mobile app and waiting to pick a ride. In addition, drivers must carry property damage insurance of $25,000 per incident.
$1 million combined for bodily injury, death, and property damage when the driver is engaged in a ride through the mobile app
Automation on the Road in West Virginia
Everyone around the country is witnessing the progress of autonomous vehicles with many states allowing automakers to test their vehicles on highways.
Until now, West Virginia hasn't enacted any legislation for autonomous vehicles and doesn't allow testing on its roads.
Safety Laws in West Virginia
Motorist causing accidents due to an error in judgment is still understandable but knowingly driving while checking your phone or after drinking doesn't go down well with law enforcement officers.
Specifically, the penalties for DUI are quite harsh and it can lead to a considerable rise in premium rates.
DUI Laws in West Virginia
As per the state law, motorists with a Blood Alcohol Level (BAC) of more than 0.08 percent can be convicted for DUI. For those under the age of 21, the BAC threshold is 0.02 percent and for commercial drivers, its 0.04 percent.
Penalties for a DUI offense can include both fines and prison time.
Marijuana Drug-Impaired Driving Laws in West Virginia
West Virginia is among one of the few states that have implemented a marijuana-impaired driving law and those found with a THC of three nanograms after the test can be convicted for impairment.
Distracted Driving Laws in West Virginia
Motorists in West Virginia aren't allowed to text while driving or use an electronic device unless the device is hands-free.
Any violations of the distracted driving law can lead to a fine of $100 for the first offense, $200 for the second offense, and $300 for a third or subsequent offense.
Driving in West Virginia
Apart from personal factors, there are many traffic and state-level factors that impact the calculation of insurance premiums.
Data such as – number of cars during peak hours, car ownership per household, popular mode of commuting, and car thefts – help insurers assess the risk associated with driving in a particular city or zip code.
We would look at some of these facts and figures in this section.
Vehicle Theft in West Virginia
You can also search for your city in the table to see the number of stolen vehicles, data provided by the FBI.
Road Fatalities in West Virginia
The National Highway Traffic Safety Administration regularly publishes data about the crashes, fatalities, and how these crashes happen. Let's take a look at the numbers.
Most Fatal Highway in West Virginia
The portion of US-19 passing through West Virginia is the most dangerous highway of the state and has seen around 101 crashes until now.
Fatal Crashes by Weather Condition and Light Condition in West Virginia
Fatalities (All Crashes) by County in West Virginia
Traffic Fatalities in West Virginia
Fatalities by Person Type in West Virginia
Fatalities by Crash Type in West Virginia
Five-Year Fatality Trend For The Top 10 Counties in West Virginia
Fatalities Involving Speeding by County in West Virginia
Fatalities in Crashes Involving an Alcohol-Impaired Driver (BAC = .08+) by County in West Virginia
Teen Drinking and Driving in West Virginia
As per data from the FBI, around 11 underage drivers (below 18) were arrested for DUI in 2016 and the state is ranked 44th in the number of underage  DUI arrests per million people.
The under 21 alcohol-impaired fatality rate was 1.1 as compared to the national average of 1.2 deaths per 100,000 people.
EMS Response Time in West Virginia
Transportation in West Virginia
Your driving experience in a city or town is influenced by the commute time, how many cars are owned by households, and the preferred mode of commuting.
We would look at some analysis from Data USA to see these numbers for West Virginia.
Car Ownership in West Virginia
The average number of households in West Virginia own two cars, followed by three cars. In car ownership, West Virginia follows the national trend of owning two cars (illustrated in grey).
Commute Time in West Virginia
Employees in West Virginia have a shorter commute of 25.1 minutes compared to the national average of 25.5 minutes.
In comparison to its neighboring geographies, West Virginia has a shorter commute time than Pennsylvania, Virginia, and Maryland.
Commuter Transportation in West Virginia
Most of the people in West Virginia prefer to drive alone to work like the rest of the country. Only 8.99 percent of the people carpool to work.
Now that you know everything about car insurance, you can start comparison shopping today using our FREE online tool. Enter your zip code below to get started.