The Ultimate Nebraska Car Insurance Guide (Costs + Coverage)
Free Auto Insurance Comparison
Enter your ZIP code below to compare auto insurance rates.
Secured with SHA-256 Encryption
Nebraska is a lovely, humble place with many activities, ranging from horseback riding and scenic byways to fun, local bars and the best tailgating parties. You can really feel the state pride when attending a Cornhusker college football game.
For locals or visitors looking for a more unique, offbeat experience, there's floating down a gentle river in a livestock tank or visiting the "moon-scape," also known as Toadstool Geological Park.
It's possible to drive from one side of the state to the other on Interstate 80, but it'll be a long drive crossing two different time zones.
Let's say you want to tread this journey from one side of Nebraska to the other, or you simply want to take a ride on some of the scenic routes. Before getting to the fun part, you'll first have to find yourself the required auto insurance to drive in Nebraska.
We understand that researching insurance can be difficult. That's why we've compiled everything you need to know here. Look no further for Nebraska's car insurance laws, companies, rates, facts, and so much more.
Let's start your Nebraska adventure. If you live in Omaha, Lincoln, Bellevue, Grand Island, or Kearney, you can receive up to ten rate quotes from major providers in your community with AutoInsuranceEZ.com. Rates fluctuate by insurer and you should compare rates carefully before you purchase a policy. We'll help you buy the coverage to meet your needs.
Use our simple rate comparison tool below to find the best price on a Nebraska auto insurance policy today.
Nebraska Car Insurance Coverage & Rates
Whether you're looking to drive the busier streets of Omaha and Lincoln or the wide-open dusty trails of more rural Nebraska, it is important to find the right coverage at the lowest price.
Fortunately for you, in comparison to the $1,311-average car insurance cost per year nationwide, Nebraska is pretty low at $1,086. Below, you will find Nebraska's average expenditures for auto insurance compared to the national average by coverage type as outlined by the Insurance Information Institute:

Even with Nebraska's auto insurance rates on the lower end when compared nationwide, that doesn't make it any less important to find the best deals.
There are so many factors that determine the cost of auto insurance policies, including your type of car, driving record, coverage choice, etc. It's no wonder trying to get the best rates can be such a difficult task.
To help, we'll lay out everything you need to know from Nebraska's minimum coverage to how to find the best rates for your auto insurance needs.
Nebraska's Car Culture
Nebraska's car culture can be described as practical, functional, and big. Although a humble state, where many people will drive just about anything that gets them from point A to point B, popular cars in Nebraska include heavy-duty trucks and SUVs such as the Ford F-150 and the Chevy Suburban SUV.
These types of cars make sense for bringing lots of extra food and supplies, as well as driving through unpaved routes.
As we've mentioned, Nebraska consists of vast, beautiful, rural plains, which mean increased risk for automobile-related deaths. In fact, a whopping 70 percent of Nebraska's motor vehicle deaths were in rural areas.
Because of the possibility of long rural roads between main highways, it is important for Nebraskans to be prepared with extra gas, food, paper maps, and of course, the right car insurance.

Nebraska Minimum Coverage
When driving in Nebraska, here is the minimum coverage you'll need, according to the Automobile Financial Responsibility Laws By State chart from the Insurance Information Institute:
According to NOLO.com, all motor vehicles registered to the state of Nebraska must carry "proof of financial responsibility" that covers the minimums above.
For the state of Nebraska, which shows up on Allstate's list of 48 states that permit drivers to use an electronic copy of their insurance card during a traffic stop, digital proof of insurance will be accepted. The minimum liability coverage will also cover family members and other drivers who have permission to drive the vehicle.
These liability rates are the bare minimum to make sure that your driver's license does not get immediately suspended in the case that you receive a citation for "No Proof of Insurance." AAA's Digest of Motor Laws states that violators could also be charged with a Class II misdemeanor.
Although these minimums will keep you from a suspended license or misdemeanor charge, they are not the rates that will ensure you do not have to pay anything if you are hurt or if your vehicle is damaged. Remember to find the cheapest rates that fit your financial situation.
Forms of Financial Responsibility
There are several options for Proof of Financial Responsibility that cover the minimums discussed previously, with the most common option being auto insurance.

One of these other options is a Bond of Surety Company duly authorized to transact business within the State of Nebraska or a bond with at least two individual sureties who each own real estate within the State of Nebraska.
Another is a Cash Bond furnished by a certified check, bank draft, or money order. When choosing either of these bond options, the value must be at least $75,000.
The last option is a certificate of self-insurance.
Premiums as a Percentage of Income
Over a span of three years, Nebraska's disposable income rose and fell as insurance costs rose steadily. Nebraska is the ninth-lowest state when comparing insurance as a percent of income. From 2012 – 2014, Nebraska's average was 1.85 percent. This is 0.51 percent lower than the national average of 2.36 percent.
Compared to the states surrounding Nebraska — Wyoming, South Dakota, Iowa, Kansas, and Colorado — Nebraska falls right in the middle, with its average insurance as a percent of income only 0.01 percent more than its surrounding states' average.
Individually, these states' averages range from 1.70 percent (Wyoming) to 2.15 percent (Colorado). The graph below shows the averages for all the surrounding states.
To find and compare your own insurance as a percent of income, use the calculator below.
CalculatorPro
Core Coverage
The core group of auto insurance coverage in Nebraska includes liability, collision, and comprehensive. Combined, these form the full coverage policy. The table below shows NAIC data for the average annual cost of each of these forms of coverage based on Nebraska's state minimum.
Nebraska's averages sit slightly higher than the national average for all forms of coverage and combined coverage.
Additional Liability
In addition to the minimum coverage required by the state of Nebraska, there are some add-on options you can choose from to increase coverage. These include Medical Payments and uninsured/underinsured motorist coverage.
With Medical Payment (MedPay) and Personal Injury Protection (PIP) coverage, you can make injury claims against your own insurance company no matter who is at fault for the accident. PIP is for no-fault states, and since Nebraska is an at-fault insurance state, it does not have the PIP option available, only MedPay.
With uninsured/underinsured motorist coverage (UM/UIM), you can make injury claims against your insurance company if you are in an accident caused by a driver with no auto insurance. Although the state of Nebraska is pretty good with auto insurance, ranking 46th on the percent uninsured list at 6.80 percent, it may still be important for you to consider UM/UIM options if you are looking to be completely protected.
So, what factors help you decide if an insurance company is giving you a good rate on additional coverage? One way is to compare the company's loss ratios or the ratio of losses to gains.
In the situation of car insurance, the loss ratio is the amount auto insurance companies pay out in claims to the amounts the insurance companies take in as premiums. The Nebraska loss ratios for the above mentioned additional liability coverages, provided by the NAIC (National Association of Insurance Commissioners) are listed in the table below.
Nationwide, the average loss ratio from 2013 – 2015 for MedPay was 75.72 percent, 5.85 percent lower than Nebraska's average, and for UM/UIM it was 72.48 percent, 1.93 percent lower than Nebraska's average. This shows that Nebraska's payouts for claims are above average — a good sign.
When comparing loss ratios for additional liability, it is important to find a happy medium. A low loss ratio signifies you may not be getting paid out as much as you should while a high loss ratio means the company may be overpaying and therefore financially unstable or at risk.
Add-Ons, Endorsements, & Riders
• Guaranteed Auto Protection (GAP)
• Personal Umbrella Policy (PUP)
• Rental Reimbursement
• Emergency Roadside Assistance
• Mechanical Breakdown Insurance
• Non-Owner Car Insurance
• Modified Car Insurance Coverage
• Classic Car Insurance
• Pay-As-You-Drive or Usage-Based Insurance
The last option on the list, Pay-As-You-Drive or Usage-Based Insurance, is an option worth exploring in which the insurance company will monitor your driving and offer discounts based on your good habits.
Male vs. Female Rates
Nebraska bases insurance rates on many factors, including age and gender. The data in the table below, based on actual-purchased coverage by Nebraska's population (including high-risk drivers and those who purchased more than the minimum coverage), displays several insurance companies' rates for different genders, ages, and marital statuses.
The average rate of all these rates combined shows that males will typically pay a slightly higher premium than females over the course of their lives, with the male average at $3,566.87 and the female average at $3,232.85.
In both male and female cases, the average premium rates drop significantly when a single, 17-year old driver ages into a single, 25-year old driver (average 62.37 percent drop) and continue to drop, but at a lesser rate, when aging from 25 – 60 (average 10.5 percent drop). The table below shows the percent changes as drivers age, separated by females and males.
It seems as though gender does not matter too much to insurance buyers in Nebraska. According to the United States Census Bureau, the male-to-female ratio is almost exactly half and half, with 24.7 percent of the population being under 18. Of this 24.7 percent, those who drive can look forward to a nice, big drop in insurance rates as they age to 25.
Cheapest Rates by Zip Code
Nebraska's 527 cities have a total of 586 zip codes. The top 14 zip codes with the most expensive premiums on average are all in Omaha city. In Nebraska, Safeco Ins Co of IL averages the highest rates, while American Family Mutual averages the lowest.
Whether you live in one of the biggest cities of Lincoln or Omaha, which makes up nearly 10 percent of all the zip codes in Nebraska, or a smaller town, you can use our tool to ensure you find the best rates for your situation.
Cheapest Rates by City
As mentioned, Lincoln and Omaha are, by far, the largest cities in Nebraska. But there are many other cities. How do their rates compare?
In the table below, you can see average auto rate premiums for all Nebraska states, from the most expensive city of Omaha to the least expensive city of Bradshaw.
Enter your ZIP code below to compare auto insurance rates.
Secured with SHA-256 Encryption
Best Nebraska Car Insurance Companies
Now that you have more information on what kind of rates to expect, feel free to use our free auto insurance comparison tool to find the best company at the right rate for you at the bottom of this page.
If you are still unsure about what rate or company to choose, you're not alone.
There are many car insurance companies in Nebraska. Is that extremely low rate too good to be true? Is that slightly higher price worth it for the service the insurance company provides?
If you're still unsure about what to choose, read on to find some more information about Nebraska's car insurance companies. We'll cover a wide variety of topics from the company's financials and complaints to the credit history and driving records they typically look for.

The Largest Companies' Financial Rating
While shopping for car insurance, you may be more worried about your own financials than the financials of the car insurance companies. However, it is important to note insurance companies' financials because they indicate how stable they are as a company.
If you think about all the money you'll be paying your insurance company in premiums as you drive around Nebraska, you want to be sure that they'll be able to pay out your claims if you ever do get into an accident.
A.M. Best is a great, trusted source to find financial ratings of insurance companies. In the table below, you can find a list of Nebraska's 10 largest car insurance companies, along with their A.M. Best ratings.
Of the 10 largest auto insurance companies in Nebraska, most have an A or higher A.M. Best rating. A great sign for you as a Nebraska car insurance shopper.
Companies with Best Ratings
Knowing how a company is rated financially is a significant indicator of whether they would be a smart choice, but knowing how well they rate with customers is just as important. If they have the financial ability to pay claims but are extremely difficult to reach or deal with during a time of need, they may not be the right choice.
To find customer ratings, J.D. Power is a great place to look. J.D. Power ranks auto insurance companies by customer satisfaction rankings.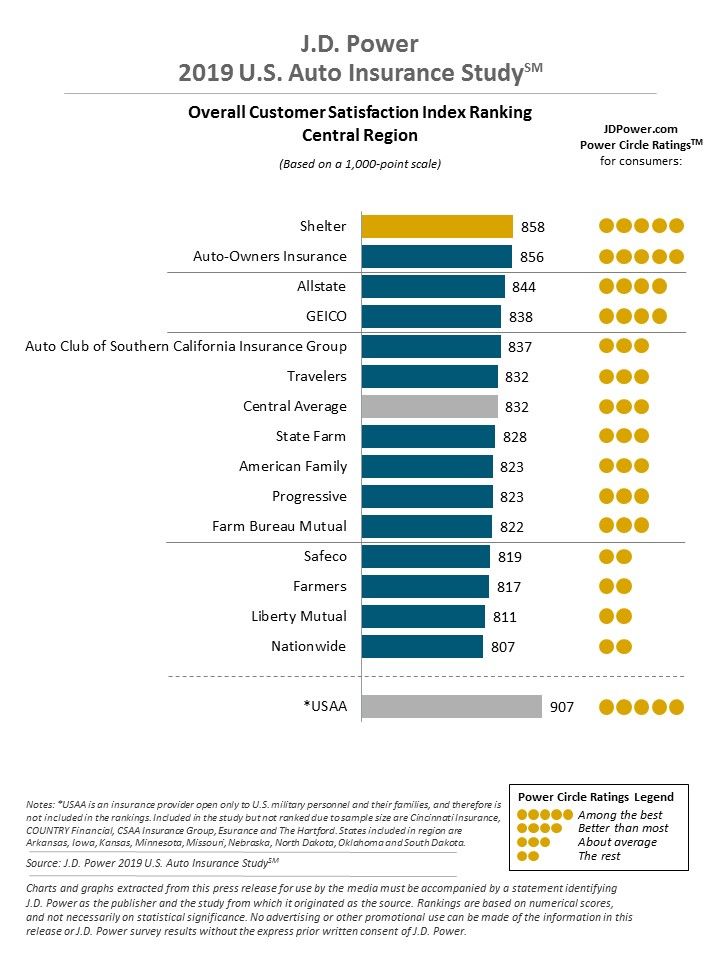 Companies with Most Complaints in Nebraska
Another way to make sure an auto insurance company treats their customers right is to research their complaints. The NAIC provides data for complaint ratios for auto insurance companies. A complaint ratio is the number of a company's complaints per million dollars written in premiums.
Below, you will find the top 10 list of Nebraska auto insurance companies by complaint ratio. Meaning, the ones with the lowest complaint ratios will be at the top.
You may notice that a higher number of complaints does not mean a higher complaint ratio. It's important to use the complaint ratio because it would be unfair to compare a company with one complaint that only has two customers total, to a company that has five complaints but has thousands of customers.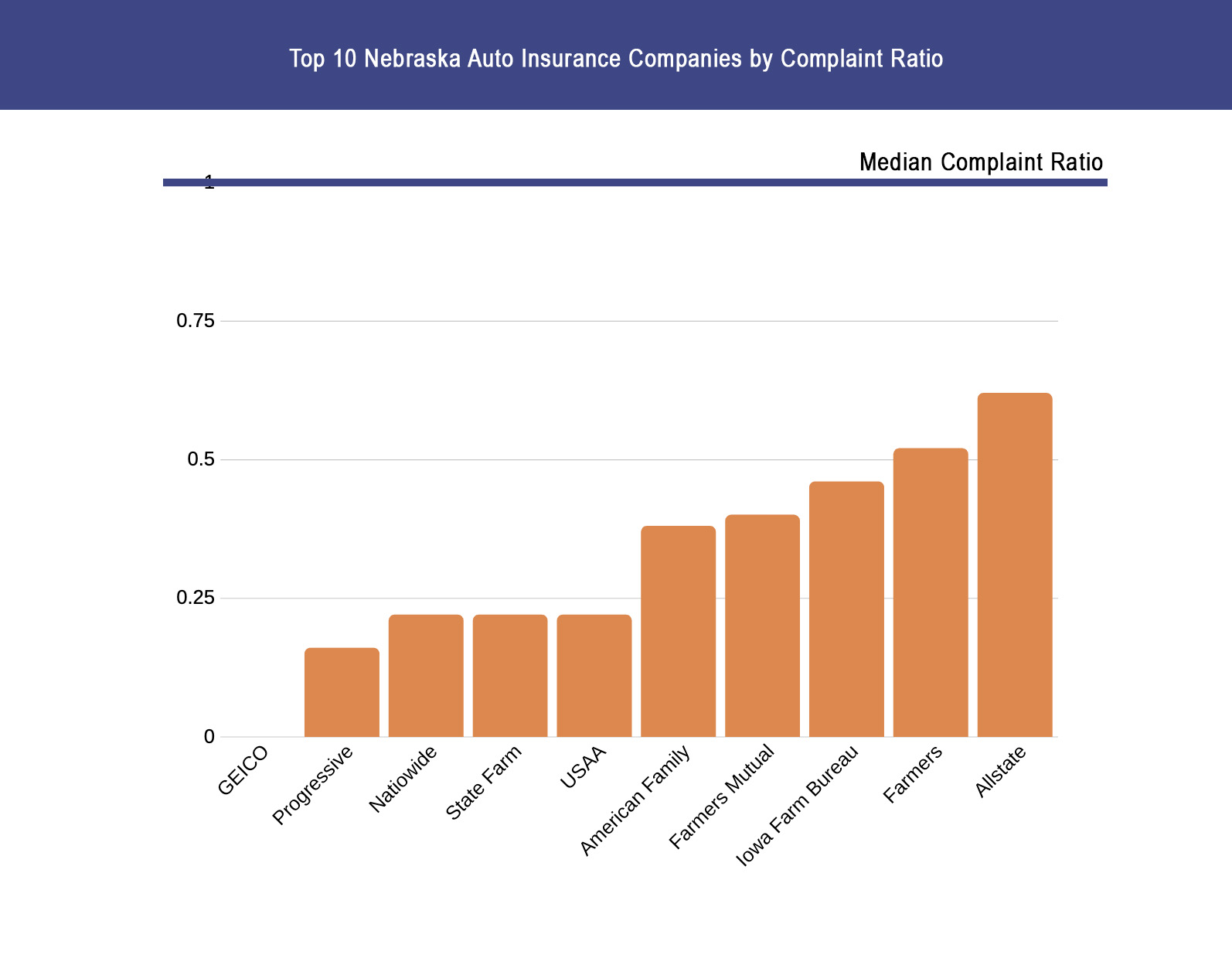 Cheapest Companies in Nebraska
Now that you know which companies are the best when it comes to customer satisfaction, let's dive into which ones are known to save you the most money.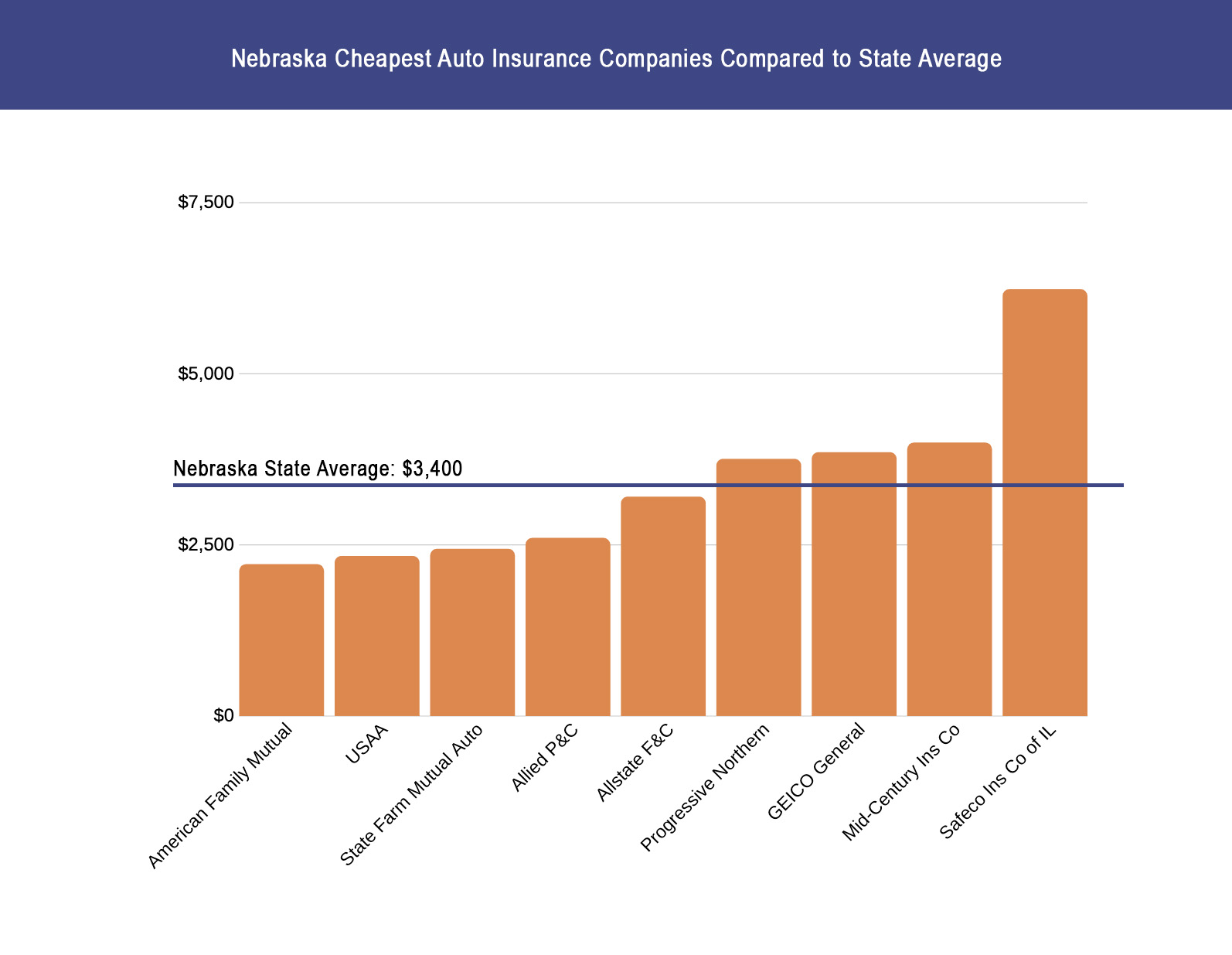 Below, you will find rates for the top 10 companies with the best average rates when compared to the Nebraska state average with a percent difference.
Notice any companies that have shown up consistently throughout these comparison charts?
Commute Rates by Companies
Nebraska drivers traveled 20,996 miles in 2018, averaging 1,750 miles per month. How do you compare to the Nebraska average? It's important to know your commute because many auto insurance companies will change their premiums based on how much you drive.
How much does your commute matter to an auto insurance company? The table below compares different companies' premiums for 10-mile commuters vs. 25-mile commuters.
The average percent change in premiums when going from a 10-mile commute to a 25-mile commute is 1.33 percent. Based on this percent and the average premium of $1,086 in Nebraska, you can expect to pay an additional $14/year when increasing your commute from 10 miles to 25 miles.
This may not sound like much but is important to note when shopping around. Make sure you find a company that does not drastically increase its price for high-mile commuters if you fall into that category.
Coverage Level Rates by Companies
For those of you looking to play it safe and opt for more coverage, we will compare rates by coverage level below.
According to this chart, American Family Group charges less for higher coverage. From their medium coverage to higher coverage, the rate drops 5.3 percent. So higher-level shoppers could be at an advantage when driving in Nebraska.
Nebraska's state average for high coverage is $3,497.78 annually. See the chart below for a comparison of high coverage rates for all the above-listed companies to the state average.
Credit History Rates by Companies
In Nebraska, the average credit score is 695. How does yours compare and why does this matter when shopping for auto insurance? Well, your credit score is yet another factor that comes into play in auto insurance companies' premiums.
Here's, on average, what you can expect to pay based on your credit score in Nebraska:
• Poor Credit (320 – 599): $4331.37
• Fair Credit (600 – 689): $3156.32
• Good Credit (690+): $2711.88
Which auto insurance companies, then, give the biggest price breaks for having better credit? The chart below compares auto insurance rates of different companies for poor, fair, and good credit customers, sorted by premium price for good credit.
On average, you can expect a drop of 37.23 percent when moving from poor credit to fair credit and 16.39 percent when moving from fair credit to good credit.
These are pretty significant numbers, showing the impact that credit can have on your auto insurance rates in Nebraska.
Depending on your credit, the chart below will show you how companies compare to the state average for premium prices. If you currently have poor or fair credit, American Family will be the cheapest choice. If you currently have good credit, State Farm is the cheapest choice.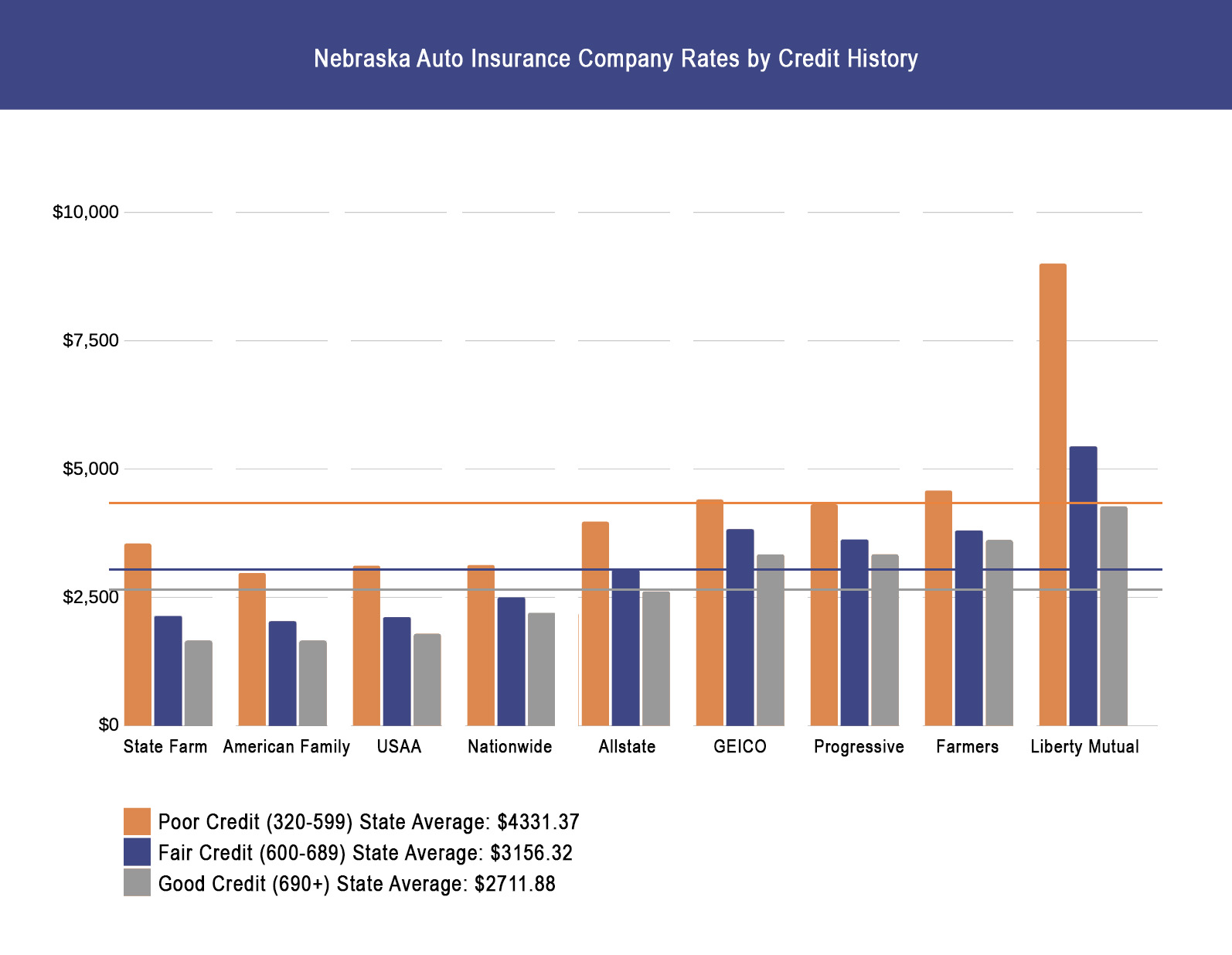 Driving Record Rates by Companies
Let's say you've made some mistakes in the past that have affected your driving record. How much will this affect your premiums in Nebraska, and how much of a break can you expect to get when your record is clean again?
The chart below shows what you can expect to pay depending on your driving record and the percent change from a clean record to one with a speeding ticket, accident, and DUI.
Below are the average percent increases you can expect to pay in Nebraska when going from a clean record (average $2,800) to one with a violation:
• Clean to one speeding ticket: 15.67 percent increase (average $3,320)
• Clean to one accident: 20.81 percent increase (average $3,536.41)
• Clean to one DUI: 28.95 percent increase (average $3,941.66)
USAA remains the cheapest option for those with a clean record, one speeding ticket, or one accident. If you have a DUI, American Family will be your cheapest option.
The chart below shows auto insurance company rates for different driving records compared to the state average.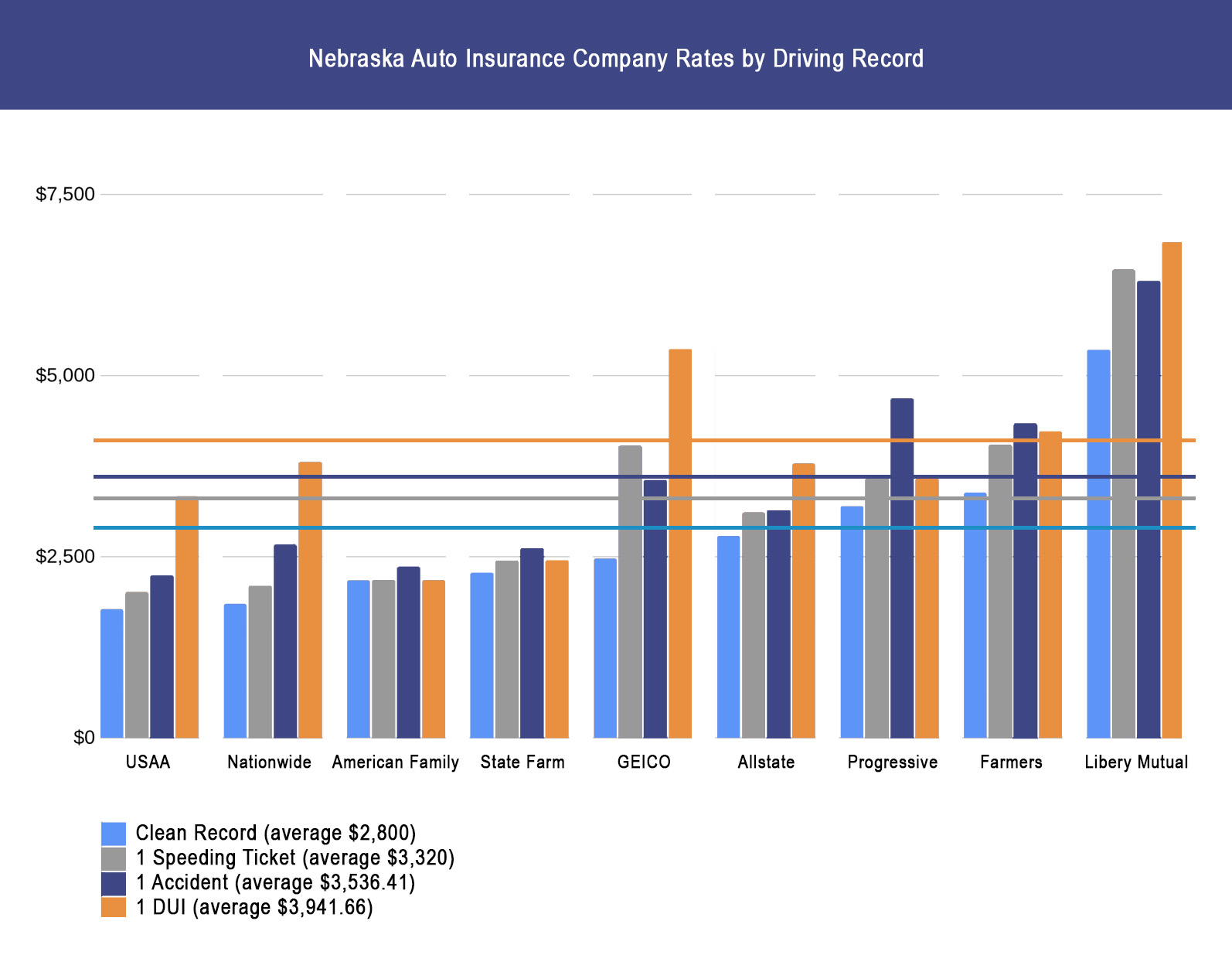 Overall, American Family has the lowest average percent change in Nebraska when going from a clean record to having any of the above three violations on your driving record.
Of course, we all hope to keep our driving records clean, but knowing this information can help you see which company may be a better option in case an unfortunate situation does arise.
Largest Car Insurance Companies in Nebraska
You may have formed your own analyses and opinions on what the best auto insurance company in Nebraska is based on your own specific needs, but what are the actual most popular companies?
You may be surprised at the results. Below are the 10 largest auto insurance companies in Nebraska based on direct premiums written. In Nebraska, State Farm has the largest share of the market at 23.13 percent. Progressive rings in at second place with 12.48 percent.
Why doesn't this chart look like many of the ones above? It may be because of the marketing dollars available for the larger companies that allow them to stay on top. This emphasizes the importance of doing your own research to see if you agree that the top companies are your best choice, or if another, less-known option is better for you.
Number of Insurers by State
In auto insurance terms, a domestic insurer is in-state while a foreign insurer is out-of-state. In Nebraska, there are 34 licensed domestic insurers and 867 licensed foreign insurers.
The national average for domestic is 45 and for foreign is 754.
Nebraska Laws
We all know that we should be aware of our own state laws, but that's not always an easy task. With so many different driving laws explained in so many different sites and publications, it's no wonder we're not all experts.
Instead of having to read through many many pages between different sources, we've compiled and outlined Nebraska's important laws for you here.
Read on to learn more about car insurance laws, licensing, and other laws that will help make you a better driver.
Car Insurance Laws
Let's take a look at the different car insurance laws in Nebraska.
How State Laws for Insurance are Determined
In Nebraska, laws for insurance are determined by the Nebraska Legislature. Nebraska's Department of Insurance supervises and controls insurance companies, executing and enforcing all insurance laws.
Windshield Coverage
Some states have different laws for windshields, such as whether aftermarket parts can be used and which repair shop to go to.
In Nebraska, there are no laws that are unique to windshields, but some insurers may require the use of a specific repair shop.
High-Risk Insurance
If you are a high-risk driver in Nebraska, you will need to file an SR-22. You will also need to file an SR-22 for revocations and suspensions of your license.
An SR-22 is not a form of insurance. It is an additional form that needs to be filed, proving to the state of Nebraska that you have insurance.
In the state of Nebraska, your insurance company must mail, personally deliver, or electronically transfer (if applicable) the SR-22 filing to the Department of Motor Vehicles.
If you do not live in Nebraska, the Nebraska Department of Motor Vehicles still requires out-of-state SR filings. If this is your case, you should contact the Nebraska CMV before making a premium payment to make sure your insurance company allowed of-of-state filings.
Low-Cost Insurance
Although Nebraska does have insurance available for the high-risk driver, it currently does not have low-cost insurance to help low-income drivers. California, Hawaii, and New Jersey are the only states that have this type of program.
Automobile Insurance Fraud in Nebraska
The Insurance Information Institute (IIHS) explains that auto insurance fraud can be committed by policyholders, third-party claimants, and professionals who provide services such as car mechanics.
Fraud means that one of these parties is lying to get more money from the insurance company. For example, you can stage an accident and have a professional mechanic write you a fake invoice for services they never had to give you. What happens if you are caught in this type of fraud?
The IIHS also lists key Nebraska laws against insurance fraud. In Nebraska, the type of fraud explained above is classified as a crime. Nebraska has an Insurance Fraud Prevention Division which prevents, investigates, and prosecutes fraudulent activities.
Their contact info is:
https://doi.nebraska.gov/insurers/fraud
[email protected]
402-471-2201
– Statute of Limitations
Let's say you get into a car accident and wait two years before acting. Can you still file a claim? In Nebraska, you can.
Nebraska's statute of limitations states you can file a claim up to four years after the accident for both personal injuries as well as property damage.
State-Specific Laws
In Nebraska, car insurance companies have the right to deny coverage. However, to ensure that all drivers are able to purchase the minimum insurance required to drive, Nebraska car insurance companies are required to participate in the Nebraska Automobile Insurance Plan.
This plan has auto insurance companies within Nebraska that share the risk of providing insurance to drivers who are unable to get insurance normally.
Drivers can apply for this plan through any licensed car insurance agent or company in Nebraska. Though a great option for those who are denied coverage, these rates will be higher than average, so be sure to use our tool to make sure you find the best provider for your situation.
Vehicle Licensing Laws
Now, we'll take a look at vehicle licensing laws in Nebraska.
REAL ID
It's important to note that Nebraska is compliant with the REAL ID act. This means that federal agencies can accept Nebraska-issued driver's licenses. The Department of Homeland Security explains that a REAL ID helps to secure driver's licenses, improving their reliability and accuracy.
Penalties for Driving Without Insurance
As we've mentioned several times, it is illegal to drive without any insurance in Nebraska.
If you are caught driving with no insurance, your license and registration will be suspended. To reinstate, there is a $50 fine for each, and proof of insurance in the form of an SR-22, explained above, will be required to be on file for three years.
Nebraska's proof of insurance comes in different forms. Most commonly, it comes in the form of an insurance ID card issued by your insurance company. Alternatively, you can carry your bond of surety company or cash bond as proof of insurance.
Be sure to carry these with you to avoid the penalties.
Teen Driver Laws
Teen drivers have separate laws because they lack experience, making them a higher-risk group. This is why Nebraska has graduated licensing as outlined by the IIHS.
There are three stages for teen drivers in Nebraska as explained by Nebraska's Department of Motor Vehicles. See the details for each state in the table below.
Older Driver License Renewal Procedures
All drivers in Nebraska must get their licensed renewed every five years. This can be done by mail or online for every other renewal. However, for the older population of 72 years of age and over, mail or online renewals are not an option, and proof of adequate vision is required each time.
New Residents
If you are new to living in Nebraska or have just moved, you are probably looking urgently into getting licensed. Just how urgent does this need to be?
For new Nebraska residents, you will have 30 days to obtain your license. All new applicants are required to provide proof of citizenship, your principal address in Nebraska, and a valid social security number.
Furthermore, you will have to surrender your previous license from out of state, take a vision test, and complete a driving test.
License Renewal Procedures
If you are issued a Nebraska driver's license before the age of 21, your license needs to be renewed when you turn 21. If you are issued a license after the age of 21, your license needs to be renewed every five years.
When renewing, you will be required to take a vision test. Written and driving tests may be waived by the Nebraska Department of Motor Vehicles.
Upon successful completion of these tests, a 30-day temporary license will be issued, and the permanent license will be sent via mail within 20 days.
Nebraska Point System
Driving violations result in points to your driving record via the Nebraska Point System. If you have too many points, you may lose your driving privileges.
Points remain on your record for five years, and accumulating 12 points within two years will result in automatic revocation of your driver's license.
If you have less than 12 points, you can voluntarily enroll in a DMV approved Driver Improvement Course that will reduce your points by two. This can be done once every five years.
A full list of violations and how many points they relate to can be found on Nebraska's Department of Motor Vehicles website.
Rules of the Road
As a shopper of car insurance in Nebraska, it is important for you to know the rules of the road. See an outline for some below.
Fault vs. No-Fault
Nebraska is a fault state. This means you will be held responsible for an accident if you cause it.
Nebraska only requires that you carry the minimum amount of insurance, but carrying higher coverage may help you during an accident with which you are at fault.
Seat Belt & Car Seat Laws
According to the IIHS, there is no primary enforcement for seat belts. Anyone 18 or older in the front seat is required to wear a seatbelt with a fine of $25 for first violations.
Children two years or younger must be in a rear-facing child restraint until he or she outgrows the maximum allowable height or weight prescribed by the car seat manufacturer. Children seven years and younger are required to be in a child safety seat in the rear seat, if available.
Nebraska also restricts riding in cargo areas to people age 18 or older and parades.
Keep Right & Move Over Laws
In Nebraska, it is the law for you to keep right or move over if you are driving slower than the average speed of traffic. Passing on the right is allowed in certain conditions.
Speed Limits
Whether you're driving in one of Nebraska's busy cities or cruising through scenic bypasses, it's important to be aware of the speed limit. Below are Nebraska's law-enforced speed limits for different roads.
Ridesharing
Ridesharing is a great new way to make money. If you plan to rideshare for Uber or Lyft, be aware that Nebraska has specific insurance laws for you.
In Nebraska, insurers for ridesharing are:
Farmers
Geico
State Farm
USAA
Automation on the Road
Automatic cars have slowly become more well known. In Nebraska, automatic cars are allowed to be on the road. According to the IIHS, the requirement for an operator to be licensed, or even present, depends on vehicle automation.
If the car is equipped with automated driving systems, a licensed operator is needed. However, if the car has driverless capabilities and can achieve "minimal risk conditions," no operator is needed.
However, even for automatic cars, liability insurance is needed.
Safety Laws
Nebraska has laws in place to protect the safety of its drivers as well as others.
DUI Laws
In 2017, there were 67 alcohol-impaired driving fatalities in Nebraska.
Nebraska has DUI laws and severe punishments intended to prevent these types of accidents. the BAC limit for driving is 0.08, with a high BAC defined as 0.15.
Below are Nebraska's DUI penalties for different numbers of offenses:
DUI's remain on a driver's record for 15 years.
Marijuana-Impaired Driving Laws
In Nebraska, marijuana is fully illegal, therefore there are no marijuana-specific driving laws.
Distracted Driving Laws
Texting while driving is prohibited in Nebraska, but handheld cellphone use is not illegal. Texting while driving is a secondary offense.
Driving Safely in Nebraska
Having insurance ensures that you are covered if you ever do get into an accident. However, driving safely can prevent the need for this altogether.
Driving safely means something different everywhere you go, and it's important to know what it means to drive safely in Nebraska. We want you to drive safely and will provide you with lots of information to do so.
Below, we will cover a wide variety of safety-related topics from auto thefts to driving fatalities.
Vehicle Theft in Nebraska
Which cars are most often stolen in Nebraska? Here's the list according to the National Insurance Crime Bureau:
2000 Chevrolet Pickup (Full Size)
1998 Honda Civic
1996 Honda Accord
2004 Ford Pickup (Full Size)
2001 Dodge Pickup (Full Size)
2000 Jeep Cherokee/Grand Cherokee
2003 Chevrolet Impala
1996 Chevrolet Pickup (Small Size)
1999 GMC Pickup (Full Size)
2013 Chevrolet Malibu
The most stolen car is in line with what car is popular in Nebraska — the Chevy Pickup. The newer model that tends to be stolen is the Chevrolet Malibu.
Which cities experience the most car theft? As you could have guessed, Omaha, the biggest city in Nebraska, weighs in the highest at 3,500 thefts in 2017. The table below outlines more cities.
Road Fatalities in Nebraska
Below we will outline road fatalities in different situations.
Most Fatal Highway in Nebraska
The Interstate 80 goes all the way across Nebraska and is the busiest highway. It's also the most fatal highway in Nebraska. The fatal crash rate on this highway is 0.3 with 179 crashes and 235 fatalities in the past 10 years.
Fatal Crashes by Weather Condition & Light Condition
Different weather conditions affect the fatalities in Nebraska. The table below shows fatalities by weather condition.
Surprisingly, normal conditions accounted for 89 percent of fatalities. This could be because many people take extra precautions when driving in the rain or snow.
This shows the importance of driving carefully even when conditions seem good.
Fatalities (All Crashes) by County
Between all Nebraska counties, the average fatalities from crashes from 2013 – 2017 remained very consistent, around 2.43. The table below shows fatalities in all counties from 2013 – 2017.
The counties with the highest number of fatalities have a significantly higher number than the average.
From 2013 – 2017, Douglas County remained the county with the highest number of fatalities. This makes sense, considering Omaha, Nebraska's largest city, is in Douglas County. Below are the five-year totals for fatalities in the top three counties:
Douglas County: 200
Lancaster County: 92
Sarpy County: 38
Fortunately, there is no clear increase pattern for Nebraska's fatalities.
Traffic Fatalities
The average total traffic fatalities per year between 2008 – 2017 in Nebraska was 214.2, with almost 80 percent of these fatalities occurring in rural areas. They may be caused by factors such as a lack of phone signal in a time of need and less of an enforcement for safety laws, such as seatbelt-wearing.
The table below shows the number of fatalities in 10 years between urban and rural areas according to the NHTSA Crash Report.
Rural areas account for over 70 percent more fatalities than urban ones.
Fatalities by Person Type
In Nebraska, the passenger car occupants have the highest number of fatalities from 2013 – 2017, followed by pickup truck occupants. Large truck occupants have the lowest. This may be due to the size of the car making it safer.
Below, we can fatality numbers from 2013 – 2017 in Nebraska sorted by person type.
Fatalities by Crash Type
There are many types of car accidents. In Nebraska, the crash type with the most fatalities is a single-vehicle crash, and the crash type with the least are crashes involving speeding.
Five-Year Trend For the Top 10 Counties
Let's take a look at how fatality numbers have changed over five years for the top 10 counties.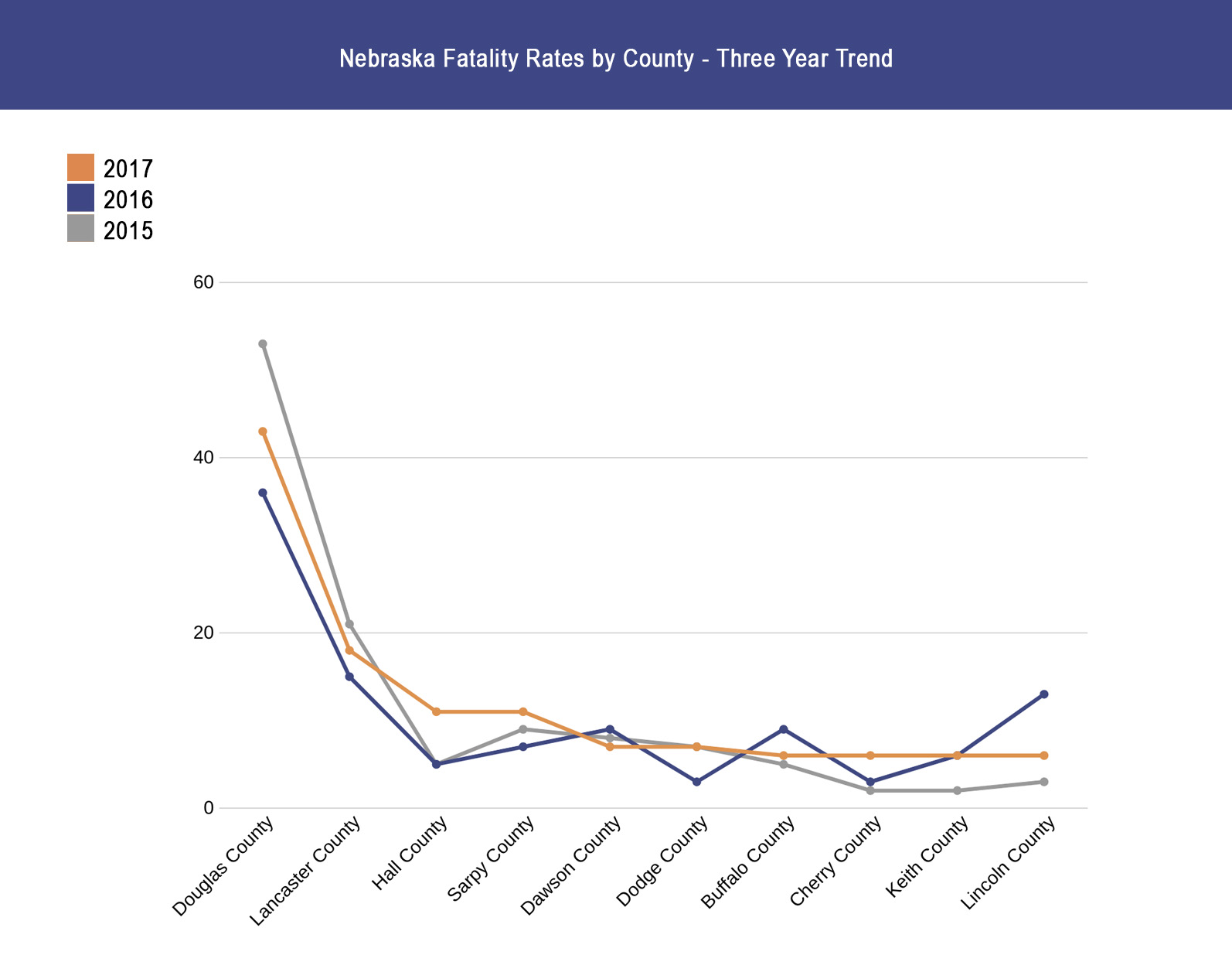 Fatalities Involving Speeding by County
When involving speeding, Douglas County again has the highest fatalities.
Fatalities in Crashes Involving an Alcohol-Impaired Driver by County
Once again, we find Douglas County at the top for fatalities involving alcohol.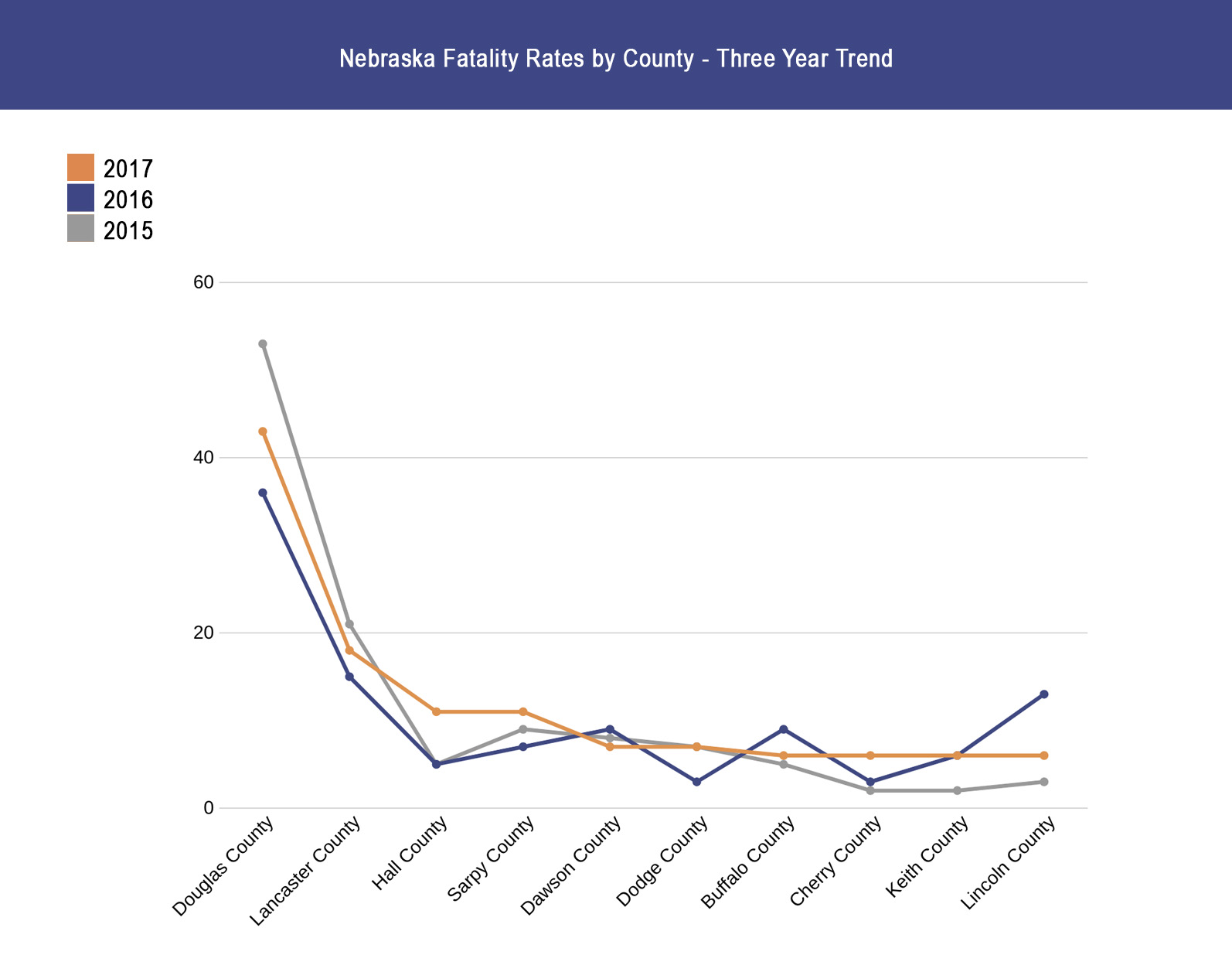 Teen Drinking & Driving
Teen drinking and driving is a serious problem. It is a danger to the teen driver, as well as other drivers and pedestrians.
Unfortunately, Nebraska ranks higher than the national average for both the number of under-18 DUI arrests and the under-21 drunk-driving death rate.
EMS Response Time
In case any accident does happen, how long will it take emergency medical services to arrive? The table below outlines the numbers in rural vs. urban areas.
In rural areas, the average time it takes from the time of the crash to hospital arrival is over 40 percent more than in urban areas. Total crashes in rural areas are 58 percent more than in urban.
Transportation in Nebraska
We'll wrap up this Nebraska insurance guide with some numbers on car owners and commuters like you.
Car Ownership
In Nebraska, most households have two cars, followed by households with 3.
Commute Time
The average travel time for a Nebraska commute is 17.6 minutes. Employees in Nebraska typically have shorter commute times than the average nationwide, which is 25.5 minutes. A very small number of Nebraskans, less than 1 percent, have commutes over 90 minutes.
Commuter Transportation
In Nebraska, it is most common to commute alone. over 80 percent of Nebraskans do. A little than under 10 percent carpool, and less than 5 percent work from home.
Traffic Congestion
Nebraska has a lot of wide-open, rural areas beautiful for cruising and site-seeing. However, we'll end by looking at it's most congested areas.
According to INRIX, Omaha is the 58th-most-congested city in the United States and 212th in the world. Not too bad. 35 hours were spent in congestion in 2018, which cost $494 per driver.
Based on TomTom's data, Omaha has a 14 percent congestion level. During peak times, there are seven additional minutes per 30-minute trip in the morning and 10 additional minutes per 30-minute trip in the evening.
Congestion levels on highways are 4 percent and non-highways are 17 percent.
Now that you are equipped with all the information needed to make a good decision on your car insurance, let's get started.
Simply type your zip code below and find the best rates for your situation. Let's start driving in Nebraska.