The Ultimate Illinois Car Insurance Guide (Costs + Coverage)
Free Auto Insurance Comparison
Enter your ZIP code below to compare auto insurance rates.
Secured with SHA-256 Encryption
Driving through Illinois is a dream. The long, flat roads of central Illinois. The rolling hills of the downstate. Even the bustling streets of Chicago are fun to drive.
If you carry a strong insurance policy, you can feel confident driving in Illinois, from the endless prairie to the urban north.
At times, it can be difficult to find clear, uncomplicated information on car insurance companies.
It takes work to sift through the advertisements, reviews, and rankings. Deciphering all the state laws and regulations can be difficult, too.
That's why we've done the hard part. With the help of expert research from NAIC, NHTSA,  the US Census Bureau, and others, we compiled all the details on Illinois' auto insurers and state laws.
Get the coverage you're looking for, whether you live in Chicago, Naperville, Joliet, Rockford, or Aurora.
Simply enter your zip code to quickly get up to 10 free car insurance quotes from the top providers in your area.
Illinois Car Insurance Coverage and Rates
Finding the right car insurance can be a bit of a headache. This time, you don't have to do it all by yourself.
We've got all the information you need about coverage, rates, and add-ons in Illinois. This guide breaks everything down into easy-to-navigate sections.
After reading, you'll have a much better understanding of the car insurance you need, the coverage you want, and how you can go about getting it.
Ready to get started? Let's dive in.
Illinois' Car Culture
When people talk about Illinois, sometimes it can feel like they're only considering Chicago, but the Land of Lincoln is the 25th biggest state in terms of land area and is 75 percent farmland.
That means most of the state is filled with highways, back roads, and small-town streets. Looking for picturesque drives and long sunsets? Rural Illinois is the place to be.
Or maybe you like the lively and loud streets of downtown Chicago. Drivers of all stripes and types love cruising along Lake Shore Drive, zooming off to evening performances, or simply exploring neighborhoods.
That mix of urban and rural space also means that different parts of the state have distinct challenges when it comes to staying safe on the road.
Whether you are buckling up to avoid deer or just hoping to stay sane on the Dan Ryan Expressway, it's important to have the proper insurance coverage.
Illinois' Minimum Coverage
Like most other states in the US, Illinois has instituted laws requiring a certain amount of auto insurance coverage for all drivers. This protects the state's citizens as they travel north, south, east, and west across the Prairie State.
Illinois operates as a "fault" car accident state. What does that look like? In an accident, the at-fault driver is liable for personal injury and property damage resulting from the crash.
The at-fault driver's liability insurance policy is examined first when it is time to pay for any losses or damages.
Illinois has a https://www.cyberdriveillinois.com/departments/vehicles/mandatory_insurance.html. Vehicle owners are required to carry liability insurance covering any automobiles registered in the state. The minimum amount you are required to carry is:
$25,000 for the injury or death of one person in one accident
$50,000 for total injuries or death of two or more persons in one accident
$20,000 for property damage in one accident
This coverage pays the costs, including medical bills and property damage bills, of drivers, passengers, and pedestrians whose bodies are injured or vehicles are damaged in an accident you cause, up to the coverage limits.
Higher coverage limits can help protect you from paying out-of-pocket for damages and injuries.
Remember: This liability coverage does NOT apply to your own vehicle damage or bodily injury in a car accident you cause.
The state of Illinois also requires uninsured motorist coverage. When you purchase liability insurance in the state, the UM or UIM is automatically included with limits equal to the policy's injury liability coverage.
Uninsured coverage is meant to cover your expenses if you are injured or have damaged property in an accident in which the at-fault party does not carry liability insurance. does not carry enough to cover the expenses.
Forms of Financial Responsibility
Within ten days of an accident, a motorist must file a report with the Illinois Department of Transportation. If the driver is at least 50 percent at fault and the damage exceeds $500, injuries, or death, the driver's license and/or vehicle registration will be suspended.
In Illinois, drivers must carry proof of insurance in their vehicles at all times. Drivers are permitted to use an electronic copy of the insurance card during traffic stops. If you cannot produce proof of insurance, you could face a hefty fine.
Illinois's Premiums as a Percentage of Income
The phrase "per capita disposable personal income," has a simple definition. Disposable personal income is the money you have available after paying taxes. "Per capita" refers to the amount of money each individual has.
As of 2014, Illinois residents' annual per capita disposable personal income is $42,246.00.
The amount of money each individual driver pays for full coverage comes in at about $854.10.
So, the average Illinois driver's car insurance payment would require them to spend 2 percent of their total disposable income on coverage each year. Across the country, most states carry a percentage between 1 and 3 percent.
The table below tracks the totals and percentages over a three-year period.
Core Coverage
If you're moving to Illinois, you needn't worry. Insurance premiums in the state aren't very high. They aren't the lowest of all 50 states, but Illinois has the thirteenth lowest premiums in the country.
Over the years, premiums have changed little. Illinois residents can expect their insurance premiums to stay rather stable from year to year.
When it comes to auto insurance, there are many options available to Illinois drivers. The table below outlines different types of coverage, along with their average costs.
These statistics were reported by the National Association of Insurance Commissioners in 2015. Since then, they have likely increased.
Illinois' Additional Liability Coverage
Illinois only requires a minimum amount of liability coverage, but you may want to consider add-on coverage in order to fully protect yourself in the case of accidents and other incidents involving your vehicle.
A full 13.3 percent of Illinois drivers are underinsured or uninsured. While it isn't overwhelmingly likely that you'll be involved in an accident with such a driver, it is possible.
In Illinois, uninsured motorist coverage is already automatically included with liability insurance. That's one less thing for you to worry about! Underinsured motorist coverage is usually optional.
It helps cover expenses when the driver at fault doesn't have enough insurance to cover all the damages and injuries.
– Loss Ratio
"Loss ratio" is another term that sounds complicated at first, but is actually pretty simple. A loss ratio helps you understand whether or not a car insurance provider is financially secure.
When you take a close look at companies' loss ratios, you can see just how often various insurers pay out claims to their clients.
Companies with higher loss ratios, such as those over 100 percent, are more likely to provide you coverage when you need it. However, they may be less financially secure.
Companies with lower loss ratios won't necessarily cover all of your expenses should you get into an accident. They are considered more financially secure, but they aren't paying out claims.
The table above outlines the loss ratios for personal injury protection, medical payments, and UUM in the state of Illinois.
Add-Ons, Endorsements, and Riders
When you're in the driver's seat, you are responsible for your actions on the road. However, out on the majestic highways (and gravel roads) of Illinois, there are plenty of unknowns.
You can customize your automobile insurance by adding coverage that works for you, your vehicle, and your lifestyle.
Click the links below to explore add-on options:
Guaranteed Auto Protection (GAP)

Personal Umbrella Policy (PUP)

Non-Owner Car Insurance

Modified Car Insurance Coverage

Pay-As-You-Drive or Usage-Based Insurance
Illinois' Male vs. Female Rates
When you start talking to people about car insurance, you'll hear many popular myths.
One of the most long-lasting stories told about liability insurance is that men are usually charged more money for the same amount of coverage. People believe that women get a deal.
However, the real story is much more complicated. In Illinois, if premiums are influenced by any demographics, they fluctuate more according to age and marital status.
Teenagers and single drivers in their twenties pay the highest premiums, while older, married adults pay less.
In some cases, there is a slight variation in premium paid between male and female drivers, but the difference is usually less than $1,000.00. The biggest gendered price differences occur during the teenage years.
The table below gives an overview of demographic differences in Illinois.
Illinois' Car Insurance Rates by Zip Code
More than demographics, location plays a major role in car insurance rates. In the tables below, we've broken down average car insurance rates by Illinois zip codes.
Do you live next to a soybean field or in a high-rise on Lake Michigan? Whatever place you call home, you can find the average rate for your areas in the tables below.
Most of the expensive zip codes are located in Chicago.
Illinois' Car Insurance Rates by City
It's also helpful to look at car insurance rates by city. The tables below shows the average rates paid by drivers in cities across Illinois.
Illinois is home to over a thousand cities. When it comes to average car insurance rates, some of the most expensive cities are Dixmoor, Dolton, and Markham. Their averages are in the $4,000-$5,000 range.
The cheapest Illinois cities for car insurance are Kewanee, Charleston, and Morrison.
Of course, you likely won't choose your city by car insurance rates alone. Here's one small town in Illinois that has a lot of big things going for it:
Enter your ZIP code below to compare auto insurance rates.
Secured with SHA-256 Encryption
Best Illinois Car Insurance Companies
Choosing between two restaurants for dinner is difficult. Choosing between the seemingly endless number of car insurance companies? Impossible.
It may feel impossible, but with a helpful guide and the right data, you'll be able to choose the best car insurance for your budget.
From smaller, locally-owned companies to nationwide providers with recognizable brands, there are plenty of options from which to choose. Let us take the guesswork out of finding a company.
Next, we're going to take an unbiased, comprehensive, and honest look at the options. Going forward, you can feel calm and confident about choosing an auto insurance provider in Illinois.
The Largest Companies' Financial Rating
Financial ratings can provide you with a general understanding of where a car insurance company stands financially.
We've compiled the ratings in an easy-to-read table. Remember: this rating indicates the financial strength and credit-worthiness of each insurer. The table below covers the ten largest auto insurers in Illinois.
The letter grades follow a traditional scale, wherein A is higher and B is lower.
The plus signs indicate financial strength. The strongest providers, from a financial perspective, are those with the highest letter grades and most plus signs.
The table also shows which company has the most Illinois customers. State Farm and Allstate top the list.
Companies with Best Customer Service Ratings
When choosing a car insurance company, however, financial strength is not the only way to compare options. You also want a company that will provide excellent customer service.
In the North Central region of the US, which includes Illinois, Indiana, Michigan, Ohio, and Wisconsin, the auto insurance company that stands out in terms of customer service ratings is Auto-Owners Insurance, followed by Country, Cincinnati, and Erie.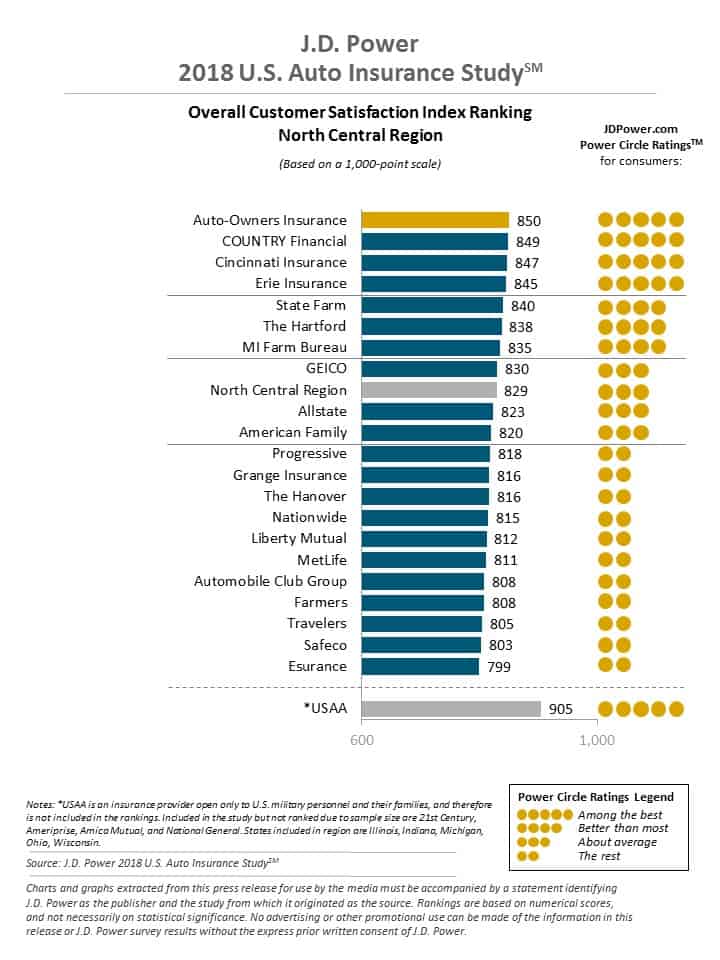 Companies with Most Complaints in Illinois
Satisfaction is one helpful way to look at insurance companies. But what about dissatisfied customers?
Sometimes, taking stock of which companies receive the most or least complaints can help give you a clearer picture of what it's like to work with a certain brand.
The table below shows the top ten Illinois auto insurance companies with the lowest complaint ratios. These are calculated by the Illinois Department of Insurance. They are based on the number of customer complaints reported each year.
Companies with lower ratios have a better rating– fewer complaints. Keep in mind, the more customers a company has, the more complaints they are likely to accrue.
Cheapest Car Insurance Companies in Illinois
When shopping around for car insurance companies, you'll want to find one that is not only nice to its customers but also kind to your wallet.
The table below is just a quick view of the lowest-priced car insurance companies in the state. Safeco, State Farm, and Travelers have the cheapest average rates.
Commute Rates by Company
If you live anywhere near Cook County, it is likely that you commute to work. Commutes can be common downstate too, where residents drive between towns for work.
The only constant might be the radio. Oh, and doing your makeup/checking your teeth in the rearview mirror.
Did you know your commute time can affect your auto insurance rate? We've gathered the following statistics in order to get a clear picture of the average commute's impact on Illinois car insurance rates:
Coverage Level Rates by Company
Your rate is also affected by the type of coverage you choose. Higher coverage comes with higher rates. Choosing lower coverage and less protection? You will pay a lower rate.
This table shows what each company has on offer for low, medium, and high coverages. Rates range between $2,100 and $5,300.
Credit History Rates by Companies
Car insurance companies don't just look at your location and commute time when determining your rate. They consider a number of factors, including your credit history.
The better your credit history, the less you will have to pay for auto insurance. Who woulda thought?
Those who hold Good and Fair ratings tend to get similar rates. You'll want to be wary, though, of letting your credit rating dip into Poor territory. That's when your rate is likely to go up.
In Illinois, the average credit score is 683. The average number of credit cards carried by individuals is 3.14. And the average balance carried on credit cards? $6,410.00
Driving Record Rates by Company
There are many reasons to be careful on the road. You want to protect yourself, your passengers, other drivers, and pedestrians. Did you know you can also protect your car insurance rate?
That's right– car insurance companies take your driving record into account when setting your rate. That's why you might have seen a rate bump in the past after getting a speeding ticket or being involved in an accident.
This table shows average rates after some typical incidents, such as DUIs, accidents, and speeding violations. As you can see, the cheapest rates correlate with the cleanest records.
Largest Car Insurance Companies in Illinois
Off the top of your head, you can probably name the biggest car insurance companies in the country. Some of them have catchy commercial jingles or particularly memorable mascots.
But when it comes to ranking companies by size, it's even more helpful to think of them in terms of a state. Not every car insurance company operates in every state.
Let's take a look at the largest car insurance companies in Illinois. Depending on where in Illinois you live, you might see some names you recognize, and others you don't.
State Farm is by far the largest auto insurance provider in Illinois, but there are plenty of other options to consider.
Number of Insurers by State
There are two distinct types of insurance providers: domestic and foreign. When shopping around for auto insurance, you'll be able to choose from both.
Domestic providers are local to the state of Illinois. A  "foreign" provider operates on a national level. If you plan to move to a different state in the next couple of years, you may want to choose a foreign provider.
Illinois is home to 191 domestic providers of property and casualty insurance. Illinois drivers also have access to 860 foreign providers across the country. What does that mean for you? You've got a lot of choices when it comes to car insurance.
Next time you're feeling anxious about car insurance options, you can watch this TED talk about how to make choices. Or, you can read on for even more expert guidance on auto insurance. Better yet, you can do both.
State Laws
In addition to federal laws regulating automobiles, driving, and road safety, each state has its own complicated network of laws.
When might be a good time to brush up on Illinois laws? When you're…
–Moving to Illinois
-Going to school in Illinois
-Buying a car in Illinois
–Getting your license in Illinois
-Or simply striving to be a better driver in Illinois.
If you fall into one of those buckets, or perhaps a similar situation, now's the time to refresh your knowledge. We've compiled some easy-to-digest info about Illinois laws. Let's get started
Car Insurance Laws
To stay on-theme, we're going to start with laws regarding car insurance.
Knowing the car insurance laws helps you to stay safe, keep others safe, and protect yourself against unwanted fines and infractions.
We've compiled a clear and comprehensive guide to Illinois car insurance laws.
How State Laws for Insurance are Determined
State legislatures are tasked with creating laws that keep residents and visitors safe on the roads. If states want beautiful, drivable highways, it is important to hold drivers accountable and set high standards.
States determine the type and amount of liability insurance required within their borders. As we have seen, the state of Illinois requires liability insurance and sets its own minimums.
According to NAIC, auto insurance companies operating within Illinois are required to maintain documentary information about insurance rates.
States also enact laws regarding seat belts, drunk driving, and speed limits.
Windshield Coverage
You might not expect it, but windshields are regulated by state law.
There are regulations regarding broken and cracked windshields, as well as auto insurers' obligations to customers' windshields.
Across the country, there are regulations regarding broken and cracked windshields, as well as auto insurers' obligations to customers' windshields.
However, if you drive in Illinois, your state does not regulate much regarding windshields. If your windshield is broken and you take it to a garage for an estimate, the garage staff is allowed to use aftermarket parts, provided it is noted in the estimate itself.
As a consumer, you may refuse the aftermarket parts but you will end up paying the difference in the quote. That choice is yours to make.
High-Risk Insurance
At times, drivers may have a hard time finding automobile insurance coverage even though liability insurance is required for Illinois drivers.
This could be because they are considered "high-risk." High-risk drivers may have been involved in a major traffic violation or may carry a series of minor infractions on their record.
What does a high-risk driver do? Well, if they can't find insurance on the voluntary market, they can look to the Illinois Automobile Insurance Plan. The ILAIP was created in 1940. It is considered an option of last resort.
To be eligible for ILAIP, you must prove that you have attempted to buy regular auto insurance over the last 60 days. If approved, you will be assigned an insurer. Oftentimes these insurers are the same company names you see elsewhere.
In Illinois, all auto insurance companies operating in the state are required to take on a number of high-risk drivers.
Under ILAIP, the assigned insurer must cover you for three years, but the program is really meant to be a short-term solution while you build a better driving history. That way you will be able to move into the regular market, just like other drivers.
If you want to stay out of the high-risk category, it is important to avoid dangerous behaviors such as speeding, driving while intoxicated, distracted driving, and racing.
Low-Cost Insurance
Car insurance is necessary, especially in states like Illinois. However, that doesn't mean that it's always fun or easy to pay for it.
California, New Jersey, and Hawaii all offer state-sponsored programs designed to help lower the costs of car insurance for families with limited incomes.
At this time, Illinois does not offer help for low-income families or individuals who are struggling to pay for car insurance.
Some insurers offer discounts if you bundle your auto insurance with other types of insurance or if you pay your premium up front, rather than in monthly installments. Others offer savings for government employees.
There are two guaranteed ways to keep down the costs of your car insurance: maintain a clean driving record and shop around. The more information you have, the better deals you will find.
Automobile Insurance Fraud in Illinois
The idea of insurance fraud may feel far away, but it happens all the time. Fraud can be committed by applicants for insurance, claimants, policyholders, and even insurance professionals.
Misrepresentation of facts on an insurance application counts as fraud, as well as submitting claims for damage or injuries that never occurred, or "padding" claims in order to get more money from insurance companies.
You could also be accused of auto insurance fraud for setting fire to your own vehicle, using a false Social Security number on an application, staging a fake accident, or giving a false address in order to secure a cheaper rate.
Insurance companies themselves sometimes commit auto insurance fraud by refusing to pay valid claims or selling bad insurance policies.
In Illinois, the punishments for those convicted of insurance fraud are very serious. Penalties are more severe depending on the amount of money or the value of the property the accused attempted to take from the insurance company.
If the value is less than $300, you could receive a Class A misdemeanor, up to a year in jail, and a fine of up to $2,500.
If the value is between $300 and $10,000, you could receive a Class 3 felony, punishable of up to five years in prison. If the value is upwards of $10,000, you could be facing over a decade in prison.
The best way to avoid penalties for insurance fraud? Don't commit it. Always tell the truth and don't misrepresent facts, even a little bit.
If you need to get in contact with the Illinois Department of Insurance, just click HERE.
Statute of Limitations
After a car accident, you have a limited amount of time to file a claim to your auto insurance company. This is called the statute of limitations.
In Illinois, you generally have two years from the date of the incident. There are, however, a few exceptions.
If a minor is involved in an accident, the timeclock on the 2-year statute of limitations doesn't start ticking until he or she turns 18 years old.
If an accident results in property damage rather than bodily injury, you have five years to bring a claim. Property damage might include repairs to a vehicle or destruction of other personal property.
If the accident involves a car driven by a state employee, the 2-year statute still applies, but formal notice must be filed with the Attorney General and Court of Claims within twelve months of the accident in order to preserve the right to file a suit at all.
State-Specific Laws
Just like other states, Illinois has a few auto insurance laws that stand out from the crowd.
A key regulation to note is that Illinois does provide a self-insurance option. That said, a person only qualifies for self-insurance if he or she owns at least 26 vehicles. A "person" in this case can include an individual, firm, association, or corporation.
If you own 26+ vehicles, all you need to do is file an application with the Department of Insurance and pay the $200 application fee.
You must be able to prove that you can handle the same amount of claims that a regular auto insurance company could cover through its policies.
Illinois also has a unique type of insurance called SR-22, or Financial Respons
You may be required to purchase SR-22 insurance and file a certificate if you have several traffic violations or insurance violations, or if your license has been suspended or revoked.
SR-22 helps the state monitor problem drivers and makes it easier to suspend their licenses.
Vehicle Licensing Laws
Each state has its own unique vehicle licensing laws. They cover who can obtain a license, what the renewal process looks like, and other restrictions that might be placed on a licensed driver.
One of the most notable licensing laws concerns REAL ID. The REAL ID Act, passed in 2005, set federal standards for the issuance of driver's licenses.
According to the REAL ID Act, anyone boarding a plane for domestic air travel or entering a secure government facility must hold a REAL ID by October 1, 2020.
Illinois became compliant with the REAL ID Act in April 2019. Residents are now able to obtain these new cars. Said Secretary of State Jesse White,
"I'm pleased to offer the REAL ID to Illinois residents who want one," said White. "I encourage residents to know their options and make the choice that is right for them by choosing between a standard driver's license or ID card or a REAL ID card. Although we are now issuing REAL ID cards, current cards will be valid for domestic air travel until Oct 1, 2020. Therefore, there is no rush to apply for a REAL ID card." -Mendota Reporter, 2019
Even after they have obtained a REAL ID, Illinois drivers are subject to other vehicle licensing laws. Let's take a look at a few of them now.
Penalties for Driving Without Insurance
The state of Illinois requires all drivers to have auto insurance. Proof of insurance must be in the vehicle or accessed digitally (on a smartphone/tablet).
If you are found to be without valid insurance, either during a traffic stop or through a questionnaire, you will face the suspension of your license plates and a $500 minimum fine. Caught driving with suspended plates? The minimum fine increases to $1000.
Once your license plates have been suspended for failure to carry valid insurance, you will need to provide proof of insurance and pay the $100 reinstatement fee.
In addition to traffic stops, Illinois also monitors insurance by sending occasional questionnaires.
Drivers are randomly selected for these questionnaires that usually arrive by email. If you are selected, you must provide the name of your insurance provider and your policy number.
Teen Driver Laws
Turning 16 and getting a driver's license can be one of the happiest days of a young person's life.
It can also be the most consequential, as that's the moment when a teen becomes responsible for their safety in a car, as well as the safety of other drivers, passengers, and pedestrians.
Each state has its own laws governing teen drivers. In Illinois, teens can obtain a learner's permit at age 15.
They must hold that permit for a minimum of nine months, enroll in a driver's education course, and complete at least 50 hours of supervised driving, 10 of which must occur at night.
At 16, a licensed teen driver is legally allowed to drive with no more than one passenger under the age of 10 in the vehicle at any time. This regulation stays in place for the first 12 months of licensed driving.
Unsupervised driving is prohibited from 10 pm to 6 am Sunday through Thursday, and 11 pm to 6 am Friday and Saturday.
At 18, teen drivers can apply for a full license that lifts all restrictions on night driving and passengers.
The Illinois Secretary of State, Jesse White, is particularly concerned about teens and distracted driving. When teens (and adults) drive distracted, the consequences can be deadly.
In 2018, Secretary White released a new video to be shown to high schoolers throughout the state:
About the video, White said:
"The goal has always been to save lives," White said. "We have seen teen driving deaths drop by more than 50 percent in Illinois, but there is still more work to be done. This video will make an impact on young people because it was written and produced by young people. It shows what can happen when you drive distracted. My hope is that it will make teens to think twice about picking up the phone while driving." –Jesse White in RiverBender, 2018 
Older Driver License Renewal Procedures
While teens are new to driving and need to take extra precautions, older drivers also need to be especially careful when it comes to driving. Illinois has instituted specific regulations governing older drivers and license renewal.
Drivers between the ages of 81 and 86 are required to renew their license every 2 years. Those ages 87 and older must renew their license every year.
If a driver is older than 75, he or she must provide proof of adequate vision at every renewal. Online and mail renewals are not permitted for anyone over the age of 75.
New Residents
If you've decided to move to the Prairie State, woo-hoo! We're glad you're here. If you want to drive around Illinois while you're living here, you'll need a driver's license.
You can only use your out-of-state driver's license for the first 90 days you live in Illinois. Then you'll need to get an official Illinois license. If you have a vehicle, you will have just 30 days to apply for an Illinois title and registration.
Luckily, Illinois makes it pretty easy to obtain one as a new resident.
First, you'll need to locate an official Secretary of State facility, surrender your out-of-state license, pass a vision exam, pay the appropriate fee, and show all the required identification documents.
Depending on the facility and situation, you might also have to take written and driving exams. Then you'll have your photo taken and receive your temporary license until the "real thing" arrives in the mail in a couple of weeks.
License Renewal Procedures
If you enjoy driving in Illinois and want to keep at it, you'll need to renew your driver's license every four years.
Though it might sound like a pain, over 8.5 million Illinois drivers go through the same process every time their license comes up for renewal. You can do it too.
You should receive a renewal letter 60 to 90 days prior to your license expiration date. For some drivers, that letter will designate them as a Safe Driver.
Being classified as a Safe Driver affords you the opportunity to renew online rather than in-person. For that, all you need is the renewal form and a credit card.
Here's how the Illinois Secretary of State office describes the process:
It's as easy as Four Simple Steps:

Type in your renewal authorization number which is located at the top of your renewal notice.
Follow directions on screen and verify your information.
Use a personal checking account or Visa, MasterCard, Discover or American Express Card for payment.
Print out your confirmation. Your renewed license should arrive at your mailing address within 15 business days.
Every Illinois driver must take the written exam every 8 years unless he or she has no traffic convictions. All drivers renewing at a facility are required to take the vision test.
Negligent Operator Treatment System
Drivers in Illinois need to keep themselves and others safe. Drivers can lose their privileges if they engage in dangerous or negligent behavior.
The state uses a point system to track moving violations on an individual's driving record. Each violation is worth a number of points. The least severe offenses carry just a few points. More serious offenses carry a larger number.
For example, speeding a few miles above the legal limit can earn you up to 20 points, but if you go 25 miles per hour over the speed limit or more, you will receive at least 50 points.
The points add up. If you receive too many over the course of a year, your license may be suspended or revoked. The length of that punishment correlates to the number of points you have accrued.
Other severe offenses can result in an automatically suspended or revoked license, with no points involved whatsoever.
Rules of the Road
So, now you know all about obtaining the proper driver's license and liability insurance in the wonderful state of Illinois. What's next? Getting out onto the open road!
Oops. First, we need to do a quick overview of how, exactly, you'll be expected to behave once you're behind the wheel and cruising down I-57. Now that we've covered the auto insurance laws and driver's license laws, let's move on to the "rules of the road" in Illinois.
Fault vs. No-Fault
When it comes to auto accidents, states fall into two distinct buckets. A few are no-fault states. In those states, no blame is assigned for accidents and insurance companies cover drivers' medical expenses automatically.
Like most states in the US, Illinois follows a "fault" system. The attorneys at https://www.horwitzlaw.com/blog/illinois-fault-state/ describe the fault system like this:
An injured driver would generally file a claim against the at-fault driver's insurance policy after an accident. Like other fault-based states, Illinois requires all drivers to purchase and maintain individual auto insurance policies that meet the state's minimum requirements for liability coverage. Before a driver can file a claim against another driver's policy, the claimant must prove fault for the accident.
Someone who has been hurt or who has suffered damages in a car accident can file a claim with his or her own insurance company, file a third-party claim directly with the at-fault driver's carrier, or file a personal injury lawsuit.
Seat Belt and Car Seat Laws
It's a fact– seat belts save lives. That's why Illinois has had seat belt laws on the books since 1988. Since then, according to the state government, usage rates have increased from 15.9 percent in 1985 to 93 percent in 2016. That's incredible.
In Illinois, all drivers and passengers over the age of 8 must wear seat belts. This law applies in the front and back seats.
All children under age 8 must be secured by the proper child restraint system for their age and size. This might include a child safety seat.
Illinois law requires children to sit in a rear-facing child restraint system until age 2 unless they are more than 40 inches tall or weigh more than 40 pounds. This law went into effect in 2019.
Drivers and passengers who do not follow Illinois' seat belt and safety laws are subject to fines and court costs.
Keep Right and Move Over Laws
On busy highways, it can be tough to know which lane to use. People seem to drive in both. However, many states actually have laws on the books governing proper lane usage.
In Illinois, left-lane driving is only allowed if you are passing or turning left. It's as simple as that.
Speed Limits
Speed limits are posted for a reason. That reason? To keep drivers, passengers, and pedestrians safe.
Accidents can be caused– and worsened– when posted maximum and minimum speed limits are not followed. That's why Illinois regulates speed on its roadways.
Unless they are otherwise posted, the following speed limits apply in Illinois, according to the state driver's handbook:
• Interstates and tollways — 70 mph.

• Highways with four lanes — 65 mph.

• Other highways and rural areas — 55 mph.

• City/town areas — 30 mph.

• Alleys — 15 mph.

• School zones — 20 mph (on school days between 7 a.m. and 4 p.m. when children are present and signs are posted).
In addition to keeping these limits in mind, drivers should always be on the lookout for additional signs and speed limits.
Local municipalities are free to make their own limits and signs, so you will often encounter different limits. It is important to follow all posted limits, no matter where exactly in the state you are driving.
Ridesharing
You've probably noticed that ridesharing, as an industry, is booming. From Lyft and Waze to Uber and others, rideshare companies are making it easier to travel faster, more efficiently, and with less harm to the environment.
As of 2019, Lyft is offered in Champaign, Chicago, Evanston, and Naperville. Uber is available in Champaign, Chicago, Moline, Peoria, Rock Island, Rockford, and Springfield.
If you or someone you know is considering getting into the ridesharing business, you should note that only a few of Illinois' insurance providers offer coverage for rideshare drivers.
Those providers are
Allstate
Erie
Farmers
Geico
Mercury
Metlife
Metromile
Safeco
USAA
Additionally, some insurance providers that have long operated in the traditional taxi sphere are now offering insurance specific to ridesharing.
Automation on the Road
If you keep up with the news, you've probably noticed that the technology and automotive sectors are inching closer and closer to the deployment of autonomous vehicles. Someday soon, this technological breakthrough is bound to completely change the way we travel.
ABC 7 Chicago recently reported on the phenomenon:
In order to proactively address autonomous vehicles before they become a day-to-day reality, some states have already passed laws regarding their use. In Illinois, autonomous vehicles are allowed on roads only for testing purposes.
Additionally, a licensed operator must be in the autonomous vehicle at all times, and the vehicle must carry liability insurance. WBBM Newsradio, in Chicago, reported on Illinois' embrace of self-driving technology:
The state is encouraging companies to develop and test self-driving vehicles in Illinois, an effort called Autonomous Illinois.

Illinois Department of Transportation Secretary Randy Blankenhorn said Thursday the future of transportation is self-driving cars and trucks. He estimates 90 percent of traffic fatalities are due to driver error.

"If you take that driver out of the equation, we're a safer system," he said.
Safety Laws
As you can see, the state of Illinois has a number of laws that govern everything from driver's licenses to car insurance.
In addition to these broad laws, there are others that cover drivers' behaviors behind the wheel. Safety laws are meant to keep drivers, passengers, pedestrians, and other community members safe.
Drivers need to know these laws in order to avoid fines and jail time and ultimately, to stay alive on the highways, main streets, and backroads.
Let's take a look at the laws governing DUIs, marijuana, and distracted driving.
DUI Laws
Illinois has tough laws on drunk driving. Why? Because drinking and driving do not mix.
In this state, drivers have a Blood Alcohol Concentration (BAC) limit of 0.08. If your BAC is higher than that, you could receive a DUI conviction.
A first DUI conviction is a Class A misdemeanor and includes suspension of vehicle registration as well as revocation of driving privileges for one year. If the BAC reads higher than .16, additional fines and community service hours are added.
Each DUI conviction received by a driver brings more fines, community service hours, loss of driving privileges, and even jail time. On a third offense, it becomes a felony. A DUI offense that is classified as a felony as known as an aggravated DUI.
Remember: a DUI conviction is a permanent part of a driver's record. The driver is also required to carry high-risk auto insurance for three years after a DUI conviction.
According to the state of Illinois, the average cost for a DUI conviction is $18,030. Worth it? Not a chance.
Marijuana-Impaired Driving Laws
In 2019, Illinois Governor J.B. Pritzker signed a bill into law that will allow recreational use of marijuana in the state. Illinois is one of many states that has legalized both medical and recreational marijuana use.
However, driving while impaired by the use of cannabis is still illegal under Illinois law.
The legal limit for THC in the bloodstream is five nanograms or more per milliliter of whole blood. In Illinois, a driver can be convicted of a DUI for driving while impaired by marijuana.
Illinois police do not currently have a roadside test for marijuana but can request a chemical test.
Distracted Driving Laws
These days, nearly everyone has a smartphone. In fact, sometimes it can feel like our lives are ruled by devices– phones, tablets, laptops, headphones, and more.
But there's one place where we have to set those things down, and that's in the driver's seat of our vehicles.
In Illinois, it is illegal to drive while using a hand-held cellphone. That means no talking, no texting, and no social media. Drivers ages 19 and older can use hands-free or Bluetooth technology.
Non-hands-free cellphone use is allowed only in an emergency situation, while parked on the side of the road, or when the vehicle is in neutral or park.
If a driver is involved in a crash due to distracted driving, he or she could face incarceration and other criminal penalties.
Drowsy driving can also be a distraction. The Illinois Secretary of State office has this to say about sleepy driving:
Lack of sleep, fatigue or inattentiveness affects your ability to safely operate your vehicle. Make sure you are properly rested when taking a long trip, avoid drowsiness by stopping frequently. Exercise your eyes by reading road signs or shifting the focus of your eyes to different parts of the roadway.
Driving in Illinois
Whether you're headed to a Cubs game on the north side of Chicago or cruising down to see the Illini play a football game in Champaign, driving in Illinois is a breeze.
The flat, open roads deliver you not only to some of the best sports, but also the most beautiful views, the nicest people, and some of the most delicious eats in the country.
However, when you're en route to those places that make the Midwest great, sometimes you can encounter unexpected incidents, regulations, and even signage.
Driving in a new place can be challenging, and when you're in a state as big as Illinois, even longtime residents can have trouble.
That's why we're here, to clear up any confusion you might have about driving in Illinois. Let's take a look at some facts and figures that help define what it's like to travel around the Land of Lincoln.
Vehicle Theft in Illinois
We'll start off with something no one wants to experience: vehicle theft. If you don't own a particularly fancy or sporty vehicle, you might think it won't happen to you. But in fact, most vehicles stolen in Illinois are popular, run-of-the-mill makes and models.
These are the top stolen vehicles in the state.
Dodge Caravan is the most stolen car in Illinois. That's right– a minivan! The 2000 version was stolen the most, but other years were also stolen. Pickup trucks are commonly stolen too.
If you are worried about vehicle theft, take a look at the cities where theft is most likely to occur. 
Chicago, Rockford, and Cicero top the list. As you head downstate, Springfield and Peoria have relatively high numbers of theft.
Road Fatalities in Illinois
Fatalities are another reality that no one really likes to think about, but it is important to consider the risks. Once we know the stats, we can make choices to keep ourselves safe.
There are many ways to think about road fatalities. We'll look at a few that might give you insight into where, when, and how fatal road accidents occur.
Fatal Crashes by Weather Condition and Light Condition
Weather and light can contribute to automobile accidents and accident-related deaths. Illinois experiences the full range of seasons, from hot summers to cold, icy winters.
Weather conditions can have a major impact on driving. Darkness, too, can make it harder to see on the road.
As you can see here, most fatal crashes in Illinois occur in normal daylight conditions. However, a large number of fatal accidents have occurred in rainy and dark conditions as well.
Fatalities (All Crashes) by County
Another way we can break down automobile accident fatalities is by looking at the counties where they occur.
This table lists the top-ten counties for fatal car crashes. The top counties are concentrated in the greater Chicagoland area.
Traffic Fatalities
Next, let's assess the traffic fatality rates in Illinois, using data provided by the NHTSA, for rural and urban areas.
As you can see, traffic fatalities are slightly more common in the urban parts of Illinois. The numbers have held steady for the last decade, with about 1,000 fatalities per year.
Fatalities by Person Type
We can also take a look at traffic fatalities broken down by the type of vehicle being driven. Automobile and truck drivers, motorcycle drivers, pedestrians, and others lose their lives in road crashes each year.
The table below outlines fatalities by type of vehicle and/or person.
In Illinois, car and truck occupants are the most likely to lose their lives in road accidents, while buses and bicycles are notably less likely to be involved.
Fatalities by Crash Type
No two accidents look exactly alike. A fatal accident might involve one, two, or more automobiles, and could also involve pedestrians, bicyclists, and others. This table shows fatalities in Illinois by crash type.
As you can see, many crashes involve just one vehicle. Road departures are common. Speeding is still an issue despite posted signs.
Five-Year Trend for the Top 10 Counties
The area of Illinois in which one lives does have an impact on how many fatal crashes one may see. Let's run the numbers to see the five-year trends for Illinois' counties.
In most counties, the fatality count has grown over the last five years. Winnebago County appears to be the sole exception. Its count has declined slightly.
Fatalities Involving Speeding by County
No matter what state you're in, speeding is a major problem. Over the years, speeding has been a serious factor in many fatal car accidents across Illinois.
Let's take a look at the number of fatalities in crashes that involved speeding, broken down by county.
– Fatalities in Crashes Involving an Alcohol-Impaired Driver (BAC = .08+) by County
Alcohol is another contributing factor in many fatal car accidents. Each year, a number of fatal car accidents across Illinois are caused by those who have been drinking and driving.
This table breaks down alcohol-impaired driving by county.
Teen Drinking and Driving
Alcohol and driving are a dangerous mix. Add in the inexperience of a teen driver, and you have a recipe for disaster.
Illinois, for its part, has worked hard to curb teen drinking and driving. It is ranked 49th in the US for DUI arrests under age 18, with only seven such arrests in 2016.
Here, the office of the Illinois Secretary of State describes underage drinking and driving in the state:
From 1986 to 2017, DUI arrests have decreased for drivers under age 21. The decline can be attributed to many factors, including tougher laws for DUI and fraudulent IDs, youth DUI prevention programs, visually distinctive driver's licenses and state ID cards, and training programs, such as Operation Straight ID.
Illinois prohibits anyone under the age of 21 to consume, possess or purchase alcohol. If a teen is caught with alcohol, he or she faces fines, drivers license suspension, and possible prison time. Get behind the wheel after drinking, and the consequences could be deadly.
EMS Response Time
No one wants to be involved in a car accident. Luckily, in Illinois, if things do go wrong, there are emergency responders who can help.
The response time for EMS differs from place to place. Some urban areas are denser and full of slow traffic, while in rural parts of the state, towns and emergency personnel are separated by miles of country roads.
The table below outlines EMS response times in fatal car crashes across Illinois.
While it might take longer for EMS to arrive at the scene of a crash in rural areas, the time between crash and hospital arrival is nearly identical in both urban and rural regions. Most fatal automobile accidents in Illinois occur in urban areas.
Transportation
Now that you know almost everything about licensing, insuring, and driving a car in the Land of Lincoln, let's zoom in on car ownership, commute times, and traffic congestion.
When it comes to congestion, you can bet the Chicago-area drivers are already pretty familiar.
Car Ownership
In Illinois, car ownership falls right in line with the national average. The everyday Illinois household owns two cars.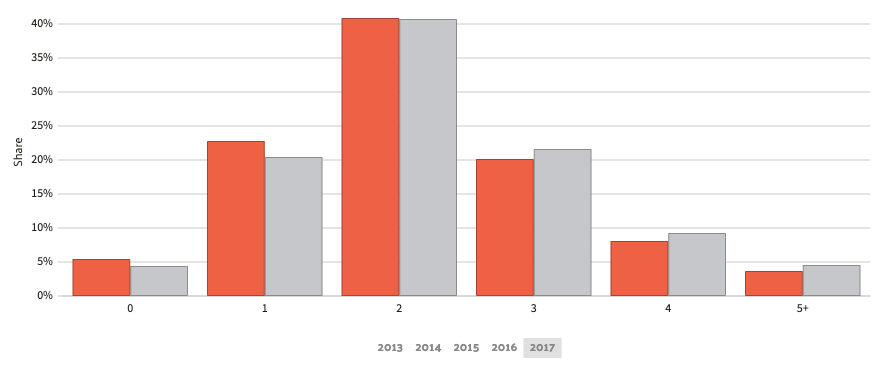 Commute Time
While the normal US worker has a 25.5-minute commute each day, Illinoisans spend a little more time in the car. The average Illinois worker has a 27.7-minute travel time. For 2.84 percent of Illinois workers, the commute time is over 90 minutes.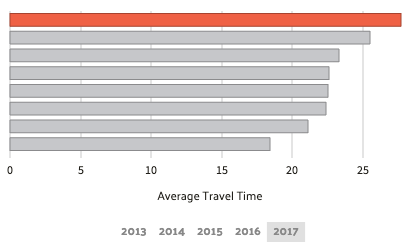 Commuter Transportation
How to Illinois workers get to work? Most of them drive– alone. A full 73 percent of workers start their car alone each day, making the solo drive to work.
Less than 10 percent take advantage of public transit options, while a little less than 8 percent carpool. A few lucky employees work from home.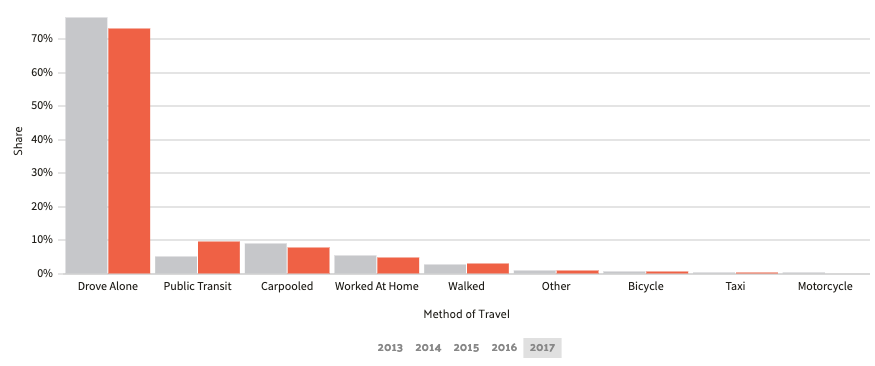 Traffic Congestion in Illinois
Traffic congestion in Illinois is certainly a problem, but it doesn't affect the lives of rural Illinoisans very much. No, most traffic congestion in Illinois happens in and around Chicago, despite the existence of public transit.
According to INRX, Chicago is the 3rd most-congested city in the United States and the 23rd most-congested city in the entire world.
If you break the cost of that congestion down to a per-driver number, each driver pays $1,920.
During morning and afternoon commute times, the peak speed a driver can expect to travel is just 23.04 miles per hour. That's the maximum.
In the morning, Chicago drivers can expect to add 13 minutes to each 30-minute trip. At night, an average of 17 minutes is added to each 30-minute trip.
Is there any good news for Chicago drivers? Well, according to TomTom, while the worst day for Chicago congestion is February 5th (a Monday), the best day is December 25th.
So if you have to travel within the city, Christmas is your best bet. Holiday shopping on the magnificent mile anyone?
If you're ready to get on the road in Chicago, or anywhere else in Illinois, you'll want to be sure that you're fully licensed, insured, and ready to drive.
Start comparing car insurance rates today and get up to 10 free car insurance quotes from the top providers in your area.