The Ultimate Mississippi Car Insurance Guide (Costs + Coverage)
Free Auto Insurance Comparison
Enter your ZIP code below to compare auto insurance rates.
Secured with SHA-256 Encryption
What's better than driving through the beautiful Magnolia State? With one of the largest rivers in the world supporting the state, Mississippi offers its residents access to a gorgeous variety of environments, sprawling farms, and bustling cities.
With so much to do and see in this great state, how can you protect yourself effectively while on the road? While the riverfronts are gorgeous, there's always a risk that a strong enough rainstorm may make the roadways a little more dangerous than usual.
If you're looking for the kind of coverage that'll let you enjoy Mississippi stress-free, then we can help. Don't worry about chugging through all of the state's possible providers on your own.
Our comprehensive guide to car insurance in the state of Mississippi addresses everything – who the biggest providers are, what state rules you'll have to follow, and how the rules of the road can play into your coverage rates.
Keep reading, and you'll soon know everything there is to know about finding the perfect car insurance policy for your lifestyle.
Want to get started finding the best rates right away? Use our FREE online tool , enter your zip code, and start comparing insurance rates in your area.
Mississippi Car Insurance Coverage and Rates
Every Mississippi resident has to have car insurance according to state law. That said, finding the best car insurance for your driving style and history can be difficult.
You shouldn't have to spend your time digging through dozens of provider websites to find the information you need.
If you have all of the information about Mississippi providers in front of you, you can better choose the coverage and rates that suit your needs.
That's why we've created that kind of easy-to-access guide for you.
With us, you can explore the types of major coverage offered in Mississippi as well as the minimum state requirements, forms of financial responsibility, and how much you should save a month in order to afford the average coverage payment.
Read on to learn more about car insurance in the Magnolia State.
Mississippi Minimum Coverage
You must, as a Mississippi resident, have the state's minimum required coverage in order to legally drive throughout the state. Mississippi requires you to operate with a 20/40/10 liability limit.
How does that break down? Take a look:
20 = $20,000 that can pay for the injuries of just one person
40 = $40,000 that can pay for the injuries of more than one person
10 = $10,000 that can pay for property damage
You'll need to have more coverage for multiple injuries, as you can see, than just the one. Be aware, though: this is the MINIMUM required coverage for Mississippi.
With the cost of hospitalization on the rise, you may find that while minimum coverage is cheap in the short term, it'll run out quickly if you get into an accident.
Forms of Financial Responsibility
You are required to carry a form of financial responsibility – otherwise known as proof of insurance – in order to legally drive in Mississippi. You'll need to present this information if you ever:
Register your vehicle
Renew your vehicle's registration
Get stopped by a law enforcement officer
Have a car accident
In Mississippi, you're able to gain proof of insurance whenever you register for coverage. However, you can also post a bond with a state licensed company in the amount of your required coverage.
Alternatively, you can even post a security deposit in the amount of your liability coverage with the state treasurer .
That state of Mississippi considers the following to be valid forms of financial responsibility:
An insurance ID Card
A certificate of your insurance policy
A certificate of deposit reflecting your deposit with the State Treasurer
Proof of your bond
If you get caught driving without proof of insurance, known that you will have to pay a fine of $1,000 and that you may have your driver's license suspended for a year's time – or until you provide proof of insurance to the proper authorities.
So don't think you can drive around without proof of insurance on hand. The consequences just aren't worth it.
Premiums as a Percentage of Income
You've probably heard the term "per capita disposable income" before. If you haven't, it describes the amount of money a person has available to her after paying taxes.
The average per capita income in Mississippi is $31,365 . As a Mississippi resident, what does that mean for you?
On average, most Mississippi residents will be able to spend $2,613.75 a month on rent, food, health insurance, and so on. Your car insurance premium payment needs to fit into that equation, as well.
Full coverage car insurance in Mississippi costs $957.59 a year. The average monthly payment due to car insurance providers, then, is $79.80 .
Considering that the national average for full coverage car insurance premiums is $981, Mississippi is on the lower end of the price spectrum. Nicely done, Mississippi.
Core Coverage
With that out of the way, what kind of coverage will you have available to you in Mississippi? Take a look at the table below:
While this information comes reliably from the National Association of Insurance Commissioners, rates have undoubtedly increased as of 2019 and on.
You may feel as though you can save a bit of extra money by forgoing the more comprehensive plans and sticking with Mississippi's minimum required insurance.
This is true – for a little while, anyway. Additional coverage comes in handy when you get into an accident, and spending a little extra in the present can save you big bucks in the future.
Additional Liability
Medical Payments and Uninsured/Underinsured Motorist Coverage as optional forms of insurance in Mississippi, but they're still worth your consideration as add-ons.
UUM coverage, in particular, will come in handy in Mississippi. This type of insurance will protect you if you happen to get in an accident with a driver who's uninsured.
Mississippi currently ranks 2nd in the nation for the most uninsured drivers on the roads. 23.7 percent of the population of Mississippi does not have car insurance.
That, if determined to be the driver at-fault, will have to pay for all property damage and personal injury/medical fees out of her own pocket.
You could easily go bankrupt before being able to pay off the full cost of the accident. What she's unable to pay will then fall to you.
UUM coverage would ensure that you had enough tucked away to provide for your own bills in this kind of situation, so it – and MedPay – are definitely worth their extra cost.
Loss Ratios
The aforementioned forms of coverage also work with loss ratios, which can help you determine a provider's financial strength.
Let's break that down really quickly. A company's loss ratio ranks between 0 percent and any manner of percentages past 100.
Companies with higher loss ratios are more likely to pay out on your claim, but they're also less financially secure for their efforts.
Comparatively, companies with lower than average loss ratios are more financially stable, but they won't always pay out on your claims.
As of 2015, the top insurance providers in America had loss ratios between 94-112 percent. Mississippi's providers have lower loss ratios for both UUM and MedPay.
Generally speaking, then, when you're looking for a company to purchase a basic coverage plan with along with UUM and MedPay, find a company that's got a fairly average loss ratio.
Add-ons, Endorsements, and Riders
But wait, there's more! Car insurance add-ons don't just stop with UUM and MedPay. There are dozens of alternative add-ons for you to peruse and choose from in order to completely customize your coverage.
Below, you can explore our list of the most affordable add-on coverage options. These will go far to protect you in case of an accident.
Click on each additional coverage option to learn more about that specific add-on.
Guaranteed Auto Protection (GAP)
Personal Umbrella Policy (PUP)
Non-Owner Car Insurance
Modified Car Insurance Coverage
Pay-As-You-Drive or Usage-Based Insurance
While the state of Mississippi does not require you to have any of these add-ons included in your plan, they're great ways to shore up your coverage, if you feel the need.
Male vs. Female Car Insurance Rates in Mississippi
Your gender will also play into the kind of insurance that providers in Mississippi will offer you.
Common driver myths would have you think that men – and younger men, especially – would pay more for their car insurance coverage than their female companions.
This isn't actually the case. Women in Mississippi pay more for their coverage than their male counterparts.
However, it's really age that plays into the amount you'll be charged for your coverage. As you can see in the table above, 17-year-old men have to pay substantially more than same-aged female drivers for their coverage.
Car Insurance Rates by Zip Code and City in Mississippi
Not only does gender impact your insurance rates, but where you live does, too. Below you can see a list of each city and zip code in Mississippi.
Scroll on through so you can see where your area ranks in terms of average cost of car insurance premiums.
For more details on each city in Mississippi, take a look here:
Enter your ZIP code below to compare auto insurance rates.
Secured with SHA-256 Encryption
– Mississippi Car Insurance Companies
One of the best ways to determine a car insurance provider's financial strength is to assess its financial rating. You'll notice that the ratings in the table below rank from B+ to A++. The more pluses a provider has, the more financially stable they are.
Companies with Best Customer Service Ratings
Similarly, you can assess a company's overall quality by taking into account customer satisfaction.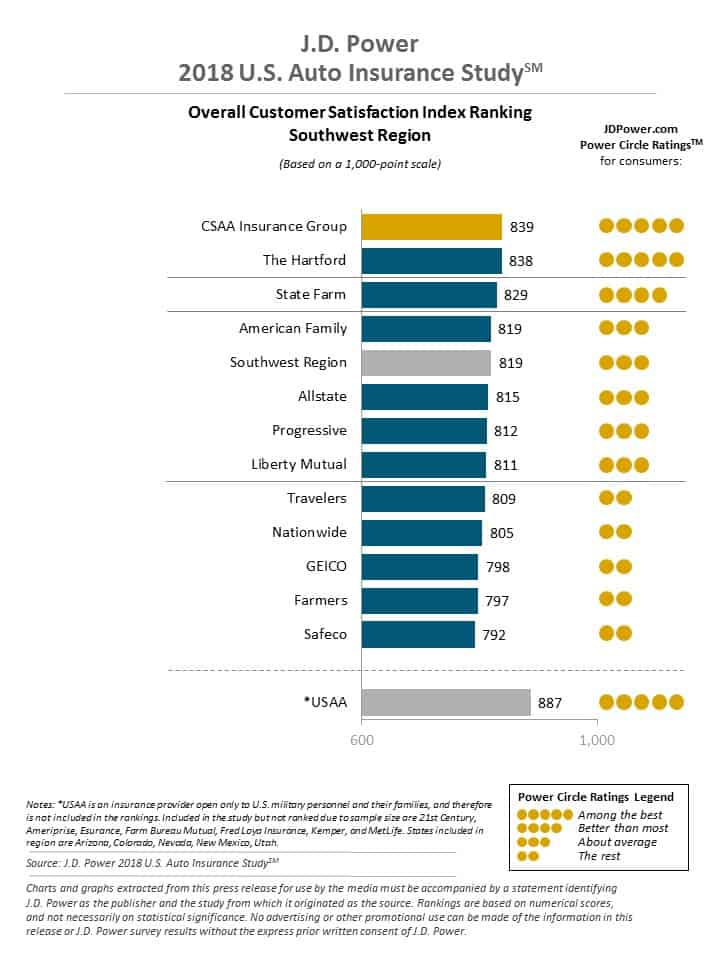 State Farm, for example, ranks third on this list, meaning that it has an above average rate of customer satisfaction as compared to Geico, which ranks towards the bottom of the list.
Companies with Most Complaints in Mississippi
On the other hand, you can consider the number of complaints a company gets as a mark of their ability to interact with drivers and meet their clients' needs. Take a look at the complaint numbers for Mississippi's providers below.
Mississippi Car Insurance Rates by Company
We know, though, that sometimes you want to approach car insurance provider research with your wallet in mind.
As such, we've organized a list of car insurance rates available to you in Mississippi as they're made available by area providers, ranking them by overall cost.
Commute Rates by Company
Some providers will make you pay more for your coverage if you drive further to get to work on a daily basis. Take a look at the division of rates in the table below:
Coverage Level Rates by Company
Alternatively, you can approach your car insurance research with coverage levels in mind. Different levels of coverage will cost you different amounts.
This doesn't mean, of course, that you should seek out the cheapest form of coverage, but rather with the rates of individual levels of coverage in mind, you can better optimize your budget.
Credit History Rates by Company
Your credit history reflects your ability to pay back loans or interest that you've been charged with. As such, your credit history will absolutely impact the rate a car insurance provider offers you.
Driving Record Rates by Company
Your driving history, too, will impact the rate a car insurance provider is able to offer you.
Number of Insurers by Mississippi
Finally, when browsing through Mississippi providers, you'll find that you have the option to choose from domestic and foreign providers.
You'll notice that there are fewer domestic providers in Mississippi than there are foreign ones. Don't fret over the strange terms, though.
All you need to know is that domestic providers are providers who are local to the state and that foreign providers have policies that can keep you covered in a number of other states.
Mississippi Laws and Legalities
Now that you have a basic understanding of car insurance rates and coverage under your belt, we can start talking about different driving laws that are specific to Mississippi.
Because state laws vary from one state to the next, what is legal in one may not be legal in another. Talk about confusing.
As such, knowing exactly what the state of Mississippi allows you to do on the road will help you remain a lawful driver within the state. You really don't want to get in trouble for violating a law you didn't know anything about.
That's why we've put together information about the different driving laws you'll need to keep in mind while in the Magnolia State. Keep reading to find out more.
Car Insurance Laws
We've touched on state minimum required insurance before and the need for all drivers in the state of Mississippi to be insured.
In Mississippi, drivers must have a minimum liability insurance coverage of 20/40/10.
According to the NAIC , it's also important that insurers in Mississippi file their policies with the Mississippi Insurance Department before they hit the road.
High-Risk Insurance
High-risk drivers can have a pretty difficult time securing car insurance with a provider who will offer them the coverage that they need.
How do you know if you're a high-risk driver, though? You can be labeled "high-risk" and will need mandatory high-risk insurance if any of the below apply to you:
Aged 70 years or older
Drive a high-risk car, like a sports car
Received a DUI/DWI conviction
Been caught driving without proof of insurance
Violated traffic law and caused a fatality/serious injury
Have a high number of points on your driving record
The good news is that if you are unable to secure a car insurance policy with any of the providers in Mississippi, you may qualify for the Mississippi Automobile Insurance Plan, or MSAIP. All you'll need to qualify for this coverage is:
A valid Mississippi driver's license
A current car registration from the state of Mississippi
So long as you have both of these things, you'll be able to qualify for MSAIP. You can then purchase MSAIP though any car insurance provider in the state of Mississippi.
Your rates will be significantly higher than they would be if you had a clean driving record, but if this is your only option for coverage in the state, it's best that you take it.
Low-Cost Insurance
Unfortunately, Mississippi does not have any government-sponsored insurance programs that can help low-income families. If you're looking to save on car insurance, though, there are some discounts available to you that may lower your overall costs.
Ask your provider if any of the following are available to you:
Accident-Free Discount
Affiliation Discount (this would be any discounts through your employer, school, team, etc.)
Anti-Theft Discounts (i.e. if you have alarms, tracking systems, etc on your vehicle)
Auto-Pay Discounts (if you were to set up automatic payments from checking – some providers refer to it as a Paper-Saving Discount)
Good Student Discount
Homeowner's Discount
Multi-car Discount
Green/Hybrid Car Discount (if you own/lease a hybrid or electric vehicle)
Be sure you shop around in order to find the best coverage for you that is equally cost-effective.
Windshield Coverage
While in other states you may have to worry about the cold weather cracking your windshield, that's not so much a problem in Mississippi (outside of hurricane season, that it). Even so, if your windshield cracks and needs repaired, what do you do?
Mississippi does not require its providers to offer you windshield coverage. That said, many providers will still make it available with their comprehensive coverage.
Automobile Insurance Fraud in Mississippi
Committing automobile insurance fraud in any state in the union can get you in serious trouble.
However, it's pretty difficult to commit automobile fraud by accident. According to the IIHS, you can commit insurance fraud one of two ways:
Purposefully staging an accident or making a false claim
Padding a legitimate claim
If you commit insurance fraud in Mississippi, you can face consequences ranging from significant fines to jail time. Mississippi even has a fraud bureau that remains on the lookout for automobile insurance fraud.
Generally speaking, then, don't lie about an accident or try to pad a claim. Doing so isn't worth the trouble.
Statute of Limitations
A statute of limitations refers to the amount of time you have to file a claim after an accident. This means that you only have a limited amount of time to get the money that you're owed after an accident.
You'll have from the day of your accident to each state's different statute of limitations date in order to submit your claim.
In Mississippi, you have 3 years to submit claims for both personal injuries and property damage.
While that may seem like a lot of time, time tends to move quickly after you've had an accident.
Spending time in the hospital or replacing damaged parts on your vehicle can really dig into what little time you have, so do what you can to file your claim with your provider as soon after an accident as you can.
Mississippi Lemon Laws
https://www.youtube.com/watch?v=JeEjFbNsVp0
If you have ever purchased a vehicle and it has spent most of its time in a repair shop, then it's probably a 'lemon'. Luckily for Mississippi citizen, the state has "lemon laws" that protect new car buys from situations like this.
The official title of the act in Mississippi is the "Motor Vehicle Warranty Enforcement Act", but is more commonly referred to as the Mississippi Lemon Laws.
Your car is a lemon vehicle if it meets any of the following standards:
The vehicle has to have some sort of substantial issue that happens within a certain time after purchase
The issue has to be covered by a warranty
The issue has to continue to exist even after a reasonable number of repairs that have been attempted
Should your vehicle be a lemon car, you have the choice of either replacing your car with a comparable vehicle or accept a return and refund of the full purchase price of the car – including all collateral charges, like repair costs.
Vehicle Licensing Laws
We've already touched on the fact that you're required to have the state minimum insurance in order to legally drive in Mississippi. What happens, though, if you get caught without proof of insurance?
Mississippi has some strict penalties in place, even if you're getting caught for the first time.
First-time offenders in Mississippi will be fined $1,000 and will have their driving privileges suspended for a year or until they can provide proof of insurance.
It can be pretty costly, then, to drive without proof of insurance. Just for a refresher, valid forms of financial responsibility include:
Copy of your current car insurance policy
A valid insurance ID card
Valid insurance binder (this is a temporary form of car insurance)
If you're able to provide proof of insurance upon receiving an insurance-related citation, then you may be able to waive your fine and court fees. Without proof of insurance, though, you'll have to file an SR-22 form.
According to the Mississippi DMV, an SR-22 serves as "proof of financial responsibility" and operates as a certificate from your insurance provider stating that you will maintain the state minimum liability insurance.
An SR-22 itself does not quality as insurance, but it can help you retain your driver's license or reinstate one that's been revoked.
Generally speaking, then, do what you can to keep proof of insurance in your car at all times. The consequences can be costly and time-consuming, whereas printing out a copy of your car insurance policy is not.
Teen Driver Laws
Teenagers in Mississippi are able to apply for a learner's permit at the age of 16.
While it can be really exciting to hit the road for the first time, teenagers need to learn how the driving laws in Mississippi will impact them.
Drivers who are 17 years old or older do not have to follow the rules of a learner's permit but can rather obtain a restricted license. There are different rules in place for this kind of licensure.
Bear in mind that car insurance policies are significantly more expensive for young drivers than they are for established ones, so teenage drivers in particular need to abide by the laws of the road in order to keep their overall insurance rates as low as possible.
Older Driver License Renewal Procedures
Although drivers in Mississippi who are 70 years old or older are considered high-risk drivers, the state does not enforce separate license renewal policies for its older residents. The state doesn't even require vision tests.
No matter what your age, you'll need to renew your license in Mississippi every 4-8 years. You can even skip the DMV and renew your license online!
New Residents
If you've just moved to Mississippi, ensuring that your car insurance policy measures up to the state minimum should be one of the first things you do.
Mississippi requires a minimum liability of 20/40/10, just as a reminder.
So long as you update your rates and your insurance ID cards, you'll be good to go.
License Renewal Procedures
We've already loosely touched on the process of renewing your license in Mississippi. What does the process look like broken down, though?
Renewal Cycle : once every 4-8 years
Online/Mail Renewal : anyone can renew their license online or by mail but only once every other renewal (meaning every other renewal cycle you will need to go to the DMV to get your renewal)
Proof of Adequate Vision : Not required
Without the need to go to the physical DMV or get a vision test, it seems like Mississippi is one of the easiest states to renew your license in.
Rules of the Road
So, you know the basics of license renewal and the legalities of driving in Mississippi. What will your day-to-day experience on Mississippi's roadways look like, though?
Never fear. We're here to give you a rundown of Mississippi's rules of the road so that you can avoid getting a ticket or points added to your driver's license.
The rules of the road may vary by state, but it's still important to be knowledgeable of the basics in your back pocket to avoid a fine.
Keep reading to learn more about Mississippi's rules of the road.
Fault vs. No-Fault
First thing's first: Mississippi is an at-fault state. What does that mean for you? If you get in an accident, and it's determined that you're the one who caused it, you'll be considered the driver at fault.
That means that you'll be responsible for covering the costs of any property damage AND the bills of anyone who's been injured.
So long as you have the right insurance coverage, you should be able to handle this without a problem. If you don't have insurance at all, though, or have too little coverage, you'll have to pay for these costs out of pocket.
Your bank account can really suffer, in this circumstance, which makes it especially important for you to explore car insurance options that exceed the Mississippi required minimum liability coverage.
Keep Right and Move Over Laws
The keep right and move over laws in Mississippi are reasonably straightforward.
You should keep right on an interstate if you're going slower than the posted speed limit, as you are legally required to do so. You can, though, pass on the right under specific circumstances .
You should also move over in accordance with state Move Over laws if you see a vehicle that needs to pass you by. These vehicles include:
Firefighters
Ambulances
Utility Workers
Law Enforcement
Utility Trucks
Drivers with Hazard Lights on
If you see flashing lights, move on over. These sorts of laws are put into place in order to make sure everyone on the road can get where they need to go as quickly and as safely as possible.
Speed Limits
Mississippi posts its maximum speed limits for rural and urban areas along every roadside so that drivers can easily adhere to state safety standards. We've included a list of these speed limits below.
Note again that these are the MAXIMUM speed limits for their listed areas throughout the state. There's no need to pretend you're Speed Racer in order to get to where you need to go, and if you do, you could get into a lot of trouble.
Seat Belt and Car Seat Laws
Because Mississippi wants the passengers in your car to be as safe as you, the state has a series of pretty strict seat belt and car seat laws in place. Take a look at the ones that have been enacted in the tables below.
Although there are, at present, no laws in Mississippi dictating how passengers riding in the cargo area of a truck need to be secured if you do have passengers riding with you, advise them to be cautious. No honkey-tonks in the cargo area, kids.
Ridesharing
With the rise of Lyft and Uber, ridesharing has become a fairly reasonable way for a number of Mississippi residents to make a little money on the side.
While these services are useful, you need to have a particular kind of insurance in order to keep your car safe while using it as part of your career.
At this point in time, only State Farm provides ridesharing coverage to its Mississippi residents.
As such, if you're looking to use your car for a ridesharing service, it's important for you to check with your provider to see if they can offer you ridesharing insurance. If they don't, you may need to seek out coverage elsewhere.
Automation on the Road
It's not about keeping up with the Joneses anymore – now we have to keep up with the Jetsons.
Automated vehicles are set to be the way of the future, even if these cars are currently in the "automated cruise control" state as opposed to the "park themselves" stage.
Mississippi is one of 19 states that have been starting to regulate vehicle automation for large trucks. According to the IIHS , these states are starting to try and regulate "platooning," or truck herding, technology.
This allows groups of trucks/buses to travel together as a group, with a particular set distance between them and at an electronically coordinated speed.
DUI Laws
Drinking and driving anywhere is a tremendously bad idea. If you happen to get behind the wheel while intoxicated, you're putting yourself and hundreds of other drivers and pedestrians in danger.
Mississippi has strict laws protecting its residents against drunk driving in place. However, in 2017 the state still saw 148 alcohol-related driving fatalities.
We've detailed the state's DUI laws below for your perusal.
You'll note that these penalties increase in severity in an attempt to discourage drivers from making the same mistake more than once.
Should you drive while intoxicated in Mississippi, you'll be facing hefty fines as well as jail time. A third offense will see you stuck with felony charges.
In general, then, it's best that you avoid drinking and driving. Rely on a designated driver or one of the aforementioned ridesharing services in order to make it back to your home safely.
Distracted Driving Laws
Cellphones are super convenient – but they're also dangerous in a car. Taking your eyes off the road for a second can make the difference between smooth sailing and an accident.
Take a look at some of the rules Mississippi has in place regarding distracted driving.
Because the enforcement of the state's texting ban is a primary enforcement, officers of the law can pull you over if they see you texting and driving; they need no other reason to do so.
Do what you can, then, to keep your eyes on the road. You'll keep yourself and those drivers around you much safer for your efforts.
– Driving in Mississippi
With the laws and legalities in Mississippi out of the way, why not touch on some of the must-know state driving facts?
It takes a lot of effort to own, maintain, and protect a vehicle. We want to ensure that you're equipped with all of the know-how you need in order to drive with a little less stress throughout the Magnolia State.
Read on to learn more about Mississippi's can't-miss driving facts.
Vehicle Theft in Mississippi
It turns out that it's not just sports cars that attract the eye of a car thief. Take a peek at some of the most commonly stolen cars throughout the state of Mississippi.
As you can see, it's pickup trucks that really catch people's attention.
The 1994 Chevrolet Pickup (Full Size) was stolen 286 times in 2015 alone!
The city you live in, as much as your make and model of car, also contributes to the likelihood that your car will be stolen.
That's why the FBI created a report on Mississippi's vehicle theft in 2013, noting how many cars were stolen in each of the state's cities. Where does your city rank?
As you might expect, there are more car thefts in cities that have higher populations. Jackson, for example, has the biggest concentration of people in the state of Mississippi while also having the highest number of stolen vehicles reported.
Mississippi Traffic Fatalities
There are a number of factors that contribute to the number of traffic fatalities that each individual state sees. We'll touch on these factors and discuss those that are unavoidable, like the weather, as well as those that are, like speeding.
The type of road you drive on, be it rural or urban, can change the likelihood of your getting in a car accident that results in a fatality.
Rural roads in Mississippi see a greater number of fatalities than urban areas. This is likely because rural roads have higher speed limits, and drivers tend to go a bit faster in these areas than they would on urban interstates.
Fatalities Due to Weather, Light, and Road Conditions
No matter where you are in the United States, you can't control the weather. Take a look at the impact weather has had on driving fatalities in Mississippi before heading out on the road in the midst of a rainstorm.
Fatalities by Person Type
Person type also contributes to the likelihood of a traffic fatality. What does person type mean, though?
Person type here describes whether or not an injured party was a pedestrian, a passenger in the car, someone riding the bus, and so on. We explore person types below and their likelihood of being in a traffic fatality in Mississippi.
| Traffic Fatalities by Person Type | 2013 | | 2014 | | 2015 | | 2016 | | 2017 | |
| --- | --- | --- | --- | --- | --- | --- | --- | --- | --- | --- |
| – | Number of Individuals | Percent | Number of Individuals | Percent | Number of Individuals | Percent | Number of Individuals | Percent | Number of Individuals | Percent |
| Passenger Car | 232 | 38 | 262 | 43 | 257 | 38 | 272 | 40 | 309 | 45 |
| Light Truck - Pickup | 140 | 23 | 113 | 19 | 161 | 24 | 134 | 20 | 108 | 16 |
| Light Truck - Utility | 94 | 15 | 82 | 14 | 112 | 17 | 110 | 16 | 109 | 16 |
| Light Truck - Van | 20 | 3 | 13 | 2 | 14 | 2 | 24 | 3 | 16 | 2 |
| Light Truck - Other | 3 | 0 | 5 | 1 | 2 | 0 | 5 | 1 | 2 | 0 |
| Large Truck | 17 | 3 | 13 | 2 | 18 | 3 | 13 | 2 | 17 | 2 |
| Other/Unknown Occupants | 9 | 1 | 18 | 3 | 7 | 1 | 16 | 2 | 5 | 1 |
| Total Occupants | 515 | 84 | 506 | 83 | 571 | 84 | 574 | 84 | 571 | 83 |
| Bus | 0 | 0 | 0 | 0 | 0 | 0 | 0 | 0 | 5 | 1 |
| Motorcyclists | 39 | 6 | 41 | 7 | 37 | 5 | 50 | 7 | 40 | 6 |
| Pedestrian | 53 | 9 | 53 | 9 | 63 | 9 | 58 | 8 | 71 | 10 |
| Bicyclist and Other Cyclist | 6 | 1 | 6 | 1 | 5 | 1 | 5 | 1 | 7 | 1 |
| Total Nonoccupants | 59 | 10 | 60 | 10 | 69 | 10 | 63 | 9 | 79 | 11 |
| Other/Unknown Nonoccupants | 0 | 0 | 1 | 0 | 1 | 0 | 0 | 0 | 1 | 0 |
| Total | 613 | 100 | 607 | 100 | 677 | 100 | 687 | 100 | 690 | 100 |
Fatalities by Crash Type
There are different types of crashes that can contribute to a greater number of fatalities in a state. You can see below how these crashes can be distinguished from one another and how they've impacted Mississippi's fatality rate over the past few years.
How does Mississippi's fatality rate stack up over the past five years? Take a look at the numbers from the top 10 counties in the state to see for yourself.
The fatality rate in some counties hasn't wavered all that much, whereas fatalities are on the rise in other areas.
Marshal County, for example, as seen a fairly standard rate of fatalities. Hinds County, however, has seen an increase in fatalities that's nearly doubled the county rate.
Fatalities Involving Speeding by County
While the type of road can't be changed, whether or not a person is speeding while driving can. Take a look at the speed-related fatalities throughout Mississippi as organized by county.
Fatalities in Crashes Involving an Alcohol-Impaired Driver
While we've touched on drunk driving and its consequences already in this guide, there' still more data to address. As you can see, drunk-driving fatalities, or fatalities involving a driver with a BAC of 0.08 or higher, differ by county.
Unfortunately, these statistics also include a number of teen drivers who were intoxicated at the time of their accident. 2018 saw 66 DUI arrests for drivers under the age of 18.
As such, Mississippi ranks as the 22nd most dangerous state in the union for drunk driving, putting it in the top 50 percent of the whole country.
EMS Response Time
If you happen to get in an accident and you're injured, you're going to want to call EMS as soon as possible. The emergency medical services will head to your location as quickly as they can, though their response time varies from state to state.
Luckily, Mississippi's EMS has pretty quick response times. Whether you're in the city or out in the country, EMS will be able to get you to a hospital in under an hour. Given the size of the state, those are some pretty reassuring response times.
Transportation in Mississippi
With all of that information at hand, how will your day-to-day driving in Mississippi look different from anywhere else in the United States?
Let's go over some transportation-related data and explore Mississippi's commute times, car ownership statistics, and other information so you know what to expect as a resident of the Magnolia State.
It's fairly standard for Mississippi residents to own more than one car. The state average puts two cars in the majority of Mississippi driveways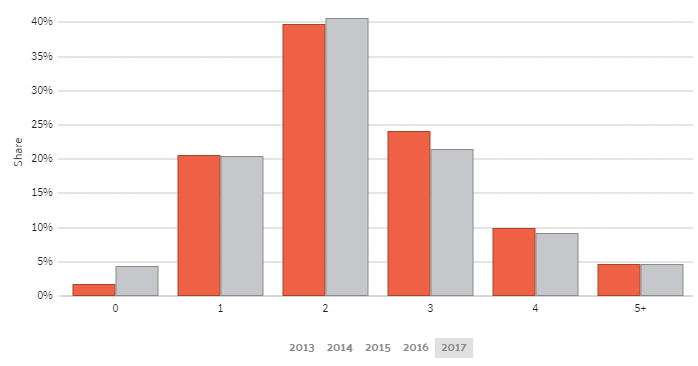 Commuting in Mississippi takes an average of 23.8 minutes. Across the United States, the national average for commute times is roughly 25.3 minutes. Mississippi is a smidge shorter than that, which speaks highly of the state's infrastructure.
That said, 2.63 percent of drivers in the state do have to endure a "super commute" – that is, a commute that lasts longer than 90 minutes. Kudos to you all who have to make that drive! Can you give us some podcast recommendations?
Even though your commute could range anywhere within Mississippi's state average, it's good to know how your neighbors are getting to work. The vast majority of the workforce in Mississippi – 84.6 percent – forgoes carpooling in favor of driving on their own.
Traffic Congestion in Mississippi
How much trouble are you going to be in, though, if you wake up one morning and realize that you're running late to work?
The good news is that NONE of Mississippi's cities rank on the INRIX's scorecard for global traffic.
What does that mean for you? It means that even in urban areas like Jackson, you won't have to worry about spending hours upon hours in traffic.
And with that, we've come to the end of this comprehensive guide to car insurance in Mississippi. Hopefully you'll be able to use the information within to find the perfect car insurance policy for your driving style in the Magnolia State.
If you want to start exploring premiums in your area, don't forget to take a peek at our comparison online tool ! You can enter your zip code and compare car insurance policies for FREE!