Travelers Auto Insurance Review for 2023
Free Auto Insurance Comparison
Enter your ZIP code below to compare auto insurance rates.
Secured with SHA-256 Encryption
Picking an insurer can be difficult. It's hard to know which insurer actually has the best rates and coverages for your needs.
If you're reading this review, though, you are probably thinking of getting Travelers auto insurance.
To help you make sure you're making the right decision, we are going to go through everything you need to know about Travelers.
From Travelers' ratings to the design of Travelers' app, we will cover it all here. Let's dive right in.
Want to start comparing rates today? Enter your zip code in our free online tool above.
Travelers' Rating Agency
Ratings can give important insight into a company, but it can be hard to sift through the dozens of ratings online to find the best, most informative reviews.
Luckily, we've done the hard work for you. We've collected ratings from major review sites that cover everything from financial stability to customer satisfaction.
So keep reading to see what others think of Travelers insurance.
A.M. Best
A.M. Best rates companies on their financial strength, mainly a company's ability to meet ongoing financial obligations.
A.M. Best gave Travelers an A++ rating, which means A.M. Best considers Travelers to have a superior ability to fulfil its financial obligations.
This rating is great, as it means Travelers is able to fulfill its policy obligations to customers, such as paying off claims.
Better Business Bureau
Better Business Bureau (BBB) rates companies based on customer complaints, as well as several other factors (such as business practices).
The BBB gave Travelers an A+ rating in multiple states, which is the highest grade available.
BBB scores companies based on a 100 point system, which means Travelers earned at least 97 points.
Moody's Rating
Moody's is another company that rates financial strength.
Moody's gave Travelers an Aa2 rating, which is the third-highest rating available.
This rating means that Travelers has a low credit risk because it has "a superior ability to repay short-term debt obligations."
What does this mean for you?
Basically, Travelers' strong creditworthiness means that it's not in danger of crashing anytime soon and leaving you stranded without insurance or a half-paid claim.
S&P Rating
S&P is another company that looks at creditworthiness. The ratings are letter grades, with AAA being the highest grade possible.
S&P gave Travelers an AA rating, which means Travelers has a strong ability to fulfill its financial obligations.
This rating is great, as it means Travelers is able to meet policy obligations without bankrupting itself.
NAIC Complaint Index
The National Association of Insurance Commissioners (NAIC) gives companies a complaint index rating based on the ratio of the number of complaints to the number of total customers.
Traveler's complaint ratio has increased over the years for private passenger policies. However, you may have noticed that the actual number of complaints is low.
So while Travelers may have a higher complaint index, there is actually only a small number of actual complaints.
JD Power
Since NAIC's complaint ratio didn't give us a complete picture of Travelers' customer satisfaction, we want to take a look at JD Power's 2019 study.
The study surveyed 42,759 auto insurance customers by asking questions about the following five factors: "interaction; policy offerings; price; billing process and policy information; and claims."
Let's take a look at one of the rating graphs.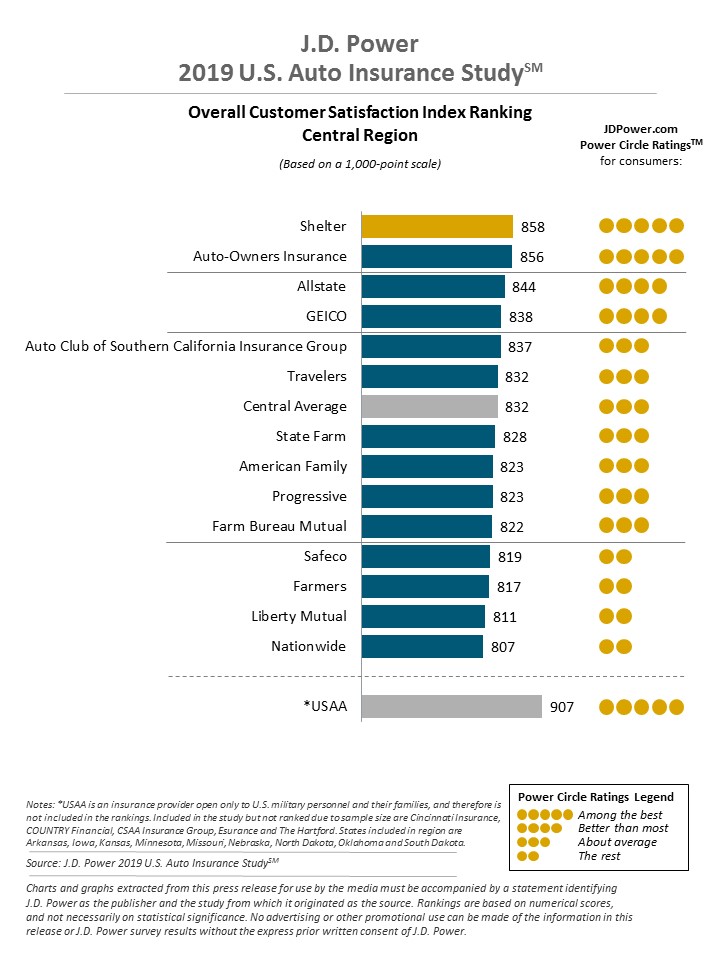 In the central region, Travelers earned three power circles, which is "about average." Let's take a look at what Travelers earned in other areas of the U.S.
In most areas, customers consider Travelers to be below average. It is only in New York that Travelers earned a "better than most" rating.
This isn't great, as it shows most customers are not too satisfied with Travelers' customer service.
Consumer Reports
Because we want to make sure we are getting the complete picture of Travelers' customer satisfaction levels, we also want to look at Consumer Reports' rating.
Below you can see what customers scored Travelers as in different areas.
Since excellent is the highest rating available and very good is the second-highest, customers seem to be happier with Travelers than JD Power's ratings suggest.
Consumer Affairs
One last customer review site we want to look at is Consumer Affairs.
Consumer Affairs only gave Travelers Auto Insurance two out of five stars.
However, this low rating is only based on 46 reviews in the past year. Since unhappy customers are more likely to post reviews on these sites, Consumer Affairs' rating shouldn't be taken as a complete representation.
Enter your ZIP code below to compare auto insurance rates.
Secured with SHA-256 Encryption
Travelers' History
In 1864, James G. Batterson founded Travelers to provide accident insurance. Since the foundation of Travelers, the company has grown substantially.
In 1897, Travelers issued its first auto insurance policy, and in 1919, Travelers even started to ensure aircraft.
Today, Travelers offers property and casualty insurance, as well as personal, business, and specialty insurances.
All of this has contributed to Travelers being a major competitor in the insurance market. To see where Travelers stands now, we want to look at various factors, such as Travelers' market shares.
So keep reading to see how Travelers' past contributes to its future position.
Travelers' Market Share
The first thing we want to look at is Travelers' market share over the years. Doing so will give us a good idea of if Travelers is staying competitive and growing in the market place.
Travelers' market share has slowly but steadily increased from 2015 to 2017. Although Travelers' market share remained the same in 2018, it didn't decrease.
As well, while the market percentage may seem low, this is actually a significant chunk of the marketplace that Travelers has taken over.
Therefore, Travelers seems to be growing as a company and staying competitive in the marketplace.
Travelers' Position for the Future
Travelers seems to be positioned well for the future. While it only has okay customer ratings on some review sites, the company has managed to steadily increase its market shares.
It has also received great ratings from major financial websites, which means Travelers isn't in danger of going bankrupt any time soon.
So while some of Travelers' customers seem lukewarm in their opinion of the company, the company has still managed to attract and keep customers while staying strong financially.
Travelers' Online Presence
Since Travelers is a top contender in the marketplace, we want to take a look at what Travelers' online presence is like.
In other words, how easy it is to access information about Travelers.
Phone: Travelers can be reached by phone at multiple numbers.
Online: You can easily access information on Travelers' website, and if you have an account, you can sign in to view policy information, file claims, and more.
Agent: If you want to speak to an agent in-person, you can search for an agent by location to find one near you.
These multiple methods of contact mean you can find one that's comfortable for you, whether it's talking on the phone or face-to-face.
Travelers' Commercials
How a company promotes itself is an important part of attracting customers. Let's take a look at a few commercials to see what Travelers' overriding message is.
In this commercial, Travelers' places an emphasis on legacy — protecting multiple generations.
While the commercial below doesn't deal with auto insurance, it shows Travelers' emphasis on protecting generations.
The message that Travelers promotes is sentimental (in a good way). Basically, Travelers' message is that by purchasing Travelers' insurance, you are protecting your assets so that you can pass them onto your children.
Travelers in the Community
A company should be involved in the community around it, as it shows the company cares about the community (which includes its customers).
Alan Schnitzer, the CEO of Travelers, says that company's community involvement has "contributed more than $218 million toward important causes" in the last decade and contributed 250,000 hours to volunteer work in the last two years.
The company's donations and volunteer work have focused on the following areas.
Academic and Career Success: supporting "underrepresented students from middle school through college and into a career."
Thriving Neighborhoods: supporting communities to provide access to opportunities and safer environments (such as Travelers' fortified housing project).
Culturally-Enriched Communities: funding "organizations that use the arts to enhance academic learning, provide access to low-income communities and present cultural traditions."
Travelers' involvement in the community is impressive. Hopefully, this means that Travelers cares as much about its customers as it does communities.
https://youtu.be/3A_MKJBTvGA
Travelers' Employees
The general rule is that happy employees mean happier customers. If the people who assist you clearly hate their jobs, they are more likely to be rude and unhelpful.
So let's jump right into what Travelers' employees think of working at Travelers.
On Glassdoor, Travelers' rating is 3.9 stars out five (based on over 2,000 reviews.
This is a decent rating, although common complaints include the following.
Only one main office location (in Hartford)
Poor work/life balance
However, other employees say that there is actually a good work/life balance, as well as great benefits.
As well, 75 percent of the employees say they'd recommend Travelers to a friend, and 86 percent approve of the CEO.
Glassdoor has also given Travelers The following awards.
Travelers has also won numerous awards for its corporate success and work culture. While awards are a great indicator of a work environment, let's dig a little deeper into employees' thoughts by looking at Payscales' ratings.
Travelers' employees gave the company 3.6 out of five stars.
Payscales' rating is based on the following factors.
Travelers struggled the most in the categories of pay transparency and pay policy. However, the company's outlook and relationships with managers were highly rated.
Overall, Travelers seems to have a good work environment, as it received decent ratings from both Glassdoor and Payscale.
Cheap Car Insurance Rates
Car insurance is expensive, but some companies are more pricy than others. To help you see if Travelers' rates will fit your budget, we are going to go through multiple rate factors that are from our partnership with Quadrant.
This way, you'll have a better understanding of how much Travelers will charge you.
So stick with us as we go through everything from which states Travelers is available in, to how your driving record will impact rates.
Travelers' Availability and Rates by State
Travelers is not available in every U.S. state.
Currently, Travelers is not available in Alaska, Hawaii, Louisiana, Michigan, North Dakota, South Carolina, West Virginia, and Wyoming.
The bad news is that this means that if you move to one of these states, you'll have to find a new provider.
For the states that Travelers is available in, though, we want to take a look at what the average rates are per state.
Unfortunately, we don't have the data for every state that Travelers is available in. However, what data we do have shows that Travelers tends to be more expensive than the state average.
For example, Travelers' rates in Pennsylvania costs 94 percent more than the state average. While Travelers does cost less than the state average in some states, the cheapest it becomes is 30 percent less in Delaware.
Based on this information, Travelers is going to cost you more than other companies.
Comparing the Top 10 Companies by Rate Averages
Let's take a look at how expensive Travelers' rates are compared to other companies.
In some states, Travelers' rates are in the middle — neither the most expensive nor the cheapest.
However, Travelers' rates often place the company as the second most expensive company below Allstate.
Because Travelers seems to have higher rates, make sure to check the rates for the state you live in to make sure you aren't paying a rate that's significantly higher than the state average.
Average Travelers' Male vs Female Car Insurance Rates
It's true — insurers change their rates based on your gender. This is because insurers believe males are riskier drivers based on accident data.
However, some states have banned insurers from basing rates on gender.
In California, Hawaii, Massachusetts, Montana, Pennsylvania, North Carolina, and parts of Michigan, the law prohibits insurers from creating gender rates.
Because basing rates on gender is still legal in many states, however, we want to take a look at Travelers' demographic price changes.
Females consistently pay less than males at Travelers, even if the difference is only about $20.
As well, the data shows that older drivers become, the less they pay for car insurance.
This is because older drivers have more driving experience — there's a reason teens pay the highest rates.
However, teens can go on their parents' policy, which will help lower the astronomical costs of teen car insurance at most insurers.
Average Travelers' Rates by Make and Model
If you've ever owned a sports car (or any high-risk vehicle) then you know that some types of vehicles are more expensive to insure than others.
Let's take a look at Travelers' rates for different vehicle makes and models.
At Travelers, a 2018 Toyota RAV4 is the most expensive car to insure.
However, Travelers' rate for this car is actually cheaper than other companies' rates like Progressive or Farmers, placing Travelers' rates in the middle of the top 10 companies.
Average Travelers' Commute Rates
A long commute costs more than just extra gas money and added wear and tear on your car.
A majority of insurers will also charge customers for long commutes. Let's see if Travelers also increases rates, and if so, what it charges.
Travelers charges drivers with longer commutes $70 more than those with shorter commutes.
This increase actually isn't bad, as it means only about an extra $6 a month.
Average Travelers' Coverage Level Rates
Some companies charge so much for high coverage that customers are forced to go with medium/low coverage or switch to another company.
So let's see if Travelers' rate increases for coverage levels are economical.
Travelers' rate increases are actually very cost-effective. Upgrading from low to medium coverage costs $239, and upgrading from medium to high coverage costs $157.
This means that at Travelers, a huge upgrade from low to high coverage will cost $396 a year (or $33 a month).
This a fairly low rate, as other companies' upgrade cost (from low to high coverage) can be around $1,000.
Average Travelers' Credit History Rates
Credit history is important to insurers — it tells them if a customer will be reliable or not in paying off monthly insurance premiums. If a driver has bad or fair credit, then insurers will increase premiums.
The average credit score in the U.S. is 675, which most insurers consider to be a good credit score.
Let's take a look at how much Travelers increases rates based on credit scores.
The drop from good to poor credit will cost drivers $1,102. This may seem high, but it is actually normal for most insurers.
If you have poor credit, it's important to shop around to find an insurer with cheaper rates for poor credit.
Otherwise, you may find it even harder to restore your credit.
Average Travelers' Driving Record Rates
If you've ever caused an accident, then you're probably aware that this can raise your insurance rates.
Whenever drivers have poor driving records (caused by accidents, DUIs, and speeding tickets), insurers will raise rates.
Below are Travelers' rate changes for driving offenses.
Travelers increases rates the most for a DUI, as going from a clean record to one DUI will cost about $2,000.
A speeding violation will also cost a significant amount (about $800), which means that you'll be paying for more than just a speeding ticket at Travelers.
Remember, these price increases are just for a first offense. Multiple offenses will cost much more than the rates we've shown above.
Coverages Offered
Since Travelers' rates are more expensive than most companies, we want to take an in-depth look at its coverages to make sure the higher prices are worth it.
So stick with us as we go through everything from the types of coverages offered to Travelers' programs.
This information will help you decide if Travelers' coverages meet your needs. Let's jump right in.
Types of Coverages Offered
To start, let's see what basic auto insurance coverages Travelers offers.
Collision — This coverage helps out when another car or object damages your car in a collision.
Comprehensive — This coverage steps in if your car suffers damages from something other than a collision with another vehicle, such as weather conditions, vandalism, or an animal collision.
Liability –– If you caused an accident that caused bodily injury to someone else or damaged someone else's property, liability coverage will cover the other person's accident costs.
Medical Payments — Even if you caused the accident, this coverage will help cover medical expenses for both you and your passengers.
Personal Injury Protection (PIP) — If you live in a no-fault state, the law requires you to have PIP protection. PIP covers your medical expenses and lost wages (if injuries disable you for a while) after an accident.
Uninsured/Underinsured Motorist — If you're in an accident with drivers who have little or no insurance, they will be unable to pay off your accident costs if they caused the accident. This coverage will step in if this happens to make sure you aren't paying out of pocket.
Travelers has all the basic car insurance coverages, which means you'll be well-covered. Next, we want to look at the additional coverages Travelers offers.
Loan/Lease Gap Insurance — If your car is totaled, this coverage will cover the difference between what you still owe on your car and what your vehicle is actually worth.
New Car Replacement — If you total your new car within five years of purchase, this coverage will replace your car with a new car of the same make and model.
Rental Coverage — If your car is damaged and needs repairs, this coverage will provide a rental car until yours is fixed.
Ridesharing — Travelers' rideshare insurance is only available for rideshare drivers in Colorado and Illinois.
Roadside Assistance — This coverage will help you with common problems like having a dead battery, locking yourself out the car, running out of gas, and towing.
Umbrella Insurance — This coverage is basically extra liability insurance, which is useful in case you're sued after an accident.
Travelers has a nice selection of add-on coverages, although it's rideshare insurance is only available in two states.
As well, Travelers' doesn't offer add-ons like classic or modified car insurance.
Getting the Best Rate with Travelers
While the easiest way to get good rates is having a good credit score and a stellar driving record, discounts can also help lower your rates.
Below is a complete list of Travelers' discounts, as well as the percentage saved (when available).
Travelers offers a decent amount of discounts. Its amount of discounts falls right in the middle of the average number of discounts offered by other companies (18 discounts is the lowest number offered, while 38 discounts are the highest number).
Some of the discounts are also easy to get, such as making on-time payments and signing up for paperless billing.
As well, you can also bundle auto coverage with home, condo, or renters insurance to earn a discount.
Travelers' Programs
While we've covered Travelers' coverages and add-ons, there are still more programs that Travelers offers its customers.
Accident Forgiveness — You'll have to purchase Travelers' accident forgiveness plan, but this coverage will forgive you one accident and one minor violation every 36 months.
Premier Responsible Driver Plan® — Travelers has a vanishing deductible plan you can purchase. In addition to accident forgiveness, drivers can earn up to $50 (up to $500) for every six months they are accident/major violation-free, which will be applied to their deductible.
Usage-Based App — Travelers' IntelliDrive® program measures drivers' safe driving habits and offers up to a 20 percent discount for good driving. However, unsafe driving can result in a higher premium (except for in DC, MD, MT, PA, and VA).
Travelers' accident forgiveness plan can definitely pay itself off after an accident. Remember, an accident or speeding ticket will cost you in the long-run with higher premiums.
Accident forgiveness will make sure that for your first accident or violation won't raise your rates.
What Stands Out and What's Missing
While Travelers' coverages offer all the basics and more, its rideshare coverage is only available in two states.
This means that if you wanted to use Travelers as your insurance for Uber or Lyft, you'll have to use a different provider if you don't live in Colorado or Illinois.
However, Travelers does offer a usage-based app and a decent number of discounts, which could help lower costs. If you are a poor driver, though, the usage-based app could raise your rates.
This is unfortunate, as other providers' apps promise not to penalize drivers for poor driving.
Enter your ZIP code below to compare auto insurance rates.
Secured with SHA-256 Encryption
Canceling Your Policy
If you decide that Travelers is no longer the right insurer for you, then the last thing you want is a complicated cancellation process when you switch providers.
Since some insurers can make the cancellation process extremely frustrating (and charge fees), we want to take an in-depth look at Travelers' cancellation process.
Keep reading to learn about Traveler's fees, refunds, and more.
Cancellation Fee
The good news is that Travelers' doesn't seem to charge a fee for canceling a policy, as Travelers' doesn't list a cancellation fee on its website.
Sometimes, insurers will charge you for canceling a policy before the end of a cycle, although this amount is usually under $50.
Is There a Refund?
Travelers' doesn't offer information on their website about refunds for cancellation, so your best option is to speak directly to an agent to find out if Travelers will refund you.
Often, insurers will refund customers who cancel before the end of a cycle.
For example, if you paid for three months of coverage but cancel in the first month, you should be refunded for the two months of unused coverage.
How to Cancel
If you want to cancel your policy, calling and talking to a service agent is the best option (1.866.336.2077).
You'll need to have the following information.
Contact information: Your name, address, and phone number
the number of your policy
The date that you want your policy to end
The name and policy number of your new insurer (if you're switching providers)
If you aren't switching providers because you no longer need insurance, you'll need to provide additional information (such as proof you sold your car).
If you have a Travelers' agent nearby, you can also visit in-person to cancel a policy.
Another option is messaging Travelers online through their website, though this option will take a little longer than calling directly.
When Can I Cancel?
You can cancel a policy at any time, although some insurers will charge fees for canceling before the end of an insurance cycle.
The cancellation will go into effect immediately unless you chose a later end date. If you want to double-check that Travelers canceled your policy, you can call Travelers.
As well, if you are on an automatic billing cycle, make sure to check after the cancellation to make sure that you aren't still paying for Travelers' insurance.
We also want to point out that it's critical you have another insurer before canceling (if switching providers).
The last thing you want is a lapse in insurance, as not only is this illegal, but insurers will see the lapse and charge you higher rates.
How to Make a Claim
The unfortunate reality for a majority of drivers is that someday they will be in an accident. Even if drivers have perfect, safe driving habits, they can't control the variables around them.
After an accident, the last thing anyone needs is more stress from a company's claim process.
To see how straightforward Travelers' auto insurance claims are, we are going to go through everything from the ease of making a claim to Travelers' loss ratio.
Ease of Making a Claim
There are a few different methods with which you can make a claim with Travelers, all of which are available 24/7.
App — You can file a claim through Travelers' mobile app.
Online — If you sign in to your Travelers' account, you can file online.
Phone — You can also call 1.800.252.4633 at any time to file.
These various methods make it easy to file a claim, and their availability means you can file at any time, even two in the morning.
When you file a claim, make sure you have the following information.
Photos taken of the damage (if possible)
Your contact information
The name/contact information of the other driver
Type of claim (auto, home, etc.)
Date of the incident
Description of what happened in the accident
Description of any injuries from the accident
Once you file your claim, Travelers should start processing it immediately.
Premiums Written
Why do we care about written premiums? Well, besides showing us if a company is growing or not, a company with a high number of customers will generally charge lower premiums.
This is because if a high number of claims are made, but only a small number of premiums are written, companies may raise rates in order to pay off claims.
So let's take a look at Travelers' written premiums over the past four years.
Travelers' has significantly increased its number of written premiums over the years, which is good news.
Loss Ratio
The other aspect of claims we want to look at is loss ratio. Written premiums compared to the number of claims forms a company's loss ratio — which tells us if the company is losing too much or too few capital on claims.
High Loss Ratio — If a loss ratio is over 100 percent, a company is paying out too many claims and risks bankruptcy.
Low Loss Ratio — If a loss ratio is low, a company isn't paying out many claims. This means that while you may have lower rates, you'll also risk your claim being denied.
Below you can see Travelers' loss ratios over a four-year period.
While there have been decreases and increases in Travelers' loss ratios, its loss ratios have stayed steadily around 60 percent.
This is a great loss ratio, as it's not over 100 percent, but neither is it too low. This shows that Travelers is paying out a decent amount of claims without putting itself at risk of bankruptcy.
How to Get a Quote Online
If you want to get a quote before you commit, we are going to go through a step-by-step guide.
So keep reading to see how to get an auto insurance quote from Travelers.
Step One: Visit Travelers' Website
The first thing you'll need to do is go to Travelers' website. Right away, you'll see a red banner advertising a free quote.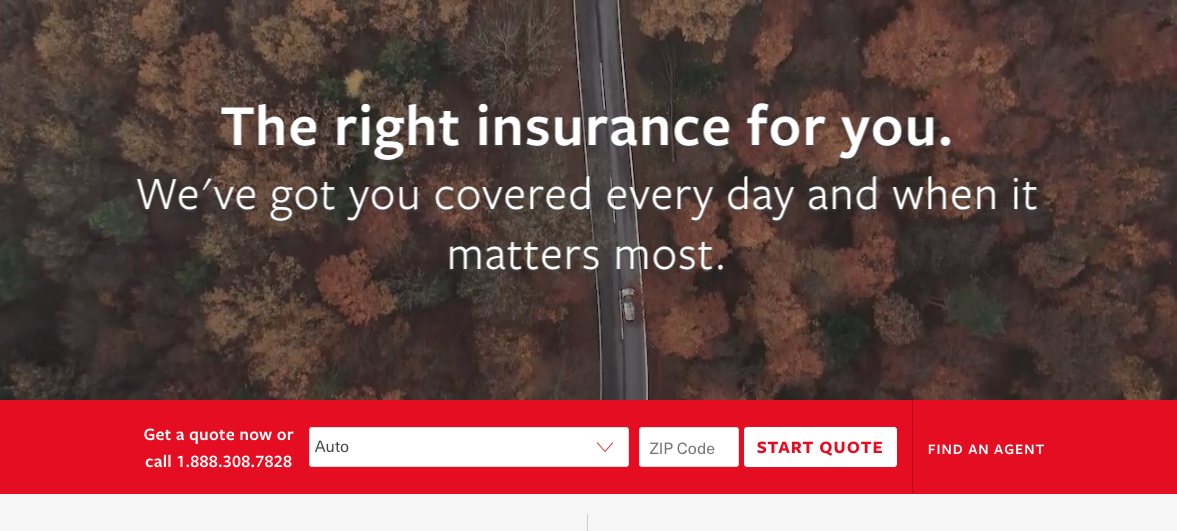 Simply select what type of insurance you want the quote for (in this case auto), enter your zip code, and click start quote.
You may have noticed that you can also call 1.888.308.7828 to get a free quote. If you do call, you'll need the same information as on the online quote form.
Step Two: Fill Out Personal Information
Once you click start quote, you'll be redirected to a free quote form. This first thing you'll have to do is enter in your personal information.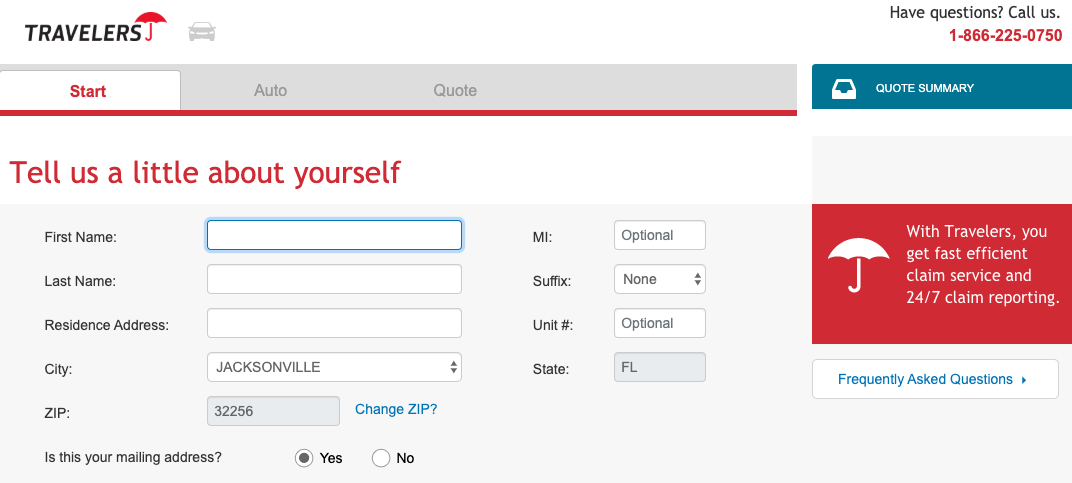 This personal information is basic, just your name, address, and email.
Step Three: Fill Out Vehicle Information
Next, you'll be asked to fill out the information on your vehicle(s). If you don't know your vehicle identification number (VIN), you can enter what you know about your vehicles' make, model, etc.
If you know what your daily commute is, you can also add this information.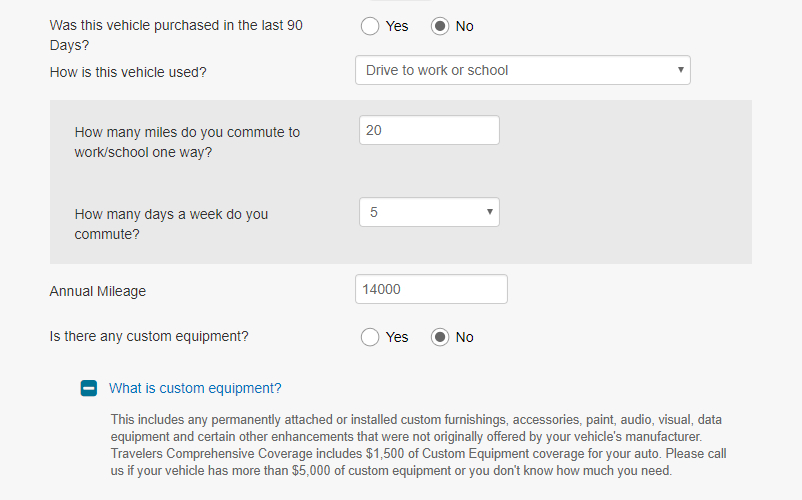 Step Four: Fill Out Driver Information
The last thing you'll need to do is fill out some basic information about your driving record.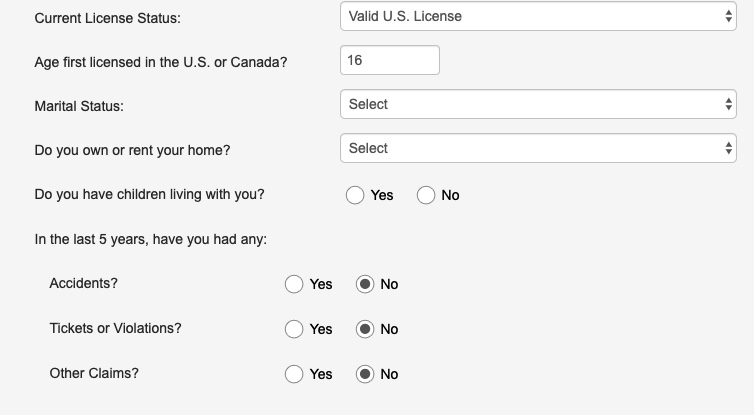 Step Five: Get Quote
Finally, you'll be taken to a page showing your quote, as well as contact information for an agent.
As a reminder, you'll need the following information to apply for a free quote.
Travelers makes it easy to get a quote, as you don't need information like a social security card or proof of a drivers license (although you will need these things if you buy a policy).
Enter your ZIP code below to compare auto insurance rates.
Secured with SHA-256 Encryption
Design of Website and App
Insurers need to make sure their websites and apps are easy to navigate in today's technology-driven world.
If their pages are confusing or the load-up slow, customers will quickly lose patience.
So let's take a look at how well Travelers' website and app function.
Website
Travelers' website is easy to navigate, which is a huge plus. There are several menu options on the home screen, which makes it easy to find information.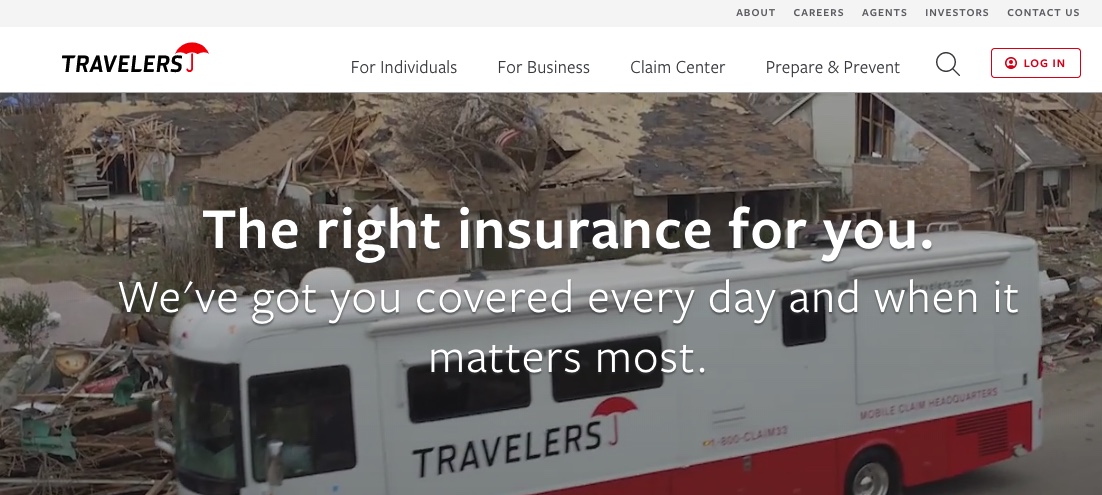 Below is an example of what one of the dropdown menus shows.

If you don't feel like searching through the dropdown menus for information, you can also use the search bar on the top right of the screen.
Overall, Travelers' website is easy to navigate and find answers, providing both dropdown menus and a search bar.
Mobile App
Now that we've covered Travelers' website, let's take a look at Travelers' mobile app (MyTravelers®).
MyTravelers® app only recieved 2.6 stars out of five on Apple (based on 101 ratings). On Google Play, the app received three out of five stars (based on 311 ratings).
So far, the app has not had a high number of ratings. Below is a screenshot of what the app looks like.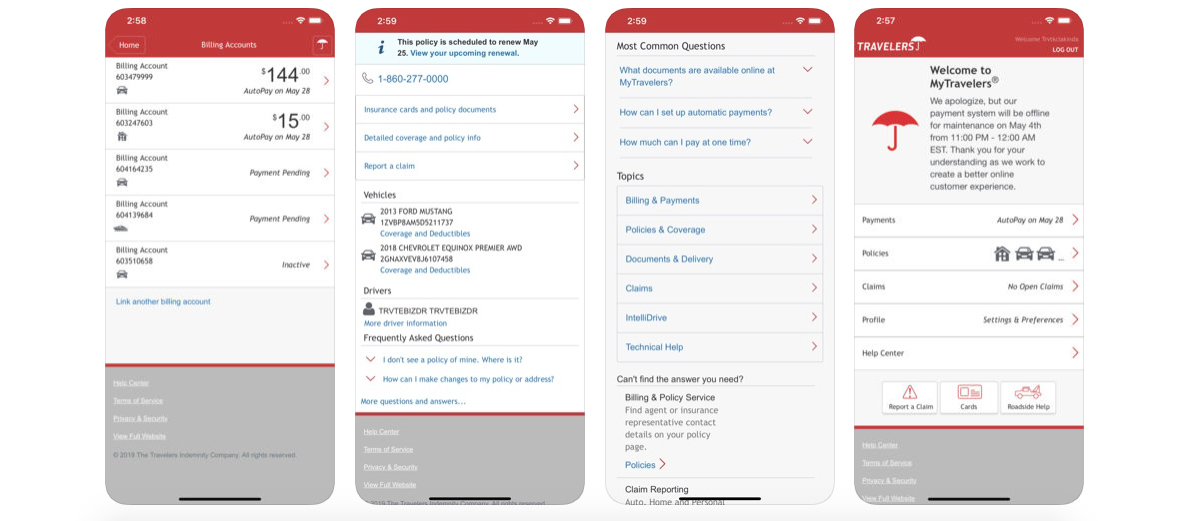 On the app, customers can do the following.
Pay bills
Set up automatic payment
View, print, or download insurance ID cards
View policy information
File a claim
Get roadside assistance
Go paperless
Most of the complaints with the app seem to be with technical bugs, such as touch ID and facial ID not working, or the app not opening.
Hopefully, Travelers will work on these bugs. As for Travelers' usage-based app, the app's ratings were similar to MyTravelers®.
IntelliDrive® recieved 3.1 stars out of five on Apple (based on 129 reviews). The app also recieved 2.6 starts out of five from Google Play (based on 158 reviews).
Below are screenshots of what the usage-based app looks like.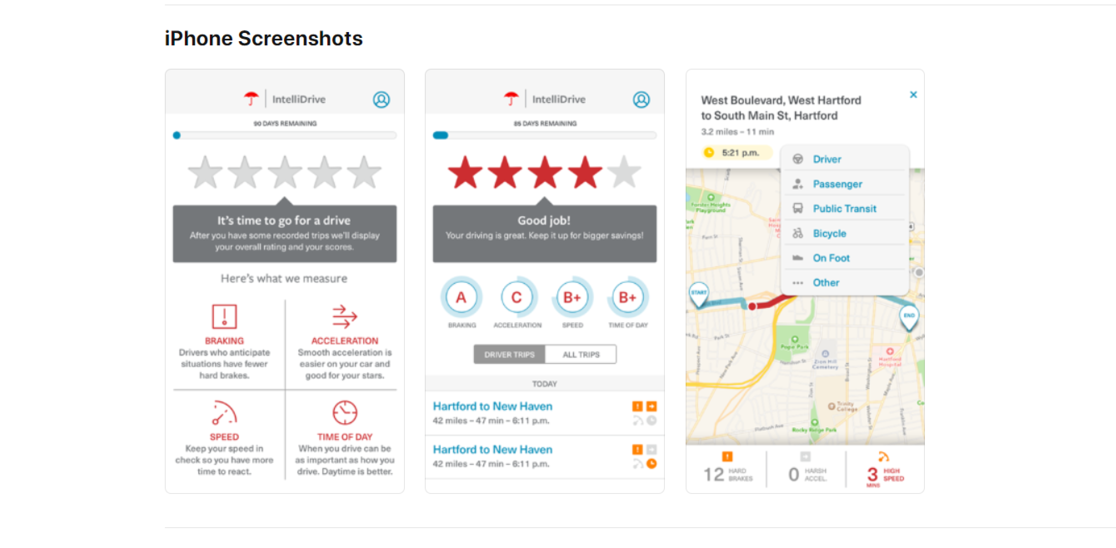 One of the common complaints with the app is that IntelliDrive® drains users' batteries. As well, the app takes points off for hard-braking incidents, which doesn't consider that sometimes drivers brake hard because of other drivers swerving in front of them.
Pros and Cons
Now that we are nearing the end of our guide, we want to take a moment to recap and go over Travelers' pros and cons.
Pros
Cons
Strong financial strength

Not available in all 50 states

Continued market share growth
Third-highest average rate
among top 10 insurers

Has a variety of add-ons,
including gap insurance,
new car replacement, and discounts
Not all
customer satisfaction feedback was positive
Plenty of services and tools
accessible through Travelers' main app, such as roadside assistance and filing claims
Consistent negative feedback on
mobile apps' functionality
Depending on what you're looking for or need from an insurer, you'll have to decide if Travelers' pros or cons are more important.
The Bottom Line
Travelers is a more expensive insurer than others, but it does offer a variety of discounts (including paid programs for accident forgiveness and vanishing deductibles).
If drivers take advantage of these discounts, it could help lower costs down to a more manageable level.
Travelers also offers a wide range of coverages, although it lacks popular coverages like classic or modified car insurance.
Its rideshare insurance is also only available in two states. So if you wanted one of these coverages, the higher price tag may not be worth it for you.
Enter your ZIP code below to compare auto insurance rates.
Secured with SHA-256 Encryption
FAQ
Car insurance can be a confusing process, as it covers a vast array of information. If you still have questions, check out our list below of frequently asked questions about Travelers.
The best way to lower your premium is to stay accident and claim-free. However, you can also talk to an agent to make sure you are receiving all the discounts you are eligible for.
Does Travelers Cover Rental Cars?
Travelers will pay for a rental car only if you have rental insurance coverage and the claim is approved. Your car has to be out of commission at a shop for more than 24 hours for you to qualify for a rental car.
Does Travelers' Insurance Cover Windshield Replacement?
If you have comprehensive coverage, Travelers should cover the costs of a windshield repair or replacement.
However, you'll have to specifically file an auto glass and windshield claim with Travelers. Travelers also has a list of repair shops it works directly with, although you can choose a repair shop on your own.
Does Travelers' Insurance Offer Life Insurance?
Travelers does not offer life insurance, though it offers a variety of other insurances, such as jewelry and valuable items coverage or wedding and special event coverage.
Can I Qualify for a Discount if I Have Multiple Policies with Travelers?
If you have multiple policies with Travelers, you can qualify for a bundling discount. For example, you could save up to 10 percent on your car insurance policy if you bundle it with a homeowner's policy.
Now that we've reached the end our review on Travelers' insurance, we hope you are ready to decide if Travelers is the right insurer for you.
If we haven't answered all your questions, please let us know.
Want to start comparison shopping today? You can enter your zip code in our free online tool below.