The Ultimate New Hampshire Car Insurance Guide (Costs + Coverage)
Free Auto Insurance Comparison
Enter your ZIP code below to compare auto insurance rates.
Secured with SHA-256 Encryption
The first alarm clock, the first potato planted, the first free public library, and the first to declare independence from England are all firsts of the great state of New Hampshire.
We owe a lot to the "Live Free or Die" state – free books, on time morning meetings, and yummy Thanksgiving mashed potatoes.
The list of things to do is never-ending in New Hampshire. From railways and mountains to beaches and museums, there is always something fun you can find to do in New Hampshire.
Who would want to be taking time to research insurance? Leave that job up to us.
Whether you reside in Manchester, Nashua, Concord, Derry, or Rochester, you can acquire up to six rate quotes from first-rate insurers in your state from AutoInsuranceEZ.com. We are going to look at New Hampshire laws, insurance coverage, requirements, and which company may have better rates for your state.
We will make it so easy that you can even get an online quote here!

– New Hampshire Car Insurance Coverage and Rates
Which coverages do you need? How much insurance should you have? Well, we are going to visit these questions and more in this section.
New Hampshire is a state that sees a lot of snow and ice. You want to make sure you are covered if you end up in the ditch or slide into another car.
Insurance can be hard to navigate, that is why we are here. Let's get started!
State's Car Culture
New Hampshire is a place with snowy mountains and beautiful scenery. It is also a place that sees a lot of snow and ice. That does not stop natives of the state from cruising down the road.
In New Hampshire, a little snow doesn't slow them down. New Hampshire drivers tend to navigate towards four-wheel drive SUVs and trucks. The most popular vehicle is the Chevrolet Silverado 1500.
Big trucks aren't the only car of choice in New Hampshire. They have a love for classic cars as well. Car Nutz is a classic car club that gets together in Newport, New Hampshire.
New Hampshire Minimum Coverage
New Hampshire is the only state that does not require minimum liability limits. Yes, you can drive your car without any insurance, but would you want to?
Just because you do not have insurance does not mean you are off the hook if you damage or hurt someone in an accident. You are required to pay for property damage or bodily injury in the event of an accident.
The best way to make sure you have the funds to cover an accident or yourself would be to have insurance.
One accident could cost you tens of thousands of dollars; who would want to be held liable for those bills if you could avoid with insurance?
Not everyone gets a free pass with insurance though. We will cover SR-22 filings later, but drivers with records of certain offenses have to carry insurance.
If you are required or decide to buy an insurance policy, there are minimum limits required.
$25,000 Bodily injury liability for one person
$50,000 Bodily injury liability total for multiple persons
$25,000 Property damage
$1,000 Medical Payments
Forms of Financial Responsibility
Since New Hampshire is the only state that does not require mandatory minimum limits, there are two ways to prove financial responsibility.
The first is to purchase coverage through an insurance carrier and keep an ID card or copy of the policy in your vehicle.
The second form of financial responsibility would be depositing money or securities at the state treasures office.
Premiums as a Percentage of Income
To give you an idea of what percentage of your income would go to insurance, we have this table for you.
Across the state, if you made an average salary, under two percent of your salary would go towards insurance.
The tool below can help you figure out exactly what percentage of your income is going towards insurance.
Core Coverage
Below is information we have pulled information from the National Association of Insurance Commissioners. The table below shows the core coverages of an auto policy.
Liability is the coverage used when you are at fault and this is used for the other party, not at fault. Comprehensive and collision coverage is used for your vehicle. Full coverage is when you have all three coverages in one policy.
Additional Liability
As mentioned earlier, if you have insurance in New Hampshire, $1,000 of medical payments is required. This coverage is used for physical injuries or funeral expense of anyone in the car no matter the fault.
Uninsured and Underinsured motorist coverages are coverages used for you if you are in an accident where you are not at fault and the driver either does not have insurance or not enough to cover your expenses.
Why is this table important? It shows the loss ratio of claims. Loss ratio is the amount paid for a claim to the amount of premium earned.
This number is very important. If it is over 100 percent, the company is not earning money and could in potential financial injury. If it is too low, that means the company does not pay out much in claims.
Add-ons, Endorsements, and Riders
There are many different added endorsements you can choose when purchasing a car insurance policy. This list is not exhaustive but can help when determining which endorsements may be best to add.
Always talk to your insurance carrier about your needs to make sure you have no gaps in your coverages.
Guaranteed Auto Protection (GAP)
Personal Umbrella Policy (PUP)
Non-Owner Car Insurance
Modified Car Insurance Coverage
Pay-As-You-Drive or Usage-Based Insurance
– Demographic Rates – Male vs. Female vs. Age
A lot of different variables go into getting insurance rates. You have to give a lot of information before your carrier can give you an accurate quote.
Some information will hold more weight than others. For instance, as you read, you will see your driving record will play a big part in that magical rate number.
Will get into other factors shortly, but right now we are going to visit the age-old question, men or woman? Who are the better drivers?
Well, we may not get to answer that question, but we can tell you that New Hampshire drivers are split down the middle.
As the table shows, some companies favor different genders, but there is not a drastic difference in either gender.
What makes the biggest difference in demographics? The age of the driver. The younger you are the more expensive your insurance will be. If you are young, you haven't been driving for long so you don't have experience on your side.
– Cheapest Rates by Zip Codes
Did you know your zip code could change your premium? Certain areas can cause higher or lower premiums just due to your zip code. Search for your zip code and see where you land on the list!
– Cheapest Rates by City
You can also see is your city lands on the most expensive or least expensive list.
Enter your ZIP code below to compare auto insurance rates.
Secured with SHA-256 Encryption
– Best New Hampshire Car Insurance Companies
Now that you know you need insurance, where are you going to go to get it? Next, we are talking about insurance companies, the good, the bad, and the ugly.
We will look at companies with great customer service and the best ratings in the business. We will also look at companies that have the highest complaints.
Rates are also a very important factor in picking the right insurance company. So we will look at what impacts your rate the most and which companies may have the lowest rate for your needs.
– The Largest Companies Financial Rating
AM Best credit ratings are used to look at the financial security of insurance companies.
The ten largest companies are listed and it is no surprise they all get higher, if not the highest, rating. They are large and financial stable.
– Companies with Best Ratings
While financial ratings are good, some would say customer service ratings are even better. Price may get you in the door with a company, but chances are you will stay, even with a slight price increase, if you are treated well by their customer service team.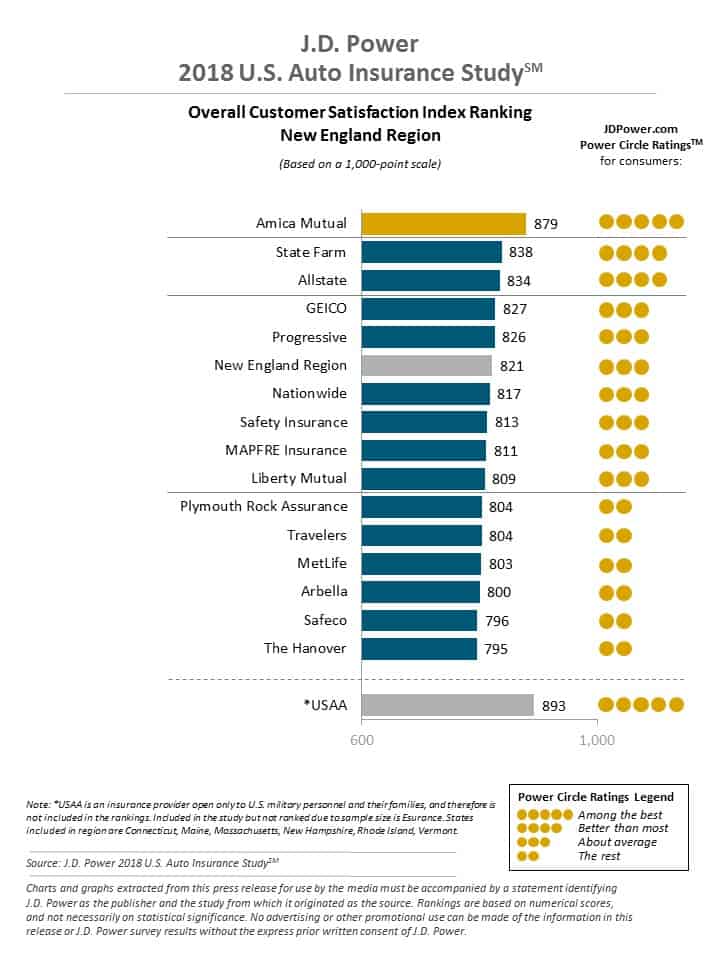 – Companies with Most Complaints in New Hampshire
Most companies will eventually get a complaint filed against them. The National Association of Insurance Commissioners keeps track of all complaints filed against each insurance companies.
Below is a table of the complaint ratio and total complaints about the ten largest companies that write in New Hampshire.
Now are going to look at one of the more important issues when picking out car insurance to write your policy, their rates. We are going to take a look at a few factors that insurance carriers look at when determining your rates.
– Commute Rates by Companies
How often do you use your car? One factor looked at, although not significant, is how often is the car being driven.
As you can see from the table above, the increase on more annual miles and miles driven in a commute is not a significant factor when determining your insurance premium.
– Coverage Level Rates by Companies
Another factor used in determining your rate is how much coverage you are wanting to cover you and your vehicle.
As you can see, more coverage may not necessarily mean a lot more premium. Nationwide actually went down in premium as you increased coverage.
You can always quote out the coverage and see exactly what the premium would be if you were to go with higher coverage. You may even see that is not that bad to have significantly more coverage.
– Credit History Rates by Companies
Credit history isn't only used for big purchases or lower interest rates. It is also a determining factor in your insurance premium. Let's take a look at just how much your credit is costing (or saving) you.
Many people don't realize that your credit score can affect so many aspects of your life. For instance, credit scores affect auto insurance rates. Good news for New Hampshire residents: they have the third-highest average credit scores of any state.
As you can see, poor credit can cost a lot in the long run. Liberty Mutual is over double for someone with poor credit versus good. It is good to always keep a look out on your credit and make changes if needed to raise your credit rating.
– Driving Record Rates by Companies
One of the biggest factors in determining your insurance rate is your driving record.
In New Hampshire, where you don't have to carry insurance, having a bad record could mean mandatory insurance.
– Largest Car Insurance Companies in New Hampshire
Geico, Progressive, and State Farm have a stronghold in the list of top ten largest companies writing in New Hampshire.
Number of Insurers by State
There are a lot of different carriers to choose from in New Hampshire. We classify companies as either foreign or domestic.
The difference is where the insurance company is based. So foreign carriers may write in your state, just not be based out of the state. New Hampshire has almost seven hundred domestic and foreign insurers available.
– New Hampshire Laws
Now we are going to move away from the insurance companies and take a look at the laws of the state. We will tell you when and how to renew your license to penalties of driving without insurance.
We will also spend some time breaking down the rules of the road and safety laws for New Hampshire.
Car Insurance Laws
The first car insurance law we are going to look at is windshield coverage.
– Windshield Coverage
New Hampshire does not have any unique laws pertaining to windshield repair. You can use aftermarket parts as long as it was disclosed to you by the repair technician.
Consumers may choose their repair shop used for windshield repair. While there are no unique laws pertaining to the coverage of windshield repair, your insurance carrier may have a zero deductible plan as an option.
High-Risk Insurance
New Hampshire is the only state that does not require mandatory minimum liability limits. There are some exceptions to this rule though.
Below is a list of violations that impose mandatory required insurance:
DWI – (1st, 2nd, Subsequent, and Aggravated).
Underage DWI – (1st, 2nd, Subsequent, Aggravated).
Leaving Scene of Accident.
Conduct After Accident.
Subsequent (2nd) offense Reckless Operation.
If you are convicted of any of the above offenses, you will have a requirement to file SR-22. SR-22 is a filing your insurance carrier can file for you to show DMV that you have insurance.
Automobile Insurance Fraud in New Hampshire
Insurance fraud is a growing problem in the United States. There are two types of fraud, soft and hard. Hard fraud is when someone purposefully falsifies or fabricates information.
Soft fraud, also known as opportunistic fraud, is when someone may have a covered claim, but they may pad the information making the claim worse and costing more money.
Business owners can say fewer employees work than what really do making their workers' compensation premium less than what it should be.
The New Hampshire Insurance Fraud Unit was established in 1993. If you suspect fraud you can contact them or fill out this form.
Statute of Limitations
The statute of limitations is the time period you have to file a claim. Once that time period has passed, you can no longer file your claim and expect compensation from the carrier or other parties involved.
New Hampshire's statute of limitations is three years for both bodily injury and property damage.
It is always best to file your claim as soon as possible.
Vehicle Licensing Laws
New Hampshire is compliant with the Real ID Act. This means New Hampshire uses strict guidelines when issuing government identification.
Penalties for Driving Without Insurance
Since New Hampshire is a state where insurance is not mandatory, there is no penalty for driving without insurance.
If you are in an accident, be aware that if you are at fault and do not have insurance your license can be suspended. If you are mandated to have insurance with an SR-22 filing, you will need to show proof of insurance if you are pulled over or involved in an accident.
Teen Driver Laws
Having a teen driver can be worrisome, not to mention expensive. New Hampshire regulations and restrictions regarding teen drivers.
Older Driver License Renewal Procedures
New Hampshire does not require older drivers to do anything different in the renewal process. See below for license renewal procedures.
New Residents
Once a new resident moves to New Hampshire, they have sixty days to get a new license. Anyone having a valid out-of-state license can bring proof of residency and valid identification to DMV to obtain a new license for New Hampshire.
License renewal procedures
License renewal for New Hampshire drivers is every five years. You can mail or online renewal is allowed at every other renewal cycle. Proof of adequate vision is required every ten years.
Rules of the Road
You have information on insurance carriers and how to obtain a license, so now let's look at the rules of the roads. We will look at accidents, seat belt laws, speed limits, and more!
Fault vs. No-Fault
New Hampshire is an at-fault state. This means that in the event of an accident, whoever is at fault is the responsible party to file the claim.
Seat belt and car seat laws
New Hampshire currently does not have any seat belt laws for passengers or drivers over the age of eighteen.
Riding in the cargo area of a truck is permitted.
Keep Right and Move Over Laws
Slower traffic is to be in the right lane.
State law requires any driver to slow when approaching an emergency vehicle, including a tow truck or any vehicle with flashing lights, and give room to the emergency vehicles.
Speed Limits
| Type of Roadway | Speed Limit |
| --- | --- |
| Rural interstates (mph) | 65; 70 on specified segments of road |
| Urban interstates (mph) | 65 |
| Other limited access roads (mph) | 55 |
| Other roads (mph) | 55 |
Ridesharing
Ridesharing is becoming very popular with companies like Uber and Lyft. If you are interested in becoming a driver, it is wise to check with your carrier to avoid any gaps in coverage.
Automation on the Road
Some states have started testing automated vehicles, New Hampshire is not on the list. They have banned any testing on automated cars due to a fatal accident.
Safety Laws
We all need laws in place to keep us safe. Alcohol and distracted driving are two things that cause many accidents. Let's take a look at some laws regarding those two things.
DUI Laws
Driving under the influence of alcohol is not taken lightly in most states and New Hampshire is no different.
Before you get behind the wheel after drinking, please remember, not only will you have fines and license suspensions, you could also hurt yourself or someone else.
Marijuana-Impaired Driving Laws
Although there may be no marijuana-impaired driving law, any driving while impaired whether drugs or alcohol can be prosecuted.
If you are found guilty of driving under the influence of drugs, you must attend and complete a New Hampshire approved Impaired Driver Care Management Program.
Distracted Driving Laws
Most people, young or old, have cell phones. They are increasingly becoming a major distraction for drivers.
Fines start at $100 can reach $500 by your third offense.
– Driving in New Hampshire
Lastly, we are going to cover some heavy topics. We are going to look at vehicle thefts, when and where they happen. We will even dig into data looking at which type of vehicle is most stolen.
Traffic fatalities are not something we like to talk about, but talking about them and discussing how and when they happen can help others.
Vehicle Theft in New Hampshire
This table shows the top 10 cars stolen in New Hampshire. We break down the type of vehicle and the most popular year stolen out of the total amount of thefts.
We also took a look at which city has the most thefts. Check out the below chart and see where your city is on the list.
Road Fatalities in New Hampshire
Road fatalities unfortunately happen. We are going to see when and where they happen.
Fatal Crashes by Weather Condition and Light Condition
Five-Year Trend For The Top 10 Counties
Traffic Fatalities
Fatalities by Person Type
Fatalities by Crash Type
Fatalities Involving Speeding by County
Fatalities in Crashes Involving an Alcohol-Impaired Driver
Teen Drinking and Driving
It is unlawful for any minor to possess or consume any alcohol. If a teen is found guilty, there are fines, alcohol awareness classes, and even license suspension.
EMS Response Time
Transportation
Take a look at the charts below regarding car ownership and commuting.
Car Ownership
Most New Hampshire families own two or more cars.

Commuter Transportation
New Hampshire drivers tend to drive alone rather than taking public transportation or carpooling.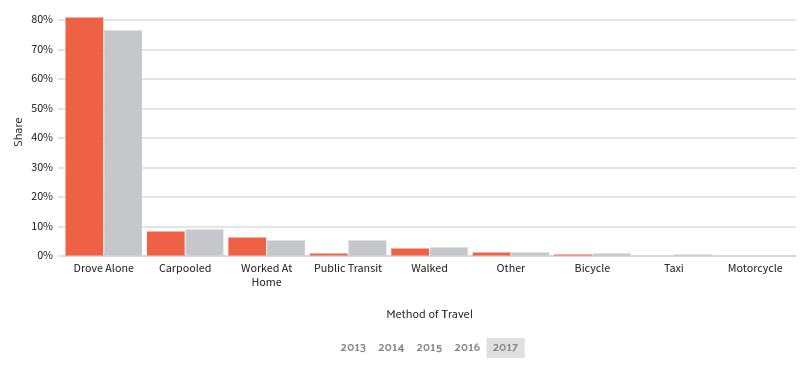 We have hit all the major points! You now know types of coverages, insurance companies, and New Hampshire laws.
You have the tools to compare rates and get the best rate for you; you can use your tools here to get a quote.