The Ultimate Wisconsin Car Insurance Guide (Costs + Coverage)
Free Auto Insurance Comparison
Enter your ZIP code below to compare auto insurance rates.
Secured with SHA-256 Encryption
The Ultimate Wisconsin Car Insurance Guide (Costs + Coverage)
Welcome to America's Dairyland. Nestled amidst the Great Lakes, positioned between Canada's wide expanse and Chicago's bustling streets, there's Wisconsin.
Whether you grew up cheering on UW-Madison sports teams or recently found yourself in Milwaukee for work (or for a beer), you've likely come to love this state.
With a strong auto insurance policy, you too can drive up and down the roads, stop at a roadside stand for fresh curds, and make it to the Packers game just in time for a fresh brat.
Unfortunately, finding accurate, reliable information about car insurance companies can be a difficult task. 
How much will it cost? Who will provide the best coverage? What coverage is needed?
That's why we've compiled all the details on Wisconsin's numerous auto insurance providers and state laws.
We can help you find the coverage you need at the rates you deserve with transparent, straightforward information.
Whether you live in Milwaukee, Madison, Green Bay, Racine, or Kenosha, simply enter your zip code to compare up to 10 free car insurance quotes from the leading providers in your area.
Enter your ZIP code below to compare auto insurance rates.
Secured with SHA-256 Encryption
Wisconsin Car Insurance Coverage and Rates
It can be stressful to stare down the seemingly endless car insurance options that are out there. Thankfully, you don't have to go insurance shopping alone.
Together, we'll explore the coverage, rates, and add-ons available in the wonderful state of Wisconsin.
Simple sections link together to form our comprehensive guide to Wisconsin car insurance options. Find the coverage that fits your car, your lifestyle, and your budget.
If you're ready to hit the road, climb into the driver's seat. Let's take a trip to Wisconsin.
Wisconsin's Car Culture
Up north, people often measure distance in time, rather than miles. How long will it take to get to the Packers game in this weather? How long will it take to get to the fish fry in Oconomowoc?
Next time you're driving in Wisconsin, you might just find yourself thinking and talking this way, especially in the winter, when snowy conditions can make driving difficult.
Spring, summer, and fall make for beautiful road trips, drives up to the lake, and — of course — tailgates. But winter can be a little tricky. Wisconsin has some of the coldest winters in the country.
Despite the weather, Wisconsinites stay positive. You've probably heard of "Minnesota nice," but people in Wisconsin are known for their niceness too. Show up to any tailgate in Wisconsin, and you'll be greeted with warm smiles, cold beer, and fresh cheese curds.
There are about 5.814 million residents in Wisconsin. That's a lot of happy people driving on the roads.
When you get on the road to head home, you'll experience the well-known politeness of Wisconsinite drivers. Don't expect to see any rude gestures or unnecessary honking here in Wisconsin. The friendly roads are open to everyone.
Wisconsin's Minimum Coverage
If you count up the total number of Wisconsin drivers, you'll find that about 14.3 percent are uninsured. This might come as a surprise to Wisconsinites, as drivers in the state are required to carry car insurance.
Wisconsin operates like a traditional "fault" car accident state. This means that the person who is at fault for causing a car accident is also responsible for any harm stemming from the crash.
The at-fault driver's liability insurance policy will absorb these financial losses up to the limits of the policy.
The owner of a motor vehicle in Wisconsin is required to carry liability insurance coverage on his or her vehicle. In some rare cases, a person can carry another form of financial security such as a surety bond or certificate of self-insurance.
The minimum amount of liability coverage a person is required to carry is:
$25,000 for the injury or death of one person in an accident caused by the owner/driver
$50,000 for total injuries or death in an accident caused by the owner/driver
$10,000 for property damage in one accident caused by the owner/driver
This coverage pays the costs, including medical bills and property damage bills, of drivers, passengers, and pedestrians whose bodies are injured or vehicles are damaged in an accident you cause, up to the coverage limits.
Higher coverage limits can help protect you from paying out-of-pocket for damages and injuries.
Remember all of those uninsured motorists in Wisconsin? To deal with the problem, the state requires that all licensed motorists carry uninsured motorist coverage of $25,000 per person/$50,000 per accident.
If a Wisconsin driver chooses not to carry the above liability coverages, he or she could have their license and/or registration revoked and be subject to fines.
Forms of Financial Responsibility
Drivers in Wisconsin should take care to keep proof of insurance with them when operating a motor vehicle. When a driver is pulled over, he or she must show proof of insurance, which is usually found in the form of an insurance card.
In Wisconsin, it is legal to use an electronic copy of the insurance card. If a driver fails to show proof of insurance, he or she could be fined. Fraudulent proof of insurance could result in heavy fines and legal action.
Proof of insurance is not required for those registering a vehicle or applying for a driver's license. It is required when reinstating a license after suspension or revocation.
Wisconsin's Premiums as a Percentage of Income
The phrase "per capita disposable personal income," has a simple definition. Disposable personal income is the money you have available after paying taxes. "Per capita" refers to the amount of money each individual has.
As of 2014, Wisconsin residents' annual per capita disposable personal income is $39,433. The average cost of full auto coverage in Wisconsin (as of 2014) is $716.83.
That number is about 1.82 percent of a resident's income. This is right in line with other states, where the percentage varies between 1-3 percent.
The table below outlines premiums as a percentage of income over a three-year period. Year-to-year, the number hasn't shifted much at all.
CalculatorPro
Core Coverage
When it comes to car insurance premiums, Wisconsin sports relatively low costs. The average resident pays about $737.18 for full coverage.
Many Americans living in other states pay upwards of $900 or even $1000 for their insurance. Wisconsinites seem to be getting a good deal.
Of course, the total amount pertains only to core coverage. There are many different types of coverage available to Wisconsin drivers., with varying costs. All are worth considering.
This table breaks down the annual costs of different core insurance coverages.
These statistics were reported by the National Association of Insurance Commissioners in 2015. Since then, they have likely increased slightly.
Wisconsin's Additional Liability Coverage
You now know the basic liability coverage requirements in the state of Wisconsin. You might, however, want to invest in additional liability coverage.
This can help protect you (and your bank account) in an accident. In Wisconsin, the at-fault driver pays for any damages.
Comprehensive and collision coverages pay to fix your car. These coverages are required in Wisconsin.
Property damage liability pays to fix the other person's car. In Wisconsin, this is not required, but you may want to carry it just in case.
Personal Injury Protection (PIP) pays your medical bills. It is required.
Bodily injury liability pays the other person's medical bills. n Wisconsin, this is not required, but you may want to carry it just in case.
About 14 percent of drivers in Wisconsin are uninsured or underinsured. That means it is not likely that you'll be in an accident with an uninsured driver, but it is possible.
For this reason, you may want to consider underinsured motorist coverage. This type of coverage is completely optional in Wisconsin. Uninsured motorist coverage is required.
Now, what about loss ratios? A loss ratio helps you understand whether or not a car insurance provider is financially secure.
When you take a close look at companies' loss ratios, you can see just how often various insurers pay out claims to their clients.
Companies with higher loss ratios, such as those over 100 percent, are more likely to provide you coverage when you need it. However, they may be less financially secure.
Companies with lower loss ratios won't necessarily cover all of your expenses should you get into an accident. They are considered more financially secure, but they aren't paying out claims.
The table below outlines the loss ratios for personal injury protection, medical payments, and UUM in the state of Wisconsin.
Add-Ons, Endorsements, and Riders
Wisconsin requires drivers to carry liability insurance. But you may have heard about additional insurance options, like rental Wisconsin's numerous auto insurance providers and GAP insurance. When it comes to add-ons, we've got you covered.
Click the links below to explore add-on options:
Guaranteed Auto Protection (GAP)
Personal Umbrella Policy (PUP)
Non-Owner Car Insurance
Modified Car Insurance Coverage
Pay-As-You-Drive or Usage-Based Insurance
Wisconsin's Male vs. Female Rates
Are men charged more for insurance premiums? Or are men and women charged at the same rate?
The answer to these questions can vary from state to state. Each state makes its own laws regarding demographics and car insurance. In Wisconsin, males are charged slightly more for car insurance across the board.
The biggest changes can be seen during the teenage years. Teenage and young adult drivers pay significantly more for car insurance than older drivers do.
Teenage boys pay the most. The table below gives you a clearer picture of rates compared to age and gender.
Wisconsin's Car Insurance Rates by Zip Code
Location plays a surprisingly major role when it comes to car insurance rates. In the tables below, we've broken down average car insurance rates by Wisconsin zip codes. You can search for your own zip code to see the average rate for your area.
Almost all of the most expensive zip codes can be found in Milwaukee.
Wisconsin's Car Insurance Rates by City
It's can also be helpful to look at car insurance rates by city. The tables below give you a window into the average rates paid by drivers in each city across Wisconsin.
So, who is paying the most and the least for car insurance across Wisconsin? The residents of Kaukauna, WI, located just east of Appleton, have the lowest rates.
Nearby Kimberly and Combined Locks also top the list for low prices. Sheboygan, on the banks of Lake Michigan, also has low rates.
You can probably guess which city has some of the highest rates. That's right: Milwaukee. Urban areas in any state tend to have high car insurance rates. Milwaukee and the surrounding communities have rates that are almost double those near Appleton. Yikes.
Don't fret too much, Milwaukee residents. In addition to location, there are a number of other demographic factors that figure into your overall car insurance rate. We will cover those a little later on.
Now that you have a general understanding of rates and demographics, let's review your options for car insurance in America's Dairyland.
Best Wisconsin Car Insurance Companies
From silly commercials to innovative mailers, it seems like car insurance companies will do anything to earn your attention—and your business. There are several big companies vying to be your insurance provider, as well as smaller, locally-owned businesses.
With all of this pressure, it can be hard to know which route to take. Thankfully, we've already done the research. We're here to provide you with an unbiased, comprehensive, and honest look at all of your car insurance options.
That way, you can feel calm and confident about choosing an auto insurance provider in the great state of Wisconsin.
– The Largest Companies Financial Rating
When shopping around for car insurance, it's always a good idea to take a look at companies' financial ratings.
These ratings give you an understanding of how well a company is doing. They can help increase or decrease your confidence in different brands.
We've compiled the ratings from AM Best in an easy-to-read table. Remember: this rating indicates the financial strength and credit-worthiness of each insurer. The table below covers the ten largest auto insurers in Wisconsin.
The letter grades in financial ratings follow a traditional scale, wherein A is higher and B is lower.
The plus signs indicate financial strength. The strongest providers, from a financial perspective, are those with the highest letter grades and most plus signs.
As you can see, Wisconsin's biggest insurance providers also have high ratings! All of them are in the A, A+, and A++ range.
– Companies with Best Customer Service Ratings
While financial strength is a great way to size up a company's worthiness, it's not the only way to compare options. You also want a company that can provide excellent customer service.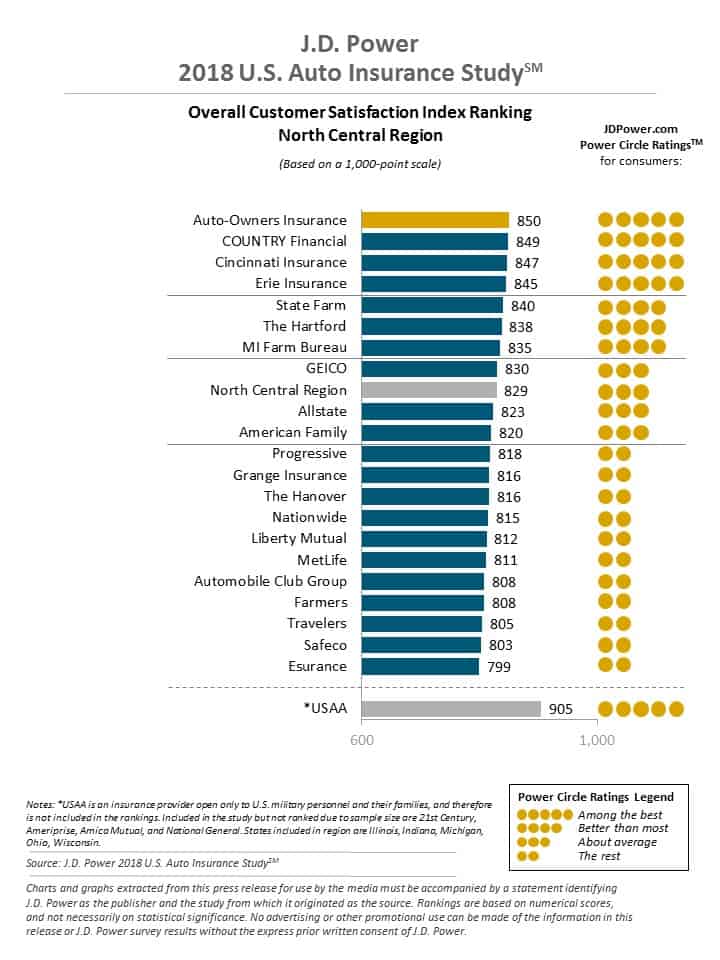 In the North Central region, which comprises Illinois, Indiana, Michigan, Ohio, and Wisconsin, the standout auto insurance company is Auto-Owners Insurance, followed by Country Financial and Cincinnati Insurance.
They are the top three highest-ranked companies in the region in terms of customer satisfaction.
Companies with the Most Complaints in Wisconsin
It's great to know which companies should be at the top of your list. It's perhaps even more helpful to know which companies should be avoided. Complaint rankings can help you figure that out.
Complaints don't necessarily paint the clearest picture of every aspect of an insurance company, but they do signal some issues with human resources and perhaps with the size of the company.
Of course, the more customers a company has, the more complaints they are likely to accrue.
In Wisconsin in 2017, the top three companies in terms of complaints were State Farm Group, Liberty Mutual Group, and Allstate Insurance Group. It is worth noting that both Geico and USAA did not provide statistics.
Cheapest Car Insurance Companies in Wisconsin
As you sift through the long list of car insurance companies available to Wisconsinites, you might feel like you're flipping through the stats of a football team. There are many factors to consider!
We know that one major factor when it comes to auto insurance is price. Luckily, we've done that research too. When it comes to car insurance companies, there's a wide range of rates.
The table below shows Wisconsin car insurance companies, along with their average rates. These will help you compare options when it comes to your wallet.
Commute Rates by Company
If you've got enough grit to brave the cold Wisconsin winters, it's likely you've got the endurance to make it through a long commute. Maybe you commute to Milwaukee for work, or even to Chicago.
Or perhaps you live in the country and commute to a nearby town. No matter where you live, you probably enjoy a long, flat commute that is often interrupted by snowfall. Ah, gotta love Wisconsin.
Did you know that your commute time can affect your auto insurance rate? We've compiled the following statistics to give you a window into a commute's impact on Wisconsin car insurance rates:
You'll want to look closely at those numbers. Shaving just 15 miles off your daily commute could save you a pretty penny.
Coverage Level Rates by Company
Once you decide which company you want to trust with your auto insurance, you'll need to choose how much coverage you want.
Not so fast, though. You may want to first take a look at a comparison chart that shows the three coverage levels by company. That way, you'll know which company is most affordable at each tier, and how a tier jump will affect the bottom line.
Do we have that comparison chart? You betcha!
Credit History Rates by Companies
Just like you shop around for car insurance companies, the insurers do plenty of their own arithmetic, especially when it comes to your rates. Plenty of factors, from location and gender to age and driving record, influence the quotes you'll receive.
In Wisconsin, it is legal for auto insurance companies to use your credit score as a factor when determining your rate. The better your credit history, the less you will have to pay for auto insurance. The lower your score, the more you may end up paying.
To help make sense of this, we've made a chart that shows full coverage insurance costs broken down both by company and by credit score.
As you can see, Good and Fair scores receive similar rates. A score of "Poor" usually results in a significant increase.
Let's take a quick look at Wisconsin. The average credit score here is 696. The average Wisconsinite carries 2.8 credit cards. The average balance on those cards is $5,363.
So, the next time you think you're alone with your credit card debt, think again. Plenty of your fellow citizens carry debt.
Driving Record Rates by Company
If you are hoping to lower your car insurance rate, one of the best things you can do is to pursue a clean driving record. Avoid tickets, moving violations, speeding, accidents, and driving while intoxicated.
We usually avoid the above incidents because we want to stay safe and avoid a fine. But a clean driving record can also positively impact your insurance premium.
If you haven't had many auto accidents, your rate is likely to be lower. If you have a spotty driving record, companies will quote you a higher rate.
The table below shows just how much your driving record can change your rate.
Largest Car Insurance Companies in Wisconsin
There are plenty of large car insurance companies across the United States. But do you know which ones do lots of business in Wisconsin?
We've compiled a list of the top-10 largest auto insurers in the state. You might recognize a few names, but others may surprise you.
Number of Insurers by State
Most of the largest car insurance providers operate all over the country. Smaller companies concentrate on one region or just one state.
Domestic providers are local to the state of Wisconsin. A so-called "foreign" provider operates on a national level.
If you plan to move to a different state in the next couple of years, you may want to choose a foreign provider. If you're a Wisconsinite for life, it might make sense to go domestic.
State Laws
Now that you've got a better understanding of car insurance in Wisconsin, you might feel ready to get behind the wheel. Before you do that, though, you'll want to make sure you have a comprehensive understanding of the state's laws.
Did you know that laws regarding auto insurance, road safety, and driving differ from state to state? Whether you are taking a road trip or planning a big move, now's the time to read up on Wisconsin's laws.
Car Insurance Laws
When it comes to legal jargon, laws about insurance can be some of the worst. You want to make sure you have the right coverage to keep yourself and your loved ones safe, but it's hard to know what exactly is required.
That's why we've done the work for you. Keep reading to get a detailed overview of car insurance laws in Wisconsin.
How State Laws for Insurance are Determined
Each state has its own legislative branch that makes laws regarding automobiles and auto insurance. States determine the type of tort law and threshold that applies within their borders, as well as the type and amount of liability insurance required.
The state of Wisconsin requires liability insurance and sets minimums. Wisconsin has its own Department of Motor Vehicles that is in charge of almost everything involving drivers, cars, car insurance, registration, and driving in Wisconsin.
Windshield Coverage
The windshield is one part of the car that is regulated by various state laws. Why? Well, it's a pretty important, and expensive, part of the car. There are regulations regarding broken and cracked windshields, as well as auto insurers' obligations to customers' windshields.
In Wisconsin, insurers are allowed to use aftermarket parts when repairing and replacing windshields. Car owners can refuse the parts but must the pay the difference.
Car owners also have the right to choose their own windshield repair vendor, as long as they pay the quoted difference.
High-Risk Insurance
There is a special category of drivers labeled "high-risk." These drivers maybe have had major traffic infractions or a series of minor infractions. Younger drivers and those who have had a DUI are often considered high-risk.
Sometimes high-risk drivers have trouble finding auto insurance, even if such insurance is required in Wisconsin.
In America's Dairyland, the "insurer of last resort" is the Wisconsin Automobile Insurance Plan, or WAIP. Since 1946, the program has insured drivers who aren't able to find an insurer through the traditional market.
WAIP isn't an insurance provider. It's an entity that is responsible for assigning drivers to insurers in the state.
The number of drivers each company is assigned is based on their market share. A company with a larger market share will take on more high-risk drivers.
When you apply for WAIP, you must show proof that you have been unable to obtain other auto insurance in the last 60 days. You must also have a valid driver's license and a car that is registered in Wisconsin.
WAIP will cover you for four years or until you are able to find an insurer on your own.
You'll want to keep a clean driving record and find another insurer quickly, as the premiums on WAIP can be significantly higher than traditional insurance plans.
Low-Cost Insurance
Wisconsin offers a program for high-risk drivers, but it does not offer a similar program for low-income families or individuals who are struggling to pay for car insurance.
California, New Jersey, and Hawaii all offer government-funded programs designed to help lower the costs of car insurance for families with limited incomes.
However, there are other ways to lower your costs.
Some insurers offer discounts for government employees. Others offer savings if you bundle your auto insurance with other types of insurance or if you pay your premium upfront.
Of course, the easiest and smartest way to lower your car insurance premium is to shop around. It's worth it to compare rates and find the best deal.
Automobile Insurance Fraud in Wisconsin
Let's take a moment to talk about fraud.
Insurance fraud can happen across a wide variety of industries, including automobile insurance. Fraud can be committed by policyholders, applicants for insurance, claimants, and even insurance professionals.
Misrepresentation of facts on an insurance application counts as fraud, as well as submitting claims for damage or injuries that never occurred.
Oftentimes, fraud consists of "padding" or inflating claims in order to get more money from insurance companies.
Other examples of auto insurance fraud include setting fire to your own vehicle, using a false Social Security number on an application, or giving a false address in order to secure a cheaper rate. If you can believe it, some people actually stage fake accidents.
Insurance companies themselves can commit auto insurance fraud by refusing to pay valid claims or selling bad insurance policies.
Wisconsin is one of 10 states that does not have an insurance fraud bureau to deal with situations like these. However, the state does consider insurance fraud to be a crime.
If you suspect a person or a company of insurance fraud, contact the Wisconsin Office of the Commissioner of Insurance. The office is located at 125 South Webster Street, Madison, WI 53703.
You can also call them at 1-800-236-8517 or utilize this online complaint form.
Statute of Limitations
If you've been involved in a real accident, you may want to issue a claim. The statute of limitations describes the amount of time you have after a vehicle accident to issue a claim.
In Wisconsin, you have three years to issue a claim related to personal injury. You also have three years to issue a claim related to property damage.
That may sound like a long time, but the days and months fly by when you're dealing with the after-effects of an automobile accident. It is best to file as soon as possible in order to receive support from your insurance company.
State-Specific Laws
Though auto insurance is required of all drivers in Wisconsin, there is one legal way you can get by without car insurance.
Self-insurance is an option for those who can prove that they have the ability to pay the damages an insurer would under a standard insurance policy. AKA: you have enough money to be your own insurance company.
To qualify for this, you must provide proof of financial responsibility in the form of a $60,000 deposit to the Wisconsin Department of Transportation. For those who own more than 25 vehicles, there is an application process.
Vehicle Licensing Laws
Just like every other state, Wisconsin has its own vehicle licensing laws.
They cover who can obtain a license, what the renewal process looks like, and other restrictions that might be placed on a licensed driver. Let's take a look at vehicle licensing laws in Wisconsin.
Real ID
One of the most notable licensing laws concerns REAL ID. The REAL ID Act, passed in 2005, set federal standards for the issuance of drivers licenses.
Wisconsin offers both compliant and non-compliant IDs. Wisconsin drivers with REAL IDs should have no trouble when it comes to flying or traveling across the United States with their licenses. Look for the star in the upper corner of the license.
Federal agencies accept identification cards and driver's licenses from Wisconsin at federal facilities, including nuclear power plants.
Penalties for Driving Without Insurance
As we've seen, the state of Wisconsin requires all drivers to have auto insurance. Proof of insurance must be in the vehicle or accessed digitally (on a smartphone/tablet).
In Wisconsin, the penalty for driving without insurance is a fine of up to $500. In addition to that fine, at-fault drivers may end up paying thousands of out-of-pocket dollars in damages.
Teen Driver Laws
Do you remember the thrill of getting your driver's license as a 16-year-old? Or even the joy of obtaining a learner's permit? That first taste of driving is awesome, but it's also an especially dangerous time.
In Wisconsin, certain restrictions have been put in place to help protect teen drivers and those on the road with them. It's important to be aware of these restrictions, whether you are a teenager, know a teen, or simply drive on public roadways.
Older Driver License Renewal Procedures
Many states have passed additional requirements that are specific to older drivers. These rules seek to help older drivers and those that know and love them.
In Wisconsin, the regulations for the general population and older population are identical. All drivers must renew their licenses every eight years. Proof of adequate vision is required for all drivers at every renewal.
Finally, all renewals must be done in-person at the DMV. There are no online or mail-in renewals for any drivers, no matter their age.
New Residents
Welcome to Wisconsin. We love new neighbors. That friendliness extends to the DMV and driver's licensing procedures.
New Wisconsin residents are required to apply for a WI license within 60 days of establishing residency. Those with a CDL must apply within 30 days.
If you have held a valid license within the last eight years, you will not be required to take a written or driving exam.
If you have been previously convicted of a serious driving offense, you may have to bring proof of insurance in addition to the other documents needed in order to obtain a license.
License Renewal Procedures
All drivers must renew their licenses every eight years. Proof of adequate vision is required for all drivers at every renewal, but most drivers will not need to take a written or driving exam at the time of renewal.
All renewals must be done in-person at the DMV. There are no online or mail-in renewals.
Negligent Operator Treatment System
In Wisconsin, moving violations are tracked with a point system. More demerit points earn you more penalties.
If you accumulate 12 or more points over the course of a year, your driver's license will be suspended. For those with a regular driver's license, the points system looks like this:
12-16 points assessed – two-month suspension
17-22 points assessed – four-month suspension
23-30 points assessed – six-month suspension
More than 30 points assessed – one-year suspension
For those with a probationary license, or for those who have never been issued a license, the timeline is compressed:
12-30 points assessed – six-month suspension
More than 30 points assessed – one-year suspension
Point total can be reduced by attending a traffic safety course. Violations range from the two-point "defective speedometer" to the six-point "attempting to elude an officer."
Points are not assessed for convictions in other states. However, out-of-state convictions will be filed on the individual's driving record. Certain convictions will require the state to take action.
Rules of the Road
Once you're licensed to drive, you want to hit the road. Of course, it's not a free-for-all on the Wisconsin highways, even on game days.
There are state-specific laws and regulations that keep traffic moving safely, efficiently, and with respect for everyone on the road. It's time to check out some of the most important rules of the road and laws in the state of Wisconsin.
Fault vs. No-Fault
States can fall into two camps when it comes to auto accidents. In no-fault states, no blame is assigned for accidents and insurance companies cover drivers' medical expenses automatically.
Wisconsin, on the other hand, is an at-fault state. (Most states in the US are at-fault states).
That means when an auto accident occurs in Wisconsin, the blame will be placed on someone. The party who caused the incident or accident is financially responsible for all damages to other parties.
This is why it's smart (and legally required) to carry auto insurance in Wisconsin.
Seat Belt and Car Seat Laws
When it comes to car accidents, seat belts save lives. Below is an overview of seat belt laws in Wisconsin. They've been in effect here since the 1980s, so there's no excuse not to use your seat belt in this state.
Small children are precious cargo. Just like seat belts, car seats keep kids and infants safe. Below is an overview of car seat laws in Wisconsin.
Many of today's seats and cars feature the LATCH system. This video gives an overview of the safety system that saves lives.
Keep Right and Move Over Laws
You might think you know the rules of the road. Then you travel to another state, and the highway traffic moves a little bit differently.
Sometimes it can be tough to know which lane to use. Each state has different rules and guidelines when it comes to lane usage.
In Wisconsin, the laws are clear. Drivers should stay to the right if driving slower than the average speed of traffic around them.
Speed Limits
Accidents are bound to happen when vehicle drivers are not following posted speed limits. Accidents can even be made worse– sometimes much worse– when accidents involve vehicles traveling at high speeds.
It is best to always be on the lookout for speed limit signs, no matter where you are, and to keep each state's general speed limit laws in mind.
Luckily, Wisconsin's speed limits are simple:
Ridesharing
Do you remember a time before ridesharing? Nowadays, it can seem like Lyft and Uber have been around for decades, when these companies are actually relatively young.
The practice of ridesharing continues to become more popular each year, both with drivers and riders. It can help save on the cost of gas and vehicle upkeep, it can get you places faster, and it helps the environment by reducing the number of cars on the road.
If you or someone you know is considering getting into the ridesharing business, you should note that only a few of Wisconsin's insurance providers offer coverage for rideshare drivers.
Those providers are:
Allstate
Geico
Farmers
State Farm
American Family Insurance
Some of these coverages are simply extensions to your regular insurance policy. As with your usual auto insurance, it can be helpful to shop around for rideshare insurance to see which company can offer the best quote.
Automation on the Road
Many residents of Wisconsin and other states are excited about autonomous features and even driverless cars on our roads. This state, along with the University of Wisconsin, is hoping to be a hub for driverless technology.
Facilities and test tracks throughout the state provide "proving grounds" for autonomous vehicles. The UW-Madison campus was chosen by USDOT as one of just a few official locations for vehicle testing.
During his time in office, Governor Scott Walker spearheaded a steering committee on autonomous vehicle testing and deployment.
At this time, the state of Wisconsin has not passed legislation concerning the testing or deployment of autonomous vehicles, but residents can expect to encounter testing vehicles in specific locations, especially near the UW-Madison campus.
Safety Laws
In addition to rules that govern driving in Wisconsin, there are a number of regulations that cover impaired driving, distracted driving, and other safety issues.
It's important to drive defensively and always be as safe as possible while on the road. Let's take a look at the laws around alcohol, drugs, and other things that can impair driving.
DUI Laws
Driving while under the influence of drugs and alcohol is no joke. Intoxicated drivers cause accidents every year, and many of them are fatal. In 2017, 23,541 people were arrested in Wisconsin for driving under the influence.
That same year, there were 190 alcohol-impaired driving fatalities in the state. That's almost a third of total driving fatalities in 2017.
Each state creates its own laws when it comes to intoxicated driving. In Wisconsin, the formal name for the offense is OWI, or Operating While Intoxicated.
Check out the table below for an overview of DUI laws in Wisconsin.
If you are caught drinking and driving, you can face serious consequences, such as jail time, license revocation, and steep fines. The table below outlines the consequences for those caught driving while intoxicated in Wisconsin.
Marijuana-Impaired Driving Laws
When you see the phrase "driving while intoxicated," you might think of alcohol. But in many states, driving under the influence of marijuana is considered a major offense.
With the legalization and decriminalization of marijuana occurring in many states, it is critical that you know the marijuana-impaired driving laws across the country.
Wisconsin has tough laws when it comes to marijuana and driving. Additionally, marijuana use of any kind is illegal in Wisconsin. Drug laws prohibit both the use and possession of marijuana.
It is also illegal to drive a car while under the influence of marijuana. You can be arrested for a marijuana-related OWI if police suspect there is marijuana in your system. They might see you driving erratically or deem you otherwise unsafe as a driver.
You can also be charged with an OWI if police find any trace of marijuana in your bloodstream. You don't have to be obviously impaired.
Remember: You can test positive for marijuana up to a month after you smoke or ingest it. In Wisconsin, you cannot have any amount of a drug in your system when driving.
Driving under the influence of marijuana in Wisconsin will get you fined between $150 and $300 on your first offense.
A second offense will net a fine between $350 and $1,100, up to six months in jail, and at least one year (and up 18 months) of license suspension. The fines and jail time increase on third and fourth offenses.
In Wisconsin, a fourth OWI offense is considered a Class H felony.
Distracted Driving Laws
No one should be https://content.naic.org/cipr_topics/topic_distracted_driving.htm. If your eyes are not on the road, you could be putting yourself at risk of a dangerous accident.
As smartphones and tablets make their way into the hands of more and more US citizens, drivers are bound to want to use them in the car. Unfortunately, this can cause accidents– many of them deadly.
In order to discourage distracted driving, the state of Wisconsin has instituted a number of laws and regulations concerning phone use while driving.
There is a ban on using hand-held cellular devices while driving through construction areas. This ban applies to all ages.
Additionally, those holding a learner's permit or an intermediate/probationary license are banned from cell phone use while driving.
Texting while driving is illegal for all Wisconsin drivers.
This short PSA on distracted driving was created by the Wisconsin Department of Transportation.
Enter your ZIP code below to compare auto insurance rates.
Secured with SHA-256 Encryption
Driving in Wisconsin
Driving in new places can be tough. Even though road trips and new experiences are fun, there are some stresses that come with driving in a new-to-you state.
We're here to help make driving in Wisconsin a pleasant experience. Whether you're headed to downtown Milwaukee or taking a leisurely drive up north, you should be able to handle the state's roads easily and comfortably.
Next, we'll take an even deeper dive into some facts and figures that impact driving in Wisconsin.
Vehicle Theft in Wisconsin
Vehicle theft: It might just top the list of things no one wants to experience. Unfortunately, it does happen, and not just to luxury vehicle owners. Many cars stolen in Wisconsin are run-of-the-mill models.
These are the top stolen vehicles in the state for 2017.
Dodge Caravan is the #1 stolen vehicle. Yes, a minivan! The 2002 version was stolen the most, but other versions were also stolen. Sedans and CR-Vs were commonly stolen too.
If you are especially concerned about vehicle theft,  consider the cities where theft is most likely to occur. You may find that you are more or less worried than you really need to be.
As you may have expected, Milwaukee is the epicenter of vehicle theft in Wisconsin. Oshkosh, Oak Creek, Racine, and Superior also have fairly high levels of theft.
Road Fatalities in Wisconsin
Fatalities are not a pleasant subject. No one wants to consider the worst-case scenario when they're out for a drive.
However, it can be helpful to take a look at what the research says about the risks and realities in Wisconsin. Once we know the stats, we can make choices to keep ourselves safe.
There are many ways to think about road fatalities. We'll look at a few that might give you insight into where, when, and how fatal road accidents occur.
Most Fatal Highway in Wisconsin
Each state has a highway that can be considered the most fatal. These long, busy stretches of road are some of the most dangerous, and often some of the most heavily trafficked as well.
The Wisconsin section of I-94 has seen 115 fatal highway accidents over the last decade. It also happens to be the oldest section of highway in the state.
Fatal Crashes by Weather Condition and Light Condition
Weather and light can contribute to automobile accidents and accident-related deaths.
Are you surprised by what this table shows? Most fatal accidents actually occur during normal weather, rather than icy or otherwise wintry conditions. Many occur in darkness, too. If you must drive in the dark, it is best to choose areas that are well-lit.
Fatalities (All Crashes) by County
Another way we can look at automobile accident fatalities is by comparing the counties where they occur.
This table lists the top 10 counties for fatal car crashes.
Milwaukee county tops the list, followed by Dane and Waukesha counties. The county order has remained consistent from year to year, while some counties have fluctuating stats.
Shawano county, for example, saw a huge leap in auto accident fatalities in 2017.
Traffic Fatalities
Now we'll turn to rural and urban traffic fatality rates in Wisconsin, using data provided by the NHTSA.
As you can see, fatal car accidents in Wisconsin are much more likely to occur in rural areas, even across a nine-year period.
This may be due in part to the fact much of Wisconsin is considered "rural."
Fatalities by Person Type
One can also examine fatalities by crash type. Incidents occur both on and off the roadway. Not all crashes involve two cars. There might be just one vehicle involved or many.  No two incidents look exactly alike.
In Wisconsin, most deaths occur in passenger cars and light trucks. There have been very few fatalities involving bus accidents, bicyclists, or large trucks.
Fatalities by Crash Type
Another helpful way to look at the stats is to consider crash type.
As we can see from the table, many crashes involve just one vehicle. Road departures are fairly common.
Five-Year Trend for the Top 10 Counties
The part of Wisconsin in which one lives not only has an impact on car insurance rates, but can affect how many fatal crashes a person might see each year.  We've crunched the numbers to see the five-year trends for Wisconsin's counties.
Fatalities Involving Speeding by County
There's a reason why speed limits are posted at all times. Speeding is not only dangerous for the driver of a car, but for everyone else on the road. Unfortunately, speeding is often a major factor in fatal car accidents.
In this table, you can see the number of fatalities in crashes that involved speeding, broken down by county.
Fatalities in Crashes Involving an Alcohol-Impaired Driver (BAC = .08+) by County
Speeding is dangerous, but it isn't the only important factor to consider.
Each year, too many fatal car accidents across Wisconsin are caused by those who have been drinking and driving.
It's never worth the risk. Don't drink and drive.
Teen Drinking and Driving
Combine the effects of alcohol with the immature driving skills of a teenager, and you have a recipe for disaster. In Wisconsin, there are 1.3 under-21 alcohol-related driving deaths per 100,000 people. That's higher than the national average of 1.2.
In 2016, Wisconsin police made 235 DUI arrests…involving people under the age of 18. That puts Wisconsin at #6 in the country for teen DUI arrests.
EMS Response Time
Car accidents can be horrible, but they aren't always fatal. If emergency medical services can reach you quickly, you are more likely to survive a bad accident.
In the table below, you can see the difference in EMS response times across urban and rural parts of Wisconsin.
In general, an EMS response is faster in an urban area where hospitals, ambulances, and other medical services are close at hand. In urban areas, crash victims arrive at hospitals faster.
Transportation
Now that we've explored what it's like to purchase insurance and deal with car accidents in Wisconsin, it's time to take a look at car ownership, commute times, and traffic congestion in the Badger State.
Car Ownership
When it comes to car ownership, Wisconsinites fall right in line with the rest of the United States. The average Wisconsin household owns 2 vehicles.
Commute Time
If you're moving to Wisconsin for work, you're in luck! The average worker in the state has a shorter commute time (21.1 minutes) than workers across the country (25.5 minutes).
Wisconsin's neighbors in Illinois, Minnesota, and Michigan all have longer commute times. Just over 1 percent of Wisconsinites have "super commutes" lasting 90 minutes or more.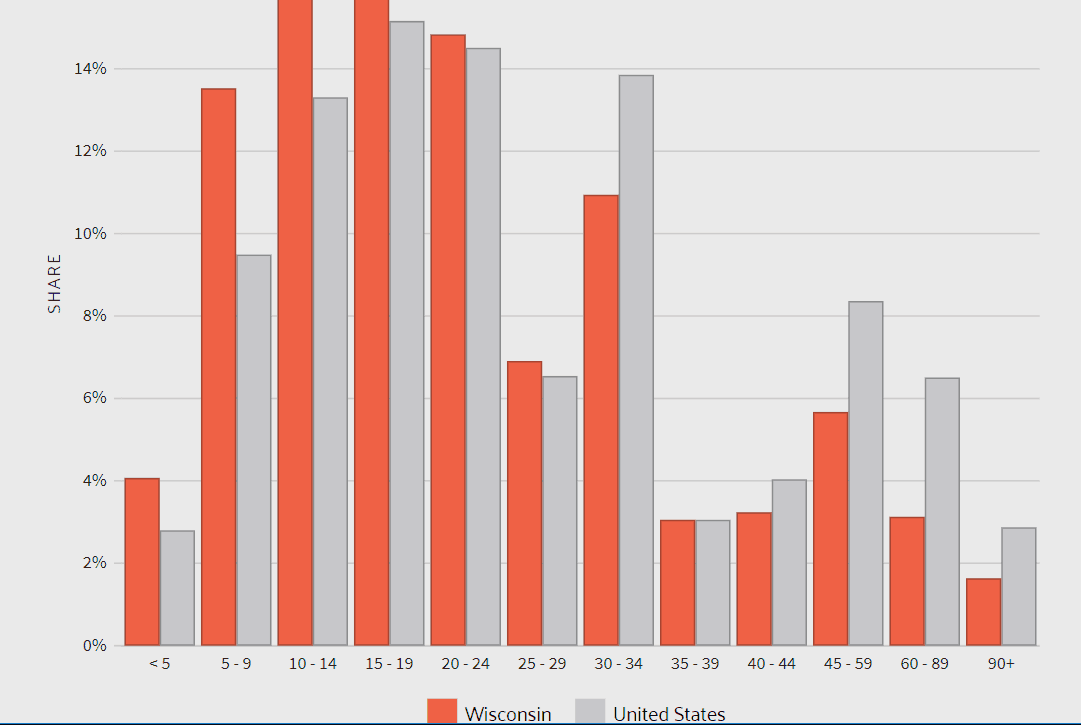 Commuter Transportation
How to Wisconsin residents get to work? Maybe we can expect Wisconsinites to be up on the latest podcasts and music, because most of them drive alone. About 7 percent carpool. Even fewer work from home or choose to take public transportation.
Traffic Congestion in Wisconsin
Each year, INRIX creates a detailed scorecard on traffic congestion across the world's cities. You may be wondering what the organization has to say about Milwaukee and Madison.
You're in luck– we ran the numbers.
The great city of Milwaukee ranks 171st out of 220 cities worldwide. It ranks 37th out of cities in the United States.
In 2018, the average Milwaukee driver spent 61 hours sitting in traffic. The cost to each driver is estimated to be $846.
During the worst portions of the morning and afternoon commutes, Milwaukee drivers can travel up to 32 mph. Off-peak, it goes up to 46 mph. In free-flowing traffic, the average speed returns to about 50 mph.
Now let's consider Madison. It fares a little worse than Milwaukee. Madison ranks 164th out of 220 cities across the globe. It ranks 35th in the U.S.
In 2018, the average driver in Madison spent 67 hours sitting in traffic. The cost to each driver is estimated to be $939.
During the worst portions of the morning and afternoon commutes, Madison drivers can travel up to 23 mph. Off-peak, it goes up to 31 mph. In free-flowing traffic, the average speed returns to about 35 mph.
You made it! Now you know everything (well, almost everything) there is to know about driving like a Cheesehead.
Did we miss anything? Did we hit the nail on the head? Are you now contemplating a move up north?
If you're feeling ready, go ahead and enter your zip code below to compare free quotes for your Wisconsin car insurance.