Minnesota Auto Insurance | Cheap MN Auto Insurance Quotes
Cheap MN auto insurance quotes are available. A married 35-year-old pays $251.91/month or $3,023/year for Minnesota full coverage auto insurance. Liberty Mutual only charges drivers in Albert Lea $331 a month, while coverage from the same provider costs up to $1,745 monthly in Minneapolis. State Farm is the largest and cheapest auto insurance provider in Minnesota, making up nearly 25 percent of the market. The company with the lowest ratio of complaints to policyholders for Minnesota auto insurance is Travelers.
Free Auto Insurance Comparison
Secured with SHA-256 Encryption
Whether you are driving to the Voyageurs National Park this summer or looking to spend time in The North Star State, you need the best Minnesota auto insurance coverage for complete peace of mind. The state also has more than 850 domestic and foreign insurance companies in the state.
With so many choices, you are bound to feel overwhelmed when choosing the best insurance product. Our guide will help you make an informed decision for the insurance product that best suits your need.
You can also check out our Compare Auto Insurance Companies page to see what five categories you need to look out for when debating between different auto insurance companies and searching for cheap auto insurance or online insurance.
Are you ready to get auto insurance quotes in Minnesota right away? The best cheap MN auto insurance quotes and Minnesota auto insurance plans are just a click away. You can start by entering your ZIP code into our FREE online tool. It'll give you rates for your specific demographic information and location.
Minnesota Auto Insurance Rates and Coverage
The best auto insurance policy is the one tailored to your needs. But, how to figure out if the coverage is relevant for your needs? Answer: You should know the insurance fundamentals.
Don't worry as cover the fundamentals in easy to understand manner. In the guide, we will help you understand different types of coverages, required minimum requirements, add-on coverage options, rates, and much more. After all, no one should be paying for a product that they don't know why they need it in the first place!
Minnesota

's Car Culture
The perception that the rest of the nation has is that Minnesotans drive with their famous 'Minnesota nice' attitude. You get rarely honked or see drivers swerving around you at an intersection.
However, sometimes you see excessive speeds on the freeways and dangerous driving during the brutal winter weather. Consequently, you may see a lot of accidents, spinouts, and rollovers during winter weather. Pick-up trucks, primarily the Ford F-150, are liked in the North Star state.
Minnesotans prefer to drive for everything. In the city of Minneapolis, around 90 percent of trips are done using a car.
The city is preparing a 2040 Comprehensive Plan in which it wants residents to drive less for errands such as grocery shopping by bringing shops closer to homes. But, till that happens, the residents have to drive, and therefore an adequate auto insurance coverage is vital.
Minnesota Minimum Coverage
The next obvious question you may have is: 'But what is adequate coverage?' Well, it depends on how much you are driving, your track record, where you stay, and much more. But, what is not negotiable is the minimum auto liability insurance that you must purchase.
The state requires you to carry the proof of coverage and enacted a law in 2016 that mandates that residents must prove insurance coverage while registering a vehicle in the state. The State of Minnesota mandates that you must have the following minimum coverage:
Liability coverage
$30,000 for injury or death of one person/ $60,000 for injury per accident
$10,000 for property damage
Personal Injury Protection (PIP)
$40,000 per person per accident ($20,000 for hospital and medical expenses and $20,000 for non-medical costs such as lost wages)
Underinsured and Uninsured coverage
$25,000 for injury per person for underinsured and uninsured
$50,000 for injury per accident for underinsured and uninsured
Minnesota is one of the only five states in the country that requires residents to purchase liability coverage, personal liability protection, and uninsured/underinsured coverage. However, this is the minimum amount that is required by the state. In case of an accident, the cost can be much higher.
It is always prudent to carry higher coverage than the state-mandated minimum. But, what is the use of these coverages? Let us discuss each to understand why is it required.
Liability Insurance
Liability insurance pays for injuries and damages to the third party in case of an accident where you are at fault. In case you rear-ended a car and held at fault, and your insurer may cover the damage to the third-party up to your coverage limit.
In case the damage is above your coverage limit, you may need to compensate the third party out of pocket. That is why it is imperative that you have adequate coverage to protect yourself against financial implications.
Watch this video from Allstate to learn more about liability insurance:
Personal Injury Protection (PIP)
While liability covers the third party, PIP is designed to protect you and your co-passengers in case of an accident. Since Minnesota is a no-fault state, you are required to purchase PIP coverage.
In case of an accident, PIP will cover your or other covered person's medical bills, lost wages, child care, and funeral expenses. The PIP system is expected to help you get back on the feet after an accident by paying for medical bills and other expenses without assessing who was at fault.
It also reduces the burden at courts for small damages. However, if you want to step out of the no-fault system to sue a third party for damages, you must meet the following conditions:
 incurred more than $4,000 in medical expenses
suffered more than 60 days of disability, or permanent injury
Remember: The compensation against your claim will be only the additional amount not already covered by your PIP.
Take a look at this Geico video to understand more about PIP:
Underinsured and Uninsured Coverage
As the name suggests, uninsured/underinsured coverage is meant to pay for damages in case an uninsured/underinsured driver hits you. Minnesota has a considerable number of uninsured drivers, and therefore, it is vital that you are adequately covered against potential loses.
Required Forms of Financial Responsibility in Minnesota
It is mandatory to purchase the state-mandated liability coverage in Minnesota. If you caused an accident and did not have an insurance policy, you would need to file a form SR-22 financial responsibility form.
You will also require an SR-22 form for a suspended license, or previously reported lapses of coverage. You are expected to show proof of insurance when requested by a law enforcement officer. If you fail to show the evidence, you are to appear in court and prove you were covered.
Driving without insurance is considered a misdemeanor offense that carries a fine up to $1,000 and 90 days of jail time.
Do not make the mistake of driving without insurance!
Premiums as Percentage of Income in Minnesota
How to get a discount? One fundamental way is to know what are other paying in your state on average. Knowing about the average premium paid by other Minnesotans might help you in analyzing the quote that you may receive from an insurer.
The average annual disposable income in Minnesota is $42,500, while the average premium for full coverage is $856.
On average, Minnesotans spend around $130 less than the national average. Which means more savings and more disposable income! However, the average numbers may not apply in your case.
Core Auto Insurance Coverage in Minnesota
According to the National Association of Insurance Commissioners (NAIC), the average full coverage auto insurance in Minnesota was $826.04 against the national median of $954.99. Besides liability insurance, full coverage auto insurance includes collision and comprehensive coverage.
Although auto insurance is cheaper than the national average, it won't hurt to look for additional discounts! You can do the following things to save on premiums:
Optimize the Deductible: A higher deductible will reduce the premium
Multiple Vehicles: Have multiple vehicles on the same policy
Certified Driving Course: Complete a DMV certified driving course for premium discounts
Safety Equipment: Safety equipment such as ABS and anti-theft alarm can save on discount
Reduce your mileage: Some insurers may provide a premium discount for low annual mileage
Additional Liability Coverage in Minnesota
Minnesota is one of the five states in the country that requires you to buy PIP and uninsured/underinsured coverage. With more than 11.5 percent of drivers in the state are either uninsured or carry less than required insurance, it is vital to have adequate coverage in case of an accident.
Uninsured/underinsured coverage helps if an uninsured driver hits you, and they are unable to pay for damages.
Question: How do I know if my provider would cover me?
Answer: Look at the loss ratio.
Okay, so what is the loss ratio?
Loss ratio is the ratio between the total payout made by the company against the total premiums earned.
A higher than average loss ratio would mean that the company is sustaining losses and paying more than it earned. It would also indicate that the premiums might increase in the near future.
A less than average loss ratio may indicate that a company is not paying claims regularly. It may indicate that you may experience difficulty in claim processing.
Add-ons, Endorsements, and Riders
In addition to options like collision and comprehensive insurance, there are other add-on coverages to consider in creating your insurance policy, such as:
Guaranteed Auto Protection (GAP)
Personal Umbrella Policy (PUP)
Emergency Roadside Assistance
Mechanical Breakdown Insurance
Rental Reimbursement
Modified Auto Insurance Coverage
Classic Auto Insurance
Non-Owner Auto Insurance
Pay-As-You-Drive or Usage-Based Insurance
Premium Rates by Demographics in Minnesota
Insurers generally charge a higher premium for teen drivers due to the higher risk involved with a new driver. Some insurers also charge varying rates based on gender. However, with age insurance premiums generally, tend to reduce to a market average.
The table clearly shows why comparison buying is important if you want to save on premiums. If you are a teen male driver, you can save a whopping $24,000 in average annual premiums if they move from Liberty Mutual to State Farm.
Cheapest MN Auto Insurance Rates by ZIP Code
Depending on where you live, you can find the insurer that provides the cheapest insurance rates.
E.g., across many ZIP codes, State Farm provides the cheapest premium rates. You should get a quote from State Farm.
Since ZIP codes aren't representative of a whole city, next we want to look at rates by city.
Minnesota Auto Insurance Rates by City
The tables below show the cheapest and most expensive auto insurance rates by cities.
Albert Lea has the cheapest rates in all of Minnesota.
Enter your ZIP code below to compare auto insurance rates.
Secured with SHA-256 Encryption
The Best Minnesota Auto Insurance Companies
If you have used our FREE tool to a get quote, you might be wondering: 'How to analyze a quote and choose my insurer?' The first thing to note is that you should not necessarily go with the cheapest provider.
You should analyze an insurer based on its financial strength, credit rating, customer reviews, etc. In this guide, we will help choose an insurer based on relevant metrics that provide you the best coverage.
MN Auto Insurance Companies'

Financial Ratings
Financial strength is one of the most important factors to consider while finalizing an insurer. We are using A.M. Credit Rating data, one of the most reputed credit rating agency for the insurance industry, to help analyze the financial strength of an insurer.
A good credit rating for an insurer would mean that the company is in good financial standing would be in a position to settle future claim obligations.
Let us look at the credit rating for the top ten auto insurance providers. The top ten insurance companies have around 80 percent market share in Minnesota.
Customer Satisfaction Ratings
of Auto Insurance Companies in Minnesota
Another important factor is to look at what the current customers are saying about an insurance company. Customer reviews provide us insights into the quality of service offered by an insurer.
E.g., we would know how quickly the insurer responds after filing a claim and how efficient is the claim settlement process.
Since it may not be possible to review the customer comments manually, we would be using the J.D. Power Customer Satisfaction Ratings. J.D. Power is one of the most trusted sources for automotive information.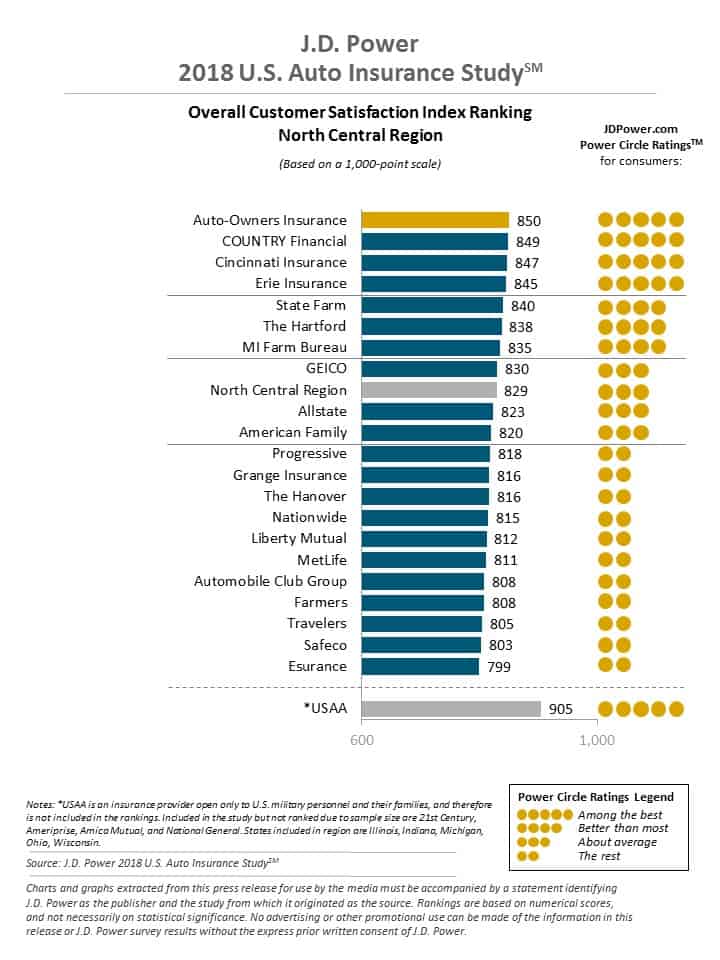 According to J.D. Power, Auto-Owners Insurance is the highest-rated insurer in the North-Central Region.
Minnesota Auto Insurance Companies with the MOST Customer Complaints
Another important aspect while analyzing an insurer is to look at the complaints filed against the company. Complaints ratio is one metric that gives you an idea about the quality of service provided by a company.
If the ratio is worse than the industry average, you might want to steer clear of the company.
The top insurers in Minnesota generally provide quality service and coverage. The table below provides complaints data for the top ten auto insurance provides in Minnesota:
You can file an online complaint with the Minnesota Department of Commerce.
The
Cheapest MN Auto Insurance Companies
State Farm, USAA, and AMCO Insurance are the three cheapest auto insurance providers in Minnesota.
Premium Rates by Annual Commute in Minnesota
Most of the top insurers in Minnesota do not increase the premium for a reasonable increase in annual mileage.
Premium Rates by Coverage Level in Minnesota
State Farm and USAA are the cheapest providers for both high and low coverage requirements.
Premium Rates by Credit History in Minnesota
Many people don't realize that your credit score can affect so many aspects of your life. For instance, credit scores affect auto insurance rates.
Good news for Minnesotans: they have the highest average credit scores of any state.
If you have poor credit, you can consider State Farm or Nationwide for affordable coverage. If you have a good credit score, you can get a cheap quote from State Farm, USAA, or Nationwide.
As per the State of Credit Report by Experian, Minnesota has the highest average credit score in the country at 709 (v national average 675).
Premium Rates by Driving Record in Minnesota
Auto insurers tend to increase the premium considerably if you have a DUI charge or an accident on your file. E.g., see below to check how a DUI conviction can increase your premium.
In case of an accident or DUI conviction, you should consider State Farm for affordable coverage.
Largest Auto Insurance Companies in Minnesota
Here's a handy list of top ten insurance companies in Minnesota:
Number of Auto Insurers in Minnesota
As per the data from the National Association of Insurance Commissioners, there are 39 domestic and 816 foreign insurance providers in Minnesota.
State Laws in Minnesota
To save more on the insurance premium and to keep a clean record, you should be aware of state laws. We understand that you must have gone through the driving laws when applying for your driver's license.
However, other automotive laws are also equally important if you are looking to save on insurance premiums. We have developed a quick refresher of relevant rules and regulations for your reference.
Auto Insurance Laws in Minnesota
According to the National Association Of Insurance Commissioners, state laws define the type of tort law applicable, the minimum liability insurance required, and the system used for approval of insurer rates.
Minnesota follows the no-fault system and 'File and Use' rate filing law. File and Use law means that insurer can file auto forms, rules, and rates without review. Let us now look at the specific laws and rules applicable in the North Star State.
Want to learn more? Check out our guide on Fault vs. No Fault Auto Insurance Laws.
Windshield Coverage Laws in Minnesota
Auto insurance companies in Minnesota are required to offer optional full glass coverage with zero deductible. If you opt for the coverage, you can get your damaged windshield repaired or replaced at no cost.
However, the insurer is free to use aftermarket parts of equal quality to repair or replace a windshield. You can opt for an OEM part, but you may need to pay the difference in cost.
MN High-Risk Insurance
Insurers can deny you coverage in the voluntary market if you have a poor driving record. E.g., a poor driving record may include multiple DUI convictions or multiple at-fault accidents.
In this case, an insurer will find it too risky to cover you in the voluntary market. In such a scenario, the state laws expect that you search for coverage in the voluntary market for at least 60 days.
If you are unable to find coverage in 60 days, you can opt for the Minnesota Automobile Insurance Plan (MAIP).
How it works: MAIP will assign you to an auto insurer based on a quota.
The coverage level and conditions will remain the same as in the voluntary market. However, the premium rates might be higher.
All auto insurance providers in the state of Minnesota are expected to provide coverage under MAIP. The MAIP coverage is for three years after which you are expected to improve your driving record and move out to the voluntary market.
To qualify for the MAIP, you need to meet the following criteria:
You should have a valid driver's license
You should have a vehicle registered in Minnesota
You should be able to prove that you searched for auto insurance in the voluntary market for at least 60 days
You should not have missed premium payment in the last 12 months
If your driver's license is suspended or revoked due to multiple traffic offenses, DUI violations, or uninsured auto accident, your insurer would need to file a form with the Department of Public Safety certifying that you have the necessary insurance coverage.
Low-Cost Insurance in Minnesota
Minnesota does not have an affordable coverage plan for auto insurance. The state recommends that you shop around to get the maximum discount for auto insurance.
Automobile Insurance Fraud in Minnesota
Auto insurance fraud impacts all of us. Fraud can increase the loses for the companies while subsequently increasing the premium rates for the rest of us. Therefore, auto insurance fraud is a crime in Minnesota.
Typical auto insurance frauds include inflation of claim value, misrepresentation of facts on the insurance application, staging an accident or injury for a claim, or services never rendered against premium payment.
The quantum of penalty is contingent on either the value of the fraud committed or the economic harm suffered by the victim. Minnesota state law awards the following penalties for insurance fraud:
For more info on insurance fraud laws , click here.
Statute of Limitations in Minnesota
Statute of Limitations is the time until which you can bring a lawsuit against a third party. In Minnesota, you have two years for personal injury and six years for property damage until which time you can step out of the no-fault system and sue the third party for damages.
Vehicle Licensing Laws in Minnesota
If your license is due for renewal soon, you might be wondering: 'Can I renew my driver's license online?' or 'how do I get my first driver's license?' Remember, it is illegal to drive without a valid driver's license in Minnesota.
Driving without a driver's license will result in a fine. In this guide, we will help you answer these questions along with other relevant information on the license renewal procedures in Minnesota.
REAL ID Implementation in Minnesota
The Federal Government started enforcing the REAL ID Act passed by Congress in 2005 that established minimum security standards for license issuance.
The Act is scheduled to come into effect in October 2020, after which you will be expected to carry a REAL ID-compliant document to enter federal buildings or board a domestic flight.
Minnesota started issuing REAL ID-compliant driver licenses from October 2018.
If you have any of the following document, you may not need another REAL ID:
US Passport
Foreign Passport
U.S. Military ID
Permanent Resident Card (Green Card)
You can also use the Driver and Vehicle Services tool to check if you need a REAL ID-compliant driver's license. To get a REAL ID-compliant driver's license, you need to bring the following documents to a nearby Driver and Vehicle Services office:
One identification document
Document proving social security number
Two documents proving your residency in Minnesota
You can check the full list of documents required on the Driver and Vehicle Services' website.
Penalties for Driving without Insurance in Minnesota
It is illegal to drive in Minnesota without valid insurance. If you are not able to furnish valid proof of insurance during a traffic stop, you can produce it in court before a specified date. If you are unable to furnish valid proof even after the court date, you can face harsh penalties and jail time.
If it's your first or second offense, you can be fined up to $1,000 with a minimum fine of $200. Your driving privilege, including driver's license, car registration, and license plates, can be suspended for up to 30 days.
To reinstate your driving privileges, you will have to pay a $30 reinstatement fee and submit an SR-22 financial responsibility form.
However, if it is your third offense, the penalties are harsher. You may have to pay a fine up to $3,000 and lose your driving privileges for up to a year.
You will also face jail time up to 90 days along with reinstatement fee and SR-22 documentation.
Remember, if you show the behavior of repeated offense, your insurer might deny you coverage in the voluntary market. A bad driving record can increase your premium rate considerably.
Driving without insurance not only attracts fines and penalties, but it can also prove catastrophic to your financial health in case of an accident. Do not make the mistake of driving without insurance! Get a quote with our FREE tool. Just enter your zip code to get started.
Teen Driving Laws in Minnesota
The licensing laws in Minnesota allow for a teen to use the multi-stage learning opportunity to get comfortable behind the wheel. A teen can apply for an instruction permit at the age of 15.
If you are above age 15 and have completed 30 hours of classroom instruction, you can write the knowledge test and get your instruction permit. The instruction permit allows you to practice driving under the supervision of either a certified instructor or a licensed driver of age 21 or older.
To qualify for the next stage, the provisional driver's license, you must be at least 16 and have logged 40 hours of supervised driving, including 15 hours of nighttime driving.
To successfully obtain a provisional driver's license, you must have held a conviction-free instruction permit for at least six months and passed an approved driver education course.
Finally, you would need to pass the driving test undertaken at the nearest Driver and Vehicle Services Office. If you have held the provisional driver's license for a minimum of 12 months or are 18 years and older, you can apply for the standard driver's license.
To successfully obtain the standard license, you must not have a conviction on the provisional license. If you are applying for a new driver's license, remember to ask for REAL ID-compliant driver's license.
License Renewal Procedure in Minnesota
The standard-driver license in Minnesota has a validity of four years. You need to undergo a vision test every time you renew your driver's license. However, unlike many other states, Driver and Vehicle Services in Minnesota do not allow the online renewal of driver's license. You have to visit one of the offices of DVS to renew your driver's license.
New Residents
If you are moving to Minnesota from another U.S. state or Canada and have a valid driver's license, you can obtain a Minnesota driver's license by passing a knowledge and vision test.
Remember: If your license expired more than a year ago, you would also have to undertake the driving test.
If you are moving to Minnesota from another country, you will have to pass the vision, knowledge, and driving tests to get a driver's license. To find the documents required to get a license, visit the Driver and Vehicle Services website.
Rules of the Road in Minnesota
It is critical that you are aware of the road rules and regulations. It not only keeps you and your family safe, but it can also lead to a discount on your insurance premium on account of a clean driving record. In this section, we want to do a quick recap of the essential rules and regulations that you must remember while driving in Minnesota.
Fault vs. No-Fault
Minnesota follows a no-fault tort system of auto insurance. As we mentioned earlier, the no-fault system is designed to help you get on your feet faster in case of an accident.
However, to protect yourself from financial harm, you need to purchase Personal Injury Protection along with uninsured/underinsured coverage.
You can step out of the no-fault system to sue a third party in court if you have sustained an injury that resulted in expenses more considerable than a threshold value we discussed earlier.
Seat Belt and Car Seat Laws in Minnesota
Click it or ticket! Seat belts coupled with airbags are one of the most critical safety features in your car.
In 2018, there were 2,792 motor vehicle deaths in Minnesota.
According to the CDC, the rate of traffic death is lower in Minnesota compared to the national average.
Ninety-four percent Minnesotans wear seat belts whereas only 86 percent of the rest of the country wear seat belts. Minnesota wants its drivers to remain safe on the road. That's why the state has penalties for not wearing a seat belt.
In Minnesota, not wearing a seat belt is considered a primary offense, which means a law enforcement officer can stop and fine you. The fine is $25 for the first offense and can rise to $100.
You should use a restraint system for children under the age of 8 or shorter than 57 inches. Infants must be in rear-facing safety seats.
Remember: The driver is responsible for the child restraint violation and will have to pay a penalty of $50.
Keep Right and Move Over Laws in Minnesota
You should keep right in Minnesota unless passing a slower vehicle traveling in the same direction (the vehicle must be going under the posted speed limit).
Minnesota updated its keep right law on August 1st, 2019 to make sure slow drivers keep right.
If officers see a slow vehicle in the left lane that is holding up traffic, they may pull that vehicle over. State law also requires you to reduce speed or vacate the lane closest to stationary emergency vehicles using flashing lights.
Speed Limits in Minnesota
Ridesharing Laws in Minnesota
If you have ever used Uber or Lyft lately, you have already availed coverage under the commercial insurance plan offered by these platform providers. If you drive for Uber, Lyft, or any other ridesharing application, it is vital for you to know the different kinds of coverage available to you.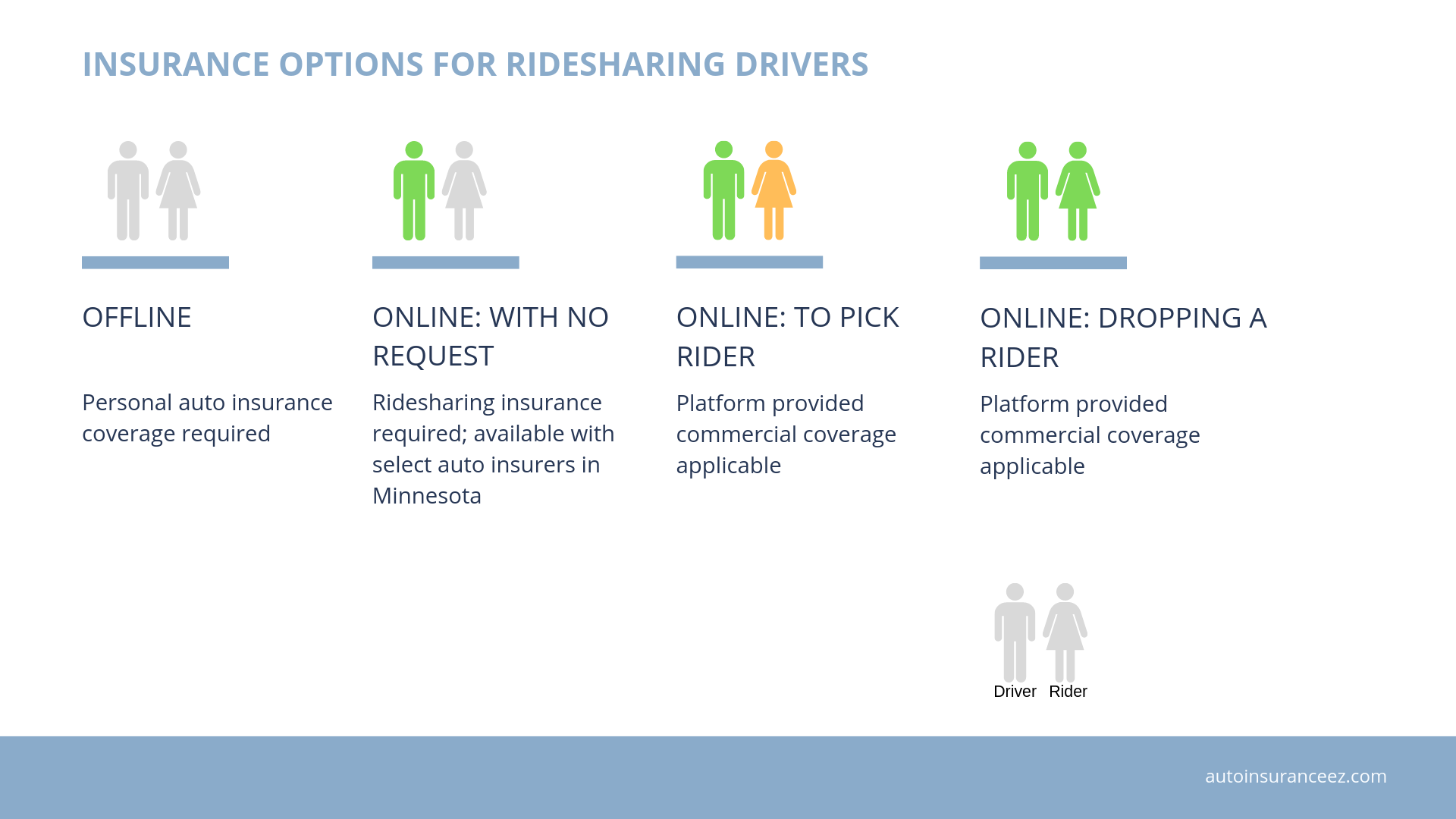 There are numerous scenarios when you are driving for ridesharing companies such as Uber and Lyft.
Offline: When you are driving for personal use, you are expected to use your auto insurance policy
Online with no ride request: The most tricky scenario is when you are online and yet to receive a pick-up request. In this case, you are not covered under your policy as you are driving for the ridesharing company. In this case, you need a 'gap insurance' - called Ridesharing Insurance.
In Minnesota, Allstate, Farmers, and Geico will be able to provide you Ridesharing Insurance plan. Online with ride request or active ride: In this scenario, the commercial policy of the ridesharing company will provide insurance coverage.
E.g., in case of Uber, it provides $1,000,000 liability coverage, $1,000,000 bodily injury protection, and contingent collision & comprehensive coverage with $1,000 deductible. The deductible portion can vary between platforms.
Automation on the Road in Minnesota
Self-driving cars not allowed on public or private roads. A task force constituted by Minnesota has recommended steps towards opening the roads to self-driving cars.
The State Legislators and the Minnesota Department of Transportation are still wary of allowing self-driving cars on public roads. However, these cars may be allowed on private roads if the lawmakers pass the current bills.
Minnesota

Safety Laws
No one wants a reckless or impaired driver on the road endangering other drivers or pedestrians. Minnesota has strict law to stop people from making such mistakes. Let us review the safety laws applicable in the state.
DUI Laws in Minnesota
In 2017, a total of 85 people in Minnesota died because of alcohol-impaired driving, of which, seven were under 21 years old.
Minnesota fares better than the national average in terms of alcohol-impaired fatalities partly due to the strict penalties for the offense.
Let us review the fines and penalties related to the offense:
Remember, the lookback period in Minnesota is 10 years.
The lookback period is the time until which any new offense will be counted as a subsequent offense and will result in harsher fines and penalties.
Marijuana-Impaired Driving Laws in Minnesota
Although no legislation prohibits marijuana-impaired drivers from plying on the road, it is advisable to avoid driving in the intoxicated condition. You would not only be endangering your life but also some other person's life.
Distracted Driving Laws in Minnesota
It is illegal to use handheld devices and to text while driving in Minnesota for all drivers. It is also unlawful for permit holders and provisional license drivers to use cellphones while driving.
Minnesota has been hands-free since August 1st, 2019. Drivers may only use voice commands to perform tasks, such as making a call.
The distracted driving laws allow law enforcement for primary enforcement. This means that a law enforcement officer can stop you and fine you for text messaging.
Driving in Minnesota
Another important factor that insurers use is to consider data on vehicle theft, crashes, speeding violations, etc., of your local area. Let us now look at the relevant data across Minnesota.
Vehicle Theft in Minnesota
The 1997 Honda Accord and the 1998 Honda Civic are the two most stolen cars in Minnesota. To check the number of cars stolen in your city, you can use the data provided by the FBI:
Vehicle theft can also impact disproportionately minority communities when it comes to auto insurance rates. One of the key problems is that often vehicle theft is more predominant in neighborhoods of persons of color.
Insurance companies will then charge higher rates to people who live in those areas because a higher vehicle theft rate can lead to more people filing claims. This costs the insurance companies money, so rates get increased for that neighborhood.
You can read more about auto insurance impacting negatively minority groups as well as issues of police brutality in our Biggest Police Budgets by City [+Defunding and Black Imprisoment] article.
Road Fatalities in Minnesota
Let us review the fatality data in the state to understand the possible reasons causing these accidents.
Fatal Crashes by Weather Condition and Light Condition
Fatalities by county for all crashes in Minnesota
Traffic Fatalities in Minnesota
Fatalities by Person Type in Minnesota
Fatalities by Crash Type in Minnesota
Fatalities Trend for the Counties in Minnesota
Fatalities Involving Speeding by County in Minnesota
Fatalities in Crashes Involving an Alcohol-Impaired Driver by County in Minnesota
Teen Drinking and Driving in Minnesota
Minnesota ranks 17th highest in the country in terms of DUI arrests of teens. In 2016, law enforcement in Minnesota arrested 144 teens for driving under the influence.
EMS Response Time in Minnesota
An efficient EMS response system can save lives. Let us take a look at the state's EMS response system.
Transportation in Minnesota
As per DataUSA, commuters in Minnesota on average spend less time in their commute than the national average.
Car Ownership in Minnesota
The majority of households in Minnesota owns two cars, which is on par with the national average.
Commute Time in Minnesota
On average, the majority of commuters in Minnesota spend less than 30 minutes in their daily commute. The average commute time in Minnesota is 22.4 minutes while the national average is 25.5 minutes.
Commuter Transportation in Minnesota
Nearly 78 percent of commuters preferred to drive alone for their daily commute against the national average of 76.4 percent.
Traffic Congestion in Minnesota
The biggest city in Minnesota, Minneapolis is the 24th most congested city in the country. The Minnesota Department of Transportation is working on eight different projects to reduce congestion in the twin cities.
You are now equipped to take the most informed decision about your auto insurance coverage. Start by getting free auto insurance quotes to start comparing. Enter your zip in our FREE tool to get started.
Enter your ZIP code below to compare auto insurance rates.
Secured with SHA-256 Encryption
Frequently Asked Questions: Minnesota Auto Insurance
Who has the cheapest auto insurance in Minnesota?
The cheapest auto insurance company in Minnesota is actually the No. 1 company in terms of market share: State Farm.
The company has built a huge advantage in auto insurance market share nationwide by providing very cheap rates and backing that up with good customer service and a user-friendly website.
How much is car insurance per month in Minnesota?
Monthly auto insurance rates vary significantly depending on the carrier and the amount of coverage that a driver has. Having just full coverage is less expensive than having full coverage plus uninsured motorist for instance.
However, by our calculations, the average full coverage rate in Minnesota is $826.64. That means the average monthly insurance rate for someone with full coverage is $68.89.
Why is car insurance so expensive in Minnesota?
Auto insurance in Minnesota is so expensive because the state operates under a no-fault auto insurance system. This type of system means that when you get into an accident, you go directly through your insurance company rather than the other driver's even if they were at-fault.
No-fault states are often the most expensive because of the additional fees that are much less in at-fault states, including lawyer and court fees when one driver sues another.
What are the worst car insurance companies?
The worst auto insurance company is a subjective task. It depends on the price you are paying for insurance, how much insurance you're getting, what the company's customer service is like, how its claims process is, and perhaps whether it is a good steward in the community.
Companies that have the lowest number of complaints are typically Nationwide, State Farm, and Travelers.
What is the number 1 insurance company?
The number one property/casualty insurance company in America is State Farm, which holds a sizeable margin in premiums written compared to the other top companies.
The second-largest is Berkshire Hathaway (Geico) and has been making progress towards taking over as the No. 1 for a number of years.