Find the Cheapest Auto Insurance in 2022: Autonomous Vehicles and Driving Habits
The coronavirus pandemic has drastically changed U.S. driving habits, with some states experiencing 60% drops in vehicle miles traveled. Although auto insurance companies have responded with $14 billion in givebacks, policyholders still look to reduce costs by dropping insurance coverage, buying usage-based policies, and switching providers. There are more auto insurance savings on the horizon thanks to evolved driving habits and autonomous vehicles becoming more mainstream.
Free Auto Insurance Comparison
Secured with SHA-256 Encryption
UPDATED: Jun 20, 2022
It's all about you. We want to help you make the right coverage choices.
Advertiser Disclosure: We strive to help you make confident insurance decisions. Comparison shopping should be easy. We partner with top insurance providers. This doesn't influence our content. Our opinions are our own.
Editorial Guidelines: We are a free online resource for anyone interested in learning more about auto insurance. Our goal is to be an objective, third-party resource for everything auto insurance related. We update our site regularly, and all content is reviewed by auto insurance experts.
Can't-Miss Facts
Auto insurance companies gave $14 billion back to customers due to COVID-19
People are driving less, which means less traffic and more severe accidents
Human error, such as distracted driving, causes 94% of all car accidents
Autonomous vehicles could save drivers $25 billion in premiums by 2035
Did you drive during the pandemic?
It seems like a strange question perhaps on the surface, but with most people working from home, the only excursions were to the grocery store or the pharmacy.
The auto insurance industry, normally the most staid and consistent industry, was jolted by this change, so much so that they refunded $14 billion to policyholders.
In this article, we'll cover the effect of COVID on the auto insurance industry and look forward to a seismic shock in that industry: autonomous vehicles and driving habits that are changing.
The coronavirus pandemic did more than force us to binge Netflix and work on our personal health habits much better.
COVID-19 changed our driving habits, perhaps for years to come, and jolted the auto insurance industry, forcing it to adapt in a way that it hasn't since the internet and digital marketing arrived.
What are those changes? This article explores them — including how policyholders tried to save money during the pandemic, such as by finding cheaper auto insurance coverage options.
Then we'll look at car insurance and self-driving vehicles. We are going to go deeper than a simple, "What are autonomous vehicles?" question. We'll look at how autonomous vehicles mitigate the driver problem, the benefits of autonomous vehicles, autonomous vehicle technology, and why self-driving cars are not always safe.
You may be wondering, "Will autonomous vehicles make auto insurance cheaper?" Likely yes, but for now it's helpful to know that there are other ways to lower your insurance rate, such as comparing quotes. Enter your ZIP code into our free online quote comparison tool to do that today.
Now, as more autonomous vehicles research occurs and more companies scale up the levels of autonomous driving, this is the issue of our time when it comes to auto insurance. Companies like Waymo, Tesla, Toyota, Daimler AG, and Zoox are creating the future.
Let's get started.
Auto Insurance Rebates and Discounts
The coronavirus completely upended and changed our lives. More than just the quarantines and shelter-in-place orders, the pandemic altered our habits from shopping to spending to, yes, driving.
The graphic below shows the drop in driving during the pandemic and raises a question about givebacks to policyholders: "Are they actually benefiting enough?"
According to various studies, miles driven dropped by as much as 60% in some areas around the country during March 2020. COVID-19 caused the largest fatal crash drop in history.
People were paying money on car insurance premiums for protection they didn't need because they weren't driving.
Studies also show that many people, due to the financial hardships of COVID, considered doing or did one of three things:
Canceled or shopped for cheaper coverages
Shopped for lower-costing plans
Raised deductibles to off-set premium costs
It wasn't just that people didn't need insurance. They couldn't afford it as well. Suddenly, what had always been a necessity was now on the chopping block. The auto insurance companies needed to respond.
Enter your ZIP code below to compare auto insurance rates.
Secured with SHA-256 Encryption
Auto Insurance Companies React to COVID-19
To help their policyholders — and score public relations points — insurance companies launched initiatives. These included financial assistance and flexible payment programs, grace periods for late payments, and no cancellations due to lack of payments.
The graphic below shows the major initiatives auto insurance companies did to help their policyholders, including all of those mentioned above and more.
Some also waived deductibles for commuting healthcare workers. Then there was the giveback. At the same time, just about every major car insurance company issued some sort of initiative to give money back to their customers.
Some chose rebates for past premiums, others issued credits for future premiums, and still others offered single one-time payments. Auto insurance companies ended up giving back $14 billion to policyholders, a rare gesture not seen in other industries.
It's one that made perfect sense. But while insurance companies were handing money back, the lack of driving and lack of traffic were creating a dangerous problem on the roads: risky drivers that often wound up dead.
The Effect of COVID-19 on U.S. Car Crashes
In June 2021, the National Highway Traffic Safety Administration came out with a startling statistic: the number of traffic deaths in 2020 had been just under 39,000, representing a 7% increase from the previous year.
During a period when traffic at times was reduced significantly, people wondered why. The insurance companies, however, had known about it all along.
While they were handing back money because people were driving much less and there weren't as many claims, the claims they did have were more severe.

It was a strange juxtaposition: empty roads but reckless drivers. Distracted, drunk, drugged, drowsy, and all going very, very fast. Less traffic meant riskier driving behavior, which led to deadlier and more fatal crashes.
Some people might think, "That makes sense." But organizations are worried that this reckless driving behavior won't end with the pandemic.
Research has shown that people tend to loosen their inhibitions during events like pandemics, with reckless behavior being more of the norm than the exception.
The insurance industry was exposed, perhaps even caught off guard. This new period of riskier driving behavior brought up a new question: How effective are the current methods in the auto insurance industry for managing risk and calculating premiums?
Enter your ZIP code below to compare auto insurance rates.
Secured with SHA-256 Encryption
The Role Risk Plays in Determining Insurance Rates
A startling fact in the auto insurance world is that most claims cost more than a person's premium. When this occurs, the insurance company raises that person's rates, but this is after the fact. So, how do insurance companies make money?
The graphic below covers the idea of a "risk pool," which is a fundamental tool used in the insurance industry so that each company can avoid catastrophic losses.
In this type of arrangement, risk is shared across companies. A balanced risk pool might have some higher-risk drivers and lower-risk drivers. This means that premiums are more predictable and that no single driver or situation can cause an insurance company to go out of business.
But, this under-penalizes higher-risk drivers and over-penalizes lower-risk drivers. Is there a better way to deliver auto insurance to drivers?
How Autonomous Vehicles Impact Auto Insurance
Ever since Elon Musk joined Tesla and made autonomous, electric cars cool, the auto insurance industry has been waiting for a seismic shock to their market: the introduction of fully autonomous vehicles and a question of whom to hold liable, if the companies survive at all.
To start, what is the meaning of an autonomous vehicle (other similar phrases are self-driving vehicle and vehicle autonomation)? Simply, these vehicles can do functions on their own — whether it's break quickly when the driver isn't paying attention, park themselves, or stop at red lights.
The graphic below shows the possible impact of autonomous driving on the insurance industry. As some have stated, the auto insurance industry will be facing a huge disruption that could cause premiums to sink, causing the industry as a whole to lose money.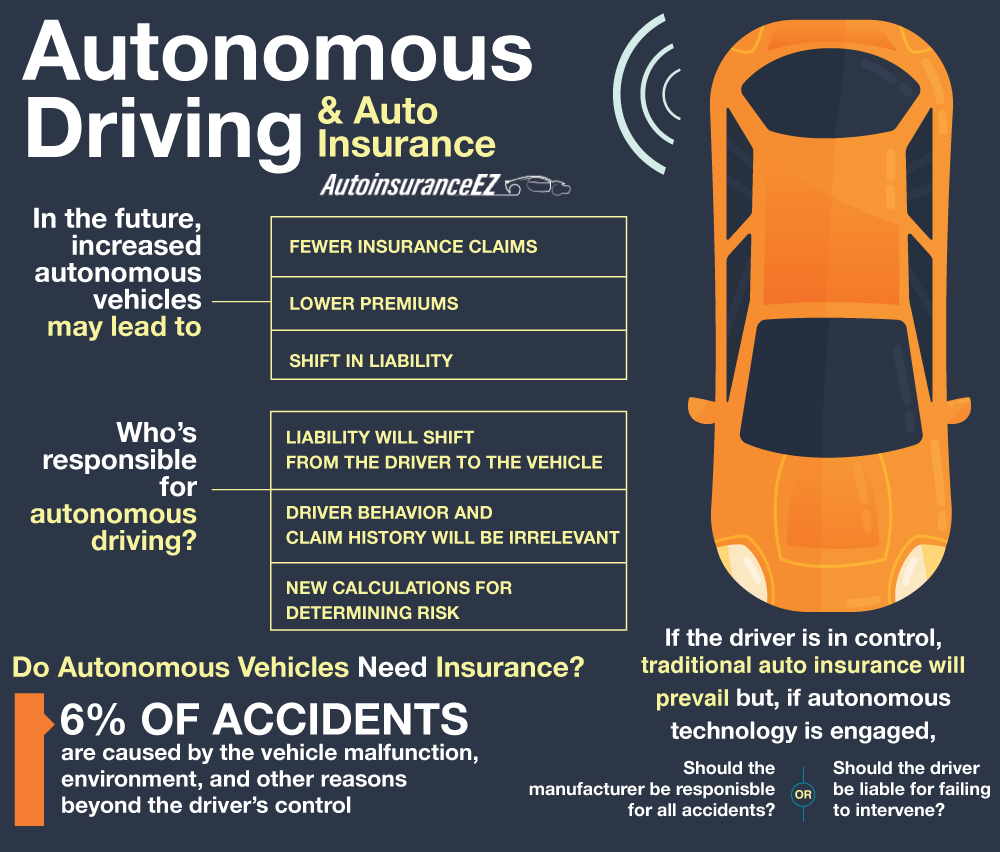 There are many questions that come with autonomous vehicles. Some are:
Who will become liable — the driver or the car manufacturer?
Will manufacturers sell insurance directly to customers?
How will levels of automation play a role in car insurance?
At the moment, autonomous vehicle companies have just reached level 3 automation, meaning we don't have a fully autonomous car yet. But people in the auto insurance industry are already preparing and bracing for that eventuality.
The answers to those questions above are still unfolding, but the coronavirus pandemic exposed weaknesses for the auto insurance industry and showed that drivers are not just changing driving habits but are looking for alternative options that suit their personalized needs.
In 20 years, auto insurance as we know it may not exist.
How Providers Can Adapt to Traffic and Vehicle Changes
While people wonder now if self-driving cars are safe due to issues like hackers, stopping at red lights, and sensing blind spots, it is likely the technology will improve to the point where it is evident that they are safer than regular drivers, which should speed up adoption.
Though many people are focused on companies that produce autonomous vehicles, like Tesla, there is a whole industry behind this. Some examples of autonomous vehicle technology are artificial intelligence systems to power the vehicles, others on sensors that give cars a full 360-degree view of their surroundings, and more.
Enter your ZIP code below to compare auto insurance rates.
Secured with SHA-256 Encryption

When fully autonomous vehicles are rolled out, auto insurance companies will face a challenge from manufacturers. This will occur for a few reasons:
More drivers are seeking alternative avenues for purchasing auto insurance.
Manufacturers will know their software and be able to offer discounts each time their software is updated.
Auto insurance companies may be in the dark about certain vehicles and technologies.
With drivers already thinking about purchasing auto insurance through an online service company (Amazon, Google) or a retailer (Walmart), they may be primed for a switch from a regular auto insurance company to a manufacturer, especially if the switch saves them money.
The reputation of the big auto insurance companies may hurt them. Some people see auto insurance companies as greedy, unwilling to pay out enough money per claim.
People also look at determining factors for rates that have nothing to do with driving — sex, age, and credit score — and think they're getting an unfair deal.
All these factors may open the door for a change in the auto insurance market — one that hasn't been seen in over a century. But it's one, hopefully, that will benefit the end consumer.
The Leading Autonomous Vehicle Brands
The table below shows the top five autonomous vehicle companies strictly from the standpoint of delivering self-driving vehicles, rather than AI platforms or sensor-generation companies. They are listed in alphabetical order.
The Top Five Self-Driving Car Manufacturers
| Company | Founded | Focus |
| --- | --- | --- |
| Embark Trucks | 2016 | Commuter vehicles and self-driving trucks |
| Tesla | 2003 | Autonomous vehicles for consumers |
| Voyage | 2017 | Self-driving vehicles in retirement communities |
| Waymo | 2009 | Commuter vehicles and self-driving trucks |
| Zoox | 2014 | Driverless rideshare vehicles |
Although Tesla is often ranked low as a leader in self-driving cars, it certainly has the hype and is actually delivering automation services to its customers, who drive in all types of environments. For that reason, we included it here.
To conclude, autonomous vehicles could save auto insurance customers billions of dollars. But they are a little off in the future. Ready to save today? Plug your ZIP code into our free online quote tool.
Frequently Asked Questions: COVID, Insurance, & Self-Driving Cars
Looking into the future, here are some frequently asked questions about autonomous vehicles, their benefits and drawbacks, and how far advanced they are.
#1 – How has COVID-19 changed our driving habits?
COVID-19 has altered our driving habits far after the shelter-in-place orders were finished. The largest change is that people are driving less. This affects the insurance industry because people are more and more interested in usage-based insurance, a type of auto insurance where you pay as you go.
#2 – How has COVID-19 changed the auto insurance industry?
COVID-19 forced the auto insurance industry to adapt and create a number of initiatives or services to help policyholders. Because people were not driving as much as before the pandemic, auto insurance companies lowered premiums, offered discounts, and issued refunds.
As many as 40% of policyholders made modifications to their policy during the pandemic, with reducing expenses a main motivation.
#3 – How do I find the best auto insurance rates?
To find the best auto insurance rates, first you need to figure out what types of coverages you need. After that, comparing auto insurance rates from different companies is one of the easiest and quickest ways to getting the best policy — one that fits your auto insurance and budgetary needs.
#4 – When should you lower your car insurance?
Anytime your situation is changing, you should consider reevaluating your car insurance policy. For instance, certain life events like getting married or having kids can affect your insurance rates. If you suddenly find yourself working from home and you're driving less, that's a good time to shop for a new policy or a different type of coverage.
If your car has depreciated to a very low point, you might want to consider dropping repair coverages like comprehensive and collision. So a lot depends on your circumstances or life events.
#5 – What raises and lowers your car insurance?
One answer might surprise you: your deductible. Your deductible is what you pay after getting in an accident before your insurance company will pay out. The higher your deductible is, the lower your rates. And vice versa.
Other situations that raise your rates include driving infractions, crashes, or anything that requires you to file a claim. Other situations that lower your rates are growing older, getting married, and having kids.
#6 – Does car insurance go down as a car gets older?
Yes, as a car gets older, it becomes cheaper to insure. This is because car insurance companies don't have to pay as much for claims as the car ages.
#7 – Will self-driving cars disrupt the insurance industry?
Yes, it is likely that self-driving cars will significantly disrupt the car insurance industry. The reason is that with fewer accidents on the road, car insurance claims will decline and premiums with them. Manufacturers might also start offering auto insurance, becoming competitors to traditional insurance companies.
#8 – Will self-driving cars need insurance?
Yes, most likely the car insurance policy for an autonomous vehicle will cover the vehicle rather than the driver, with the manufacturer being held liable instead of the driver.
#9 – What are the benefits of autonomous vehicles?
The main benefits of autonomous vehicles are safety and insurance savings for the drivers. Because human error causes 94% of all car accidents, autonomous vehicles can eliminate many accidents. It can also save drivers on insurance as liability will either be reduced or mitigated.
#10 – Will autonomous vehicles make driving safer?
Fully autonomous vehicles can eliminate human driving errors like distraction or not being aware enough. It can also reduce traffic deaths due to drunk driving, drugged driving, and drowsy driving.
#11 – What are the disadvantages of self-driving vehicles?
There are a few. Autonomous cars are often more expensive because the parts and the technology are expensive. Drivers of technology-advanced vehicles often have higher premiums because the parts are more expensive to replace if the vehicle is damaged in an accident.
There are also other issues like hackers and the security of the technology, which is a problem the autonomous vehicle industry needs to solve.