Uber Complaints
Free Auto Insurance Comparison
Secured with SHA-256 Encryption
UPDATED: Mar 30, 2021
It's all about you. We want to help you make the right coverage choices.
Advertiser Disclosure: We strive to help you make confident insurance decisions. Comparison shopping should be easy. We partner with top insurance providers. This doesn't influence our content. Our opinions are our own.
Editorial Guidelines: We are a free online resource for anyone interested in learning more about auto insurance. Our goal is to be an objective, third-party resource for everything auto insurance related. We update our site regularly, and all content is reviewed by auto insurance experts.
A brief overview...
The number of Uber complaints has increased each year—peaking in 2019
Christmas is the holiday to get the most complaints, followed by Halloween
Midnight is the most common time mentioned in complaints
Los Angeles and Washington D.C. are the cities that get the most complaints
In recent years, Uber has endured a string of corporate scandals. From allegations of widespread sexual harassment to feuding among executives and investors, the company's meteoric rise has been continually marred by controversy. 
But as headlines track Uber's internal turmoil, another central challenge is too often overshadowed: Some of the Uber app's drivers struggle to make a living, persisting on scarce pay without benefits.
As the company seeks to rebuild its culture and public image, how unhappy are the drivers that make Uber's operations possible? 
To find out, we studied over 220,000 posts on the complaint subforum of Uberpeople.net, a popular site where Uber drivers share frankly about their experiences. Our textual analysis reveals recurring challenges that irritate drivers, from platform-wide policies with the Uber App to frustrating passenger behaviors. Additionally, we determined the most difficult times and places for drivers around the country, highlighting particular problem areas.
For an unsparing look at Uber drivers' lives behind the wheel, dive into our results below. 
What is the Corporate Controversy and Forum Activity About?
As Uber's troubles have played out in public, drivers have often reacted with a surge of complaints on Uberpeople.net. This pattern was established early in Uber's lifecycle: In 2015, complaints soared after news broke that Uber was developing autonomous vehicle technology – and therefore angling for the obsolescence of its drivers.
Posts continued to climb later that year, as a California court deemed Uber drivers to be contractors rather than employees. Update: More recently, California's legislature passed a law designed to grant employee status and basic worker rights to all drivers.
Interestingly, driver complaints don't necessarily spike after revelations of problematic behavior within the company's corporate ranks.
When reports of sexual harassment at Uber first emerged in 2017, for example, forum activity actually declined.
That doesn't mean, however, that drivers don't have strong opinions regarding Uber's leadership – or at least one former leader in particular.
A shocking number of complaints mentioned Travis Kalanick, Uber's founder and CEO until his controversial ousting in 2017.
Kalanick's relationship with drivers suffered a devastating blow in 2017 when he was caught on video berating a driver who complained about Uber's practices. While his successor, Dara Khosrowshahi, was also criticized in drivers' posts, Kalanick was mentioned 21 times as often as the man who replaced him.
Looking forward, however, it's yet to be determined how drivers' lives will be impacted by recent state-level legislation in California and New Jersey, which declared Uber drivers to be employees. Harry Campbell, Founder at The Rideshare Guy, thinks these methods won't necessarily remedy driver complaints:
[su_table responsive="yes" alternate="no"]
| | |
| --- | --- |
| | New York City is a good case study because they recently enacted minimum pay rules for Uber and Lyft drivers and the companies have responded by limiting when and where drivers can go online. A lot of drivers are upset about these changes but from the company's point of view, it makes sense. They can't afford to pay drivers a minimum wage if they're going online in times and places where there aren't any requests. So in a way, they are forcing drivers to operate more profitably where as in the past, drivers had more control but might not make as much. Like many things in life, drivers need to understand that there are trade-offs. Minimum pay is great but it may come at the cost of slightly less flexibility, I think the trade-off in this case is worth it. |
[/su_table]
Enter your ZIP code below to compare auto insurance rates.
Secured with SHA-256 Encryption
What Are the Complaint Causes?
Why do drivers take to Uberpeople.net to complain? In 15,706 cases, passengers were at least part of the complaint. Some consistent themes emerged for the topics of drivers' ire, with acceptance rates, customer service, and even service animals all ranking in the top 30. 
Riders who "don't tip" were also mentioned over 700 times.
Indeed, while the Uber app enabled tipping in 2017, many drivers find that the gratuities they receive are frustratingly small – if they're tipped at all. 
Moreover, drivers face being booted from the app if their ratings plunge below a minimum threshold, which is quite high in some cities. Accordingly, a passenger can unwittingly imperil a driver's livelihood by giving them a mediocre rating for an unremarkable ride. 
Service animals were also mentioned in complaint forum posts over 1,800 times.
While service dogs must be allowed to accompany their owners, it's often up to drivers to decide whether to let a pet into their cars. This choice could put drivers in a difficult spot: Turn a passenger away or risk doggie damage to their vehicle. Other integral pieces of the Uber experience also came under fire: Drivers mentioned cancellations in their complaints, for example.
This subject prompts some controversy because both drivers and riders can be charged for canceling rides.
Accordingly, drivers sometimes take extreme measures to avoid canceling rides they do not wish to complete, such as driving around aimlessly in the hope that their rider will cancel first. 
Is Driving for Uber Harder on Holidays?
For some Uber drivers, holidays can present additional earning opportunities: Demand can send surge prices soaring as riders travel to and from gatherings with friends and family. But these celebratory dates are also a stark reminder of drivers' gig worker status – and the lack of paid holiday leave.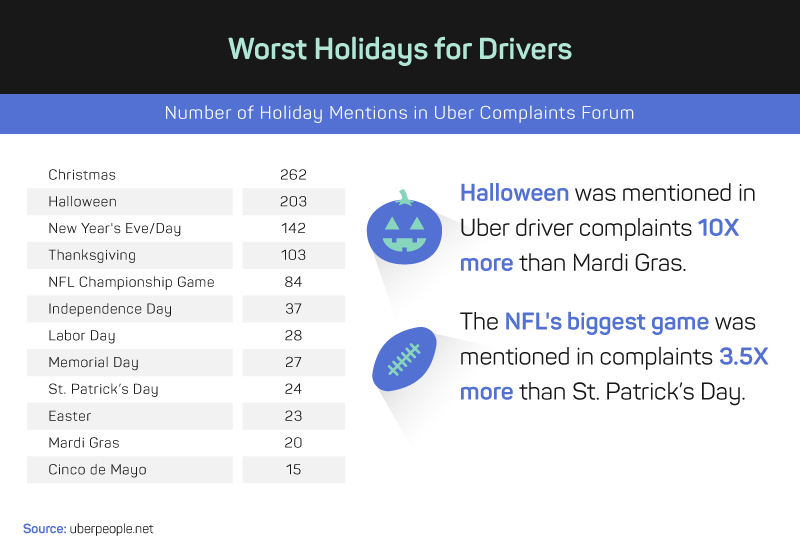 This hard truth may explain why Christmas was mentioned so often in drivers' complaints:
When you'd like to be trimming the tree or opening presents with your own loved ones, it's difficult to be driving others.
In fact, a court in the U.K. recently took issue with this arrangement and demanded Uber provide paid holidays to its drivers. 
Halloween also figured prominently in drivers' posts, though this finding could reflect a particular crisis from 2014.
Unprepared for the demand of Halloween revelers that year, Uber's surge pricing system went haywire, charging passengers sky-high rates and losing business for drivers. 
New Year's Eve and New Year's Day were also mentioned often in drivers' complaints, perhaps because the heavy drinking associated with the holiday makes for intoxicated (and obnoxious) passengers. 
Not all boozy events were equally dreaded by drivers, however. The NFL's big game was the source of 3.5 times as many complaints as Saint Patrick's Day, for example. That's a bad piece of news for Uber, which encourages as many drivers as possible to work on the day of the championship game to meet anticipated demand.  
What Are the Toughest Times to Drive?
If drivers' complaints are any indication, the most trying time to drive is late at night. A striking 331 posts mentioned midnight, while another third cited a time between 1 a.m. and 5 a.m. More generally, over 1,000 complaint posts included the phrase "at night." 
One reason for this trend seems painfully clear:
Passengers up this late have often been partying, and intoxicated behavior can be, at best, difficult to deal with. At worst, inebriated passengers may be distracting or unruly during their trip; all too often posing a danger to the driver or their property. 
This issue is so common that Uber has been developing a prototype algorithm to detect when passengers are likely under the influence.
Using clues such as the time, location, and speed with which a user interacts with the app, this tool could help drivers decline to pick up drunk riders.
Nighttime rides could also raise safety concerns, with fewer potential bystanders around in the event that a driver feels threatened. Uber drivers have been robbed at gunpoint, while others have been assaulted by passengers while behind the wheel. In response to these and other incidents, Uber introduced new safety tools in 2018 to better protect both drivers and passengers.
Enter your ZIP code below to compare auto insurance rates.
Secured with SHA-256 Encryption
What Are Driver Attitudes Around America?
Some cities are particularly challenging terrain for Uber drivers: Drivers from the area of Los Angeles and Orange County, for example, produced 47,684 complaint posts. This finding probably reflects local traffic conditions: L.A. is notoriously congested. 
Additionally, posts frequently mentioned L.A.'s Santa Monica and Hollywood neighborhoods, which feature tourist hot spots likely to stimulate demand for drivers. Washington, D.C., another traffic-addled city awash with tourists, ranked second for total driver complaints.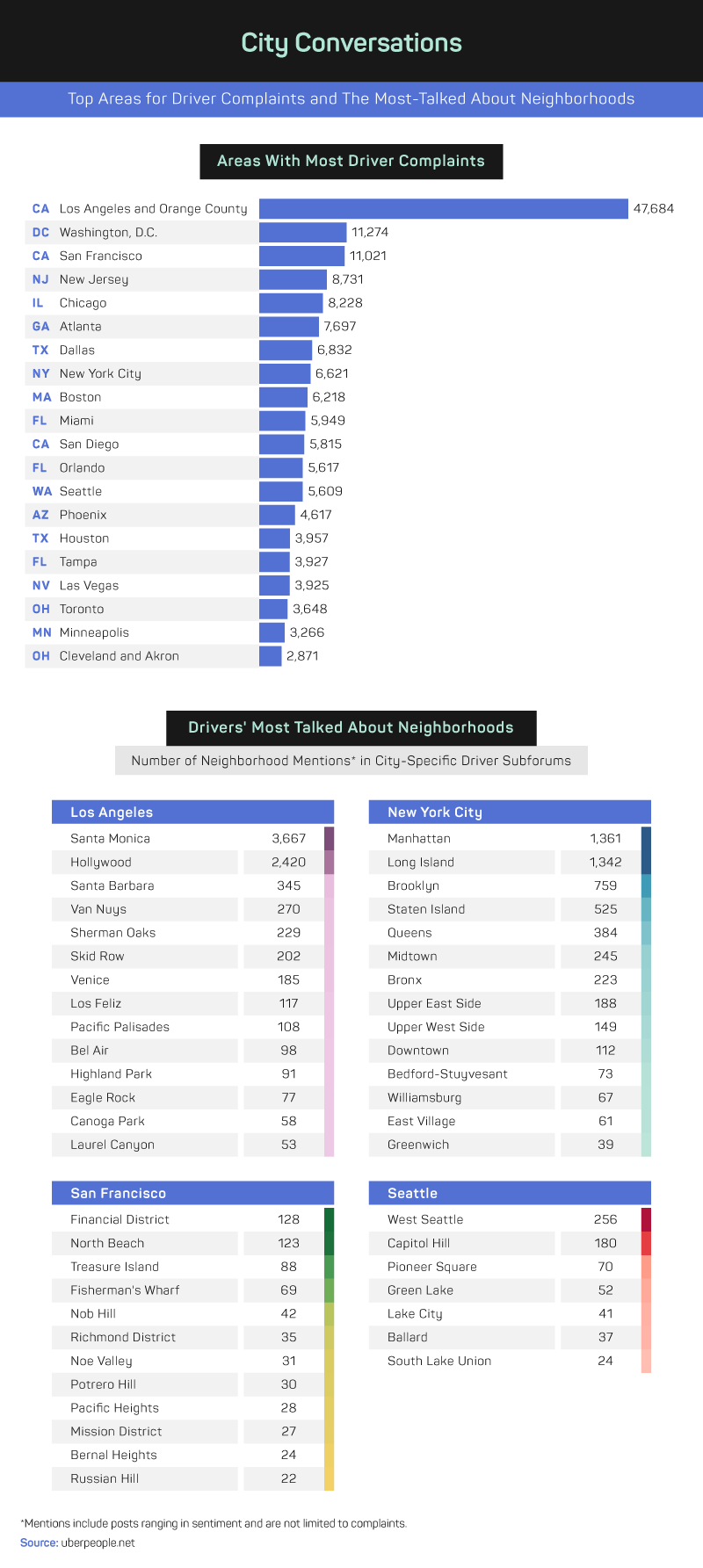 Drivers from San Francisco, Uber's birthplace, also produced a large number of complaint posts. But some drivers in the Golden Gate City had good things to say as well, with the highest percentage of positive posts among the six city forums we analyzed. 
Conversely, Seattle's drivers voiced the most negative sentiment overall among the forums analyzed. City officials have contemplated several proposals to improve the circumstances of Uber drivers, including a minimum pay law.
In addition to discussing local challenges and neighborhoods in their respective cities, drivers also tended to mention certain models of cars in their discussions. The Toyota Prius, for example, was cited in 1,115 posts, while the Toyota Camry was mentioned in 916. Here's the vehicles that ranked in the top 10 for appearing most often in Uber drivers' posts:
Toyota Prius

Toyota Camry

Honda Accord

Ford Fusion

Honda Civic

Toyota Corolla

Lincoln MKZ

Hyundai Sonata & Range Rover (tie)

Dodge Caravan

Honda Fit
How is Uber Prioritizing Protection?
Our analysis presents numerous and varied frustrations among Uber's independent contractors workforce. Many of these issues concern the company itself, from Uber's cut of each ride to the conduct of its executives. Other challenges seem more inevitable, such as the predictable difficulties of driving on hectic holidays.
Yet many issues relate directly to passenger behaviors – and all Uber users can help address these complaints. From tipping consistently to communicating respectfully, you can take small but meaningful steps to improve your driver's daily experience. As a rule of thumb, Campbell explains, treat your Uber ride like you would treat a ride from a friend. 
"It's important to respect a driver's time and a driver's property. Uber and Lyft drivers aren't paid much for waiting for you to come outside and if there's damage, dirt, or food left in a car, they are the ones that have to go in at the end of the night and clean it up. I think the best advice I can give to passengers is to just treat a ride with your Uber driver like you were riding with a friend. Would you talk loudly on the phone and put your feet up on the dash in a friend's car?"
Moreover, drivers may have options to protect themselves from the worst aspects of their work.
In the event of a crash, for example, you'll need insurance coverage that will pay for repairs swiftly, getting you back on the road.
By the same token, overpaying for coverage could drain hundreds from your budget each year. 
At AutoInsuranceEZ.com, we help all kinds of drivers strike the right balance between excellent rates and ample coverage. To learn more about your options and even get a customized quote, check out our auto insurance services today. 
What Are the Methodology and Limitations?
We analyzed approximately 221,511 posts in the "Complaints" subforum at https://uberpeople.net, a forum for Uber drivers with more than 149,000 members at the time of our analysis (August 2019). Posts ranged in date from April 2014 to August 2019. Some similar phrases were grouped by topic.
To find the number of complaints by city, we matched the user names found in all of the city-specific subforums with those in the Complaints subforum. We found a total of more than 50,000 unique users in the various city subforums. 
We searched through the Complaint subforum posts for total mentions of various holidays, as well as times of day mentioned in posts. These times were not indicative of the time they were posted to the forum. 
We focused on four cities for another part of our analysis and gathered posts from Uberpeople.net 's city-specific subforums. These included posts of all kinds, not just complaints. To find the neighborhoods that were most discussed in each city subforum, we searched for well-known neighborhood names within the data and grouped various spellings of the neighborhoods into categories.
Posts from Uberpeople.net reflect the opinions of only some of Uber's many drivers, and their opinions may not accurately reflect upon Uber as a company. Additionally, it is possible that posts in the complaint forum may include both complaints, praise, and neutral comments. 
Enter your ZIP code below to compare auto insurance rates.
Secured with SHA-256 Encryption
Fair Use Statement
We'd love your help in raising awareness of our results, allowing more Uber customers to understand the experience of their drivers. With this goal in mind, we invite you to share our images and data on social media or your own site. We do ask, however, that you use this work only for noncommercial purposes. Additionally, please link back to this page whenever you share our research so that others can find the full project.