Cheap Ohio Auto Insurance Guide [2023]
Ohio car insurance has a minimum liability requirement of 25/50/25 for both bodily injury and property damage coverage. Ohio drivers paid an average of $788.56 per year or $65.71 per month for car insurance. Even though you may be looking for cheap Ohio auto insurance, don't neglect Uninsured Motorist coverage as 12.40% of Ohio Drivers are uninsured.
Free Auto Insurance Comparison
Enter your ZIP code below to compare auto insurance rates.
Secured with SHA-256 Encryption
One may not know where to start regarding cheap Ohio auto insurance. The minimum liability requirement for both bodily injury and property damage coverage is 25/50/25 and in 2015 alone, Ohio car insurance rates cost an average of $788.56. Our goal is to show you how to get the best Ohio car insurance rates.
Nestled underneath the Great Lakes state and between Pennsylvania and Indiana, sits a rather flat, agriculturally and historically rich state often referred to as the home of the Buckeyes.
With a population of over 11 million people, Ohio boasts being the birthplace of Neil Armstrong, seven presidents, and aviation.
Ohio is the 34th largest state in the U.S. with over 100,000 miles of roadway — so there's no question that there are many vehicles of all shapes and sizes on the road.
But here's the thing: whether your vehicle is cruising around the Y Bridge, or headed up and down Ohio's winding roads to a Michigan/Ohio State football game, your vehicle is going to need to be insured.
Whether you have been searching for cheap auto insurance Ohio, already have a company in mind to research, like EZ Car Insurance Columbus, Ohio or Ohio Automobile Insurance Plan (aka Ohio Auto Insurance Plan), want to compare auto insurance companies or you're just overwhelmed with choices, we're here to help. We know that finding an affordable auto insurance Ohio policy isn't easy, and that's where we want to step in and help with this ultimate guide to Ohio car insurance.
In this guide, we will go over topics like types of car insurance coverage, car insurance company ratings, rules of the road, what kind of cars to avoid purchasing, and much more. Don't go away — car insurance coverage and Ohio auto insurance rates are up first. At any time, you can enter your ZIP code in our free quote box to find cheap car insurance in Ohio.

Ohio Car Insurance Coverage and Rates
We want to start this guide by covering the basics. What kind of Ohio automobile insurance is required and why? What is your hard-earned money actually paying for? Should you have more car insurance than what is required?
We will definitely answer all of these questions, but first, let's preface by looking into Ohio's car culture.
Ohio's Car Culture
Normally, when you think of Ohio, you probably think of football. However, Ohio is home to over 100 different racetracks which hosts IndyCar, NASCAR, and vintage motorcycle races each year.
According to Hartford, the sport of racing in Ohio really plays a magical role in the types of cars people own and buy.
Randi Flynn, of Grove City, Ohio said, "I think people here view cars like Lexus, Mercedes, or BMW to be the ultimate social status car, but they lose their mind when they see anything more expensive than that.
I was in downtown Columbus once and a guy pulled up in a Ferrari. People came over to gawk like it was a space ship that had just landed, instead of a $200,000 car."
Ohio Minimum Coverage
Every driver in Ohio must have car insurance. Drivers can have cars insured for a myriad of things — everything from windshield insurance to classic car insurance. But, Ohio drivers are only required to carry what is called minimum liability insurance.
Before we get into the definition of minimum liability insurance, let's dive into the confusing no-fault and at-fault terminology because it will help us to better understand liability insurance.
Unlike twelve or so other states in the U.S., Ohio is an at-fault state.
This means that if you cause an accident and that accident results in damages to another vehicle, property, or person, you are responsible for making a claim with your own insurance company and covering any outside costs incurred from that accident.
It seems fair and simple, right?
Okay, so this is where insurance comes into play. Insurance works like a safety net. It's there to protect a driver from going bankrupt, but it doesn't protect drivers from not owing a dime out of their own pocket every time a damaging accident or situation occurs.
So every month, drivers pay a premium to car insurance companies who promise to pay up to a certain amount of money if and when an accident happens.
Like we previously mentioned, by state law, drivers must carry at least a minimum amount of insurance. These numbers are different in every state in the U.S., but in Ohio, the requirements are as follows:
$25,000 for the injury or death of one person (a passenger, another driver, pedestrian, etc.) in an accident you cause
$50,000 total for all injuries or deaths resulting from a single accident you cause
$25,000 for any property damage arising out of a single accident you cause
Here's what you should take away: once you exceed these dollar limits, you must pay for damages yourself. It's always a good idea to have more insurance than the minimum required, and we will explain that in further detail below.
Forms of Financial Responsibility
A form of financial responsibility is just a form proving that yes, you are an insured driver and yes, you do take full responsibility of payment in the case of an accident you may cause (or have caused).
At any time, a law enforcement officer may pull you over and they always ask for three things: license, registration, and proof of insurance.
Acceptable forms of proof of insurance are:
Valid liability insurance ID cards
Electronic insurance ID card
Copy of your current car's insurance policy
Valid insurance binder (a temporary form of car insurance)
If you are pulled over and cannot show proof of insurance, your license may be suspended.
An SR22 form may be required of a driver who is caught driving without insurance.
We will get into what an SR-22 form is later, but for now, keep in mind that if you are required to get an SR-22 form, your insurance rate is sure to increase.
Premiums as a Percentage of Income
Have you ever heard of the term, income per capita?
Per capita income is the average amount of money a person makes in any given area. In 2014, the average per capita income in Ohio was $37,490.
Sometimes insurance companies will give you a break on your insurance premium because of where you live and what your state's per capita income is.
On average, Ohio drivers pay $766.66 a year on car insurance. This means that roughly 2.04% of their annual income is spent on car insurance alone.
While Ohio's average car insurance premium has only increased $40 or $50 dollars over the last few years and is under the national average by about $200, surrounding states like Pennsylvania and Michigan pay hundreds of dollars more for car insurance every year.
Core Coverage in Ohio
The data above was pulled directly from the NAIC (National Association of Insurance Commissioners).
Because this data is a few years old, you can expect that car insurance premiums are most likely a little it higher now than back in 2015.
Minimum coverage is obviously extremely important, but it's equally important to carry more than just liability insurance. Trust us — you and your wallet will thank us later when you've just been t-boned in the middle of a busy Ohio intersection.
Additional Liability Coverage
Medpay and uninsured/underinsured car insurance are two more insurance add-ons that anyone can purchase to bulk up their policy.
12.4 percent of Ohio drivers are uninsured. This means Ohio is ranked 22nd in the U.S. for uninsured drivers.
So what happens if you get into a car accident with a driver who is uninsured?
Most likely, that driver will be so financially overwhelmed with medical bills and property damage bills that he will end up broke and not be able to pay for the damages to your vehicle and/or your person.
This is why we recommend getting uninsured motorist coverage.
But let's talk about something called loss ratio. Loss ratio is just a number that measures the amount of filed claims that have been paid and have not been paid by an insurance company.
Companies with higher loss ratios (over 100 percent) may be at risk of going bankrupt because they have paid too many claims. Some of those claims may have been illegitimate. Some could have been paid before the company found out about the fraud.
If a company has a low loss ratio, (under 50 percent) that company might be scamming its clients because it has denied legitimate claims that should have been paid.
The loss ratio numbers for Ohio's uninsured/underinsured coverage is a little on the lower side but is within a healthy range. Just remember, when you're looking for a new provider, make sure their loss ratio numbers are between 50-100 percent.
Add-ons, Endorsements, and Riders
We've talked about a couple of insurance add-ons like MedPay and uninsured motorist coverage, but what about other types of insurance? What happens if your car gets flooded or you wreck a rental car?
Click on the links below to learn more.
Guaranteed Auto Protection (GAP)
Personal Umbrella Policy (PUP)
Mechanical Breakdown Insurance
Non-Owner Car Insurance
Modified Car Insurance Coverage
Pay-As-You-Drive or Usage-Based Insurance
Remember, you're not limited to only having a certain amount of car insurance add-ons. Pick one, or get them all if you feel it's necessary.
Demographic Rates in Ohio
Now we're getting into the nitty-gritty. What are some big factors that ultimately affect your rate?
Based on the dollar amounts above, marital status, gender, and age can really affect Ohio auto insurance quotes.
Generally, if you keep a clean record as you age, insurance companies will start to lower your rate because they know you probably have more experience and are less likely to get into an accident.
Cheapest Rates by ZIP Codes in Ohio
Did you know that where you live also affects what your rate can be? Find your ZIP code on the lists below and see who has the cheapest auto insurance in Ohio.
The most expensive ZIP code is in Columbus.
Tiffin, Findlay, and Old Fort have the cheapest ZIP codes in Ohio.
Cheapest Rates by Cities in Ohio
If you're looking for cheap car insurance Toledo, cheap SR22 insurance Akron, Ohio, or cheap car insurance Columbus, Ohio, you can find the ideal rate for you. The tables below show the average car insurance rates drivers pay in Ohio cities.
It makes sense that car insurance is the most expensive in Toledo as it is a big city and very close to the Michigan border – where car insurance rates are usually much higher.
Enter your ZIP code below to compare auto insurance rates.
Secured with SHA-256 Encryption
Ohio Car Insurance Companies
With literally hundreds of car insurance companies all fighting for a chance to make sure you and your vehicle are properly insured, it's no cakewalk trying to choose just one to trust.
When you're in the middle of a wreck, it's important to feel cared about and protected, so that's exactly why we gathered a list of the best car insurance companies in Ohio. Let's dive right into AM Best ratings first.
The Largest Companies' Financial Rating
How do we measure a companies' financial rating and why is this important?
Similar to loss ratios, financial ratings prove a company has good financial strength and they are not on the verge of bankruptcy. Below is a list of Ohio's top ten largest Ohio auto insurance companies.
The loss ratio percentages for all of these companies look great as they are between 50-100 percent.
Companies with Best Ratings
Customer satisfaction rank is also important when looking for a new policy and provider. According to J.D. Power, auto insurance satisfaction has reached a record high. In 2018, J.D. Power ranked insurance companies specifically by customer satisfaction.
The Auto Insurance Study examined customer satisfaction in five factors (in order of importance): interaction; policy offerings; price; billing process and policy information; and claims.
The study is based on responses from 44,622 auto insurance customers and was fielded from February-April 2018.
According to this survey, (with the exception of USAA who only serves military members and their families) Auto-Owners Insurance was ranked highest across five states including Ohio.
Companies with Most Complaints in Ohio
Even the highest rated companies receive complaints. Things go wrong sometimes and it's just a part of life. How a company chooses to handle a complaint is what really matters.
Check out the data below — these companies are the top ten best car insurance companies in Ohio.
Ohio Car Insurance Rates by Company
Four companies on this list are significantly lower than the national average, so that's good news if you're thinking about moving to Ohio!
Commute Rates by Companies
How far you drive each day can affect your rate as well.
Coverage Level Rates by Companies
Lower coverage might be cheaper, but higher coverage will protect you much more in the case of a serious accident.
Credit History Rates by Companies
If you have bad credit, your rates are sure to skyrocket. On the other hand, you can save thousands of dollars sometimes by keeping your credit score in good standing.
Ohio drivers have an average credit score of 678 and more than three credit cards. This score is above the national average of 675.
Driving Record Rates by Companies
If you had to pick one factor that decided your car insurance rate, it would probably be your driving record.
Check out the major difference in rates for a driver with one DUI compared to a driver with a clean record. The rate is different by hundreds and sometimes thousands of dollars. With even one speeding ticket on your record, your rates can go up significantly.
Number of Insurers in Ohio
What is the difference between foreign and domestic insurance?
Domestic insurance is formed under state laws and foreign insurance is formed under laws that are applicable to every state in the U.S.
– Ohio State Laws
If you're traveling through Ohio or moving there in the future, this section might be especially important to you.
It's difficult to know every single state law like the back of your hand and can be frustrating when you're pulled over for something you didn't even know was against the law.
But don't worry. We have pulled Ohio state driving and insurance laws so you can learn all you need to know about driving on Ohio roads — whether it's now, or 10 years from now.
Don't go away. We'll cover topics like insurance fraud, how insurance laws are formed, low-cost insurance, speed limit laws, and more.
Car Insurance Laws
If you've been reading this guide, you should know by now that every driver in Ohio needs car insurance. But how are car insurance laws determined?
According to the NAIC, state laws have a considerable influence on auto insurance.
Each state determines the type of tort law and threshold (if any) that applies in the state, the type and amount of liability insurance required, and the system used for approval of insurer rates and forms.
Ohio law requires drivers to have minimum insurance.
Ohio has a "file and use" law. This means rates/forms and laws must be filed with the state insurance department prior to their use. Specific approval is not required.
Windshield Coverage
It gets cold in Ohio, and when we say cold, we mean temperatures land well below zero during long winter days.
Extremely cold temperatures can cause windshields to crack, and no one wants to deal with trying to drive in the snow while looking through a cracked windshield.
Unfortunately, there's not a law that says insurance companies must replace a broken windshield in Ohio without paying a deductible first, however, some comprehensive plans may cover windshield damage.
High-Risk Insurance
Because Ohio law states all drivers must have car insurance, there are consequences of course for driving without it.
A law enforcement officer might write you a ticket or suspend your license for driving without insurance, or, you might be required to get what's called SR-22 insurance.
SR-22 insurance is considered high-risk insurance and you must carry this type of insurance in Ohio for a minimum of three years.
According to Sapling, in the case of Ohio SR-22 insurance, failure to keep your auto insurance policy active, by failing to pay the monthly premium or losing your coverage, will cause the SR-22 filing period to re-start from the beginning.
This means another three years minimum of costly SR-22 coverage, so it is important to keep your policy active.
Please be aware that you may also be required to get SR22 insurance if:
You have been convicted of a DUI
You have too many points on your driving record
You drive a sports car
You have been convicted of reckless driving
Low-Cost Insurance in Ohio
Ohio does not have a low-income insurance plan currently, but if you are looking for more ways to save on your policy, always ask your provider if they carry these special discounts:
Homeowner's discount
Good driver discount
Accident-free discount
Student discount
Military discount
Looking for even more ways to save? Enter your ZIP code in the box below and start comparing car insurance rates right now.
Automobile Insurance Fraud in Ohio
What is insurance fraud?
The Insurance Information Institute defines auto insurance as misrepresenting facts on an insurance application; submitting claims for injuries or damage that never occurred, services never rendered or equipment never delivered; and "staging" accidents.
Being convicted of auto insurance fraud could get you as much as a felony on your permanent record.
Worried about committing insurance fraud? Don't pad your claim, stage an accident, or fake an injury and you should be good to go.
Statute of Limitations
If something happens to you in an accident, you only have a certain amount of time to file a claim with your insurance company.
This is called the statute of limitations law, and it's there to protect both the driver and the insurance company. But just how much time do you have to file those claims?
Personal Injury: two years
Property Damage: two years
You have just two years to file claims for both personal injury claims and property damage claims. This may seem like a long time to file, but two years can go by pretty fast.
Vehicle Licensing Laws
What is a REAL ID?
As defined by Homeland Security, REAL ID is a coordinated effort by the states and the Federal Government to improve the reliability and accuracy of state-issued identification documents, which should inhibit terrorists' ability to evade detection by using fraudulent identification.
By October 2020, Americans will not be able to fly domestically without a REAL ID.
Penalties for Driving Without Insurance
We know it's illegal to drive without insurance in Ohio, but what exactly are the penalties if you actually get caught?
Remember that you need to be able to prove insurance and vehicle registration any time a law enforcement officer asks to see it.
Acceptable forms of proof of insurance are:
Electronic insurance card
Original paper insurance card
Insurance binder (temporary form of insurance)
Copy of insurance card
Now that we've talked about new license laws and penalties for driving without insurance, let's move on to teen driving laws.
Teen Driving Laws
To get a driving permit in the state of Ohio, you must be at least 15 years and six months old. Look at the chart below to learn more about restricted learners licenses.
If you have a restricted license, you must follow the laws below until you graduate to an unrestricted license.
License Renewal Procedures
Unlike many other states, Ohio drivers may not renew there license online or through the mail. It must be completed in person.
Whether you're 25 years old or 125 years old, you must renew your Ohio license every four years.
Proof of adequate vision is also required at every renewal. For more info about license renewal procedures, check out www.iihs.org.
New Residents
According to ohio.gov, within 30 days of establishing residency, you will need an Ohio drivers license for yourself, and an Ohio title and license plates for your vehicle.
You will also need to contact your insurance provider and let them know that you are a new resident of Ohio and you need Ohio car insurance. You must have an insurance policy that meets at least Ohio's minimum requirements.
Minimum insurance requirements in Ohio are:
$25,000 for the injury or death of one person (a passenger, another driver, pedestrian, etc.) in an accident you cause
$50,000 total for all injuries or deaths resulting from a single accident you cause
$25,000 for any property damage arising out of a single accident you cause
Negligent Operator Treatment System
Driving Laws by Nolo has a really great definition of negligent or "reckless" driving in Ohio:
In Ohio, a person can be convicted of "reckless operation" (also called "reckless driving") for operating a vehicle "in willful or wanton disregard of the safety of persons or property."
Generally, the term "willful" refers to conduct that is purposeful or intentional, rather than accidental. And "wanton disregard" basically means the person understood the conduct was risky but decided to do it anyway.
The consequences of a reckless driving conviction depend on the circumstances. But generally, the possible penalties are:
No prior traffic convictions. When a motorist has had no prior motor vehicle or traffic convictions within the past year, reckless operation is a minor misdemeanor. The maximum punishment for a minor misdemeanor is a $100 fine—jail time isn't a possibility.
One prior traffic conviction. Reckless driving is a fourth-degree misdemeanor if the driver has been convicted of one motor vehicle or traffic offense within the past year. A fourth-degree misdemeanor carries up to 30 days in jail and/or a maximum $250 in fines.
Two prior traffic convictions. If a driver has been convicted of two or more motor vehicle or traffic offenses within the past year, reckless driving is a third-degree misdemeanor. Convicted motorists face up to 60 days in jail and/or a maximum $500 in fines.
Reckless driving is a serious crime — any Ohio judge has the right to suspend the driver's license of a person who was convicted of reckless driving for up to three years.
Rules of the Road
We can't stress enough how important it is to know the rules of the road if you're a driver. This section covers crucial info on speed limits, automation, car seat laws and more.
Keep reading as we discuss Ohio rules of the road.
Fault vs. No-Fault
Ohio is an at-fault state. We've already gone over this in more detail above, but basically, this means that any driver who causes an accident is at fault for that accident.
At-fault drivers are also responsible for contacting his or her insurance company and filing a claim to cover the costs of any and all damages that resulted from the accident.
Ultimately if you cause an accident in the state of Ohio, you are responsible to pay for any damages or medical bills for any other person (and yourself) who was involved in that accident.
Seat Belt and Car Seat Laws
Ohio wants its drivers to be safe while on the road, and that's exactly why there are strict seat belt and car seat laws. No one wants to pay a fine for not having you or your child buckled in properly while driving in a moving vehicle.
So click it or ticket. Read these rules below if you're unsure about seat belt or car seat laws in Ohio.
Need to brush up on car seat laws? We got your back.
Please be aware that if you break one of these laws, you will get a $75 fine plus fees if caught.
There are of course laws that forbid riding in the cargo area of a vehicle like the bed of a truck.
However, this law does not apply if the following includes you:
people 16 and older
people 15 and younger if the vehicle is driven less than 25 mph or if the person is seated and belted in an OEM seating position
emergencies
inapplicable to pickup trucks with covered cargo areas
Keep Right and Move Over Laws
If you are driving under the speed limit on an Ohio road, driving in the left lane is not permitted. So please, don't make other drivers frustrated and stay on the right side of the road if you feel like driving like a turtle.
According to AAA, state law requires Ohio drivers approaching a stationary emergency vehicle displaying flashing lights, including road service vehicles, traveling in the same direction, to vacate the lane closest to if safe and possible to do so, or slow to a speed safe for road, weather, and traffic conditions.
Also included in the law are road maintenance and waste collection vehicles.
Ohio Speed Limit Laws
No one likes to get a ticket, but don't rely on the "I didn't know what the speed limit was" excuse when a law enforcement officer is asking you why you were speeding in the first place.
Keep in mind: these limits are the maximum speed you can travel at on Ohio roads.
Ridesharing
Do you know what ridesharing is?
Ever ordered an Uber or called for a Lyft? If you are employed with either of these ridesharing companies or a different one, you must have what is called ridesharing insurance.
Currently, the following insurance companies provide ridesharing insurance in Ohio:
Allstate
Erie
Farmers
Geico
State Farm
USAA
If your insurance company does not provide ridesharing insurance, you may be forced to find another provider.
Automation on the Road
Technology has come such a long way in such a short amount of time! It has literally allowed us to tell our car to do something. This is a simple definition of vehicle automation.
Automation can mean many different things, from cars that have automatic transmissions to cars that can drive themselves.
But what are some of the laws about automation in Ohio?
Safety Laws
We've talked about futuristic vehicles and automation testing, but now let's get into something a little more practical: safety laws.
DUI Laws
In 2017, there were 333 alcohol-impaired fatalities in the state of Ohio.
Driving drunk is a serious crime in Ohio. Here's a list of specific penalties based on the number of offenses.
By your fourth drunk driving offense, you have committed a felony. But whether it's your first offense or your seventh, drunk driving is taking a risk every time you do it. It will cost you jail time, fines, points on your record, and maybe even someone else's life or your own.
Don't drink and drive — it's against the law.
Marijuana-Impaired Driving Laws
Driving under the influence doesn't just mean alcohol. It is also illegal to use drugs while driving. If you are operating a vehicle with more than two nanograms THC per se in your system, you can be convicted of marijuana-impaired driving.
Were you using some other drug recreationally and illegally when you were pulled over? Just because there isn't a law about a specific drug, doesn't mean you can't be convicted of impaired driving.
Remember, if you are convicted of impaired driving, your insurance company is sure to raise your rates.
Distracted Driving Laws
When we're talking about distracted driving, we mean something very specific. Technology is an amazing thing, but using a cell phone while driving has gotten a little out of hand. Studies show that texting while driving is worse than driving drunk.
Look below for laws about cell phone usage while driving in Ohio.
What does primary enforcement mean? Police officers have the right to pull you over even if they just suspect that you are texting and driving.
Driving in Ohio
Since we've covered insurance costs, the rules of the road, and driving laws, it's time to move on to Ohio's can't-miss driving facts. That's right — in this section, we want to talk about road risks, vehicle theft, traffic congestion, and more.
Knowing these things will help you to not only decide what type of car insurance is good for you, but it will also help out if you are considering purchasing a new vehicle.
Based on this data, some cars just need to be more insured than others. It's just the way the cookie crumbles.
First, we will cover vehicle theft.
Vehicle Theft in Ohio
Did you know some vehicles are more often stolen than others?
Check out this list below to see if your car is popular among thieves.
Where you live has a lot to do with vehicle theft as well. This list below is pulled from the FBI. It shows the average number of vehicle thefts by city in Ohio.
Some of these cities show the total number of thefts as zero, and no, that's not a typo, that's facts.
Road Fatalities in Ohio
Now it's time to get into something a little harder to swallow: road fatalities. What causes them? Where do they happen the most? What type of person causes them the most and why?
Fatal Crashes by Weather Condition and Light Condition
If the weather is crumby and the roads are icy or slippery, accidents may happen a little more frequently than they would otherwise. But does weather condition really play a role when it comes to fatalities that happen by car crashes?
Fatalities (All Crashes) by County
Some counties are notorious for having more fatal crashes than others. Where does your county fall on this list?
Traffic Fatalities Rural vs Urban
Most people think that fatal crashes occur more in the city than in the country because there are more cars on the roads. However, this is generally not the case at all.
Because a city is usually better equipped with emergency services, fewer fatalities happen in the city than in the country where hospitals and fire stations are fewer and farther between.
Fatalities by Person Type
Fatalities by Crash Type
The type of crash is also a factor on whether or not there will be fatalities resulting from the accident.
Five-Year Fatality Trend For The Top 10 Counties
Below is the five-year fatality trend from 2013-2017.
Fatalities Involving Speeding by County
Sometimes speeding can cost you more than a ticket – it may cost you your life or someone else's.
Fatalities in Crashes Involving an Alcohol-Impaired Driver (BAC = .08+) by County
Driving drunk is a huge factor when it comes to road fatality rates in Ohio.
Teen Drinking and Driving
Ohio ranks 43rd in the U.S. for DUI arrests in teenagers under 18 years old.
Even though these statistics may seem high, Ohio ranks far below the national average for under-21 alcohol-impaired driving fatalities.
EMS Response Time
Seconds can literally mean the difference between life and death when it comes to EMS response time. EMS response time is normally much faster in the city than it is in more rural locations.
This may be because there are more EMS services located in city areas than there are in the country.
Transportation
How many cars do you own? Some car insurance companies may give you a multi-car discount.
Car Ownership in Ohio
According to Data USA, the following chart displays the households in Ohio distributed between a series of car ownership buckets compared to the national averages for each bucket.
The largest share of households in Ohio have two cars, followed by three cars.
The orange bars illustrate Ohio's average while the gray bars illustrate the national U.S. average.
Commute Time
Using averages, employees in Ohio have a shorter commute time (22.6 minutes) than the normal US worker (25.5 minutes). Additionally, 1.61% of the workforce in Ohio have "super commutes" in excess of 90 minutes.
The chart below shows how the median household income in Ohio compares to that of it's neighboring and parent geographies.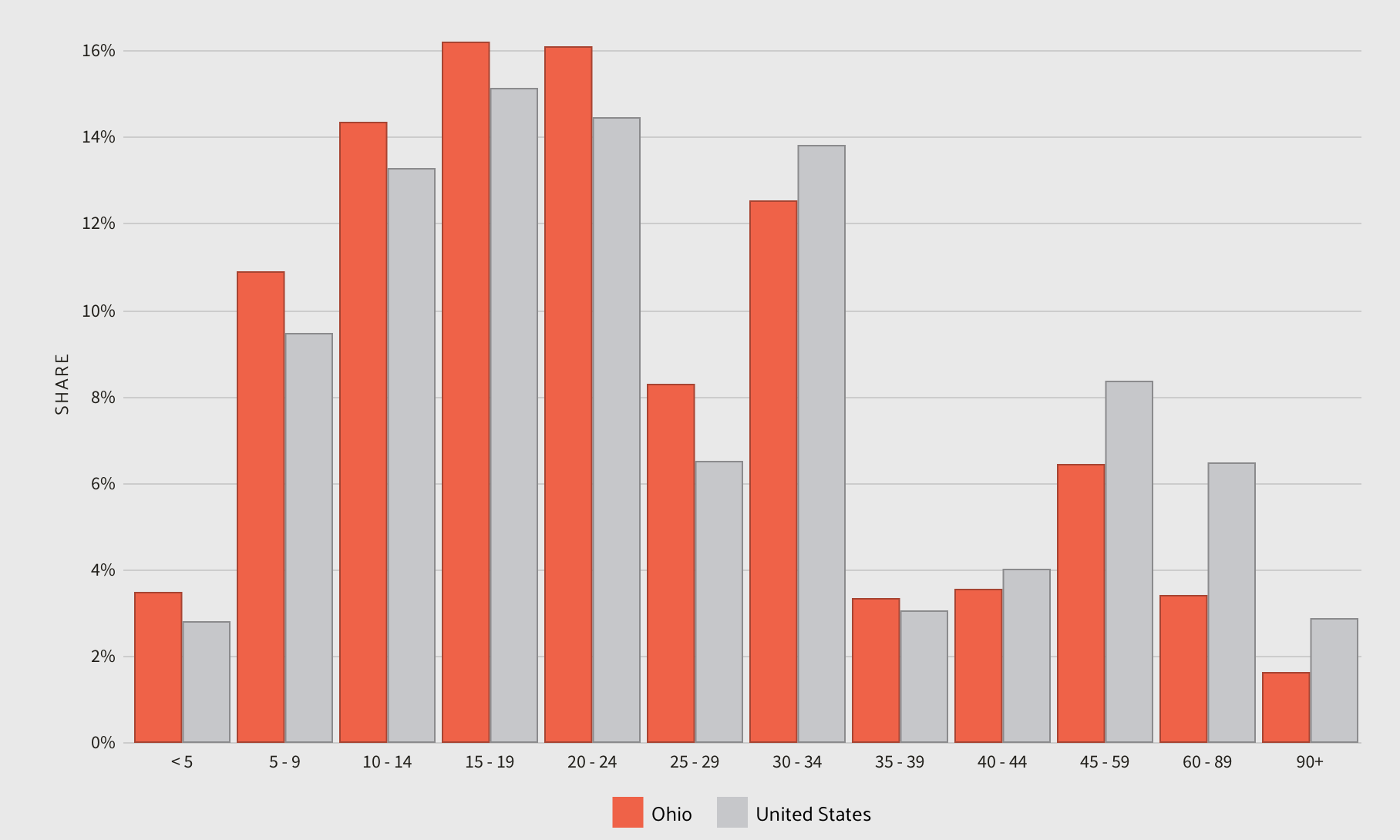 Commuter Transportation
In 2017, the most common method of travel for workers in Ohio was driving alone followed by those who carpooled and those who worked from home.

– Traffic Congestion in Ohio
According to Inrix, Ohio has four cities that rank pretty high for traffic congestion: Columbus, Cleveland, Cincinnati, and Toledo.
Whether you have been looking for cheap car insurance Toledo, Ohio,
affordable auto insurance Columbus, Ohio, or any other city, we hope this insurance guide has been helpful to you. Since you have all of the information needed to purchase affordable Ohio auto insurance, it's time to start shopping. Use our free, simple tool by entering your ZIP code to get started and find cheap car insurance Ohio.
Happy shopping.