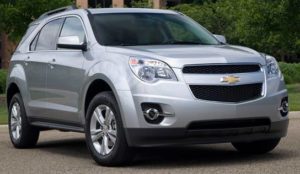 The Equinox is an SUV crossover in Chevy's lineup. How much is it going to cost to get insured, however? It helps to think about these things before making a purchasing decision. There are a variety of factors that go into an insurance company's decision making process when quoting you a price. Read on to learn more about how you can save on Chevrolet Equinox insurance.
Chevrolet Equinox: Insurance Costs
Remember to shop around with various insurance companies. Don't stick to the first insurance quote that you're given. It might be the best one out there, but it also might not be. If you do your homework, you'll find that different insurance companies give different discounts and incentives. It's important to find the one that suits you and your needs.
You can also lower your insurance costs by keeping your driving record squeaky clean. This makes you less risky to the insurance company. You can also limit how much you use the car. Fewer miles annually, usually equates to a lower premium.
Ahead of the competition with its safety features, the Equinox is a safe choice for you and your family. Insurance companies base your monthly insurance premiums on how risky it is to insure you. Having a safe car can work wonders for lowering your insurance costs.
These Companies Offer Cheapest Chevrolet Equinox Car Insurance
Equinox: Reviews and Ratings
This crossover SUV comes equipped with a 2.4liter four cylinder engine as a standard, providing a smooth ride. It can be upgraded to a 3.0 V6 engine for some added power by upgrading from the base trim level.
The Equinox has 4 trim levels: The LS, 1LT, 2LT, and the LTZ. The base level LS model comes equipped with an assortment of features. It comes with a sound system with CD player and satellite radio, their premier roadside assistance service OnStar, and power front seats.
However, when you upgrade to one of the other trim levels, other luxury options become available such as:
The Equinox's comfortable interior and attractive exterior design make it an easy choice.
Equinox: Safety Features
The Equinox, first and foremost, has received a 5-star crash rating in 2009. This and other factors have led to Equinox owners getting lower car insurance rates than owners of other SUVs. Their stability control system, labeled "StabiliTrak" comes equipped with "rollover alleviation technology". This feature sets it aside from other vehicles because it helps protect drivers from rolling over on a sharp turn.
Other standard safety features include:
• Front and side airbags
• Car alarm and engine ignition disabling anti-theft technologies
• Tire Pressure Monitor
Chevrolet Equinox Insurance: Obtaining a Quote
Don't hesitate to get a free quote today. As you know, getting multiple quotes is an important part of any car insurance decision making process. Just enter your zip code, and get started on your path to savings.