Insurance Readability [2022 Update]
People who have the greatest difficulty understanding their auto insurance policy pay on average $280 more. Insurance readability is a significant issue between auto insurance companies and their policyholders, with two in five people not knowing the details of their auto insurance policies. Making auto insurance policies easier to read would increase policyholder empowerment.
Free Car Insurance Comparison
Compare Quotes From Top Companies and Save
Secured with SHA-256 Encryption
UPDATED: Jun 27, 2022
It's all about you. We want to help you make the right coverage choices.
Advertiser Disclosure: We strive to help you make confident insurance decisions. Comparison shopping should be easy. We partner with top insurance providers. This doesn't influence our content. Our opinions are our own.

Can't-Miss Facts
Auto insurance policies are nearly as hard to read as the Constitution
39% surveyed said they did not know what was in their policies
Better insurance readability can lead to higher satisfaction
Auto insurance companies may write their policies complicated intentionally
Beyond being nearly indecipherable to some, the typical auto insurance policy is filled with legalese and outdated language, preventing some people from reading their agreement completely.
In fact, many insurance consumers fear user agreements, contracts, and policies so much that they may choose to remain ignorant of the wording.
To find out how much of the public drives around without understanding their coverage, we surveyed 1,000 people about their knowledge regarding auto insurance policies.
We then gathered a sample of insurance policies to learn how easy these agreements are to understand. We compared their overall readability on the Flesch Reading Ease scale, which shows how easy it is to understand text based on language, wording, and sentence structure.
We also know that if you're on this page, you're likely searching for auto insurance. But sometimes, as we explore in this article, auto insurance can be difficult to understand. This is especially true with the industry terminology and different types of coverage, such as the different types of auto insurance policy coverages.
For that reason, we've put together an auto insurance coverages guide where you can learn about the different kinds of auto insurance and which might suit you best.
If you're looking to jump right in and compare auto insurance policy quotes, just enter your ZIP code into our free online quote comparison tool. You'll get the best auto insurance quotes for your area based on your demographic information and driving history.
In this article, we'll look specifically into vehicle insurance. But we'll also touch on different types of insurances, as insurance readability applies to them as well. They include health insurance, home insurance, and life insurance.
Now, back to the article. How many people have never read through their policies? Can someone's level of knowledge impact his or her monthly payment? Read on to discover our findings.
Comparing Insurance Policies to Children's Books and Federal Documents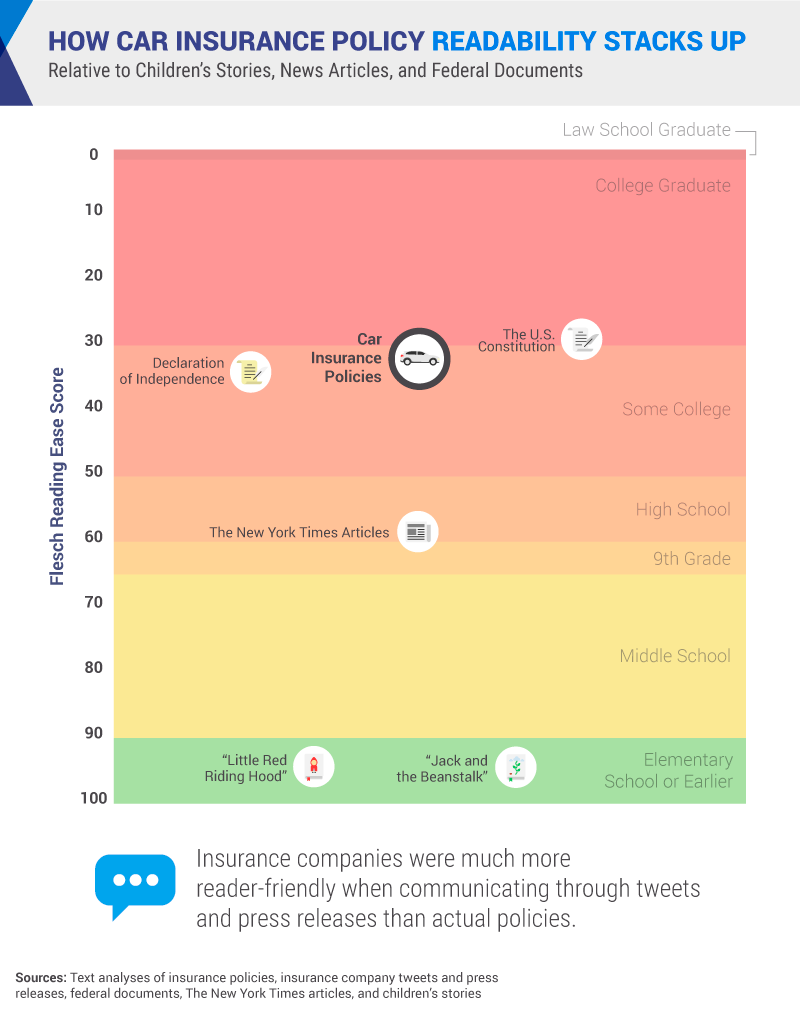 After analyzing the sample of auto insurance policies and placing them on the Flesch Reading Ease scale, we found that the average auto insurance policy was sandwiched between historical documents like the U.S. Constitution and Declaration of Independence.
Difficult-to-understand policies have made drivers ill-informed to defend themselves or even know offhand what their insurance covers. Some would even argue that you shouldn't require higher education to understand a document that is required by law.
It's possible to shop around for different policies, but many of the major market players have equally difficult wording that acts as a knowledge barrier.
As opposed to auto insurance policies, there are people committed to making crucial statements much more user-friendly. Fortunately, initiatives such as the one backed by the Legal Information Institute at Cornell Law School have analyzed more than 9,000 Supreme Court rulings referencing the U.S. Constitution.
By simplifying the Constitution and translating it into plain text that the average person can understand, researchers are attempting to demystify how we understand difficult documents.
We could apply this logic to auto insurance policies across America. If auto insurance companies were to make it easier to understand coverage details, owners of these policies may feel empowered. As certain exemptions become available to us as we age or experience major life changes, it makes sense that our policies should be streamlined, readable, and adaptable to our dynamic lives.
Enter your ZIP code below to compare auto insurance rates.
Secured with SHA-256 Encryption
Can we explain or find our auto insurance policies?

Our analysis of the overall readability of auto insurance policies is a dismal view of the public's knowledge of their own insurance. Having this knowledge is important, but nearly 2 in 5 respondents didn't know the details of their coverage, and over 1 in 5 wouldn't be able to locate their policy online.
Knowing this information can help in the event of an accident or any time you need your coverage handy. Industry leaders like State Farm, Liberty Mutual, and Allstate, among others, have even launched mobile apps for quick access to drivers' policies.
Besides a knowledge gap, we observed discrepancies between annual auto insurance payments and readability.
Those who reported the greatest difficulty in understanding their policies paid almost $280 more, on average, than people who thought their policies were easy to comprehend.
Further, respondents who were unfamiliar with their policy coverage spent an average of $268 more on their policies.
According to our study, age also plays a role in how people educate themselves on their policies. Baby boomers were the least likely to know where to find their insurance policy online but were the most likely to say they knew what was included in their policy.
Free Auto Insurance Comparison
Enter your ZIP code below to compare auto insurance rates.
Secured with SHA-256 Encryption
One aspect of a standard auto insurance policy that must be understood is the declaration page, usually the most succinct breakdown of your policy. Learning how to decipher this text will allow you to understand your coverage, with an itemized breakdown and all of your exemptions in one place.
Unfortunately, some companies may write their auto insurance policies more difficult to understand. Compare the best auto insurance companies to see which one might suit your needs the best.
Policy Understanding May Lead to Higher Satisfaction
Auto policy dissatisfaction was found to be almost two times higher for those who reported their policy was difficult to read.
Similarly, auto policy satisfaction was higher for those who reported their policy was easy to read.
Knowing what is in our policies offers a specific type of empowerment that our brains crave: When we learn something new (like how to read these tough policies), our brains are trained to respond positively to learning new things, enabling us to tackle these advanced readings in stride and with confidence.


With 78% of respondents admitting to reading none or only part of their auto insurance documents, it's clear that insurers need to adapt the way they inform and share coverage with drivers.
Some companies, such as Root Insurance, are even experimenting with "usage-based insurance," which allows an app to observe a potential user's driving in real-time to determine a quote and policy.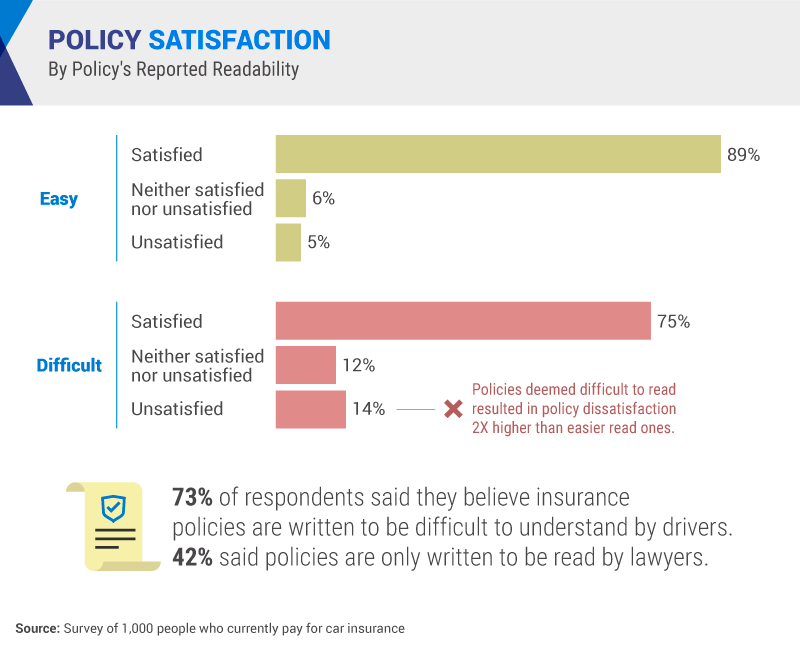 A common trend was for respondents to call attention to the overall difficulty of policy wording, noting they believed the text was intentionally written to be hard to understand (73%) and designed only for lawyers to read (42%).
Even the most in need of comprehending their policy agreements chose to stay ignorant to the contents: Just 30% of policyholders who had been in two or more accidents said they read their entire policy. Accidents can affect a policy and rate, so not knowing what a policy covers is risky to begin with. We all could use a refresher, but there are some who need to dive in headfirst and learn the ins and outs of their coverage.
The Final Word on Insurance Readability
Research shows that complicated auto insurance policy language might be intentional. The only way to be completely certain you are paying a fair price and have the coverage you need is to read your policy thoroughly and to make a promise to understand your insurance.
And with the internet, deciphering and interpreting auto insurance has never been easier. Look over quote comparisons and more at AutoinsuranceEZ.com to see if you could be saving money on your auto insurance.
Enter your ZIP code below to compare auto insurance rates.
Secured with SHA-256 Encryption
Frequently Asked Questions: Readability & Auto Insurance
Now that we've covered the cost and consequences of auto insurance policy readability, let's get to your frequently asked questions. They include:
How do you determine readability level?
How do you improve readability?
How can I get a copy of my insurance online?
Scroll down for the answers to those questions and more.
#1 – What is meant by readability?
Readability refers to how easy something is to read. The complexity of the piece, technical language, format, and legibility can all affect the readability of a piece. It is a key feature in a user's experience.
#2 – How do you determine readability level?
One of the most well-known ways to determine readability is the Flesch Reading Ease test. It combines two basic values — the length of sentences and the number of syllables per word — to determine the readability level of a document.
#3 – How important is readability?
Readability in a business sense is incredibly important. Users are more likely to read, grasp, and interact with a text that is more readable, which can lead to more clients and revenue.
#4 – How do you improve readability?
To improve readability, you can do numerous tactics in your article: shortening sentences, using simpler words, removing technical jargon, formatting the article for a more comprehensible flow.
#5 – Why you should read your insurance policy?
You should read your insurance policy to find out what exactly it has, such as coverages and charges. While you may know the coverages, your insurance policy will likely go into them in detail, revealing exactly what situations are covered and which ones are not.
#6 – How can I get a copy of my insurance online?
Many of the larger insurance companies allow you to download a copy of your insurance policy online. Just go to its website, enter in your information (username, password, any two-factor authentication procedures), then download your policy.
#7 – How do I find a lost insurance policy?
Two ways to find a lost insurance policy is to go to the issuers and ask them for a copy. This includes contacting your auto insurance company, your healthcare company, your former (or current) employer, your bank, and any other entities that might have a copy of your lost insurance policy.
#8 – What happens to unclaimed insurance money?
After a number of years, if the money remains unclaimed, it gets turned over to the state. There are also tools you can use in many states to locate unclaimed money, even if that money has been unclaimed for decades.
Methodology: Examining Auto Insurance Policy Readability
To conduct this study, we collected insurance policies from active auto insurance holders and surveyed 1,000 Americans. To qualify for the survey, respondents had to be currently paying for auto insurance. There was an attention check roughly halfway through the survey. If respondents failed it, they were disqualified and excluded from our survey results.
We also tested the readability of auto insurance policies using the Flesch Reading Ease scoring system.
Limitations
The data we received from the survey portion of our study relied on self-reporting. Multiple limitations come from self-reported data, including but not limited to: exaggeration, telescoping, and selective memory.
Enter your ZIP code below to compare auto insurance rates.
Secured with SHA-256 Encryption
Fair Use Statement
Feel free to pass this article along to your readership. Just make sure that it's for non-commercial purposes. But most importantly, please link back to this page. We don't want our study to be difficult to find.

Whether you find your auto insurance policy difficult to understand or not, there are likely ways to make it simpler and save you money at the same time. One of those ways is to get auto insurance discounts, which could save you hundreds of dollars per year.
Another is to use our proprietary technology. Just plug in your ZIP code into our free online quote generator to get the best rates for your area based on your information.
Editorial Guidelines: We are a free online resource for anyone interested in learning more about auto insurance. Our goal is to be an objective, third-party resource for everything auto insurance related. We update our site regularly, and all content is reviewed by auto insurance experts.