Cheap Arkansas Auto Insurance Guide (2023)
Cheap Arkansas auto insurance is found with USAA, but State Farm also has below-average rates for non-military drivers. AArkansas auto insurance rates average $77/month, well below the national average. rkansas auto insurance law requires you to carry at least 25/50/25 in liability coverage. The best way to get cheap Arkansas car insurance is to shop around.
Free Auto Insurance Comparison
Enter your ZIP code below to compare auto insurance rates.
Secured with SHA-256 Encryption
Rachael Brennan
Licensed Insurance Agent
Rachael Brennan has been working in the insurance industry since 2006 when she began working as a licensed insurance representative for 21st Century Insurance, during which time she earned her Property and Casualty license in all 50 states. After several years she expanded her insurance expertise, earning her license in Health and AD&D insurance as well. She has worked for small health in...
UPDATED: Jun 20, 2022
It's all about you. We want to help you make the right coverage choices.
Advertiser Disclosure: We strive to help you make confident insurance decisions. Comparison shopping should be easy. We partner with top insurance providers. This doesn't influence our content. Our opinions are our own.
Editorial Guidelines: We are a free online resource for anyone interested in learning more about auto insurance. Our goal is to be an objective, third-party resource for everything auto insurance related. We update our site regularly, and all content is reviewed by auto insurance experts.
Arkansas Statistics Summary
Road Miles
Total in State: 102,595
Vehicle Miles Driven (in millions): 34,024
Driving Deaths
Speeding – 116
Drunk Driving – 140
Vehicles
Registered: 2,685,739
Total Stolen: 5,601
Population
3,013,825
Most Popular Vehicle
Sierra 1500
Average Premiums (Annual)
Liability – $394.13
Collision – $321.80
Comprehensive – $190.41
Combined Premiums – $906.34
Percent of Motorists Uninsured
16.6%
State Rank: 9th
Cheapest Provider
USAA
Arkansas– The Land of Opportunity, located in the southeast just north of Louisiana. Arkansas is known for its southern hospitality and beautiful landscape.
If you find yourself relocating to the home of the Ozarks and Razorbacks, and you need Arkansas auto insurance, then you have come to the right place.
Also known as the "Natural State", Arkansas is known for its diverse and abundant wildlife, as well as its scenic rivers and mountains. Arkansas is also known for the production of quartz, as well as other natural minerals and crops.
Whether you are new to Arkansas or have lived here for a long time, you need car insurance. You'll want to find cheap Arkansas auto insurance rates from a reputable Arkansas auto insurance company.
It can be difficult and time-consuming to research which policies are right for you, but don't worry– that's where we come in.
Whether you live in Little Rock, Fort Smith, Fayetteville, Springdale, and Jonesboro with so many companies offering Arkansas automobile insurance, how do you know what policy is right for you? Finding affordable Arkansas auto insurance that fits your lifestyle can be a daunting task. We can help you decide how much coverage is right for you to meet Arkansas auto insurance requirements.
If you are new to the state of Arkansas and are looking to compare Arkansas auto insurance rates in your area, use our free online tool here to get yourself started.

Arkansas Coverage and Rates
For most drivers in Arkansas, the typical price of insurance amounts to about $77 per month on average. However, rates will vary throughout the state. Some areas cost considerably more, such as Fort Smith, where the average monthly price is around $84/mo. Then again, there are cheaper cities such as Springdale, where many drivers aren't paying much more than $71 each month.
On average, Arkansas' average car insurance cost per year falls slightly below the national average. Arkansas is also ranked as the 25th least expensive premium in the U.S., so you're in luck.
But, it is always good to keep in mind that other factors, such as your credit score, age, age of your vehicle, etc. will also affect your rates as well. Keep following along as we go over all you need to know about Arkansas' coverage and rates.
Arkansas' Car Culture
Exactly one hundred years ago in 1919, the Climber Motor Corporation was founded in Little Rock, Arkansas. It was this company's goal to produce vehicles that could handle the diverse terrain and landscape of the Ozark region.
Fast forward to today, that corporation is no longer in business but drivers in Arkansas are still taking on the tough terrain with their modern-day vehicles. Today, one of the most popular vehicles to drive in Arkansas is the Nissan Altima.
Arkansas Minimum Coverage
Like most states, Arkansas is an "at-fault" state. This means that in a car accident, the individual who is at fault for causing the accident will have financial responsibility for any injuries, lost income, and vehicle damage resulting from the accident.
As far as those who suffer any injuries or damage related to the accident, they can proceed in one of three ways:
by filing a claim with his or her own insurance company, assuming that the loss is covered under the policy (in this situation, the injured person's insurance company will likely turn around and pursue a subrogation claim against the at-fault driver's carrier)
by filing a third-party claim directly with the at-fault driver's insurance carrier, or
by filing a personal injury lawsuit in civil court against the at-fault driver.
According to Arkansas auto insurance laws, it is required that every single vehicle operating on the state's roads be covered by liability insurance. The state's required minimum amounts of liability car insurance coverage are as follows:
$25,000 for bodily injury or death of one person in an accident caused by the driver of the insured vehicle
$50,000 for total bodily injury or death liability in an accident caused by the driver of the insured vehicle, and
$25,000 for property damage per accident caused by the driver of the insured vehicle.
Keep in mind that this required minimum liability coverage will not apply to your own injuries or vehicle damage after you get into an accident in Arkansas.
If you are in an accident and no one else's insurance applies to your losses, you will need additional coverage.
When you are first applying for liability coverage in the state of Arkansas, you will be offered, but not required, the chance to purchase coverage for the following:
uninsured motorist bodily and property damage
underinsured motorist coverage for bodily injury, and
personal injury protection (PIP) coverage.
Forms of Financial Responsibility
In Arkansas, you are required to be able to show proof of insurance, whether you are asked to do so by an officer or if you are registering your vehicle.
You must have the required minimum coverage, and you should have the appropriate documentation on hand.
To provide proof of insurance, you can provide one or more of the following:
Insurance ID Card
Copy of Insurance Policy or Binder
You must maintain proof of insurance and financial responsibility and present it:
When asked by a police officer
After an accident
Before obtaining your vehicle's title and/or registration
Anytime you are operating a vehicle
– Premiums as a Percentage of Income
In Arkansas, the cost of premiums as a percentage of income is roughly 2.65 percent. This is slightly higher than the national average, which falls around 2.37 percent.
The minimum cost per month for full coverage is $75.00, which is why the ratio of premiums in relation to a percentage of income in Arkansas is a little higher than the national average.
Between 2012 – 2014, the percentage fluctuated up and down slightly, as it was at 2.56 percent in 2012, then rose to 2.67 percent in 2013, and then dropped a little to 2.65 percent in 2014.
 Core Coverage Auto Premiums in Arkansas
| Coverage Type: | Annual Costs in 2015: |
| --- | --- |
| Liability | $394.13 |
| Collision | $321.80 |
| Comprehensive | $190.41 |
| Combined | $906.34 |
The table above displays the average premiums paid by residents of Arkansas in the year 2015, which includes liability, collision and comprehensive coverage.
As of the year 2015, Arkansas has fallen below the national average for both liability and collision coverage but ranked above the national average in comprehensive coverage.
– Additional Liability in Arkansas
Listed below are the basic car insurance requirements in the state of Arkansas:
Bodily injury liability: required
Property damage liability: required
Personal Injury Protection (PIP): required
Uninsured motorist: not required
Minimum liability limits: 25/50/25

Coverage up to $50,000 for all persons injured in an accident, subject to a limit of $25,000 for one individual, and $25,000 coverage for property damage.
As you can see here, uninsured motorist coverage is not required. But, you must purchase the minimum requirements for coverage in order to comply with state laws.
Repeated violations without the minimum required coverage can result in hefty fines and even jail time, so it is best to purchase the minimum to be safe! It will only help you in the long run.
As far as uninsured motorist data in the state of Arkansas, the percentages for the state versus the entire nation can be found below:
National uninsured motorists: 12.6 percent
Arkansas uninsured motorists: 16 percent
Arkansas average vehicle repair cost: $2,661
As you can see here, the percentage of uninsured motorists in Arkansas is higher than the national average.
Although uninsured motorists will be held responsible for any accidents they cause, there is no guarantee that they will be able to compensate for damages due to lack of coverage.
With this in mind, be sure to keep an eye out for motorists on the road, because it can be a sticky situation if you are involved in an accident with one of them. This is why it is a good idea to bu uninsured motorist coverage in case you find yourself in this situation.
Add-ons, Endorsements, and Riders
It is always a good idea to know what other additional options you have when it comes to add-ons and riders that you can add to your policy. Take a look at the list below to see the add-on options you have in the state of Arkansas:
Guaranteed Auto Protection (GAP)
Personal Umbrella Policy (PUP)
Non-Owner Car Insurance
Modified Car Insurance Coverage
Pay-As-You-Drive or Usage-Based Insurance
– Demographic Rates – Male vs. Female vs. Age
In each state across the country, you might be surprised to find out that male and female drivers are charged different rates, and that younger drivers have higher rates than older drivers.
Teenage drivers are charged the highest rates due to their inexperience on the road, which usually translates to a higher risk for accidents.
But, what is interesting is that younger male drivers are considered to be at the highest risk for accidents, and even higher than younger female drivers.
As you can see in the table above, the difference in rates between male and female drivers is more significant in the 17-25-year-old age group, but that gap seems to get smaller in the 35 – 60-year-old age group.
Some states are working to eliminate gender as a factor of determining car insurance rates, but most states still charge male drivers higher rates than female drivers.
Cheapest Rates by Zip Code
<h3– Cheapest Rates by City
Enter your ZIP code below to compare auto insurance rates.
Secured with SHA-256 Encryption
Best Arkansas Auto Insurance Companies
It can be a tough decision when deciding which Arkansas auto insurance company is best for you. There are so many to choose from, and they all have different rates and policies.
Your lifestyle may also determine the kind of policies and rates that you are looking for, so what works for someone else may not work for you.
But don't worry– that is where we come in. Keep reading along, as we have compiled a list of the top insurance companies in the state of Arkansas and their financial ratings, as well as their level of customer complaints.
– The Largest Companies Financial Rating
As you can see below, State Farm Group, Geico, and USAA GROUP currently have the best financial ratings.
This means that they are settling a significant amount of claims, but they aren't spending too much on claims to a point where they aren't financially stable.
Each of these companies has a great financial rating though, and they are all financially stable. If you come across a company that has a rating below B, this means they are not financially stable. Be careful.
– Companies with Best Ratings
Customer satisfaction surveys are the true indicator of a company's services. Financial ratings might not always be accurate, but customer ratings would tell you if an insurer acknowledges its obligations when a claim is filed.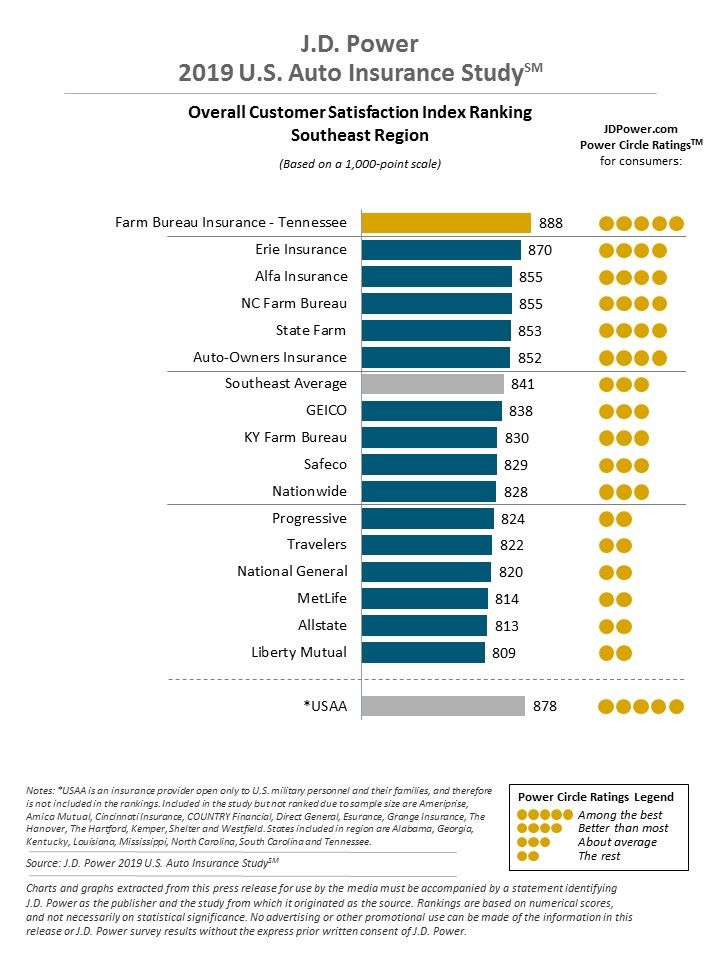 J.D. Power recently conducted a customer satisfaction survey to assess the overall perception of car insurance customers about insurance companies. In their 2018 survey, they found that consumer satisfaction has improved considerably in the US.
In the image, you can see the satisfaction level of customers for the auto insurers in the Southeast region. Among these, Farm Bureau Insurance – Tennessee received the best satisfaction rating.
Insurance in the digital era – Customers these days rate insurers on the basis of their digital interaction, omnichannel presence, transparency in premium hikes, usage-based insurance adoption etc. It's not about just cost anymore.
– Companies with Most Complaints in Arkansas
Leading Car Insurance Companies in Arkansas
<>– Cheapest Arkansas's Car Insurance Rates by Provider
Now that you're aware of the leading insurance providers in Arkansas, you must be curious about the average premiums charged by providers in the state.
Best Arkansas's Average Annual Premiums by Commute Rate
Do you know why your insurance company always asks – how many miles do you drive on an average?
Since you get a slew of questions from your insurance agent, you might not know the relevance of each one.
In usage-based insurance, the miles driven by you is taken into consideration to offer better rates. As you drive more every day, you're exposed to more dangerous drivers and accidents, hence the higher quote.
Apart from Geico, State Farm, and USAA, insurance providers are charging the same rate for different mileages in Arkansas. Nevertheless, you can always ask your provider to offer you discounts based on your usage.
Car Insurance Rates by Coverage Level in Arkansas
Car Insurance Rates by Credit History in Arkansas
As you can see in the table, car insurance rates vary significantly when your credit history changes from good to poor. Improving your credit score can be one of the ways to reduce your auto premiums.
As per Experian's State of Credit survey in 2017, Arkansas was among the ten states with the lowest credit ratings at a vantage score of 657.
Vantage score is calculated based on your credit payment history to determine the ability to pay-off debts on time.
Car Insurance Premiums by Driving History in Arkansas
A clean record can definitely get you the cheapest rate from all insurance providers, what's worth noting from the table is the impact of driving under the influence (of alcohol/other drugs) on premiums.
One incidence of DUI can raise your rates significantly and is considered more severe than speeding violations and accidents.
Number of Insurers in Arkansas
State Laws in Arkansas
Now that you have come this far in the article, you should read a bit about the state laws that aid people in driving safely.
We want to specifically focus on state laws because law-abiding citizens get into fewer accidents, and that can really save you a lot in insurance rates as well as unnecessary headaches.
Wherever you drive in Arkansas, just make sure that you follow the posted speed limits, licensing procedures, safety belt usage, mobile phone usage laws etc.
If you feel that's a lot to grasp, we have collated everything succinctly for you.
Car Insurance Laws
In Arkansas, the Office of Motor Vehicle (OMV) and the Driver Services (ODS) are the departments responsible for all your vehicle and driver-related requirements. Road tests are administered by the state police of Arkansas.
OMV and ODS are under the Arkansas Department of Finance and Administration (DFA), so you need to find offices of DFA for all your licensing and auto registration needs.
Proof of Insurance Coverage
The state law in Arkansas requires motorists to provide a proof of insurance when stopped by traffic police or requested by the DFA. The most common proof is the ID card issued by your insurance company.
Do remember: The DFA maintains an Arkansas auto insurance verification electronic database to verify the car insurance status of vehicles. Apart from running a monthly check for registered vehicles, they also check for coverage status when you try to register a vehicle.
High-Risk Car Insurance in Arkansas
Speeding violations, DUI and multiple accidents can prompt insurance companies to consider you a high-risk driver. And, by law, they have the right to refuse you insurance coverage.
What can you do in such a situation?
If you have been refused coverage by every other insurer, you can turn to the Arkansas Automobile Insurance Plan. The state allows you to apply to the plan through any car insurance agent and all insurers are required to participate in this plan.
How does the Arkansas Auto Insurance Plan work?
Since all insurers must participate in this program, the plan fairly distributes the losses amongst the car insurers (who are licensed to operate in the state) that arises from insuring high-risk drivers.
Once you apply to the plan, you will be assigned an insurer to whom you would have to pay the premiums.
Here's a short video with advice on how to get cheap insurance for high-risk drivers.
– Windshield Coverage and Glass Repair Laws in Arkansas
There is no special mention of glass or windshield in the laws of Arkansas related to chips or cracks.
As per the 2010 Arkansas code (§ 27-37-302) – "No person shall drive any motor vehicle with any sign, poster, or other nontransparent material upon the front windshield, side wings, side, or rear windows of the vehicle other than a certificate or other paper required to be so displayed by law if it obstructs the operator's view or the safe operation of the vehicle".
– Automobile Insurance Fraud in Arkansas
A loss claim is considered an insurance fraud under two circumstances – when the accident for which a loss is being claimed didn't occur and when the amount of loss is much lower than actually claimed.
Selling bogus insurance policies are also considered insurance fraud.
Penalties: As per Arkansas's insurance fraud laws, insurance fraud is considered a Class D felony with jail time of up to six years, and/or fines to the extent of $10,000.
Mandatory Reporting: An insurance company is bound by law to report any fraudulent activity that they come to know of to the insurance commissioner, and the failure to do so would be considered a Class A misdemeanor.
– The Statute of Limitations in Arkansas
If you're injured in an accident or your property was damaged, you have three years by which you can file a lawsuit or file a claim in accordance with Arkansas auto insurance claim laws.
– Vehicle Licensing Laws in Arkansas
For those who miss renewing their insurance policy, there's a high probability that the state would send a notice about your coverage status even if you're not stopped by the traffic police. The DFA runs regular checks on all registered vehicles.
– Penalties for Driving Without Insurance
If you don't comply with Arkansas's laws for insurance coverage, you would have to face penalties and jail time.
First Offense: If caught driving without coverage for the first time, the penalty ranges from $50 to $250. In addition, the traffic policy might handover a temporary sticker in place of the number plates and ask the motorist to show proof of insurance within 10 days.
Second Offense: Driving without insurance for the second time leads to a more severe financial penalty, ranging from $250 to $500. Similar to the first offense, the traffic enforcer might take your number plates and ask for proof of insurance within 10 days.
Third and Any Subsequent Offenses: A third offense leads to fines in the range of $500 to $1,000, along with imprisonment of one year.
The state also suspends the vehicle registration if a motorist is unable to show proof of insurance within the stipulated time.
– Teen Driver Laws in Arkansas
Keeping an eye on the teen driving laws of your state is important for the safety of your kids and others on the road.
Apart from the above restrictions, young drivers aren't allowed to drive between 11 PM to 4 AM until they turn 18 because of the obvious risks involved with nighttime driving.
If you want to know which cars are the safest for your kids, do watch this quick video.
– License Renewal Procedures in Arkansas
The license renewal procedures are pretty simple in Arkansas.
Proof of adequate vision is required at each renewal for everyone. However, renewals by mail or online renewals are not allowed in Arkansas.
– Arkansas Rules of the Road
If you want to drive without accumulating any points on your license, you should be aware of the rules in your state.
– Fault vs. No-Fault
Arkansas is an add-on state when it comes to no-fault car insurance laws. Motorists in Arkansas are required to buy minimum liability coverage, but also have the choice to buy first-party, no-fault insurance coverage.
In the event of an accident, if you buy a no-fault coverage, your insuer would cover your damages, irrespective of who was at fault. The benefits also cover your damages if you were driving/riding in someone else's car.
– Keep Right and Move Over Laws in Arkansas
Arkansas Code 27-51-301 – The law in Arkansas states that vehicles can't be driven on the left lane except when they have to pass others (unless the right lane is undergoing repair work or is closed or if there's an exit from the left lane).
Quite recently, the state invested in new signs to be placed on roads asking slower traffic to keep right.
Move Over Laws – In 2013, a new law was passed in Arkansas requiring motorists to move over to the furthest lane for vehicles of the Arkansas State Highway and Transportation Department and their contractors as well apart from the emergency vehicles.
– Speed Limits in Arkansas
The speed limits across rural interstates, urban interstates, and other limited-access roads in Arkansas is 75 mph. The speed can be raised to 75 mph on controlled-access highways if it's based on engineering and traffic studies.
– Seat Belt and Car Seat Laws in Arkansas
The laws in Arkansas require drivers and front-seat passengers to wear safety belts. Though all front-seat occupants should wear seat belts, traffic police can't stop a vehicle merely on the basis of a seat belt violation.
Car Seat Laws – All children below the age of six or 60 lbs should be put inside a child-restraint system, while anyone below 15 should be buckled up irrespective of where they are sitting in the car.
– Pickup Trucks (Riding in Cargo Areas Rule)
As per federal standards, occupant compartments and beds of pick up trucks serve different purposes and most of the time the cargo area isn't safe for passengers.
Around 30 states and the District of Columbia have implemented laws to address the hazards of passengers riding in cargo compartments.
In Arkansas also, there's a restriction on passengers riding in cargo areas, except when the passengers are employees on duty. This provision prohibits people from riding on fenders, hoods, or other places that aren't meant for people.
– Ridesharing Laws in Arkansas
With ridesharing apps becoming all the rage these days, new state laws are being implemented across the US to ensure the safety of drivers and riders. In Arkansas, both Uber and Lyft have the necessary permits to operate.
However, there are certain laws that ridesharing companies need to follow:
Ridesharing companies need to obtain a permit from the Arkansas Public Service Commission to establish their operations in the state.
These companies must maintain minimum liability insurance of at least $1 million to cover death, personal injury, and property damage while the driver is engaged in a ride through the app.
The law also regulates few other safety measures such as – drivers must be 19 years old, maintain liability coverage, drive vehicles that have cleared safety checks, and pick passengers engaged only through an online medium.
– Automation on the Road in Arkansas
Automated vehicles are slowly and steadily making an inroad in our lives to ease the effort involved in driving and for better traffic management. Resultantly, many states are allowing automakers to test self-driven cars on their roads and highways.
Till now, Arkansas hadn't allowed testing of automated vehicles on its roads.
But, the Arkansas Senate finally approved the testing of driverless vehicles on its state roads and highways which is expected to become a law soon. Signing this law would make Arkansas the 30th state to allow automated vehicles on its roads.
Arkansas is already among the 19 states that regulate platooning technology, which enable groups of large-sized trucks to move together on roads with previously set distances at a mandated speed.
– Safety Laws in Arkansas
There are many factors that lead to unfortunate accidents on roads, with driving under the influence of alcohol and other substances being frowned upon the most.
– DUI Laws in Arkansas
The look-back period in the table is the number of years a DUI offense stays on your record.
– Distracted Driving Laws in Arkansas
Mobile phones lead to around 15 percent fatalities each year in the US, hence it's best to stay focused on the road while driving.
Use of hand-held devices for voice calls while driving: If you're under 21, you aren't allowed to use a hand-held device at all while driving. If you're over 21, you are allowed to talk using a mobile phone.
Texting while driving: Texting is prohibited for all drivers in Arkansas while driving.
School and highway work zones: Laws in Arkansas prohibit all mobile phone usage during school hours and when highway work is underway.
Arkansas Can't-Miss Facts
You have gone through everything in this guide that would help you to stay safe on the road and buy necessary coverage so that you don't have to worry about medical or property damage expenses if you happen to be involved in an accident.
In this last section, we would share some facts about Arkansas's vehicle theft and fatalities rate which might influence rates in some counties and cities.
– Vehicle Theft in Arkansas
Which cars are mostly stolen in Arkansas? Seems like Chevrolet is the brand of vehicle most commonly stolen.
In case you wish to know how many cars were stolen in your city, search in this table. Being the most populated city in the natural state, the number of vehicle thefts was highest in Little Rock.
– Fatalities on Road in Arkansas
Being aware of the common causes of accidents and fatality rates in your state helps you to stay safer while driving.
Fatal Crashes by Weather Condition and Light Condition
– Traffic Fatalities by Road Type in Arkansas
– Traffic Fatalities by Person Type in Arkansas
Who were the people hurt in these accidents? Were they passengers, pedestrians or motorcyclists?
– Traffic Fatalities by Crash Type in Arkansas
What led to the crash? Was it speeding or driving under the influence?
– Traffic Fatalities for the Top Ten Counties of Arkansas
– Fatalities Involving Speeding by County
Fatalities in Crashes Involving an Alcohol-Impaired Driver
– Teen Drunk Driving Stats in Arkansas
In 2016, 44 teens were arrested for driving under the influence (of alcohol) in Arkansas. The alcohol-impaired driving fatalities rate for those under the age of 21 per 100,000 people was around the national average of 1.2.
– EMS Response Time
How soon does the emergency medical service reach you on the accident site can also impact the chances of survival in a fatal crash.
– Transportation
Traffic congestions and accidents happen more in cities with a higher number of vehicles on roads.
On average, residents in Arkansas own two vehicles. In the image below, you can see the national averages as compared to Arkansas for the number of cars owned by residents.
– Commute Time in Arkansas
The average commute time in Arkansas is 20.5 minutes which is quite lower than the national average of 25.3 minutes.
– Commuter Transporation in Arkansas
Around 83 percent of the commuters prefer to drive alone in Arkansas which is close to the national average of 76 percent.
Now that you know everything about car insurance in Arkansas, let's get you started with our FREE online rates comparison tool. Compare affordable Arkansas auto insurance quotes and buy Arkansas auto insurance right now, online.