The Ultimate Wyoming Car Insurance Guide (Costs + Coverage)
Free Auto Insurance Comparison
Enter your ZIP code below to compare auto insurance rates.
Secured with SHA-256 Encryption
Ah, Wyoming. Home of Grand Teton National Park, Old Faithful, the Rocky Mountains, and miles of beautiful, peaceful prairie grass. The Cowboy State is a vast expanse of land but is actually the least populous in the entire United States.
All of that space leaves plenty of miles to drive. Picture yourself cruising along the state's High Plains or carefully navigating through recreation areas.
Wherever you are in the state, you'll be astounded by magnificent sunrises and equally gorgeous sunsets. Yep, driving in Wyoming is a dream.
Of course, whether you're driving through the state on an epic road trip or setting down roots for many years to come, you'll want to have a strong automobile insurance policy for your car trips through Wyoming.
We all know how challenging it can be to find straightforward information on car insurance companies.
How much will it cost? Who will provide the best coverage? What coverage is needed?
That's why we've compiled all the details on Wyoming's numerous auto insurance providers and state laws.
Let us do the hard work to find the coverage you need at the rates you deserve.
Whether you live in Rock Springs, Gillette, Laramie, Casper, or the capital, Cheyenne, just enter your zip code to compare up to 10 free car insurance quotes from the leading providers in your area.
Wyoming Car Insurance Coverage and Rates
Car insurance is a tricky business. That's why we're here—to make it easier.
Hop in the passenger seat and join us as we explore the insurance coverage, rates, and add-ons available in Wyoming. Our comprehensive guide to Wyoming car insurance options is divided into easy-to-read sections.
We can help you find the coverage that's not just the best, but the best for you.
Ready to get started? Let's drive.
Wyoming's Car Culture
Exactly how big is Wyoming? Well, it covers over 98,000 square miles. That's a lot of land, and almost half of it is owned by the federal government.
When you come to Wyoming, you'll notice that there are miles and miles of roads, but not very many people. At just under 600,000 people, the Cowboy State has the lowest population in the entire country.
While it may sound like a contradiction, Wyoming's small population actually covers more miles in their cars each year than any other state in the nation. That's right: Wyoming residents drive the most.
Perhaps those residents are visiting National Parks, driving carefully down mountain passes, or navigating the difficult winter weather. Or maybe they're just running back and forth to the grocery store.
Wyoming roads are full of locals, as well as tourists who flock to the state for adventures and majestic views. Here's just taste of what the state has to offer:
– Wyoming's Minimum Coverage
When you're driving around Wyoming, you can count on about 7.8 percent of those on the road to be driving without insurance.
This might come as a surprise, since drivers in the state are required to carry car insurance.  If you do not carry liability insurance, you could receive a misdemeanor punishable by fines and/or imprisonment.
Wyoming operates as a traditional "fault" car accident state. This means that the person who is at fault for causing a car accident is also responsible for any harm stemming from the crash.
The at-fault driver's liability insurance policy will absorb these financial losses up to the limits of the policy.
The owner of a motor vehicle in Wyoming is required to carry liability insurance coverage on his or her vehicle. The minimum amount of liability coverage a person is required to carry is:
$25,000 for the injury or death of one person in an accident caused by the owner/driver
$50,000 for total injuries or death in an accident caused by the owner/driver
$20,000 for property damage in one accident caused by the owner/driver
This coverage pays the costs, including medical bills and property damage bills, of drivers, passengers, and pedestrians whose bodies are injured or vehicles are damaged in an accident you cause, up to the coverage limits.
Higher coverage limits can help protect you from paying out-of-pocket for damages and injuries.
Remember: Liability coverage does not apply to your own vehicle damage or injuries. To pay for those, you'll need additional coverage.
– Forms of Financial Responsibility
In Wyoming, drivers must furnish proof of financial responsibility. Usually, this just means a certificate of insurance. However, drivers have two other options.
A Wyoming driver may provide proof through a surety bond obtained from a company licensed in Wyoming. They may also provide proof through a $25,000 deposit in cash or securities. This deposit must be held by the state treasurer.
Evidence of one of the above financial responsibilities must be with you whenever you drive. In Wyoming, you are legally permitted to carry electronic proof of insurance.
– Wyoming's Premiums as a Percentage of Income
You may have heard of "per capita disposable personal income." Though it sounds like Latin, the phrase has a simple definition.
Disposable personal income is the money you have available after paying taxes. "Per capita" refers to the amount of money each individual has.
As of 2014, Wyoming residents' annual per capita disposable personal income is $49,918. The average cost of full auto coverage in Wyoming (as of 2014) is $844.33.
That number is about 1.69 percent of a resident's disposable income. This is right in line with other states, where the percentage varies between 1-3 percent.
The table below outlines premiums as a percentage of income over a three-year period. Year-to-year, the percentage has gotten smaller, which is good news for Wyoming residents.
– Core Coverage
When it comes to car insurance premiums, the Cowboy State has relatively low costs. The average resident pays about $840 for full coverage.
Many Americans living in other states pay upwards of $900 or even $1000 for their insurance. This makes Wyoming a good deal for drivers.
This total amount pertains only to core coverage. There are many different types of coverage available to Wyoming drivers., with varying costs. All are worth considering.
This table breaks down the annual costs of different core insurance coverages.
These statistics were reported by the National Association of Insurance Commissioners in 2015. Since then, they have likely increased slightly.
– Wyoming's Additional Liability Coverage
You now know the basic liability coverage requirements in the state of Wyoming. However, these limits are simply minimums.
They won't necessarily cover all the costs associated with an accident. For this reason, you may want to invest in additional liability coverage.
In Wyoming, the at-fault driver pays for any damages. Additional liability coverage can help protect you and your bank account.
The insurance industry recommends that drivers set injury liability limits to at least $100,000 per person and $300,000 per occurrence. That's quite a bit higher than Wyoming's limits.
So, what are your other options?
Comprehensive and collision coverages pay to fix your car. These coverages are NOT required in Wyoming. They are often required when leasing, renting, or financing a car.
Personal Injury Protection (PIP) and Medical Payments Coverage both pay your medical bills. They are NOT required in Wyoming.
About 7 percent of drivers in Wyoming are uninsured or underinsured. That means it is not likely that you'll be in an accident with an uninsured driver, but it is possible.
For this reason, you may want to consider uninsured/underinsured motorist coverage. This type of coverage is completely optional in Wyoming.
Let's talk about loss ratios.
A loss ratio helps you understand whether or not a car insurance provider is financially secure. When you take a close look at companies' loss ratios, you can see just how often various insurers pay out claims to their clients.
Companies with higher loss ratios, such as those over 100 percent, are more likely to provide you coverage when you need it. However, they may be less financially secure.
Companies with lower loss ratios won't necessarily cover all of your expenses should you get into an accident. They are considered more financially secure, but they aren't paying out claims.
The table below outlines the loss ratios for personal injury protection, medical payments, and UUM in the state of Wyoming.
– Add-Ons, Endorsements, and Riders
For their own safety and the safety of others, Wyoming requires drivers to carry liability insurance. You may have heard about additional insurance options, like rental reimbursement and GAP insurance. These won't be a good fit for every driver, but some may find that they appreciate the extra protection.
Click the links below to check out add-on options:
Guaranteed Auto Protection (GAP)
Personal Umbrella Policy (PUP)
Non-Owner Car Insurance
Modified Car Insurance Coverage
Pay-As-You-Drive or Usage-Based Insurance
Wyoming's Male vs. Female Rates
One commonly-held belief about auto insurance is that men pay higher rates than women. The answer to these questions can vary from state to state.
Each state makes its own laws regarding demographics and car insurance. When it comes to the state of Wyoming, we're here to give you an answer once-and-for-all.
The answer is…well, yes—sort of. As you can see from the chart below, 35 and 60-year-old men and women in Wyoming can expect to pay the same prices, or nearly the same prices, for their car insurance.
If you scroll to the 17-year-olds and 25-year-olds, however, you'll start to see some differences.
The biggest changes can be seen during the teenage years. Male teenagers and young adults pay significantly more for car insurance than older drivers do. Teenage boys pay the most.
In some states, women pay more for car insurance. There are many different factors that impact premiums. We'll cover more of those factors a little later.
Wyoming's Car Insurance Rates by Zip Code
We've learned that gender plays a role when it comes to car insurance rates. What about location? In the table below, we've broken down average car insurance rates by Wyoming zip codes. You can search for your own zip code to see the average rate for your area.
Wyoming's Car Insurance Rates by City
While you can separate insurance rates by zip code, it may be even more helpful to look at rates by city. The table below highlights the average rates paid by drivers in cities across Wyoming.
So, who is paying the most and the least for car insurance across Wyoming? The residents of Big Horn, Ranchester, Sheridan, Wyarno, and Elk Mountain have the lowest rates in the state.
Cheyenne, Wyoming does NOT have the highest rates in the state. Cheyenne is actually in the top-20 cheapest cities.
Where are rates highest? For those prices, you'll have to look near the Tetons. Alta, Wilson, Teton Village, Jackson, and Moose have the five highest rates in the state.
Now that you have a general understanding of rates and demographics, let's review your options for car insurance in the Equality State.
Enter your ZIP code below to compare auto insurance rates.
Secured with SHA-256 Encryption
Best Wyoming Car Insurance Companies
When it comes to car insurance providers, how do you know which company is best? Which one will provide you with the friendliest service, best value, and most protection?
Sometimes the auto insurance market can feel like the Wild West. That's why we're stepping in to lead the way with straightforward, unbiased, and comprehensive information about car insurance.
Soon, you'll feel calm and confident about choosing an auto insurance provider. Let's get started.
– The Largest Companies Financial Rating
One step you'll want to take when shopping for car insurance is to look at companies' financial ratings. These ratings give you an understanding of how well a company is doing. They can help increase or decrease your confidence in different brands.
We've compiled the ratings from AM Best in an easy-to-read table. Remember: this rating indicates the financial strength and credit-worthiness of each insurer. The table below covers the ten largest auto insurers in Wyoming.
The letter grades in financial ratings follow a traditional scale, wherein A is higher and B is lower.
The plus and minus signs indicate financial strength. The strongest providers, from a financial perspective, are those with the highest letter grades and most plus signs.
As you can see, Wyoming's biggest insurance providers also have decent ratings! All of them are in the A- A, A+, and A++ range.
– Companies with Best Customer Service Ratings
Financial strength is a great way to size up a company's worthiness, but it's not the only way to compare options. You definitely want to choose a company that can provide excellent customer service.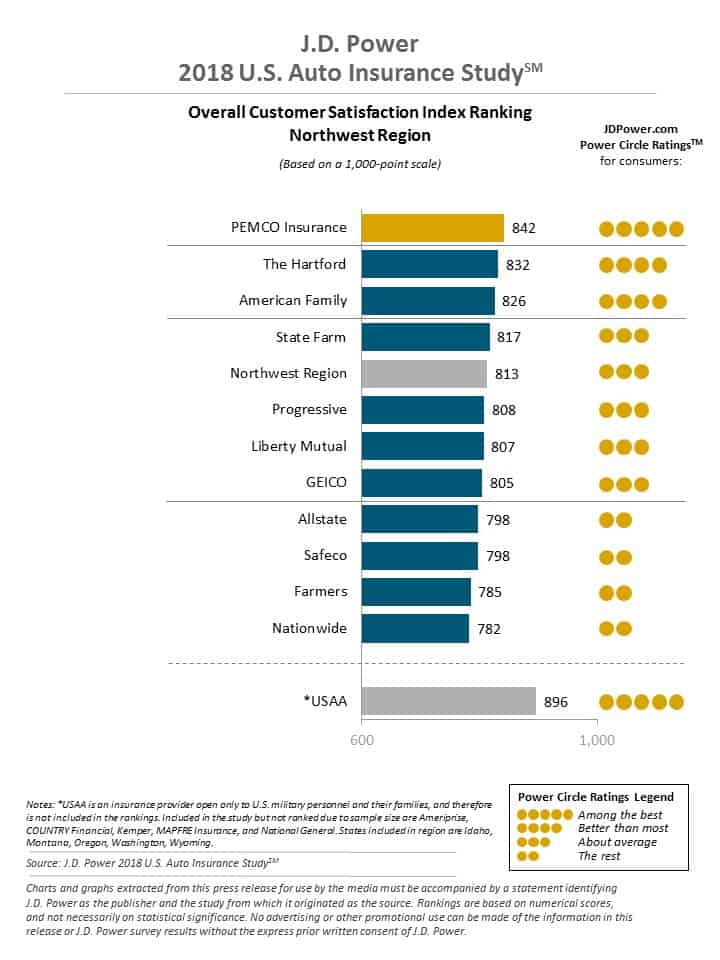 According to findings by J.D. Power, some companies are better at customer service than others.
In the Northwest region, which includes Wyoming, Washington, Idaho, Montana, and Oregon, PEMCO has the highest customer satisfaction ratings. The Hartford and American Family round out the top three.
Companies with the Most Complaints in Wyoming
Customer satisfaction ratings can help you figure out which companies are best. Complaint rankings can help you figure out which companies are, well, not the best.
Complaints don't necessarily paint the clearest picture of every aspect of an insurance company, but they do signal some issues with human resources and perhaps with the size of the company.
Of course, the more customers a company has, the more complaints they are likely to accrue. The following table displays the number of complaints and the complaint ratio for Wyoming's largest car insurance companies.
In Wyoming in 2017, the top three companies in terms of complaints were Mountain West, Progressive, and State Farm.
Cheapest Car Insurance Companies in Wyoming
Wyoming doesn't have endless car insurance options, but it has enough to make shopping a challenge! There are many factors to consider when choosing a car insurance provider.
Of course, one of the most important factors is price. When it comes to car insurance companies, there's a wide range of rates. We're here to help you find the price that's right for your wallet.
The table below shows the top six Wyoming car insurance companies, along with their average rates.
Commute Rates by Company
Wyoming is an extra-large state. That means many of its residents have extra-long commutes. Rural residents may drive an hour or more to work every single day.
The long commutes in Wyoming are often accompanied by difficult winter weather, howling winds, and mountain roads. Gee, don't you love Wyoming?
The time a driver spends commuting each day can affect his or her insurance rate. We've compiled the following statistics to demonstrate the impact a commute can have on Wyoming car insurance rates:
Take a close look. Moving just a few miles closer to your workplace may be worth it in the long run.
Coverage Level Rates by Company
So far, our charts have shown average rates for each company. But insurance providers actually have different rates based on the amount of coverage you decide to purchase.
With this chart, you can see how much your price will change from tier to tier. The more coverage you buy, the more you'll pay. But you'll have more protection, too.
Credit History Rates by Company
In Wyoming, it is legal for auto insurance companies to use your credit score as a factor when determining your rate. The better your credit history, the less you will have to pay for auto insurance. The lower your score, the more you may end up paying.
To help you sort this out, we've made a chart that shows full coverage insurance costs broken down both by companies and by credit scores. Good and Fair scores usually receive similar rates. A score of "Poor" can result in an increase.
Let's take a quick look at credit in Wyoming. The average credit score here is 678. The average Wyomingite carries 2.81 credit cards. The average balance on those cards is $6,245.
Driving Record Rates by Company
If you've ever received a speeding ticket or been involved in an accident, you probably know that your driving record can directly affect your auto insurance rate.
Your rate is likely to be lower if you haven't had many auto accidents. If you have a spotty driving record, companies will quote you a higher rate. Speeding violations, DUIs, and accidents can all make your rate increase.
Largest Car Insurance Companies in Wyoming
Sometimes, when you're shopping around for car insurance, you just want to do business with the biggest company in the game. You might be looking for experienced agents or a provider that your friends and family also use.
Here are the top ten largest car insurance companies in Wyoming:
Number of Insurers by State
The largest insurers in Wyoming operate all over the United States. They are (slightly confusingly) known as "foreign" insurance providers. The term "domestic" refers to insurance providers that only operate in Wyoming.
State Laws
Ready to get behind the wheel and take a road trip through Wyoming? Not quite. First, you'll want to make sure you have a comprehensive understanding of the state's driving laws. That way, you can feel safe and secure on your next trip to the Tetons.
Did you know that laws regarding auto insurance, road safety, and driving differ from state to state? Whether you are taking a road trip or planning a big move, now's the time to read up on Wyoming's laws.
Car Insurance Laws
Car insurance laws can be confusing and frustrating. That's no fun, especially when you're just trying to find coverage that will protect you and your loved ones.
Luckily, we've done the work for you. We've got a detailed overview of car insurance laws in Wyoming that should clear up any lingering questions and concerns you might have.
How State Laws for Insurance are Determined
How do states make insurance laws, anyway? Each state has its own legislative branch that makes laws regarding automobiles and car insurance.
States determine the type of tort law and threshold that applies within their borders, as well as the type and amount of liability insurance required.
The state of Wyoming requires liability insurance and sets minimums. Wyoming has its own Department of Transportation that is in charge of almost everything involving drivers, cars, car insurance, registration, and driving in Wyoming.
Windshield Coverage
Some states have made laws specific to windshields. They regulate broken and cracked windshields, windshield replacements, and auto insurers' obligations to customers' windshields.
Wyoming is a bit of an outlier. As of 2019, Wyoming does not have any state laws that are specific to windshields.
High-Risk Insurance
There is a special category of drivers labeled "high-risk." These
Sometimes drivers have trouble finding auto insurance, even if such insurance is required in Wyoming. Companies might refuse to insure them due to their status as a "high-risk" driver.
Younger drivers and those who have had a DUI are often considered high-risk.
The state of Wyoming has a system to make insurance accessible to call. It is called the Wyoming Automobile Insurance Plan, or WAIP. The program helps drivers who aren't able to find an insurer through the traditional market.
WAIP isn't an insurance provider. It's an entity that is responsible for putting drivers in touch with insurance companies that will insure them. WAIP belongs to an association that shares the risk among many companies.
When you apply for WAIP, you must show proof that you have been unable to obtain other auto insurance through the regular channels.
You must also have a valid driver's license and money to pay the premium, as well as arrangements to pay any past-due premiums.
For more information or to apply for WAIP, you can contact any agent licensed to sell auto insurance.
Low-Cost Insurance
Wyoming offers a program for high-risk drivers, but it does not offer a similar program for low-income families or individuals who are struggling to pay for car insurance.
California, New Jersey, and Hawaii all offer government-funded programs designed to help lower the costs of car insurance for families with limited incomes.
However, there are other ways to lower your costs. Insurers offer various discounts and savings that are worth comparing. Of course, the quickest way to lower your car insurance premium is to shop around for the best price.
Automobile Insurance Fraud in Wyoming
"Insurance fraud" might sound like a scary phrase, but it doesn't have to be.
Insurance fraud happens in many industries. Automobile insurance is one of them. Fraud can be committed by policyholders, applicants for insurance, claimants, and even insurance professionals.
Misrepresentation of facts on an insurance application counts as fraud, as well as submitting claims for damage or injuries that never occurred. Fraud can also consist of "padding" or inflating claims in order to get more money from insurance companies.
Other examples of auto insurance fraud include setting fire to your own vehicle, using a false Social Security number on an application, or giving a false address in order to secure a cheaper rate. Surprisingly, some people actually stage fake accidents.
Insurance companies themselves can commit auto insurance fraud by refusing to pay valid claims or selling bad insurance policies.
Wyoming is one of ten states that does not have an insurance fraud bureau to deal with situations like these. However, the state of Wyoming does consider insurance fraud to be a crime.
If you suspect a company or an individual of committing insurance fraud, you can contact the Wyoming Department of Insurance. However, you will probably be redirected and asked to file a report through the National Association of Insurance Commissioners.
The NAIC online fraud reporting form can be found here.
Statute of Limitations
If you've been involved in an automobile accident, you'll probably want to issue a claim. The statute of limitations describes the amount of time you have after a vehicle accident to issue an insurance claim.
In Wyoming, you have four years to issue a claim related to personal injury. You also have four years to issue a claim related to property damage.
It is best to file as soon as possible in order to receive the financial help you need.
State-Specific Laws
In general, Wyoming's laws surrounding driving and automobile insurance are similar to those in other states.
In fact, with a lack of laws regarding windshields and without an insurance fraud bureau, the state might be on the lighter side when it comes to auto legislation.
However, there are a couple of new Wyoming laws that are relatively new and interesting.
In July 2013, a law was signed stating that Wyoming drivers can legally exceed the speed limit by up to 10 mph on a two-lane highway—but only to pass vehicles traveling slower than the speed limit.
The posted limit must be 50 mph or higher and motorists can only pass one vehicle at a time.
Additionally, the Wyoming Department of Transportation is now authorized to charge a $125 fee for drivers applying for an ignition interlock restricted license.
Later on, we'll learn even more about speeding laws and DUI-related laws in Wyoming.
Vehicle Licensing Laws
In addition to laws regarding auto insurance and insurers, Wyoming has vehicle licensing laws.
These laws cover who can obtain a license, what the renewal process looks like, and other restrictions that might be placed on a licensed driver. Like many things in Wyoming, the laws are relatively straightforward. Let's take a look.
Real ID
One  licensing law you've probably heard about is REAL ID. The REAL ID Act, passed in 2005, set federal standards for the issuance of driver's licenses.
States have taken their time implementing the act, but it will be applicable across the United States in 2020.
Wyoming is on the "compliant states" list. Wyoming drivers with REAL IDs should have no trouble when it comes to flying or traveling across the United States with their licenses. Look for the star in the upper corner of the license.
Federal agencies accept identification cards and driver's licenses from Wyoming at federal facilities, including nuclear power plants. If you get a new ID in Wyoming in the near future, it will likely be a REAL ID.
Penalties for Driving Without Insurance
The Cowboy State, even with a mythical history of lawlessness, does require all drivers to carry liability insurance. Proof of insurance must be in the vehicle or accessed digitally (on a smartphone/tablet).
Teen Driver Laws
Drivers come in all stripes and types. Teen drivers are one large part of the driving population on Wyoming's many miles of roadway.
They are young, excited, and inexperienced. This is why the state requires plenty of practice before a Wyoming teen can get his or her license.
In Wyoming, restrictions have been put in place to help protect young drivers and those on the road with them. It's important to be aware of these restrictions, whether you are a teenager, know a teen, or simply drive on public roadways.
Wyoming also has a Parent's Supervised Driving Program to assist parents as they guide their teenage drivers. The manual is given out at exam stations, but it can also be downloaded here.
Older Driver License Renewal Procedures
As drivers age, their driving and sight skills can wane a little. Some states have passed additional requirements that are specific to older drivers. These rules seek to help older drivers and those that know and love them.
In Wyoming, the regulations for the general population and older population are identical. All drivers must renew their licenses every five years. Proof of adequate vision is required for all drivers every ten years.
Finally, all renewals must be done in-person at the DMV or by mail. There are no online renewals for any drivers, no matter their age. Renewal can be done by mail every other year.
New Residents
Are you moving to Wyoming? If so, you'll be joining a small but friendly population of drivers.
New Wyoming residents must appear in person at the local driver exam station in order to get a Wyoming driver's license. This should be done within one year of moving to the state. You will need to surrender your out-of-state license.
At that time, you will also be photographed and have a vision screening. You will also need to bring several documents. The list of required documents can be found here.
Active-duty military personnel and their dependents do not need to obtain Wyoming driver's licenses if they will be living in the state.
License Renewal Procedures
All Wyoming drivers must renew their licenses every five years. Proof of adequate vision is required for all drivers every ten years. Most drivers will not need to take a written or driving exam at the time of renewal.
Every other renewal must be done in-person at the DMV. Mail-in renewals are accepted every other year.
Negligent Operator Treatment System (NOTS)
Unlike many states, Wyoming does not track traffic violations through a formal point system. Every Wyoming driver does have an official driving record, and traffic violations are tracked on that record. Each county has authority over how they penalize violations.
Minor traffic violations do go on your record and, if they build up over time, can result in the loss of driving privileges. Minor violations include things like speeding and improper lane usage.
Major violations such as DUI, serious accidents, and drug-related offenses often result in driver's license suspension, revocation, or cancellation.
A driver who commits a major violation can also face fines, community service, jail time, and driving course completion requirements.
You can order a driving record report online if you want to check the status of your driving record.
Rules of the Road
You've definitely heard of the "rules of the road." Even on Wyoming's vast plains, there are laws that must be followed.
The rules of the road keep traffic moving safely, efficiently, and with respect for other vehicles. Let's dip into some of the most important rules and laws regarding driving in the state of Wyoming.
Vault vs. No-Fault
When it comes to auto accidents, states handle the "blame" in two very different ways. In no-fault states, no blame is assigned for accidents and insurance companies cover drivers' medical expenses automatically.
Wyoming, on the other hand, is an at-fault state. (Most states in the US are at-fault states).
That means when an auto accident occurs in Wyoming, the blame will be placed on someone. The party who caused the incident or accident is financially responsible for all damages to other parties.
This is why it's legally required (and smart) to carry auto insurance in Wyoming.
Seat Belt and Car Seat Laws
Since 1989, Wyoming has required seat belts. drivers and passengers to wear seat belts. When it comes to car accidents, seat belts save lives. It's also worth noting that there are currently no restrictions on riding in cargo areas of pickup trucks in the state of Wyoming.
Below is an overview of seat belt laws in Wyoming.
Car seat laws are enforced in order to keep kids and infants safe. Below is an overview of car seat laws in Wyoming.
This video gives an overview of the popular and life-saving LATCH system that is often used with child safety seats:
Keep Right and Move Over Laws
Wyoming has miles of open highways, but sometimes you will encounter a bit of traffic. In those situations, what do you do?
Well, in Wyoming, the laws are clear. Drivers should stay to the right if driving slower than the average speed of traffic around them. Only move into the left lane if you intend to pass.
If you see an official vehicle on the highway, such as a parked police car with its lights on or a tow truck, move into the lane farthest away from the vehicle. Alternatively, you can slow down to a speed of 20 mph less than the posted speed limit.
Speed Limits
Speed limits are no joke. If you speed, you could receive a steep fine. You could also hurt yourself and others.
It's critically important that drivers maintain speeds at or below the legal limits at all times. This chart includes Wyoming's speed limits on various roadway types:
Ridesharing
Whether you're looking for a ride to and from the airport or just going home after a late-night event in downtown Cheyenne, you might be using a rideshare service. These days, companies like Lyft and Uber are incredibly popular.
Ridesharing also offers a way for drivers to add an income stream. However, if you're going to drive for Uber or Lyft, you'll want to make sure you're protected with car insurance.
If you or someone you know is considering getting into the ridesharing business, you should note that only a few of Wyoming's insurance providers offer coverage for rideshare drivers.
Those providers are:
Some of these coverages are simply extensions to your regular insurance policy. As with your usual auto insurance, it can be helpful to shop around for rideshare insurance to see which company can offer the best quote.
Automation on the Road
Buzzwords like "self-driving," "autonomous" and "connected" seem to be everywhere, especially when it comes to automobile technology.
Car manufacturers, legislatures, and consumers are all looking ahead to a time when the driver might not have to drive. It could be sooner than we think!
At this time, Wyoming is one of just a few states that have not passed any legislation concerning the testing or deployment of autonomous vehicles.
However, in 2015, Wyoming, along with Florida and New York, received a grant from the US Department of Transportation to participate in a pilot program about connected vehicles. That program is being tested in southern Wyoming, along the I-80 corridor.
Casual drivers won't encounter the project on their day-to-day drives. The connected vehicles in question are likely to be snowplows, trucks, and emergency vehicles—and they won't be autonomous, just connected to advanced technology.
Safety Laws
Even if you follow the posted speed limit, wear your seatbelt, and follow all the driving rules you learned in Driver's Education, you could still run into trouble on Wyoming's roads.
Unfortunately, some drivers do choose to get behind the wheel while they are inebriated or distracted.
In addition to rules that govern driving in Wyoming, there are a number of regulations that cover impaired driving, distracted driving, and other safety issues. Below, we'll do a deeper dive into those rules.
DUI Laws
Driving while under the influence of alcohol can be a deadly choice. In 2017, Wyoming had 44 alcohol-impaired driving fatalities. That means alcohol-impaired driving accounted for one-third of all driving fatalities in the state. Four of those who lost their lives were under the age of 21.
That same year, 3,253 people were arrested in Wyoming for driving under the influence of alcohol. 28 of those drivers were under the age of 18.
When it comes to fatalities from driving under the influence, even one is too many. The table below offers an overview of DUI laws in Wyoming.
Thankfully, many people are caught drinking and driving before they have the opportunity to get into an accident.
If you are caught drinking and driving, you can face serious consequences, such as jail time, license revocation, and steep fines. The table below outlines the consequences for those caught driving while intoxicated in Wyoming.
Marijuana-Impaired Driving Laws
Several of Wyoming's neighbor states have relaxed their laws regarding marijuana in recent years. Colorado and other nearby states don't consider marijuana to be an illegal substance. But the state of Wyoming does.
In Wyoming, it is illegal to possess, use, grow, or sell marijuana. It is not approved for recreational or medical use within the state.
If you are caught driving while under the influence of marijuana, you can be penalized. The penalties are identical to those for driving under the influence of alcohol. You can face fines, prison time, and license revocation.
So, if you're returning to Wyoming after a trip to Colorado, or if you're just passing through, be smart: Don't use marijuana while driving.
Distracted Driving Laws
It's clear that alcohol and drugs shouldn't mix with automobiles. But what about cellphones? It seems like everyone has a smartphone these days, and we don't like to part with them throughout the day, even while driving.
Do deal with this safety hazard, many states have issued laws and rules regulating the use of cell phones while driving. In Wyoming, texting is banned for all drivers.
Next time you're planning a trip to Wyoming, be sure to check out laws in individual cities.
Cheyenne and Green river have both banned handheld cell phone use, but those rules don't reach beyond the city limits. Hand-held cell phones are not banned for drivers elsewhere in the state.
Driving in Wyoming
Don't let anyone tell you that driving in Wyoming isn't fun. Sure, we have gale-force winds, winding mountain roads, and winter storms that seem to last for weeks at a time.
But we also have beautiful sunrises and sunsets that stretch across the plains, gorgeous views into dappled valleys, and some of the most magnificent National Parks in the country.
If anything, driving in Wyoming is an adventure. There's always something to see and do.
Hopefully, all of your Wyoming experiences will be positive ones, but it's possible that you may run into trouble in the Cowboy State, just like you might in any other region. Next, we're going to take a look at some of the statistical realities of driving in Wyoming.
Vehicle Theft in Wyoming
Hopefully, you won't ever have to deal with vehicle theft. But it does happen, even in Wyoming. These are the top stolen vehicles in the state for 2017.
The full-size Chevy Pickup is the most stolen vehicle. The 2007 version was stolen the most, but other years were also stolen. Trucks of many makes and models are stolen throughout Wyoming each year.
Where does vehicle theft happen in Wyoming? As you might imagine, Cheyenne is the biggest site of thefts. Casper, in central Wyoming, is a close second.
Road Fatalities in Wyoming
Next, we're going to spend some time discussing road fatalities. This certainly isn't a pleasant subject, but a good look at the statistics can help us make choices to keep ourselves (and others) safe on the roads.
There are many ways to think about road fatalities. We'll look at a few that might give you insight into the risks and realities of road fatalities in Wyoming.
Most Fatal Highway in Wyoming
Each state has a highway that can be considered the most fatal. These long, busy stretches of road are some of the most dangerous, and often some of the most heavily trafficked as well.
The Wyoming section of I-80 sees over 17 fatal crashes each year. This interstate snakes across the southern third of the state, following part of the old Oregon Trail. Over 10 years, there were 175 crashes and 207 fatalities on the Wyoming section of this road.
Fatal Crashes by Weather Condition and Light Condition
Weather and light can contribute to automobile accidents and accident-related deaths.
You might be surprised by what the table shows. Most fatal accidents actually occur during normal weather, rather than icy or otherwise wintry conditions. occur in darkness, too. If you must drive in the dark, it is best to choose areas that are well-lit.
Here are some tried-and-true tips for navigating bad weather in a vehicle:
Fatalities (All Crashes) by County
We can also look at automobile accident fatalities in specific counties.
The top 10 counties for automobile accident fatalities appear below:
Natrona and Fremont counties top the list. Natrona County is the second-most populous county in Wyoming, as it contains the city of Casper. I-25 runs through Natrona County. Fremont County encompasses some forest lands, as well as the Wind River Reservation.
Carbon County, which rounds out the Top 3, is sparsely populated, but it does include a portion of I-80, the deadliest highway in the state.
Traffic Fatalities
Let's take a look at rural and urban traffic fatality rates in Wyoming. We'll use data provided by the NHTSA.
As you can see, fatal car accidents in Wyoming are much more likely to occur in rural areas, even across a nine-year period. This is likely due to the fact that most of Wyoming is considered "rural."
Fatalities by Person Type
We can also examine fatalities by crash type. When it comes to fatal accidents, they can occur both on and off the roadway. Some involve many cars, while others just involve one.
Many Wyoming drivers prefer trucks, which means there are a higher number of accidents involving various types of trucks in this state.
Traffic accidents in Wyoming aren't limited to trucks and cars though. There are a fair number of fatal motorcycle accidents where motorcycle accident lawyers help families get insurance money for medical bills and damages.
Historically, very few accidents have involved pedestrians or bicyclists.
Fatalities by Crash Type
Let's consider crash type when it comes to fatal automobile incidents.
As we can see from the table, many crashes involve just one vehicle. Road departures, rollovers, and speeding are fairly common. Most do not involve large trucks.
Five-Year Trend for the Top 10 Counties
The part of Wyoming in which one lives can affect how many fatal crashes a person might see each year. We've done the math to see the five-year trends for Wyoming's various counties.
Fatalities Involving Speeding by County
Pushing the speed limit can cause an idyllic drive to turn into a violent crash– fast. Speeding is often a major factor when it comes to fatal car accidents. We've crunched the numbers to display the number of fatal crashes involving speeding in each county.
Fatalities in Crashes Involving an Alcohol-Impaired Driver (BAC = .08+) by County
Another factor when it comes to fatal car accidents? Alcohol. The following table shows the number of fatalities caused by alcohol-impaired driving. The numbers are not surprising, but they are sad.
Teen Drinking and Driving
Drinking and driving is dangerous, but it's arguably even more dangerous to be a teenager who is drinking and driving. In Wyoming in 2016, there were 1.9 under-21 alcohol-related driving deaths per 100,000 people. That's significantly higher than the national average of 1.2.
In 2016, Wyoming police made 26 DUI arrests involving people under the age of 18. That puts Wyoming at fourth in the country for teen DUI arrests, based on the state's population.
Additionally, the state ranks #3 out of 50 states for total DUI arrests, based on the population. In 2016, police arrested 3,082 individuals for driving under the influence.
EMS Response Time
One factor you may not have considered when it comes to accidents is EMS response time. While accidents can be fatal, they don't have to be, especially if emergency services work quickly to get to and from the scene.
In the table below, you can see the difference in EMS response times across urban and rural parts of Wyoming.
In general, an EMS response is faster in an urban area where hospitals, ambulances, and other medical services are close at hand. In urban areas, crash victims arrive at hospitals faster.
Most fatal crashes in Wyoming happen in rural areas, but it is worth remembering that most of the land in the state is considered "rural."
Transportation
Now that you know what types of insurance are necessary for traveling in the Equality State, as well as what laws and regulations you need to follow, you can get ready to drive across Wyoming.
As one last step, we're going to take a look at just what you can expect in terms of transportation in the state. Car ownership, commute time, and type of commute are all important (and interesting!) stats.
Car Ownership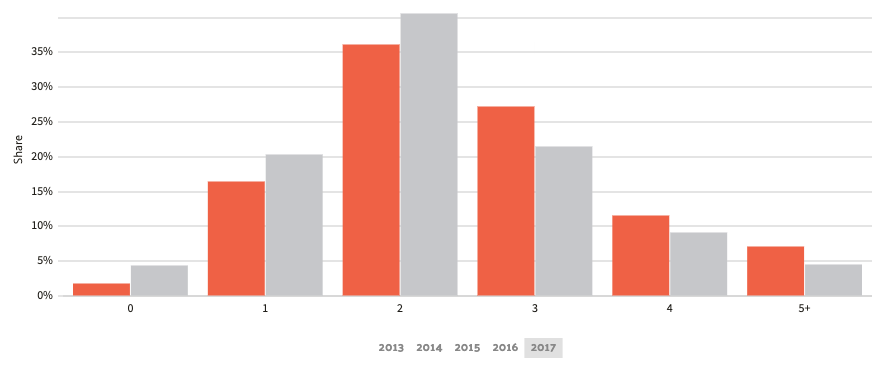 Even though they love their trucks, Wyomingites have about as many cars as average Americans. Most Wyoming households are home to two or three vehicles.
Commute Time
Finally, here's some good news. The average commute time in Wyoming is actually 16 minutes shorter than the average across the United States.
This could be because many Wyoming residents work on their own property or on land nearby. Whatever the reason, we aren't complaining about it.
Commuter Transportation
Just like in other states across the country, Wyoming residents love to drive to work alone. That's what most people do, anyway. About 10 percent of workers in the state use some type of carpool. Very few walk or bike to work.
Traffic Congestion in Wyoming
Cheyenne, the largest city in Wyoming, only has about 66,000 people. Though it might be considered "the city" in Wyoming, it doesn't get enough traffic congestion to rank it on any nationwide or global traffic congestion data sites.
If you are traveling through Wyoming and looking for traffic information, you can use one of WYDOT's resources. 2017 saw record-high traffic times in the state due to the solar eclipse. Will the state ever see traffic at that volume again? Time will tell.
For now, here's a clip of a "Wyoming style" traffic jam:
And…that's it! Now you know everything (well, almost everything) there is to know about driving in Wyoming.
If you're a current or future resident of the Cowboy State, go ahead and enter your zipcode below to compare free quotes for your Wyoming car insurance.